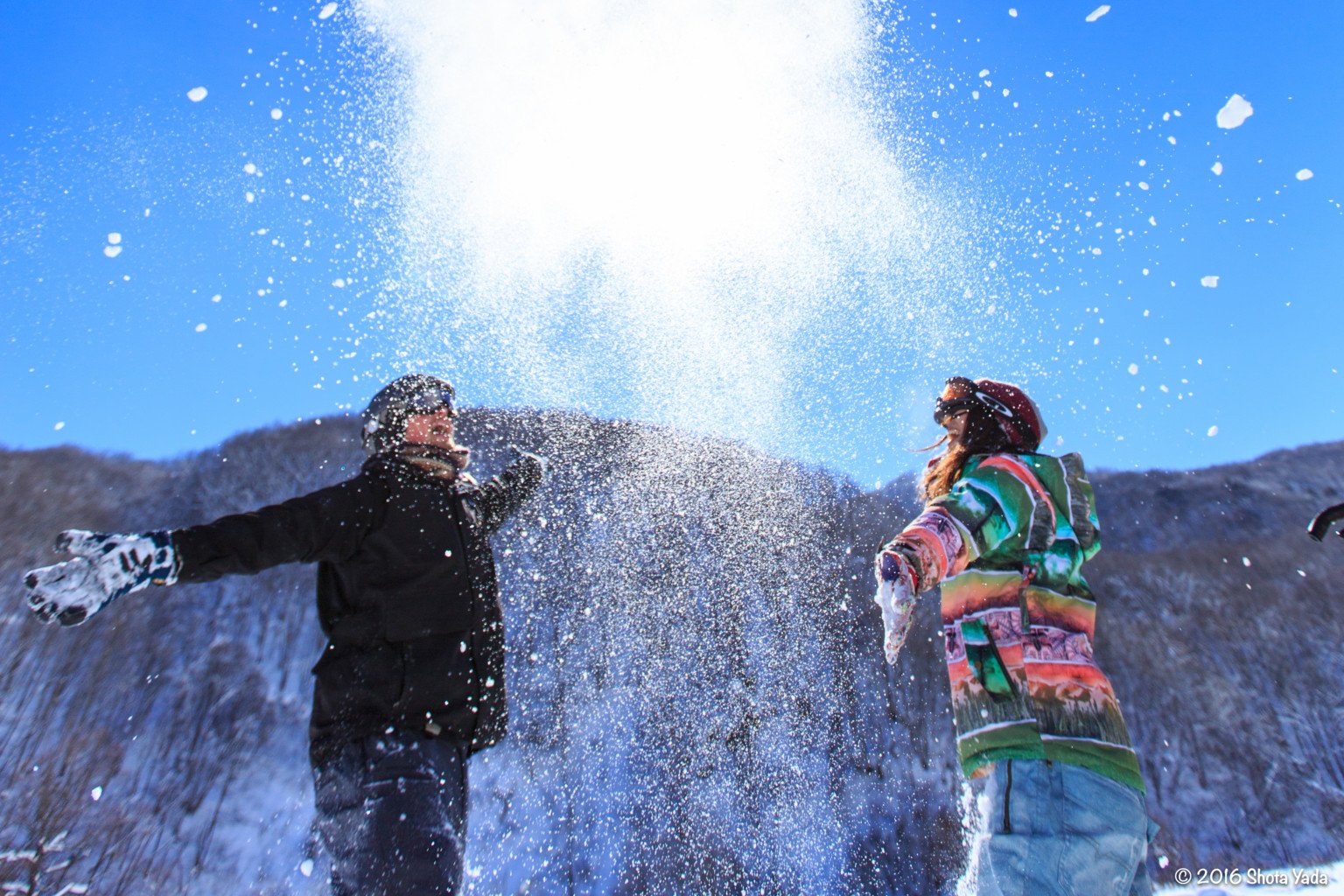 The winters in Nagano, while cold, are picturesque. The mountains and valleys are covered in a carpet of snow, trees are frosted with ice, and fine diamond dust shimmers in the air. Japanese macaques warm themselves in steamy hot springs and solitary kamoshika (Japanese Serow) plow through the snowy woods foraging for food.
Most travelers flock to Nagano this time of year to enjoy its plentiful powder snow on the ski slopes, but there are plenty of activities for those interested in connecting with nature and playing in snow. See a new side of Nagano while snowshoeing through the woods or enjoy an exhilarating ride on a snowmobile. See our recommended winter activities below!
Snowshoeing in the Great Outdoors
Snowshoeing has a long history in Japan, going back as far as 15,000 years to the Jomon period. With the heavy snowfall in central and northern Japan, snowshoes were an important part of everyday life during winter. Now, they give us the opportunity to travel into the heart of Nagano's wilderness, seeing otherwise inaccessible mountain views.
Walk on top of meter-high snow fields and enjoy an entirely new perspective of Nagano. Work up a sweat and finally appreciate the crisp, winter air. On a snowshoe tour, take a break with a hot cup of coffee or tea in the midst of nature. Snowshoeing is also a great way to observe local wildlife.
Snowshoeing rentals and tours are available throughout Nagano. Numerous ski resorts offer snowshoe rentals and courses at the top of the mountains, and many of Nagano's highland areas have rentals and tours as well. Places that offer snowshoe activities include: Hakuba, Togakushi (Nagano City), Nabekura Kogen (Iiyama City), and Norikura Kogen (Matsumoto).
Snowmobiling
Wind blows through your hair and snow explodes at your back as you speed through open plains on a snowmobile. Enjoy an exhilarating ride while gazing at wonderful winter scenery. Perfect for families with young adults. Some snowmobiling tours also offer tandem rides where younger children can ride together with their parents.
Snowmobile tours are handled mainly by Hakuba Lion Adventure. Some ski resorts also offer shorter snowmobile tours for kids, such as Tangram Ski Resort.
Ice Skating in Olympic Arenas or Cozy Winter Woods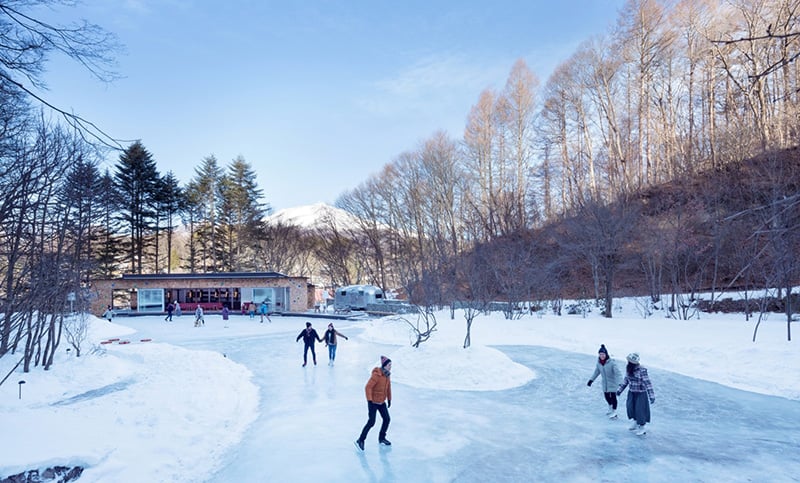 Most Nagano locals grow up on the ski slopes, but in eastern Nagano, ice skating is where it's at. The snowfall isn't as heavy in Ueda, Saku, and Karuizawa, but the weather is noticeably colder, so there are many frozen lakes and ponds on which to skate. We won't recommend you to jump onto any frozen pond that you see, but there are many ice skating facilities to enjoy the winter atmosphere.
In Karuizawa, you can enjoy outdoor ice skating at the Kera-ike Skating Rink in the Hoshino area. The irregular shape of the rink surrounded by the warmly lit bar and frosty trees creates the perfect winter atmosphere. Hoshino is also known for its beautiful Christmas illuminations. Enjoy an ideal winter experience in Karuizawa!
In Nagano City, you can skate at the M-Wave arena from early October to mid-March. Once the competitive venue for the speed skating events of the 1998 Winter Olympics, it now holds exhibitions, offers ice skating, and has a museum dedicated to the 1998 Olympics on the premises.
Snowcat Tours around Ski Resorts and Frozen Highlands
Ever wondered what it's like to ride in one of the red tanks you see parked along the ski resort? Take a Snowcat Tour and enjoy a bumpy yet scenic ride in one these beasts. You'll travel off the beaten path and see parts of the ski resort that only the naughtiest of skiers get to see.
Okudavos Ski Resort in Sugadaira Kogen offers snowcat rides to the top of 2,207-meter-high Mt. Neko, where riders can enjoy snowshoeing or even some sidecountry skiing.
In Utsukushigahara, usually inaccessible during winter, guests at the Ougatou Hotel can enjoy snowcat tours as well. Actually, the only way to reach the hotel in winter is by snowcat!
Enjoying the Snow on Sled, Snow Raft, or Fat Bike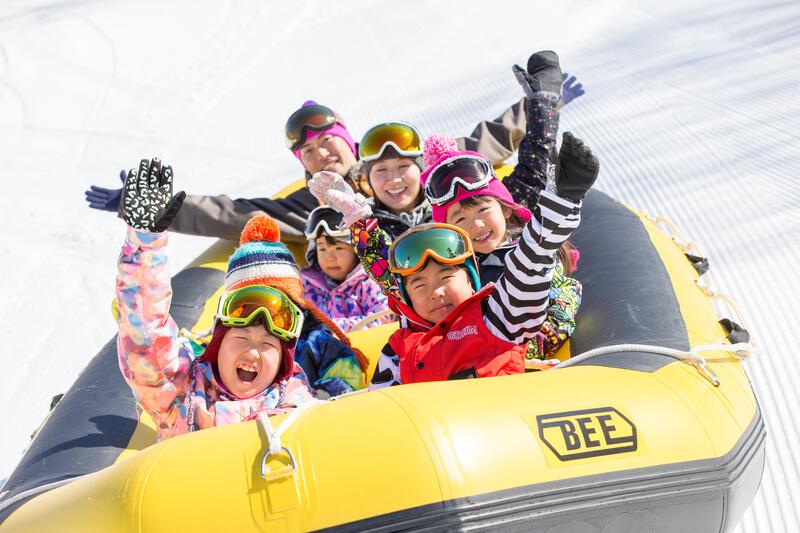 Ski resorts are increasingly offering ski and snowboard alternatives so that travelers of all backgrounds can enjoy the snow. Sleds, inner tubes, snow bikes and more give adults and children alike new ways to enjoy the best season of the year. Even longtime skiers and snowboarders will enjoy taking a break from their sticks to play in the snow.
Snow rafting is also a popular activity, where a snowmobile pulls people along on a large, inflatable raft. Some facilities even build specialized rafting courses with banks, curves and ramps. At Tangram Ski Resort, the whole family can enjoy a ride.
Kurohime Kogen Ski Resort has plenty of sleds, snow scooters and other equipment to keep the kids entertained all day.
And if you'd like to try riding a bike on the snow, you can borrow a fat bike at Togari Onsen Ski Resort and enjoy thrilling downhill descents!
In Conclusion
Surrounded by the Japanese Alps, Nagano offers beautiful scenery and loads of winter activities. Enjoy snowshoeing, snowmobiling, skating and more while taking in the crisp mountain air, and don't forget to see some of Nagano's winter festivals as well.