Nagano's Most Popular Hot Spring Areas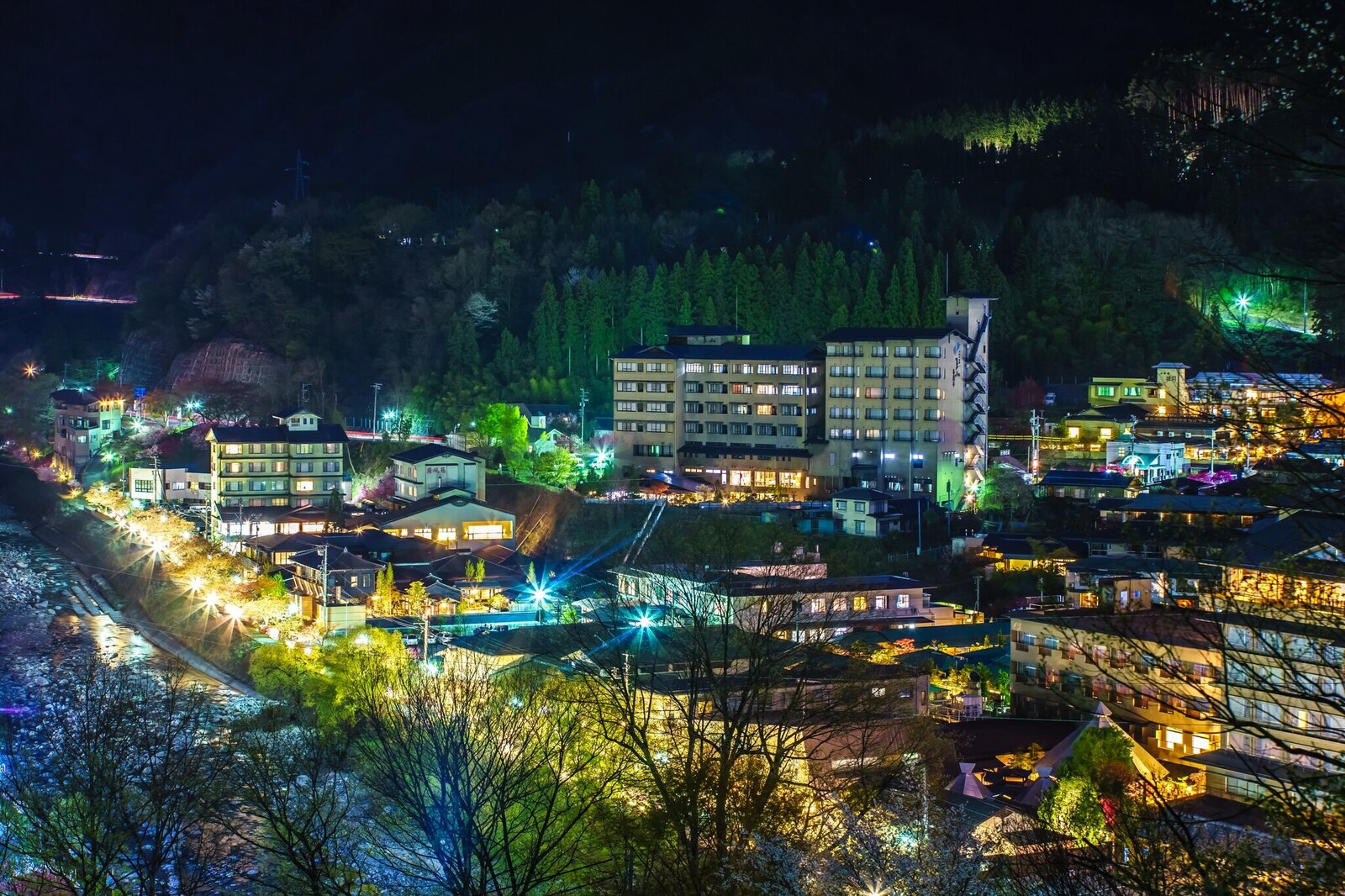 Almost anywhere you go in Nagano, you'll find hot springs. Here are some of the most popular hot spring areas around the prefecture, from quiet natural getaways to bustling winter sports destinations.
Nagano has hundreds of hot springs or onsens including some that are considered among the best in Japan. Onsen culture is huge in Japan and going to a day use spa or staying at an onsen ryokan is a quintessential Japanese experience. Since every onsen contains different mineral properties, temperatures, architecture, etc., there are innumerable types of hot springs and many are known for their healing properties.
In this article, we will introduce Nagano's best onsen towns, called onsen-gai in Japanese. They can be found near ski resorts, near cities, or even way up in the mountains. Make sure to check out Nagano's beautiful and fascinating onsen towns for an authentic Japanese experience to include in your holiday.
Nagano's Most Popular Hot Spring Areas
Yudanaka and Shibu Onsen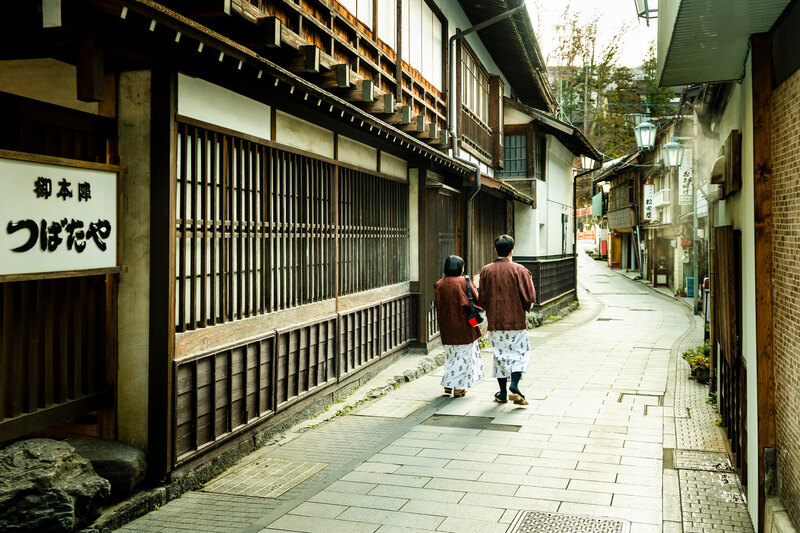 Yudanaka and Shibu Onsen are adjacent hot spring districts in the town of Yamanouchi in Northern Nagano. Yudanaka Onsen is next to the town's main train station, Yudanaka Station, and Shibu Onsen sits farther up the hillside. Both offer an authentic hot spring town atmosphere, but Shibu Onsen is home to some of the area's oldest and most exquisite ryokan inns. In the evening, you'll see many overnight guests in yukata robes walking down its cobblestone streets.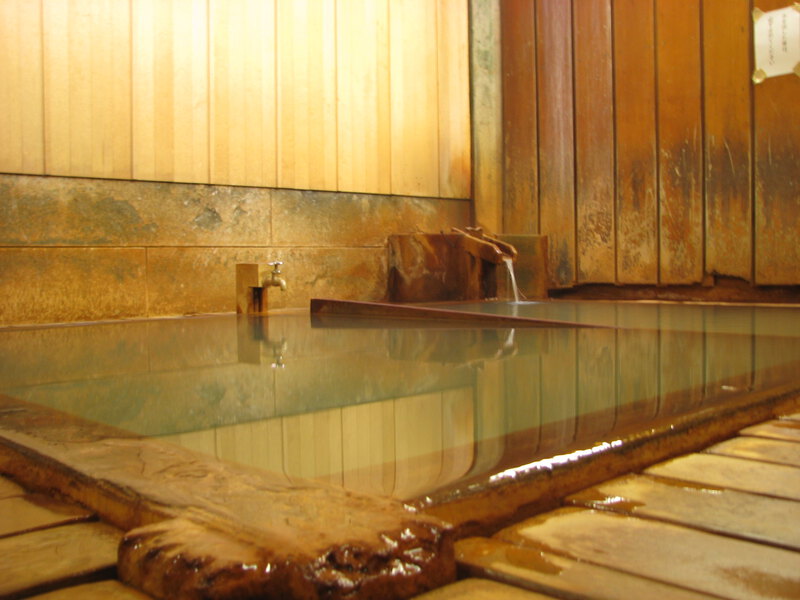 Many of the ryokan inns here have their own hot springs, and there are many public hot springs around each district. It is said that hundreds of years ago, samurai from the local clan used the hot springs of Yudanaka Onsen to heal those wounded in battle
Hot springs aren't all the area has to offer. It is also home to the world famous Jigokudani Wild Monkey Park, where wild monkeys bathe in hot springs. Nearby, you'll find the highlands of Shiga Kogen and Mt. Kosha, where you can enjoy hiking in summer and skiing and snowboarding during winter.
Learn More
How to Enjoy Yamanouchi in Winter
Shibu Onsen Official English Website
Shirahone Onsen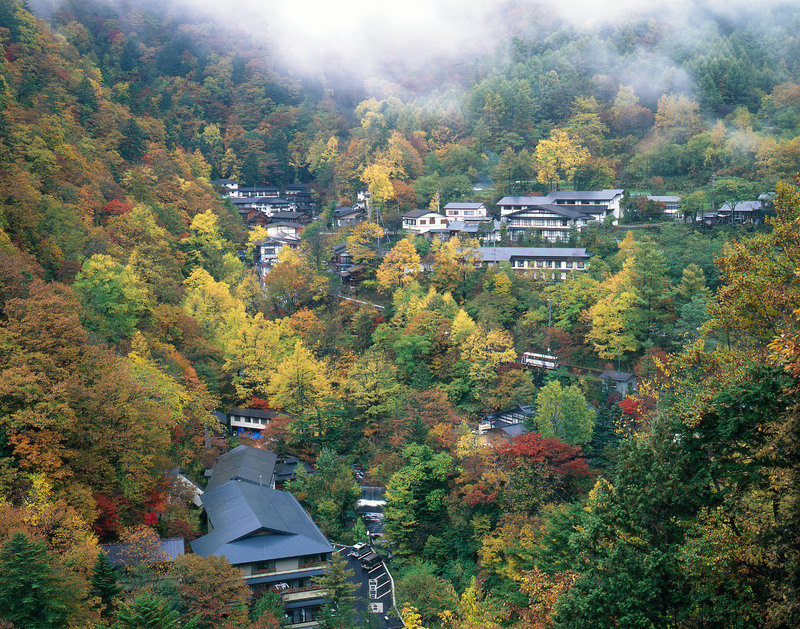 Shirahone Onsen is located deep in the mountains of Chubu Sangaku National Park, surrounded by nothing but forests. It is famous for its milky white water, which earned it its name, meaning 'white bone.'
Unlike other hot spring areas, Shirahone Onsen is a cluster of just a few ryokan inns deep in the mountains and has no central townscape. Most people come here to leisurely relax in their inn's hot springs and bask in the natural scenery.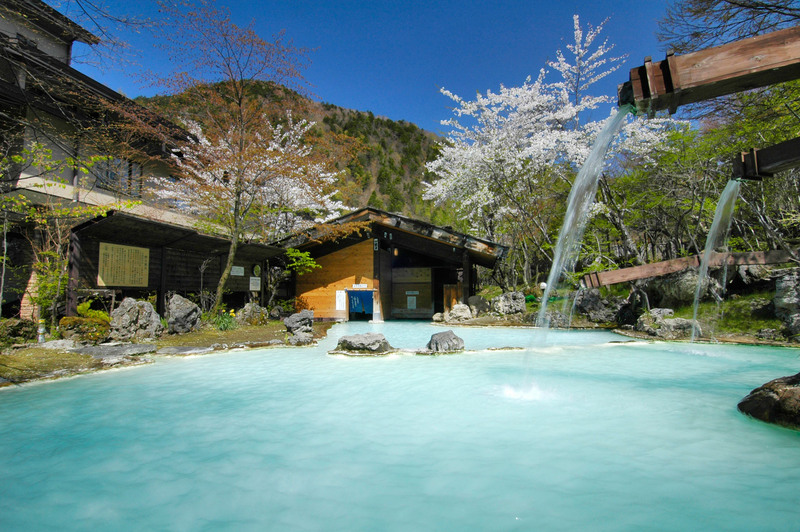 Speaking of scenery, Shirahone Onsen is located near Kamikochi, one of Nagano's national parks at the base of the Northern Japanese Alps, as well as the highlands of Norikura Kogen. From the Kamikochi and Norikura areas, there is access to numerous hiking trails. Shirahone Onsen is also a one hour drive or bus ride from both Takayama and Matsumoto.
This scenic, secluded locale is also a great place for enjoying autumn colors and starry nights.
Learn More
Shirahone Onsen's Official Website
Bessho Onsen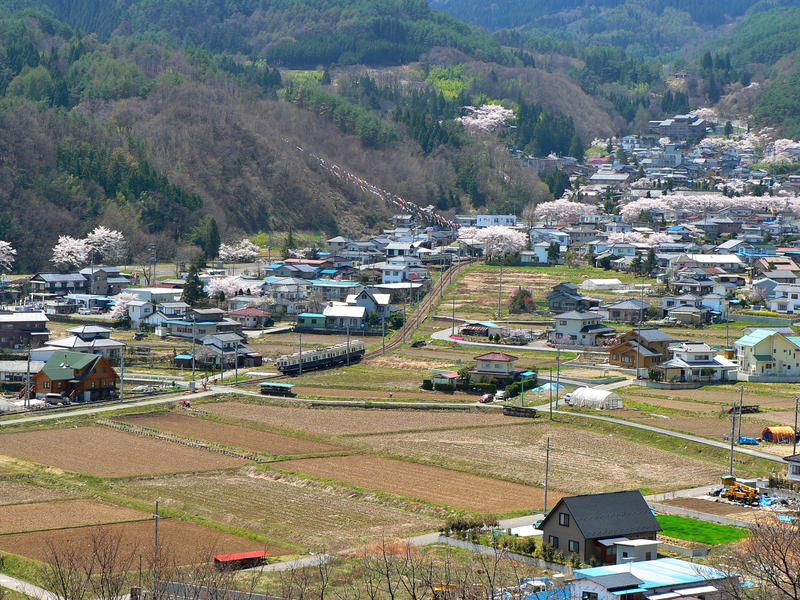 Bessho Onsen is considered one of Nagano's oldest hot springs, founded in the Kamakura Period in the early 1100s. For this reason, the area around Bessho Onsen is rich in culture with many shrines, temples and shops within walking distance.
Bessho Onsen is located in Ueda City on the Bessho Line. Attractions include the ruins of Ueda Castle (famous for its cherry blossoms in Spring), the Utsukushigahara area and Sugadaira Kogen. Although Ueda is not typically on most travelers' itineraries, it is a hidden gem and a good way to explore the real Japanese countryside.
Learn More
A Beautiful Spring Day in Ueda
Bessho Onsen's Official Website
Hirugami Onsen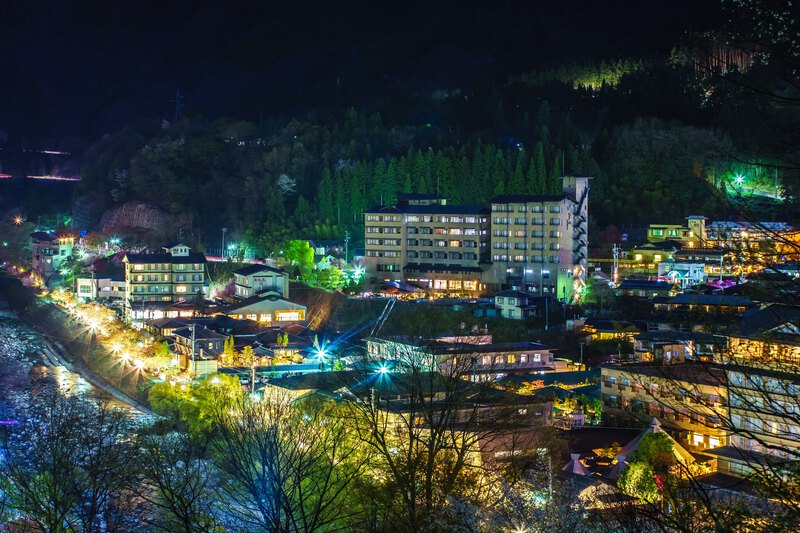 Hirugami Onsen is an onsen area located in Southern Nagano's Achi Village, said to have the most beautiful starry skies in all of Japan. People flock here to enjoy the natural evening light show and spend the night at one of Hirugami Onsen's 20 ryokan inns.
There are various activities around the Hirugami Onsen area including a star gazing tour, peach/cherry blossom tours depending on the season, rafting the Tenryu River and the Sonohara ski area in both Winter and Summer.
Learn More
Hirugami Onsen's Official Website
A Starry Night Sky on the Roof of Japan
Nozawa Onsen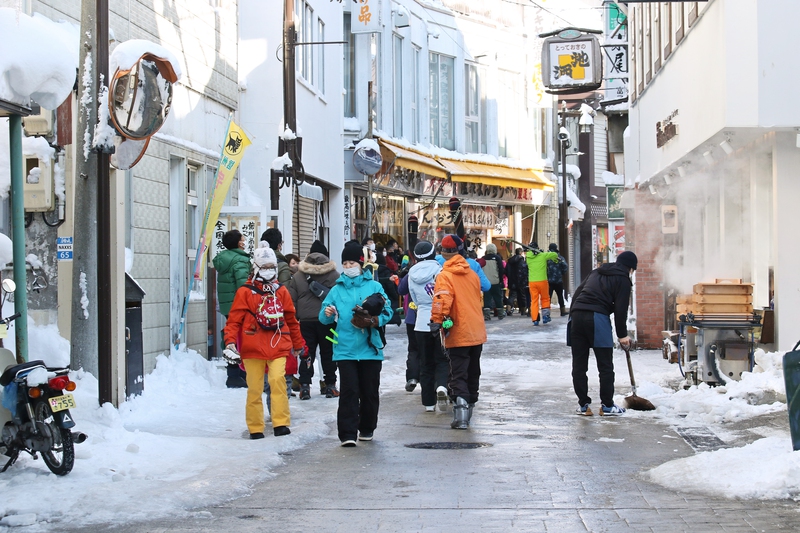 Nozawa Onsen is a small hot spring village attached to an internationally renowned ski resort. While many of its visitors come for the skiing and snowboarding, its steamy baths and authentic townscape are a big part of its charm.
The hot springs here have been a part of locals' everyday lives for centuries. Villagers cook eggs and vegetables in the large pools of Ogama in the center of the village. They use hot spring water to wash produce and clothing. And, of course, they bathe in the hot springs as well. There are 13 free public baths, called soto-yu, scattered around town, which are maintained and used by the local community. Visitors are welcome to bathe in them too—just make sure to bring your own soap and shampoo. (There are also paid options, such as a soto-yu-inspired hot spring with amenities and a bath house that lets you wear swimsuits.)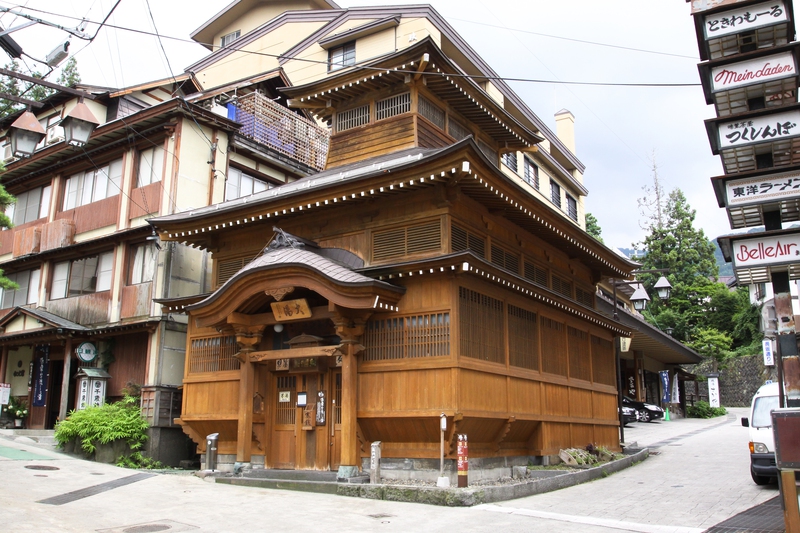 Nozawa's pedestrian-friendly village is also a prime location for outdoor activities. Its own ski resort is within walking distance of the town center, and there are several other ski resorts a short drive away. During the green season, you can go rafting, standup paddleboarding, hiking or mountain biking as well. There's nothing quite like soaking in one of Nozawa Onsen's hot spring baths after a long day outdoors.
Learn More
Nozawa Onsen's Official Website
Nagano's Not-So-Secret Hot Spring Ski Village, Nozawa Onsen
Asama Onsen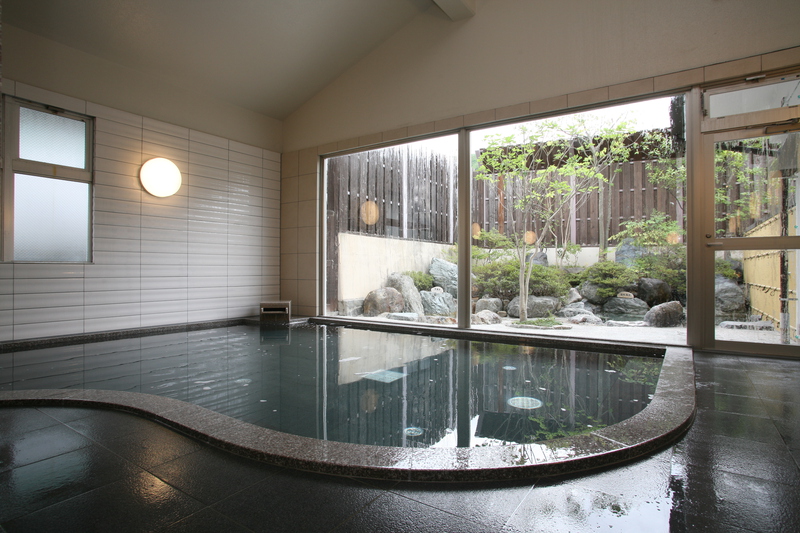 Asama Onsen is located on the outskirts of Matsumoto City. There are many options for ryokans and hotels, as well as day use spas in Asama Onsen.
Asama Onsen's history goes back over a thousand years. It prospered during the Edo Period when the first lord of Matsumoto established a bath house here. Notable warriors and vassals soon built residences in the area, and it became known as "the Inner Parlor of Matsumoto."
Just a 20-minute bus ride or 10-minute drive from Matsumoto Station, Asama Onsen's location is perfect for enjoying Nagano's natural and historical sites, like Matsumoto Castle, the Daio Wasabi Farm, Utsukushigahara Highlands and the Nakasendo.
Learn More
Asama Onsen's Official Website
Togura Kamiyamada Onsen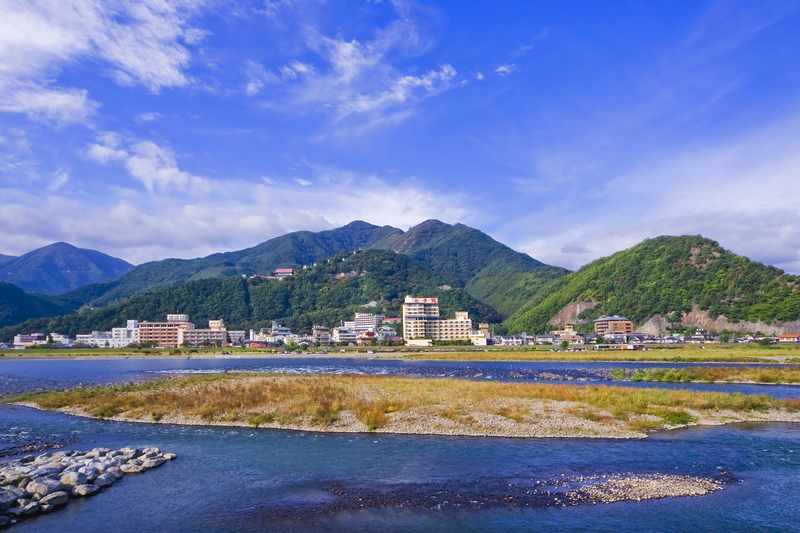 Togura Kamiyamada Onsen is an onsen town located between Ueda and Nagano City. This area was one of the most popular onsen destinations in Nagano during the bubble era, with over 100 ryokans, izakaya pubs and snack bars entertaining visitors.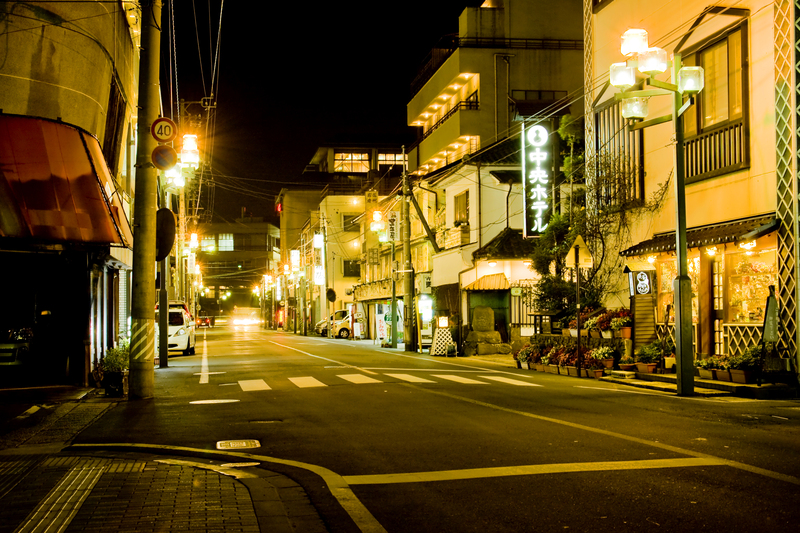 Walking around Togura Kamiyamada Onsen is a nostalgic Japanese experience. Not only are there baths in every ryokan, seven public baths and two footbaths are accessible to visitors. Walking around town in Yukata and Geta is another great way to experience the culture. In addition, many cultural activities can be arranged through Kamesei Ryokan. Activities include cycling, joining a tea ceremony, zen meditation and a geisha show. Seasonal events to check out include a summer fireworks festival and star gazing in the reflection of a rice paddy.
Learn More
Onsen Town Togura Kamiyamada English Website
Cycle through the Japanese Countryside in Chikuma
Where to Stay in a Hot Spring Town
There are three types of accommodations that primarily contain hot springs.
Minshuku
A minshuku is a budget friendly Japanese style accommodation that sometimes has its own onsen. Minshukus typically only serve Japanese style meals and guests make their own futon mattresses where they sleep.
Ryokan
A ryokan is a higher end Japanese style accommodation, although sometimes ryokans have options for Western beds or Western food, especially at breakfast. Not every ryokan in Japan has an onsen attached but most in Nagano do. There is a wide range of prices and amenities at ryokans so make sure to do some research before booking. Typically both dinner and breakfast are included at a ryokan.
Hotel
Many hotels in Japan also contain hot springs. This is a regular Western style hotel, typically with a buffet breakfast that has a hot springs bathing area.
Conclusion
Nagano has many onsen areas to explore. Each one has its own unique aspects and history so check out the one that interests you or go see them all. Staying in a ryokan and relaxing in the hot baths are a quintessential Japanese experience that should be on your Japan travel bucket list!
Update:2022/03/09