Cycle through the Japanese Countryside in Chikuma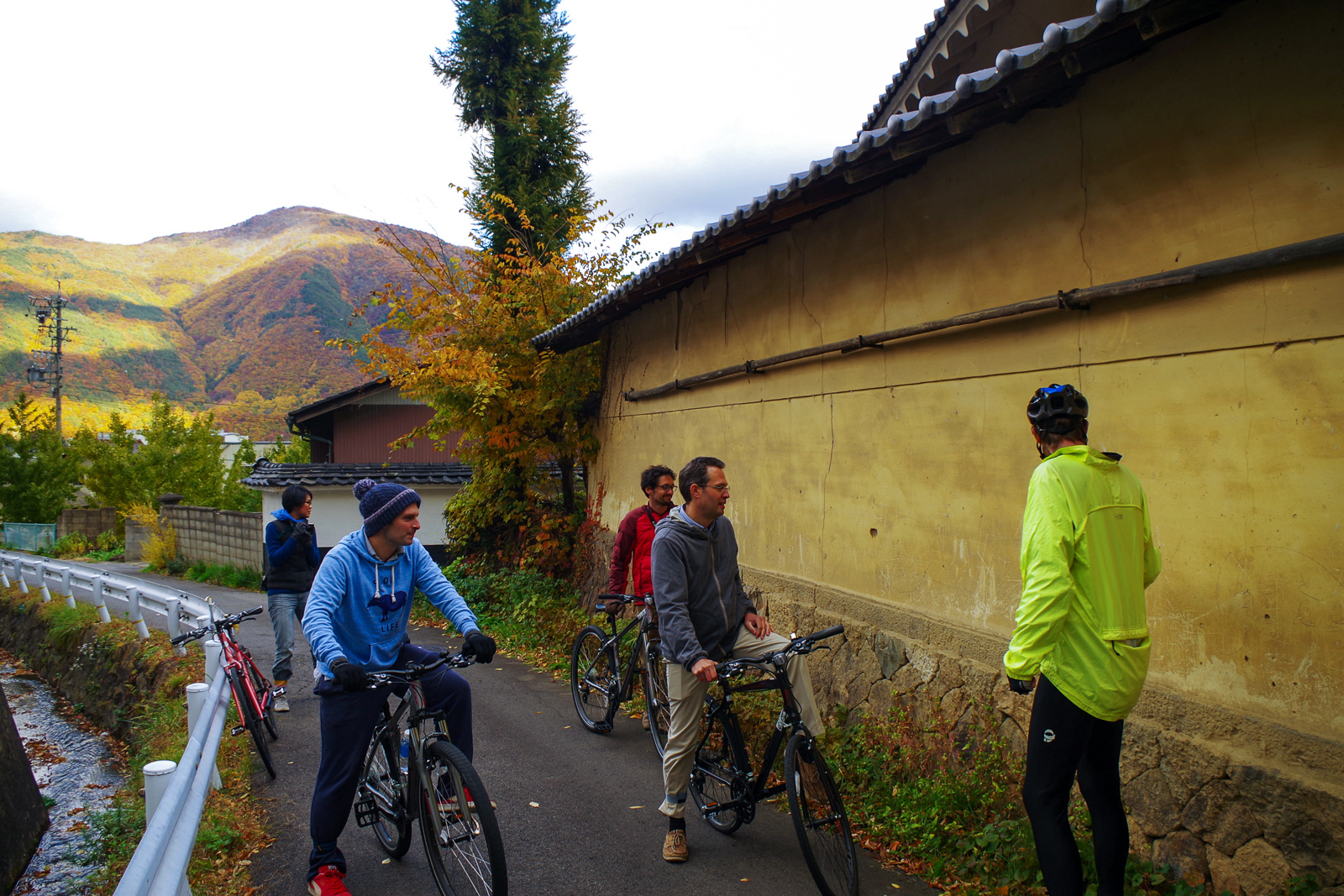 Enjoy cycling, hot springs, and geisha shows in the Japanese countryside just south of Nagano City!
On a beautiful fall day, I joined a group of foreigners on a cycling tour of Togura Kamiyamada Onsen south of Chikuma City. The area was once home to several mountain castles and a post town so there is a wealth of history in the area. Our guide, local ryokan owner and area expert Tyler, took us along beautiful mountain roads and pointed out interesting relics and features along the way.
From small stone dosojin carvings used to ward off bandits to legacies of the region's districts and landscape features, Tyler pointed out interesting aspects of history that we would have never noticed on our own. As a lover of traditional Japanese architecture himself, he told us about the significance of different design features, from thatched roofs to decorative tile crowns on various buildings. And occasionally there were some heart-warming discoveries as well, like the preserved lovers' carvings on old, earthern walls.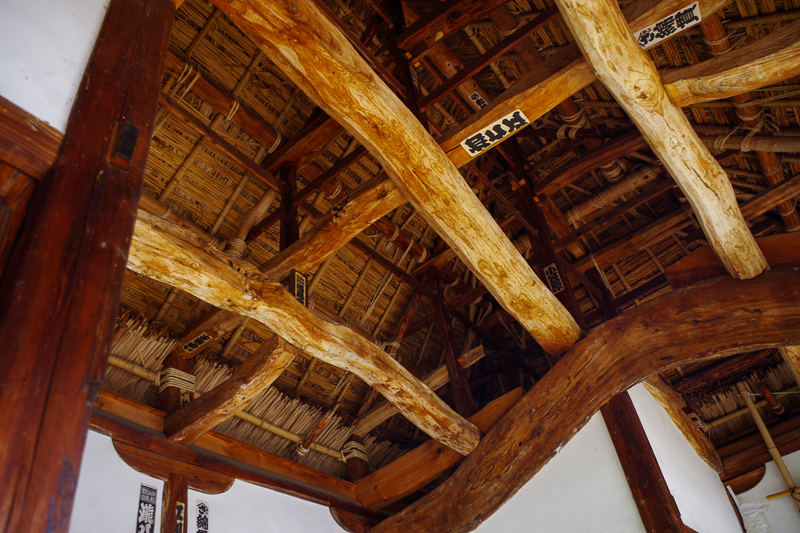 The temple gate of Chishiki-ji is made entirely without metal fastenings. Fasten-ating!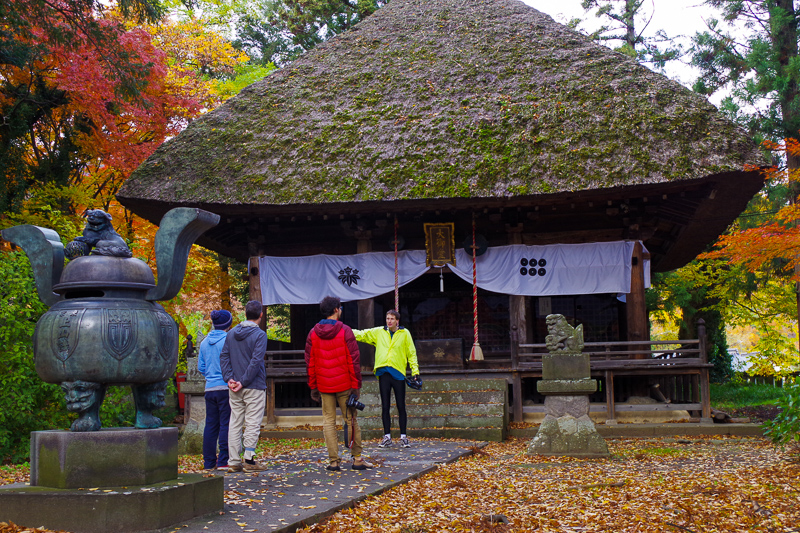 Tyler recounts the history of Chishiki-ji temple in Chikuma.
Along the route there were expansive views of the Chikuma valley and surrounding mountains. While past their peak, the autumn leaves still burned vividly and brightly around us and cattails swung in the breeze. As we passed farmers tending their fields they greeted us warmly and occasionally we stopped to chit chat. Groups of school children shouted "Hello!" as we cycled on. It was a much closer inspection of the countryside than I've had in most of my time here.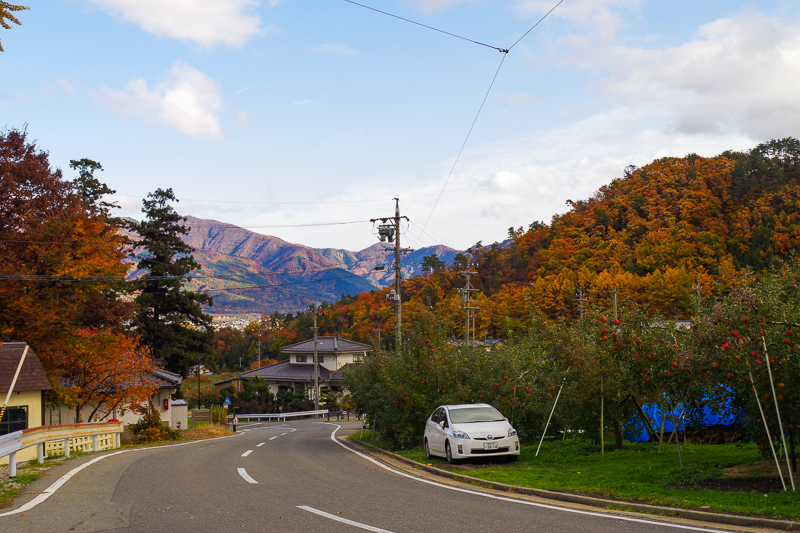 Lovely views from the Crown apple orchard.
After 2 hours touring around the area we were starting to get cold, so headed back to Tyler's inn, Kamesei Ryokan, to take a dip in the hot springs.
An Evening Geisha Performance
Togura Kamiyamada Onsen is also home to practicing Geisha performers. They usually work at larger banquets, but Tyler sometimes arranges them to visit for 30-minute performances in his own ryokan. Unlike seeing geisha in Kyoto, here it is an interactive experience, playing games and learning dances from them! They danced and sang several songs. One of them, called "Kawanakajima," was about the great battle between Uesugi Kenshin and Takeda Shingen that happened here. As they danced, their bright fans slashed through the air like swords.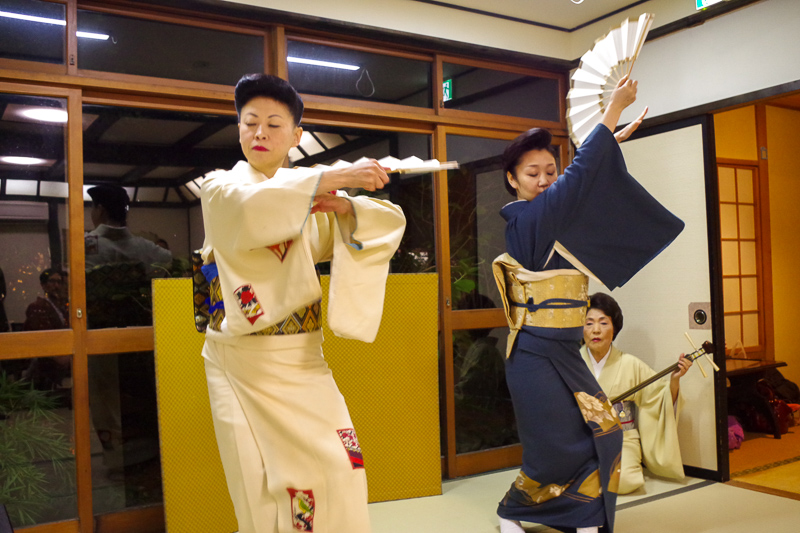 The geisha perform the song and dance "Kawanakajima."
We learned a coal miner's dance, and while our hostesses explained it very well in English, the timing and coordination are not as easy as you might expect. After a few revolutions around the table, they kindly told us how good we all were at it (despite actually being quite uncoordinated and clumsy). Finally, we played a simple drinking game against the geisha. As it turns out, they are very, very good at this game and none of us stood a chance against them. They would then hand the loser a glass of beer, and we all cheered in rhythm as they drank it down.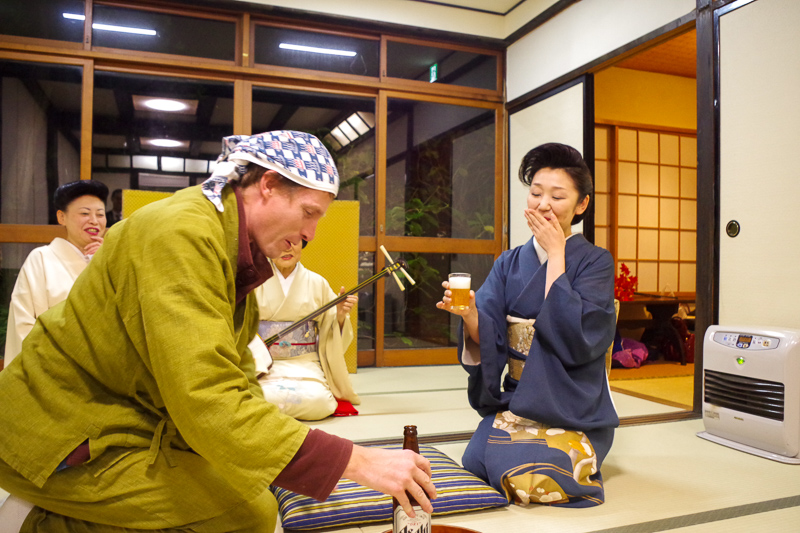 But actually, Tyler himself is a seasoned veteran of the game. Here he upsets the champion in a practice round.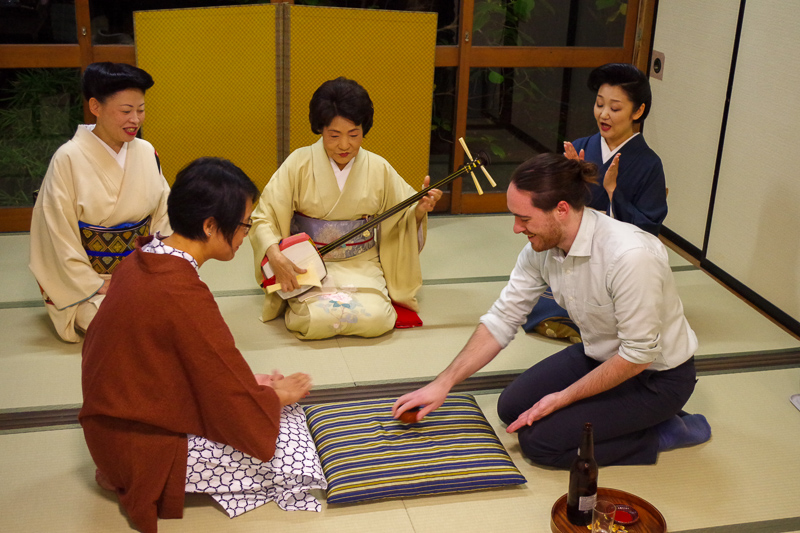 I make my drinking game debut with another guest (and won!)
Additional Information
Cycling through the countryside is one of the best ways to see it up close and personal. Having a local guide to point out interesting features and history makes it even better. For an unforgettable experience of rural Japan, consider visiting Togura Kamiyamada Onsen.
Access:
From Nagano Station, take the Shinano line train to Togura station (about 25 minutes). From there, buses run regularly to Kamiyamada Onsen, or you can walk there yourself in 25 minutes.
(Click here to browse the timetable in Japanese.)
Update:2020/01/17