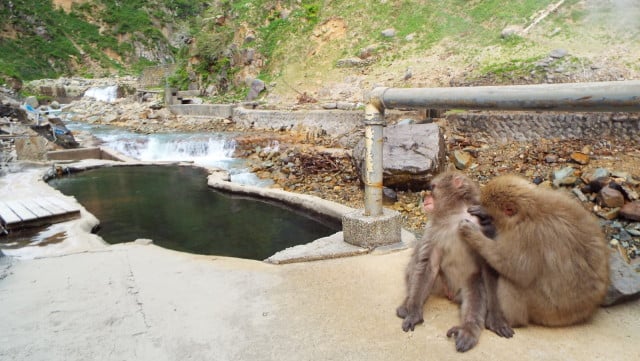 One of Japan's greatest charms is its natural hot springs and bathing culture. While sitting naked in a bath with a bunch of strangers can be intimidating at first, once you take a dip in an onsen you'll never feel the same. Unlike a hot tub or Jacuzzi, the water is completely natural and isn't treated with harsh chemicals; the water leaves your skin feeling smooth, natural minerals revitalize your senses, and the heat warms you from the inside out.
In Nagano, there's a huge variety of hot springs to choose from. Different springs offer baths of different temperature and mineral composition, which offer various health and beauty benefits. Some facilities are new and shiny while others are made from old wood caked in years of mineral build-up. You could spend years here and not visit them all! Since your time here may be short, I'd like to introduce some particularly memorable and unique hot springs around Nagano to visit.
1. Build your own Hot Spring at Kiriake Onsen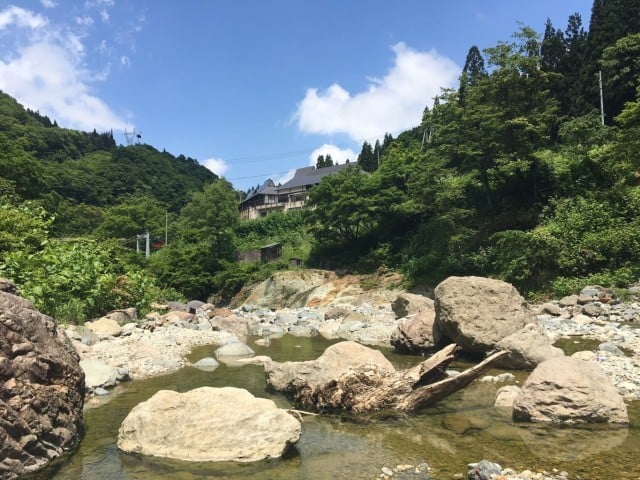 Would you like to be an onsen pioneer and dig up your own bath in the wilderness? Natural spring water wells up from the ground into the Nakatsu River on the border of Nagano and Niigata. There are several hotels along the river that rent out shovels to visitors so they can build their own outdoor baths! You can adjust the temperature to your liking by rearranging rocks around your spot. Let in more river water to cool it down, or block the flow for a steamy +40°C hot tub.
Access
To reach Kiriake Onsen by car, it is 70 minutes via route 117 from the Joshin'etsu Expressway Toyota-Iiyama IC exit.
2. Meet "the One" at Shosenkaku's Omiai Buro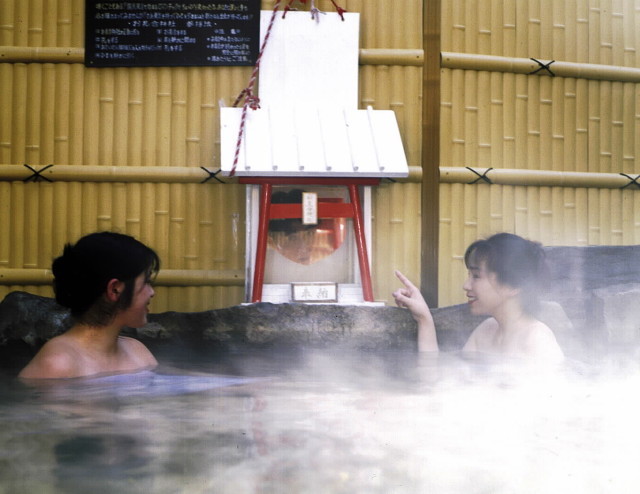 In Shosenkaku's outdoor hot spring, a small shrine with a window connects the men and women's outdoor baths. Women can open the window blind and chat with men on the other side. For shy couples, it may be a chance to enjoy the hot spring together, and for singles, a chance to meet the love of their lives! So far, the Omiai window has been responsible for three marriages. Who will be next?
Details and Access
Shosenkaku is south of Nagano City near Imai and Kawanakajima Stations. You can take a 12 min. taxi from Kawanakajima Station, or walk for 30 min. from Imai Station. It is open year-round from 12:00 to 20:00 on weekdays (11:00 to 20:00 on Saturdays and holidays). Entrance fee is 650 yen for adults (250 for children).
3. Relax in Japan's Highest Outdoor Bath at Honzawa Onsen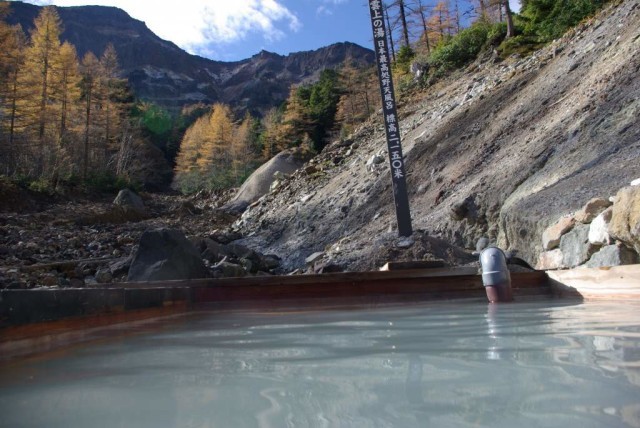 At 2,150m high, this natural outdoor bath is a unique and wild destination. A car will only take you so far; instead, you'll have to hike on foot for over two hours to reach it. After your hike, you'll be rewarded with a beautiful view of Yatsugatake's mountains and a steamy, sulfurous bath to sooth your tired muscles. You can travel up for just the day, or you can spend the night in the Honzawa Onsen lodge and tackle Mt. Akadake, Mt. Iodake, or Mt. Tengu.
Details
The lodge and onsen are open year-round, but winter travel is not recommended unless you have winter climbing experience. A night in the lodge ranges from 8,700 to 11,200 yen, and the outdoor bath is 600 yen. Be aware that there are no changing rooms for the outdoor bath!
Access
From JR Koumi Station, take the Matsubarako line bus to Inagoyu. From there, it's a 3 hour hike to the hot spring. If you're traveling by car, park at Honsawa Onsen Iriguchi. From there it's a 2 hour and 15 minute walk.
4. Bathing with Apples around Nagano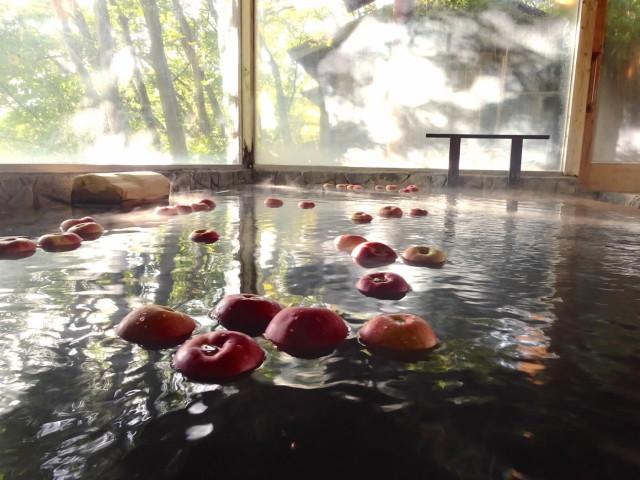 Among Japan's 47 prefectures, Nagano takes second place for both apple production and number of hot spring areas (don't even get us started on all of Nagano's other "second place" rankings…), so it was only natural that someone eventually combined the two. The colorful floating apples not only please the eye, but fill the bathroom with a sweet, autumnal aroma.
The first place to offer an apple-filled bath is said to be Nakadanaso in Nagano's Komoro City. The owners filled the hot spring with apples in homage to one of Shimazaki Toson's poems called "First Love," a story about a young boy who falls in love with a girl tending her apple orchard. Now, guests can enjoy the apple bath at Nakadanaso between October and May of every year, and other hot springs around the prefecture have followed suit.
Details and Access
Nakadanaso can be reached on foot from Komoro Station in just 15 minutes. The hot spring is open to visitors from 11:30 to 14:00, and costs 1,000 yen for adults (500 for children).
Another option is Toyono's Ringo no Yu which has apple baths on the 5th, 15th, and 25th of each month (open from 11:00 to 22:00, closed on the 4th Tuesday of every month). Entrance is 410 yen for adults (300 for children). It's just a 12 min. walk from Toyono Station.
5. Take a Dip with Monkeys at Korakukan?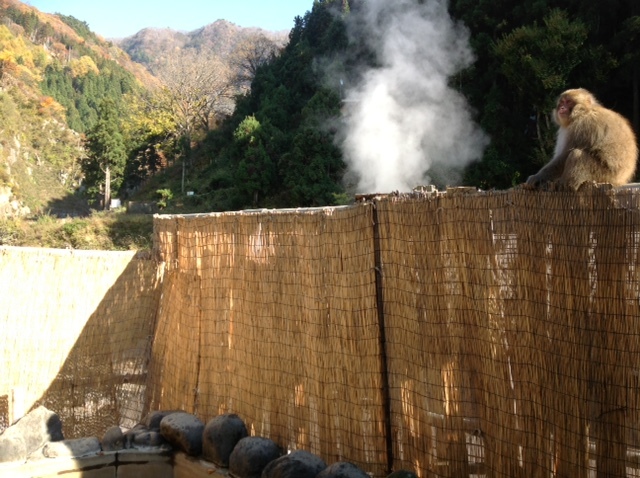 Jigokudani Yaen Koen is famous for its hot-spring-bathing snow monkeys, but the phenomenon originated at the nearby Korakukan inn. Monkeys occasionally traveled into the valley to warm themselves during the harsh winters, sitting in small pools by the side of the river. Over the years, some of the monkeys became accustomed to the sight of people who were relaxing in the inn's outdoor baths, eventually taking a dip themselves!
Korakukan is located beside the monkey park and offers great views of the area. Monkeys also treat the inn as a jungle gym and are not shy about hanging around the inn's baths. After watching monkeys taking a dip at the Snow Monkey park, head to Korakukan and take a dip while monkeys watch you!
Details and Access
Korakukan can be found next to the Snow Monkey Park. The inn's hot springs are open for visitors from 12:00 to 15:00 and the entrance fee is 600 yen for adults (300 for children). Indoor and outdoor baths are available. There is a women's only outdoor bath and a mixed bath. Special bathing suits are available to rent for women.
Learn More about Japan's Hot Springs
A vacation to Nagano wouldn't be complete without a visit to one of its over 200 hot spring areas. Tourists flock to hot spring resort areas such as Nozawa, Shibu, Shirahone, Bessho, and Hirugami, and there are plenty of hot springs in arm's reach of ski resorts and hiking trails for outdoor enthusiasts. Before visiting one yourself, or just to brush up on your hot spring knowledge, take a look at our article on how to enjoy hot springs.