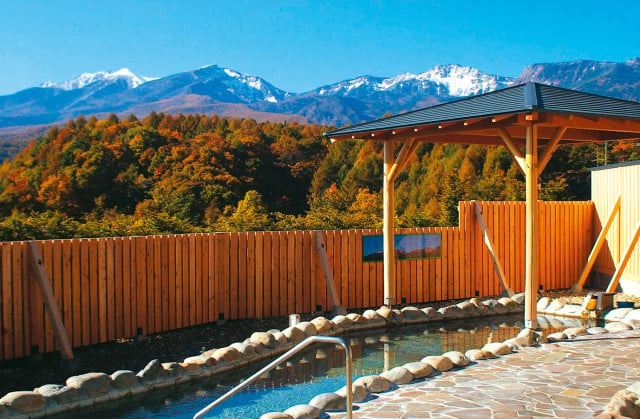 Japan is one of the most volcanically active countries in the world, blessing it with thousands of naturally heated mineral springs. These hot springs, or Onsen, have served an important role in Japanese daily life for hundreds of years. Locals came to the baths to cleanse themselves and socialize, and others came from far and wide to soak in springs that would cure their ills. Now, soaking in hot springs is an popular pastime attracting visitors from around the world.
Among Japan's 47 prefectures, Nagano has the second highest number of hot spring areas (over 200) and the most day-use hot spring facilities in the country (over 700!). You can find hot springs of all shapes, sizes, colors and styles here. While your first hot spring experience may be somewhat daunting, you quickly learn to love this Japanese past-time.
Onsen Tips and Etiquette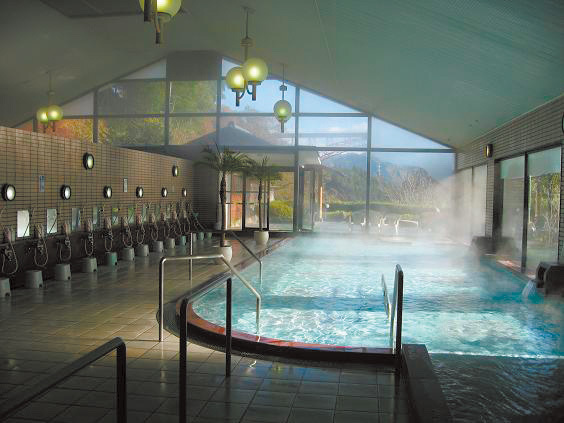 Soaking in a hot spring is a great way to relax after a long day of hiking or playing outside, as well as getting in touch with the locals or enjoying a leisurely chat with friends. But stepping into an onsen for the first time can be an intimidating experience. Not only are you naked in front of complete strangers, but you're also alone in a new culture with customs that you may not fully understand. But Onsen etiquette is pretty simple, just remember the following tips: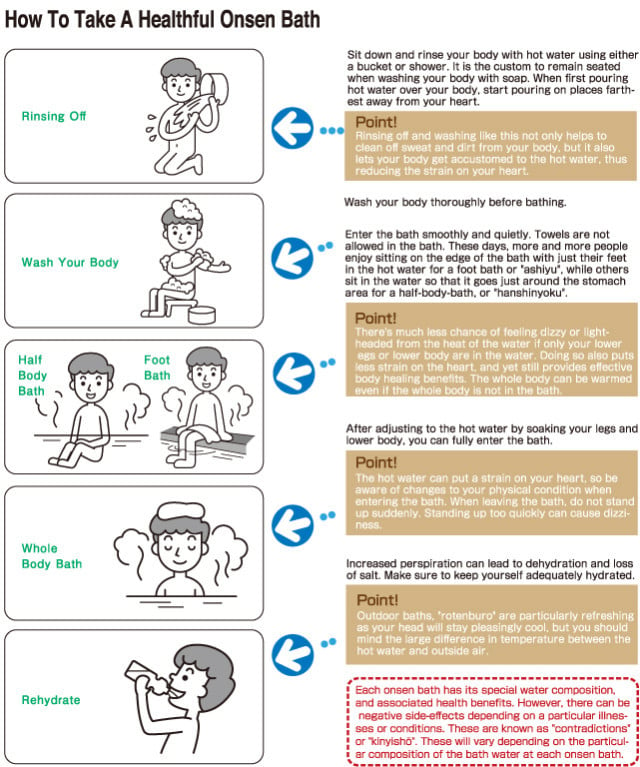 Tattoos in Onsen
People with tattoos have been prohibited from using Onsen facilities for a long time. Originally this was to keep troublesome Yakuza from scaring away their regular customers, but the rule often extends to innocent butterflies and "I Heart Mom" tattoos as well. Onsen operators are becoming more lenient over time, and according to the Japanese National Tourism Agency, around 30% of facility and hotel managers wouldn't turn tattooed guests away. If your tattoo is small enough to cover up, a bit of tape or bandage should get you into the hot spring smoothly. If you're the illustrated man (or woman), you may have better luck renting a private onsen bath at your hotel.
Types of Baths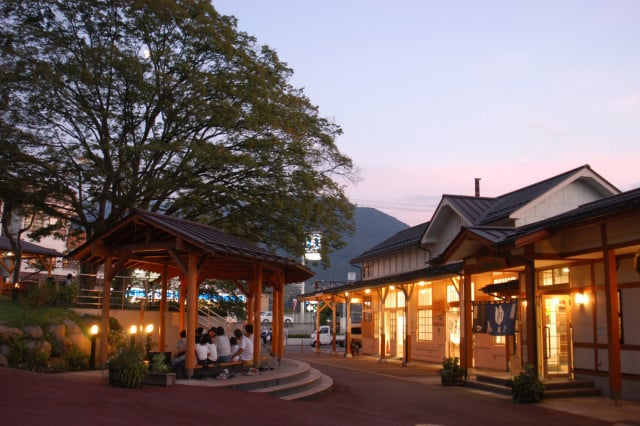 One of the most enjoyable ways to experience Onsen is to travel to an Onsen town where you can leisurely walk from bath to bath in comfortable yukata robes. In these areas you'll be able to find Ashi-yu foot baths and Soto-yu public baths . Foot baths are free and Soto-yu usually are as well, but only cost between 100 to 300 yen when they aren't. These baths often have a traditional atmosphere that Japanophiles will love, but make sure to bring your own towels and soap because there won't be any provided for you!
In areas like Nozawa Onsen and Shibu Onsen, there are special stamps at each Soto-yu. You can collect them all for a special souvenir of your holiday. Each area has quite a few of these baths, so remember to take your time and drink plenty of water along the way!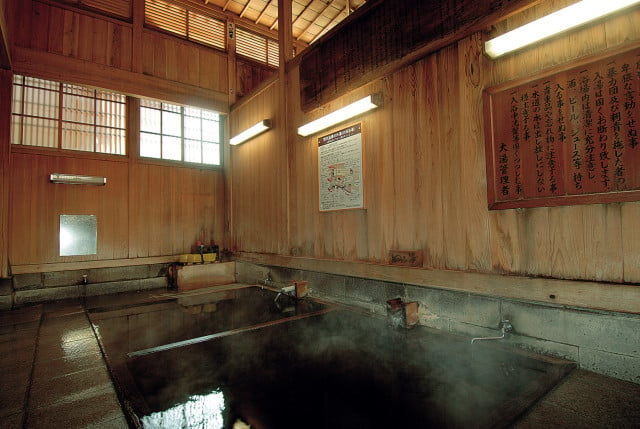 If you're traveling as a couple or family, it can be somewhat lonely being separated from one another while bathing. Trying a family bath or Konyoku mixed bath may be a more enjoyable experience. Mixed baths are open to both men and women, and allow guests to wear towels in the bath to preserve their modesty. Women can use full bath towels while men can only use small onsen towels. There are also some facilities where guests are allowed to wear swimsuit.
Family baths (or Kashikiriburo) are usually found in hotels and Japanese-style inns. They can be rented out to guests for private use so that families or couples can enjoy quality time with one another. Some family baths are free to rent and others aren't, so check with your hotel in advance!
Rotenburo outdoor baths are my personal favorite. While indoor baths can become somewhat stuffy and hot, the refreshing outside air allows you to stay in the hot spring for much longer. You can also enjoy the sights and sounds of nature, often with picturesque views or carefully manicured gardens. In winter, nothing beats sitting in a steamy outdoor bath as the snow gently falls on your shoulders.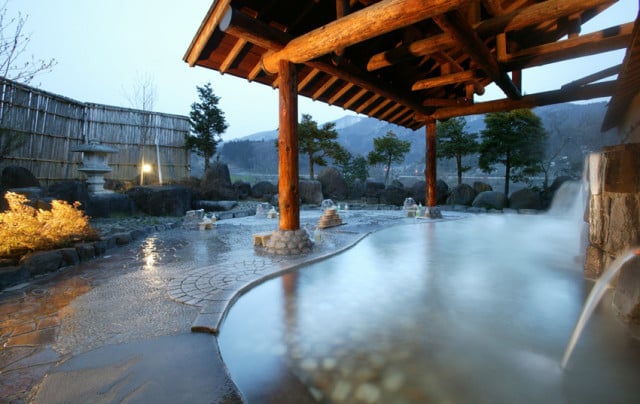 Additional Info
Thanks for reading! I hope this article has been useful for those who are thinking about visiting Japan's hot springs for the first time. You can find more information about Nagano's Onsen areas here or learn more about some of Nagano's most unique hot springs here. And stay tuned for future blogs about unique hot springs to visit!
Onsen Jargon Glossary
Junkan-shiki (循環式): A bath where water is circulated and reused. Bleaching agents are often added to keep the bath water clean.
Kakenagashi (掛け流し): A bath constantly refilled by fresh spring water, never recycled. The gold standard of Onsen.
Kashikiri-buro (貸切風呂): A private bath that can be rented, usually only at hotels or ryokan inns.
Ka-on (加温): Spring water is heated before entering the bath.
Ka-sui (加水): Tap water is added to the hot spring water, either to lower the temperature or increase water volume.
Konyoku (混浴): A mixed bath for both men and women.
Notenburo, or Yatenburo (野天風呂): An outdoor bath in a particularly remote or spectacular location.
Rotenburo (露天風呂): An outdoor bath.
Sento (銭湯): A bathing facility that uses heated tap water in its baths.
Soto-yu (外湯): A publicly-managed bath that is often free or quite cheap.
Uchi-yu (内湯): An indoor bath found in a hotel, ryokan or other private establishment.
Kita-Yatsugatake Yahho no Yu
A spa in the town of Koumi in eastern Nagano with beautiful views of the Yatsugatake mountain range. They have 100% Kakenagashi indoor baths and a variety of outdoor baths, as well as a rock sauna. See their Japanese website for more information.
Entrance fee: Adults/500 yen Children/200 yen
Hours: 10:00 – 21:00
Holidays: –
Contact: 0267-93-2288
Address: 〒384-1103長野県南佐久郡小海町大字豊里5918-2八峰の湯
Kajika no Yu
Kajika no Yu in Anan-machi features Nagano's largest indoor baths, with Rotenburo outdoor baths and saunas as well. See their Japanese website for more details.
Entrance fee: Adults/500 yen Children/200 yen
Hours: 10:00 – 21:00
Holidays: Wednesdays
Contact: 0260-22-2000
Address: 〒399-1505長野県下伊那郡阿南町富草4923かじかの湯
Yutaki Onsen
A hot spring alongside the Chikuma river outside of Nozawa Onsen village. It has indoor and outdoor baths with lovely views of the countryside. Their Japanese websiteJapanese website has more information.
Entrance fee: Adults/510 yen Children/250 yen
Hours: 10:00 – 21:00
Holidays: Tuesdays
Contact: 0269-65-3454
Address: 〒389-2602長野県飯山市一山1898
Swimsuit-friendly Onsen Baths
Nozawa Sparena
A large spa complex near the Nozawa Onsen Ski resort with indoor and outdoor baths, Sauna and relaxation rooms. In summer families can also enjoy using the outdoor pool. Read more here.
Entrance fee: Adults/700 yen Children/500 yen
Rental Swimsuit: 300 yen
Hours: Onsen/ 13:00-20:30 (WINTER), 13:00-20:30 (GREEN)
Holidays: 5/16-5/27, 11/9-11/20 closed for maintenance
Contact: 0269-85-4567
Ikenotaira
A hotel resort on lake Shirakaba near the Suwa area of Nagano. It has plenty of activities for families and couples, with a large-scale spa featuring gender-separated and mixed bathing areas. Find out more about them on their English website.
Entrance fee (non-guests): Adults/1,000 yen Children/700 yen
Rental Swimsuit: 300 yen
Hours: 10:00-20:00
Contact: 0266-68-2100