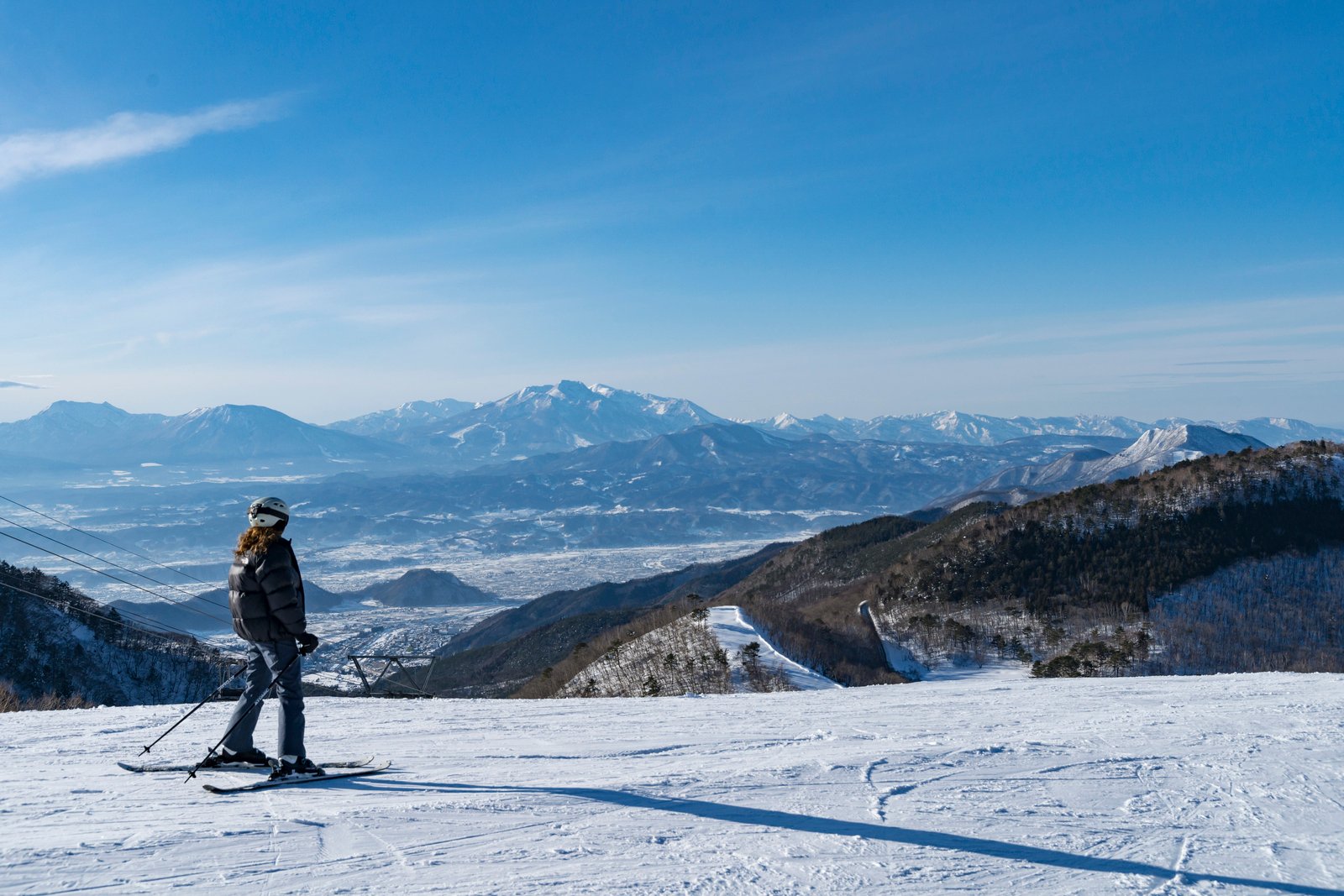 Site of the 1998 Winter Olympics, Shiga Kogen is Japan's highest elevation and largest contiguous ski resort. Shiga Kogen is a powder paradise in a huge area with diverse terrain, amenities, and stunning views. It is a hidden gem awaiting international visitors.
About Shiga Kogen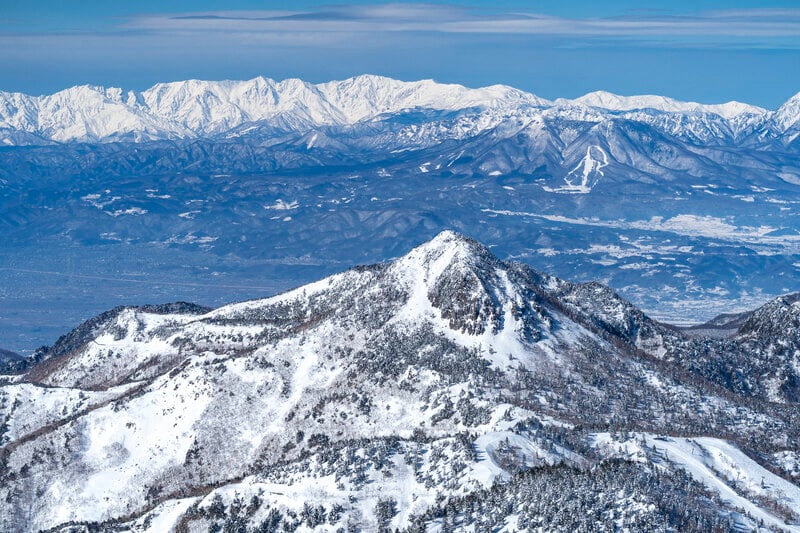 Shiga Kogen is in Northeastern Nagano on the border with Gunma Prefecture. It is 45 kilometers from Nagano City and takes around 1.5 hours to drive. With a peak elevation of 2,307 meters, Shiga Kogen is Japan's highest-elevation resort. As a result, Shiga Kogen gets quite cold, opening earlier in the season than many resorts and staying open until Golden Week in late April or early May. Bring plenty of warm gear during ski season because temperatures can reach -10°C or colder on the slopes and even lower at night.
Shiga Kogen comprises 18 different ski areas with over 70 ski lifts, 60 of which are interconnected. Shiga Kogen is around 20 kilometers from end to end and takes 30 minutes to drive across. The only unconnected areas—areas that can't reached on skis—are the Yokoteyama and Kumanoyu areas. However, free shuttle services within Shiga Kogen link the resorts. All other areas in Shiga Kogen are accessible by skiing. Leave plenty of time to return in the afternoon because lifts close at different times.
Why Shiga Kogen?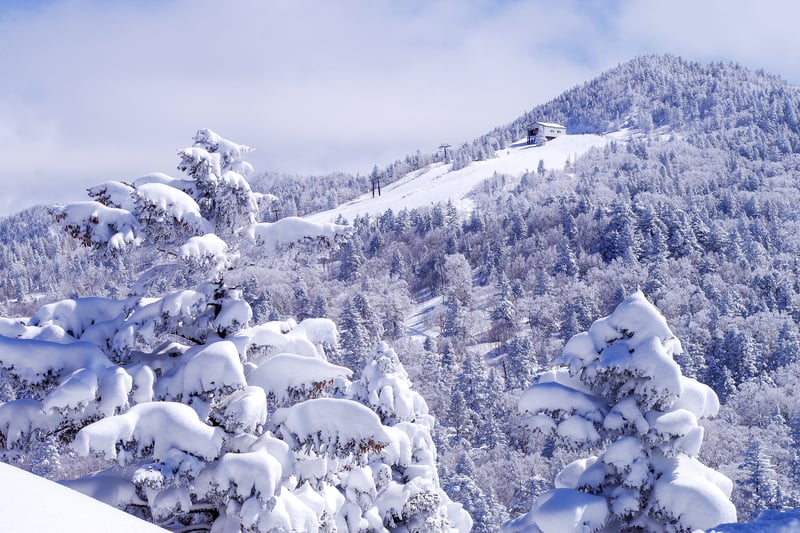 Although Shiga Kogen receives less annual snowfall than resorts such as Hakuba and Nozawa Onsen, the quality of snow in Shiga Kogen is world-renowned. Because of the high elevation and distance from the sea, the powder snow in Shiga Kogen is dry, forming fine crystals like sand. Wet snow is easy to squeeze into a snowball, but in Shiga Kogen, the powder falls through your fingers. After a snowfall, skiing in Shiga Kogen feels like floating on a soft cloud.
Shiga Kogen is also within Joshin'etsu National Park, so there is little human activity or noise. The stunning natural views with only the sound of skis or snowboards passing through crystal powder are a unique alpine experience found nowhere else in Japan.
In addition, although Shiga Kogen is popular with school trips, it is not well-known yet by international visitors. Shiga Kogen is more difficult to access than other ski areas and does not currently have a thriving nightlife scene. However, perhaps skiing in a beautiful natural setting is your main objective. In that case, Shiga Kogen is the perfect resort for you.
Areas of Shiga Kogen
Yakebitaiyama and Okushiga Kogen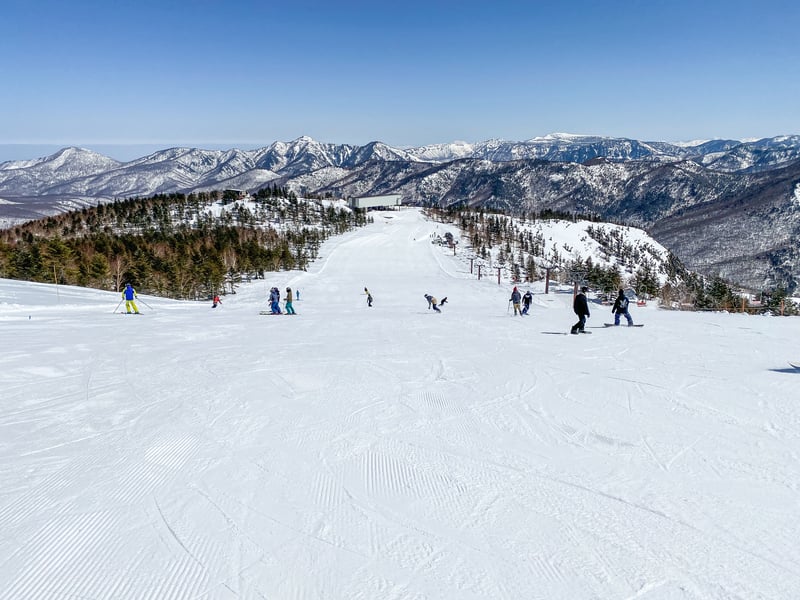 Yakebitaiyama and Okushiga Kogen are on the furthest edge of Shiga Kogen. They both feature wide-open terrain, peak elevation of around 2,000 meters, and gondola access with long runs of up to 3 kilometers. Okushiga Kogen was allegedly the emperor's favorite resort. Okushiga Kogen has high-end accommodation options and an English-speaking ski school, while the Prince Hotel group owns Yakebitaiyama.
Shiga Kogen's Central Area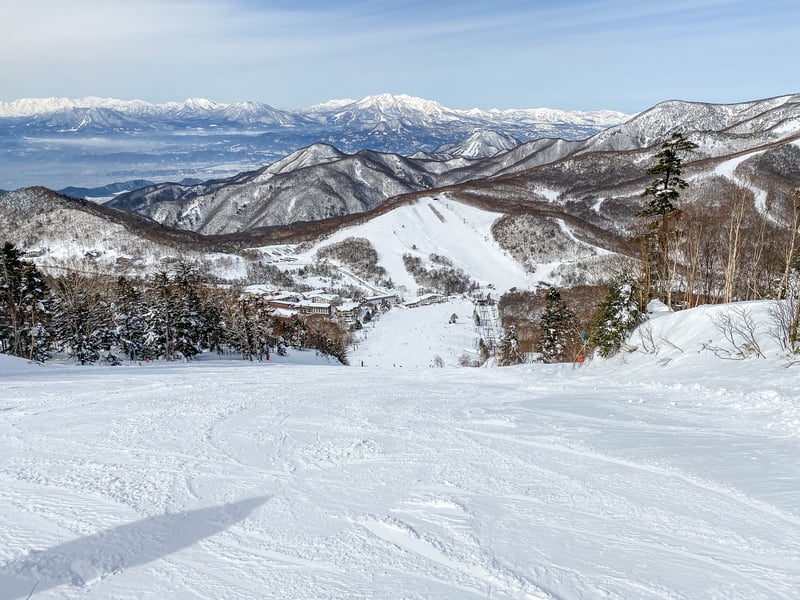 Most of Shiga Kogen's resorts are located within the central area from Sun Valley to Ichinose. Many of the slopes in the central area are family-friendly. All of the resorts are interconnected so that you can ski between them. There are also many dining and rest options from which to choose.
Yokoteyama and Kumanoyu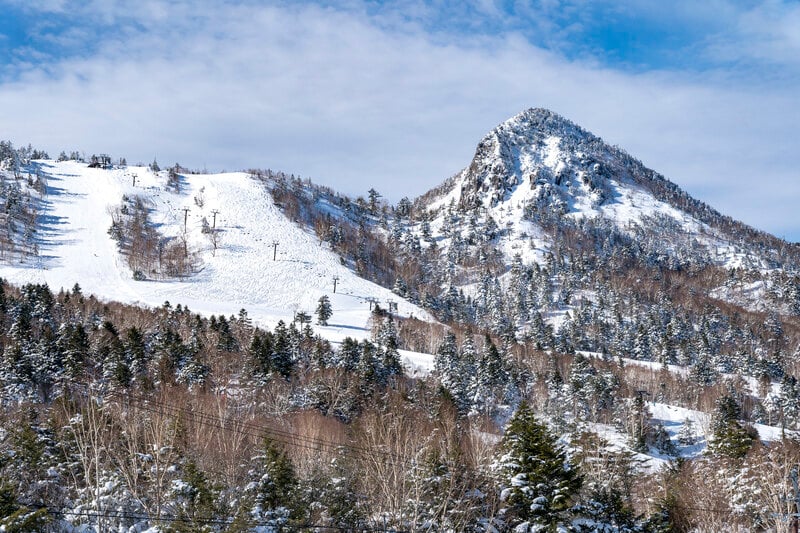 Yokoteyama and Kumanoyu are the only unconnected areas in Shiga Kogen. However, they are worth visiting for their higher elevation and untracked powder snow. In addition, Kumanoyu Hotel has a traditional hot spring bath that is fantastic after a long day of skiing.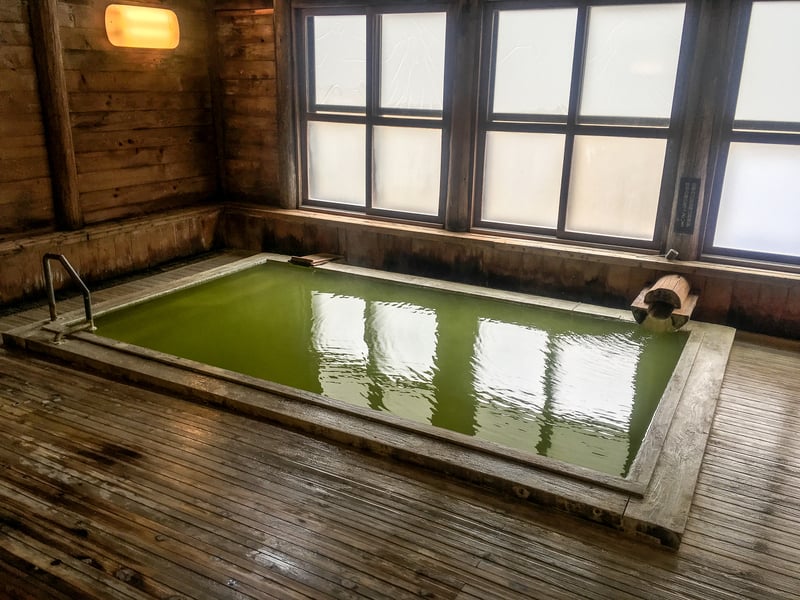 Other Activities
Snowshoeing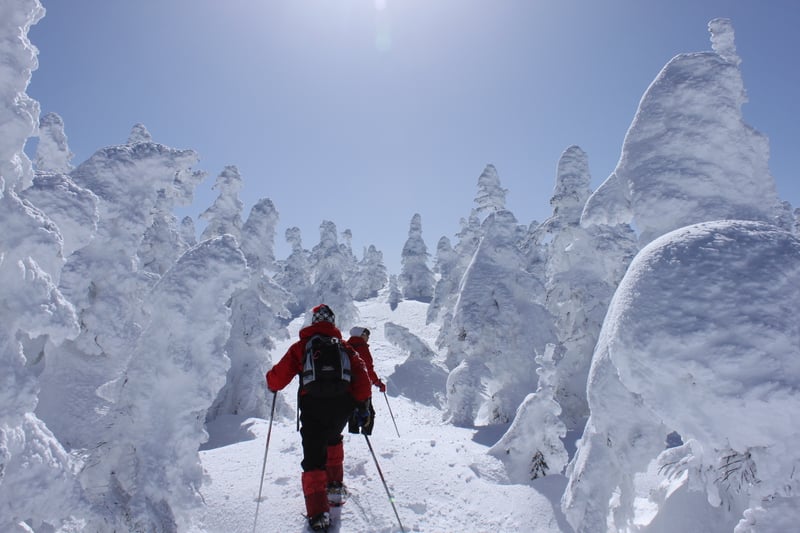 Snowshoeing is an excellent activity for those wanting to see beautiful scenery but cannot ski or need a recovery day. There are several snowshoeing areas within Shiga Kogen. Some hotels and ski rental companies rent snowshoeing equipment, but it is best to bring your own or hire a guide.
Biwa Pond
Snowshoeing around Biwa Pond takes 2-3 hours. The partially frozen lake and surrounding forest offer a winter wonderland experience. Be careful not to walk on the lake, as you can fall through.
The Biwa Pond snowshoeing course is the same as its summer trekking course. See the course here.
Mt. Yokoteyama
It is best to hire a guide for this course. First, take the ski lift to the top of Mt. Yokoteyama (2,307 meters). High Mountain Coffee serves hot beverages and English-style crumpets in the cafe above the ski lift. Get cozy by the roaring fire. From the top of Mt. Yokoteyama, snowshoe down to Shibu Toge Ski Area, then walk along the unplowed road towards Yokoteyama Ski Area. The course takes 3-4 hours.
Snowcat Rides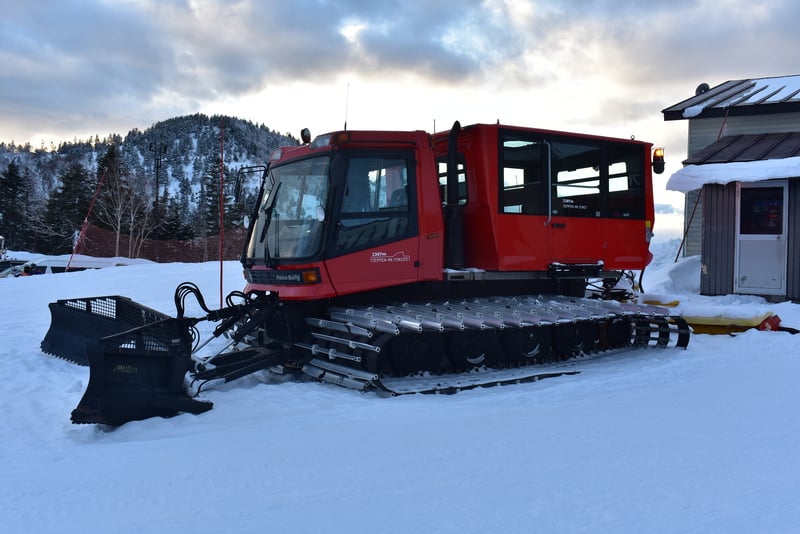 Snowcat tours are also a fantastic way to see a different side of Shiga Kogen. Because of unique environmental conditions, the snow monster phenomenon is visible in Shiga Kogen, where the trees completely freeze over. On this adventurous tour, you can check out the sunset and illuminated snow monster trees at night.
Learn more about Shiga Kogen's snowcat rides here.
Apres Skiing
There are a few restaurants in Shiga Kogen for Apres ski beverages and restaurants for Japanese izakaya-style cuisine. Most ski areas have several restaurants for lunch or drinks as well. In addition, many hotels have bars or restaurants in addition to their regular dining areas.
For more apres ski options, we recommend staying in Yudanaka Shibu Onsen below Shiga Kogen.
See Japan Specialists' list of Shiga Kogen restaurants and bars here.
Nearby Sightseeing
Jigokudani Wild Monkey Park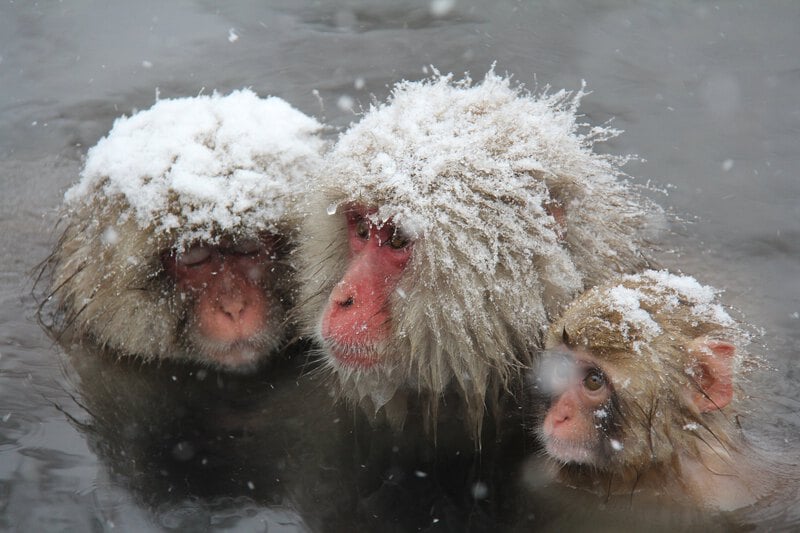 Located at the foot of Shiga Kogen, Jigokudani Wild Monkey Park is a world-famous wildlife area. Jigokudani is the only place where monkeys bathe in hot springs. Reaching the monkeys requires a 30-minute walk through the forest, which is often snowy or muddy. Bring appropriate footwear and clothing. There are snow boots and cleat rentals available at the entrance of Jigokudani.
Yudanaka Shibu Onsen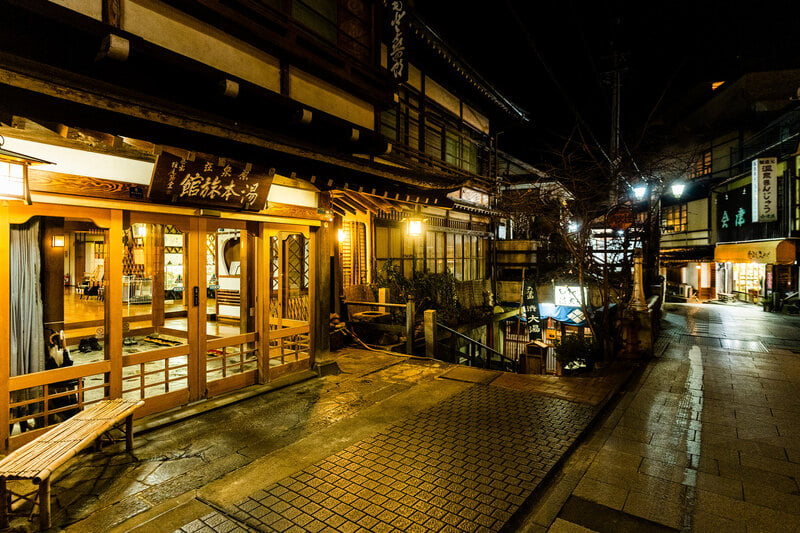 Yudanaka and Shibu Onsen are quaint hot spring villages with various ryokan-style accommodations. Many visitors walk around the towns in their Yukata-style bathrobes and Geta sandals, visiting the numerous free hot springs. The hot springs are only accessible to visitors staying in local ryokans. There are also many dining options in Yudanaka and Shibu Onsen so if nightlife is an essential objective for your trip, consider staying in one of these villages. Learn more about Yudanaka Shibu Onsen here.
Getting There
Take the Nagaden Express bus from Nagano Station via Jigokudani Snow Monkey Park. Another way to reach Shiga Kogen is to take the Nagano Dentetsu train from Nagano Station to Yudanaka Station, then transfer to a bus bound for Shiga Kogen.
From Narita Airport, take the Skyliner train from the terminal to Keisei-Ueno Station (45 min., 2,520 yen). Then, walk from the station for 8 minutes to Ueno Station. Take the Hokuriku Shinkansen to Nagano Station (90 to 100 min., 7,600 yen). Then, follow the directions from Nagano Station above.
From Haneda Airport, take the monorail to Hamamatsucho and change over to the Yamanote line, getting off at Tokyo (20 min.). From Tokyo, take the Hokuriku Shinkansen to Nagano Station (95-110 min., 7,810 yen). Follow the directions from Nagano Station above.