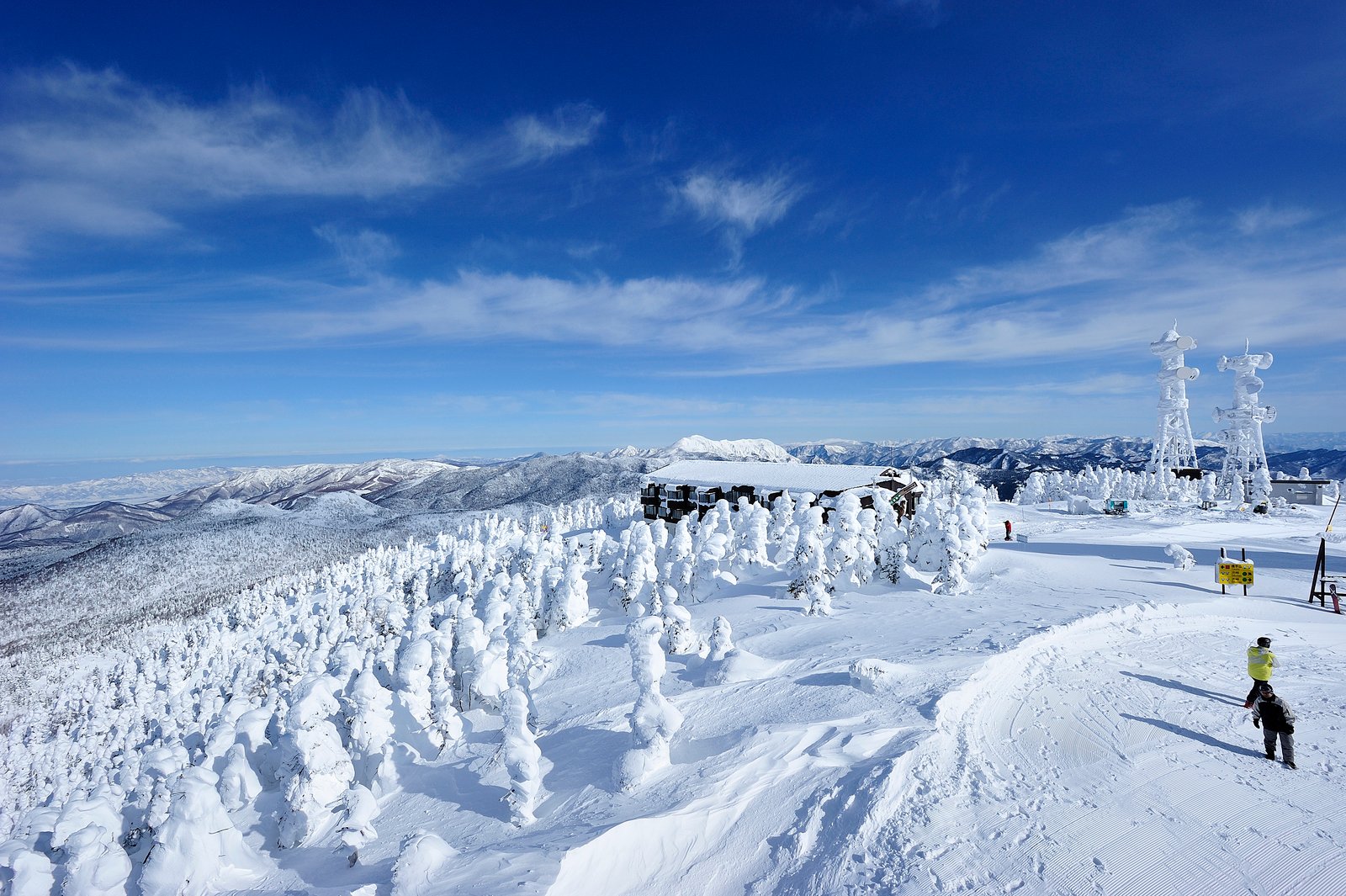 Thanks to the 1998 Winter Olympic Games, Nagano has become known throughout the world for its excellent powder snow and scenic resorts. But with over 80 unique ski resorts throughout the prefecture, the question becomes: where do you go?
We'd like to introduce you to some of the most popular skiing destinations around Nagano, as well as one of our favorites just over the border.
Table of Contents
Nozawa Onsen Ski Resort
The Hakuba Valley
Shiga Kogen
Madarao Kogen
Myoko Kogen
Nozawa Onsen Ski Resort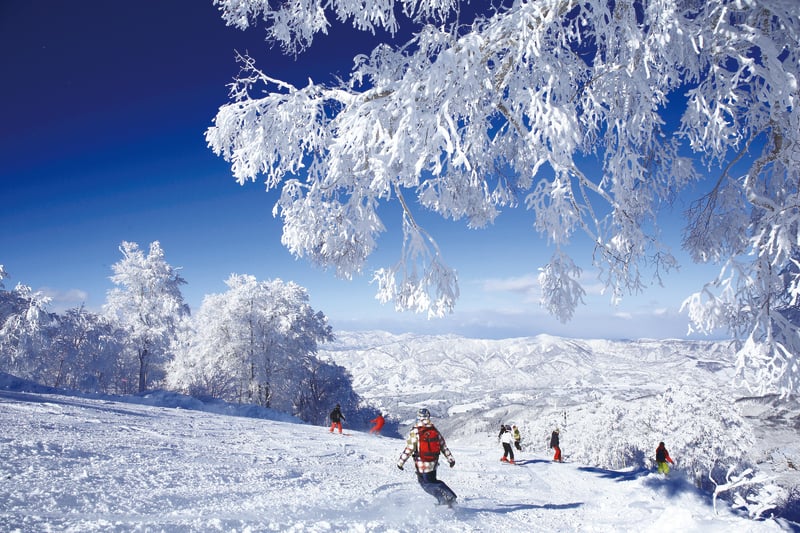 Nozawa Onsen Ski Resort is one of Nagano's most popular winter destinations, not only for its varied and exciting ski runs, including the longest continuous run in the whole prefecture, but also for its atmospheric and authentic hot spring town located just at the base of the resort.
The resort runs from the top of Mt. Kenashi (1,649m) all the way down to the beginning of the village. There are a total of 46 courses here, from beginner-friendly, wide-open glades to thrilling, snake-like runs along the mountain's ridge. One of the resort's most popular section is the very top, called Yamabiko, where a heaping bowl of ungroomed powder awaits.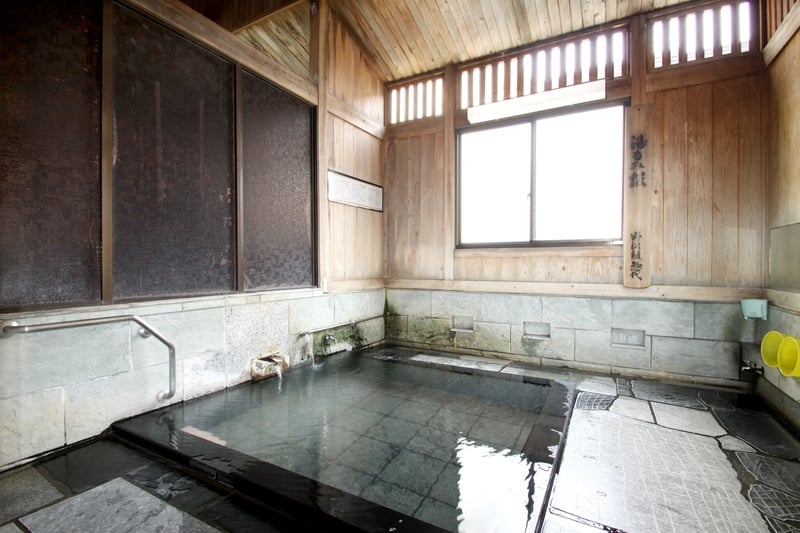 And after a long day on the slopes, nothing beats a good soak in a natural hot spring. Nozawa Onsen is full of them, which you can readily tell by the sulfury smell that pervades its winding streets. Thirteen soto-yu public baths are spread throughout the village, maintained by locals and are free to use by everyone. Several paid baths, namely Furusato no Yu and Sparena, offer better amenities, and the later also offers mixed bathing with swimsuits.
At night, there are plenty of restaurants and bars along the main street to choose from, including tap rooms that offer locally brewed beers, small karaoke bars and clubs.
Access
From Iiyama Station, Nozawa is about 25 minutes away on the Nozawa Onsen liner bus.
The Hakuba Valley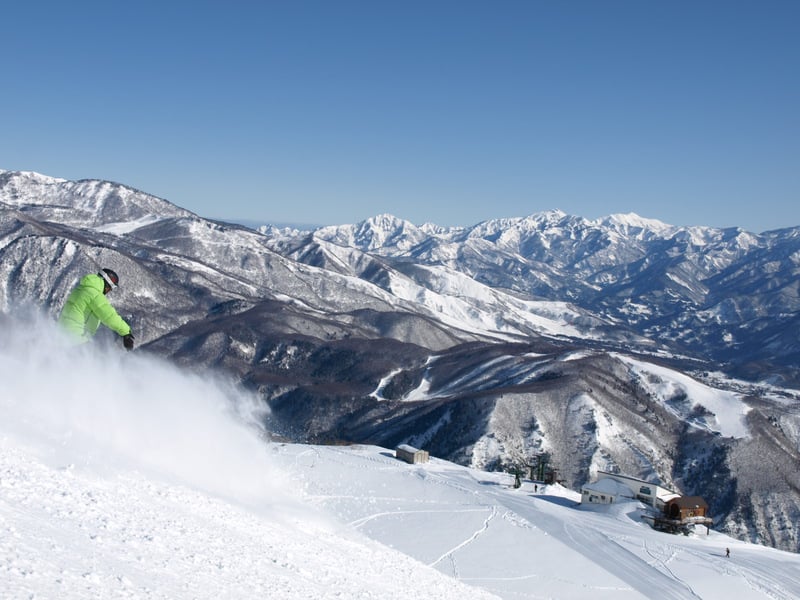 If you're looking for amazing mountain scenery and a hopping nightlife, no place is better than the Hakuba Valley.
At the base of the Northern Japanese Alps, Hakuba is home to some of the most beautiful mountains in Nagano as well as some of the most scenic ski resorts. The most popular resorts here include Hakuba Happo-One, Tsugaike Kogen, Iwatake Mountain Resort, Hakuba Goryu, and Hakuba Cortina. Regardless of which resort you visit, you'll enjoy both great views and great runs.
Restaurants and bars are centered around the base of Hakuba Happo-One and nearby Echoland. From sushi and wagyu beef to burgers and pizza, there are plenty of options to satisfy an empty stomach after a long day out. While Hakuba is not so pedestrian-friendly, the Genki-go shuttle bus makes it easy for people to move between their hotels and restaurants during the evening.
Access
From Nagano Station, you can reach Hakuba in just one hour by express bus.
Shiga Kogen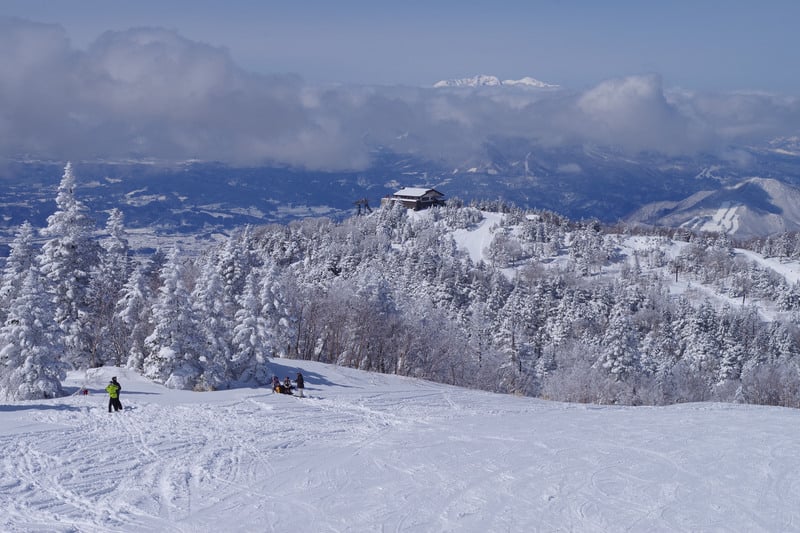 At altitudes of 1,300 to 2,300 meters high, Shiga Kogen towers above the town of Yamanouchi below. This pristine highland has 19 interconnected ski areas serviced by over 40 ski lifts, making it the largest ski resort in Japan. Just skiing from one end to the other and back can take an entire day.
Shiga Kogen is perfect for those who enjoy being surrounded by and exploring nature. The area is a UNESCO biosphere reserve and is not as heavily developed as other ski resorts. There are hotels and ski lifts, of course, but they are dwarfed by forested hills and expansive highland scenery.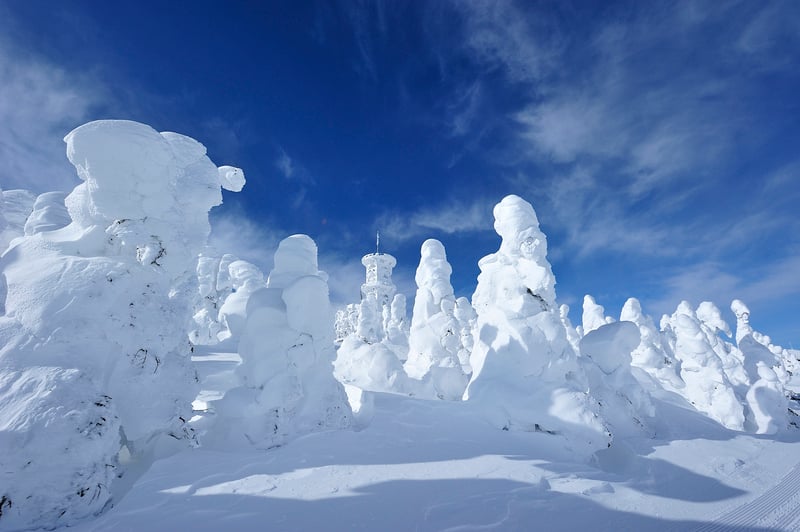 There are accommodations on the slopes in Shiga Kogen as well as in town at the base of the mountain. The resort and town are separated by a 20-minute bus ride. There are fewer dining options on the mountain, but for the best selection we recommend staying near the center of the resort at Ichinose. Down in Yamanouchi, there are plenty of bars and restaurants, steamy hot spring baths, and more ways to enjoy winter.
Access
From Nagano Station, take the Shiga Kogen line bus to your resort of choice, or the stop nearest your hotel.
Madarao Kogen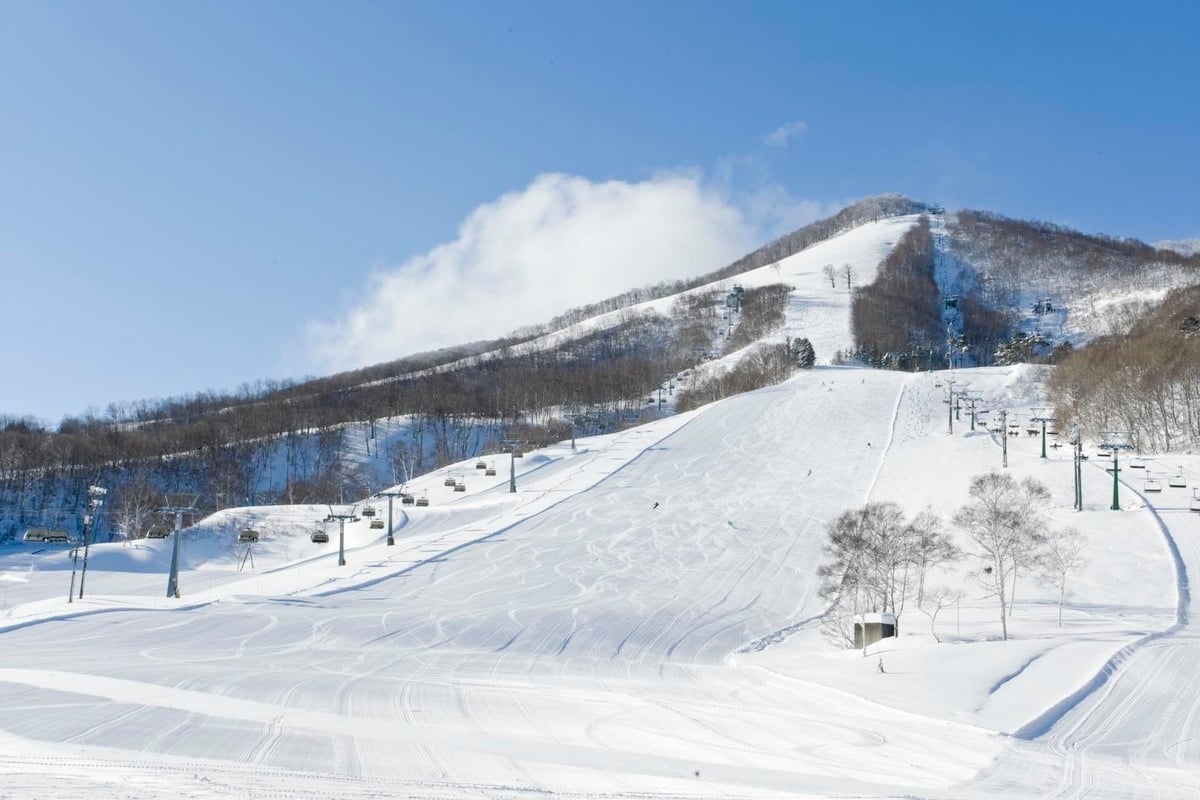 The cat is out of the bag and now all the powder hounds know about Madarao Kogen. This up-and-coming resort area wraps around Mt. Madarao and features a great variety of courses covered in plentiful powder snow.
The area is composed of two interconnected resorts: Madarao Mountain Resort and Tangram Ski Resort. Skiers and snowboarders can purchase the Mountain Pass, which allows access to both. Across them, there are a total of 40 courses, including 13 tree runs—more than any other resort in Japan.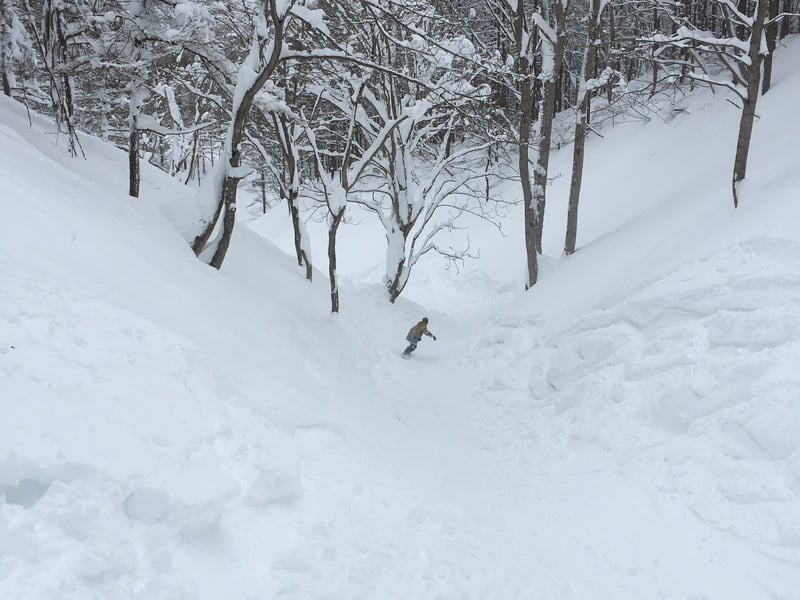 One of Madarao's greatest features is its bowl shape. All courses, including all off-piste areas within, lead back to the center of the resort. You'd have to try very hard to get lost here. Not only is it great for people who want to head into the ungroomed tree areas, but for groups and families as well. You don't have to worry about where each course leads—they all come back to the same place!
There are a growing number of accommodations and restaurants around the area. At Madarao Mountain Resort, you'll find plenty of smaller lodges, pensions and restaurants. If at Tangram, you'll stay at the Tangram Madarao Tokyu Hotel. It is also possible to stay in Iiyama and take the bus between Iiyama and Madarao.
Access
From Iiyama Station, Madarao Mountain Resort is about 30 minutes away on the Madarao line bus. If you're heading to Tangram, you'll want to get off at the Tangram Madarao stop (50 minutes). Not all buses continue to Tangram, so check the schedule in advance before your departure.
Myoko Kogen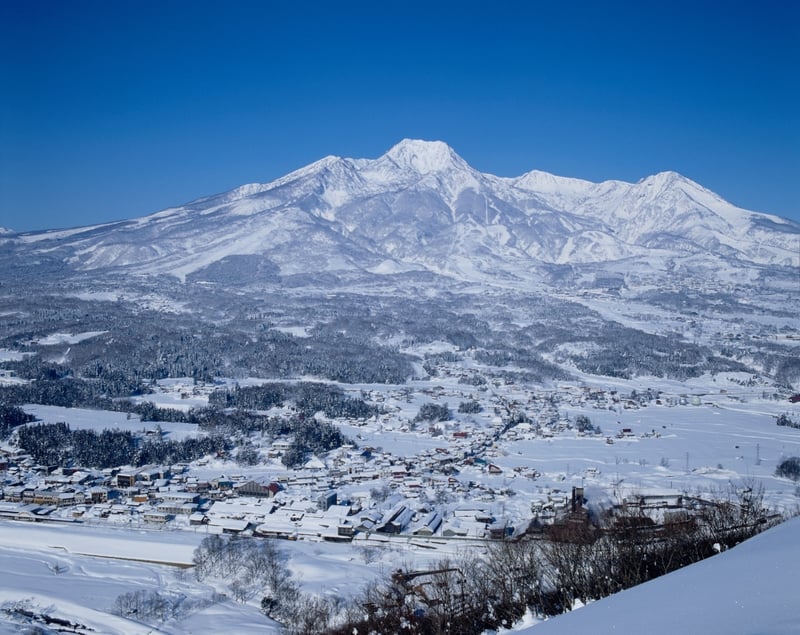 Just across the border in Niigata Prefecture is one of Japan's snowiest ski areas. The resorts at the of Mt. Myoko are regularly bombarded with heavy snows coming in from the Sea of Japan, which makes for incredible side- and backcountry skiing.
There are five main resorts here with 70 courses in total between them. They are: Sugihohara, Ikenotaira, Akakura Onsen, Akakura Kanko and Lotte Arai. Madarao and Tangram are sometimes included as part of Myoko, but they're distant enough to warrant their own section. Each has a suitable mix of beginner, intermediate and advanced runs along with their own charm. You can see each resort in more detail here.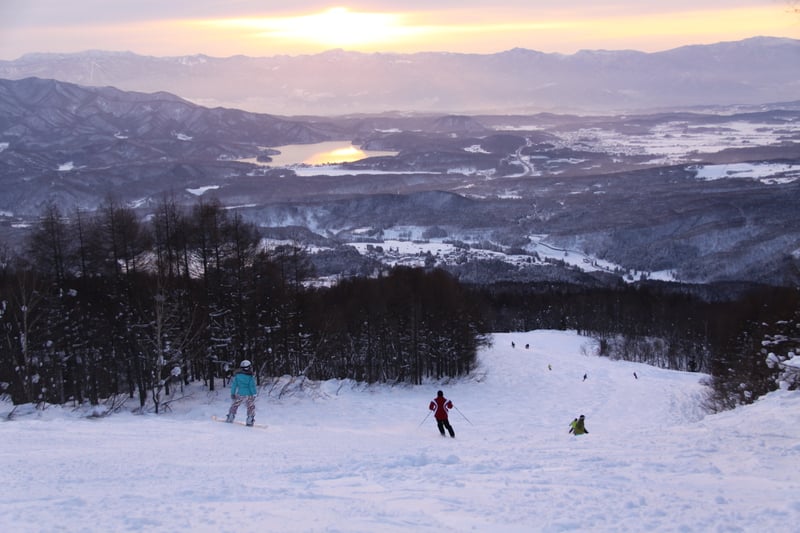 Powder hounds may be interested in side- and backcountry tours around the mountain, including to the former Seki Onsen resort.
Accommodations in Myoko Kogen are clustered around hot spring areas at the base of resorts. Akakura Onsen is a popular play to stay due to the density of dining options, and the Akakura Kanko Hotel is a great choice for a true ski-in/ski-out experience. Those looking for a luxurious resort package may consider the Lotte Arai resort. A shuttle bus runs between the resorts of Myoko Kogen, so you're not stuck only skiing the resort closest to your accommodation.
Access
From Nagano Station, take the local Kitashinano line train to Myoko Kogen (44 minutes).
Conclusion
Central Japan is home to countless ski resorts, each with their own charm and beauty. While it's hard to choose a definitive list, the ski resorts above continue to impress and attract visitors from around the world year after year. If it's your first, second, or even fifth time skiing in Japan, these are all great choices for a winter holiday.
If you already knew them all and your favorite resort wasn't on the list—don't worry, we're doing you a favor!