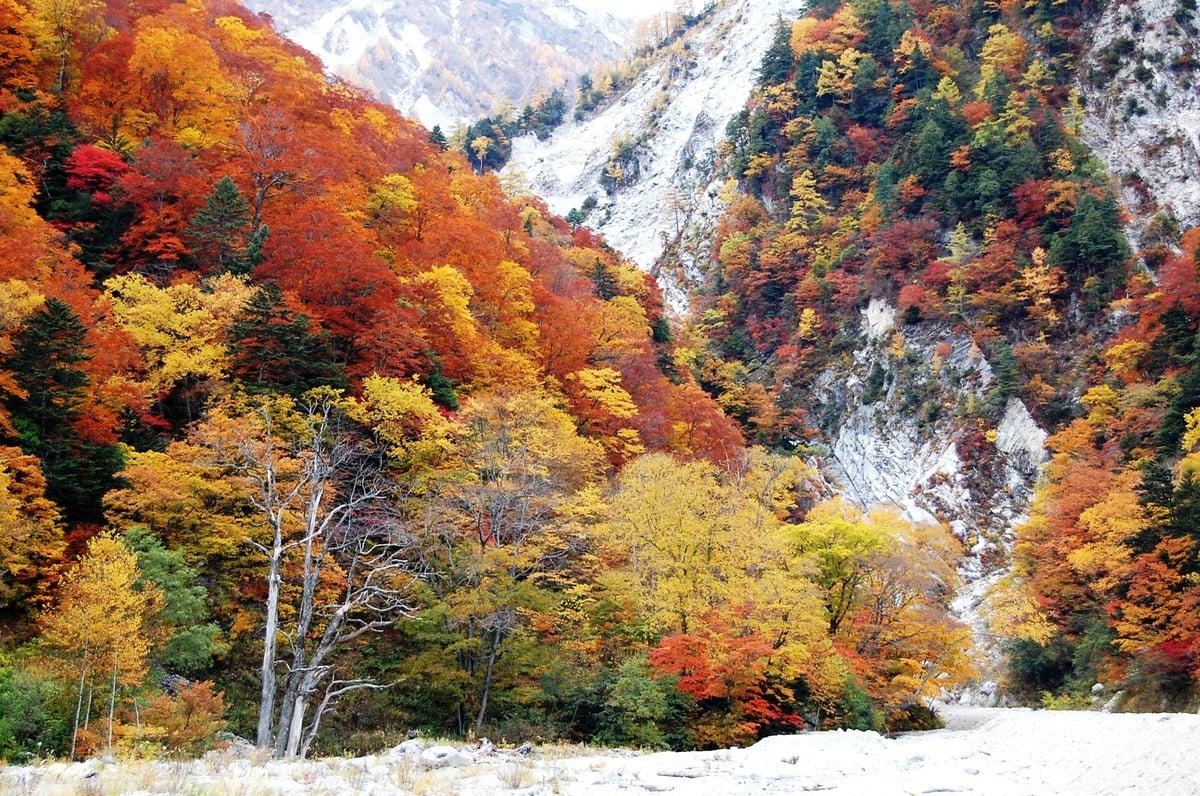 Autumn is a wonderful time of year to visit Japan. The miserably hot and humid days of summer are behind us, convenience stores have restocked their supplies of oden and nikuman, and the scenery isn't half-bad either.
And for autumn scenery, it's hard to beat Japan's mountainous areas, where colorful leaves slowly creep down the mountain tops to the valleys, creating vivid gradients of green, yellow and orange.
In Nagano, there are countless spots to enjoy autumn scenery. In fact, you can see some of our favorite—and more accessible—autumn sightseeing spots here. But if you've been around the block once or twice or are looking for adventure, here are some out-of-the-way locations to enjoy magnificent fall scenery.
Nagano's Hidden Autumn Sightseeing Spots
Autumn Colors and Hot Springs in the Matsukawa Ravine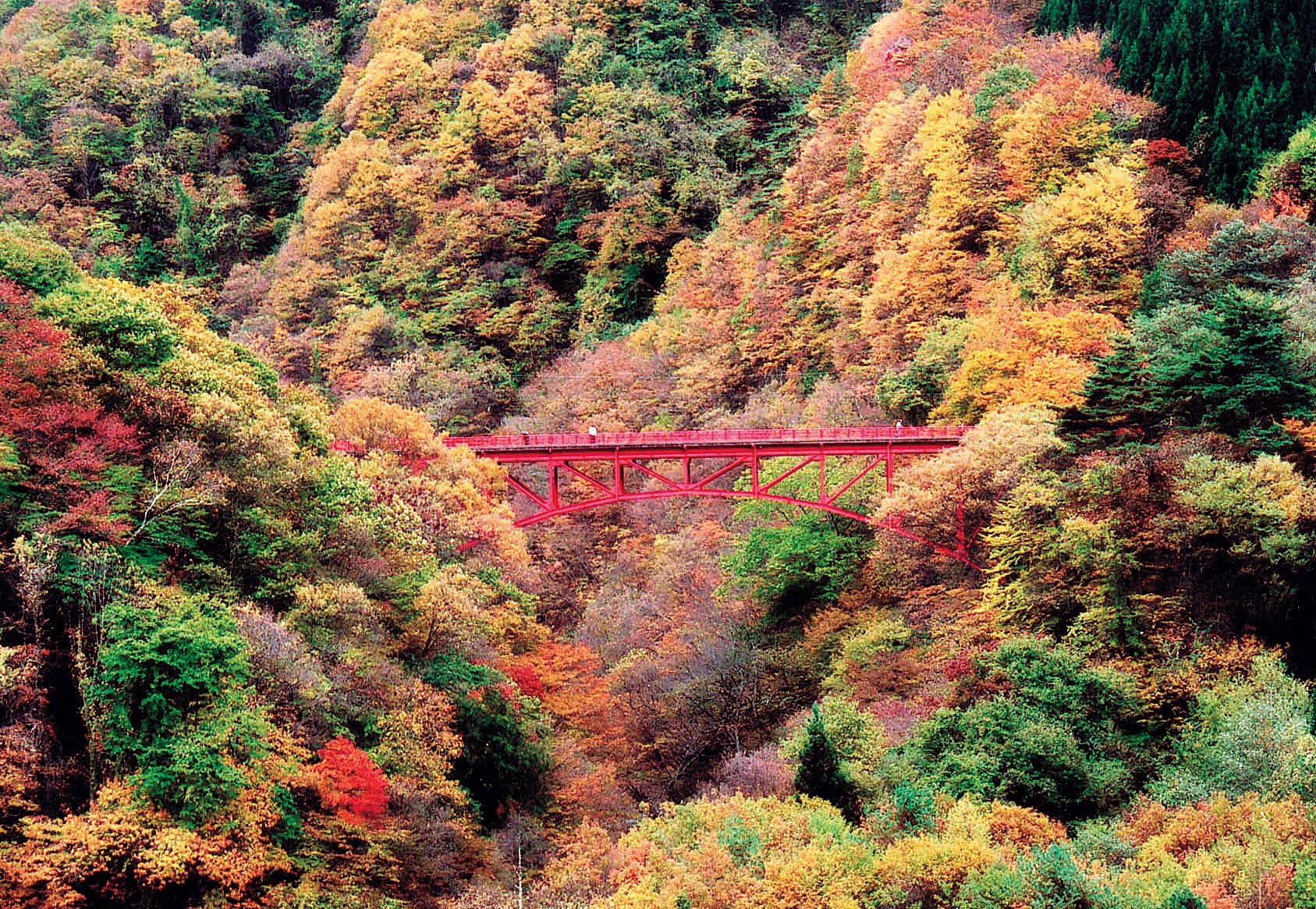 Tucked away behind Suzaka outside of Nagano City is a small village called Takayama-mura. While most foreign tourists haven't heard of it, it's very popular among Japanese travelers for its beautiful autumn views and mineral-rich hot springs.
As you continue past the first hot spring area of Yamada Onsen, the valley becomes narrower and steeper. This is the Matsukawa Ravine, home to several impressive waterfalls and a number of other onsen areas. The view of the Takai bridge surrounded by autumn leaves is famous, as well as the waterfall Kaminari-daki, which can be admired from any direction (you can walk behind and around the falls, probably without getting wet!).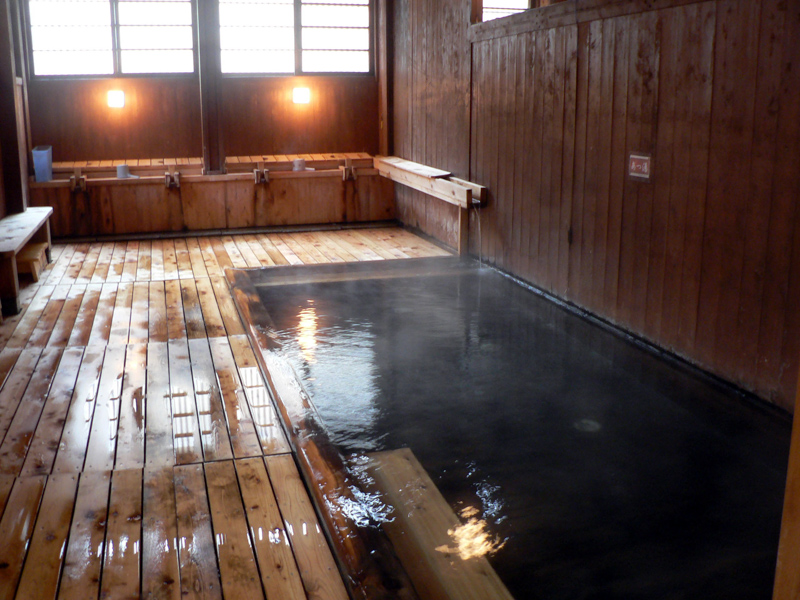 There are a number of ryokan and hot springs in Yamada Onsen, including the beautiful Oyu bath, crafted from wood in the traditional style. Goshiki Onsen's water is said to change depending on the season, becoming one of five different colors. Shichimi Onsen is an effective cocktail of seven different springs from the area—not a hot spring seasoned with Nagano's favorite spice blend. There are several Konyoku baths here as well, for those of you who'd like to bath together with both your male and female friends.
Best Time to Visit
Mid- to late October
Access
Yamada Onsen can be reached by bus from Suzaka Station. The Yamada Oyu bath and a number of hotels are here, and there is a 40-min trekking path around the area here. To reach Kaminari-daki falls, it's a 7-minute taxi ride.
The Takase Ravine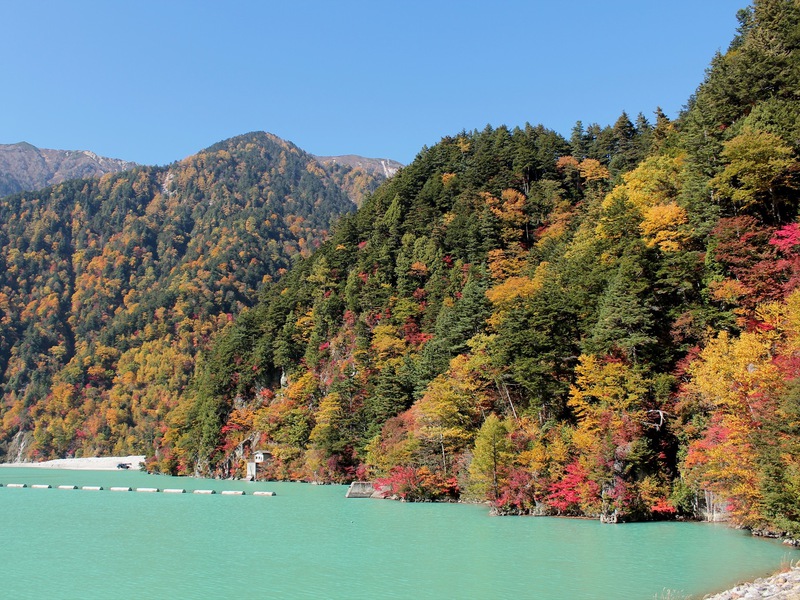 The Takase Ravine sits behind the city of Omachi and is surrounded by the Northern Japanese Alps. Following the Takase River to its source, you pass three dams along the way. After climbing the final Takase Dam—Japan's tallest rockfill dam at a height of 176 meters—the ravine opens up wide before you, revealing the picturesque scenery of autumn colors, emerald-green waters and snow-capped mountains.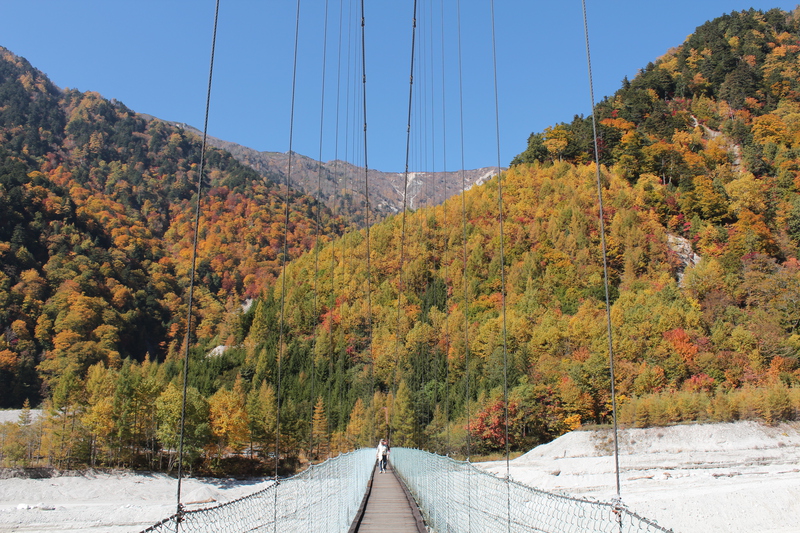 Walking through the tunnel to the right of the dam leads to the Fudosawa suspension Bridge, Nigorisawa Campground and the trailhead to Mt. Eboshi, Mt. Noguchi-Goro and eventually Mt. Yari. About 20 minutes after crossing the bridge, you can enjoy more autumn scenery at Fudosawa Falls.
Best time to Visit
Mid-October
Access
To reach Takase Ravine, we recommend traveling by car. The Nanakura Sanso lodge is about 60 minutes by car from the Azumino IC exit of the Nagano Expressway. From there, you have to take a special taxi to the dam (6km, 15min., 2200 yen), or, you can walk 6 kilometers to the dam.
Nezame no Toko and the Akasawa Forest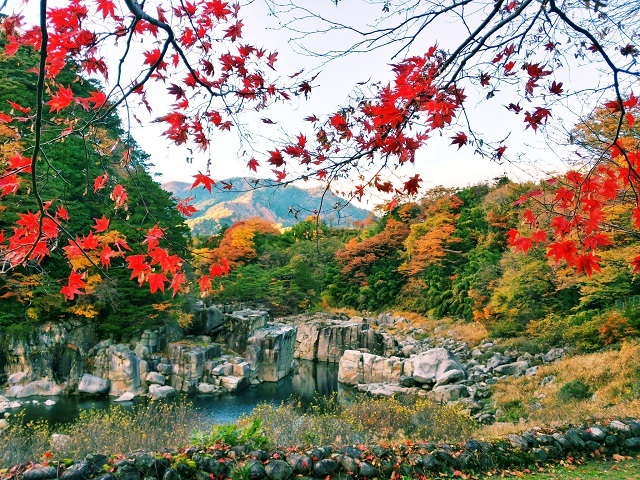 The Kiso Valley has long been known for its excellent lumber and dedicated craftsmen, so it's only fair to say that it is blessed with verdant and plentiful forests. This magical season imparts a surreal beauty on the post towns of the Nakasendo as well as Kiso's natural wonders.
The town of Agematsu is centrally located to a number of Kiso's sites. Agematsu itself is a post town, and the famous Narai and Kiso-Fukushima post towns are just north of it as well. Buildings showcase traditional Edo period architecture, and many of the inns frequented by feudal lords remain intact. Kiso's forests are also well-preserved, and the Akasawa Recreation Forest Park, where you can enjoy a variety of walking trails and the open-air logging train, is just within arm's reach. Just south of Agematsu is Nezame-no-Toko, a grouping of strange rock formations along the Kiso River tied to one of Japan's most popular folktales, Urashima Taro.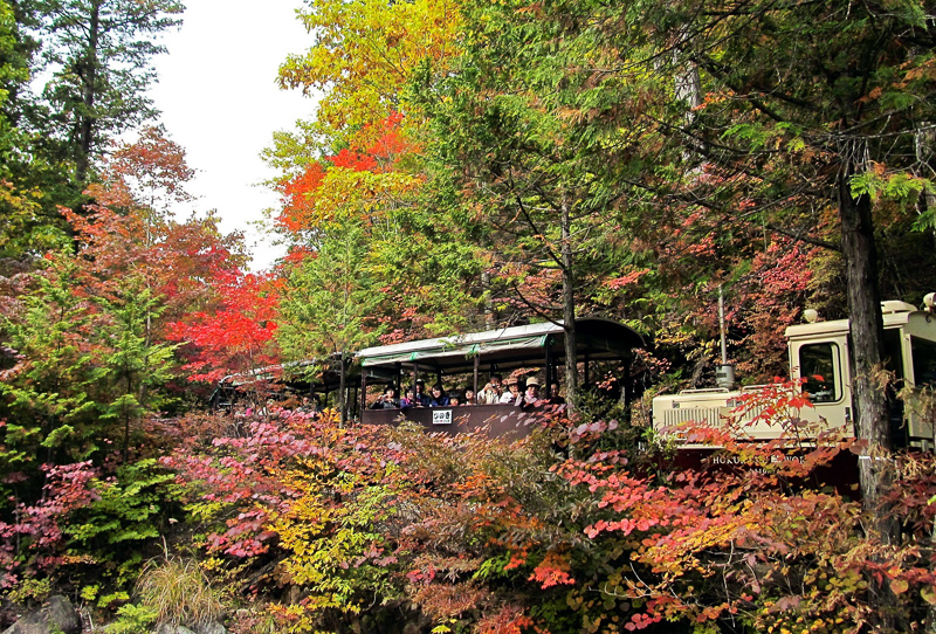 Best Time to Visit
Late October to early November
Access
Narai, Kiso Fukushima and Agematsu Stations are all connected via the Chuo train line. To visit Nezame-no-Toko, you can take a local bus from Agematsu Station or Kiso Fukushima Station (5 or 10 minutes, respectively). Or, you can walk along the former Nakasendo road from Agematsu Station and reach it in about 30 minutes. To visit the Akasawa Recreation Forest Park, take the Akasawa line bus (see bus timetable here) from Agematsu or Kiso Fukushima Station (30 or 45 minutes, respectively).
Shimoguri no Sato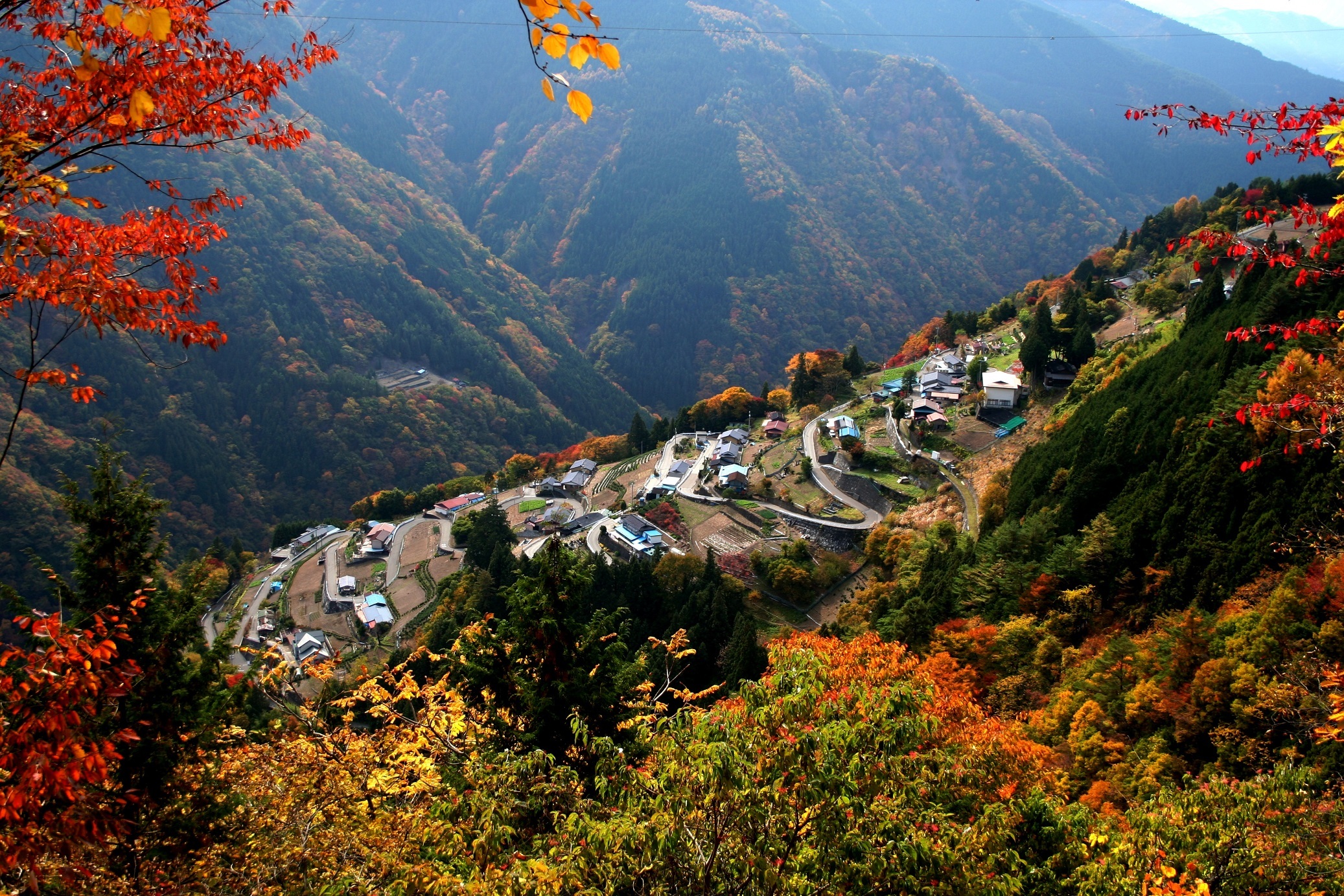 Shimoguri no Sato is a small village tucked into the mountains of the Southern Japanese Alps. The steep hillside here is dotted with farmhouses and fields and interwoven with zig-zagging switchbacks. While the population is dwindling, hardy old ladies continue to plow the tilted soil of this otherworldly locale.
All around the village are nothing but mountains. From their peaks, forests trickle down the hillside into the deep valleys below, and in autumn, they create a magnificent spectacle of smoldering orange and yellow leaves.
The best view of the town is from the Shimoguri-no-Sato observation point, about 20 minutes on foot from the parking lot of the Hanba-tei restaurant.
Best time to Visit
Mid- to late October
Access
The Hanba-tei restaurant is 80 minutes by car from central Iida.
Fujimi Panorama Resort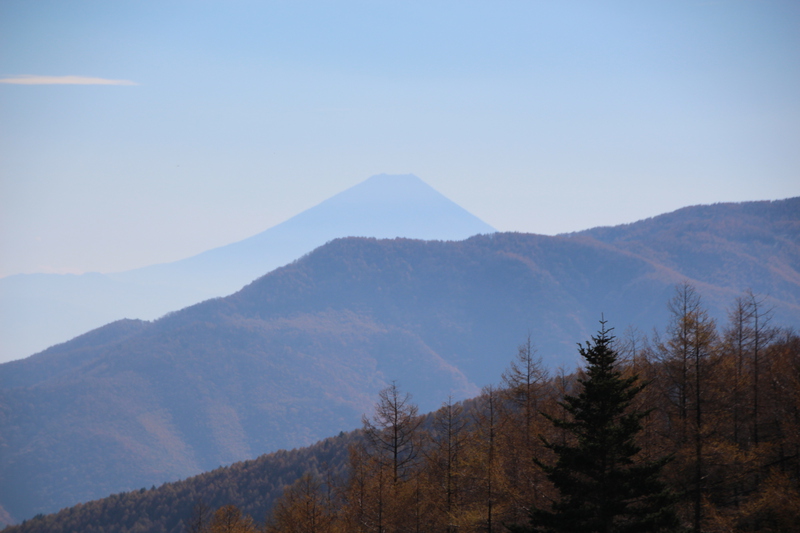 See incredible views of Mt. Fuji standing above a carpet of golden leaves in the aptly named town of Fujimi (literally 'See Fuji').
The local ski resort, Fujimi Panorama Resort, runs their gondola during autumn, allowing visitors to enjoy the scenery from over 1,700 meters high. You can also climb to the top of nearby Mt. Nyukasa (1,955m) in just an hour for more spectacular views, including 22 out of Japan's 100 Hyakumeizan mountains.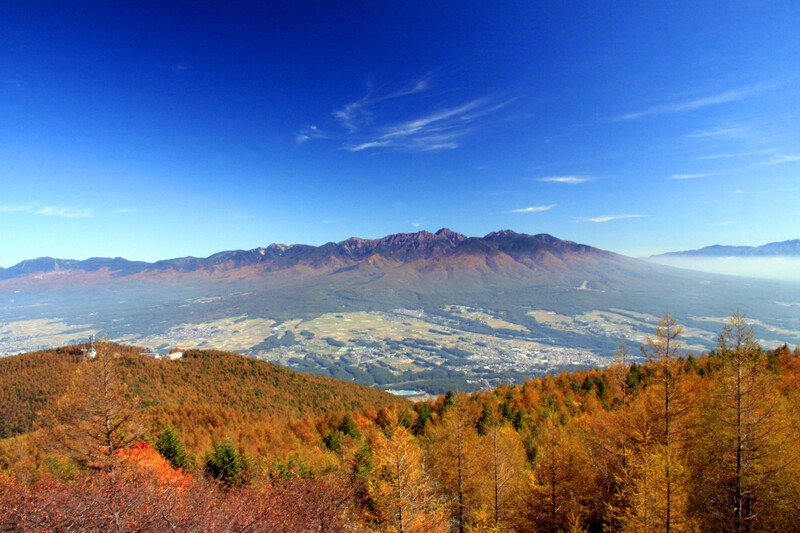 The resort is also one of Japan's premiere mountain biking destinations and remains open until mid-November.
Best time to Visit
Mid-October
Access
The closest station to Fujimi Panorama is Fujimi Station, which is about 2 hours from Shinjuku Station on the Limited Express Azusa, or about 50 minutes on the same train from Matsumoto Station. A free shuttle bus runs between the station and resort once per day, or you can take a 10-minute taxi from the station.
Whitewater Boat Tours on the Tenryu River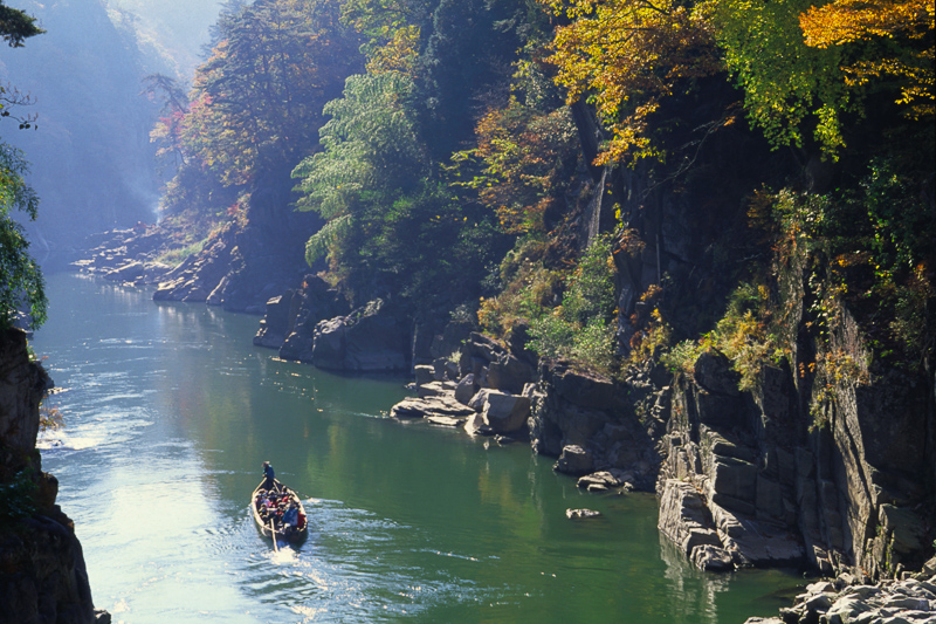 The Tenryu River travels from the Suwa area south to the Pacific Ocean, cutting through the Ina and Iida valleys. Once a relentless force, it carved out the vertical cliff faces of the Tenryu-kyo gorge before being dammed during the 20th century. Now its flow is gentler, but you can still enjoy whitewater rafting in modern rafts or more traditional vessels. Up above, you can enjoy the beautiful fall colors perched on the gorge's rocky cliffs. It is easily accessible too; just get off at Tenryu-kyo Station (Iida Line) and walk from there.
Best Time to Visit
Mid- to late November
Access
Take the Iida line to Tenryu-kyo Station. The Station is located about a minute away from the river itself, and from there you can reach the area's sights on foot.