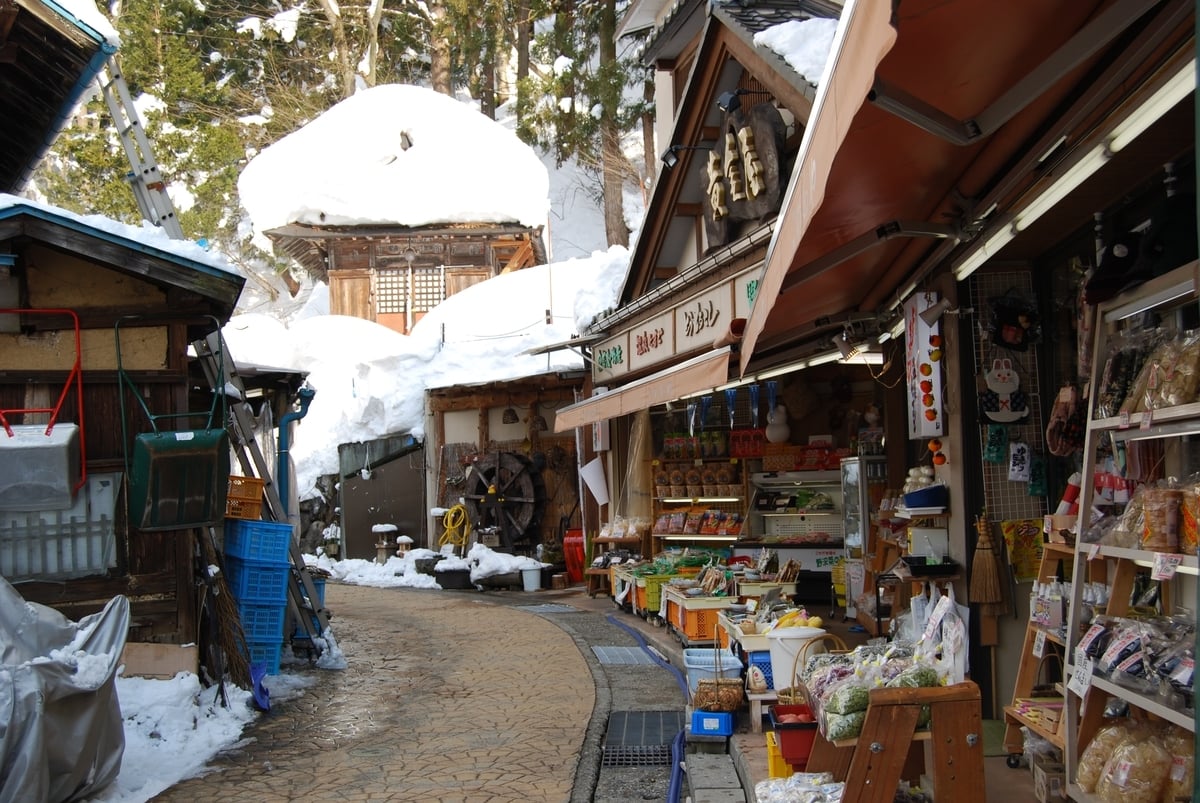 The tiny village of Nozawa Onsen, with a population of around 3,000 hearty souls, is centered on a cluster of inns and hotels at the base of Mt. Kenashi. Along with Hakuba and Shiga Kogen, Nozawa Onsen was one of the hosts of the 1998 Winter Olympic's alpine events, and continues to be one of Nagano's premier ski and snowboard destinations.
And while its ski resort is an important part of the village, its heart and soul lies in its natural hot spring mineral water, which emanates from the earth into the Ogama pool. Many of the village's ryokans and hotels have onsen baths on the premises, but one of Nozawa Onsen's main draws is the collection of thirteen public bath houses. Maintained by the local residents (and often used for their daily baths), the bath houses are open to the public and are free to use. Let's take a look at Nozawa Onsen's iconic public bath houses.
Make a Stop at Ogama—the Boiling Heart of Nozawa Onsen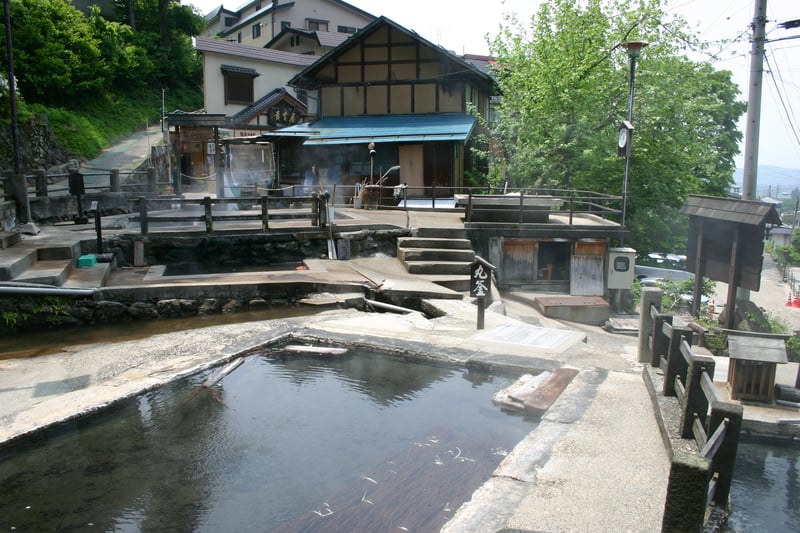 Many hot spring facilities in Japan get their hot spring mineral water by drilling deep into the ground. Nozawa Onsen's waters, on the other hand, come to the surface naturally and at piping hot temperatures often too hot for bathing. The most famous of these springs is Ogama, which at near 100°C is used only for boiling eggs and vegetables. You can see locals here daily cooking in its numerous hot spring pools.
Due to the inherit danger of walking around pools of boiling hot water, non-residents aren't allowed beyond the fence that surrounds the Ogama pools, but you can buy eggs from one of the nearby shops and boil them in specially prepared troughs of hot spring water.
Take a Dip in Nozawa's Public Hot Spring Baths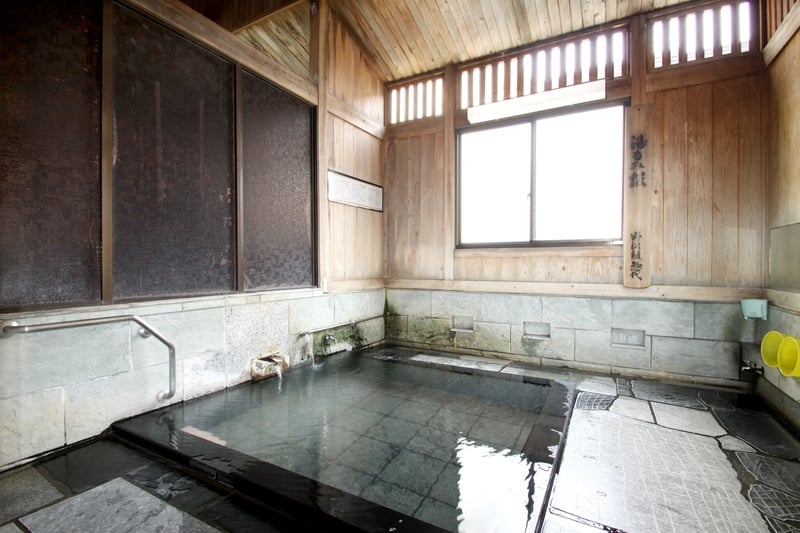 Once you have seen where the onsen water comes from, it's time to head to one of the public bath houses, or soto-yu, to indulge in the luxury of bathing in the hot spring water. There are around a dozen neighborhood bath houses that are used and maintained by the local residents.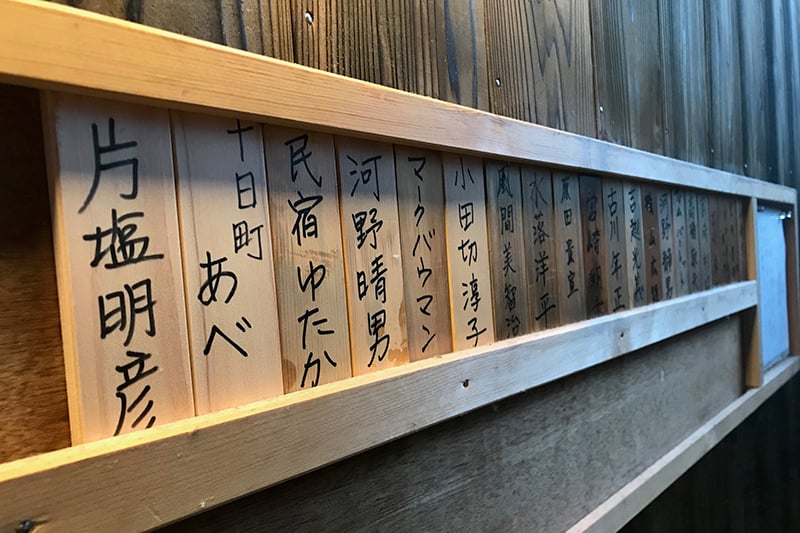 Like most hot springs, the baths are separated by into men's and women's areas. The biggest difference between these public baths and other hot springs is the lack of amenities—you'll need to bring your own soap, shampoo and towels with you. For first timers, you may want to brush up on onsen ettiquette before taking the plunge.
And be forewarned that Nozawa Onsen's bath temperatures tend to be on the high side. If the water feels very hot, you'll want to acclimate by pouring the hot spring water on your arms and legs, slowly working your way towards your heart. Once you're comfortable, you can slide into the bath and enjoy Nozawa's invigorating and beautifying hot spring water.
Sometimes people will cool down the bath by adding some water from the tap, but locals may not appreciate the dilution. Before adding any water, you should ask other bathers, "mizu wo irete mo ii desu ka?"
Nozawa's Representative Hot Spring Bath: O-yu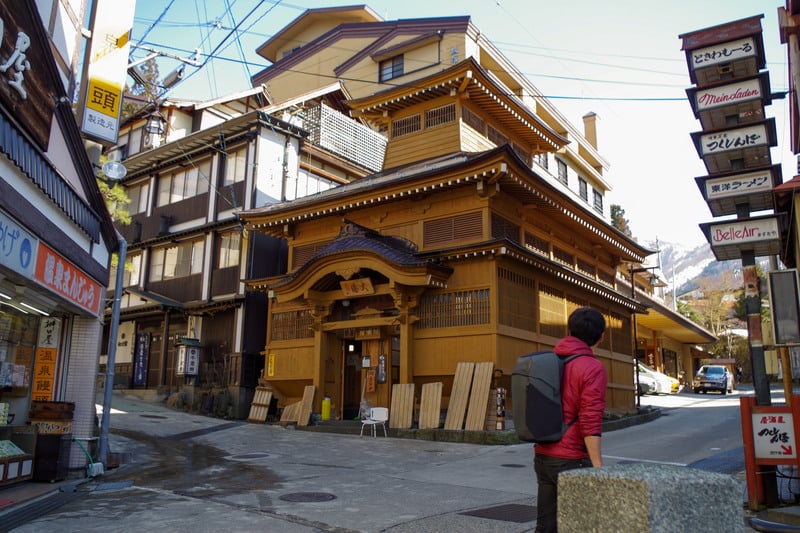 The classic wood construction vented at the top to let the steam out is one of Nozawa Onsen's most photographed sights. Both the men's and women's baths are divided into atsu-yu and nuru-yu, meaning hot and mild bathes respectively. While the temperature varies with the time of day and the number of bathers, the general consensus seems to be there is nothing mild about nuru-yu and both can feel scalding-hot.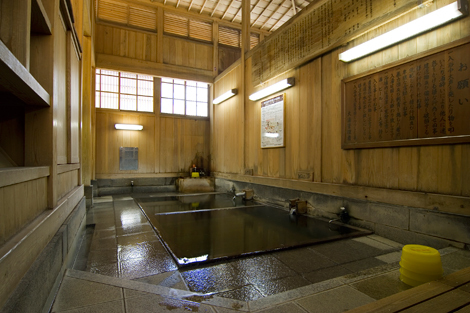 Soak up Nozawa's Rich Mineral Water at Taki-no-Yu
If you prefer a bath with a more reasonable temperature, up the hill from the afore-mentioned Ogama is Taki-no-Yu (滝の湯, 'Waterfall Bath). Built as a slightly smaller and rustic version of O-yu, fans insist its location so close to the Ogama source means the best mineral content. It certainly has a considerable amount of natural yubana (湯花, literally 'bath flowers') floating in the water.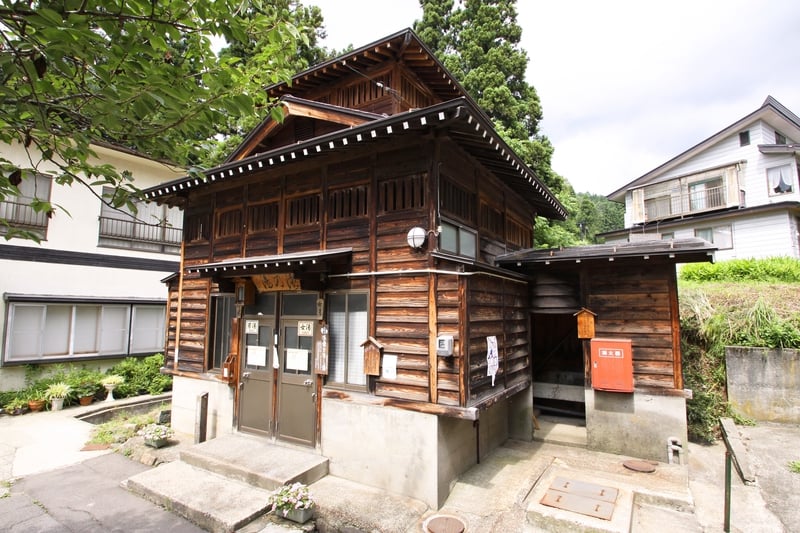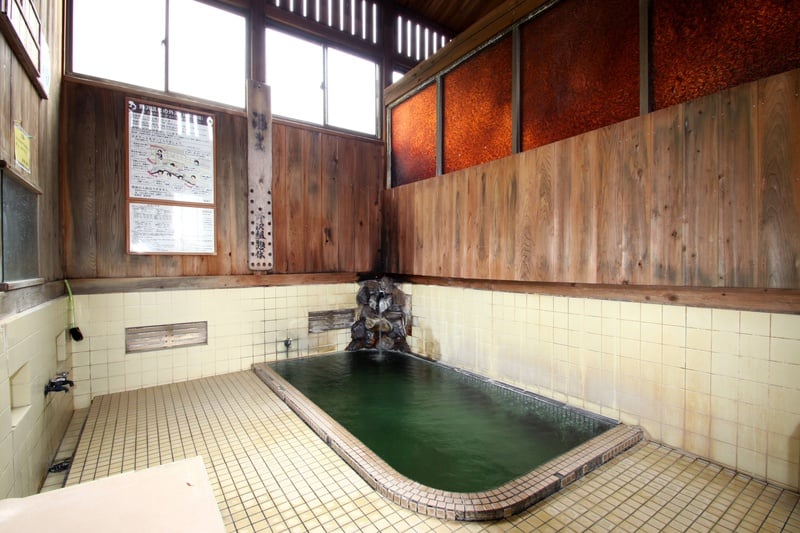 Nozawa's Beginner Friendly Bath: Kuma-no-Teara-Yu
Other bath houses with beautiful wood construction include Kuma-no-Teara-Yu (熊の手洗湯, 'Bath where the bear washed its hands') whose onsen source is the mildest temperature and a slight green-colored tint to the water.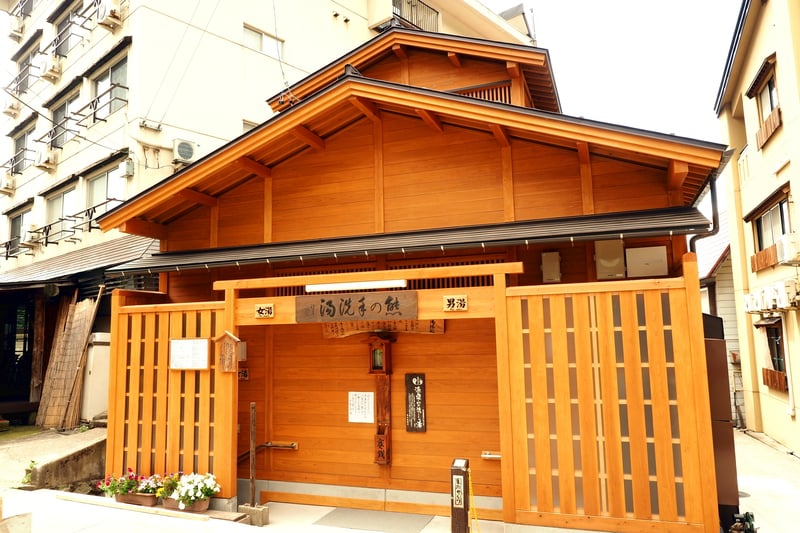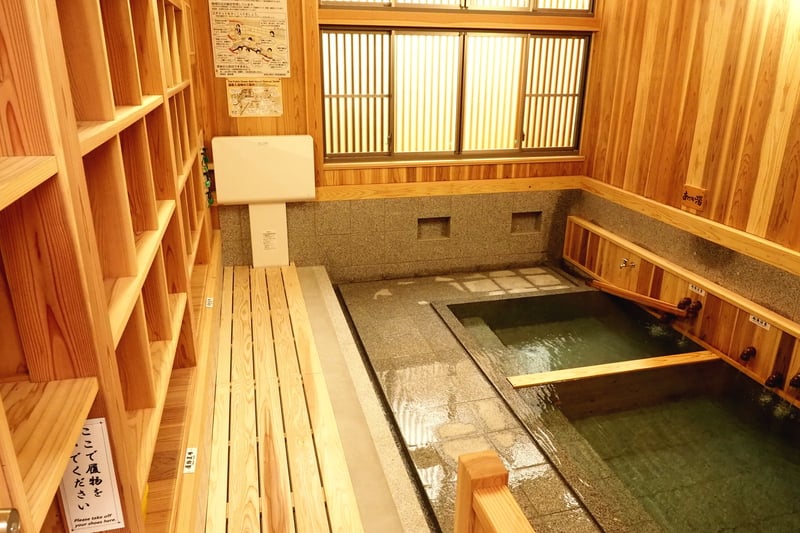 Shinden-no-Yu (新田の湯, named after the neighborhood in which it is located) which newly re-built in 2018, is another good option for bathers not used to the Nozawa heat.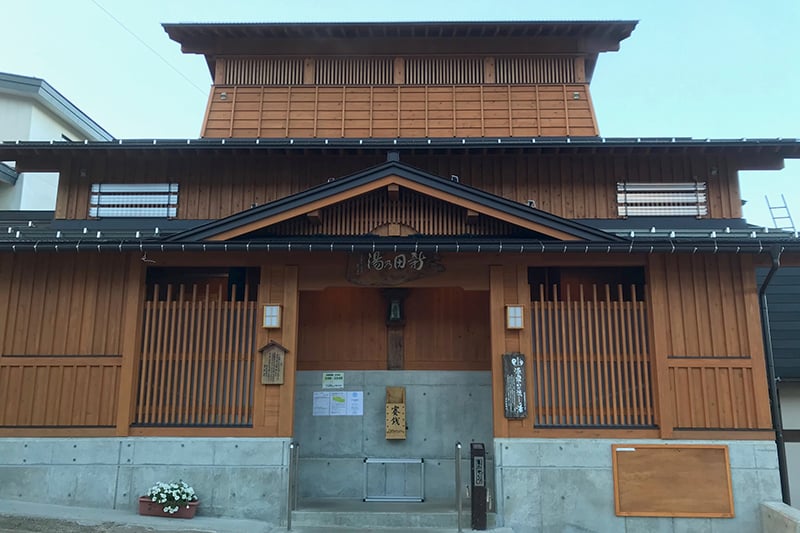 Matsuba-no-Yu (Japanese: 松葉の湯) sports wood construction atop a stone base, and aficionados of utilitarian concrete may appreciate the two-story Juoudou no Yu (Japanese: 十王堂の湯, means 'Hall of the 10 Rulers Bath').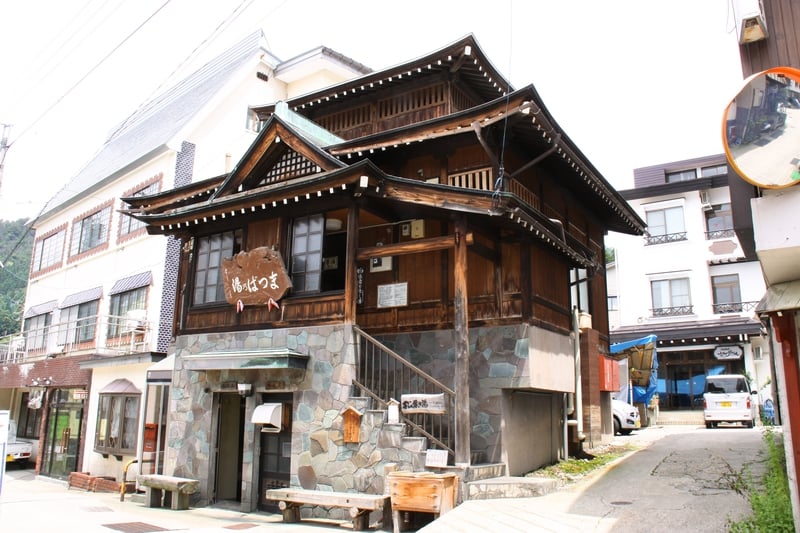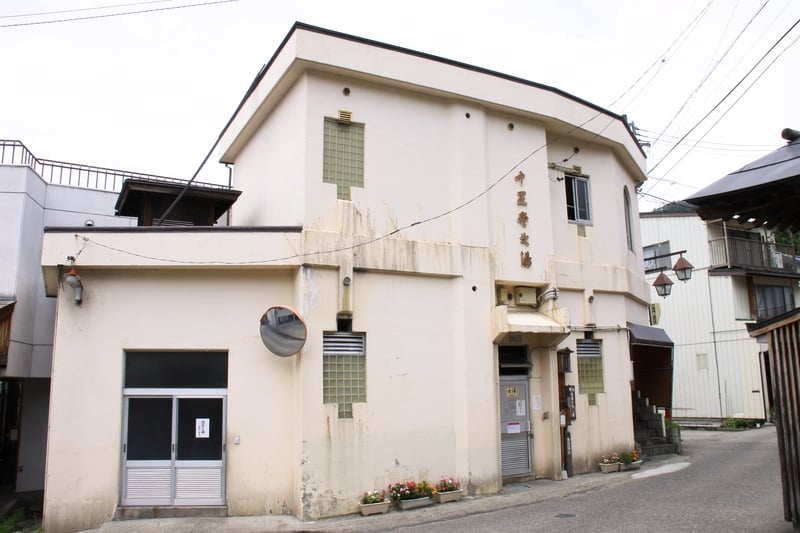 When using the public baths, please be considerate of the locals as it is through their good will that visitors are allowed to bathe. Hours for the baths vary but as a rule they are closed during the middle of the night. And dropping a few coins in the donation box at the entrance is good karma.
See Nozawa's English website for a complete list of soto-yu public baths.
Other Hot Springs around Nozawa
Furusato no Yu and Sparina
If you prefer a bath house with more comfortable facilities, Furusato no Yu, located near Ogama, charges a nominal fee but provides amenities such as soap and shampoo. And if you don't like the idea of getting naked with strangers but still want to enjoy bathing in the hot spring mineral water, Sparena features an outdoor bath for people of both sexes to enjoy while wearing swim suits. (Swim suit rental available.)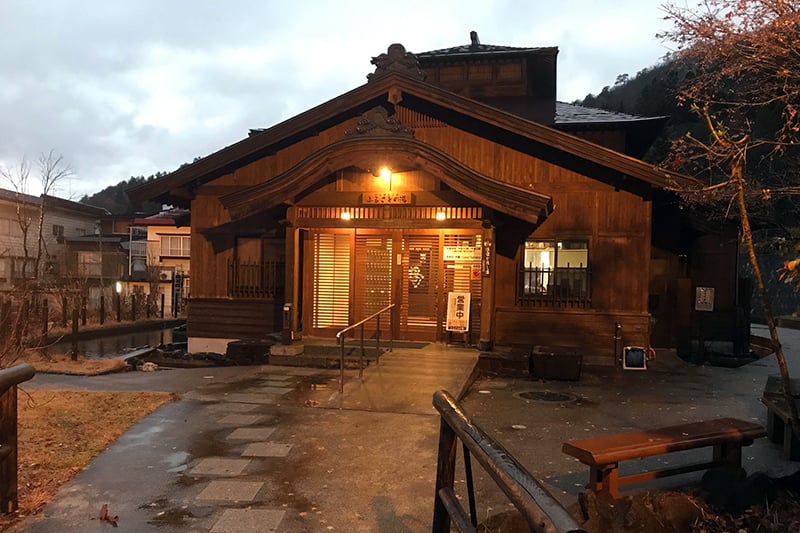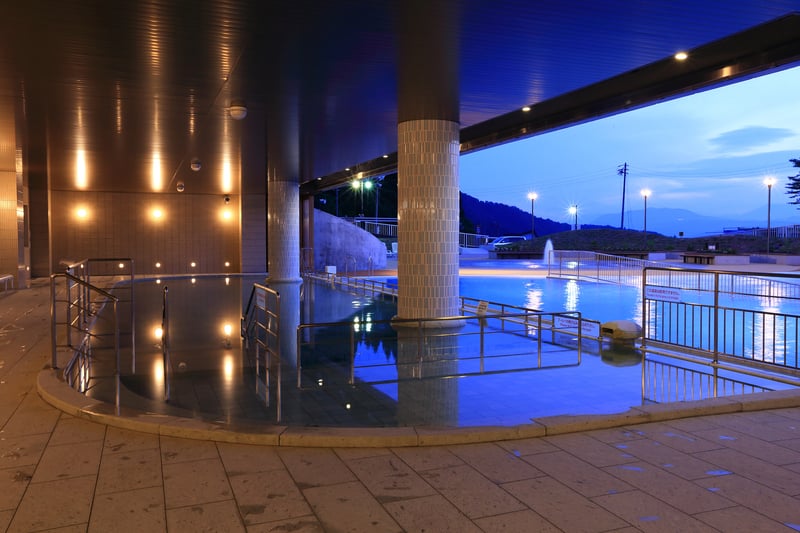 Notable Accommodations
Of course, Nozawa Onsen has a full selection of places to stay, including ryokans (traditional Japanese-style inns) – both historical and contemporary, minshuku (simple bed-and-breakfast lodging) and ski lodges.
There are an increasing number of self-contained, fully-equipped rental apartments and stand-alone houses as well. Many accommodations have onsen baths on their premises with two of the most noteworthy being Nozawa Onsen Hotel's garden outdoor bath and Sakaya Ryokan's grand indoor bath, the latter of which is one of the most representative of all of Nagano Prefecture.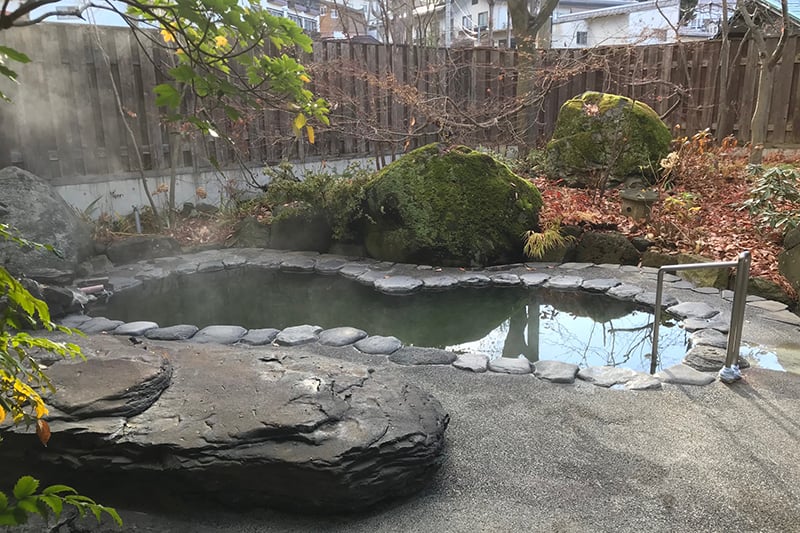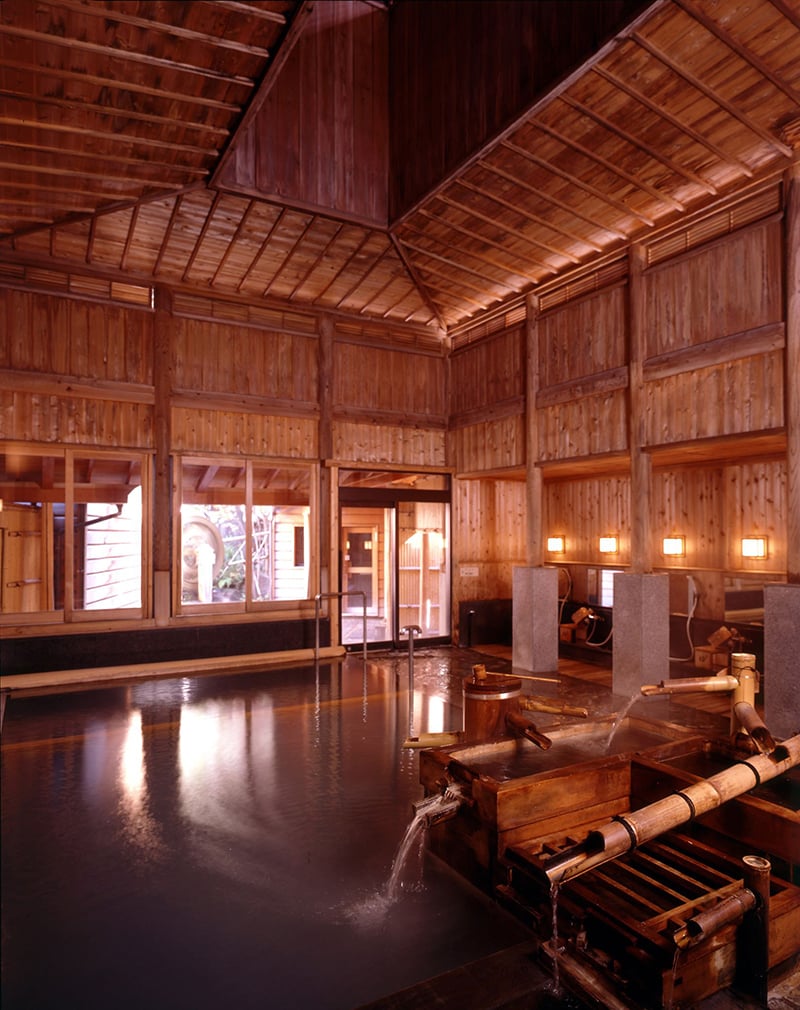 So if you want to immerse yourself in Japan's onsen heritage, as well as physically immerse yourself in a rejuvenating onsen bath, come to Nozawa Onsen and explore their fantastic public bath houses.
Notes on Access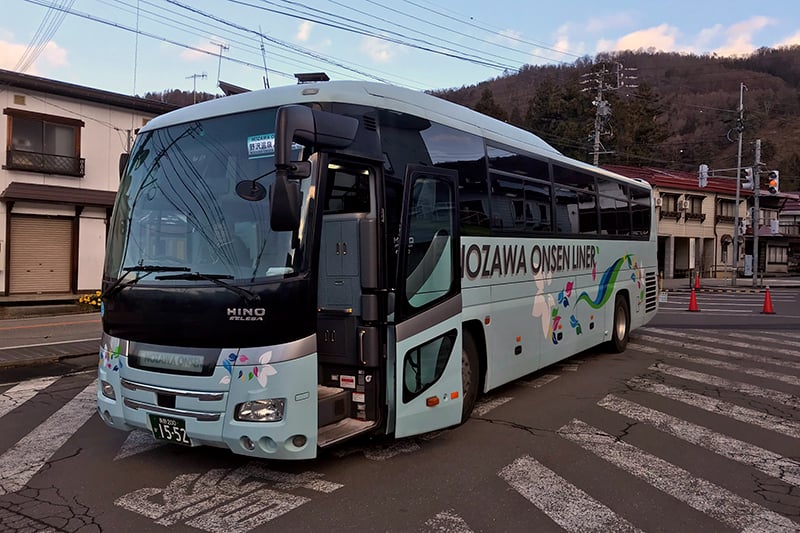 If you're heading to Nozawa Onsen by train, you'll want to get off at Iiyama Station on the Hokuriku Shinkansen line, then take the Nozawa Onsen Liner bus from there to Nozawa proper.
Skiers and snowboarders heading directly to Nozawa from Narita or Haneda airports can also make use of the Nagano Snow Shuttle.