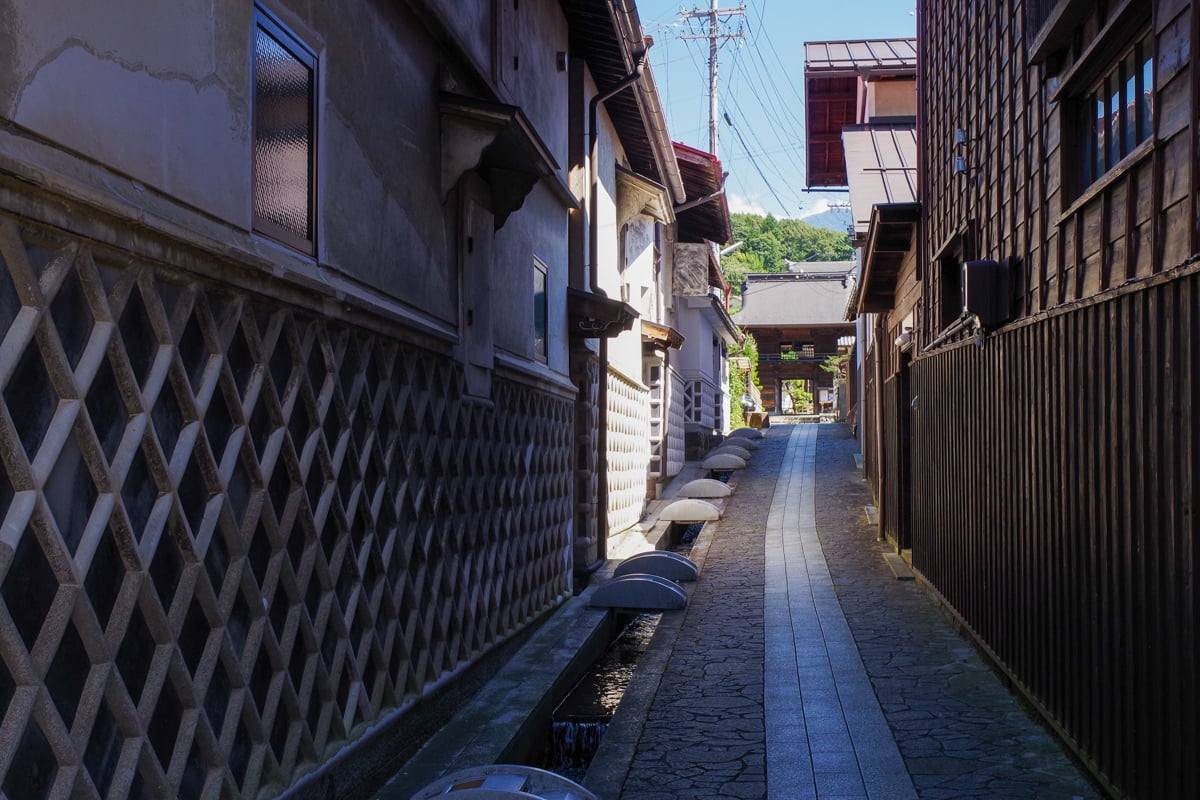 The Kiso Valley is a very popular destination in Nagano prefecture, especially for backpackers and history buffs who enjoy its beautiful forests and undisturbed post towns. Most visitors head straight for Narai, Tsumago or Magome-juku, but there are eight other historical towns in this forested valley with their own secrets waiting to be uncovered by adventurous travelers.
Kiso Fukushima is one such town with plenty of history and welcoming locals. Its central location and array of restaurants and inns makes it a perfect place to stay on your visit to the Kiso Valley.
Kiso Fukushima: Your Base Camp to the Kiso Valley
Kiso Fukushima Post Town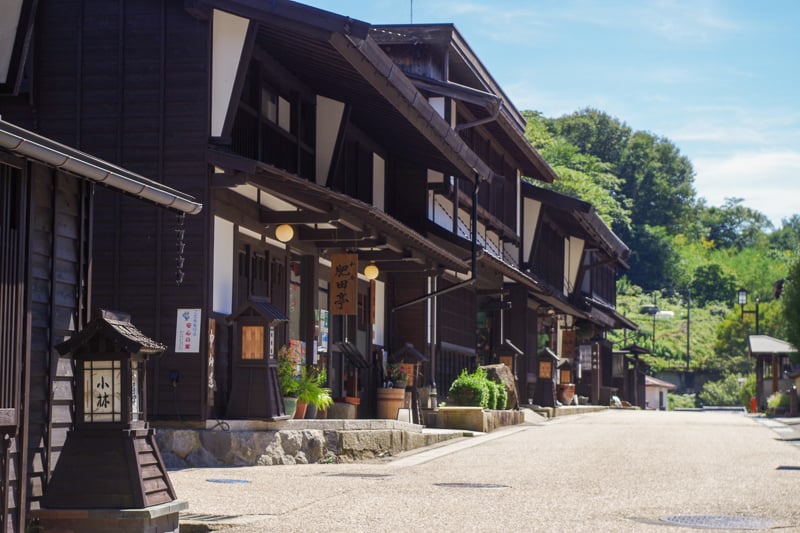 During the Edo period, Kiso Fukushima was the most important post town of the Kiso Valley. From here, the prefectural magistrate governed the entire region and oversaw one of the four Nakasendo checkpoints. No traveler could pass without presenting an official border-crossing permit and allowing their goods to be inspected. The checkpoint also served as a defensive measure in case the road was attacked.
Both the Kiso Fukushima checkpoint (sekisho) and the magistrate's mansion (Yamamura Daikan) are open to visitors. The buildings are beautifully preserved and an array of weapons, clothing and treasures are on display. The town was quite prosperous during the Edo period, and it shows in the magistrate's collection: beautiful porcelain dolls, samurai armor and lacquer ware adorn the halls.
Kozenji Temple
In addition to Kiso Fukushima's old town and museums, there are several Zen Buddhist temples in and around town. The most famous is Kozenji, one of the Kiso Valley's three great temples. It has Asia's largest dry rock garden, inspired by the sea of clouds that often covers the valley. There is also a collection of zen ink paintings and treasures on display to the public (closed during winter).
It's very easy to walk around the area, and most of these places can be seen in a morning if you don't dilly-dally. There are plenty of small parks and places to rest throughout the town, and if your feet get really tired you can relax in the free footbath that overlooks the river.
The Natural Scenery of the Kiso Valley
The whole of Kiso is blessed with clear waters and verdant forests, but near Kiso Fukushima are three of the valley's most impressive attractions: Mt. Ontake, Kaida Kogen and the Akasawa Natural Recreation Park.
Mt. Ontake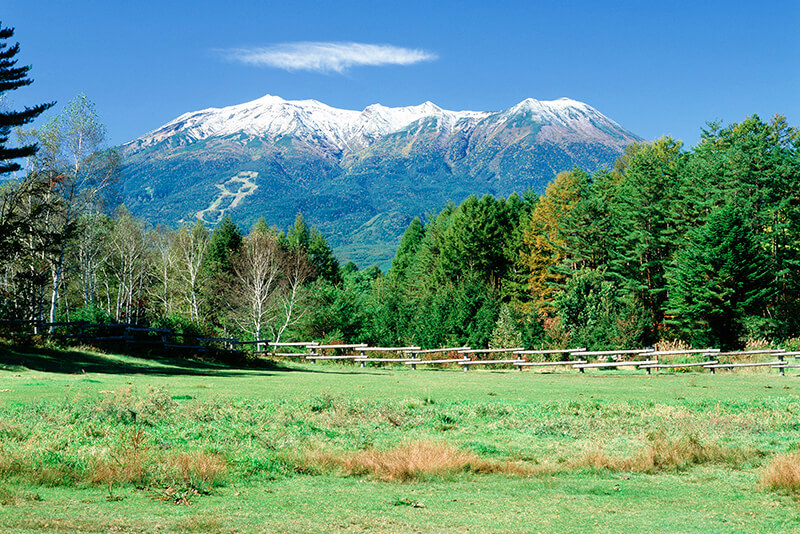 Mt. Ontake is the second tallest volcano in Japan and has been venerated for centuries as one of its most spiritual mountains. It is a symbol of the Kiso area, just as Mt. Fuji is a symbol of Japan. Many people hike Mt. Ontake, or trek through the beautiful forests at its foot, rich in natural hot springs and waterfalls. Visitors can also take the Ontake Ropeway to Iimori Kogen station, where a panoramic view of the Northern and Central Alps awaits them at 2,150m above sea level.
Kaida Kogen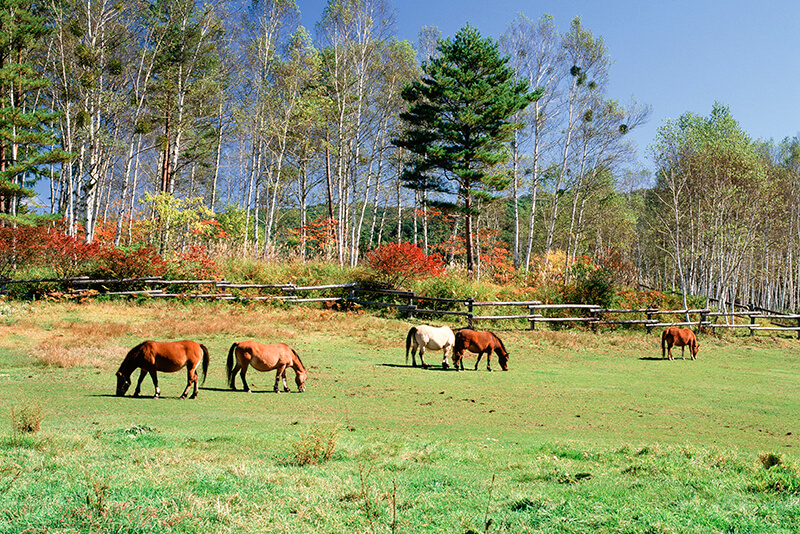 Kaida Kogen is its own natural paradise: an open highland farm with soba fields and grazing horses. Kiso horses (kisouma) have been raised here for centuries, and are Japan's only native breed. Visitors can enjoy short horse-riding courses, hiking or snowshoeing depending on the season. And as long as the sky is clear, you can enjoy an amazing view of Ontake in the distance.
Akasawa Natural Recreational Park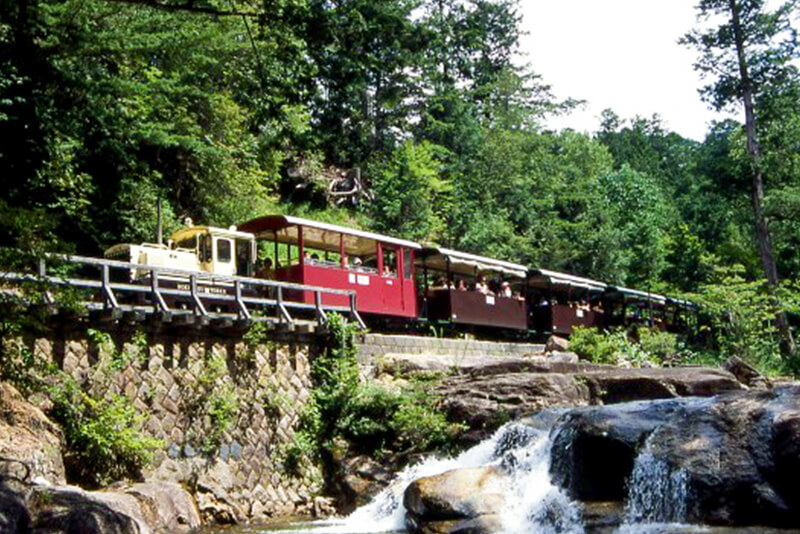 The Akasawa Natural Recreational Park is an 1,800-acre plot of forest in the Kiso Valley, as well as the birthplace of forest therapy. There are eight different walking courses that range from 40 minutes to 2 hours in length, as well as a forest railroad that runs from one end of the park to the other. Spending time in areas like the Akasawa Forest are likened to bathing in a hot spring bath, relieving stress and improving body functions. You may hear this therapy called "Forest Bathing."
Kiso Fukushima's Food and Sake
Kiso's cool, high-altitude climate and fresh mountain water have helped cultivate some of Nagano's most delicious sake and soba. Kiso also has a number of specialties that can't be found anywhere else in the prefecture, like sunki and akakabu pickles, gohei-mochi, and hoba-maki rice cakes. Kiso Fukushima has plenty of restaurants and bars to enjoy all of the area's local food and drink.
For soba, try Kurumaya Honten, a restaurant operating out of Kiso Fukushima for hundreds of years. Their soba has a distinctive black color due to the buckwheat husk they grind into the flour, and their tsuyu dipping sauce is a masterpiece 300 years in the making. (For more about soba, see here.)
If you'd like a lively evening, head to Chikara near Kiso Fukushima's old town. The owner, Masa, is really friendly and accommodating to foreign visitors. He spent seven years living in Seattle, so he speaks English well and sometimes offers American craft beer on the menu. If you're unsure about what to order, just ask and he'll set you up with some great food and drink.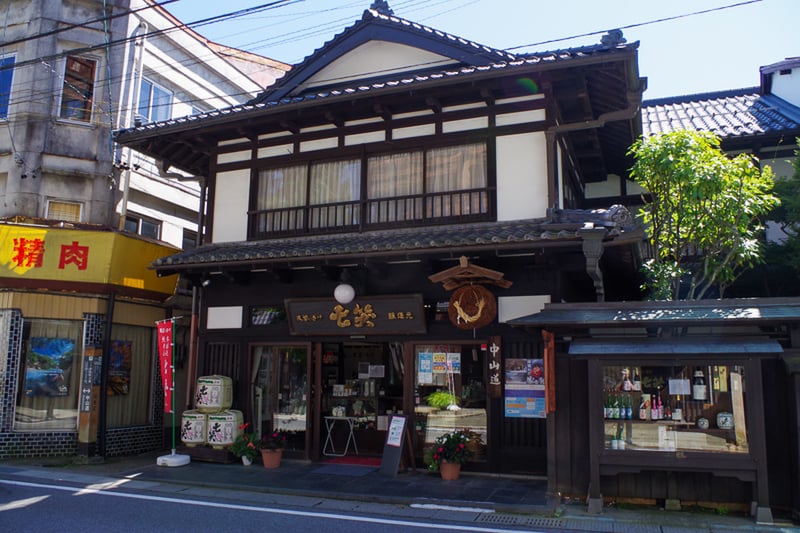 To take a closer look at Kiso's spirits, visit the Nanawarai and Nakanorisan breweries. Nanawarai is one of Nagano's most famous sake brands, which has already made its international debut. Nakanorisan is on a much smaller scale, but if you ask any local they'll tell you it's their favorite. Do a tasting at their shops to learn more about the flavor and brewing of sake—I guarantee you'll find something you like.
Access and More
Kiso Fukushima sits squarely in the center of the Kiso Valley and is easily accessible by train or car. All trains (both local and express lines) on the JR Chuo line stop at Kiso-Fukushima Station, which is just a short walk from the town center.
Almost all of Kiso's sightseeing spots are accessible from Kiso Fukushima. The other post towns of the Nakasendo are just a short 30-minute train ride away. Buses from Kiso-Fukushima Station connect the town to the region's natural sights of Mt. Ontake, Kaida Kogen and Akasawa (see timetables for them here). And there's plenty to see just around town as well.
Accommodations
There are several popular Japanese-style hotels in Kiso Fukushima, namely Onyado Tsutaya, Iwaya and Urara Tsutaya. You can find more recommendations on the Kiso Tourism website.
Your Base Camp to the Kiso Valley
Kiso Fukushima may not be the most famous post town of the Nakasendo, but it has a lot to offer for overnight travelers. Hiking, horse-riding and plenty of seasonal activities are within arm's reach and the town itself has plenty of restaurants, onsen and hotels to keep people entertained. Narai-juku and Tsumago-juku are under 30 minutes away by train, making access to all of Kiso's history and sights a breeze.
Why don't you check it out for yourself and find some more of Kiso's secrets?