Beautiful Winter Phenomena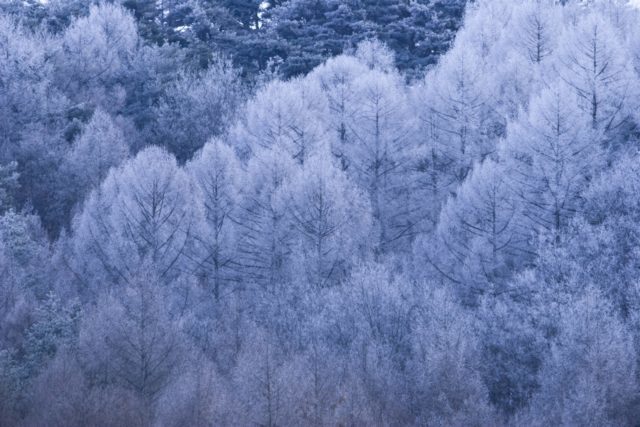 In Nagano's harsh winters, you'll find some of its most beautiful scenery.
Winter is at once harsh, unforgiving, and mysteriously beautiful. While snow falls relentlessly on you, your precious baggage and the streets around you, it covers the landscape in pure, unifying white. While the cold seeps through your down jacket and numerous sweaters, it also freezes waterfalls and lakes in time, creating gleaming columns and plates of ice. While the wind burns and turns your face the color of ripe strawberries, it also covers trees in sparkling layers of frost. If you can brave the elements, the wonders of winter far outweigh the cold.
You can see winter's charm all around Nagano, from beautiful snowy plains and white-capped mountains to frozen lakes and waterfalls. But there are some unique phenomena that are especially captivating during these chilly months.
Snow Monsters in Shigakogen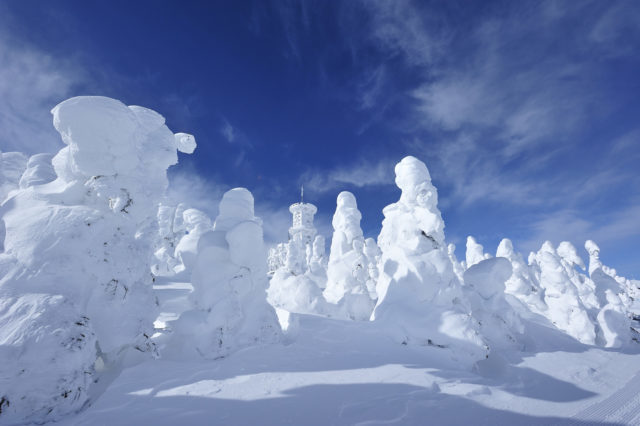 There are many legends of abominable snowmen, yeti, and other creatures ready to gobble up unsuspecting skiers and hikers during winter. Luckily, Japan's snow monsters pose no such threat.
In Shigakogen's Mt. Yokoteyama area, the tallest part of the highlands at 2,307 meters high, trees are swallowed up by mounds of snow and become amorphous, white monsters. Herds of them sit motionlessly on the mountain. Waiting for what? We do not know. You can view them from the mountaintop's crumpet café, which sells delicious baked goods and coffee to warm up with while enjoying the scenery, or ski by them on your way down the mountain.
Utsukushigahara Highland's Diamond Dust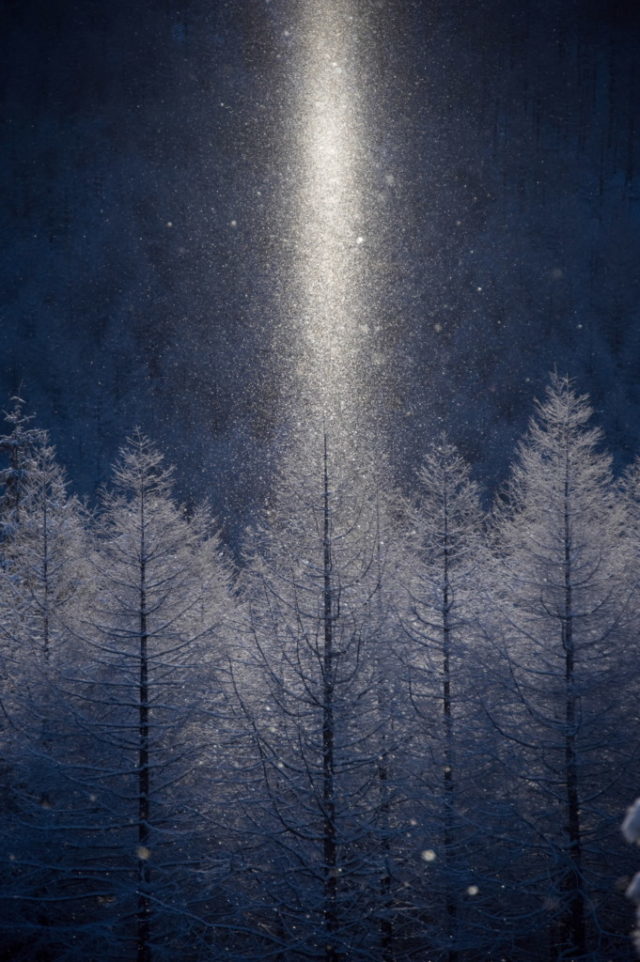 Central Nagano faces the brunt of winter's cruelty, regularly faced with subzero temperatures that freeze lakes, water pipes, and even your shampoo. But these frigid temps give rise to a fantastic sight called "Diamond Dust." On very calm, cold mornings—around -15 degrees Celsius—the air is filled with millions of tiny snow crystals, which sparkle like diamonds when hit with the morning sun's rays.
One of the best places to see this phenomenon is in the Utsukushigahara Highlands. Access to the highlands is very difficult during winter, but if you stay at Utsukushigahara's Ougatou Hotel, you can enjoy this and other winter experiences first-hand.
The Omiwatari Lake Crossing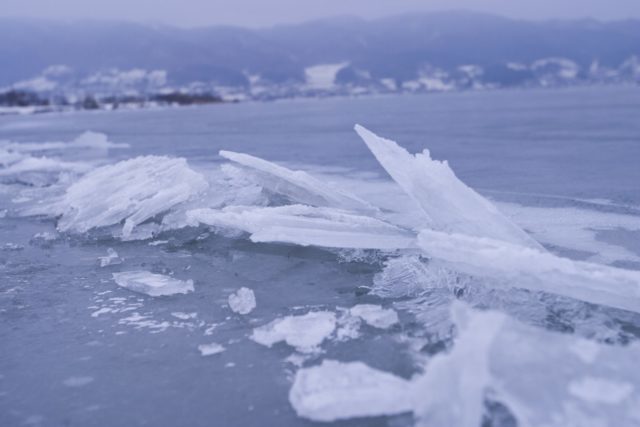 Lake Suwa in central Nagano has been a center of Shinto faith for over a millennia, being home of the shrines of Suwa Taisha (internationally known for their once-in-seven-year Onbashira Festival). Possibly due to the spiritual nature of this location, the lake has experienced a phenomenon called "Omiwatari" (roughly translated: the God's crossing) for hundreds of years. When the lake freezes, sheets of ice expand and contract with changing temperatures, eventually cracking and forming a long, continuous ridge across the lake, usually between 30 centimeters and 1 meter in height.
Omiwatari usually occurs in late January or early February.
Share your Favorite Winter Scenes of Nagano!
Did you have a chance to see some of these beautiful spectacles while traveling in Nagano? Share them with us on Instagram of Facebook with the hashtag #gonagano.
Update:2020/01/17