How to Make your Own Oyaki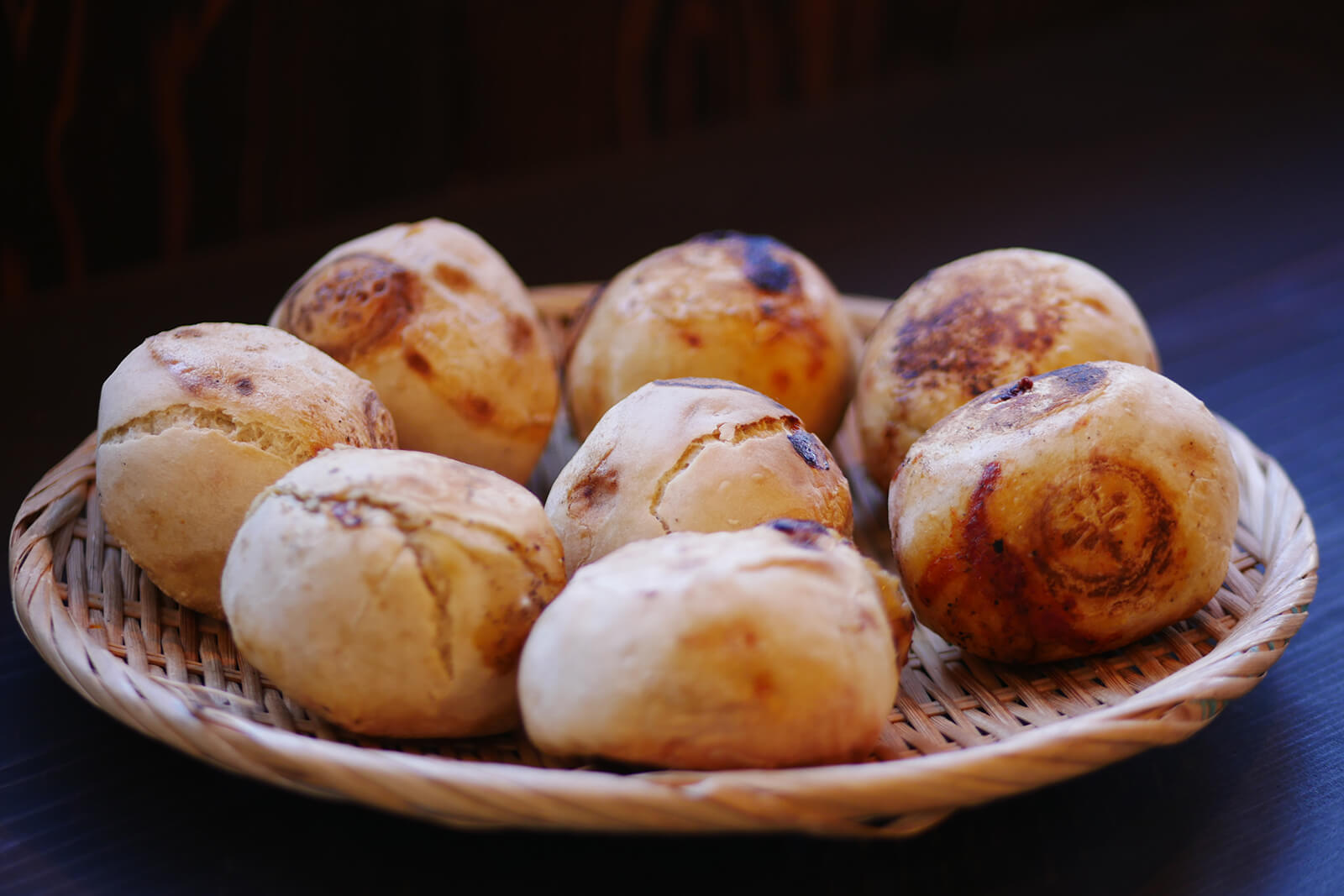 Oyaki are traditionally cooked over an Irori hearth.
Oyaki are one of Nagano's traditional foods and most delicious snacks. Like Soba, they have been an important part of local cuisine for thousands of years. In rice-scarce Nagano, these flour buns filled with pickles and veggies were an important source of carbs and protein. Now, they're healthy and delicious snacks that can be found in specialty shops and food stalls throughout Nagano prefecture.
Ogawa-mura near Nagano city is particularly famous for its oyaki, and customers can try making them for themselves there or at Ogawa no Sho in Nagano city. It's conveniently located in Patio Daimon on the way to Zenkoji. If you can't make the journey to Nagano, or Japan for that matter, I've included a recipe for making this Nagano treat so you can recreate it in your own home!
Making Traditional Oyaki at Ogawa no Sho
Oyaki are usually steamed these days, but they were traditionally charred and cooked in the ash of an open fire. Ogawa no Sho is one of the few places where you can enjoy the flavor of char-grilled oyaki and the warmth of a traditional irori hearth. Guests sit around the fireplace on tree trunk stools and watch as oyaki after oyaki are grilled in front of them. Favorites include Nozawana, Miso and Eggplant, Shimeji mushroom and Unohana. For 540 yen, you can make two of your own oyaki and enjoy complimentary tea and miso soup.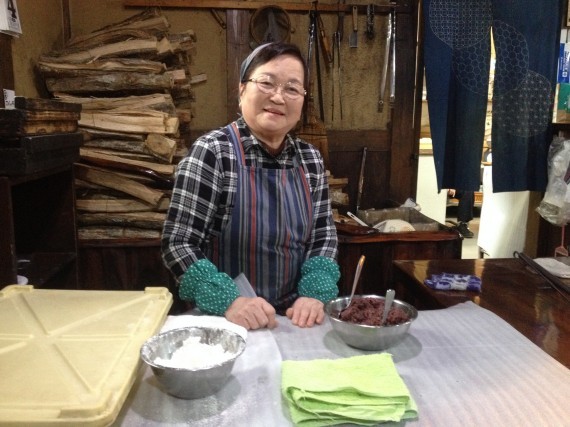 My Oyaki Sensei was Nishiyama-san. She was very helpful and showed me all the steps that go into making a perfectly round oyaki. Here at their store they have a motto: "Round Oyaki, Round Hearts." I think that's a good thing, whatever it means. We each made two, one filled with nozawana pickles and another one filled with sweet azuki beans. The Azuki beans were a bit easier to stuff into the dough and shape, but they also have a habit of exploding out of the bun as the cook, so don't put in too much!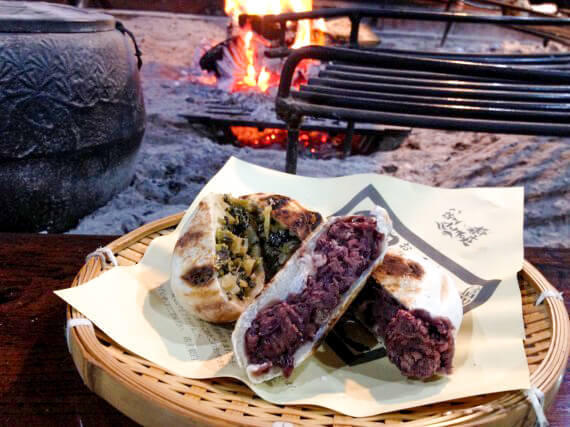 Eggplant Miso Oyaki Recipe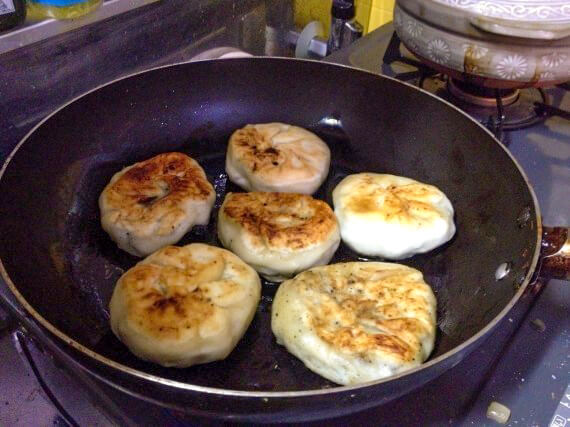 For those of you who have visited or lived in Nagano and are missing the taste of Shinshu, or for those of you who are interested in trying to make some traditional Japanese foods, I've included a recipe for oyaki that you can make in your very own homes.
There are many ways to cook oyaki: char-grilling, steaming, pan-frying then steaming, steaming then pan-frying, or even deep-frying. You can experiment to your heart's desire. The fillings as well can be anything you like, but try this recipe first for a traditional Nagano flavor.
Ingredients
Dough:
100g of Strong Flour*
100g of Weak Flour* (Extra for rolling)
1 tbsp of Potato starth (optional)
a dash of Salt
150ml of Hot water
2 tsp of Sesame oil
Filling:
3 small eggplants
1/2 of an onion
1 tbsp of Mentsuyu†
3 tbsp of Miso
2 tbsp of Sugar
1 tbsp of ground sesame seeds
a dash of salt
1 tbsp Sesame Oil (for cooking)
*200g of all-purpose flour is also fine
†If you can't find mentsuyu, replace with 1tbsp soy sauce and a bit of dashi fish stock.
Directions
Dough:
1. Mix dry ingredients in a bowl. Then, add warm water and sesame oil in increments.
2. Mix well and knead dough. Wrap and let sit for 30 minutes or longer. (Letting the dough rest increases its elasticity, making it easier to work with later)
Filling:
3. Remove Eggplant stem and cut into 1cm cubes. Rinse with water and put aside.
4. Roughly chop onion.
5. Add oil to a frying pan and cook onion until it becomes clear, then add eggplant.
6. Once it softens, add mentsuyu, miso, and sugar. Cook until moisture has evaporated. Then, add ground sesame and salt if desired. Let cool.
Putting it together:
7. Roll out the rested dough into a circle and cut into 8 pieces. Knead and roll each piece to about 10cm in diameter.
8. Fill each piece of dough with filling and pinch and twist shut.
9. Add sesame oil to frying pan and place oyaki pinched-side down. Fry until both sides turn golden brown, then add 40ml of water to the pan. Cover and steam for 3 minutes.
10. Uncover and voila! You've got some delicious Nagano Oyaki.
Dig in!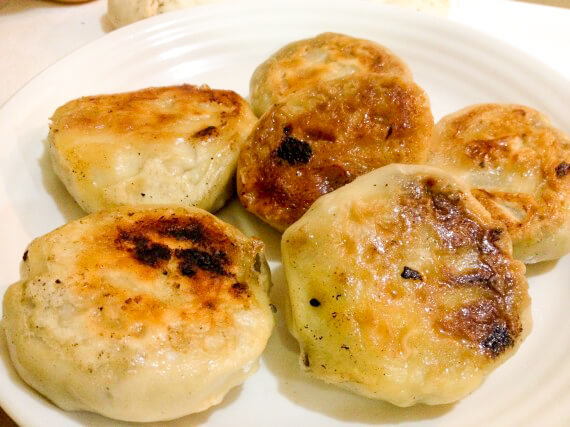 Oyaki is one of Nagano's delicious traditional foodstuffs, and it's surprisingly easy to make them yourself. There are so many ways to make them and so many fillings to try (apple cinnamon, anyone?) that you'll never get bored experimenting with new flavors or recipes.
Update:2019/09/30