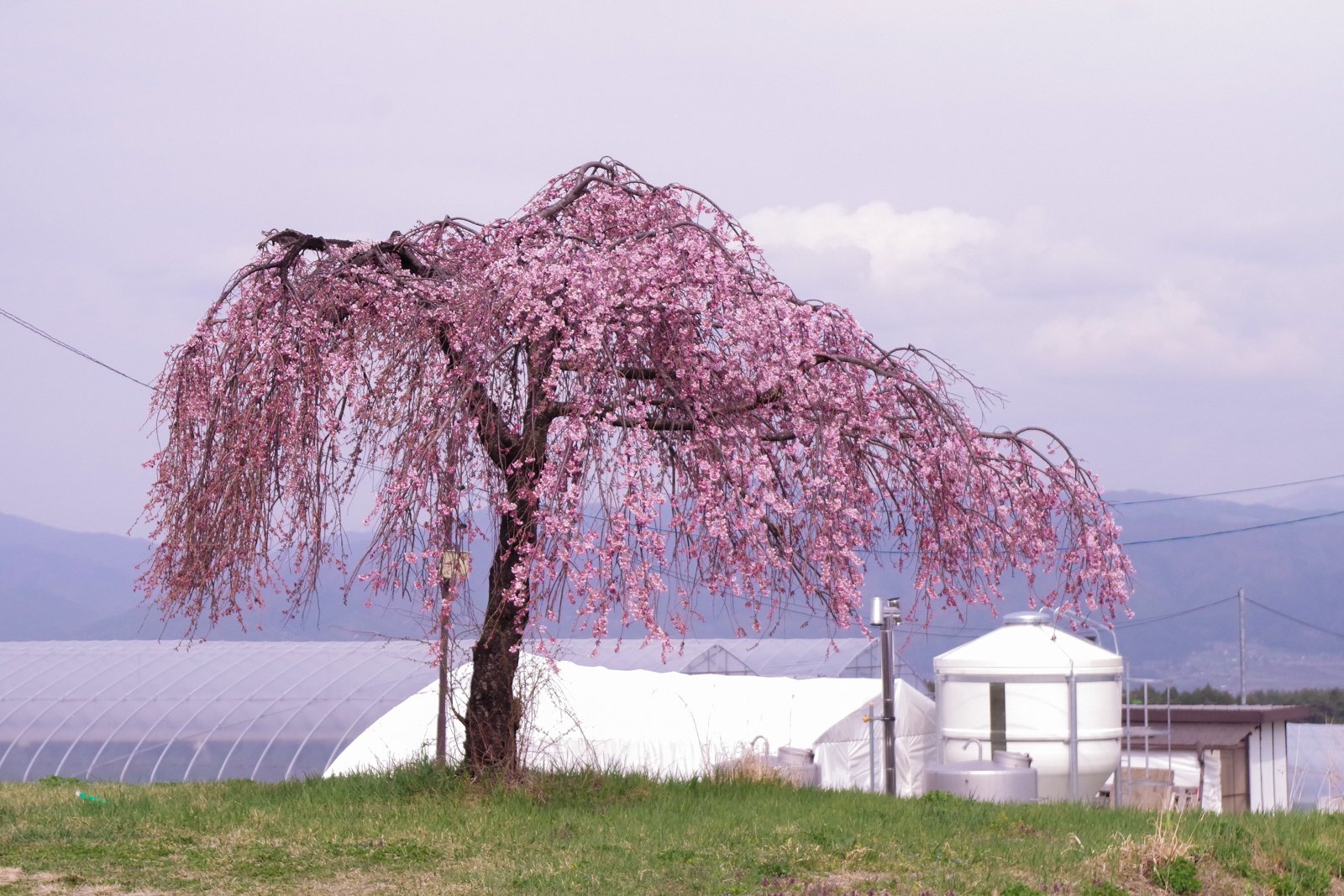 Spring is one of the most beautiful seasons to visit Japan. At the end of a long winter, colorful flowers burst forth from underneath the snow, and fluffy clouds of cherry blossoms fill its parks and hillsides.
In Nagano, cherry blossoms cover the prefecture from the beginning to the end of April while snow still covers the mountains. It's a perfect place to see the changing of the seasons, whether you are visiting the ski resorts and parks around Hakuba or taking in the views of the Northern Alps and cherry blossoms at Matsumoto Castle.
While not yet well known among international visitors, the Ina Valley is a great place to enjoy Nagano's spring and snow. Tucked between the Central and Southern Japanese Alps, it has majestic mountainous views, plentiful cherry blossom spots, and many spring activities. Here, you can take ropeways to incredible heights and enjoy snowshoeing in spring, visit beautiful cherry blossom spots in ancient temples and castles, and pick fresh strawberries in its warm greenhouses.
Below is our two-day trip to the Ina Valley.
Two Days in the Ina Valley: Day 1
Located between Matsumoto and Nagoya, the Ina Valley is accessible from either via the JR Iida line train. To start off your trip, take the train to Komagane Station and change to the Komagatake Ropeway bus headed to Shirabidaira Station. Get off here for your first stop of the day: Senjojiki Cirque.
Senjojiki Cirque and the Komagatake Ropeway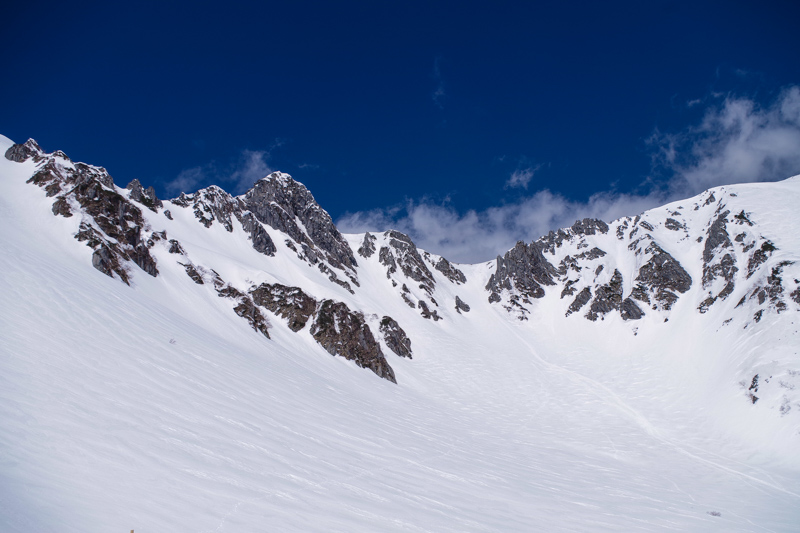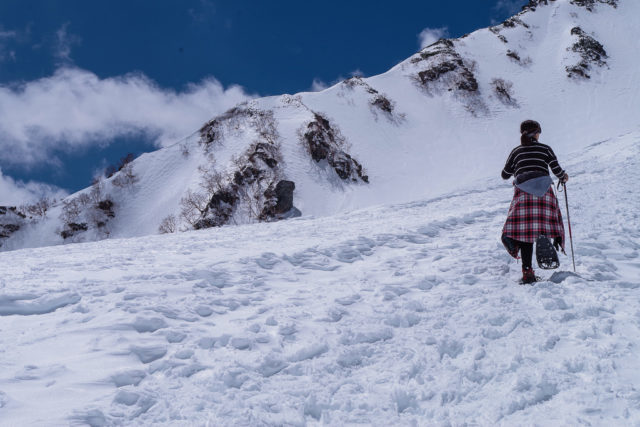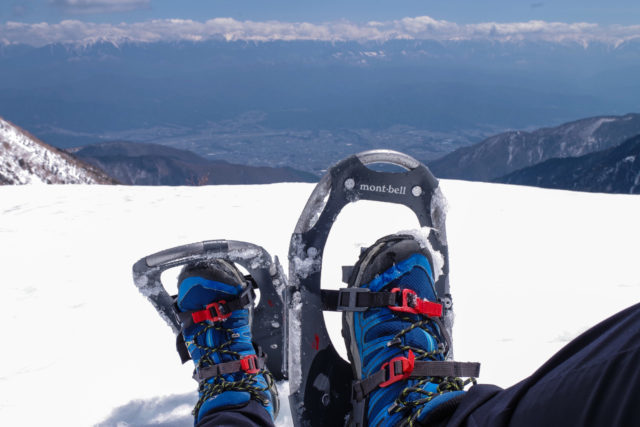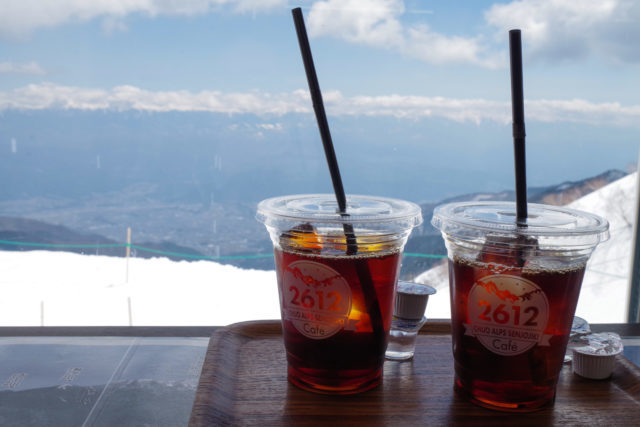 The Komagatake Ropeway was the first mountain ropeway built in Japan. Spanning a length of 2,333 meters and traveling to an altitude of 2,612 meters high, it brings visitors to Senjojiki Cirque, a magnificent geological formation in the heights of the Central Japanese Alps.
Senjojiki's name refers to its vast size—so large that 1,000 tatami mats could be laid across it (around 1.8 kilometers long). It was formed over millennia by glacial activity, creating the natural amphitheater we see today. Around the cirque, bare, rocky peaks jut out from the ridgeline like the points of a crown.
It is open year-round, changing wildly with the seasons. In summer, its verdant green grasses are dotted with rare alpine flowers. In autumn, it blazes with fiery reds, yellows, and oranges. In winter, it freezes in time—even the air glitters with frozen particles called 'diamond dust.' During spring, you can enjoy the snows of winter and the warmth of the sun. It is the perfect time for snowshoeing under bright, blue skies.
You can rent snowshoes and enjoy walking through the snow. Approaching the cirque, you can further appreciate its magnificent appearance and scale.
Afterwards, stop for a drink at Senjojiki's 2612 Café, which offers fantastic views of the Southern Japanese Alps, before heading back down the mountain for lunch.
Details
Price
Ropeway (Round-trip)*: Adults/2,490 Yen, Children/1,240 Yen
Bus Fare (Round-trip): 2,060 Yen (1,640 Yen if getting on from Suganodai Bus Center)
Snowshoe rentals: 1,000 Yen
Access
From Komagane Station, take the Komagatake Ropeway bus to Shirabidaira Station, then take the ropeway to the top of the mountain.
Sauce Katsudon at Meijitei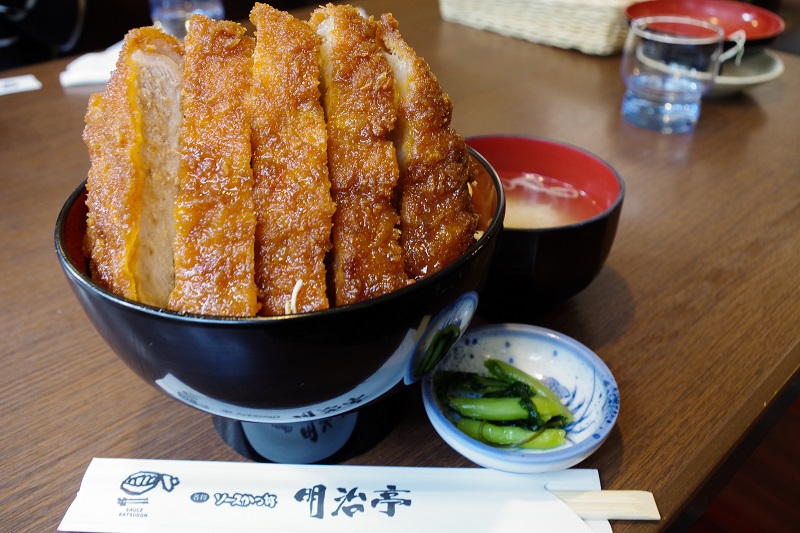 Japan is known for its healthy and light cuisine, but it also has its fair share of filling comfort foods. In the Ina Valley, sauce katsudon is a local specialty: pork cutlet slathered in a sweet and tangy sauce, served over rice and a bed of fresh cabbage.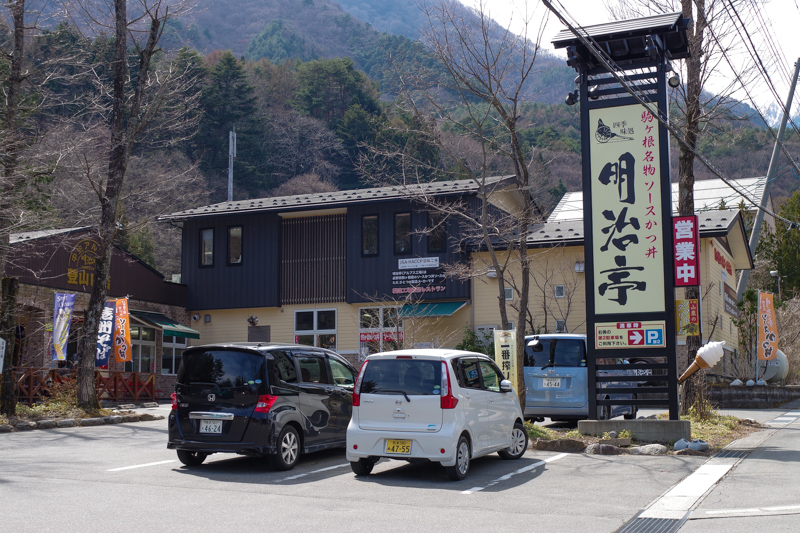 Conveniently located just a few minutes away from Suganodai Bus Center on foot, Meijitei is one of the most well-known sauce katsudon restaurants, featuring their own special sauce. They even have a sauce factory at the restaurant here, and you can see them making it (and buy some to take home!).
I recommend getting the sauce katsudon, but they have a large menu with plenty of great—and adventurous—options. You can get a rice bowl topped with Nagano's own Shinshu Salmon, miso-marinated beef tongue, or even basashi (raw horse meat).
Details
Price
Sauce Katsudon: 1,340 Yen
Hours
April to October
Weekdays: 11:00 to 19:00
Weekends: 9:30 to 19:00
November to March
Weekdays: 11:00 to 14:30
Weekends and Holidays: 11:00 to 15:00
Access
A 5-minute walk from Suganodai Bus Terminal.
Check into your Hotel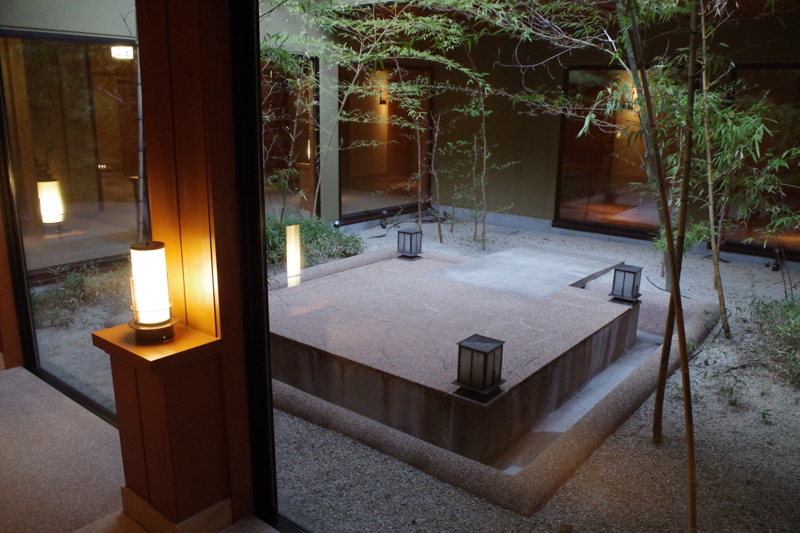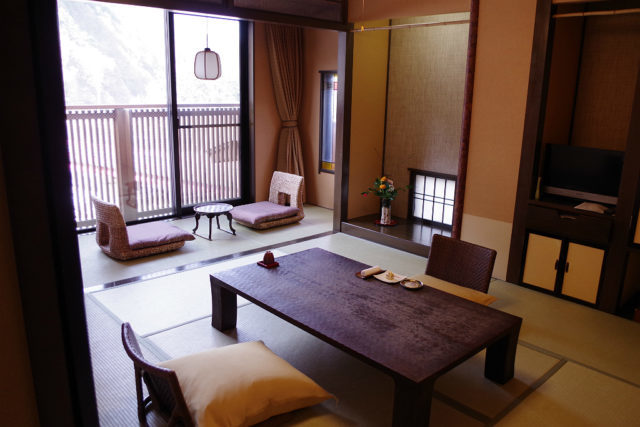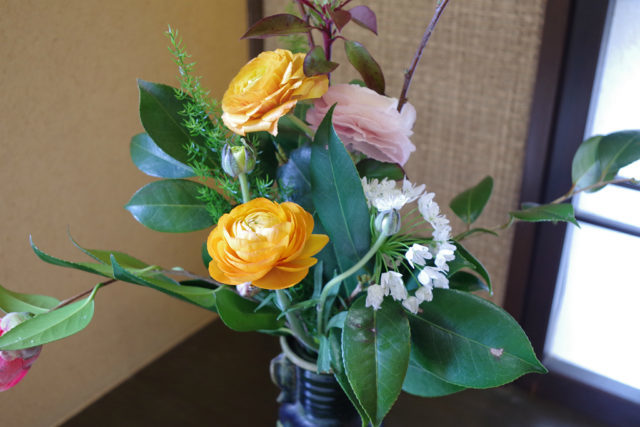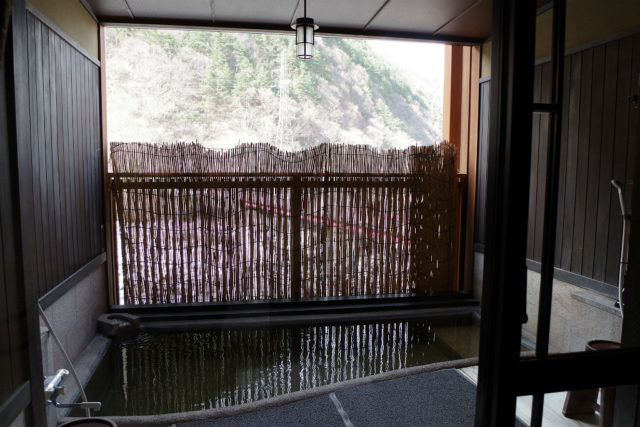 There are many hot springs hotels and inns around the base of the Central Alps here with good access to Suganodai Bus Center. They are all part of Hayataro Onsen.
We had a chance to stay at Futari Shizuka, an elegant Japanese hotel with outdoor hot spring baths, just up the hill from the bus terminal.
The hotel is a wonderful blend of traditional and modern Japanese design with a thorough attention to detail. Paper shades and lamps in the shape of traditional shoji doors can be found throughout the hotel, as well as colorful ikebana bouquets in every corner. Floor-to-ceiling glass panels reveal small Japanese gardens in the hotel's lobbies.
Both Japanese and Western-style rooms are available here that can accommodate couples, families, and even large groups. And each room has its own special feature. From rooms facing the Southern Japanese Alps to rooms with attached private hot spring baths, Futari Shizuka's rooms offer unique scenery and comforts, allowing you to enjoy your stay to the fullest. The meals are also excellent, featuring Japanese kaiseki cuisine during the evening, and either a buffet or traditional Japanese breakfast in the morning.
Wherever you choose to stay, the hotels of Hayataro Onsen are all within walking distance of Suganodai Bus Center, Kozenji Temple, and the Mars Whiskey Distillery just across the river.
Kozenji Temple's Weeping Cherry Blossoms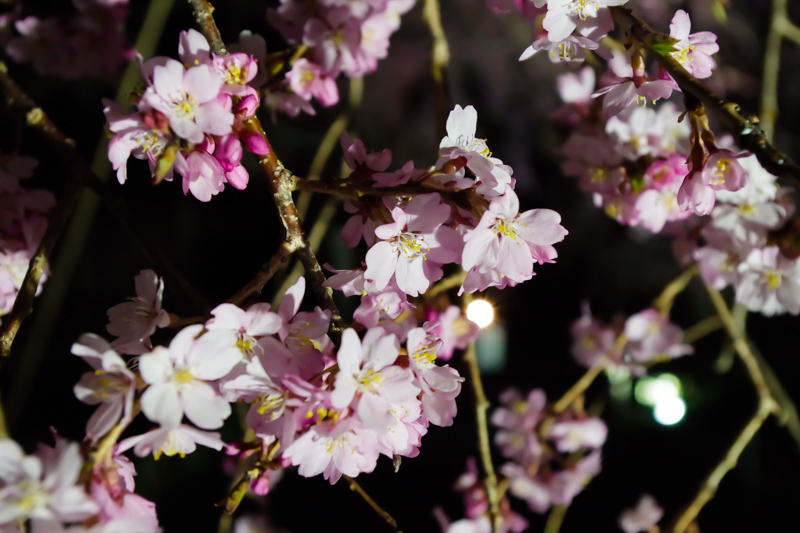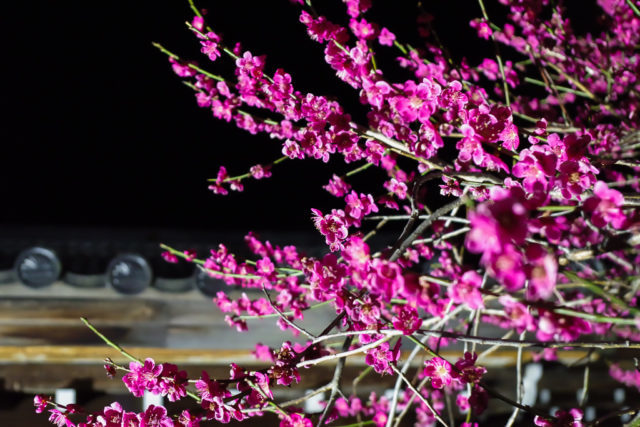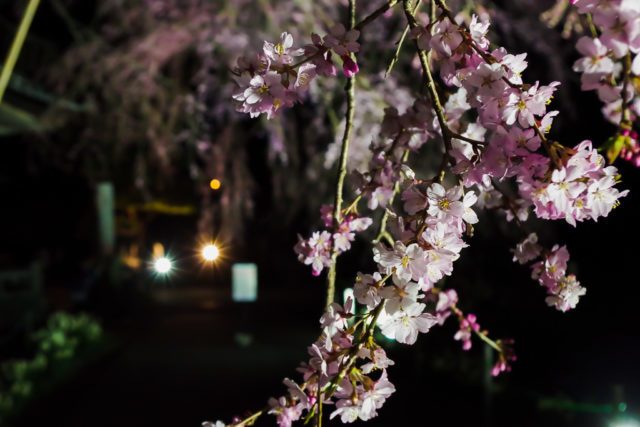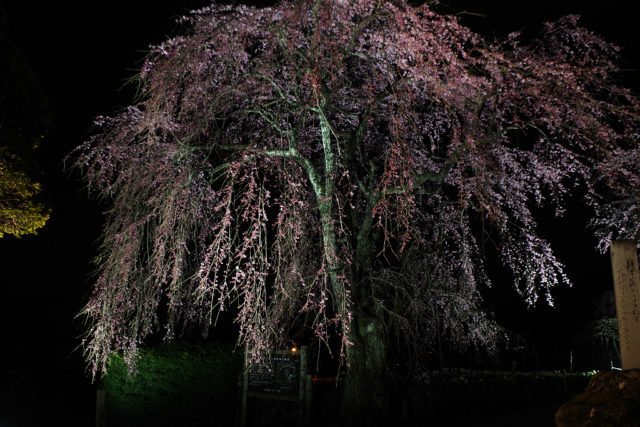 After dinner, walk from your hotel to Kozenji Temple for its cherry blossom illuminations.
During mid- to late April, Kozenji Temple holds nightly illuminations for its weeping cherry blossoms. Spotlights light up the trees, showing off their petals in dazzling shades of white, pink, and lavender, and candles line the paths around the temple. The grounds are especially beautiful during the evening, when the main hall and three-tiered pagoda are bathed in the candles' warm glow.
Here you'll find the grave of Hayataro, a dog that lived in Kozenji over 700 years ago. It is said that during Hayataro's life, the dog exorcised an evil baboon spirit that terrorized a city in Shizuoka.
Details
Price
Free
Hours
Illuminations are from 18:30 to 21:00
Access
From Komagane Station, take the Komagatake Ropeway Bus and get off at Kiriishi Koen Shita bus stop (between Nyotai Iriguchi and Suganodai Bus Center stops). Or, a 25-minute walk from Suganodai Bus Center.
Day 2: Whiskey-tasting and Fruit-picking
On your second day, enjoy some of the Ina Valley's local spirits and go fruit-picking at Miharashi Farm. Afterwards, you can head north towards Matsumoto or south towards Nagoya for the next part of your trip.
Mars Whiskey Distillery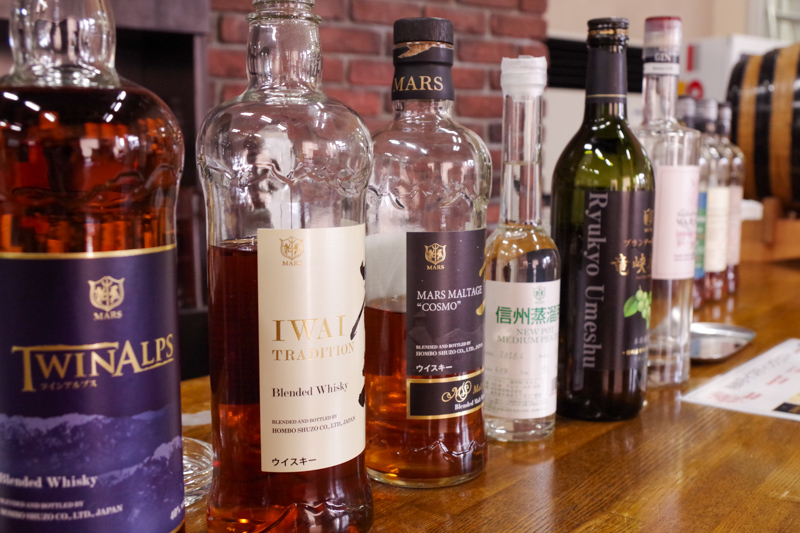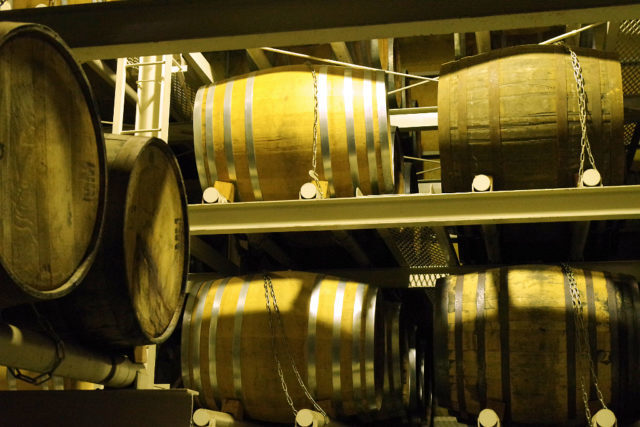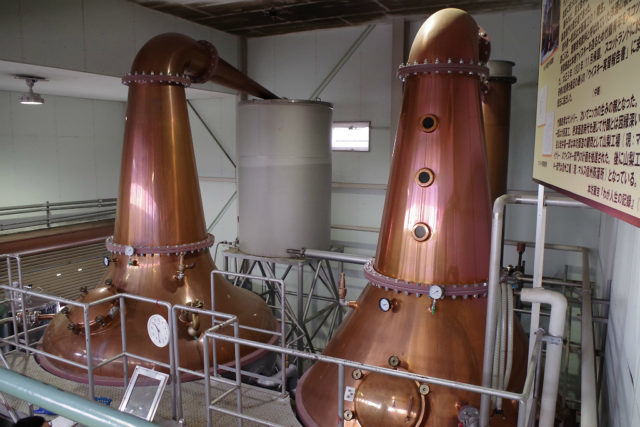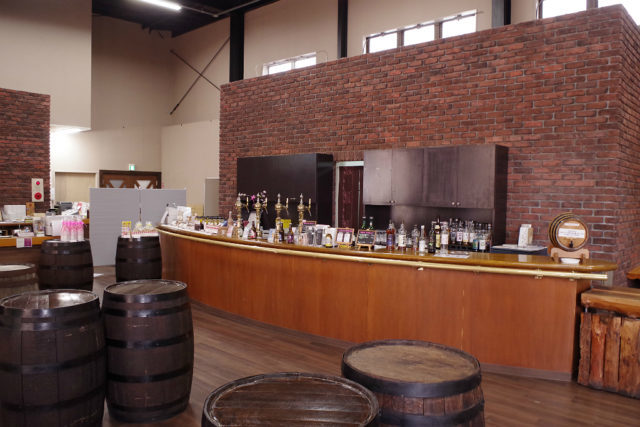 Leaving your hotel after breakfast, head to the other side of the Otagiri River and visit the Mars Whiskey Distillery, just a 10-minute walk from Suganodai bus center.
Opened in 1985, this distillery was built in an ideal location for whiskey-making, thanks to the cool temperatures and plentiful spring water from the Central Alps. The distillery produces a range of Japanese whiskeys, from blended single malts to single cask varieties under the Mars Whiskey label.
Touring the whiskey distillery is free of charge and can be done at your own pace. Signs in Japanese and English explain the process of creating whiskey from mashing to distilling, and if you come in the morning you can see the masters at work. The distilling is most interesting, as you can see the mash boiling away inside the swan-necked copper stills. A whiskey expert is constantly watching its progress, occasionally checking the distilled product's aroma and flavor.
For More Information About Nagano's Alcohol and Spirits
There is also a tasting room with several free tasting whiskeys. You can also try some pricier varieties for a small fee, as well as drink some of the beers that are also brewed here.
The distillery is currently undergoing renovations, which will be complete around July of next year (2020). It will have a brand-new storefront and a bar where you can drink its many whiskeys and beers at your leisure. Just across the river from Hayataro Onsen, it will be a great place to relax after a long day exploring Senjojiki Cirque and Komagane.
Details
Price
Brewery tours are free of charge.
Hours
9:00 to 16:00
Access
A 10-minute walk from Suganodai Bus Center..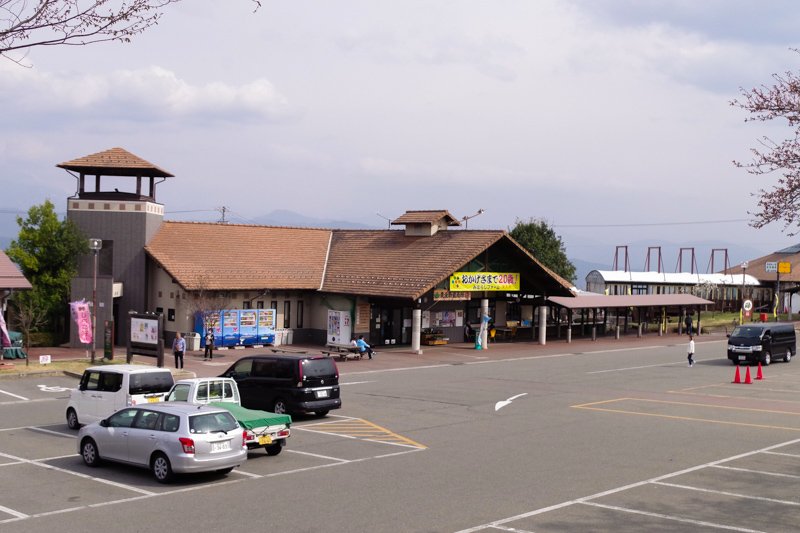 Located in Ina City, Miharashi farm is a tourist farm that has been in operation for 20 years. They offer strawberry, blueberry, grape, and apple-picking (in addition to corn and asparagus-picking). They also have cooking lessons, a buffet restaurant, hot spring, and other activities as well. You can easily spend an entire day here picking fruits, taking cooking lessons, and enjoying the outdoors.
To reach Miharashi Farm from the Mars Whiskey Distillery, first take the bus from Suganodai Bus Center back to Komagane Station. Then, take the train heading north to Inashi Station and take the Miharashi Farm bus to Miharashi Farm.
Strawberry Picking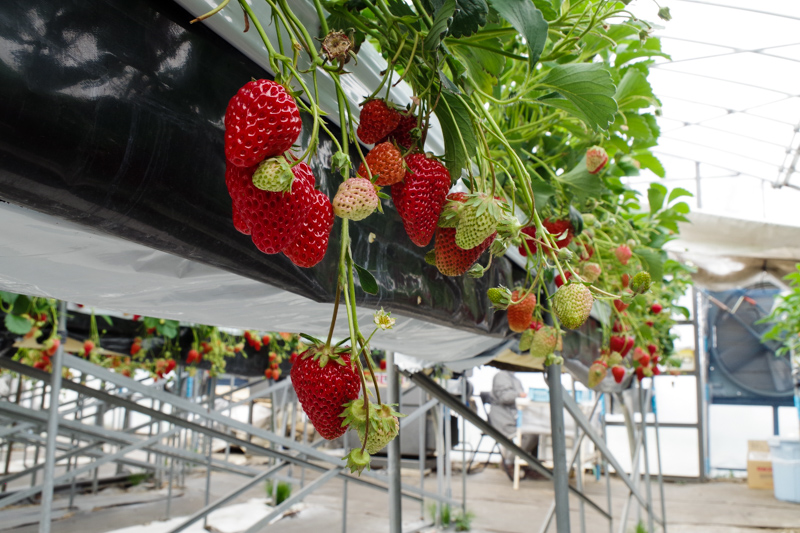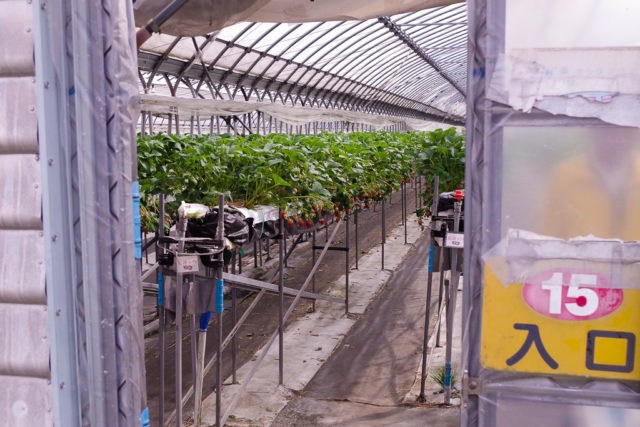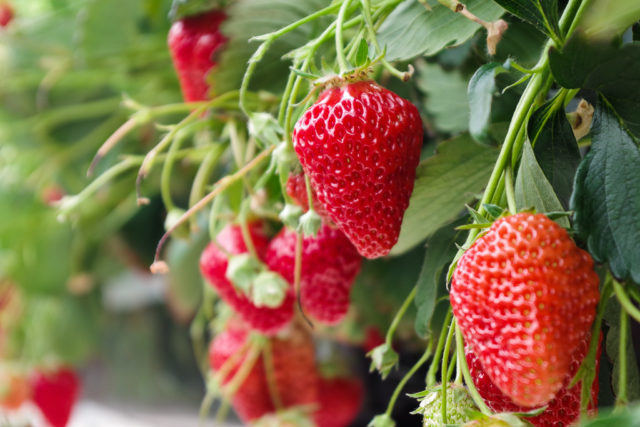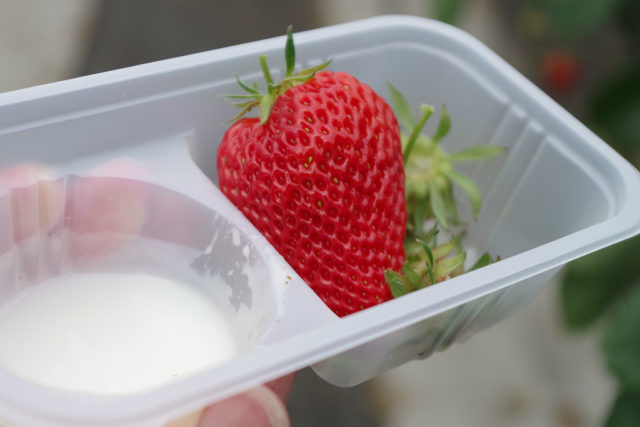 From January to June, Miharashi Farm offers strawberry-picking in its greenhouses. There are a total of 17 large greenhouses on the farm, each of which is packed with rows and rows of bright-red strawberries. You can pick three varieties of strawberries here: Beni Hoppe, Akihime, and Nyoho.
There are subtle differences in flavor between each variety. The Nyoho and Beni Hoppe have a very balanced flavor, both sweet and tart, while the Akihime is bred to be as sweet and juicy as possible. Since Miharashi Farm's strawberry-picking experience has no time limit, you can take as much time as you like to try them all and find your favorite one!
One tip: Since most people don't travel all the way to the back of the greenhouses, the back hides some of the most delicious and ripe strawberries for the picking.
Details
Price
January: Adults/1,800 Yen, Children/1,100 Yen
February to March: Adults/1,600 Yen, Children/1,100 Yen
April to May 10th: Adults/1,400 yen, Children/900 Yen
May 11th to June: Adults/1,100 Yen, Children/900 Yen
Open Period
January 2nd to June 2nd, 2019
Hours
9:00 to 16:00
Reservations
Necessary. Email miharasi@dia.janis.or.jp
Miharashi mountain biking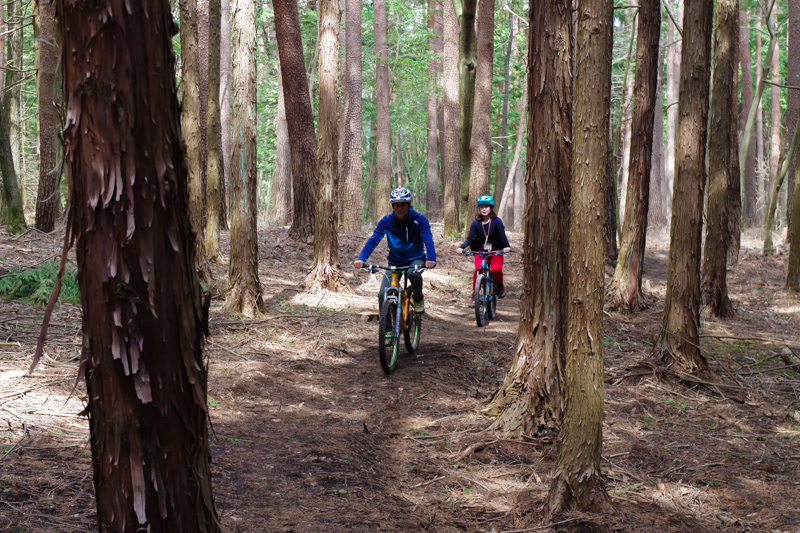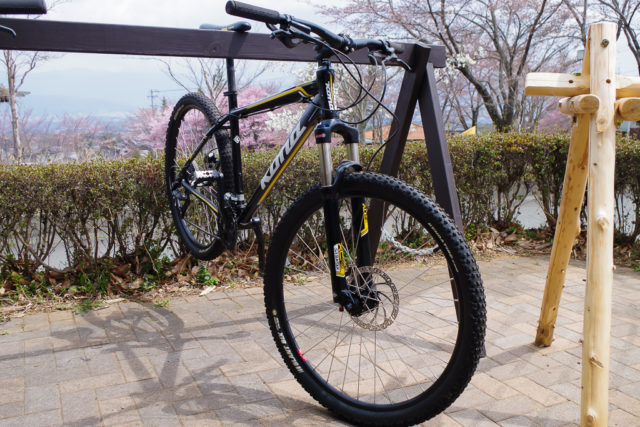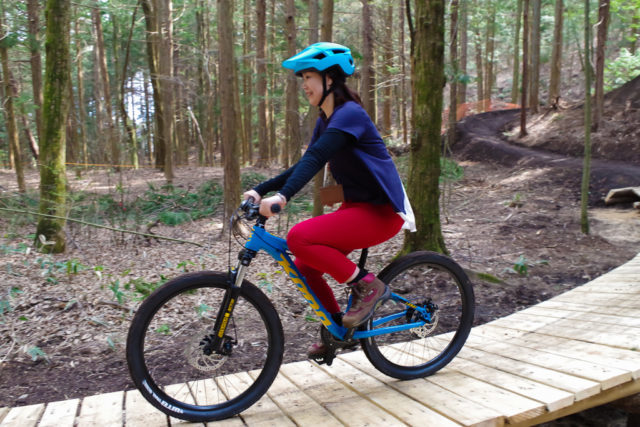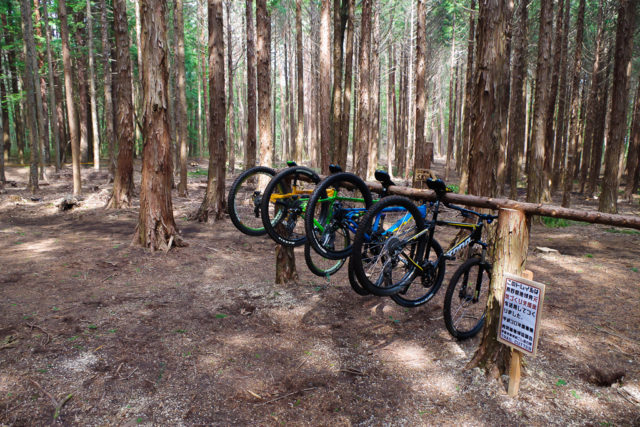 From April 27th of this year, Miharashi Farm is opening a mountain biking trail produced by Mr. Miyasaka, a talented local MTB trail designer.
Designed for mountain biking beginners, the trail takes about one hour to complete, including preparation time, a short uphill climb, and the main downhill event. The trail is made of well-packed soil that forms a series of banks as it winds down the hillside. Cutting through a dense forest of hinoki cypress, the trail is covered in cool shade and has a pleasant, woody aroma.
You don't need any of your own gear to ride the trail. Kona mountain bikes and helmets are available for rental.
Details
Price
Trail Use
One Day: Adults/1,500 Yen, Children/1,000 Yen
One Hour: Adults/750 Yen, Children/500 Yen
Bike Rental
One hour: Adults/1,500 Yen, Children/1,000 Yen
Three hours: Adults/3,000 Yen, Children/2,000 Yen
One day: Adults/4,000 Yen, Children/3,000 Yen
Hours
9:00 to 16:00 (Weekends and Holidays only)
Gohei Mochi-Making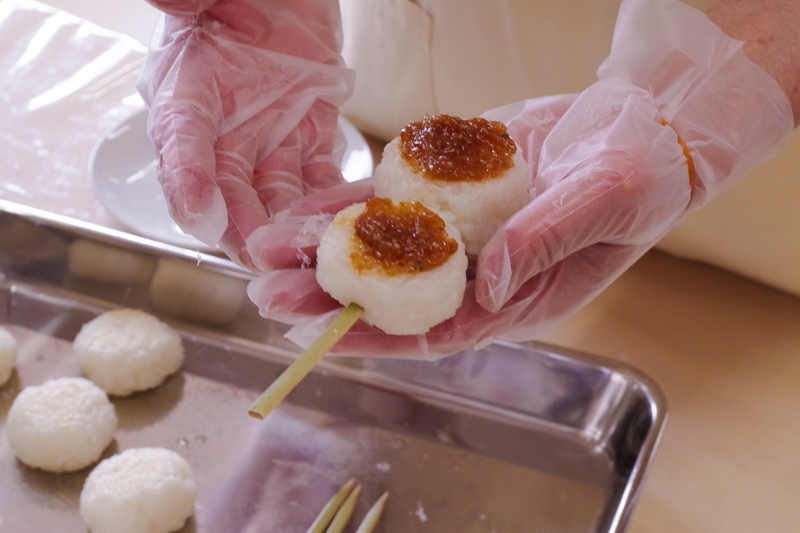 Gohei Mochi is a popular snack in Southern Nagano. Rice is pounded down into a nearly mochi-like consistency and then grilled and covered in a salty, sweet sauce (usually with miso and nuts). Depending on where you get it, the shape of the rice patty may be circular or oblong.
It isn't very difficult to make, but it is a nice way to spend some time and enjoy a delicious snack. The instructor takes you through each step of making it, from pounding the rice and shaping the patties to cooking them and slathering them in sauce.
Miharashi Farm also offers other cooking classes, such as jam- and soba-making.
Where to Next?
Once you've had your fill of the Ina Valley, you can head towards Matsumoto Castle, Kamikochi, or Takayama to the north, or head south to Nagoya, Osaka, and Kyoto in the south—or any number of places around Japan! After exploring the snowy Central Alps and cherry blossoms, where would you head next?
If you have any questions about the Ina Valley and its sightseeing spots, feel free to leave a comment below!