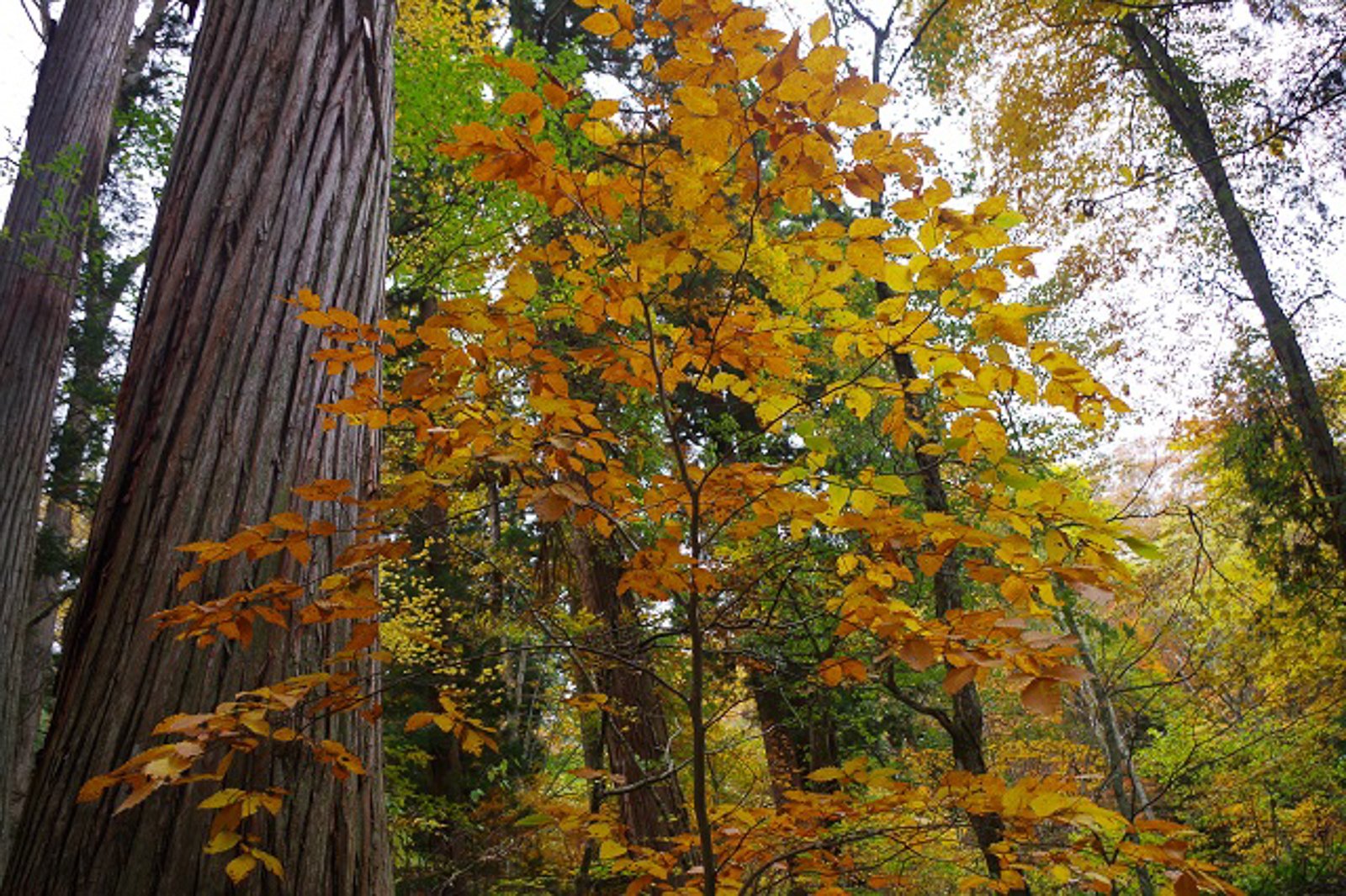 As autumn approaches, red and yellow-colored leaves slowly descend from the highlands and cover the valleys of Nagano. The tops of the Japanese Alps are crowned with their first snows of the season. Fields of rice and wheat turn gold, ready for harvest. At this time of year, Nagano is a feast for the eyes—and certainly the stomach, as well.
Visit highlands, precipitous gorges, and deep forests and enjoy some of the most beautiful autumn scenery Nagano has to offer. See some of our favorite, lesser known autumn sightseeing spots below.
Autumn Colors and Hot Springs in the Matsukawa Ravine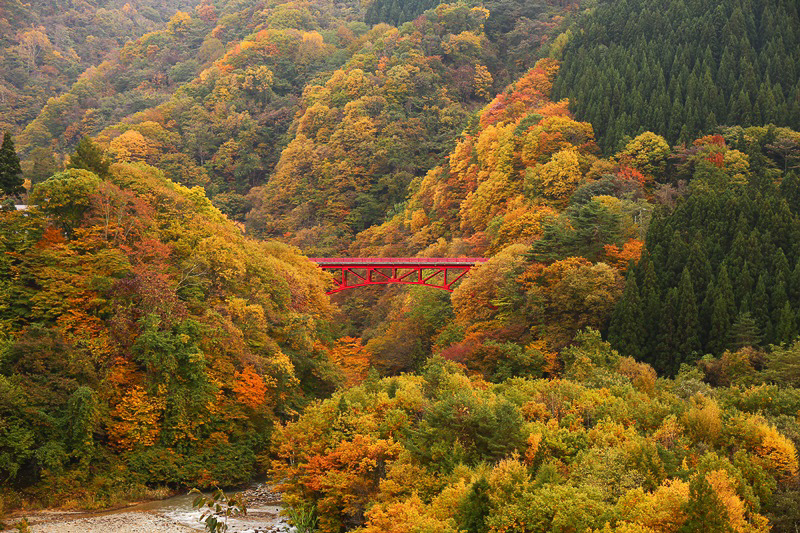 Tucked away behind Suzaka outside of Nagano City is a small village called Takayama-mura. While most foreign tourists haven't heard of it, it's very popular among Japanese travelers for its beautiful autumn views and mineral-rich hot springs.
As you continue past the first hot spring area of Yamada Onsen, the valley becomes narrower and steeper. This is the Matsukawa Ravine, home to several impressive waterfalls and a number of other onsen areas. The view of the Takai bridge surrounded by autumn leaves is famous, as well as the waterfall Kaminari-daki, which can be admired from any direction (you can walk behind and around the falls, probably without getting wet!).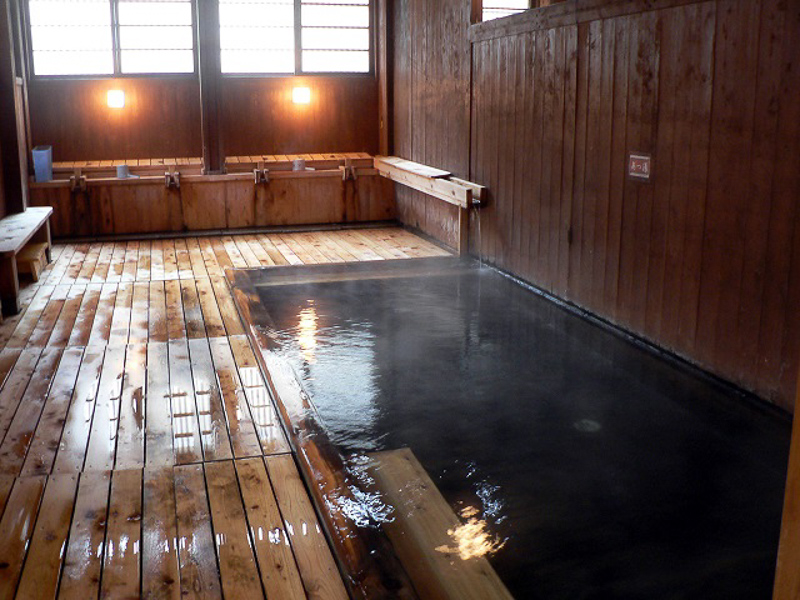 There are a number of ryokan and hot springs in Yamada Onsen, including the beautiful Oyu bath, crafted from wood in the traditional style. Goshiki Onsen's water is said to change depending on the season, becoming one of five different colors. Shichimi Onsen is an effective cocktail of seven different springs from the area—not a hot spring seasoned with Nagano's favorite spice blend. There are several Konyoku baths here as well, for those of you who'd like to bath together with both your male and female friends.
Best Time to Visit
Mid- to late October
Access
Yamada Onsen can be reached by bus from Suzaka Station. The Yamada Oyu bath and a number of hotels are here, and there is a 40-min trekking path around the area here. To reach Kaminari-daki falls, it's a 7-minute taxi ride.
The Hidden Village of Togakushi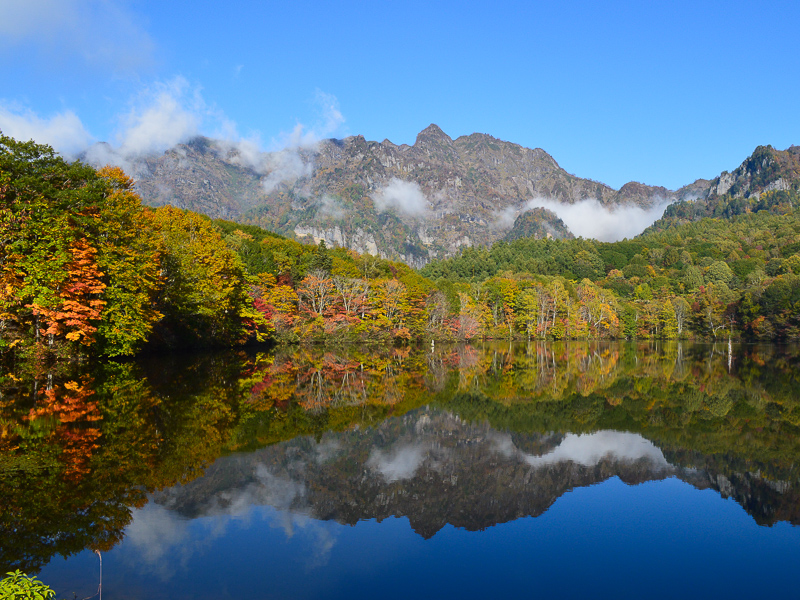 Togakushi is located on a plateau above Nagano City at an elevation of 1,200m. The village was for a long time a gathering place for ascetic monks, and the spirituality of this place resonates in its towering cedar forests and precipitous peaks. A clan of ninja also made Togakushi their home and developed a unique style of ninjutsu here called "Togakure-ryu."
One of the most popular ways to enjoy Togakushi is by walking to the Okusha Shrine. The path to the shrine is lined with huge 400-year-old cedar trees, and the shrine itself stands in front of the mountainous wall of Mt. Togakushi. Several paths branch off from here and take you towards either Togakushi Farm or Kagami Pond. On a clear day, the view of Mt. Togakushi reflected in the pond is spectacular. After wandering through Togakushi's tranquil forests, fill up with freshly-harvested soba, Togakushi's local specialty.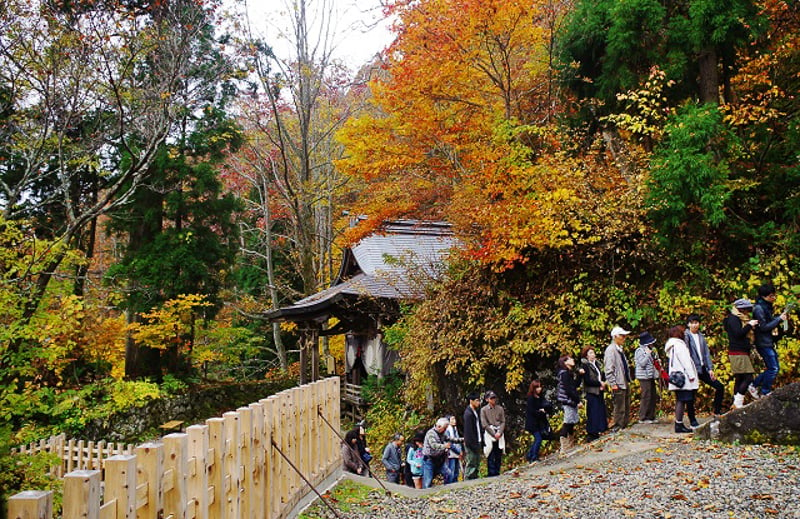 For those interested in Togakushi's ninja history, you can stop by the Ninja Museum or arrange a lesson in ninjutsu with one of the practitioners in the area.
Best Time to Visit
Mid- to late October
Access
From Nagano Station's Zenkoji Exit, take the Togakushi line bus (Bus Timetable) to Togakushi. Most visitors get off at the Chusha or Okusha Shrine bus stops (about 65 minutes from Nagano Station).
Cycling through Autumnal Karuizawa (Kumoba Pond, Shiraito Falls)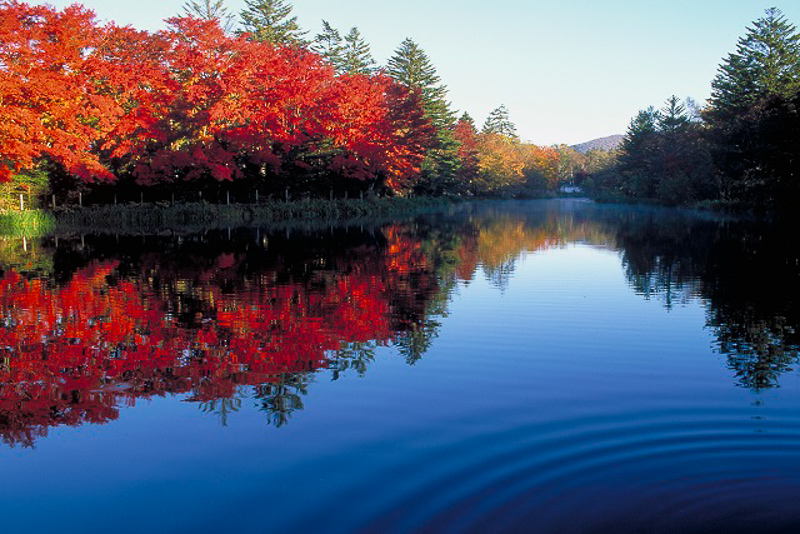 When looking for great fall foliage spots in Nagano, who could forget Karuizawa—the wooded, highland getaway for locals and Tokyoites alike. From Karuizawa Station it's easy to rent a bike and cycle through shaded streets and beautiful villas, or head to the outlet mall or Kyu-Karuizawa for some shopping.
One of the best spots for admiring autumn leaves is Kumoba Pond, just 15 minutes away from the station on foot. The crimson leaves are reflected clearly in the water below, and you can enjoy the view while circling the pond or having a cup of tea at the Kumoba-tei restaurant. Shiraito Falls is another must-see spot for nature lovers in the area, and it can be reached via the Karuizawa-Kusatsu line bus in about 15 minutes.
Best Time to Visit
Late October to early November
Access
Karuizawa Station can be accessed via the Hokuriku Shinkansen, approx. 60 minutes from Tokyo and 30 minutes from Nagano City. Kumoba Pond is a short 15-minute walk away, and Shiraito Falls is a 15-minute bus ride.
Slipping Back in Time in Agematsu (Nezame no Toko, Akasawa)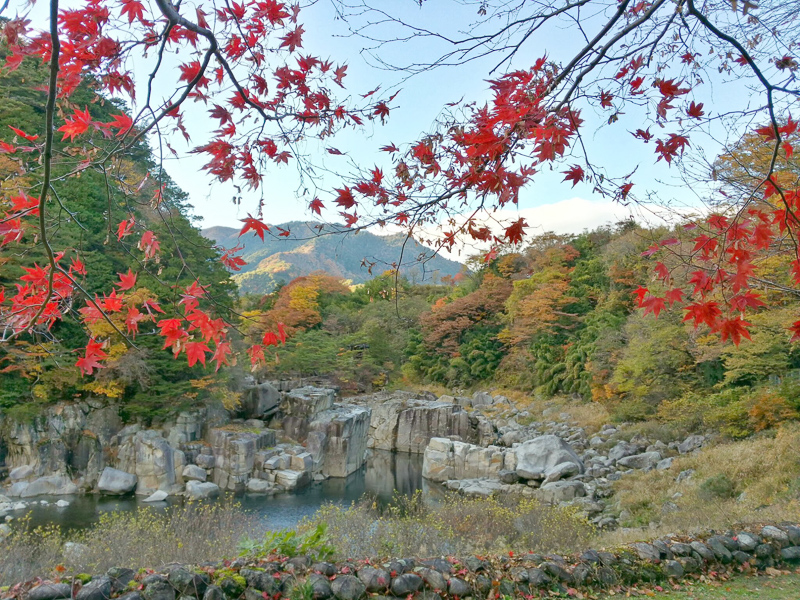 The Kiso Valley has long been known for its excellent lumber and dedicated craftsmen, so it's only fair to say that it is blessed with verdant and plentiful forests. This magical season imparts a surreal beauty on the post towns of the Nakasendo as well as Kiso's natural wonders.
The town of Agematsu is centrally located to a number of Kiso's sites. Agematsu itself is a post town, and the famous Narai and Kiso-Fukushima post towns are just north of it as well. Buildings showcase traditional Edo period architecture, and many of the inns frequented by feudal lords remain intact. Kiso's forests are also well-preserved, and the Akasawa Recreation Forest Park, where you can enjoy a variety of walking trails and the open-air logging train, is just within arm's reach. Just south of Agematsu is Nezame-no-Toko, a grouping of strange rock formations along the Kiso River tied to one of Japan's most popular folktales, Urashima Taro.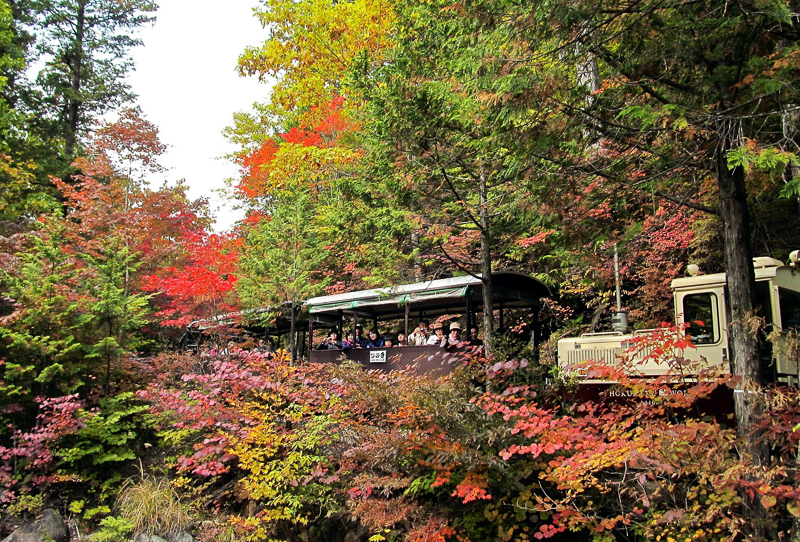 Best Time to Visit
Late October to early November
Access
Narai, Kiso Fukushima and Agematsu Stations are all connected via the Chuo train line. To visit Nezame-no-Toko, you can take a local bus from Agematsu Station or Kiso Fukushima Station (5 or 10 minutes, respectively). Or, you can walk along the former Nakasendo road from Agematsu Station and reach it in about 30 minutes. To visit the Akasawa Recreation Forest Park, take the Akasawa line bus (see bus timetebale here) from Agematsu or Kiso Fukushima Station (30 or 45 minutes, respectively).
Whitewater Boat Tours on the Tenryu River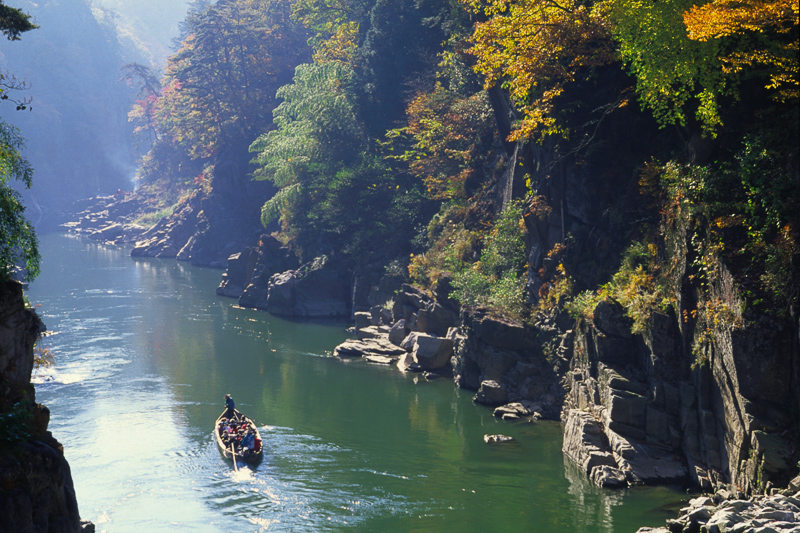 The Tenryu River travels from the Suwa area south to the Pacific Ocean, cutting through the Ina and Iida valleys. Once a relentless force, it carved out the vertical cliff faces of the Tenryu-kyo gorge before being dammed during the 20th century. Now its flow is gentler, but you can still enjoy whitewater rafting in modern rafts or more traditional vessels. Up above, you can enjoy the beautiful fall colors perched on the gorge's rocky cliffs. It is easily accessible too; just get off at Tenryu-kyo Station (Iida Line) and walk from there.
Best Time to Visit
Mid- to late November
Access
Take the Iida line to Tenryu-kyo Station. The Station is located about a minute away from the river itself, and from there you can reach the area's sights on foot.