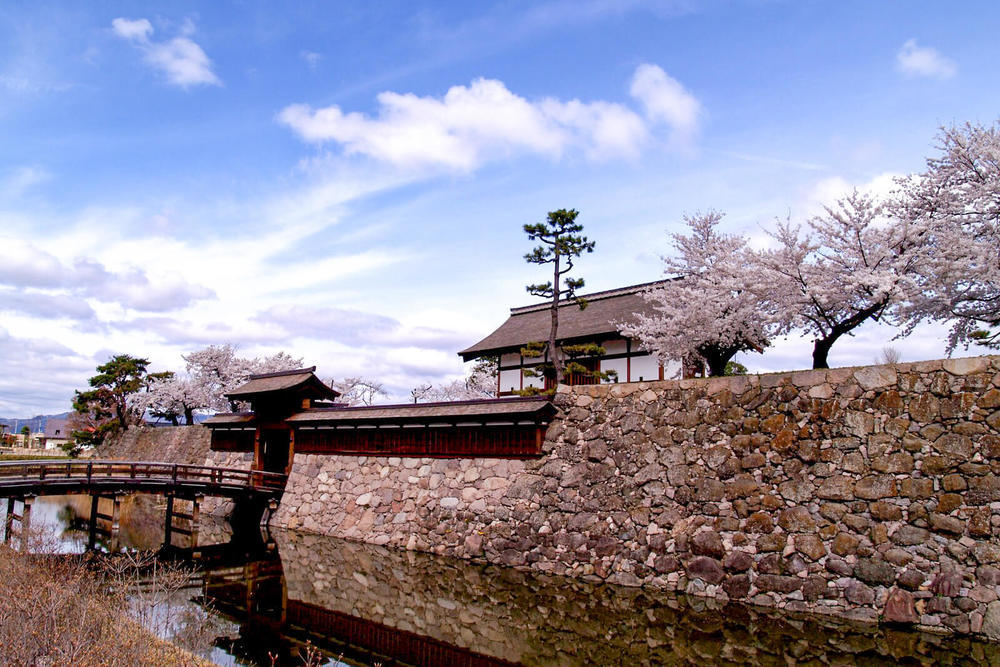 Matsushiro was once the domain of the Sanada clan, the samurai family starring in NHK's newest historical drama, Sanada Maru. The Matsushiro domain covered the largest area of the Shinano province and thrived as a castle town during the Edo period. Now, Matsushiro is a sleepy town that holds pristine artifacts of its Samurai history.
A group of us visited Matsushiro recently to learn more about its history and enjoy some cultural activities and local food.
The Historical Sites of Matsushiro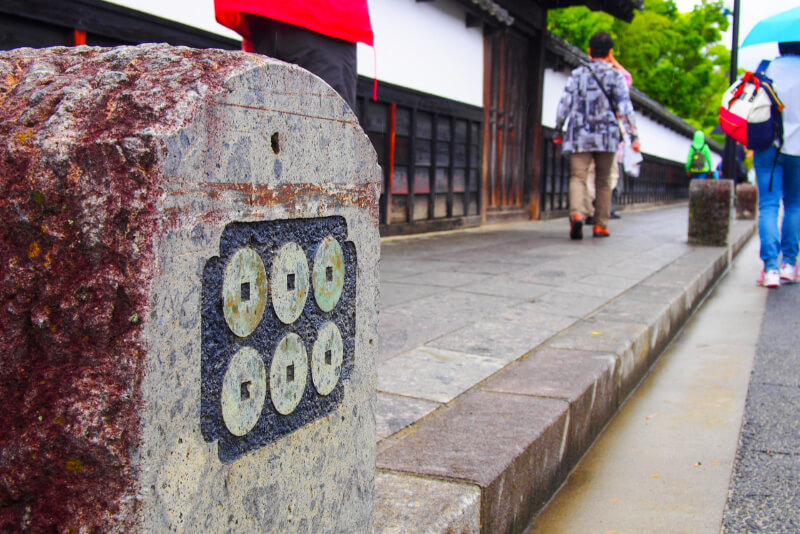 Beautifully paved streets wander between the ruins of Matsushiro Castle, the Sanada residence and Bunbu Military School in central Matsushiro. Traditional white-plastered walls separate the public thoroughfares from private properties, and small waterways trickle along the side of the roads. You can see the rokumonsen, symbol of the Sanada family, carved into decorative stones that line the sidewalks.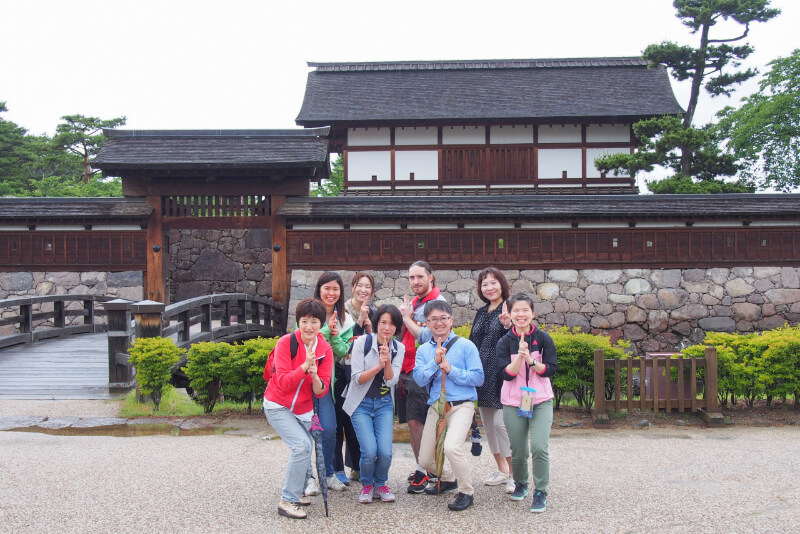 Our first stop was Matsushiro Castle. The keep no longer remains, but the stone foundation, outer walls, gates and moat are still intact. The inner fort is now covered in a small grove of cherry trees. Our guide told us that during early Spring (late March to early April) it's truly a beautiful sight. If you climb above the rocky foundations, you can enjoy views of the surrounding area.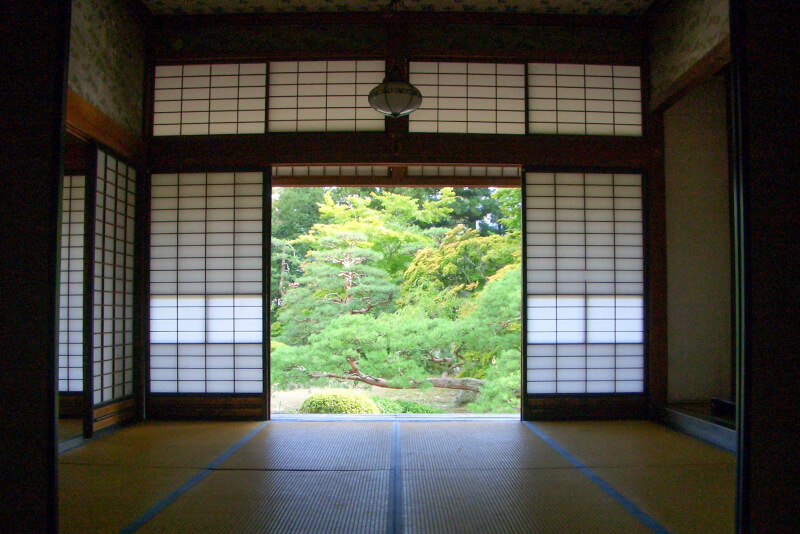 Next, we visited the nearby Sanada Residence, which was the home of the Matsushiro domain's rulers for many generations. It remains in excellent condition because descendants of the Sanada family continued to live there until the mid to late 19th century. The sliding doors are decorated with colorful patterned paper, and the wooden hallways gently creak as you walk along them.
The residence furnished public and private spaces, and you can see how the two were separated in the house's design. There are even multiple entrances, one for high-ranking visitors and another for servants and simpler folk. From one of the private rooms you can enjoy a beautiful view of the house garden with bonsai trees, colorful flowers and still ponds. Here, you easily slip back in time to another era.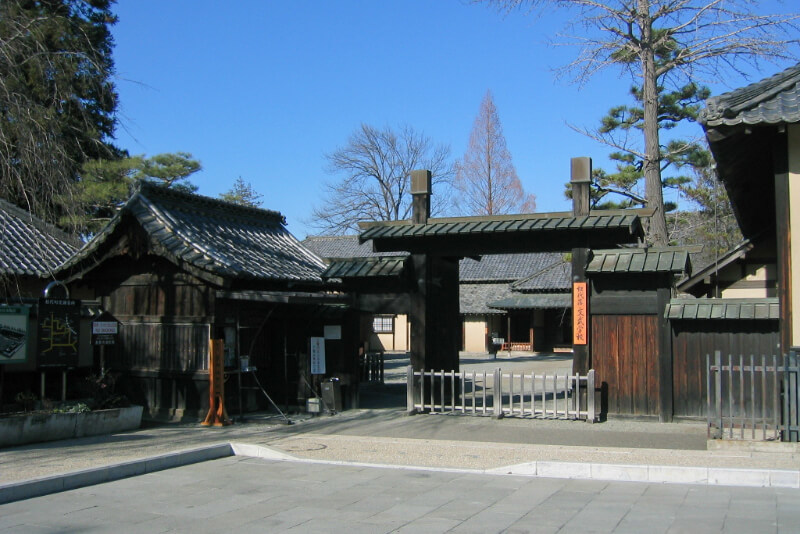 The last place we visited in the morning was the Bunbu Military Academy. Opened in 1855, it is considered one of the forerunners of contemporary Japanese schools. Students here were taught about traditional literature, western technology and the martial arts. You can see the various dojo used for archery, staff weaponry, and swordplay, and possibly try it for yourself! We were able to take a short archery lesson with the instructors here, and tried our best to hit the targets on the far end of the range. I didn't make the mark, but I did manage to shoot a hole in the decorative rokumonsen cloth hanging above it (funny, but not encouraged).
Unfortunately, due to construction, the Bunbu Military Academy will be closed until July of 2020. The archery workshop will not be available either during this time.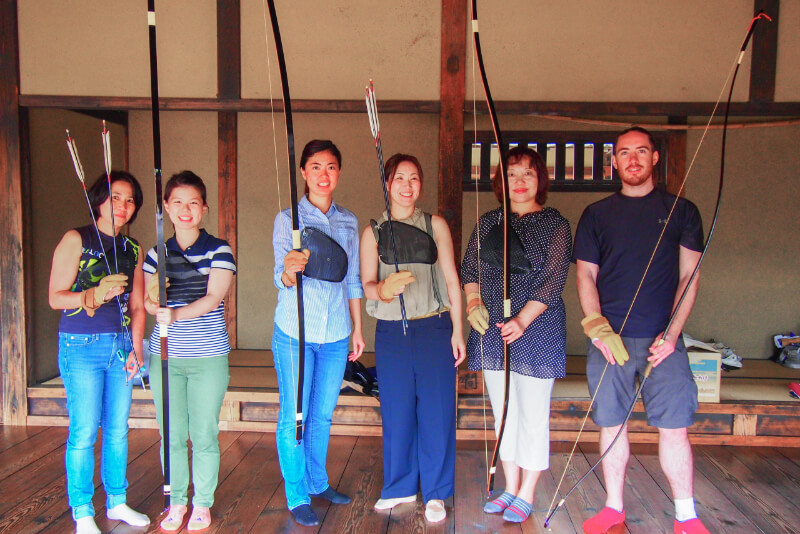 Local Foods and Fruitpicking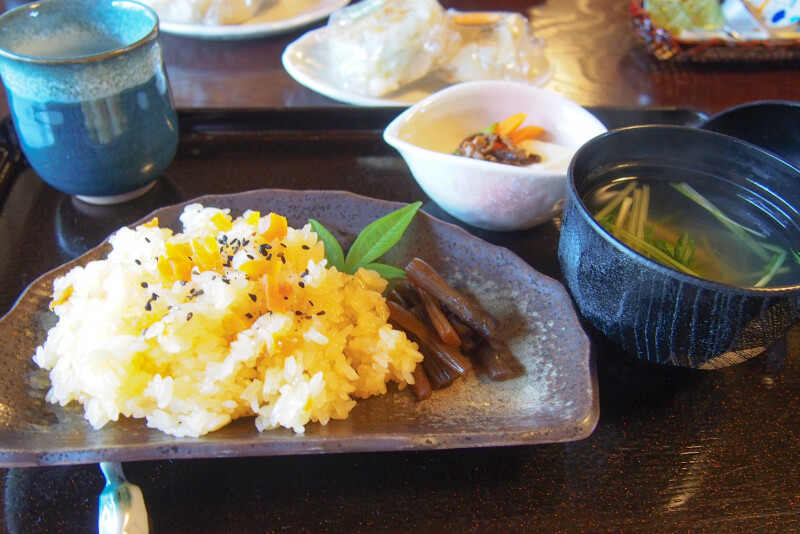 For lunch we stopped at Teramachi Shouka, a restaurant space which opened last year in a renovated merchant's house. The dining area looks over a quiet Japanese garden and pond as well as several traditional earthern storage houses. We had tea, oyaki and a Matsushiro specialty, Anzu Okowa (apricot rice). It seemed like an odd combination but the tartness of the apricot was very refreshing.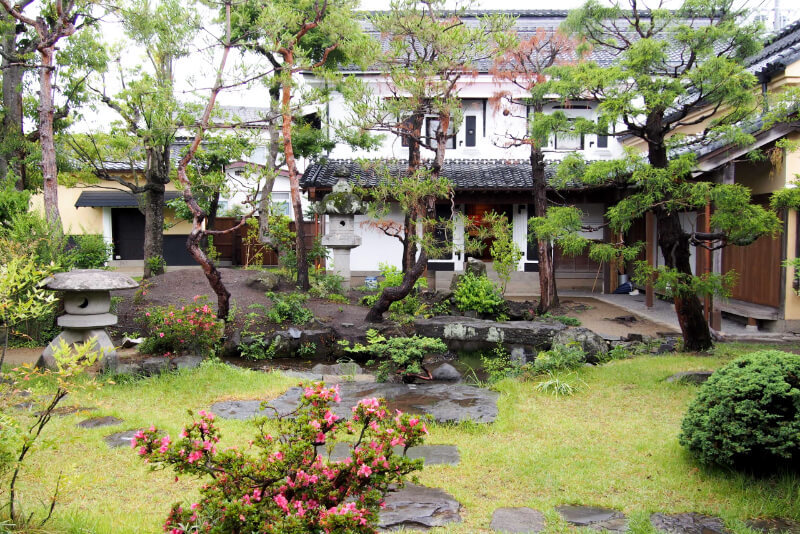 When we finished eating, the staff showed us around the other rooms and storehouses on the property. They sometimes hold events and gallery shows in the storehouses, and yoga seems to be especially popular there these days. They also rent out the kitchen for private and public parties, and on the right days you can enjoy a special lunch cooked by guest chefs.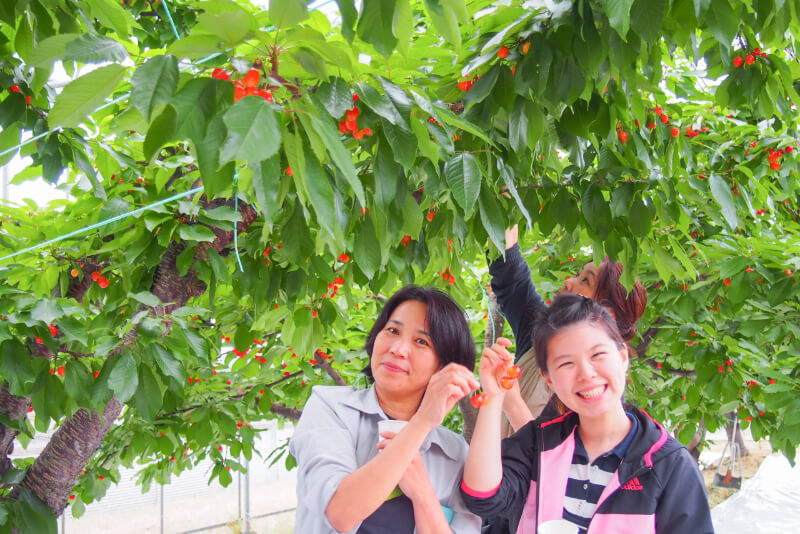 Afterwards, we visited Shiraishi farm for an afternoon snack and picked cherries. There were three tree varieties that we could choose from, including Sato, Saori, and Benishuho. Sato is the most popular cherry variety in Japan for its sweet and soft fruit. The others were morefirm with a slightly sour taste. While most of our group sat under the Sato tree, I found myself attracted to the sour Saori variety. While cherry picking ends in the beginning of July, come autumn visitors can pick grapes and apples here as well.
Guesthouse Hoteiya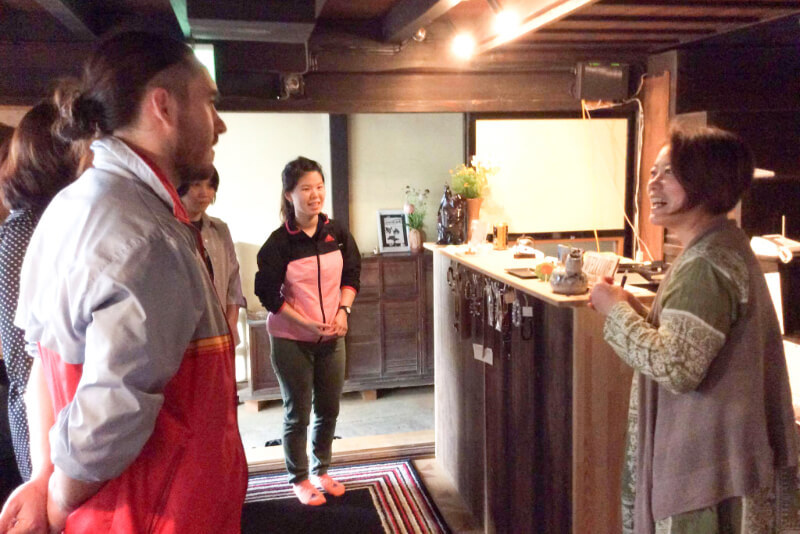 At the end of the day we stopped at Guesthouse Hoteiya, a Japanese-style hostel that operates out of a renovated silk merchant's house. We talked with the owner, Mrs. Yamamoto, and she showed us around the property and explained how she renovated the 120-year-old structure. Most of the original wooden beams remain in place, but new walls have been added with a modern flair. The rooms are all tatami mat, with a hardwood dining room in the center. Some materials, like the hostel's sinks, were originally used in the silk industry.
One nice part about staying here is that the owners know so much about the area and can help plan activities for you. Mrs. Yamamoto told us about some of them, like trying on Kimono or Samurai armor, making Matsushiro-yaki pottery, participating in tea ceremony, or playing traditional parlor games.
Additional Info
There are plenty of other places in Matsushiro that I didn't have time to cover in this post, but if you visit yourself you should definitely consider checking them out.
Zozan Temple was built in honor of Sakuma Zozan, a scholar who studied at the Bunbu Military Academy and was assassinated for his liberal ideas on interaction with the West. Tenkyuji Temple is a temple near the Chikuma River with a surprising collection of Sengoku period artifacts, as well as the unofficial grave of Sanada Nobushige (aka Yukimura, star of Sanada Maru). The Kawanakajima Kosenjo is the former battlefield of generals Uesugi Kenshin and Takeda Shingen. For more about the Sanada clan, also visit the Sanada Museum in town.
Access
Matsushiro can be reached from Nagano station via the Matsushiro line bus. It leaves every half hour for Matsushiro from the #3 platform of the Zenkoji exit. Get off at the Matsushiro Eki stop for the historical sites, or get off at the Matsushiro Hachijuni Ginko Mae stop to visit Guesthouse Hoteiya.
Notes
Sanada Residence
Entrance fee: 300 yen
Hours: 9:00 to 17:00
Holidays: –
Contact: 026-215-6702
Address: 1 Matsushiro, Matsushiro Town, Nagano City, Nagano Pref. 381-1231
Bunbu Military Academy
The academy is under construction until July of 2020.
Entrance fee: 200 yen
Archery Lesson: 1,000 yen (advance reservation required)
Hours: 9:00 to 17:00
Holidays: –
Contact: 026-278-6152
Address: 205-1 Matsushiro, Matsushiro Town, Nagano City, Nagano Pref. 381-1231
Teramachi Shouka
Cost: ~800 yen for lunch
Hours: Cafe/ 10:00 to 16:00, Lunch/ 11:30 to 2:00 (L.O. 1:30)
Holidays: Sometimes closed for special events
Contact: –
Address: 1226-2 Matsushiro (Teramachi) Matsushiro Town, Nagano City, Nagano Pref. 381-1231
Shiraishi Noen Farm
An orchard outside of Matsushiro which grows cherries, grapes and apples. Fruit-picking is available with reservation.
Cost: 1800 yen (all you can eat for 30 minutes)
Hours: Daytime
Holidays: –
Contact: 026-278-4736
Address: 171 Shiba, Matsushiro Town, Nagano City, Nagano Pref. 381-1214
Guesthouse Hoteiya
A hostel in central Matsushiro. The owners are very knowledgable about the area and can help plan your activities during your stay. Let them know in advance if you're interested in trying particular workshops like archery, pottery, tea ceremony, etc. See their English website for more information!
Cost: 3300 yen per night (lodging only)
Contact: 026-214-2837, info@hoteiya.net
Address: 504 Matsushiro, Matsushiro Town, Nagano City, Nagano Pref. 381-1231
Zozan Shrine
A shrine dedicated to local scholar Sakuma Zozan. Popular with junior high and high school students who need to pass their exams. You can buy chie mochi, a type of snack which may help boost your brainwaves (probably not, but they look pretty good).
Entrance fee: free
Address: 1502 Matsushiro, Matsushiro Town, Nagano City, Nagano Pref. 381-1231
Tenkyu-ji
A temple built by Takeda Shingen to mourn his fallen comrade, Takeda Tenkyu Nobushige, whose grave can be seen here. There is also a small grave behind it in honor of Sanada Nobushige (aka Yukimura). Look for the rokumonsen emblem adorning it.
This temple also has Japan's largest statue of Enma, the lord of the underworld, as well as numerous relics from the Sengoku period.
Entrance fee: 200 yen
Hours: 8:30 to 17:00
Holidays: –
Contact: 026-292-3335
Address: 1000 Kinebuchi, Shinonoi, Nagano City, Nagano Pref. 388-8019
Kawanakajima Kosenjo
The former battlefield of generals Uesugi Kenshin and Takeda Shingen. The crossed swords several times over the years, and their fourth encounter brought them here. Known as the most brutal of their battles, Takeda Shingen's disciple, Takeda Tenkyu Nobushige, died here, as well as many soldiers on both sides. A statue in the park recreates the moment in which Uesugi Kenshin attacked Takeda Shingen from horseback. Takeda Shingen survived the attack, but eventually passed away from an unrelated illness.
Entrance fee: free
Address: Oshimadamachi, Nagano City, Nagano Pref. 381-2212
Sanada Museum
See relics from the Sanada family's past including suits of armor, swords, paintings and items from daily life.
Entrance fee: 600 yen
Hours: 9:00 to 17:00
Holidays: Closed occasionally on Tuesdays
Contact: 026-278-2801
Address: 4-1 Matsushiro, Matsushiro Town, Nagano City, Nagano Pref. 381-1231