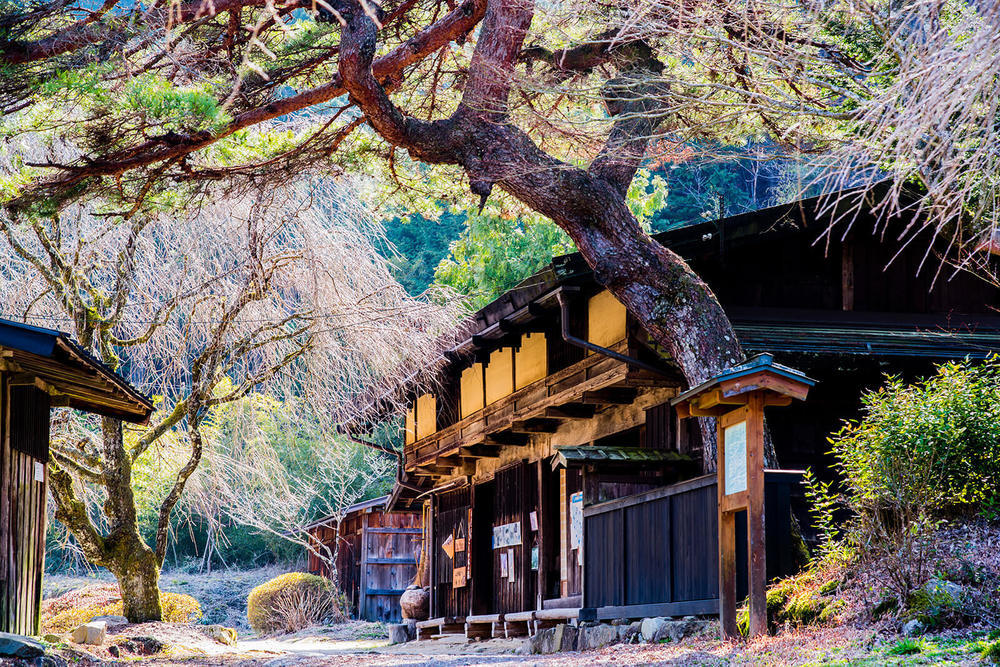 What's the Nakasendo?
While today Japan's capital is in the eastern city of Tokyo, for most of history Kyoto was its seat of government. But after the battle of Sekigahara in 1600, Tokugawa Ieyasu became acting Shogun of Japan and moved the government to its current location in Tokyo (at the time called Edo). Five roads, called the 'Gokaido,' were built to connect the majority of Japan to this new government center. The most heavily-traveled and famous of which is the Tokaido, a road which is still in commercial use today. The longest, however, was the Nakasendo. It covered about 534 kilometers and had 69 post-towns along its route, 26 of which are in Nagano prefecture.
Since the Nakasendo is not as heavily traveled today, much of its history remains intact. Many people come to visit the most famous post-towns, and others hike different sections of the road, whether it's a trek between just two towns or a journey that crosses several prefectures. For people interested in Japanese history, architecture or hiking, the Nakasendo is a great place to visit.
Recently, I traveled into the Kiso valley to hike between two of the most famous post-towns: Tsumago and Magome.
Tsumago-juku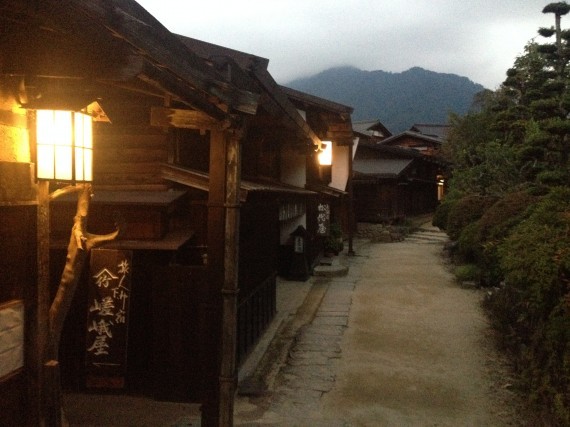 I arrived shortly before 6 in the evening and checked into my ryokan. The sky was already darkening and the lamps were lit along the street. The white stucco of the rustic buildings glowed as the rest of the valley scenery faded away. I took some time that night to walk around and explore, finding that the restaurants and shops were already closed for night. Couples were holding hands and strolling through the town. It was very romantic and serene, so I decided that I needed something to drink.
The only place open past 7 was a little café near my hotel. I walked in and sat down while I waited for the owner to appear. I was slightly disappointed that the menu only included ice coffees and green tea, but as the owner walked over his first words to me were, "Beer? Sake?" I had a cup of Kiso's local Nana-Warai, and I was very impressed with its drinkability and flavor. Several other customers stopped by for a night-cap, and we all had a friendly chat before bed.
The Nakasendo trail
The next morning, I had a lovely breakfast at my ryokan and then explored Tsumago in the daylight before setting out. Shops began opening around 9:00 as I started my journey to Magome. I wandered out of the village and followed the markers in the direction of the Nakasendo as I passed some old farming houses and rice fields.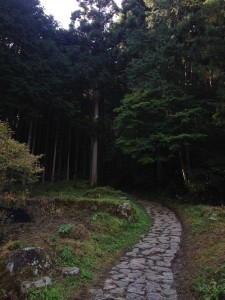 Eventually I diverged from the main road and walked up a cobblestone path into the woods. The sunlight glimmered between the tall cypress trees and the river below gurgled away. The paths were steep at times but it wasn't a difficult walk. Bear bells were equipped at various passes to scare away any unwanted guests.
After an hour and a half of meandering through woods and over bridges, I came to a clearing with a Torii shrine gate. Behind it was a large building that served as a rest station. A friendly man with a straw hat ushered me in and gave me some tea and snacks. There were a few Japanese and Australian travelers resting here as well, and we talked for a bit while we rested. Almost all of them were heading in the opposite direction (because it's downhill from Magome to Tsumago). Once I was ready, I continued in the direction of Magome for the final leg of my journey.
I eventually popped out from the woods onto a roadway with a sign welcoming me to Gifu prefecture. I crossed the road and walked down the Nakasendo path for a few more minutes before the valley opened up in front of me, revealing an expansive mountain landscape extending off into the horizon. The remainder of the path led me over grassy plains and meadows and past many old buildings as well as a beautifully-preserved waterwheel. After 20 more minutes, I arrived at Magome-juku.
Magome-juku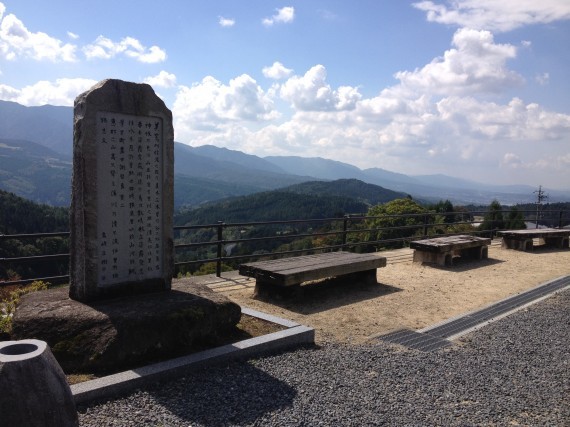 The view of Mt. Ena and the surrounding mountain ranges was outstanding. They seemed to continue infinitely into the distance in different shades of blue. I was starting to feel crispy in the broad daylight, so I walked into Magome and tried to find some shade.
The town was quite busy for a weekday, and many shops were open selling specialty wares and products of the area. Snack windows would sell popular items like Oyaki, Gohei-mochi and specialty flavors of ice cream. Sake vendors, visible by the large balls of cedar decorated outside their establishments, sold local alcohols (including that delicious Nana-warai) and serving cups made by Kiso's wood-working artisans. One shop was so fancy that it had its own beautifully-landscaped garden in the backyard. Each restaurant had its own personality; the one I visited was decorated floor to ceiling with bizarre masks.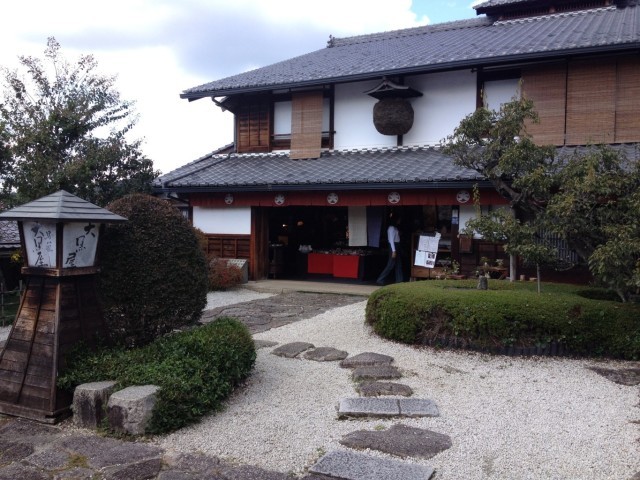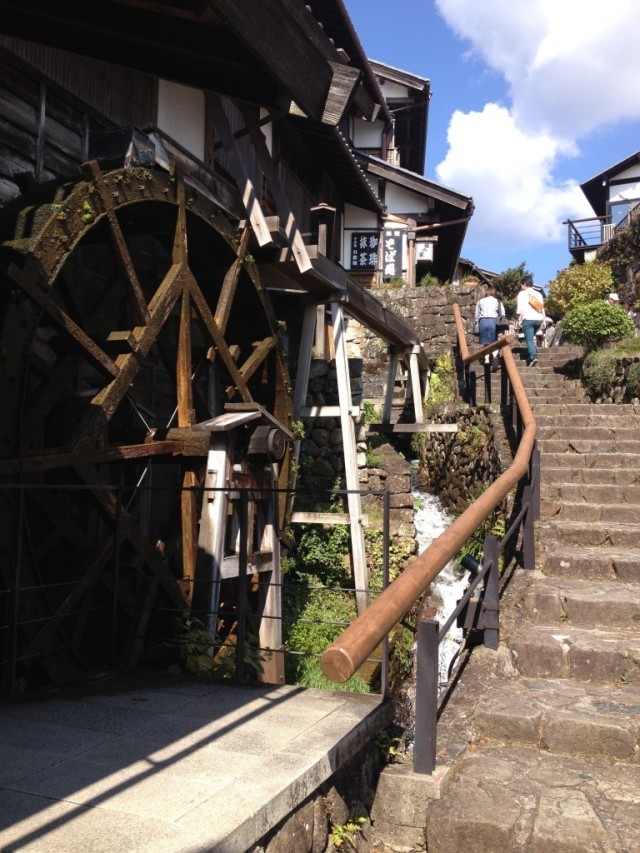 I didn't have too much more time to spend in Magome-juku because it was a long journey back to Nagano station. I snapped some more pictures of the area and headed to the end of town. I took a bus to Nakatsugawa, and got on a train towards home. I enjoyed the hike and the many friendly people, local and traveler alike, that I met along the way. Next week I'll continue with Part 2, where I visit some other post-towns in the direction of Edo.
Access
To get there, I took a limited express train from Nagano station to Shiojiri station (60min.) and changed to the JR Chuo line to reach Nagiso station (90min.). From there I took a short bus-ride to Tsumago-juku. For my return, I took a bus from Magome to Nakatsugawa station and road the train back to Shiojiri station (110min.), then headed back to Nagano from there.