Beating the Summer Heat in Shigakogen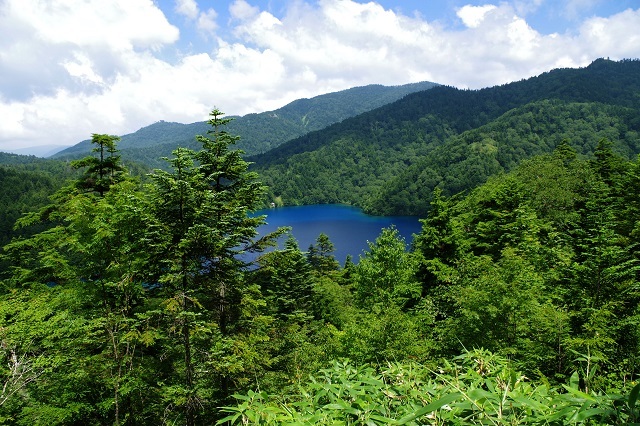 One of Shigakogen's many jewels in summer.
In another attempt to beat the summer heat, I headed up to Shigakogen with a group of friends to enjoy the highland weather and the area's unspoilt nature. There are a total of 19 trails around Shigakogen that climb its many peaks, wander its marshlands and cut through its forests. In addition to its beautiful ponds and mountains, the views of the Nagano Plain below are stunning.
We drove up Shigakogen separately and met in the Kuma-no-yu area by the Sanzen Ski lifts. There is plenty of parking next to the ski lift and by the hotels across the street. A bus stop is also nearby, so those without a car can use the Shigakogen line bus from Nagano or Yudanaka station to get here.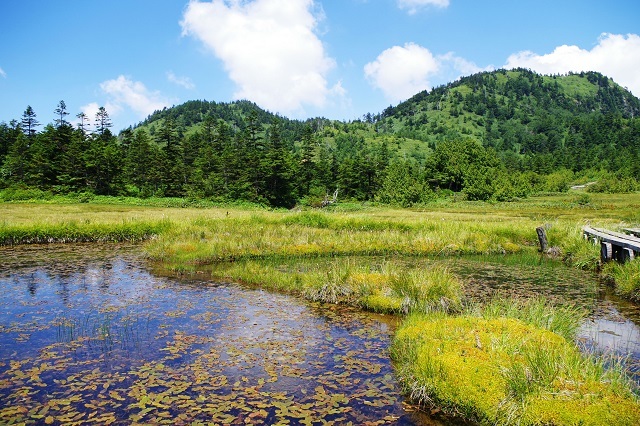 Our course for the day was the Ikemeguri Trail (#9 on Shigakogen's list here) which passes through Shiga's marshlands and ponds before reaching Onuma-ike. The whole course takes about four hours total. You can either walk straight through the course and ride a bus back from the ending point, or double back from Onumaike to Kuma-no-yu. If you do the latter you can enjoy a dip in the local Kuma-no-yu hot springs.
The weather was great and Shigakogen was a pleasant 27°C. A few clouds hung high in the sky and a gentle breeze blew over the fields below. The trail was shaded by birch and pine forests and interposed with sections of man-made boardwalks across delicate marshes.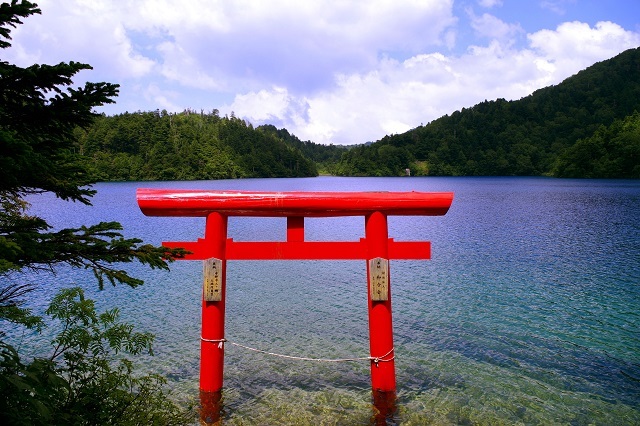 About 2 hours into our hike, we came to a clearing above the striking, cerulean-blue waters of Onuma-ike. As we descended towards the shore the water changed colors, becoming more vibrant and green one moment, calm and clear the next. When we finally reached the shore we walked out towards the bright torii gate in front of the pond's Shinto shrine. The contrast of the lacquered wood and water made for a great photo op.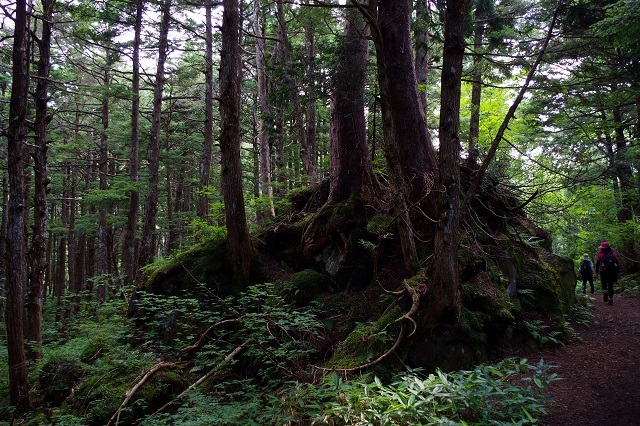 The rest of the trail continued through shaded woods, lasting about another hour and a half. When we resurfaced on the main road we took a friend's car back to our starting point. As a reward for our outdoorsiness we planned to take a dip in the hot spring there but it was inundated with high schoolers on vacation. Instead, we headed down the mountain and got gelato at one of my favorite places in Nakano City, then parted ways to our separate air-conditioned apartments.
Additional Information
Thanks for reading! If you'd like to visit Shigakogen yourself but don't have your own vehicle, check our Shigakogen line bus timetable.
Shigakogen Trails list
See this page (Japanese) for a list of all of Shigakogen's hiking trails.
Kuma-no-yu Hotel
This hotel at the base of the Kumanoyu ski resort is known for its jade-colored hot springs. The water contains a variety of minerals and a relatively neutral pH. A great place to soak after a long day on the slopes or in the mountains.
Entrance Fee: 1000 yen for Adults
Hours: 12:30 to 15:30 (Weekdays), 12:30 to 15:00 (Weekends)
Website:http://www.kumanoyu.co.jp/hotel/english/
Fiore Gelato Shop
This small shop in front of the Tsuruya in Nakano City is conveniently located on the main road towards Shigakogen. They have a rotating selection of flavors including local specialties Nagano Purple (Grape) and Shinshu Ringo (Apple).
Holidays: Closed on Wednesdays
Hours: 10:00 to 18:00
Location: See Google Maps
Update:2020/01/17