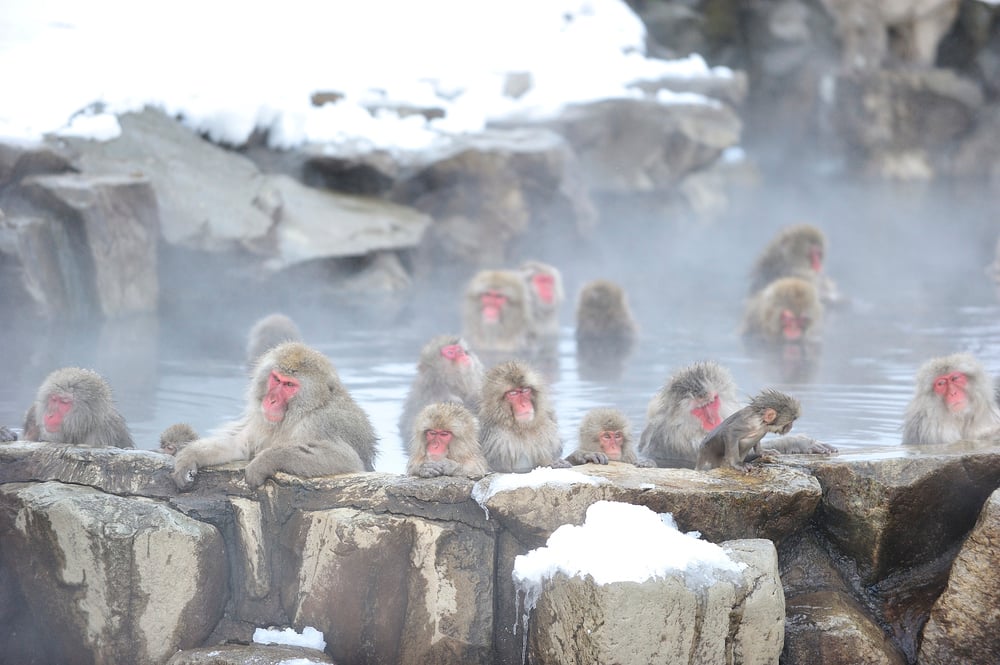 Take in Nagano's top highlights, including a samurai-era post town, a national treasure castle, the snow monkeys, the spiritual morning ritual at venerable Zenkoji Temple and the premier resort town of Karuizawa.
Trip Highlights
Walk the samurai road at Narai-juku, the longest post town on the Nakasendo
Visit Matsumoto Castle, Japan's oldest surviving keep
Stay at a traditional ryokan at Asama Onsen and soak in an onsen bath
Trek to the world-famous snow monkeys at Jigokudani
Breathe the rarified air at the ritzy resort town of Karuizawa
Itinerary
Day 1: Samurai-era post town and Matsumoto Castle
Travel the Kiso Valley to Narai-juku then tour Matsumoto's famous castle and its iconic shopping streets.
8:00 Depart Tokyo's Shinjuku Station
JR Limited Express Azusa to Shiojiri Station (147 min.)
10:54 Depart Shiojiri Station
JR local train bound for Nakatsugawa to Narai Station (32 min.)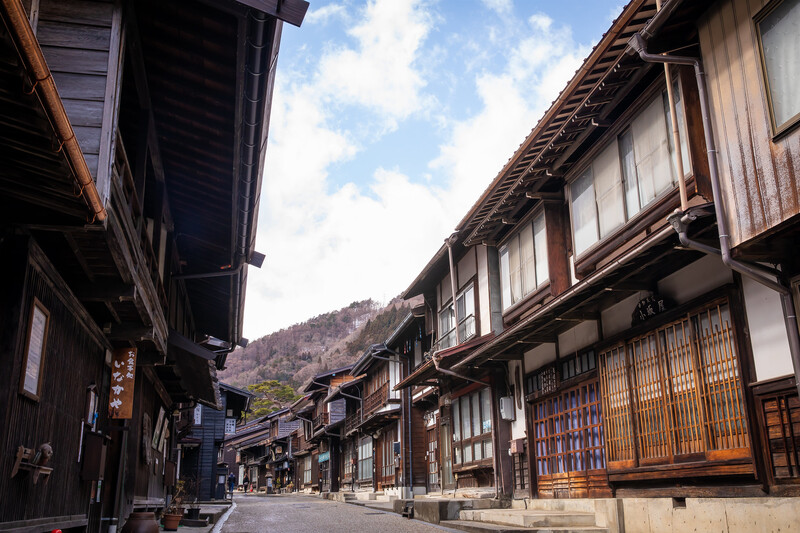 Nicknamed "Narai of a Thousand Houses", Narai-juku was the longest of the 69 post towns along the Nakasendo Highway that the samurai walked from Kyoto to Edo (old Tokyo). Many of the buildings have been lovingly preserved and have unique architectural features. Try the local specialty Gohei Mochi (sticky rice covered in a sweet sauce).
13:25 Depart Narai Station
JR local train to Shiojiri Station (24 min.)
13:54 Depart Shiojiri Station
JR Limited Express Shinano to Matsumoto (7 min.)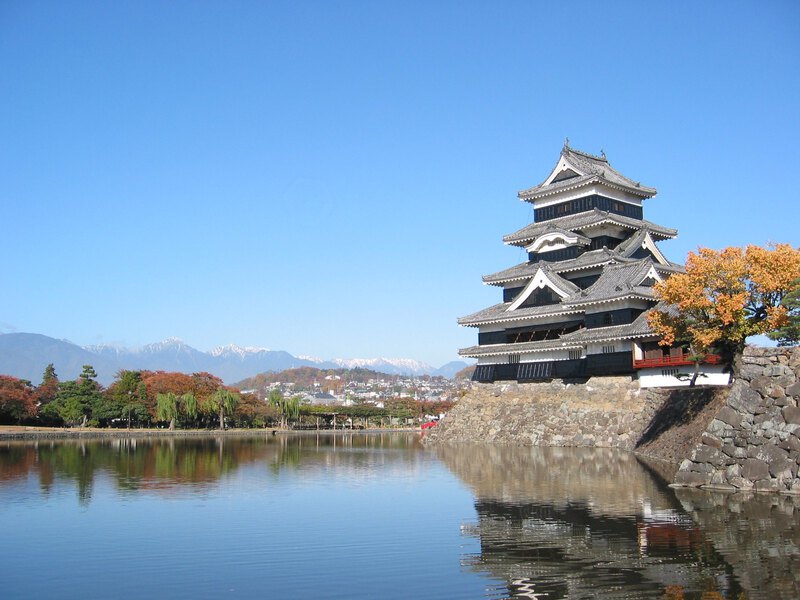 Matsumoto Castle is one of only 12 remaining original castles, one of only five designated a national treasure, and has the oldest extant keep in the country. Near the castle are shopping streets such as Nawate-dori (aka "Frog Street") and Nakamachi-dori, reminiscent of Matsumoto's castle town days.
local bus to Asama Onsen (25 min.)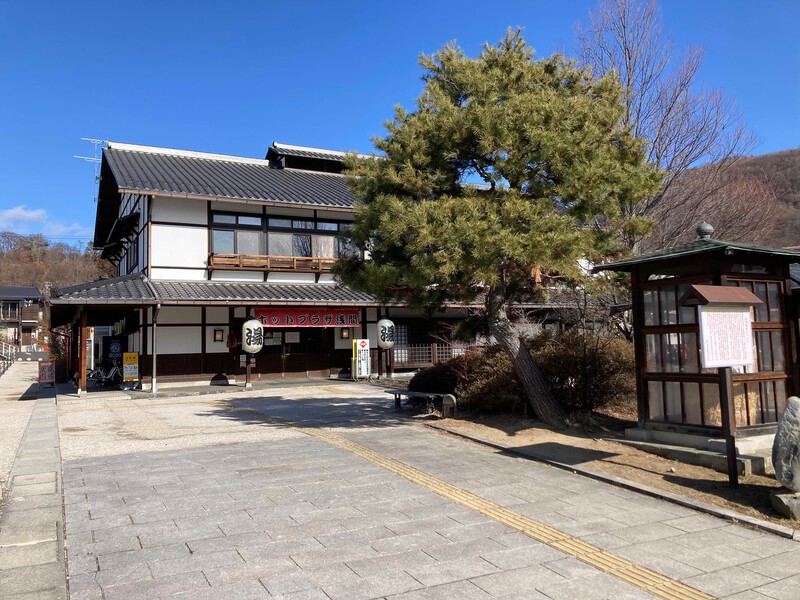 Asama Onsen's natural mineral water hot springs have been around for over 1,300 years, rejuvenating the feudal lords of Matsumoto Castle as well as many poets and artists over the years.
Option: Kamikochi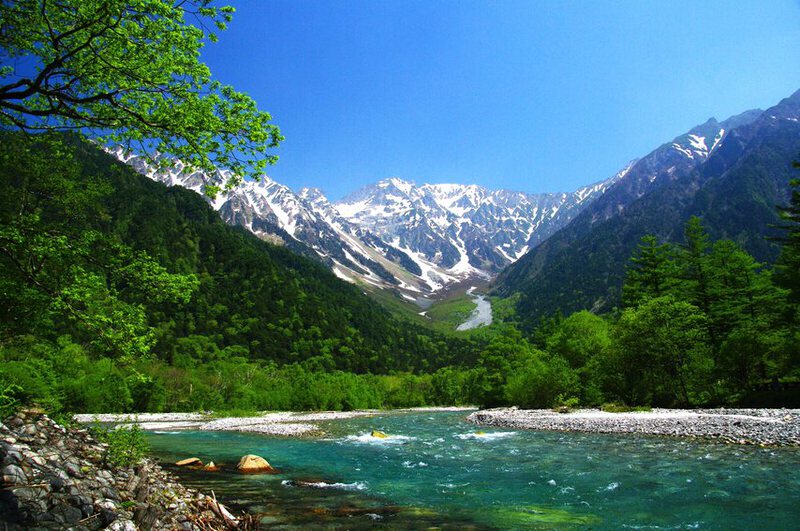 If you have an extra day to spend in Nagano, Kamikochi is an excellent option from Matsumoto. The gateway to the Northern Japanese Alps, Kamikochi is a pristine natural wonderland, with the turquoise-blue Azusa River and breathtaking views of the towering Hotaka Range.
Day 2: Snow Monkeys and Zenkoji Temple's historical neighborhoods.
Take a short hike to see the snow monkeys then head to Nagano City to stroll around Zenkoji's temple district and take in the night life.
local bus to Matsumoto Station (25 min.)
JR Limited Express Shinano to Nagano (52 min.)
11:20 (11:15 in Winter) Depart Nagano
Nagaden Bus bound for Shiga Kogen to Snow Monkey Park bus stop (42 min.)
12:05 Walk to the Monkey Park
30 minutes
12:35 Jigokudani Wild Snow Monkey Park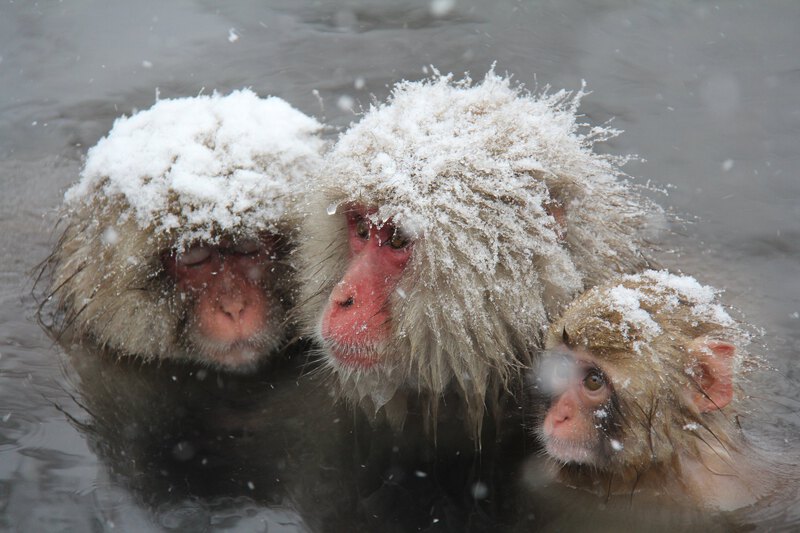 The cute macaques have been mesmerizing guests and photographers from all over the world with their blissful expressions as they soak in their onsen at Jigokudani ("Hell's Valley") Wild Snow Monkey Park. The monkeys are in their own natural environment, ignoring the paparazzi.
14:56 Depart Snow Monkey Park bus stop (Times vary in winter)
local bus to Yudanaka Station (14 min.)
15:34 Depart Yudanaka Station
Nagano Dentetsu express "Yukemuri" to Gondo Station (42 min.)
16:30 Zenkoji Temple and surroundings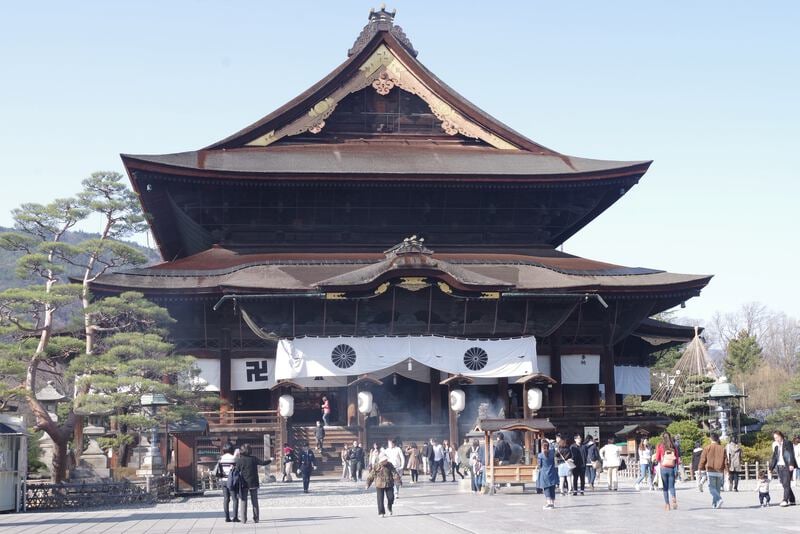 Nagano City is a temple town built around venerable Zenkoji Temple, which is on the itinerary for the next morning. For now, explore around starting with Gondo, the lively covered arcade shopping street, and Nakamise-dori, the street approaching the temple. Just a block on either side are narrow lanes where you will find the stately shukubo temple lodgings.
Hotel, Guesthouse or Shukubo in central Nagano City
Option: Togakushi Soba Noodles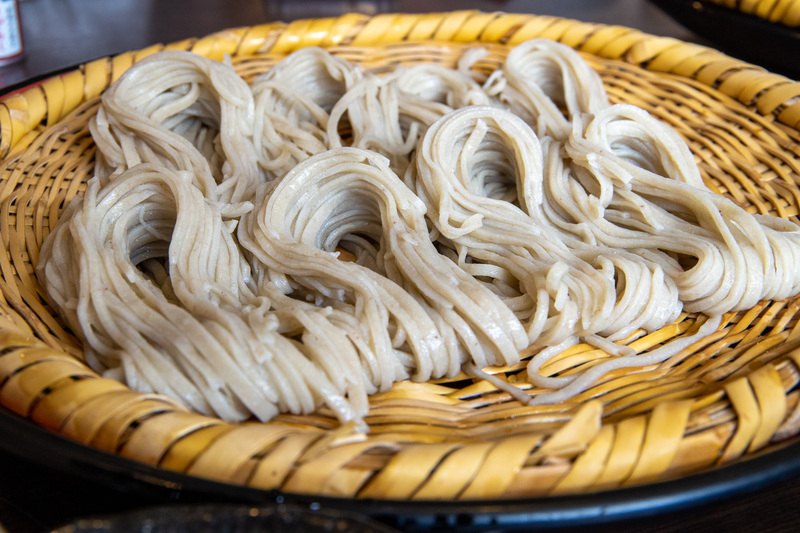 Soba (buckwheat) noodles are Nagano's quintessential dish, and Togakushi in the highlands above central Nagano City is one of the main buckwheat growing areas. A side trip there is highly recommended.
Day 3: Solemn Temple and Luxury Resort
Experience the rituals and chants of Zenkoji Temple's ceremony then head to Karuizawa, Nagano's premier resort town.
O-Asaji Morning Ritual at Zenkoji Temple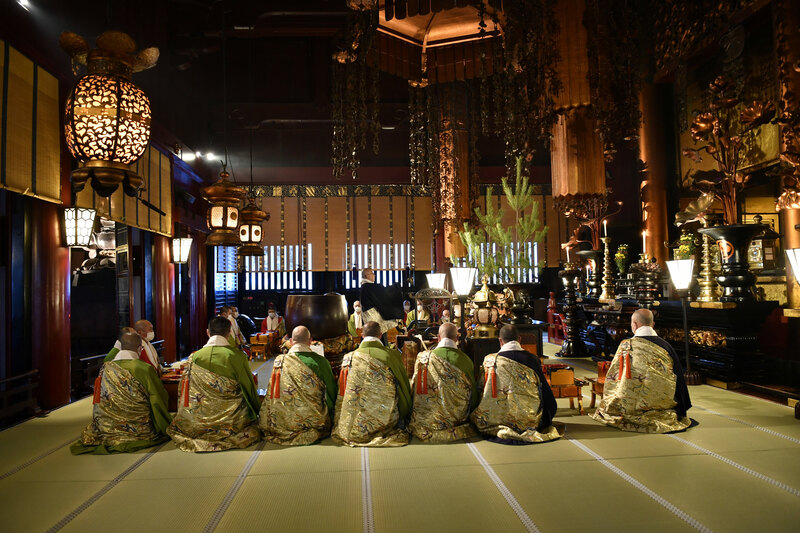 Zenkoji Temple is awe-inspiring any time of day but the O-Asaji morning ritual makes going at daybreak especially remarkable. The top abbot proceeds in tapping visitors on their heads with beads before commencing a 30-minute chant. This is repeated then by the top abbess. Be sure to also walk through the pitch-dark "Kaidan-meguri" to find the elusive "key to heaven".
10:00 Depart Nagano Station
Hokuriku Shinkansen bullet train to Karuizawa (32 min.)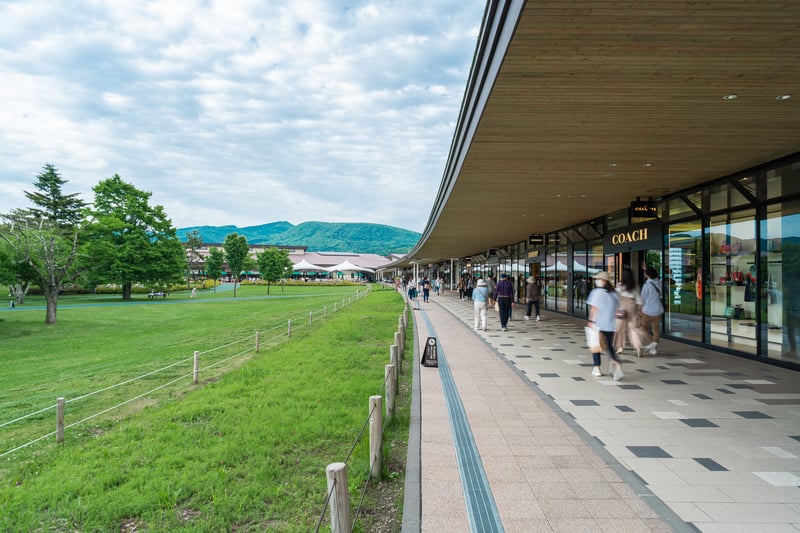 First popularized by Western missionaries escaping the summer heat, Karuizawa has developed into a world-class resort town which even hosts international conferences. The outlet mall is a big draw but a plethora of museums and upscale eateries await as well as more unique shopping such as the Hotchi Farmers Market and upscale Harunire Terrace. Renting a bicycle is a popular way to get around Karuizawa.
From Karuizawa, it is a quick 65 minutes by Shinkansen to Tokyo. But with so much to see and to, you might be tempted to spend another night in Nagano—or even a lifetime!
Map