For over 400 years, Matsumoto Castle has stood proudly in the center of Matsumoto City. While it was built during the Warring States Period, it never saw battle, and instead of becoming a symbol of war, became a symbol of the people who worked so hard to protect it.
The castle is a National Treasure, not just because it is one of the few surviving castles left in Japan, but also because of its beauty and its unique construction. Both first-time visitors to Japan and seasoned castle enthusiasts can appreciate its chic black-and-white exterior and the majestic Japanese Alps in the distance.
Matsumoto Castle's Unique Architecture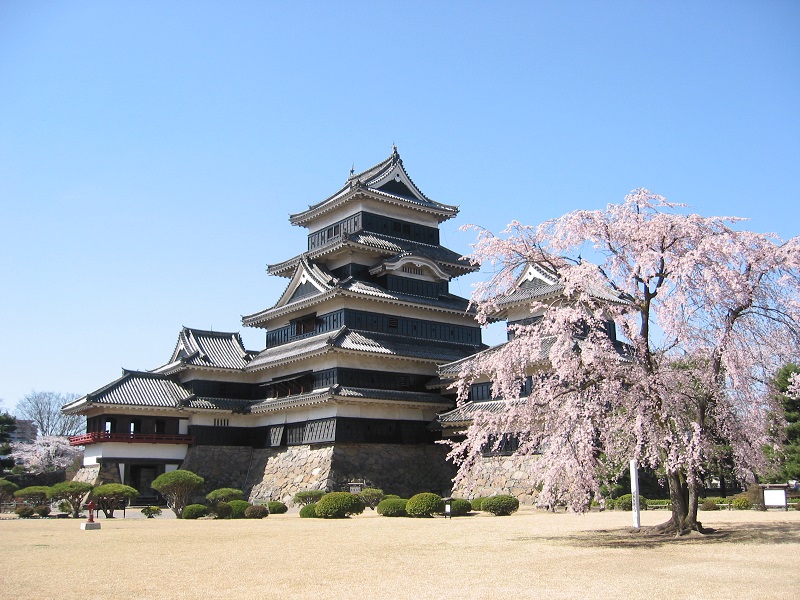 At first glance, it may not be easy to tell what is unique about Matsumoto Castle. To many, most Japanese castles seem quite similar. But if you take a closer look, you can see the ingenuity that went into its construction.
Counting from the outside, you can see that Matsumoto Castle's main keep has five stories, but when you enter the keep, you'll find that there are actually six floors inside. By hiding an extra floor inside the castle, it was possible to hide more troops than the enemy would expect. You'll also notice that the stairs are quite steep—they were built to prevent enemy troops from climbing the keep. Once you make it all the way to the sixth floor, you can take a breather and appreciate the views of the city and mountains.
One of the most peculiar features of the castle is its two adjoining towers, built during two very different eras in Japan. The first tower was built during the Warring States Period—its purpose to defend the castle from invaders. It has many small windows through which soldiers would shoot their rifles. In contrast, the Tsukimi Yagura tower, easily identified by its bright red outer railing, was built during the Edo Period, a time of peace, and its purpose was for moon-viewing.
See the Castle's Collection of Samurai History
Matsumoto Castle is also a treasure trove of weapons and armor used during the Warring States Period. As you climb up the castle keep, you can see displays of flintlock pistols, rifles, swords, and other items that were used by samurai over 400 years ago. It's somewhat ironic that such a great collection of weaponry can be found at a castle that never saw battle.
Events around Matsumoto Castle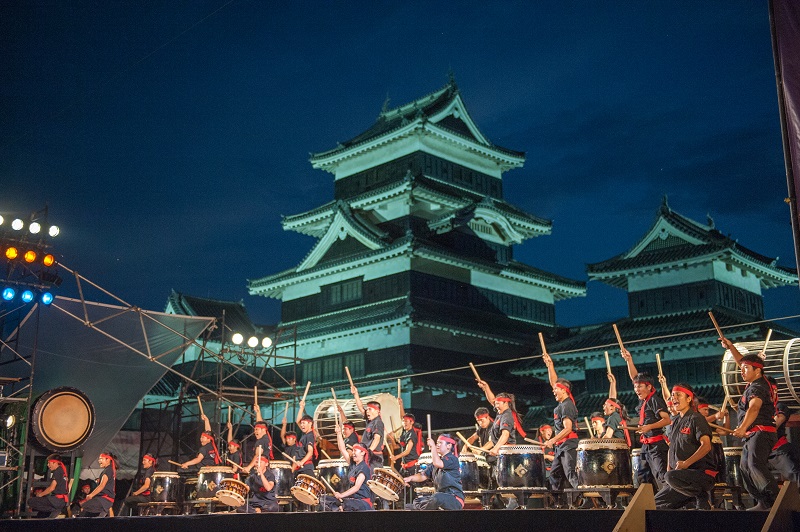 Matsumoto Castle is a physical and cultural center of Matsumoto, and throughout the year, many events are held here.
During mid-April, Matsumoto Castle celebrates its cherry blossom festival. Over 300 cherry blossom trees can be found around the castle moat and in its inner garden. They can be enjoyed both during the day, with the splendid scenery of the Japanese Alps, or at night, with the trees and castle brilliantly illuminated.
Cultural events are held frequently, including tea ceremonies, traditional theater, Japanese martial arts demonstrations and taiko performances. You can see a full list of Matsumoto's annual events on their official website.
During winter, you can see the Matsumoto Ice Sculpture festival, where sculptors from around Japan demonstrate their ice carving skills in front of the castle.
Beyond the Castle Itself: Matsumoto's Castle Town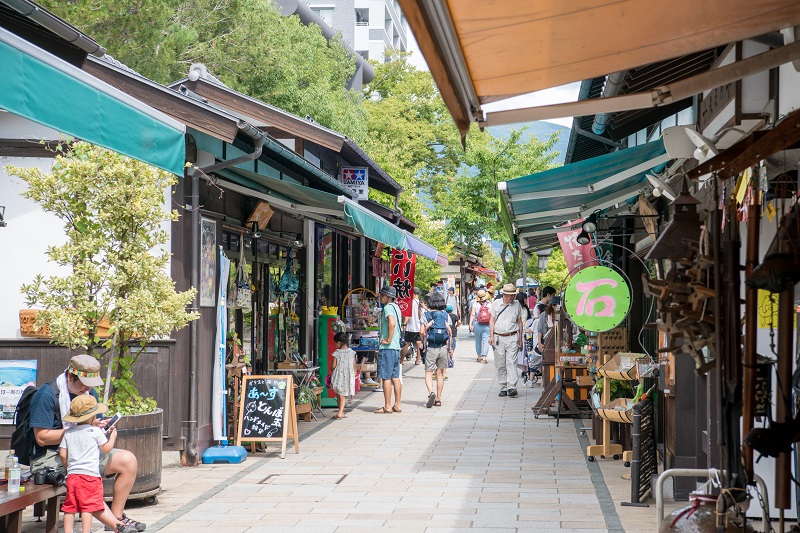 Matsumoto Castle helped shape the city of Matsumoto. All around the castle, you can find glimpses of the city's past. Several streets retain an atmosphere of its castle town days, lined with old wooden shops and earthenware storehouses.
Right by the Metoba River (near the castle) you'll find the two most popular streets to visit. On the castle side marked by a large statue of two warrior frogs is Nawate-dori, otherwise creatively known as "Frog Street." The other, just on the other side of the river, is Nakamachi-dori. Both streets are filled with shops and cafes where you can spend some time and enjoy Matsumoto's cultured atmosphere.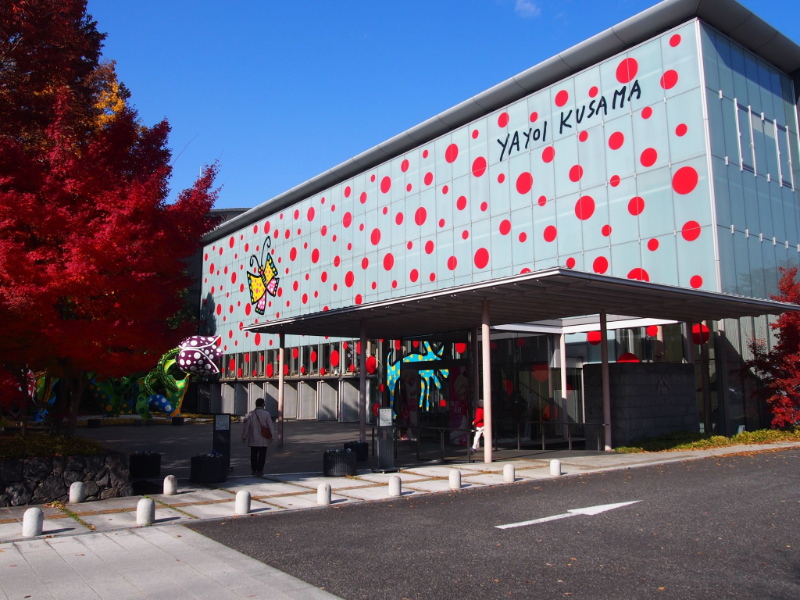 While in Matsumoto, you may also want to stop by the Matsumoto City Museum of Art. Here, you'll find a permanent exhibition of the works of Yayoi Kusama, an internationally renowned artist who also happens to be from Matsumoto City. By bus, you can also reach the Japan Ukiyo-e Museum.
Access to Matsumoto Castle
By Train and Bus
From Shinjuku Station, take the Limited Express Azusa train to Matsumoto Station (2.5 to 3 hours, 6,620 yen). Or, take the express bus from Shinjuku Expressway Bus Terminal instead (3.5 hours, 3,500 yen)
From Nagano Station, take the local Shinonoi line train (80 min., 1,170 yen) or the Limited Express Shinano (51 min., 2,370 yen) to Matsumoto Station.
From Matsumoto Station, you can walk 15 minutes to the castle or take the local town sneaker bus (8 min., 200 yen).
By Car
Matsumoto Castle is about 12 minutes by car from the Matsumoto I.C. exit of the Nagano Expressway.
There are not many parking lots around Matsumoto Castle, so you may want to park at one of the paid parking structures nearby Matsumoto Station, such as the Parko building.