Japan's Premiere Winter Resort
As a host venue of the 1998 Nagano Winter Olympics, it gained worldwide recognition as one of Japan's best ski resort areas and is highly-regarded for its powder snow (averaging up to 11 meters of snowfall annually). With 10 resorts compromising over 200 ski runs, Hakuba has something for everyone and plenty of variety of to keep you entertained. The resorts, hotels, and ski schools also offer multilingual support, making it truly an international destination.
Hakuba's Ski Resorts
Hakuba Goryu
Hakuba 47
Hakuba Happo One
Iwatake Snow Field
Tsugaike Kogen Ski Resort
Hakuba Norikura Official Website
Hakuba Cortina
Kashimayari
Hakuba Sanosaka
Jiigatake
Apres Ski, Night Life, and More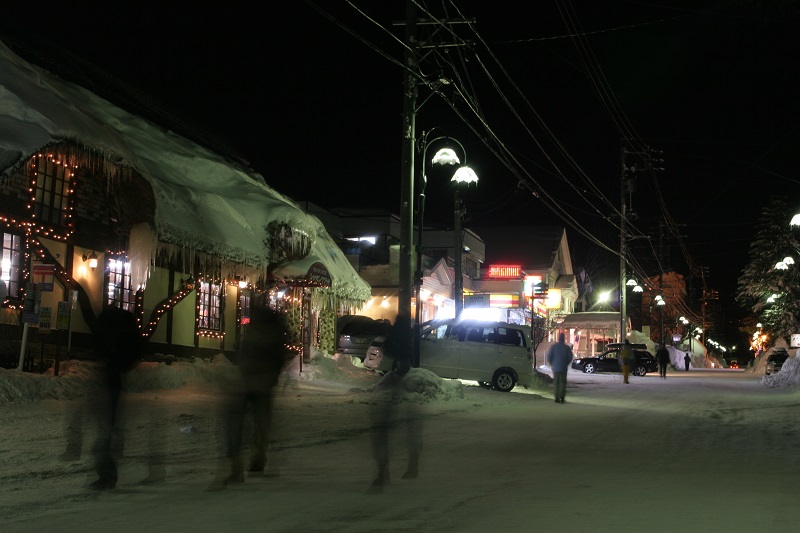 Another aspect of Hakuba's charm is its wealth of après ski options. Hakuba is home to a plethora of hot springs to soak in after a long day on the slopes, and the village has restaurants and bars to suit anyone's mood and palate. For a day off, you can even take a sightseeing tour to nearby Matsumoto, Nagano City or the snow monkeys of Jigokudani Yaen Koen.
Hakuba's hot springs are often referred to as Bijin no Yu, or waters of beauty, as their mineral make-up is great for your skin. Even if you're not looking to become more beautiful, soaking in natural hot springs will make you feel better inside and out—especially when gazing out at the sunset over the Japanese Alps.
Access to restaurants and bars around Hakuba is made easy with the night shuttle that circulates through the village. You can find just about anything here, from Mexican food to traditional Japanese fare. Located near the seaside city of Itoigawa, Hakuba also has access to fresh seafood, delicious local rice, and crystal-clear water that is used in the brewing of fine sakes and beers. Enjoy a taste of Hakuba and Japan.
Year-round Adventure and Exhilarating Mountain Views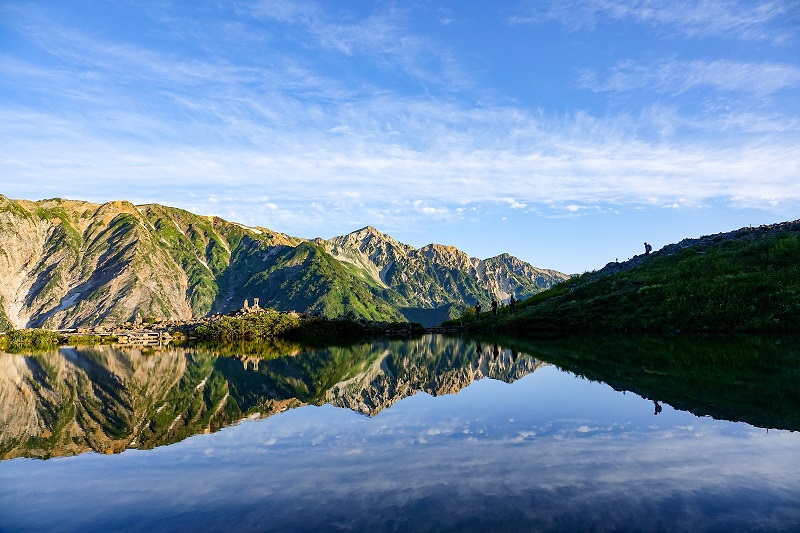 As the snow melts from the mountain tops and feeds into the valley below, a new season of adventure begins in the Hakuba Valley.
Spring brings beautiful cherry blossoms that contrast with the still-white peaks of the Japanese Alps. The rivers swell with fresh water and become perfect for exciting rafting trips. The Tateyama Kurobe Alpine Route opens its doors to the Kurobe Dam and magnificent snow walls in Murodo. Ski resorts remain open into early May.
In summer, Hakuba becomes a paradise for hikers and outdoor enthusiasts. Camping sites by Hakuba's rivers are a great place for family outings. Popular hiking routes such as the Hakuba Daisekkei and Happo Pond once again open for visitors. In late summer, the ski resorts are filled with mountain bikers. And when it gets real hot, nothing beats cooling off on a canyoning trip through crystal clear waters in a mountain ravine.
There are also plenty of nearby sightseeing attractions, such as Matsumoto City and Matsumoto Castle, the Daio Wasabi Farm, or tours to the Snow Monkey Park in the north. During winter, you can expand your ski holiday with trips to some of Nagano's other fabulous winter resorts, such as Nozawa Onsen Ski Resort and Shiga Kogen.
Access to Hakuba
By Public Transportation
From Haneda and Narita Airports
If traveling to the Hakuba Valley during winter, you can take a direct bus to your destination via the Nagano Snow Shuttle. If traveling outside of ski season, take the train:

From Narita Airport, take the Skyliner train from the terminal to Keisei-Ueno Station (45 min., 2,520 yen). Then, walk from the station for 8 minutes to Ueno Station. Take the Hokuriku Shinkansen from there to Nagano Station (90 to 100 min., 7,600 yen). Follow the directions from Nagano Station below.

From Haneda Airport, take the monorail to Hamatsucho and change over to the Yamanote line, getting off at Tokyo (20 min.). From Tokyo, take the Hokuriku Shinkansen to Nagano Station (95-110 min., 7,810 yen). Follow the directions from Nagano Station below.
From Nagano Station
Take the Hakuba line Bus from the east exit of Nagano Station (75 min., 2,300 yen).
From Matsumoto Station
During winter, you can take the Matsumoto—Hakuba line bus from Matsumoto Station to Hakuba (120 min., 1,800 yen one-way or 2,800 yen round-trip). Otherwise, take the Oito train line from Matsumoto Station to Hakuba Station (90 min., 1,170 yen).
By Car
Get off at the Azumino IC exit of the Chuo Expressway. From there, it is 1.5 hours. If on the Joshinetsu Expressway, get off at the Nagano IC exit. From there, it is 1 hour.