A Two Day Trip to Norikura and Kamikochi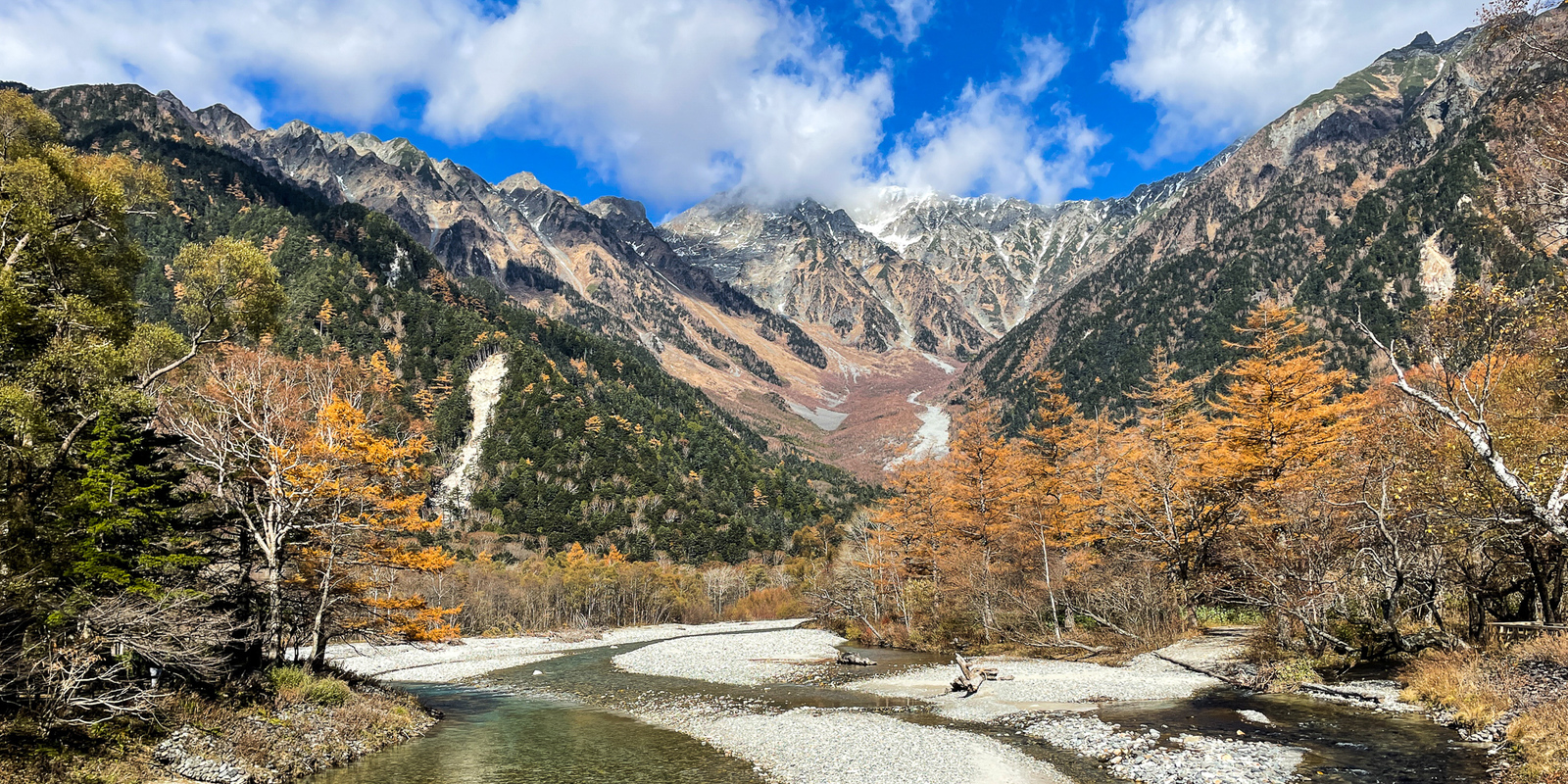 In Norikura Kogen and Kamikochi, enjoy trekking through incredible mountain scenery at the base of the Northern Japanese Alps.
Norikura and Kamikochi are beautiful areas located in the Japanese Northern Alps. Just a quick bus ride from Matsumoto or Takayama, they are great places to see Nagano's beautiful mountains in Chubu Sangaku National Park. Using Alpico Group's 2-Day Free Passport allows you to easily transfer around the Norikura/Kamikochi area in addition to most of Central Nagano.
Check out this sample itinerary for future trip ideas and plans.
Day One: Norikura Kogen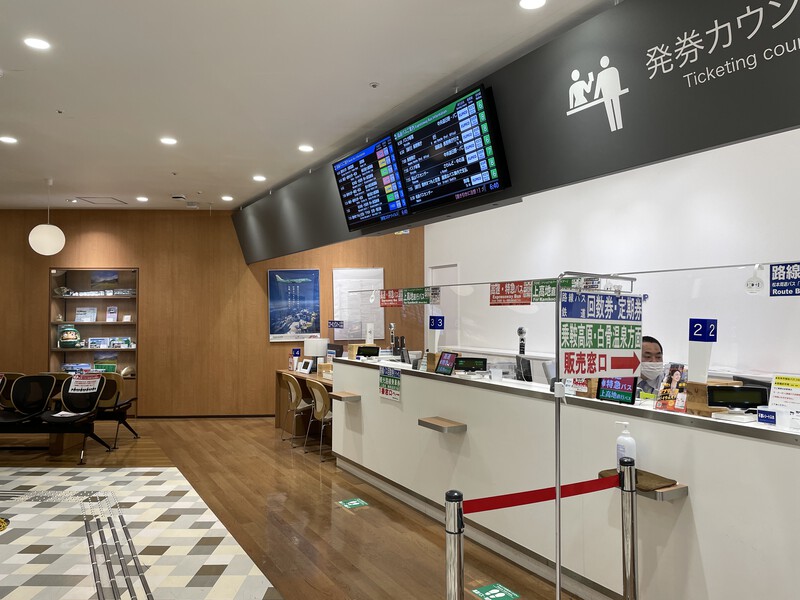 Begin the day at Matsumoto Bus Terminal. If you haven't already purchased the Alpico pass, you can get tickets at the bus terminal counter. Then, head over to Matsumoto Station and get on the Matsumoto Dentetsu Kamikochi line headed to Shinshimashima Station.
The train is a 45-minute ride through idyllic Japanese farmland and countryside. On a clear day, the Northern Alps loom large in the distance.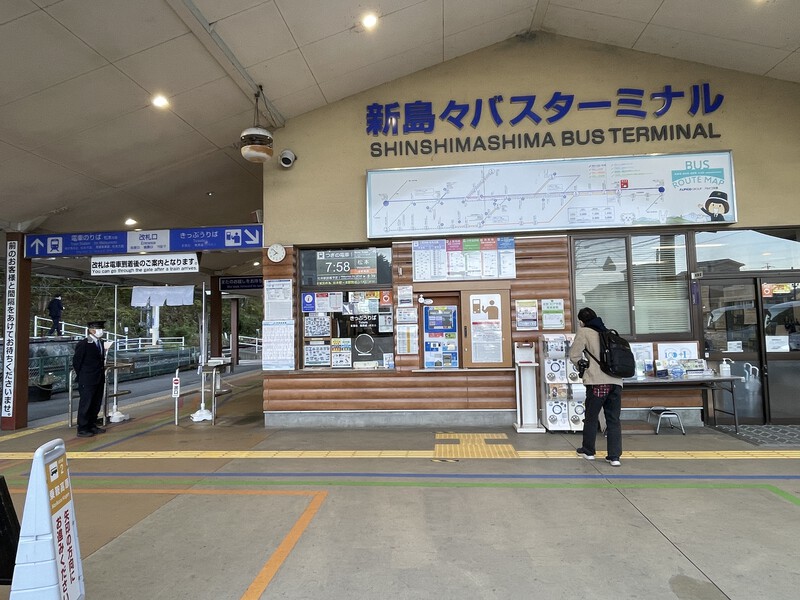 Once you've arrived at Shinshimashima Station, alight and transfer to the bus for Norikura Kogen's Kyukamura (see timetable here). The bus visits the Sawando Bus Terminal (the transfer point for Kamikochi) before returning towards Norikura Kogen so don't be alarmed when you start going back on the same road.
Get off at the Norikura Kogen Tourist Information Center, located in the center of the highlands near most of its hiking trails. There are very few restrooms, vending machines or food along the way, so use the amenities if needed.
Hiking Around Norikura's Ponds and Waterfalls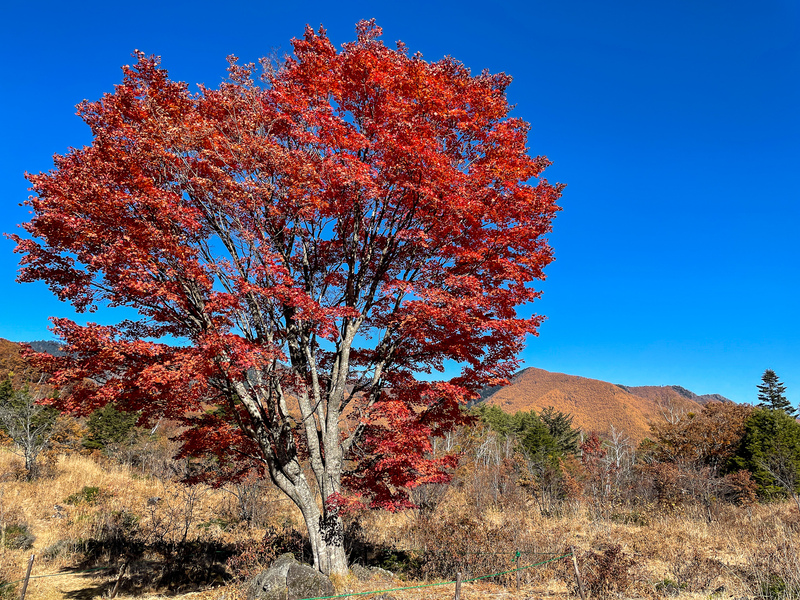 Begin walking towards Ichinose Meadow and Azami Pond. You will see signs for the Great Norikura Maple (written in Japanese as 大カエデ). This is an especially beautiful viewing point for autumn colors with Mt. Norikura in the background. The walk is 2.9 km from the Tourist Information Center to the Great Norikura Maple (see in Google Maps here).
From the Great Norikura Maple, return along the road towards the Tourist Information Center and look for signs for Azami Pond (あざみ池 in Japanese).
From Azami Pond, there is a network of trails and options for various ability levels. The recommended route is to walk towards Zengoro Falls, around 3km. Look for signs along the well-marked trail. There are some climbs and steeper sections so please make sure to wear appropriate footwear.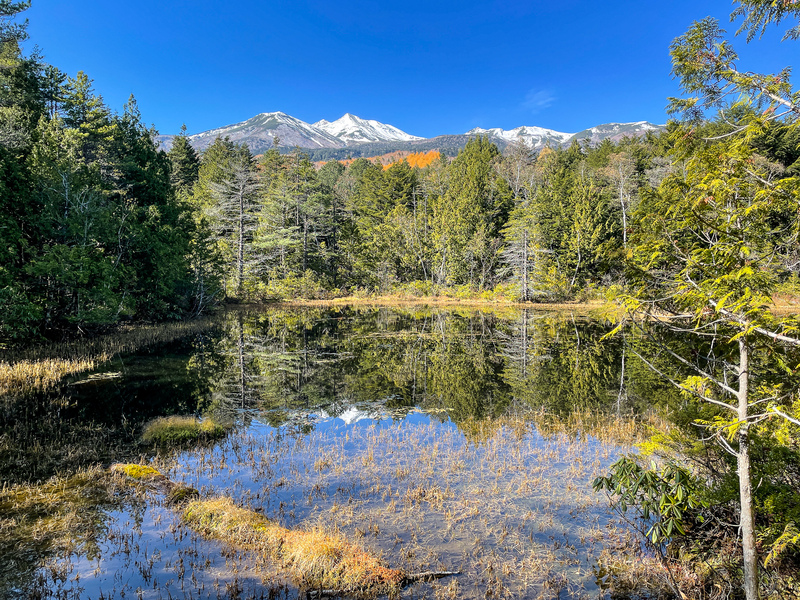 Along the way, you'll pass Ushidome Pond, where you can see beautiful views of Mt. Norikura on a clear day. Zengoro Falls is another 20-minute walk from here. From the Zengoro Falls Observation Deck, you can take in its impressive display of waterworks and bask in the ionized mist that rises from the plunge pool below.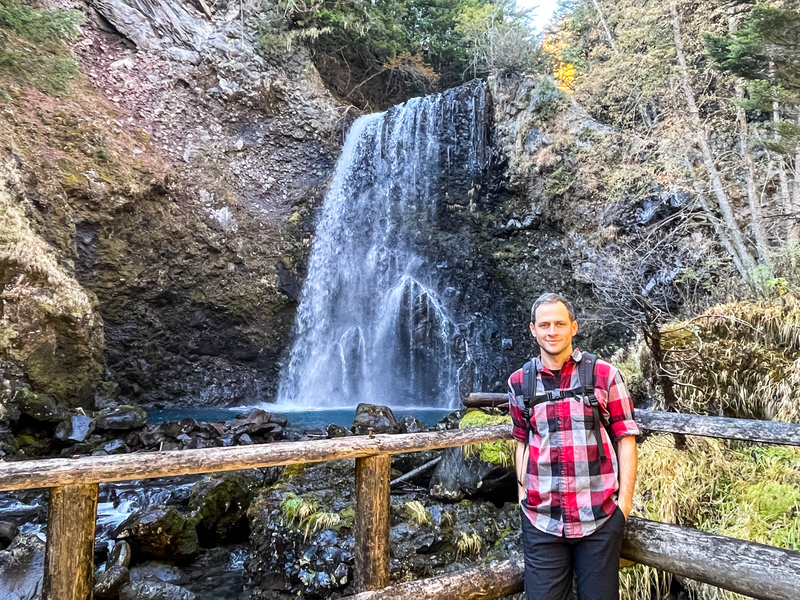 Another 20 to 30 minutes through the woods and you're back at the Tourist Information Center, just in time for lunch. One recommendation around here is Maple, a local favorite that serves a variety of Japanese classics like curry rice, karaage fried chicken and stir-fried pork.
If you still have time, visit a hot spring at either the Norikura Kogen Onsen Yukemurikan or Seseraginoyu (both walking distance). Yukemurikan is a large public onsen with amenities and an entrance fee while Seseraginoyu is a small free bath with no soap, shampoo or towels.
Spend the Night in Kamikochi
Take the bus from Norikura towards Shinshimashima. You will need to transfer at Sawando Bus Terminal and take the bus to Kamikochi from there. Just show the 2-Day Free Pass for all bus transfers. In Kamikochi, you can alight at the Taisho Pond Bus Stop or Kamikochi Bus Terminal. If you take the former, you can enjoy the scenery at Taisho Pond and a 3km walk to the Kappa Bridge. The bus terminal is much closer to the Kappa Bridge, but you miss out on some of the scenery at the park's entrance.
Where to Stay
The Alpico Group's Lemeista Hotel is highly recommended. With a natural hot spring onsen and French/Japanese cuisine, this is a luxury experience that shouldn't be missed. Lemeista feels like a Western ski lodge in Colorado or the Swiss Alps and is a fantastic experience. On clear nights, this is one of the areas with the best star viewing in all of Japan. There are Western, Japanese and deluxe rooms depending on the experience you are looking for.
Day Two: Kamikochi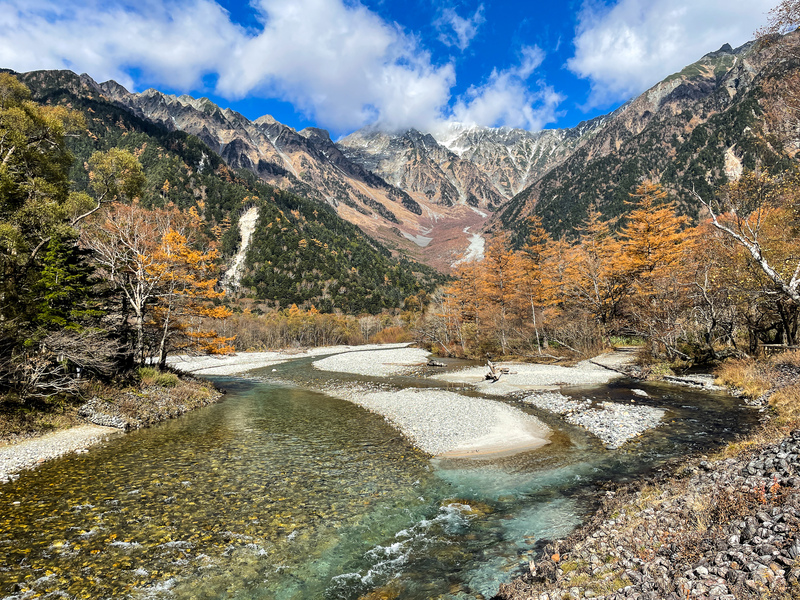 After a delicious buffet breakfast with Japanese and Western options, depart for Myojin Pond (4.5 km). The path is mostly flat with gravel, dirt trail and wood board sections.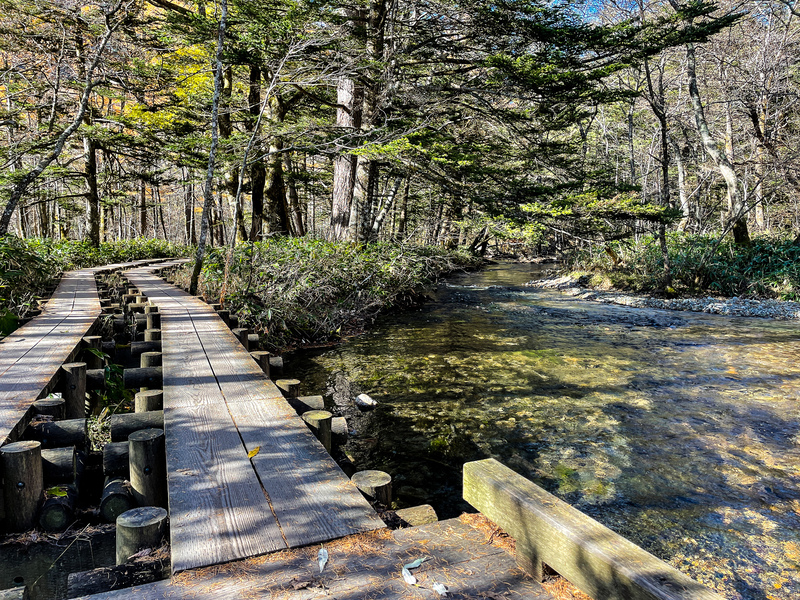 Myojin Pond is actually 2 ponds (creatively named first pond and second pond) at the base of Mt. Myojin. While walking everywhere else in Kamikochi is free, Myojin Pond has a ¥500 yen entrance fee. This is because Myojin Pond is an active shrine associated with Mt. Hotaka and the Hotaka Shrine in Azumino City. Make sure to walk to the smaller second pond as well for various stunning views of the Northern Alps. Unfortunately the boats on the edge of the pond are used for an annual ritual and are not for rent.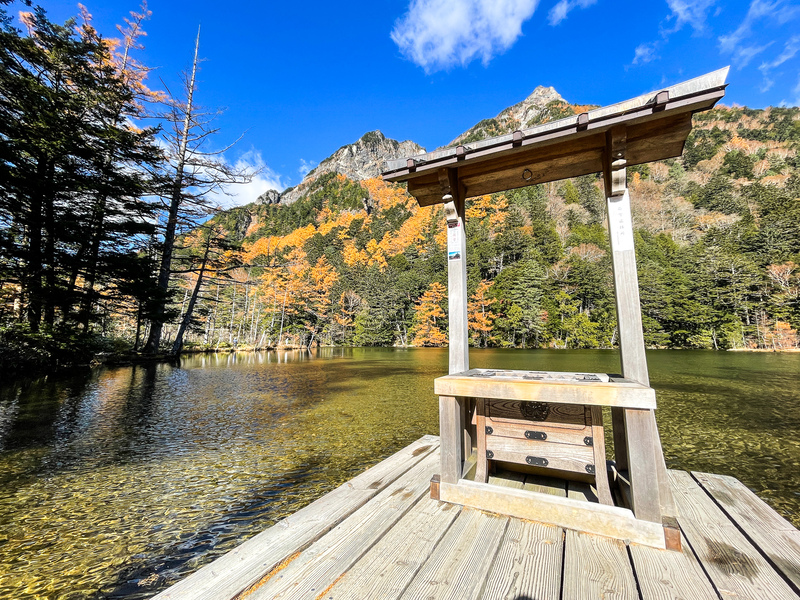 After visiting Myojin Pond, cross the Myojin Bridge. For those wanting a longer walk, continue towards Tokusawa Campground (3.7 km) or even Yoko-o Campground (an additional 3.7 km).
Whenever you are ready, return towards Kappa Bridge and eventually the Kamikochi Bus Terminal. Upon arrival at the bus terminal, make sure to reserve tickets on the bus that you will take to Shinshimashima Station. Kamikochi is a popular tourist destination so while there are no reserved seats on buses, you must reserve the particular bus that you will ride.
Relax and enjoy the 1 hour ride to Shinshimashima, then the 45 minute train ride to Matsumoto Station.
The Alpico 2-Day Free Passport
The pass can be purchased either online or within Japan at one of Alpico Group's ticket windows. These are located in Matsumoto Bus Terminal, Kamikochi Bus Terminal and Shinshimashima Station. Visit the passport's page on Alpico's website to purchase a pass online ahead of time.
Pass Details
¥7,000 for a 2-day consecutive adult pass, ¥3,500 yen for a 2-day consecutive child pass
¥8,500 for a 3-day consecutive adult pass, ¥4,250 yen for a 3-day consecutive child pass
See the page on Alpico's website at the link above for map of areas available on the pass
Also receive discounted admission tickets at these locations: Matsumoto Castle, Matsumoto City Museum, Former Kaichi School, Matsumoto City Timepiece Museum, Matsumoto Scale Museum, Matsumoto City Museum of Art, Old High School Memorial Museum, Matsumoto Open-Air Architectural Museum, Matsumoto Folkcraft Museum.
Other Alpico Passes
Make sure to check out the 4-day Alps Wide Free Passport, the Alps Crossing Ticket and the Three Star Route ticket for more traveling options in Kanazawa, Toyama, Takayama and Matsumoto. For more information see all of Alpico's transportation passes here.
Update:2022/01/14