Mountain Biking at Hakuba Iwatake MTB Park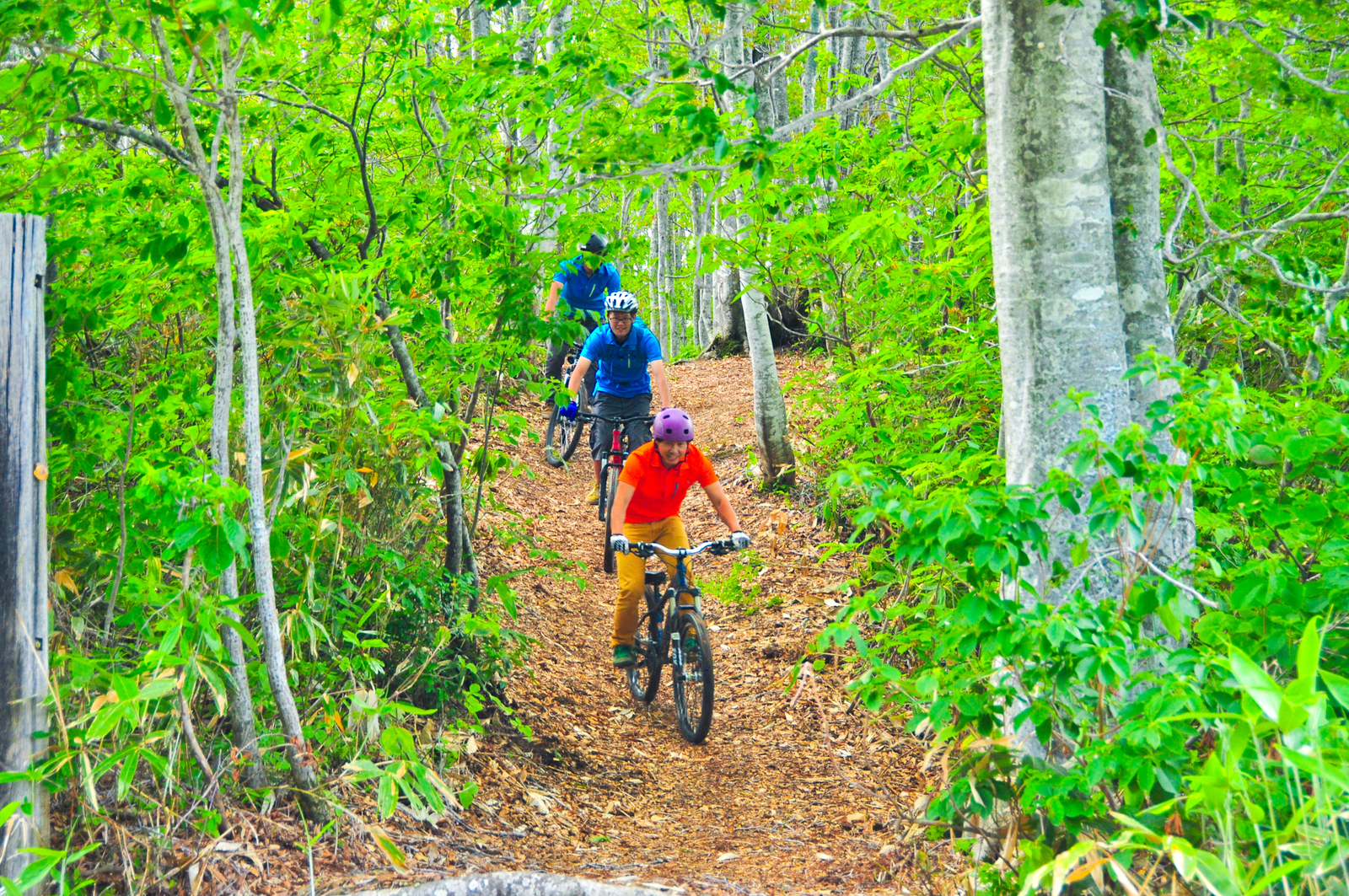 Beginners and experts alike welcome! At the foot of the Northern Japanese Alps, enjoy some of Japan's most well-laid mountain biking trails.
At the base of the Northern Japanese Alps, the Hakuba Valley is a veritable outdoor playground for people of all ages. As you drive through town, you see cyclists riding on quiet roads, paragliders soaring through the skies and hikers headed into the mountains.
Recently, mountain biking has taken off here as well, filling a need for thrill and excitement that skiers and snowboarders often miss during the green season. Flowy mountain biking trails have been carving their way down summer slopes and mountain biking tours are taking riders all around the valley's varied terrain.
Hakuba's number one mountain biking destination is the Hakuba Iwatake MTB Park.
Introducing the Hakuba Iwatake MTB Park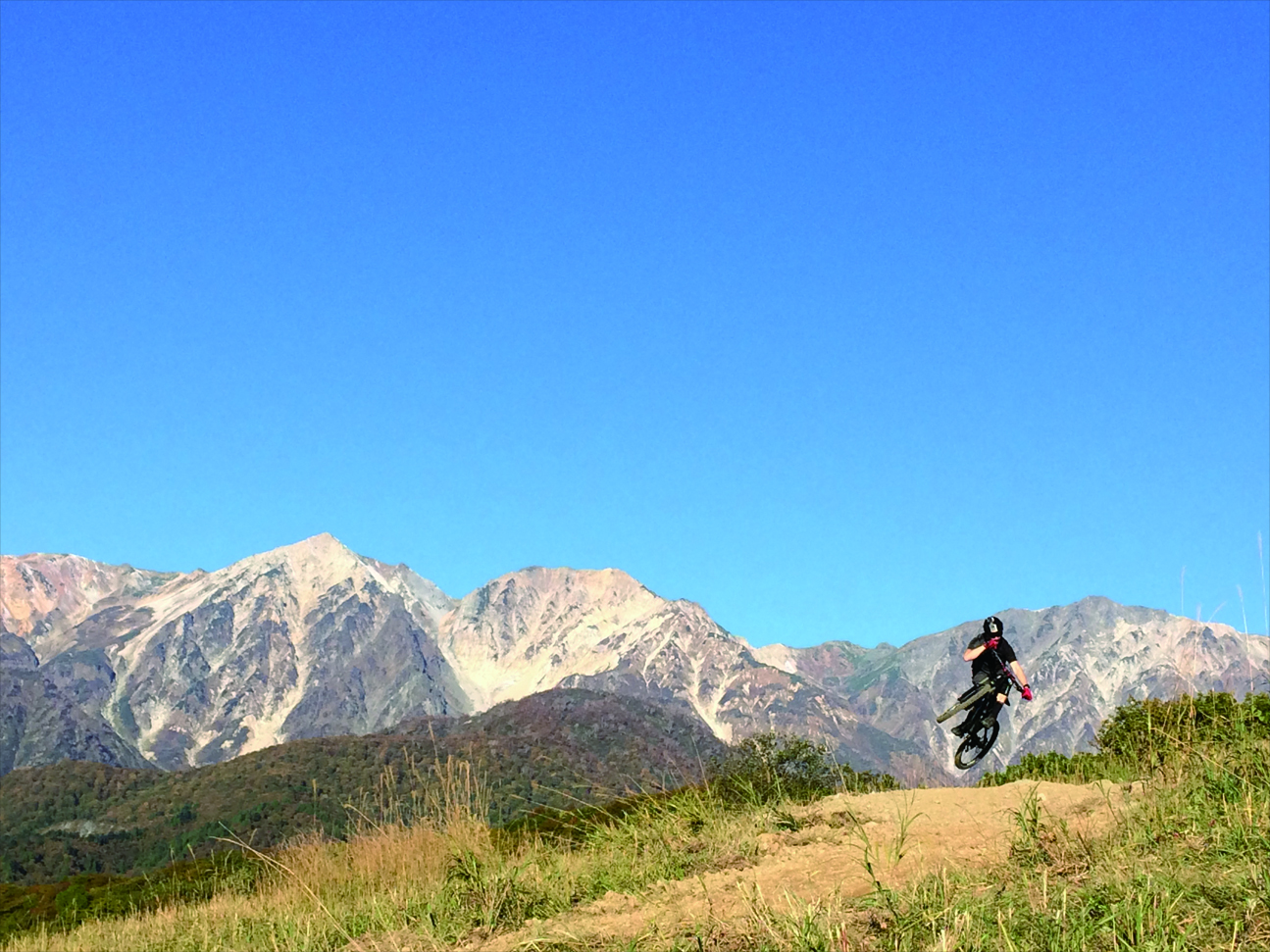 Iwatake is one of Hakuba's ten ski resorts and is known for its wide-open slopes with incredible views of the Northern Japanese Alps. For many years, it was primarily a winter destination. But recently the resort has been opening new green season attractions.
Iwatake's mountain bike park opened in 2015. Utilizing the resort's wide-open runs and interspersed forests, trail builders carved out flowing singletrack runs that are accessible to a wide range of mountain bikers. There are five courses here, all but one of which welcome beginning riders.
Beginner Mountain Biking Trails at Hakuba Iwatake
Mountain biking can be an intimidating experience at first. Riding down a mountain on a bike, while exhilarating, seems like a good way to get injured, and many of the techniques in mountain biking aren't exactly intuitive.
For beginners, the best way to get into mountain biking is to take a guided tour or lesson. Your instructor will tell you all you need to know to get you started and take you to trails that are appropriate for your level. Iwatake offers lessons in Japanese or English, or you can visit Evergreen Outdoor Center for even more tour options.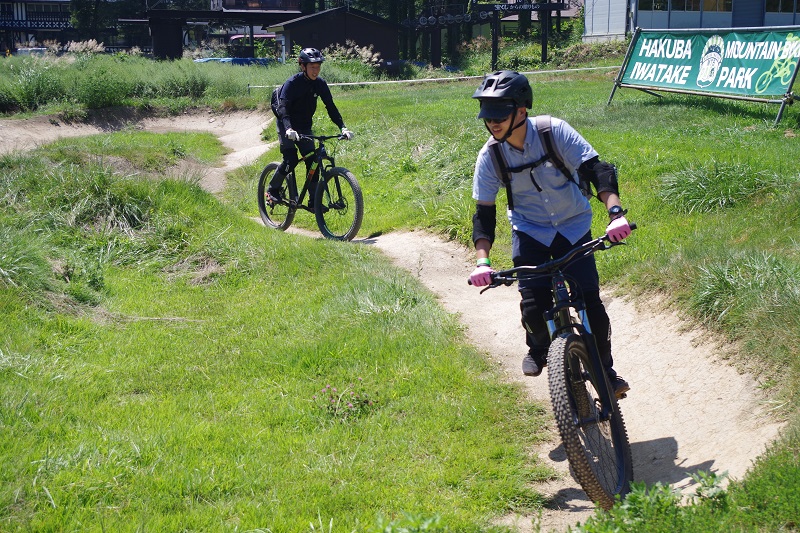 But even without lessons, you can ride on Iwatake's beginner level trails and get a feel for mountain biking. The pump track just behind the Spicy Rental shop is a perfect place to start, featuring several waves and banked turns. Running the track a few times will get you used to shifting your balance properly over the most common trail obstacles. After practicing on the pump track, you can try the adjacent Funride course or the summit touring course at the top of the mountain.
Iwatake Trial Pass for Beginners
If you're trying out mountain biking for the first time and are looking for a good deal, the Trial Pass includes a 2-hour bike and helmet rental along with access to Iwatake's beginner-level courses (funride, summit touring course and pump track) for just 4,900 yen.
See more about pricing on Iwatake MTB Park's website
Exciting Downhill Mountain Biking
The real charm of Iwatake's Mountain Bike Park lies in its downhill courses: the 6.9km Alpine Downhill Course and the 3.5km Kamikaze Downhill Course.
The Alpine Downhill Course runs the full length of the mountain, taking anywhere from 20 to 30 minutes to complete. Along the way are frequent rest areas where you can catch a breath or take in the stunning views of the alps. The flow of the course is top-notch and has earned high praise from beginner and expert riders alike.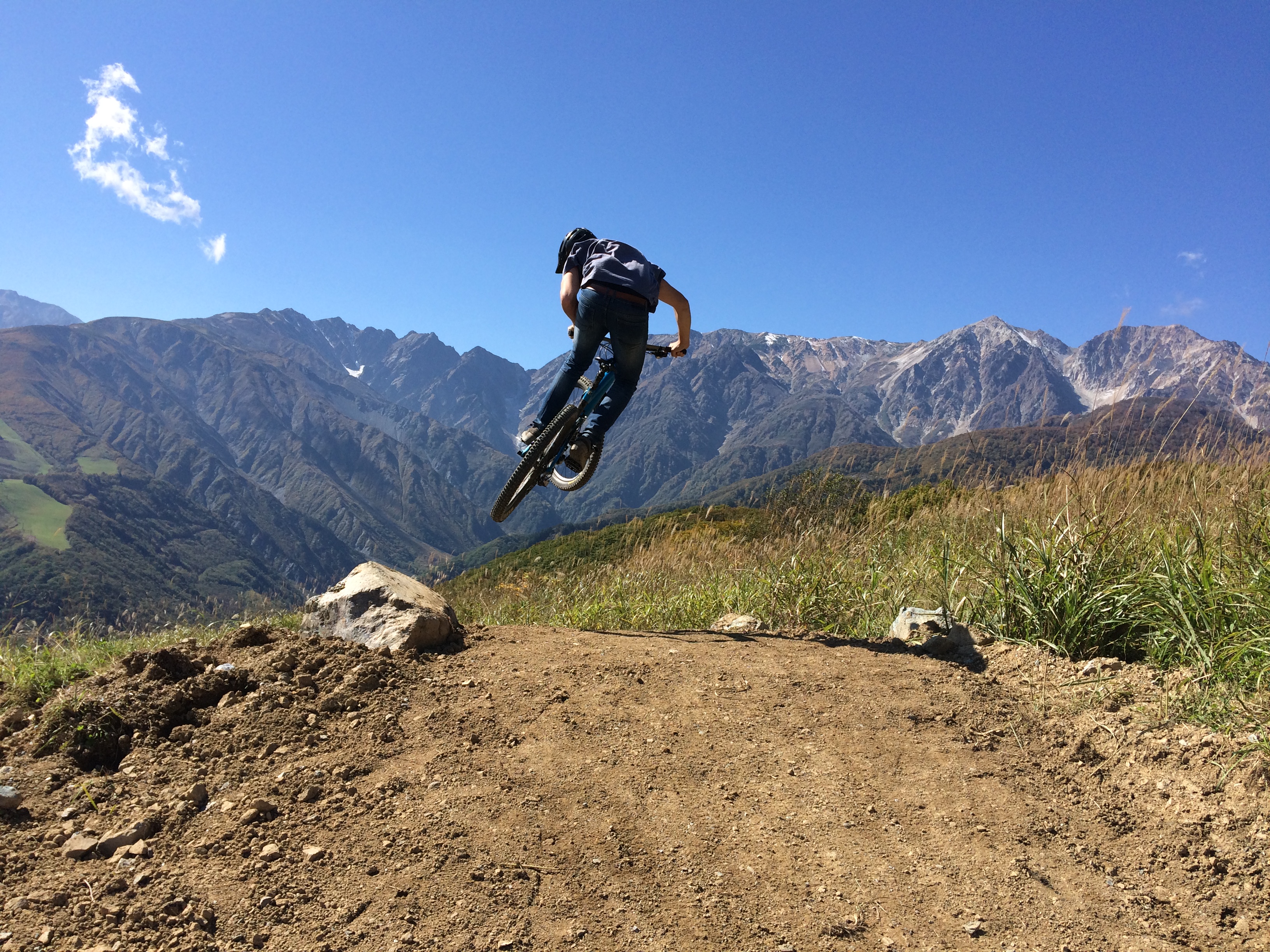 The Kamikaze Downhill Course also runs the full length of the mountain from top to bottom, but it noticeably steeper and shorter. Upper intermediate and above riders can test their technical skill through its tight turns and jumps.
The courses have several meeting points with clear signage, so, as long as you're confident enough, you can switch between the two as you like on your way down
Lunch and Coffee at the Top of Iwatake
After a few laps around the park, you're bound to get hungry and possibly just a bit tired. At the top of the mountain, there are several restaurant and café options.
The Hakuba Deli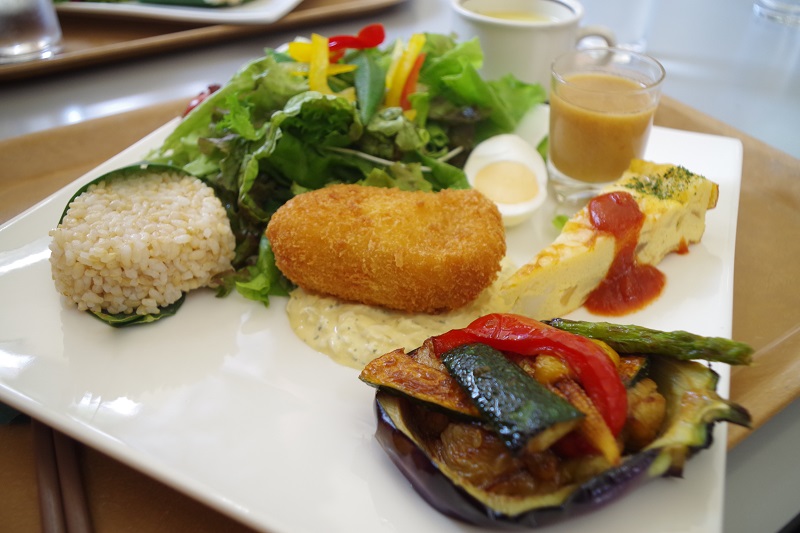 Iwatake's mountain-top cafeteria has a new restaurant, the Hakuba Deli. Their set menu includes salad, one main deli item and two side deli items with rice or bread. Food is made with locally sourced produce and meats, and thanks to the area's proximity to the Sea of Japan, seafood as well.
Skyarc Deck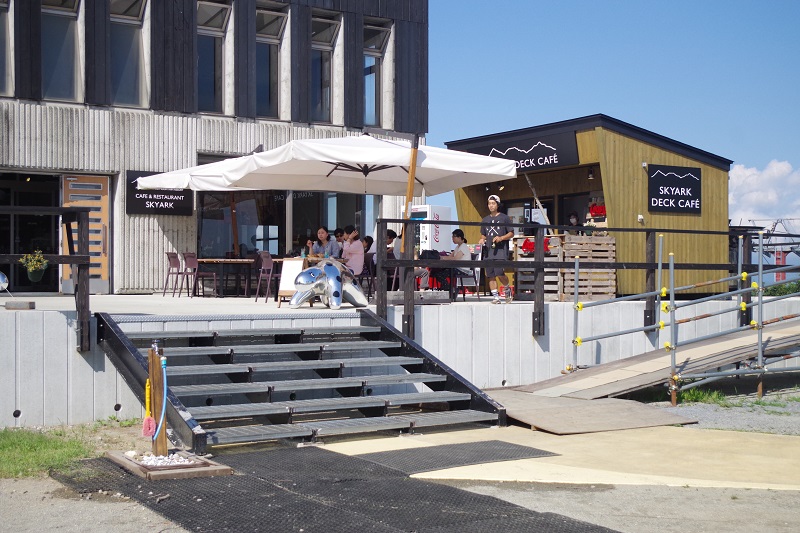 On the newly built deck outside of the Hakuba Deli is the Skyarc Deck Café, serving light meals and a variety of drinks including coffee, soft drinks and mocktails.
Hakuba Mountain Harbor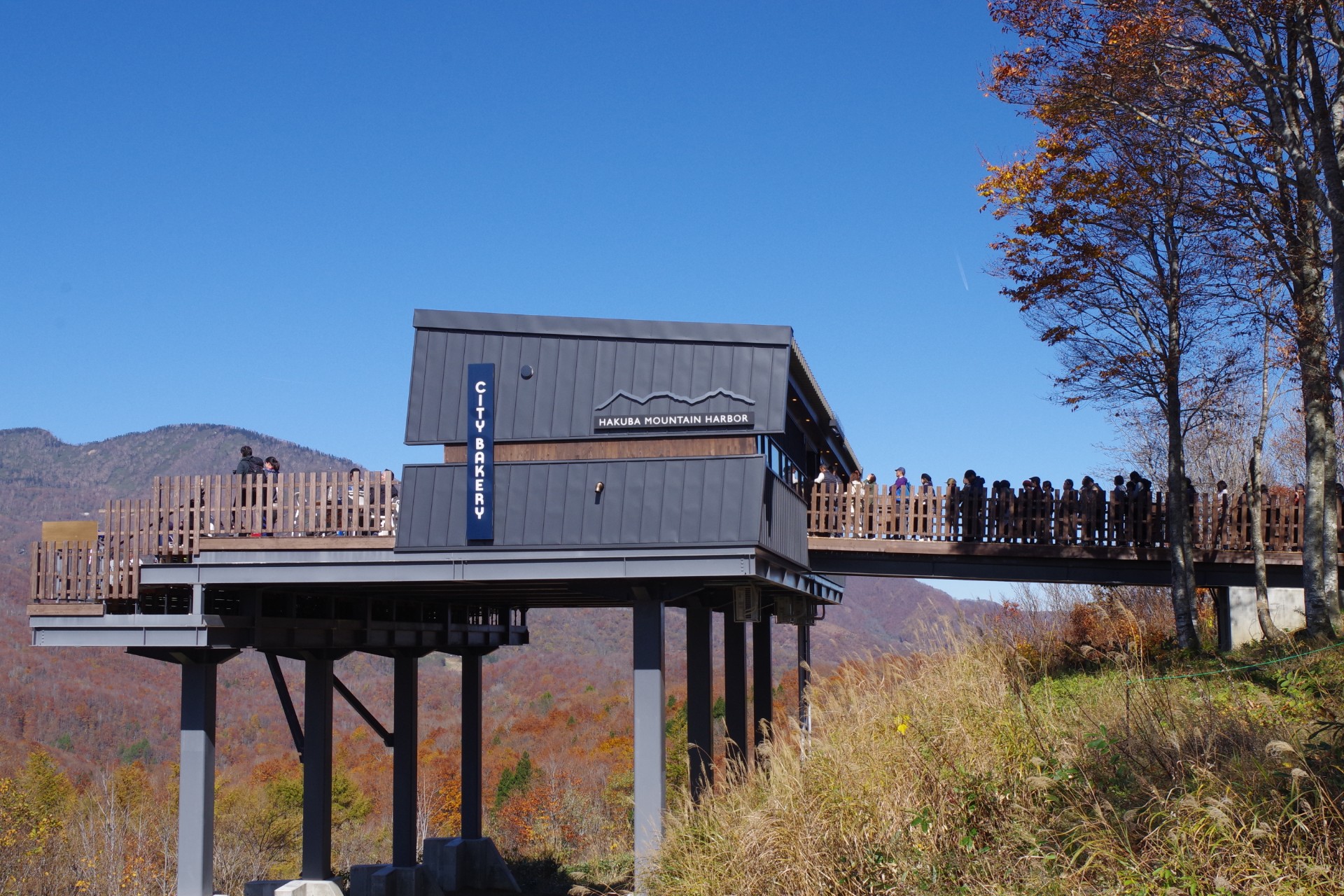 But the most popular of all is none other than Hakuba Mountain Harbor, a terrace with picturesque views of the Hakuba Sanzan mountains. Attached to the terrace is the City Bakery, a New York institution which sells fresh coffee and pastries. Enjoy a nice break after a long morning of mountain biking and take in the majestic views.
Once you've refueled, it's time for round 2!
Update:2020/08/28