Cherry Blossoms and the Japanese Alps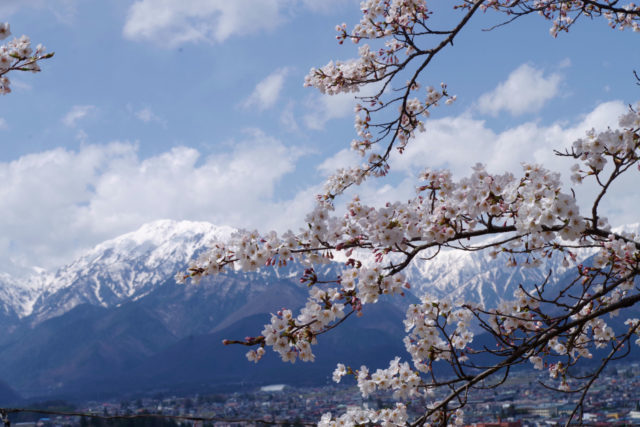 Nagano's special springtime scenery: cherry blossoms and snowy mountains.
The Japanese Alps are beautiful year-round. In summer, they are covered in verdant greenery. In autumn, tinged with red and yellow. In winter, covered head-to-toe in pure white snow. But many people will agree that the mountains here are most beautiful in spring, when the peaks are still powdery white and pink cherry blossoms bloom in the valley below.

There are many cherry blossoms spots around the Japanese Alps where you can enjoy the simultaneous scenery of winter and spring.
On a sunny day, I took an opportunity to check up on some of them around Ogawa, Omachi, and Azumino.
Wild Cherry Trees and Oyaki in Ogawa Village
Our first stop was Ogawa Village. Located between Nagano City, Hakuba, and Omachi, it is a place that most people who travel to Nagano will have passed through at some point without knowing it. In winter, it's just another small hamlet on the side of the road, but in spring, it becomes one of Japan's most beautiful villages.
Cherry trees of all kinds dot the hillside along Ogawa Village. There are the popular Somei Yoshino cherries, weeping cherries, and mountain cherries as well. The subtle palette of creams and pinks contrasts beautifully with the fresh greenery around it.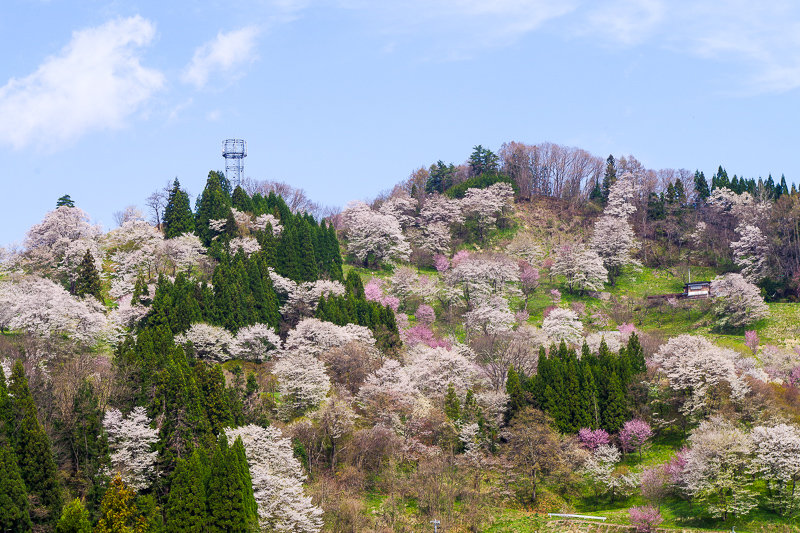 The most impressive section of Ogawa's spring display is in Nitanda. The cherry trees here, called Nitanda no Sakura, almost completely cover the hillside. While they may have been planted by man, the cherry trees seem wild, growing by their own accord. Rather than a common tourist attraction, Nitanda no Sakura is a countryside fairy tale. At the foot of the hill, farmers till their fields and grocers stock fresh produce, almost oblivious to the magnificent display above.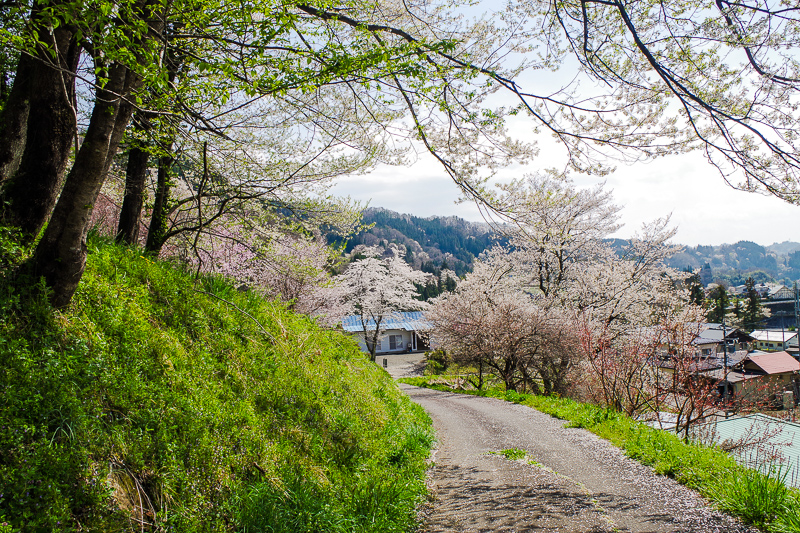 The cherry blossoms were already falling when we visited yesterday, but the sight is still impressive when seen from afar. The view should hold through the weekend at least.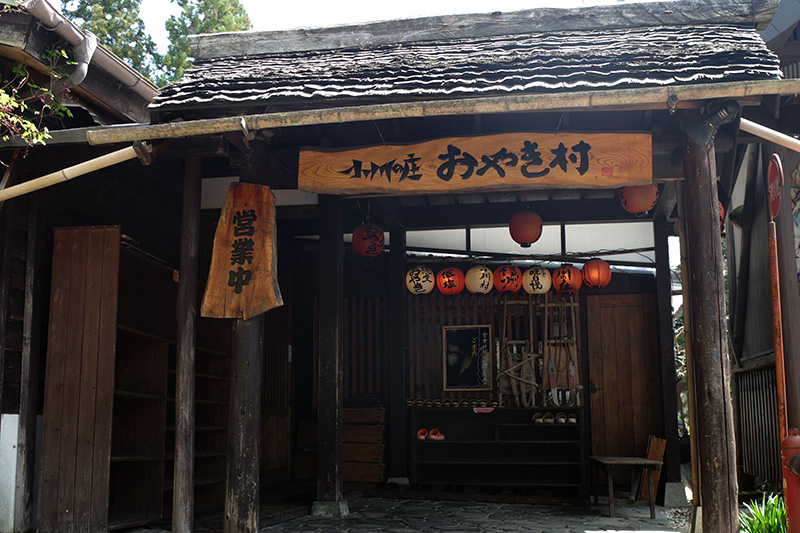 Ogawa is also known for its delicious oyaki. After visiting the cherry blossoms, we made a quick pit stop at Ogawa no Sho. The shop specializes in char-grilled oyaki, which they fry on a pan before burying them in ash by the fireside to finish. Popular flavors include nozawana, sweet azuki bean, or eggplant with miso, but during this time of year you can also find oyaki filled with delicious mountain vegetables. We had fukimiso (butterbur sprout in English).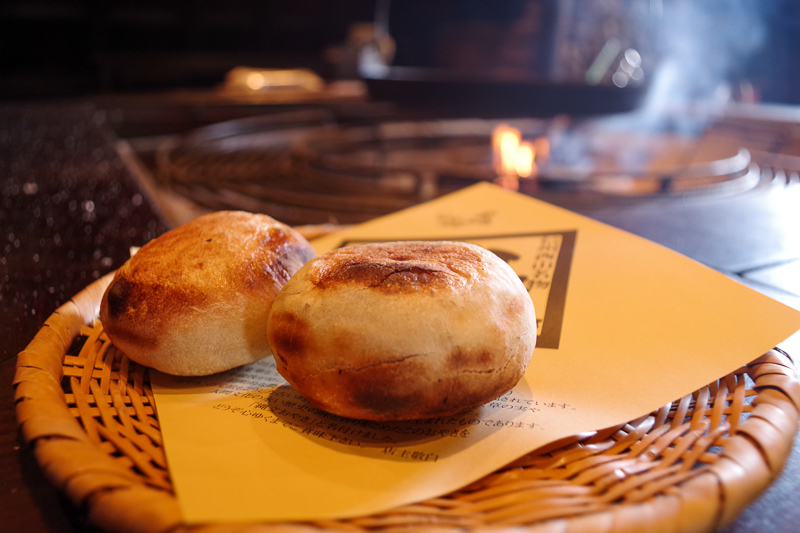 Mountainous Views from Omachi Park
After Ogawa, we drove to Omachi City about 40 minutes away. Our desination was Omachi Park, on the hillside outside of town. Despite being a weekday, there were quite a few people enjoying hanami in the park, as well as a couple of food stalls already set up and selling food. The park was quite small, but sometimes big things come in small packages. As the sky cleared up, we saw amazing views of the 3,000-meter-high peaks of Japanese Alps in front of us.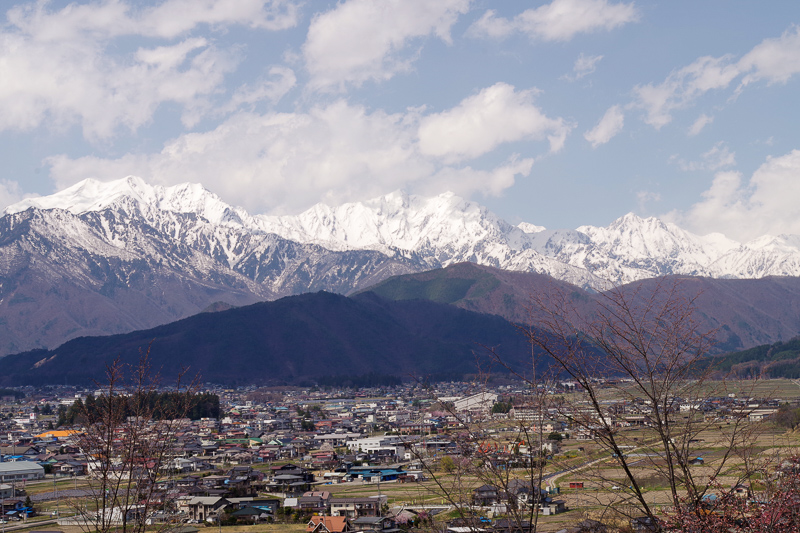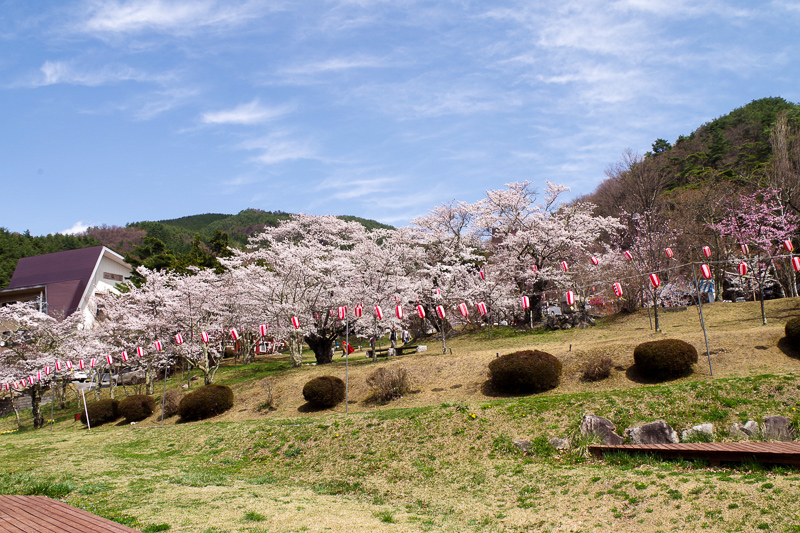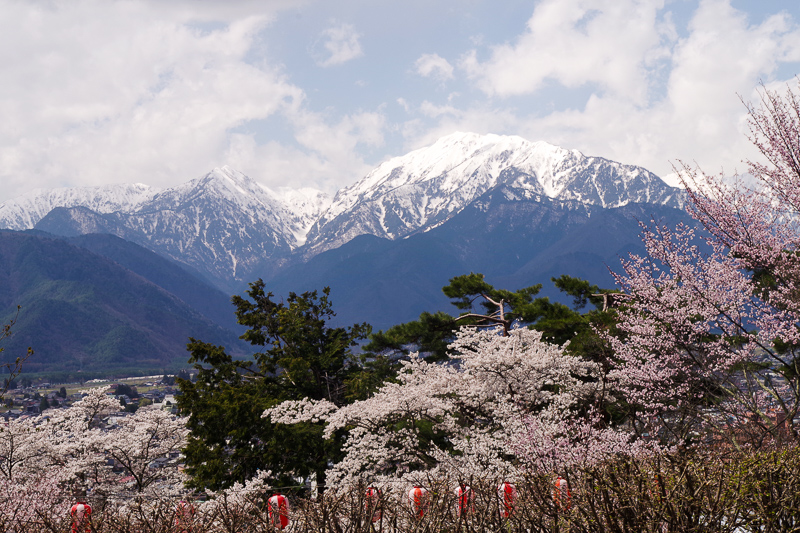 The Cherry Blossom Trail to Mt. Hikarujo
For the last leg of our journey, we drove another 40 minutes south to Mt. Hikarujo in Azumino. About three-quarters of the way there, we could see the trail of cherry trees rising up the mountain like a white dragon.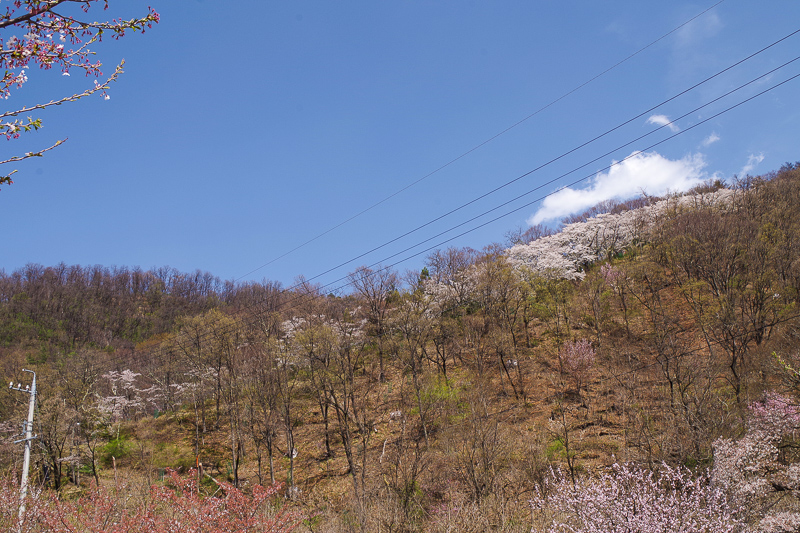 The cherry trees are planted along a hiking trail to the top of the mountain, which takes about 40 minutes to walk up. Lights are strung up along the trail to illuminate it and the blossoms at night.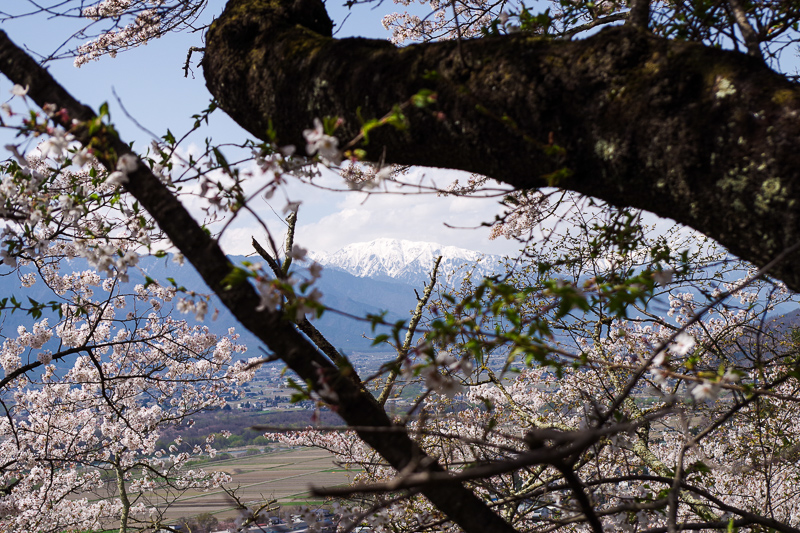 The trees by the trailhead had already lost half of their petals, but we could see fuller trees on the trail up above. As we climbed up, the cherry blossoms grew progressively thicker. The whole way up we were treated to amazing views of the Japanese Alps, and there were plenty of great photo spots for shooting the mountains and cherry blossoms together. After our 40-minute hike, we reached the park at the top of the mountain, covered in full-bloom cherry trees.
How to Get There
Omachi Park (Omachi City): By train/bus, a 25-minute walk from JR Oito line Shinano Omachi Station, or a 5-minute taxi. By car: a 40-minute drive from the Azumino IC exit. Parking is available at the park.
Nitanda cherry blossoms (Ogawa Village): By train/bus, A 50-minute bus ride on the Shinmachi Takafu line bus (get off at Takafu bus stop), then a 20-minute walk to trees or 15 minutes to viewpoint. By car, a 45-minute drive from the Nagano IC. Park at the Bikkurando Gymnasium. There is also a viewpoint along Route 31.
Mt. Hikarujo (Azumino City): By train/bus, a 35-minute walk or 10-minute taxi from JR Tazawa Station. By car, a 7-minute drive from the Azumino IC exit. There is a parking lot beside the trailhead. See location here.
Update:2020/01/17