Three-Day Trip in Matsumoto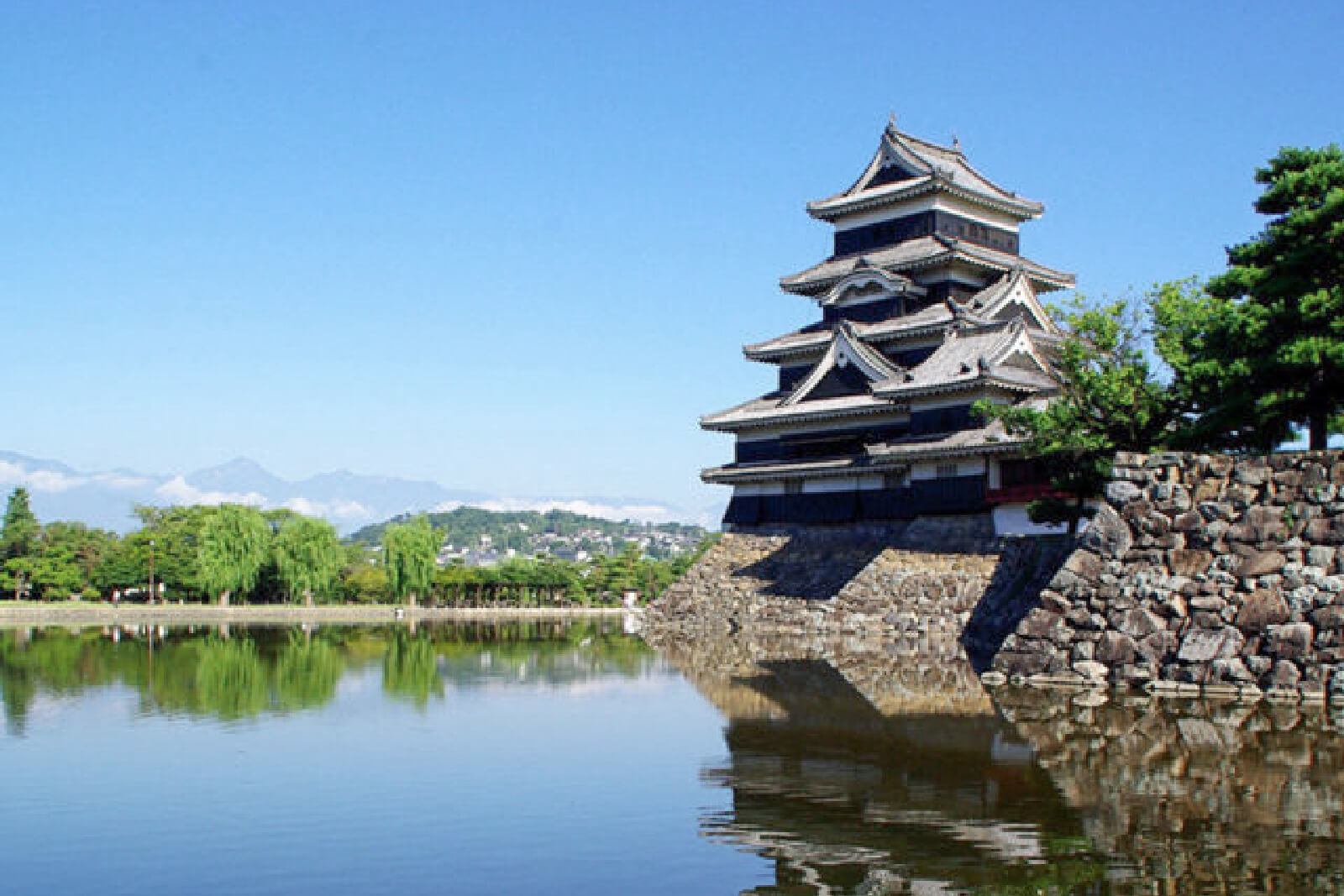 See Matsumoto Castle, the Japanese Alps, the Nakasendo and more in an action-packed three-day trip to Nagano.
Japan's major cities are great places to visit but can be packed to the brim with tourists and at times overwhelming. If you step out of the urban sprawl, you can see a completely different side of Japan filled with magnificent mountains, solemn historical sites, and delicious local cuisine.
Matsumoto is perfectly located for a long trip into Central Japan's history and nature. With the Japanese Alps to the West, the Kiso Valley to the East, and one of Japan's most popular castles smack dab in the middle of the city, Matsumoto has incredible sightseeing at its fingertips.
Day 1: Matsumoto City
On your first day, escape the city for Matsumoto by train or bus. If traveling from Tokyo, you can take the Super Azusa from Shinjuku Station; if Nagoya, take the Limited Express Shinano.
Visit Matsumoto Castle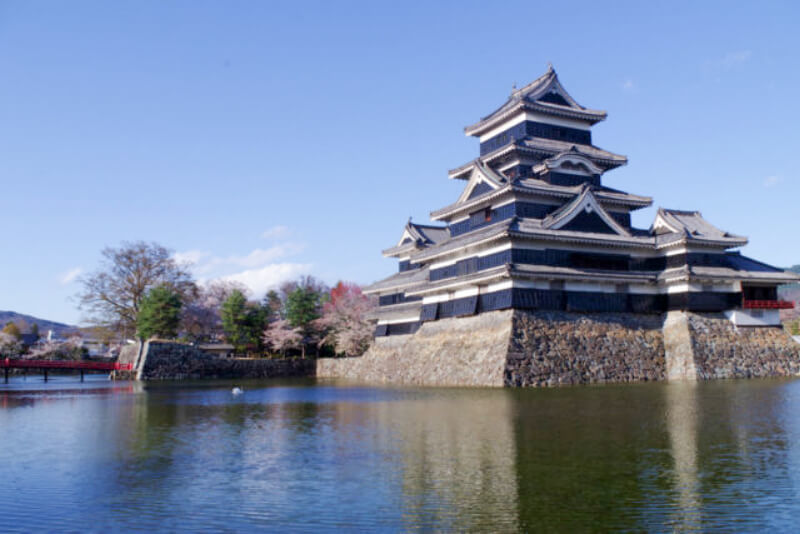 Matsumoto Castle is one of Japan's five National Treasure castles, being one of the few structures to survive the Warring States period and Meiji Restoration unscathed. It has stood in central Matsumoto, set in front of the magnificent Japanese Alps, for over 400 years.
The castle is beautiful year-round, especially during early to mid-April when the ground's 300 cherry blossom trees are in bloom.
History and architectural buffs will certainly appreciate the castle's unique and complex design. While it appears five stories tall from the outside, it actually has six floors (the secret floor was used to hide soldiers). The castle also features a moon-viewing pavilion which was used by feudal lords in times of peace. You can see these features and relics of the Warring States Period on a tour of the inside of the castle.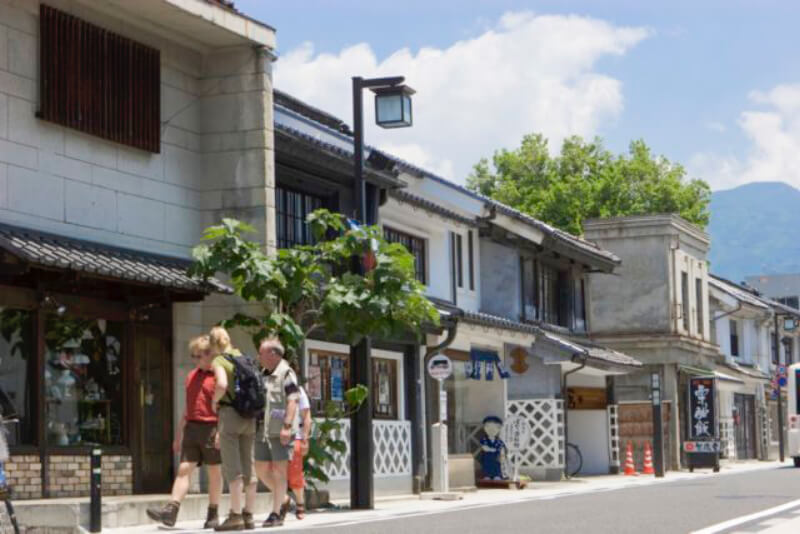 Nearby the castle are also several streets where you can see traditional Japanese buildings and storehouses from the heyday of the samurai. Nawate-dori, often called "Frog Street" due to its many colorful amphibian statues, is just a short walk from Matsumo Castle and includes many souvenir shops, food stalls and bakeries where you can take a quick break. Nakamachi-dori is a bit closer to the station with its fair share of restaurants, cafes and charming, earthen-walled storehouses.
Make Your own Soba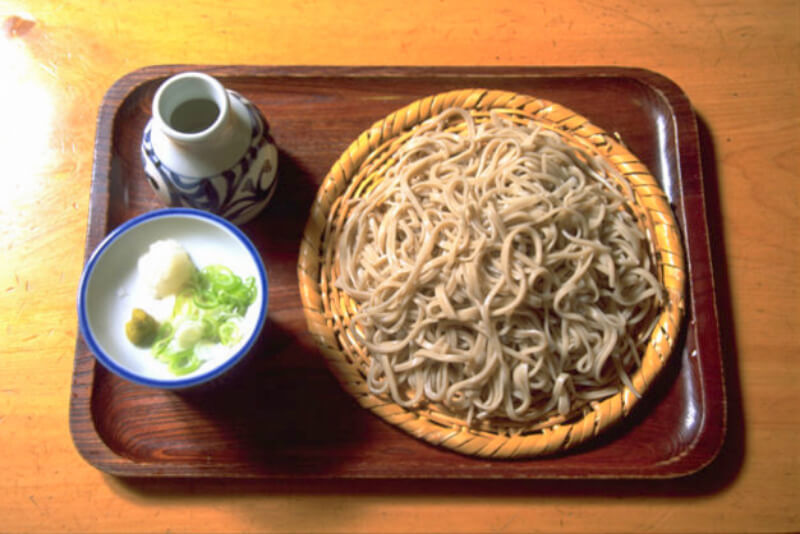 Soba is one of Nagano's specialties. While this dish of cold noodles and dipping sauce may seem simple, it takes a skilled hand and fresh ingredients to make properly. By going through the process of kneading the buckwheat dough and cutting the noodles yourself, you'll appreciate the surprising complexity of this delicious dish.
Soba Takagi is a short walk from Matsumoto Castle and offers soba-making lessons.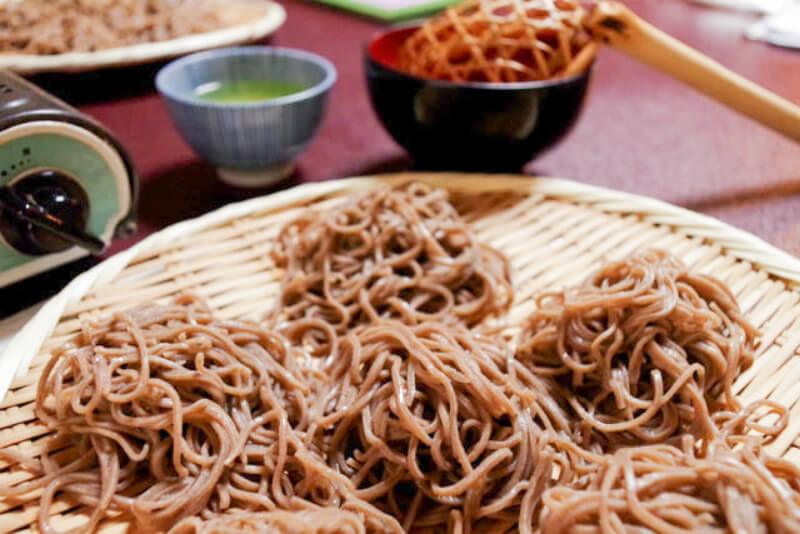 If you don't want to make soba yourself, you can also try toji-soba. Like shabu-shabu, you dip the cold noodles in a heated broth for a few seconds before eating. (Available at Takagi, Miyota on Nakamachi-dori, and other downtown restaurants.)
See the Works of Kusama Yayoi at the Matsumoto City Museum of Art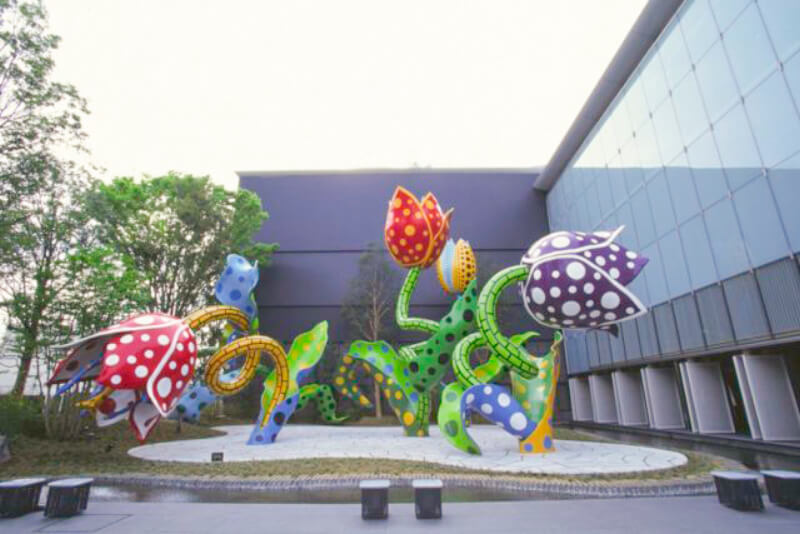 The Matsumoto City Museum of Art is well-known for its permanent exhibition of the works of Kusama Yayoi, internationally renowned artist and native of Matsumoto. The museum is readily recognizable thanks to the colorful, polka-dot-covered flowers that stand several stories tall in front of it.
You can see its two rotating permanent exhibitions and other collections for the small price of 410 yen (200 yen for students). Special exhibition tickets also allow you to see them as well.
There are many other museums and art galleries around Matsumoto that you can visit as well, including a timepiece museum, a folk art museum, and the Japan Ukiyo-e Museum
Day 2: Outdoors in the Japanese Alps
On your second day, visit Kamikochi at the base of the Northern Japanese Alps. Taking the Kamikochi line train and bus, you'll reach Kamikochi in about 1 hour and 40 minutes. You can purchase a combo ticket that covers roundtrip train and bus fare for 4,550 yen.
Kamikochi: the Base of the Northern Japanese Alps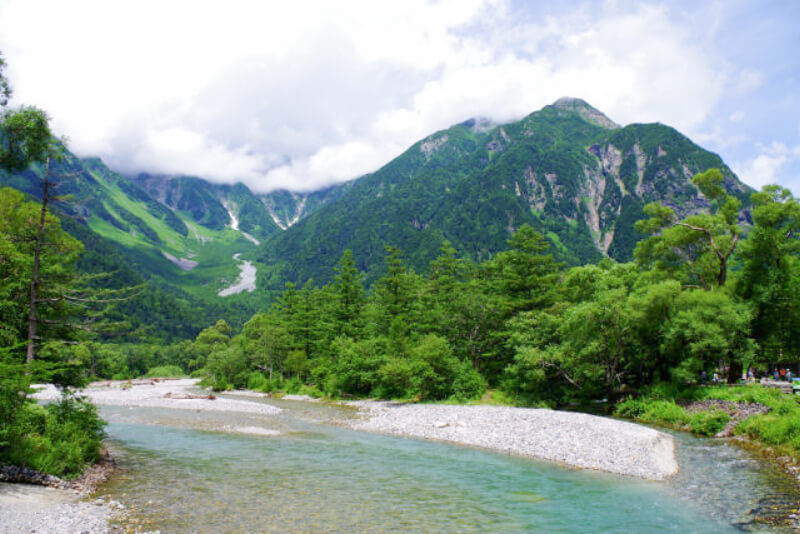 From this well-preserved basin, you can see amazing views of the mountains while walking along cool streams and shady forests. If you're lucky, you may spot some local wildlife like the Japanese macaque, serow, or elusive rock ptarmigan.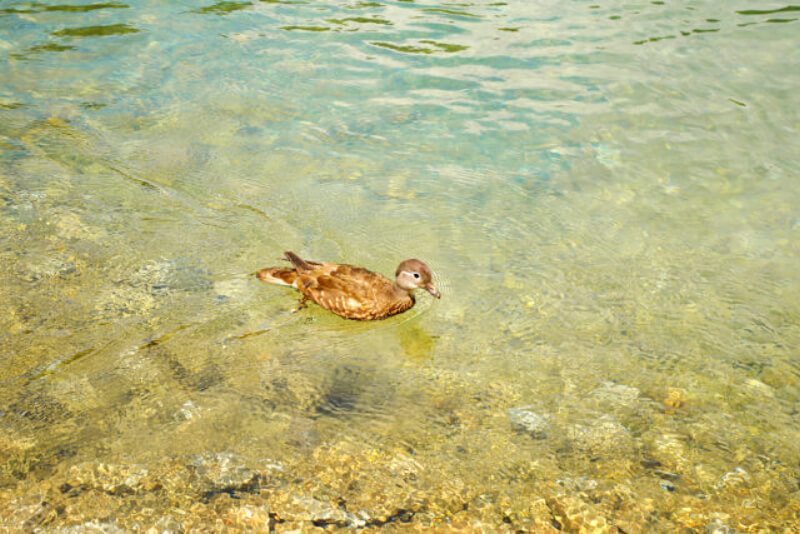 Some of Kamikochi's most picturesque spots include Taisho and Myojin Ponds, the Kappa Bridge, and Dakesawa Marsh.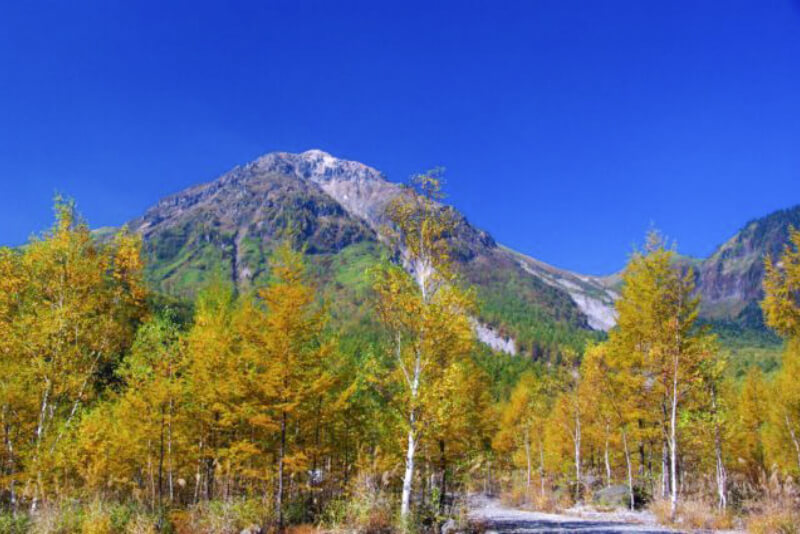 Many mountain climbing routes to the peaks of the Japanese Alps begin in Kamikochi. Some are multi-day affairs, like Mt. Yari, and others are possible do to complete in a single day, like Mt. Yake.
Day 3: The Nakasendo and Wasabi
On your last day, head out from Matsumoto to Daio Wasabi Farm in the morning and Narai-juku in the afternoon.
To reach Daio Wasabi Farm, first take the JR Oito line from Matsumoto to Hotaka Station. You can rent a bicycle from a shop by the station, and the farm is about 15 minutes from there. When biking around Azumino, we recommend this path for an enjoyable ride with good scenery.
Daio Wasabi Farm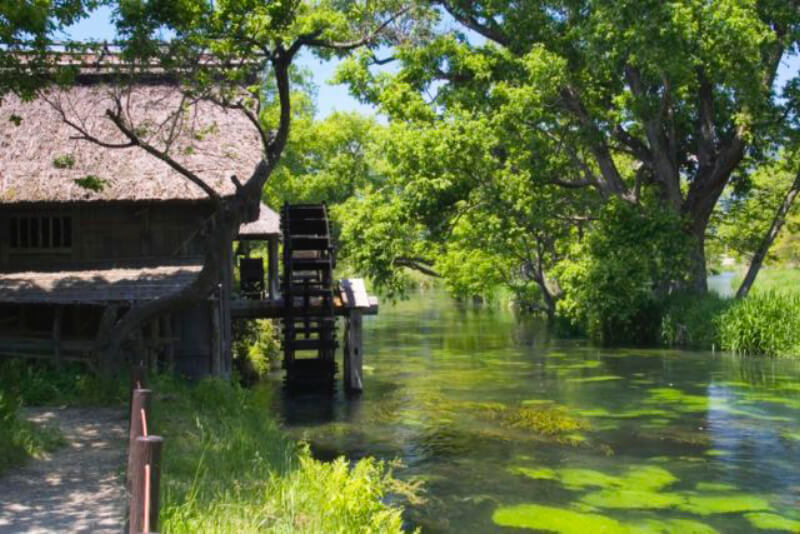 The Daio Wasabi Farm is one of the largest wasabi farms in Japan. Wasabi is a particularly difficult plant to grow, requiring pure water and cold temperatures. Thanks to snow melt from the Japanese Alps, over 120,000 tons of water flow through Daio every day.
You can see the vast fields of wasabi covered in rocks and running water as you walk through this idyllic farm. After enjoying the scenery of the cherry trees and clear streams, sit down for a delicious lunch topped with fresh wasabi. It's not nearly as spicy as what you're used to, so pile it on and enjoy one of Japan's most prized flavors!
After taking in the scenery and trying a variety of wasabi-filled snacks, head back to Matsumoto, switch to the JR Chuo line, and head towards Narai Station.
Narai-juku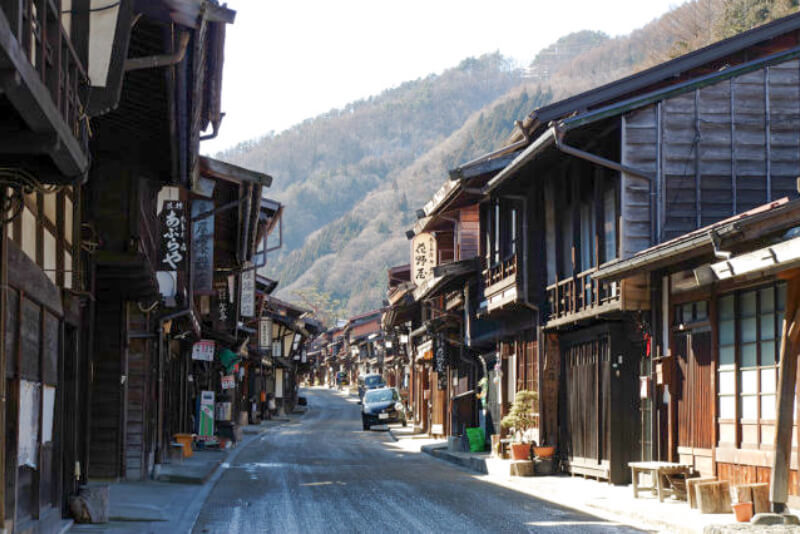 To the south of Matsumoto at the entrance of the Kiso Valley stands Narai-juku, a stretch of wooden inns and houses along the Nakasendo Trail. It sits near one of the difficult sections of the trail, Torii Pass, so travelers often stopped at Narai for the night. At one kilometer in length, the post town is often called "Narai of a Thousand Houses."
Surrounded by forests rich in hinoki cypress and along major trade routes, the post towns along the Kiso Valley were perfectly located for the crafting and selling of lacquerware products. In Narai-juku and nearby Kiso Hirasawa, you'll find many lacquerware stores selling goods crafted in Kiso's workshops. You can even try woodworking for yourself by making your own chopsticks at the tourist information center in town.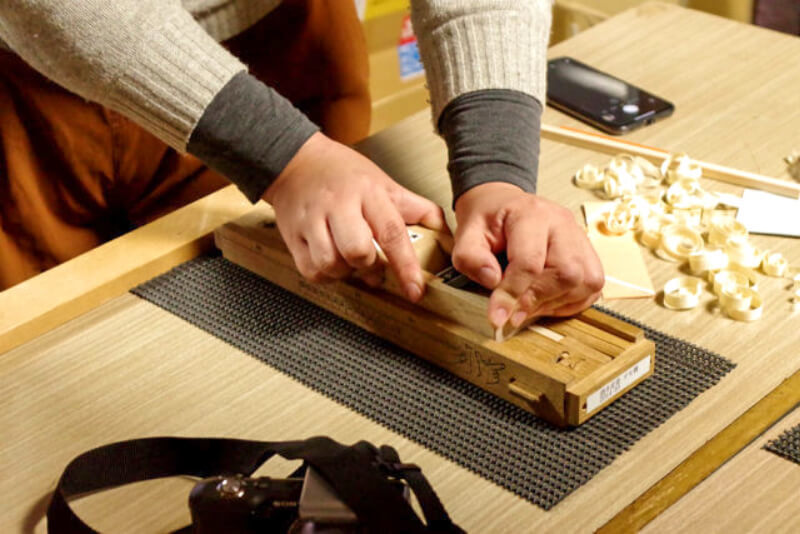 After you finish at the Narai, you can head back to Matsumoto City to return to Tokyo or instead continue your journey onto Takayama. If you're heading to Nagoya, you can keep heading down the JR Chuo line towards other parts of the Nakasendo!
Places to Stay Around Matsumoto
Downtown Matsumoto has plenty of hotels, ryokan, and guesthouses to accommodate most guests, and several hot spring areas surround the city. You can choose a central, suburban or countryside accommodation to suit your needs.
City Center
Located near Matsumoto Station, Matsumoto Castle, and everything else downtown has to offer. What else could you ask for? Popular hotels include the Buena Vista and Kagetsu. Travelers on a budget, or those who are looking for a more personal touch, can stay at one of Matsumoto's many guesthouses like Matsumoto Backpackers or Tabi-shiro.
Utsukushigahara Onsen
17 minutes away from Matsumoto City by bus, this small collection of hot spring inns sits at the base of Utsukushigahara, one of Nagano's central plateaus. You can stay in a small inn like Tsuki no Shizuka or Oiwakeya Ryokan, or stay in a larger western-style accommodation like Hotel Shoho. Wherever your stay, you'll be sure to enjoy the natural hot spring water and laid-back atmosphere of the countryside.
Asama Onsen
A hot spring area whose history going back over 1,300 years, Asama Onsen was surrounded by the homes of Samurai and private hot springs frequented by local lords. It is 20 minutes from Matsumoto Station by bus.
There are over 30 hotels in the area to choose from, each with their own hot springs, as well as three soto-yu public baths that anyone can visit.
Shirahone Onsen
A remote onsen area near Kamikochi, Shirahone Onsen is famous for its milky-blue waters. The most famous hot spring here can be found at Awa-no-Yu, a mixed-gender outdoor bath that is open to day-use guests. A saying goes that if you bathe in its waters for three days, you won't catch a cold for a year.
Due to Shirahone Onsen's remote location, it's best to stay the night in one of the ryokan here. Popular accommodations include Yumoto Saito Ryokan, Awa-no-Yu Ryokan, and Konashi-no-Yu Sasaya.
Itinerary and Access
Matsumoto's central location and easy access from major cities makes it a perfect base for your trip to Nagano, and this three day trip to Matsumoto is a great way to see the area's best sights in a short amount of time. The full itinerary is included below:
Day 1: Downtown Matsumoto
From Tokyo
Shinjuku Station → Super Azusa Express(2 hr. 40 min., 6,380 yen) → Matsumoto Station → Town Sneaker bus (8 min., 200 yen) → Matsumoto Castle → Walk (10 min.) → Lunch/Soba-making Lesson → Town Sneaker bus (12 min., 200 yen) → Matsumoto City Museum of Art
From Nagoya
Nagoya Station → Limited Express Shinano (2hr., 5,510 yen) → Matsumoto Station → Town Sneaker bus (8 min., 200 yen) → Matsumoto Castle → Walk (10 min.) → Lunch/Soba-making Lesson → Town Sneaker bus (12 min., 200 yen) → Matsumoto City Museum of Art
Day 2: Day Trip to Kamikochi
Matsumoto Station → Kamikochi line train (30 min.) → Shinshimashima Station → Kamikochi Line bus (65 min.) → Kamikochi → Kamikochi Line bus (65 min.) → Shinshimashima Station → Kamikochi line train (30 min.) → Matsumoto Station
Day 3: Day Trip to Daio Wasabi Farm and Narai
Matsumoto Station → JR Oito Line (28 min.) → Hotaka Station → Rental Bicycle (15 min.) → Daio Wasabi Farm → Rental Bicycle (15 min.) → Hotaka Station → JR Oito Line (28 min.) → Matsumoto Station → JR Chuo line (45-60 min.) → Narai Station → Walk (3 min.) → Narai-juku
Update:2022/04/07