Alps Art Triennale in Omachi City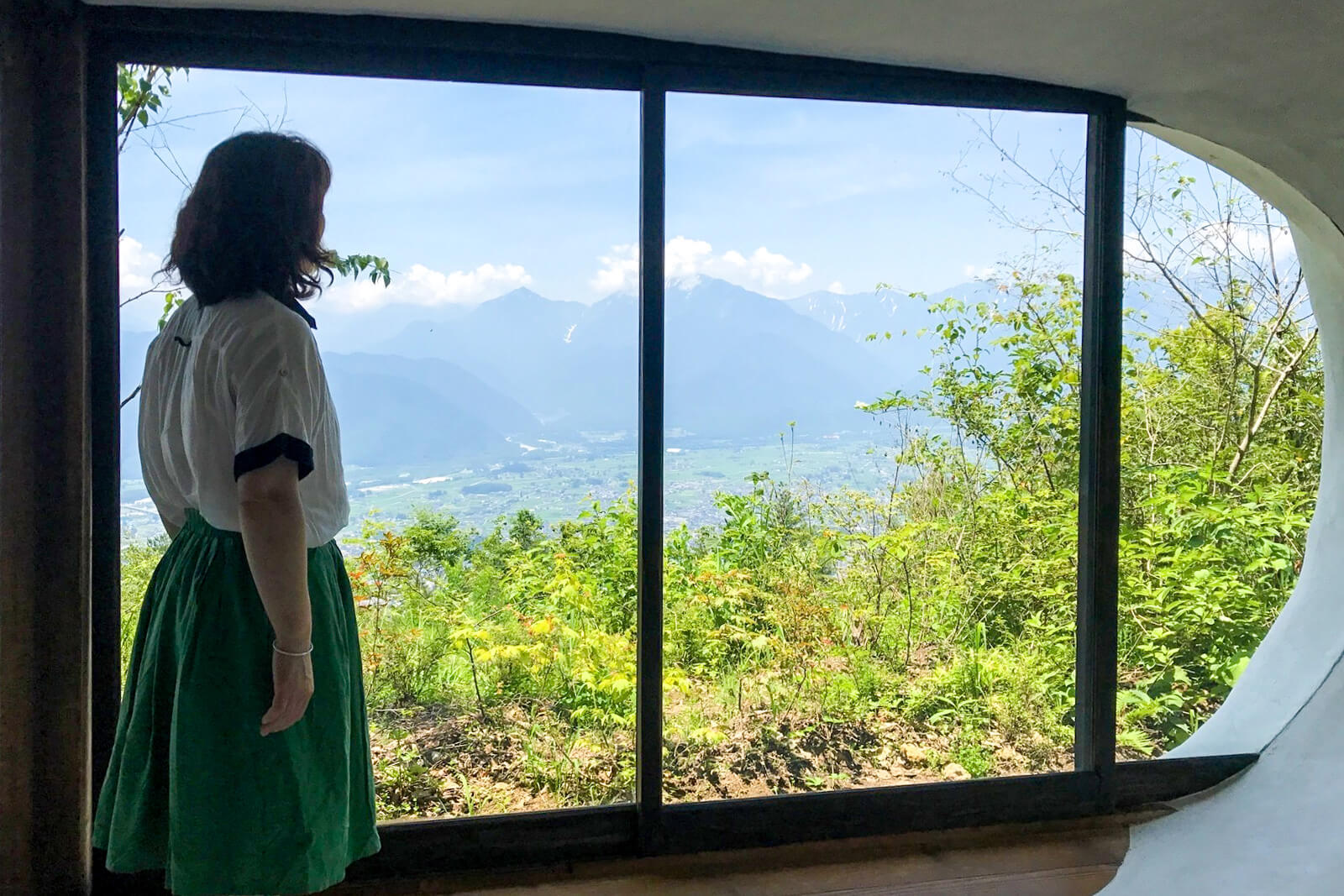 Omachi City's Japan Alps Art Festival is held every 3 years and showcases the
region's rich heritage.
Following its inaugural running in 2017, the Japan Alps Art Festival takes place in Omachi City once every 3 years. The dates for the 2020 edition are Sunday 31-May through Sunday 19-July. Produced by Fram Kitagawa (creator of the famed Echigo-Tsumari Triennale), Omachi's festival attracts world-class artists for some absolutely stunning art installations taking advantage of Omachi's picturesque mountain scenery.
What makes Omachi's art festival so unique is the way the artists incorporate locally- available material and as well as the region's cultural heritage into the make-up and thematic design of the art. While enjoying the visual and emotional beauty of the art installations, visitors get new perspectives and appreciation of Omachi's Alpine beauty as well as its rich culture.
Omachi City itself is centered on a 700-meter elevation river valley at the base of the 3000-meter tall Northern Japanese Alps. To the south is Matsumoto City, and to the north are the Nishina Three Lakes and the Hakuba Valley. The Omachi Onsen District is the entrance to the Nagano-side of the Tateyama-Kurobe Dam Alpine Route. Mt. Takagari to the east of the city offers panoramic views of the valley below and the majestic Alps in the distance.
Mt. Takagari (meaning the Falconer's Mountain) is one of the main sites for the Art Festival installations. It's also a Lover's Sanctuary, with the Northern Alps as a romantic backdrop.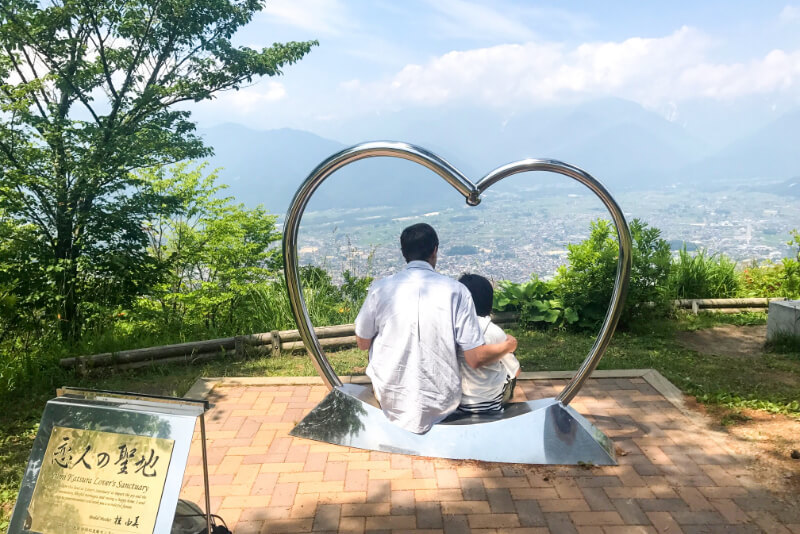 The rustic Yasaka area is home to groves of giant bamboo that grow upwards of 18-meters tall and was the main supplier of bamboo to the lord of Matsumoto Castle. In 2017, Russian artist Nikolay Polissky used the bamboo in an installation inspired by waves in ukiyo-e prints named "Bamboo Waves". This is an example of locally-sourced materials being used in the artwork.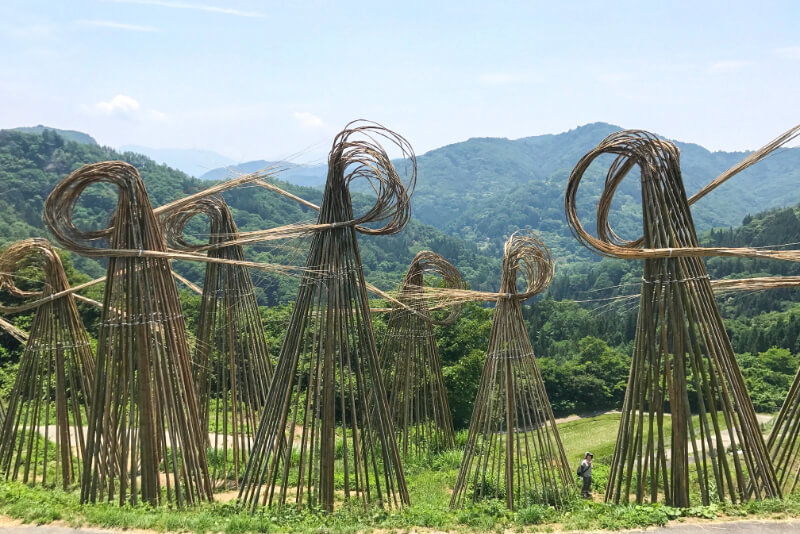 One other thing the Japan Alps Art Festival also does so well is to highlight Omachi's culinary heritage as well. After all, viewing art work is bound to make one hungry. Many of the restaurants also feature ingredients found locally, such as Iroriya Yasaka that appropriately features bamboo shoots.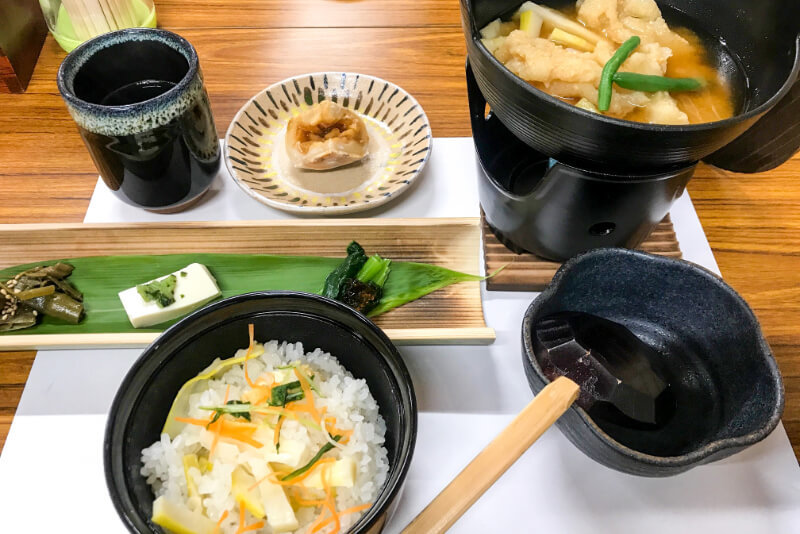 Another example of cuisine based on the local heritage is the 3 o'clock tea 'dolce' infused with salt at the Omachi Salt Road Museum aka Choujiya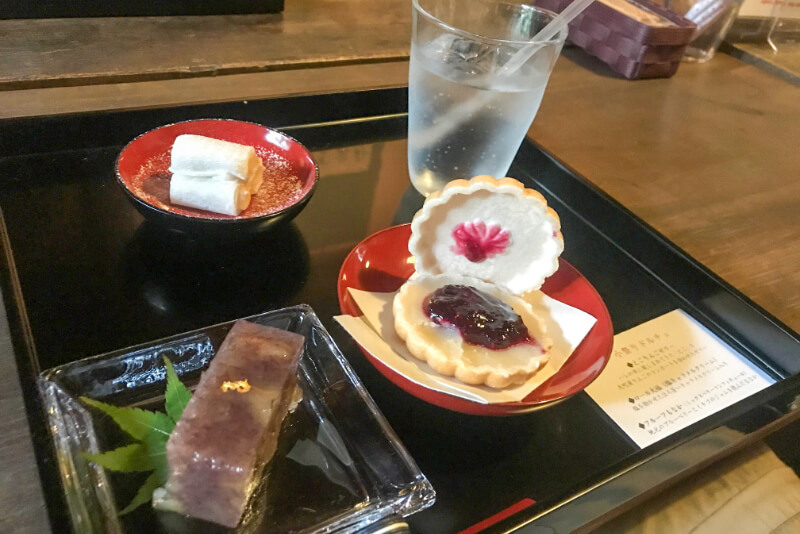 So mark your calendar for the once-every-three-years for the Japan Alps Art Festival and enjoy appreciating modern art expressing Omachi's historical, cultural and culinary heritage. NOTE: For getting around, using a car is highly recommended. Rental cars available at Shinano Omachi Station. Regarding footwear, some of the installations are located in rugged areas so sturdy shoes would come in handy. However, please keep in mind that several locations require removing your shoes and changing into slippers.
Update:2019/10/07