Golden Week Events in Nagano, Big and Small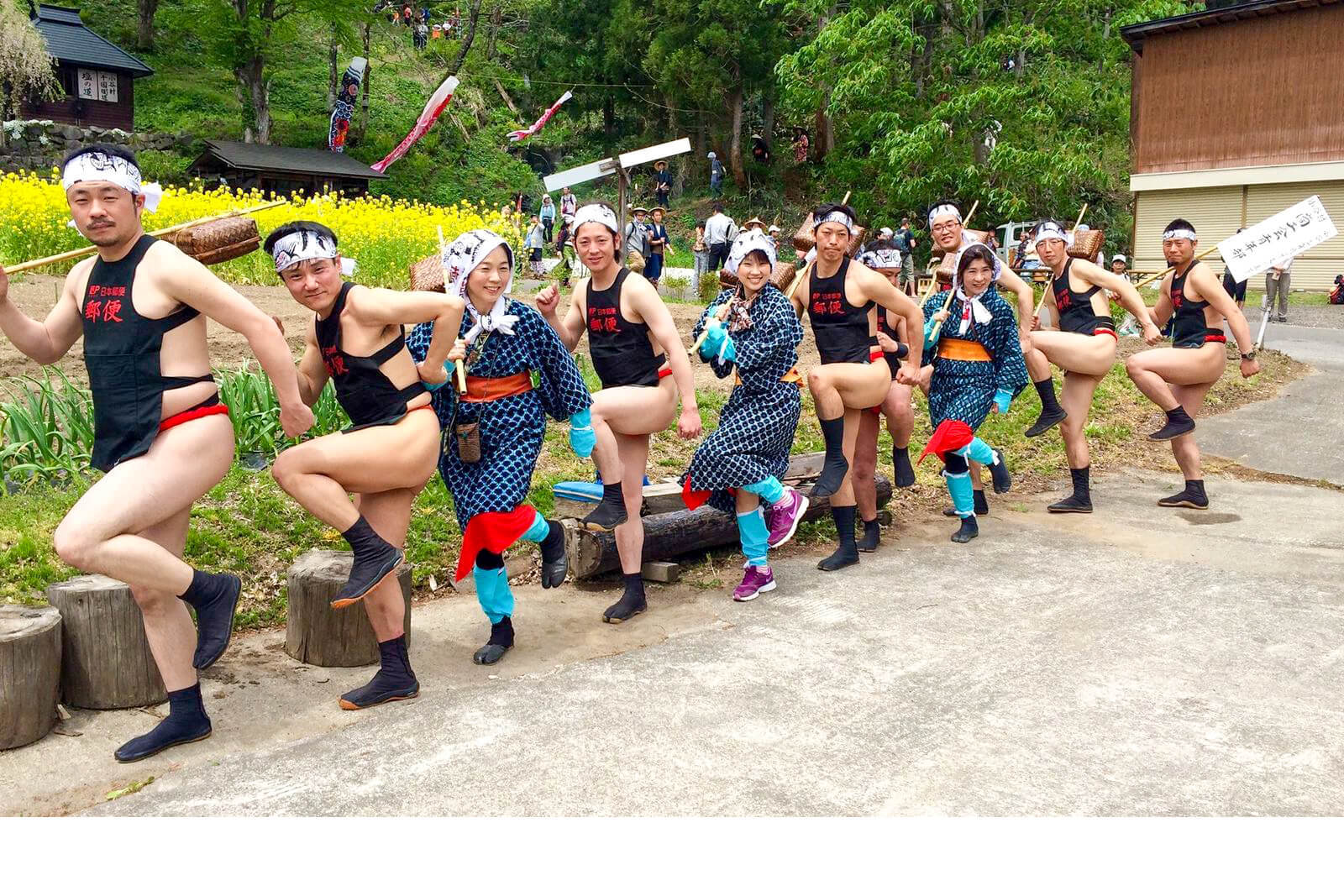 Nagano's biggest Golden Week Attractions, as well as some off-the-beaten-path suggestions
Looking for places to visit for Golden Week? As it is one of Japan's peak travel seasons, wherever you go there will likely be traffic jams and crowds especially at the major tourist destinations. That's the case in Nagano as well with popular sites such as Matsumoto Castle, the Venus Line drive and the resort town of Karuizawa being places that you might want to save for an off-peak period. But there are numerous events during Golden Week worth coming for, and we also have some suggestions for lesser-known (and less-crowded) attractions.
Golden Week Main Events
Late April / early June is Nanohana (rapeseed) flower season in Nagano, and there is no better place to enjoy them than the Iiyama Nanohana Park, with fields of brilliant yellow flowers beautifully contrasting with surrounding greenery and the Chikuma River in the distance. The flower maze and nanohana-flavored soft serve ice cream are popular, too.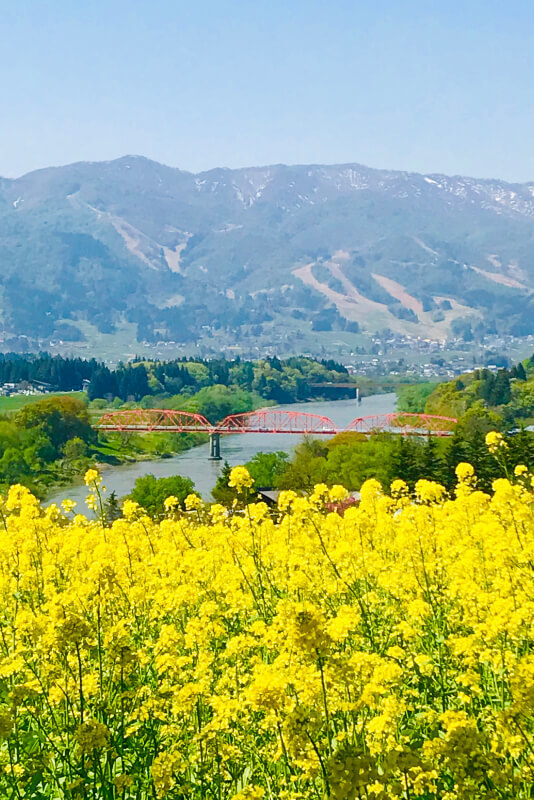 Another flower-related event is Zenkoji Hanakairo, when the main shopping street for the venerable Zenkoji Temple is covered in flower displays. Usually taking place on May 3, 4 and 5, various neighborhoods and organizations in Nagano City and vicinity compete to create the best display.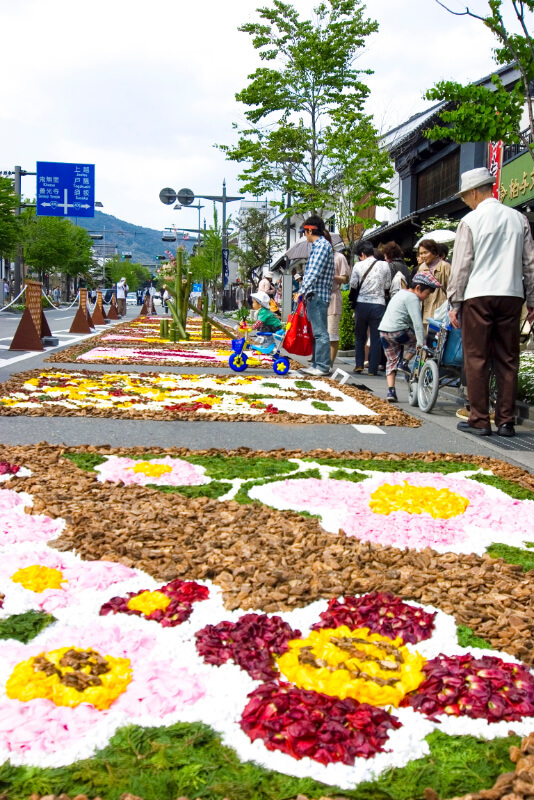 Perhaps Nagano's biggest Golden Week draw is the Saku Balloon Festival. Going on 30 years, this is one of Japan's most famous hot air balloon events. Around 40 massive balloons fill the sky above Saku, and festival-goers even get a chance to ride. Meanwhile, live music entertains people back on the ground.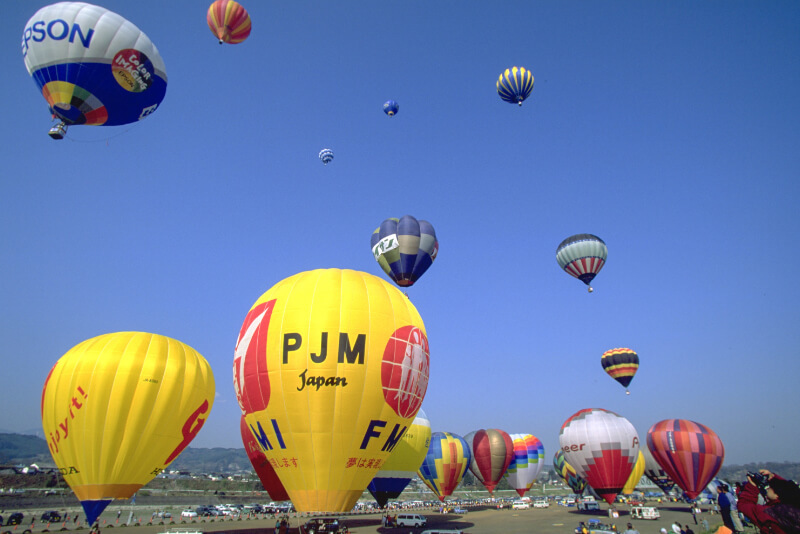 Out of the Way but Worth the Effort
Late April / End of June is also the time of year in Nagano when the mountains start to turn green but still are capped with snow. The resulting contrast makes for some picture-perfect scenery. Below is Aokiko Lake with the snow-capped Hakuba Range in the distance.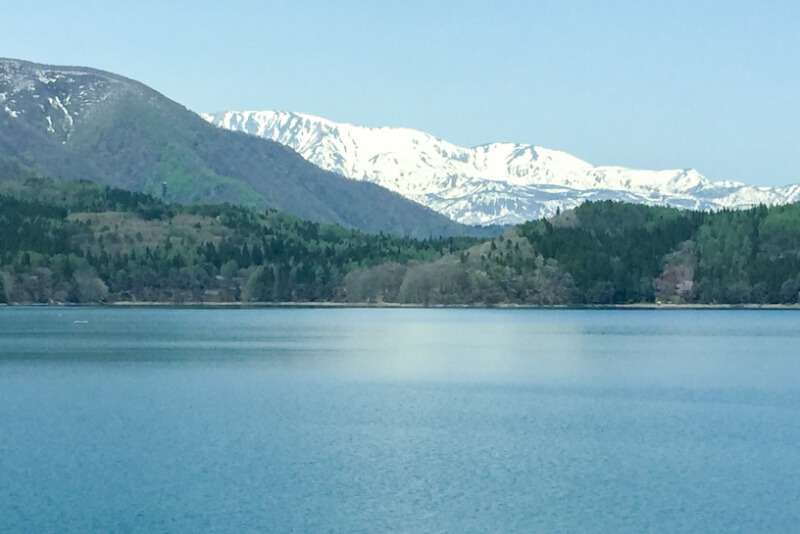 A similar visual treat is the scene of snowy peaks reflected in rice fields, as Golden Week is the time rice is planted in many regions of Nagano. Pictured is a rice paddy in Ikeda Town reflecting the Northern Alps.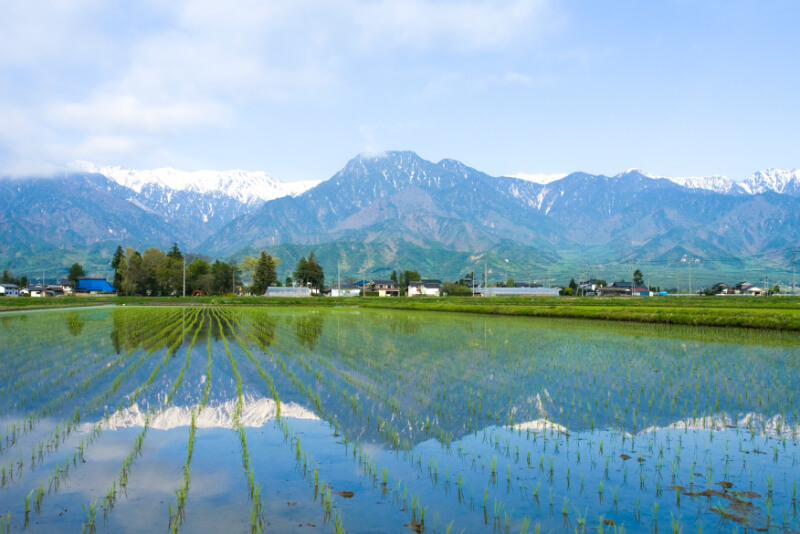 Early May is also when the Queen of the Marshes blooms, the elusive 'mizubasho' flower. The creamy white flower is much too beautiful for its English name, 'skunk cabbage'. We prefer the nickname 'marsh lily'. The remote Okususobana Nature Park in Nagano City's Kinasa district is a prime place to appreciate these delicate flowers, with a Mizubasho Festival taking place here every May.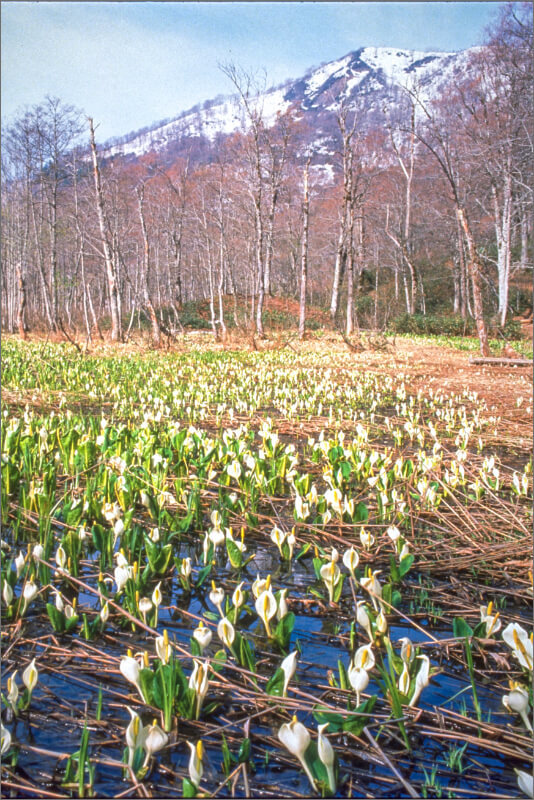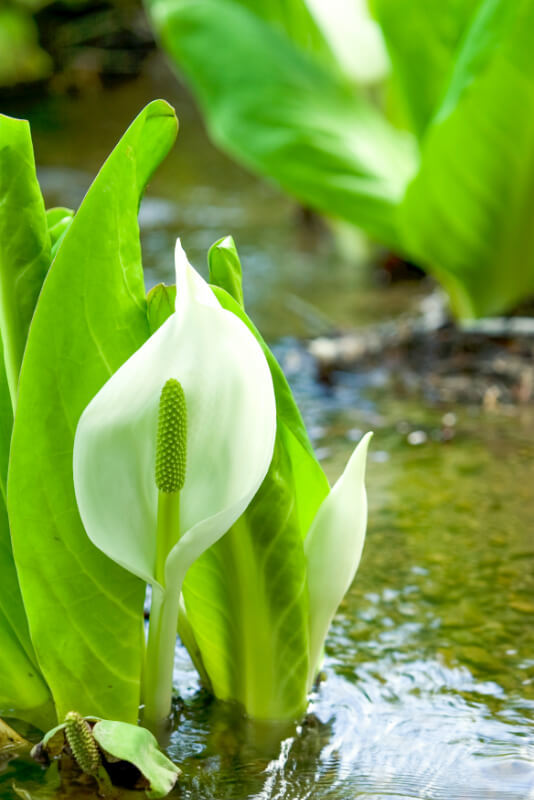 Festivals also abound throughout the prefecture during Golden Week. Two such events take advantage of springtime urge to start doing outdoor activities again. One is the Salt Road Festival that takes place along the Chikuni Trail in the Hakuba Valley. Participants are encouraged to dress in Edo-period outfits as they trace the path of the porters that carried salt up from the Sea of Japan to mountainous Nagano. The typical walking schedule is Otari Village on May 3rd, Hakuba Village on May 4th, and Omachi City on May 5th. You can walk all or just part as along the way you nibble the local food provided by villagers, as well as enjoy taiko drumming and other performances.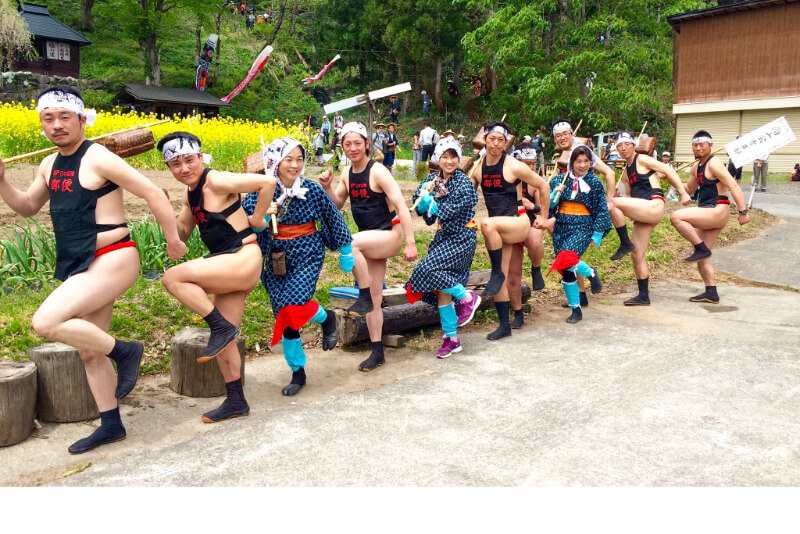 Another festival involving a procession on foot is the "Pulled by an Ox to Zenkoji Pilgrimage" walk from Onsen Town Togura-Kamiyamada to Nagano City's famous temple. The event honors the legend of an ox leading a lady from her home to Zenkoji Temple, making her realize the importance of spiritual faith. On the last day of the Golden Week holiday, 300 intrepid participants, wearing traditional straw 'kasa' hats, walk along the Chikuma River into Nagano City and on to the temple for a total of 30km. It's good for your karma plus you get the satisfaction of completing such a long trek.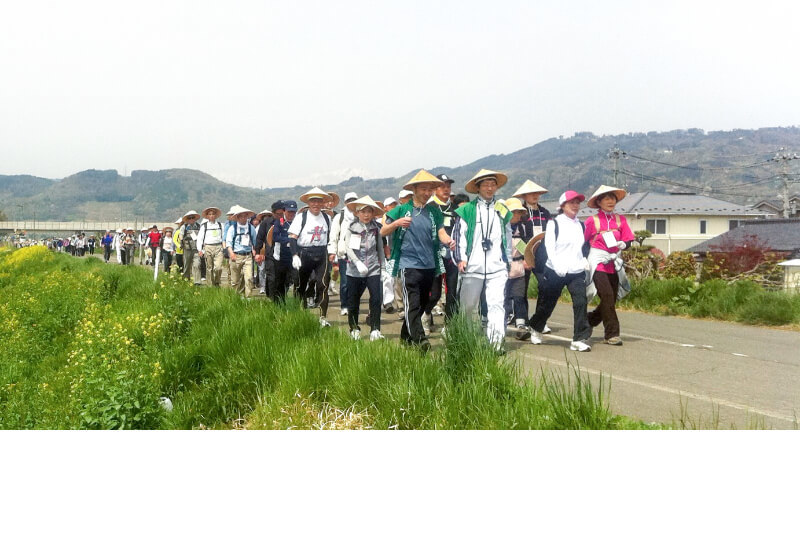 So next Golden Week, make the most out of your holiday and come to Nagano. There are major events and flower displays you won't want to miss as well as plenty of quiet places and smaller activities to enjoy.
Update:2019/12/04