What do you get when you spell Tokyo backwards?
A train trip into Japan's rural countryside.
What do you get when you spell Tokyo backwards?

Answer: the Oykot, a tourist train that runs through the Japanese countryside of Northern Nagano.

The Oykot runs along the Iiyama line from Nagano to Tokamachi Station, passing the Chikuma River, the Sekida mountains, and idyllic farms and rice paddies.
For just 520 yen on top of your regular train fare, you can enjoy the Oykot's elegant interior while gazing out over beautiful rural scenery.
Features of the Oykot Tourist Train
The train stops at seven stations on its journey between Nagano and Tokamachi, with two longer stops at Iiyama and Morimiyanohara Stations, where you can get off the train and browse local goods sold on the platforms.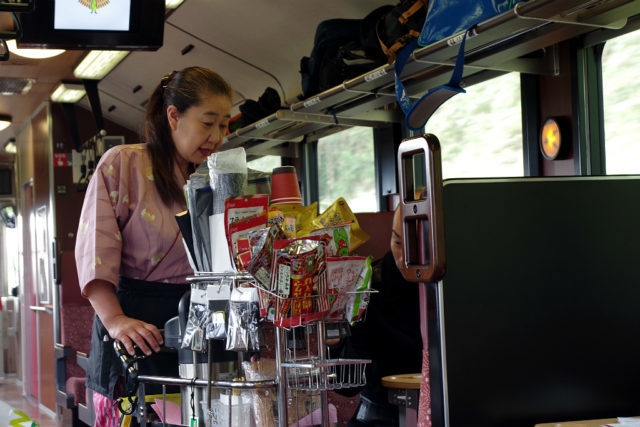 A pack of Nozawana pickles, a product of Nozawa Onsen, are included with your fare and make a perfect companion to a cold beer or sake. You can purchase snacks or drinks from one of the attendants on the train. Many local products are available, such as local beers or wines, or snacks made with Nagano-grown soba.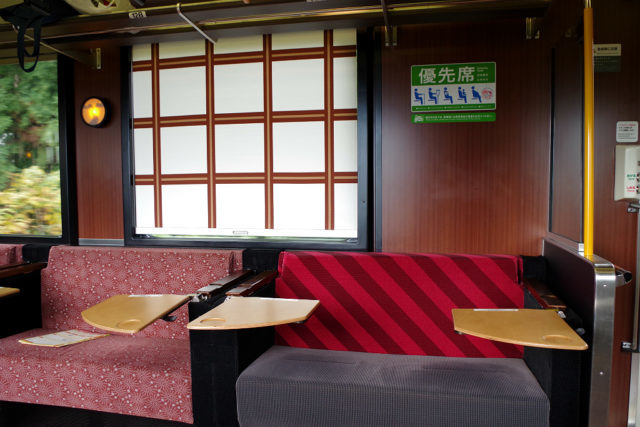 The train car is divided up into a series of 4-person and 2-person booths as well as some single seats on either side of the car. Tables are available at each seat so you can comfortably rest any drinks or snacks next to you during your journey. Whether you travel as a group, couple, or on your own, there are seating options that suit your needs.
Take the Oykot to Iiyama to Experience the Japanese Countryside
Iiyama is only 40 minutes away from Nagano City by train, and has plenty of activities to offer those who want to get away from the city and enjoy the quieter side of Japan. Take the Oykot to Iiyama and enjoy workshops and experiences in this natural setting.
Washi-making Experience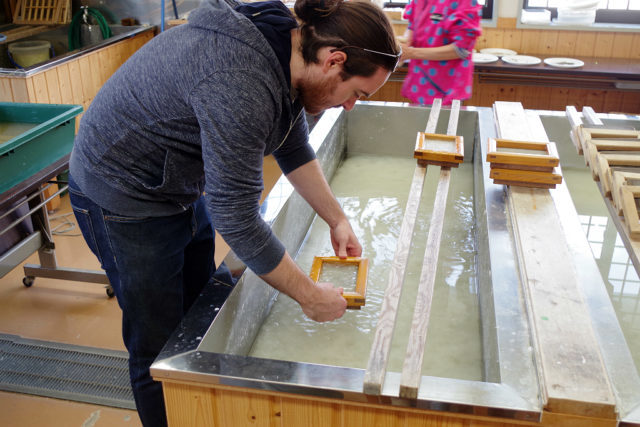 The Iiyama area is known for a type of Japanese paper called Uchiyama Washi. The paper is made from mulberry bark which is laid on snow and bleached during winter. An Uchiyama Washi master will teach you how to make a bookmark, postcard, or larger piece of paper to take home as a souvenir. The experience takes about 20 minutes to complete. See details here.
Mountain Biking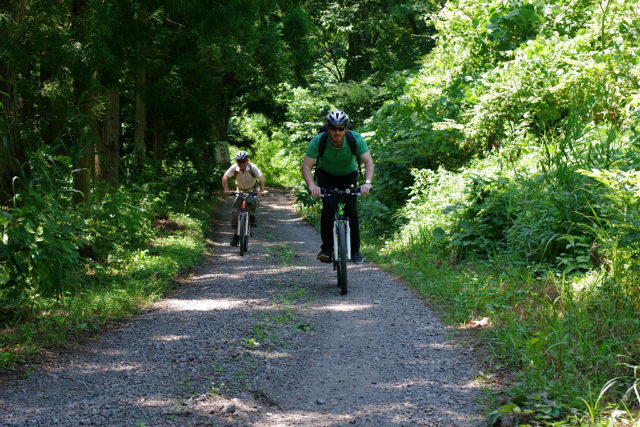 Above Iiyama City is Madarao Kogen, a popular winter destination for skiers and snowboarders. During summer and autumn, you can enjoy mountain biking and downhill tours from Mt. Madarao to the city center. The thrilling downhill sections are interspersed with insights into the lives of the local people. See details here.
Apple-picking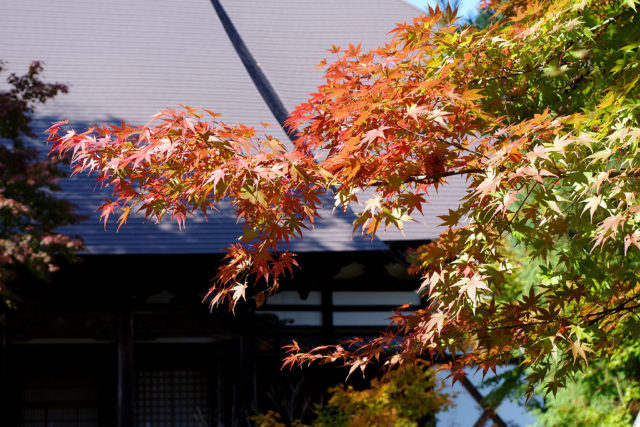 Iiyama is well-known for its many temples spread throughout its city center and is called "Snow Country's Little Kyoto." You can see many beautiful temples here, and they are especially beautiful during autumn when the leaves of the Japanese maples turn bright red. You can read more about the area's temple history on the Iiyama Ouendan website.
You can see more information about these activities on this blog post about outdoor activities in Iiyama.
Oykot Train Schedule
Dates that the Oykot Runs
The Oykot runs on specific weekends and holidays. See JR East's Oykot page for details.
Train Timetable
Nagano to Tokamachi
Tokamachi to Nagano
Nagano (Departure)
9:15
Tokamachi (Departure)
15:12
Kaesa
9:39
Tsunan
15:36
(Departure)
9:40
(Departure)
15:37
Iiyama
9:54
Morimiyanohara
15:49
(Departure)
10:10
(Departure)
16:08
Kita Iiyama
10:12
Togari Nozawa Onsen
16:49
(Departure)
10:13
(Departure)
16:51
Togari Nozawa Onsen
10:23
Kita Iiyama
16:59
(Departure)
10:24
(Departure)
17:00
Morimiyanohara
10:59
Iiyama
17:03
(Departure)
11:14
(Departure)
17:23
Tsunan
11:26
Kaesa
17:37
(Departure)
11:27
(Departure)
17:38
Tokamachi
11:50
Nagano
18:07
Update:2020/01/17