Access to Nagano
Despite being such a mountainous prefecture (its nickname is "The Roof of Japan"), access to Nagano is remarkably easy especially thanks to the shinkansen bullet train and series of automobile expressways built for the 1998 Winter Olympics. In an astonishingly quick 1hr. 25min. you can escape the concrete jungle of Tokyo and arrive at Nagano Station and be surrounded by mountains. For those without a JR Rail Pass and/or with more time than money, highway busses connect Japan's major metropolitan areas with most of Nagano's cities. From those hubs, the majority of the prefecture's destinations are accessible via local train or bus. Just be aware that here in the countryside, service can be infrequent so check the schedules ahead of time and plan accordingly. Hiring a rental car (make sure to specify snow tires for winter driving) or using taxis can add flexibility. If coming straight from Narita, Haneda or Central (Chubu) Airports, consider using an airport shuttle. And don't forget, Matsumoto Airport offers daily flights to/from Fukuoka and Sapporo.
Following is a guide to the many transportation options for Nagano Prefecture.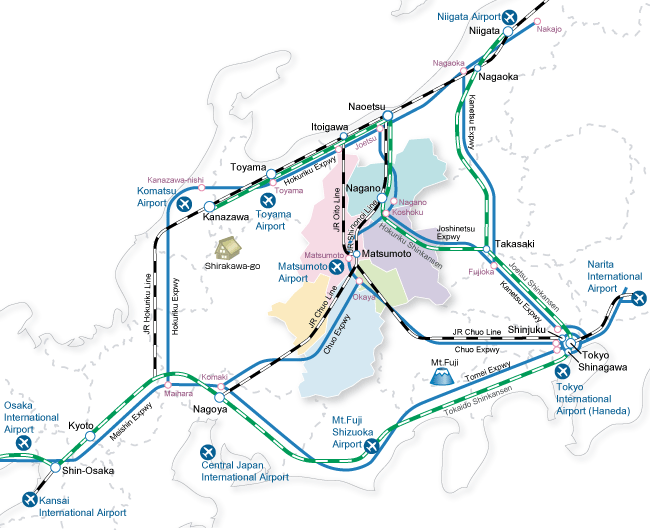 Trains
From Tokyo to Nagano

Features views of Mt. Asama near Karuizawa. Add'l departures incl. Ueno and Omiya; add'l stops are Karuizawa, Sakudaira, Ueda.
From Shinjuku(Tokyo) to Matsumoto

Passes the Mt. Fuji area. Add'l stops incl. Chino, Kami-Suwa, Shimo-Suwa, Okaya and Shiojiri.
From Nagoya to Nagano

Via the scenic Kiso River Valley then Matsumoto with views of the Northern Alps. Convenient for the Kiso Area. Slight delays common.
From Kanazawa to Nagano

Service began March, 2015. Add'l departures incl. Toyama and Joetsu Myoko; add'l stop at Iiyama.
Passes
Rail Passes can be a cost-effective way to see Japan. Besides the popular JR Rail Pass, there are two more that may be worth considering:
JR East Nagano Niigata Area Pass (17,000-18,000 yen) is a flexi-pass for 5 days of travel during a 14-day period and may be a good option for people visiting Nagano after Tokyo.
Nagano and Matsumoto Stations are covered as well destinations such as Hakuba, Karuizawa and Lake Suwa. A trip from Tokyo to Nagano, on to Matsumoto and back to Tokyo would practically pay for the pass.
The Tokyo-Osaka Hokuriku Arch Pass(24,000-25,000 yen) is good for 7-day consecutive days and covers travel on the Hokuriku Shinkansen (stops in Nagano Prefecture are Karuizawa, Sakudaira, Ueda, Nagano and Iiyama) between Tokyo and Kanazawa as well as service on to Kyoto and Osaka.
JR East Info Line: A wide range of JR information in English, Korean, and Chinese!
For inquiries 050-2016-1603. 10:00-18:00 (except during the year-end and New Year's holidays) Seat reservations are not accepted (you can reserve seats of JR East shinkansen and some limited express trains on this website).
Busses and Cars
From Hida-Takayama to Matsumoto,Kamikochi

From Tokyo to Nagano, Matsumoto, Hakuba, etc.

From Nagoya to Nagano, Matsumoto, Ina and Iida

From Kyoto, Osaka to Nagano, Matsumoto, etc.

Contact Information
Having a Japanese speaker call is suggested.
(Out-of-Prefecture)
Airport Shuttle
Chuo Taxi
Chuo Taxi offers an airport shuttle featuring greeters at Narita and Haneda Airports and drop off directly at your hotel or place of lodging in Nagano. Minimum 1 passenger and shuttle times are tailored around flight times. Reservations required 5 days in advance.
Sample prices
〈From Narita〉
12,900 yen for Nagano City / 13,900 yen for Matsumoto / 15,900 yen for Hakuba
〈From Haneda〉
11,900 yen for Nagano City / 12,900 yen for Matsumoto / 14,900 yen for Hakuba
Contact Chuo Taxi for details and to make a reservation, tel# 026-282-7777 or online. (Payment by credit card possible online.)
Alpico Taxi
Alpico Taxi also offers a shared shuttle service to and from Chubu Centrair Intl. Airport and Haneda Airport.
Matsumoto Airport