Cycling and Cherry Blossoms in Spring: the Alps Azumino Century Ride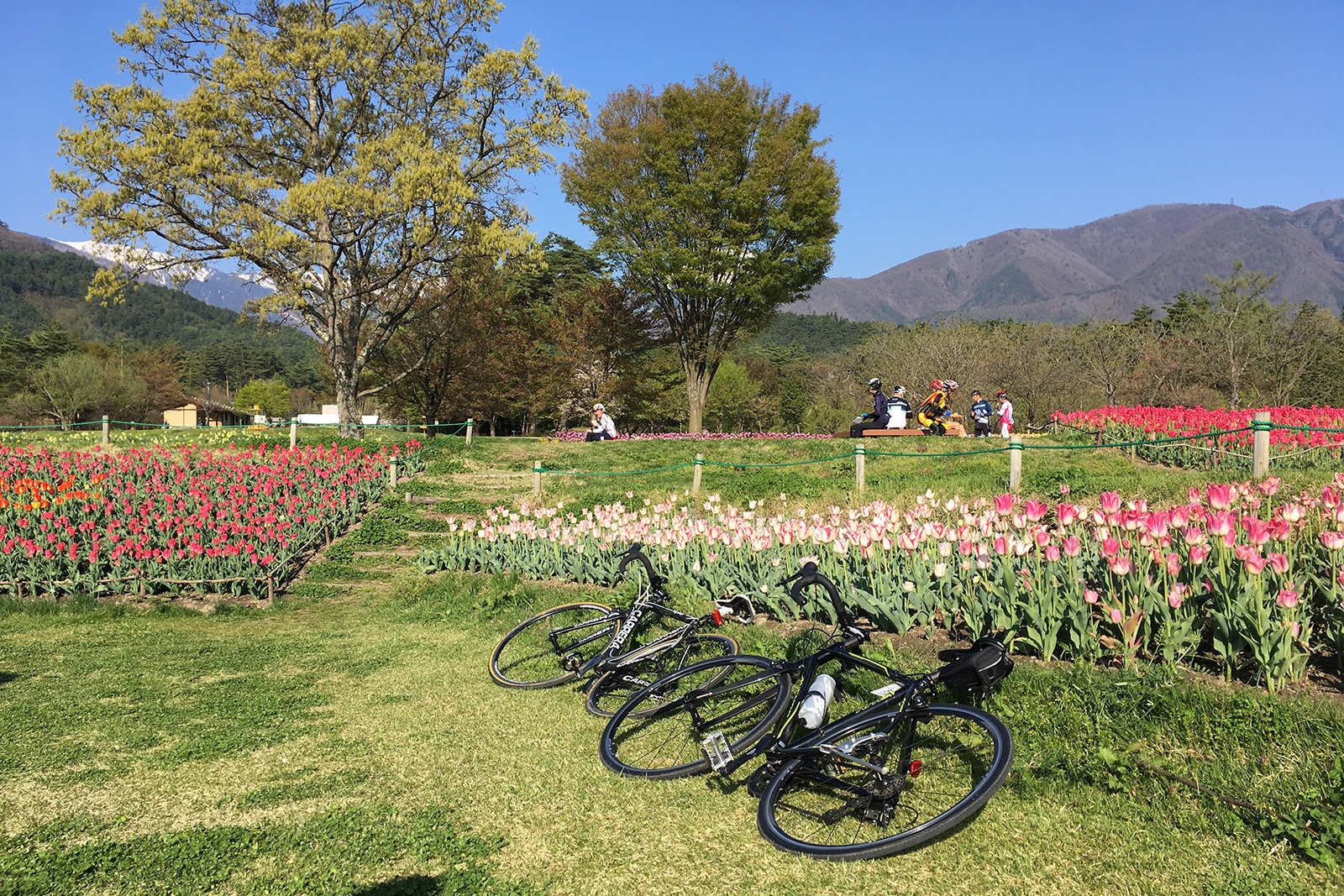 Cycle through fields of rice paddies and lanes of cherry blossom trees on your way from Azumino to Hakuba.
The 10th annual Alps Azumino Century Ride cycling event was held last weekend. Beginning in Azumino and extending as far as the ski resorts of Hakuba, the event course weaved through rice fields, orchards, and the lakes of Omachi. While the course was the same for all participants, there were different lengths available, ranging from 70km to 150km.

Somehow, I found myself participating in the race along with one of my coworkers.
On Saturday night, my coworker and I stayed in a small guesthouse outside of Shinshimashima station. It was just a 10-minute drive away from the event's starting point. On Sunday, we arrived at just before 5:00 in the morning, signed in, and readied our bikes. Participants in the 150km, 120km, and 100km courses began their events one after another, and our section set off at 6:10.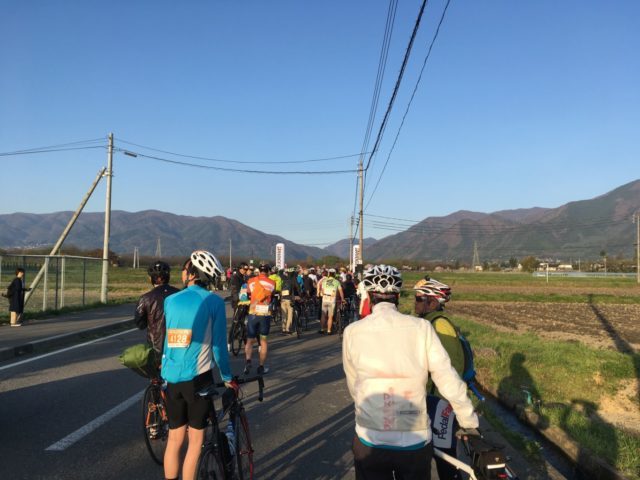 Even though I'm neither a morning person nor cyclist, I quickly understood why the event is so popular with cyclists around Japan. Right as we left the starting gate, we were greeted by rows of cherry trees in full bloom. As we rode through the streets we passed flowering apple orchards, hanamomo peach blossom trees, magnolias, and more. In the distance, we could see the snowy peaks of the Japanese Alps. The scenery of Nagano in spring was breathtaking, and 90% of the events participants traveled from outside the prefecture to see it.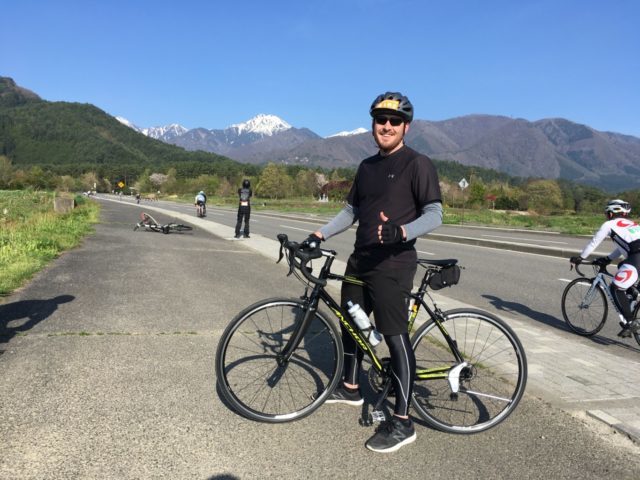 After climbing the hill in front of the Alps Azumino Park, we stopped at our first aid station. Surrounded by fields of tulips, racers took a short break and enjoyed rolls of bread filled with jam that were provided by local volunteers. There were bathrooms nearby and plenty of water to drink as well. Each aid station along the event course offered some local specialty: onigiri with green onion and miso, locally-brined pickles (all-you-can-eat!), cups of soba noodles, and more. The volunteers were incredibly friendly, and their hospitality gave me almost as much energy as the snacks they provided.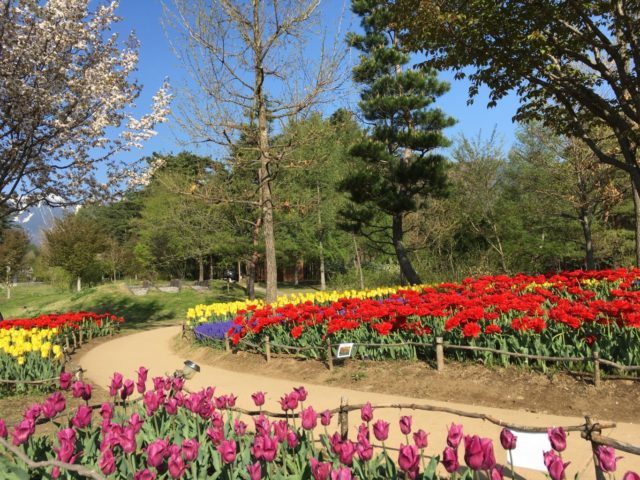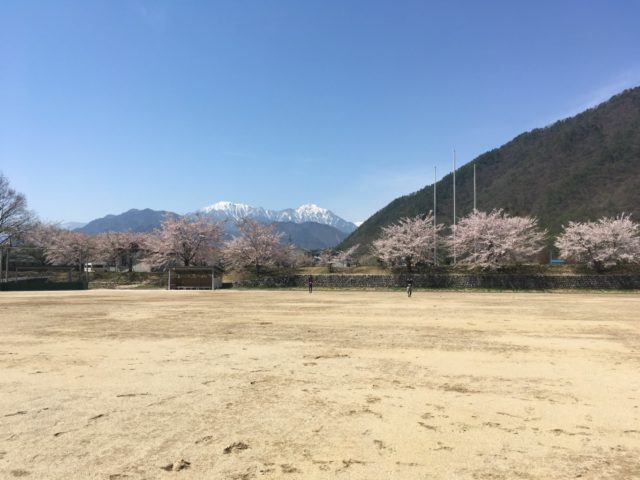 My favorite section of the course was along the lakes of Omachi on the way to Hakuba. It was an uphill battle to be sure, but the lakeside scenery and views of the approaching Japanese Alps was unforgettable. After passing through a tunnel at the top of a long hill, we entered the Hakuba Valley and saw the fields sprawl out before us at the foot of the mountains. We had a thrilling downhill ride into the town and enjoyed plenty of photo opportunities before reaching the station.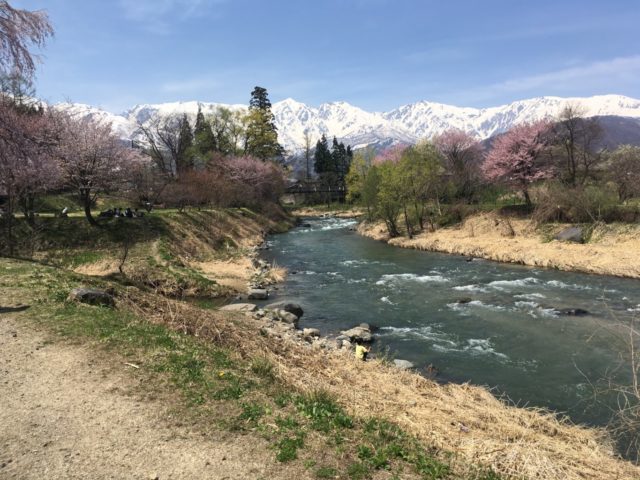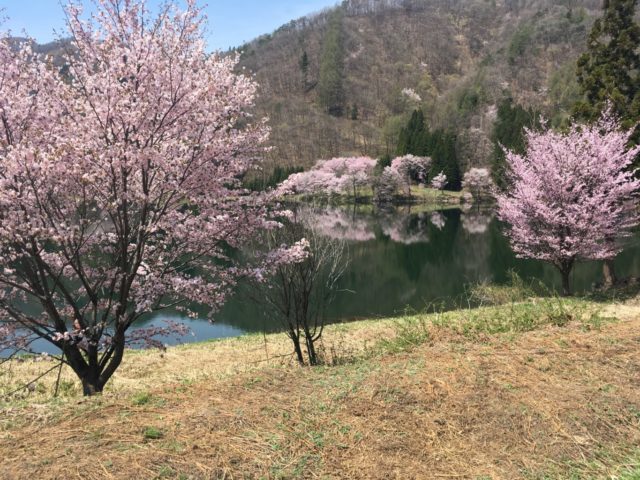 The 70km group met at the station at 12:30 and boarded a special cycling train, equipped with bike racks, back to Azumino.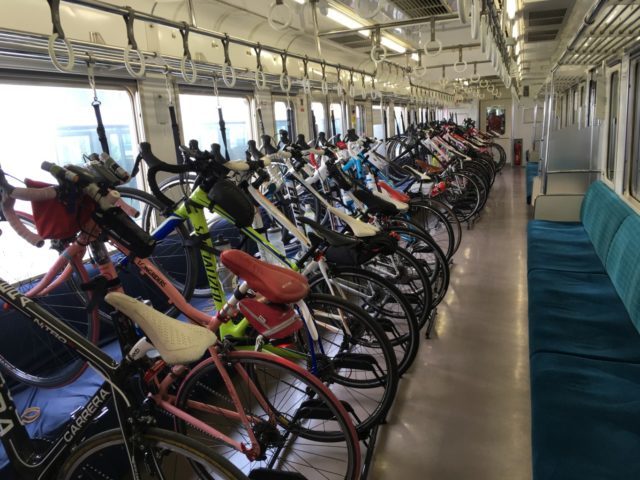 We arrived at Hitoichiba Station, about 7km away from our starting point, and rode through town to the finish line. We celebrated our triumph and ate some delicious omedetai-yaki.
While the event was physically demanding for a couch potato like me, it was an amazing way to see the Japanese countryside. We passed small villages, old temples, and plenty of farmland where people along the road waved and cheered us on. We saw beautiful mountain scenery and spring flowers. We ate energizing local foods from the aid stations along the course. And I'm sure we all felt a great sense of accomplishment when it was over.
I may not be a cyclist, but I look forward to participating again next year!
Update:2020/01/17