Fantastic Views from Mt. Chougatake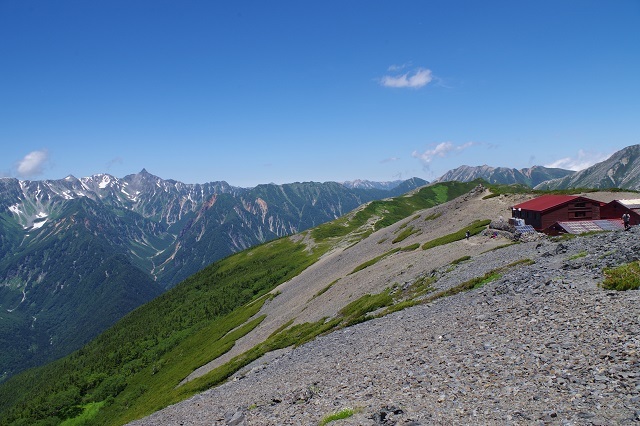 The Chougatake mountain hut facing Kamikochi and the Northern Alps.
The rainy season has ended and the time for hiking is officially here. Monday's weather was perfect, so a couple of us decided to climb Chougatake, a 2,677 meter high mountain in Azumino. Bordering Kamikochi to the Southeast, it has splendid views of the Northern Japanese Alps.
The hike begins at the Mitsumata trailhead[1] behind Alps Azumino National park[2]. The road to the trailhead is winding, narrow, and occasionally blocked by wild monkeys. From Mitsumata, the hike takes 6.5~7 hours (4 hours up, 2.5 hours down). The trail is well-maintained, and there are wooden stairs and railings that make many of the steeper parts quite manageable.
We started at the trailhead at about 8:15 in the morning, aiming to reach the peak by lunchtime. After filling out and submitting our hiking plan, we headed into the woods. The path was gentle and the sounds of the forest and running water were incredibly soothing. After 30 minutes we came to a resting spot with a gnarled tree covered in pointy rocks. A sign-post beside it read, "a tree that looks like Godzilla." It was a great conversation starter with passing hikers.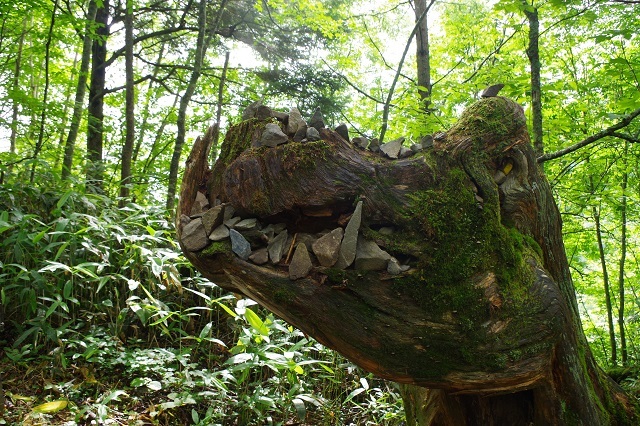 The trail became gradually steeper with an increasing number of wooden staircases. Around two hours into the hike we reached a comfortable clearing around a small stream. People were snacking, resting and washing their faces with the cold mountain water. The fog that had covered us sank, revealing the peak of Mt. Jonen above us. Energized by the view we marched back into the woods and began to scramble up the rocky path.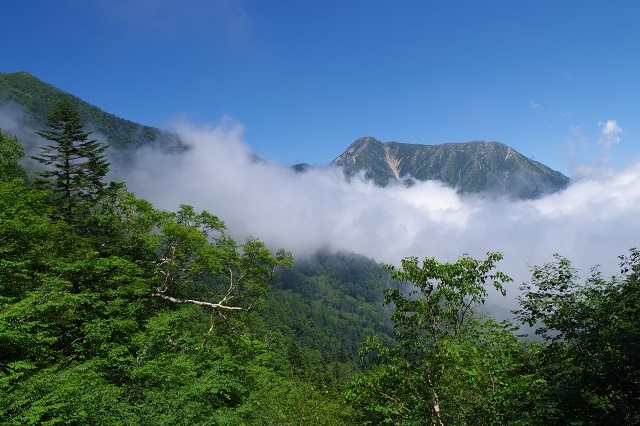 Despite our fatigue we managed to break through the woods in just three hours. A highland meadow spread out in front of us with a variety of pink, purple and white flowers. The path slowly flattened out, and as we passed a row of bushes we were struck by a majestic view of the Northern Japanese Alps. Snow still rested in the nooks of these 3000m-high mountains, and waterfalls cut swaths through verdant forests along their base. Looking south we saw Mt. Norikura and Mt. Ontake in the distance. Behind us towards Azumino was an uninterrupted sea of clouds.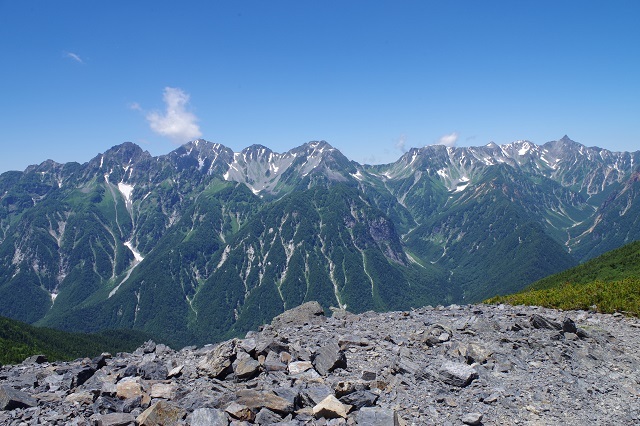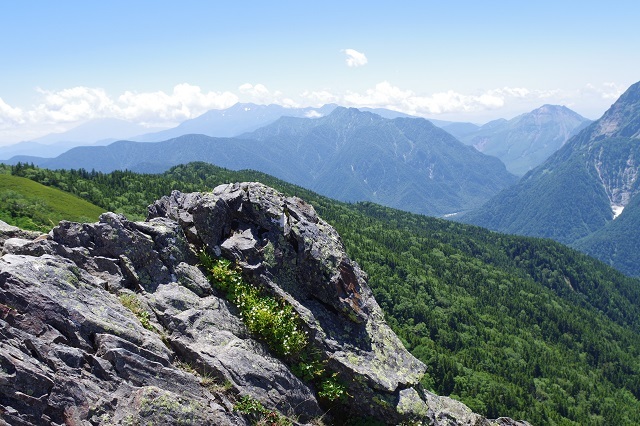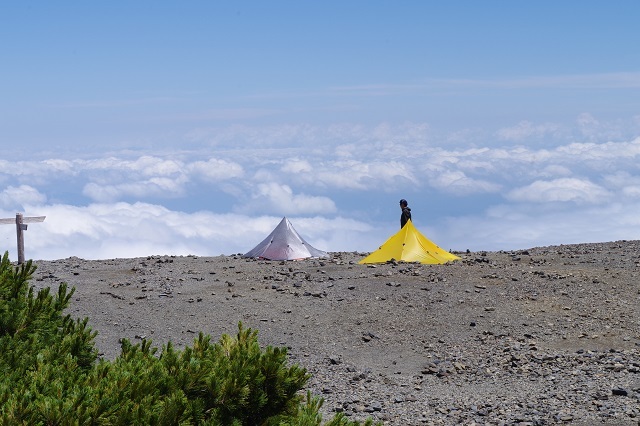 The return journey was relatively easy and we made it back down in two hours. The onsen at Holiday-no-Yu[3] was waiting for us with its indoor and outdoor baths, sauna, and Jacuzzis. It was the perfect way to end a day of hiking. As we drove north along the IC we saw the Northern Alps shrouded in clouds, as if the magnificent view had been reserved only for us.
Additional Information
Thanks for reading! If you're interested in other hikes in Nagano, take a look at some of blog posts below, or click the Mountains and Hiking Tag for a complete archive.
Mitsumata Trailhead
There is parking for about 25 cars here, and another parking lot further back to accommodate overflow. There is a men and women's bathroom here as well as running water for washing your gear. The walk to the trailhead and hiking itinerary station is about 10 minutes from here.
Alps Azumino National Park (Mt. Hotaka/Horigane)
At the base of Mt. Hotaka, this section of the Alps Azumino National park has beautiful views of the Northern Alps, cool forested areas and rolling meadows. Throughtout Spring and Summer a variety of colorful flowers bloom here, including lavender, day lilies and tulips. There are plenty of attractions for children, making this a great stop for families. See their homepage here (Japanese).
Entrance Fee: Adults/ 410 yen, Children/ 80 yen, Seniors/ 210 yen
Hours: Spring and Autumn/ 9:30~17:00, Summer/ 9:30~18:00, Winter/ 9:30~16:00
Holidays: Mondays
Location: 16 min. by car from the Azumino IC exit. (to Google Maps)
Holiday-no-Yu Hotel, Hotspring and Campsite
Holiday-no-Yu is about 10 minutes away from the Alps Azumino Park. From here, it's another 20 to 30 minutes to the Mitsumata trailhead. Room plans start at 4500 yen and up. The Onsen is free for hotel guests or 530 yen for campers or day visitors. See their official website (Japanese) here.
The Sunado Campsite is across the road from the hotel. Toilets, barbeque pits and the facilities of the hotel are open to campers. A campsite is 2580 yen per night. See more information here (Japanese).
Onsen Entrance Fee: Campers/Day Visitors 530 yen, Hotel Guests free
Hours: 10:00~21:30
Location: 20 min. from the Azumino IC exit. (to Google Maps)
Update:2020/01/17