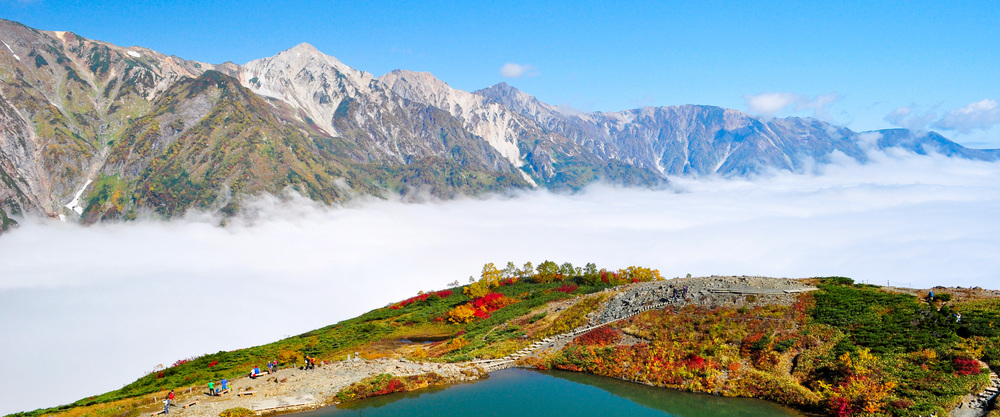 SPECIAL
Enjoying Nagano in Autumn
Snow-capped mountains blush with reddening leaves as delicious fruits and vegetables ripen, ready for harvest. Feast your eyes and stomach on the bounties of fall.
Autumn is one of the most beautiful times of the year in Nagano. Visitors from around the country flock to Nagano's highlands and mountainous areas for momiji-gari (autumn leaf-viewing). The many ropeways around the prefecture make it easy to see golden alpine scenery or hike around the Japanese Alps.
And who could forget the bounty of harvest season? Fresh apples and grapes are ready for the picking in idyllic orchards; fields of mature buckwheat become delicious, aromatic soba noodles; and chestnuts are baked into tantalizing desserts.
See some of our favorite scenic spots and places to go fruit-picking below!
Jump To
Best Places to see Autumn Colors in Nagano
From September through November, autumn colors slowly spread from the mountain tops to the valley and head south. Below are some of Nagano's best places to see autumn scenery. You can also check our Fall Colors Watch page for up-to-date reports.
Enjoy Nagano's Autumn Scenery by Ropeway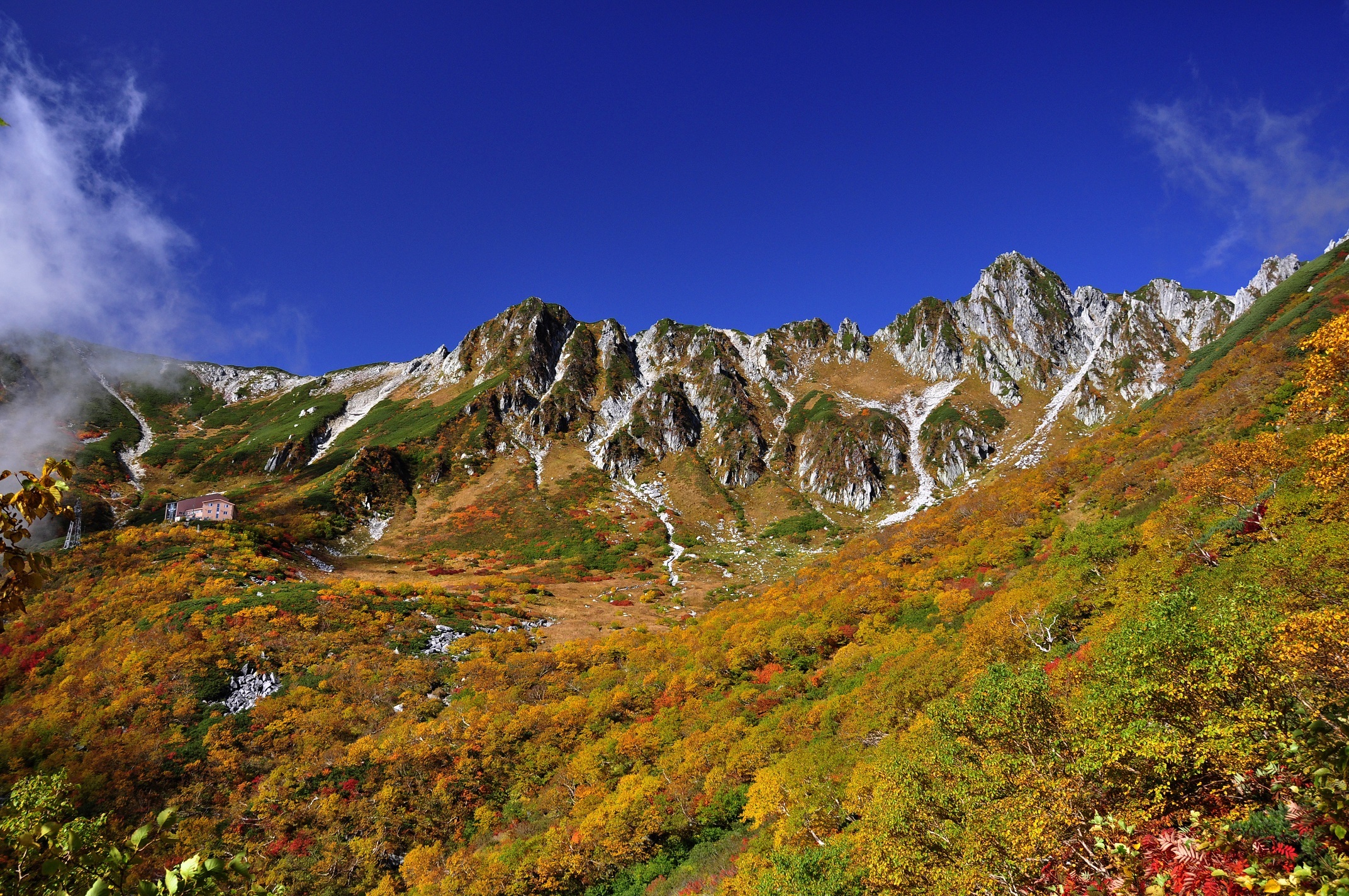 In early Autumn, you may have to look in the highest reaches of the mountains for the season's most vivid colors. While some hoof it up the mountains clad in hiking gear, not everyone has the time and energy to find autumn's splendor on foot. For the rest of us, reaching Nagano's highlands is as easy as riding one of its many ropeways.
Senjojiki Cirque
The steep slopes of the Senjojiki Cirque (pictured) were carved by glaciers some 20,000 years ago. During autumn, the cirque becomes a colorful tapestry interwoven with the red leaves of the mountain ash trees. Autumn colors can be seen from early September to early November.
Ryuo SORAterrace
Located at the top of Ryuoo Ski Park's ropeway lift is the 1,770m-high SORA terrace. It has stunning views of the surrounding mountains as well as unkai, a sea of clouds that appears below. Best colors are between late September to early October.
Hakuba Mountain Harbor
Hakuba Mountain Harbor sits on the top of Iwatake Snow Field in the Hakuba Valley. It is open in both winter and summer, offering excellent views of the Hakuba Sanzan mountains. The best time to visit, however, is during autumn, when its colored foliage begins to cascade down the mountains as snow crowns the mountaintops. At their peak, around mid- to late October, you can see Hakuba's famous three-tiered autumn scenery: white snow, red leaves, and green forest below.
Hike through Autumnal Woods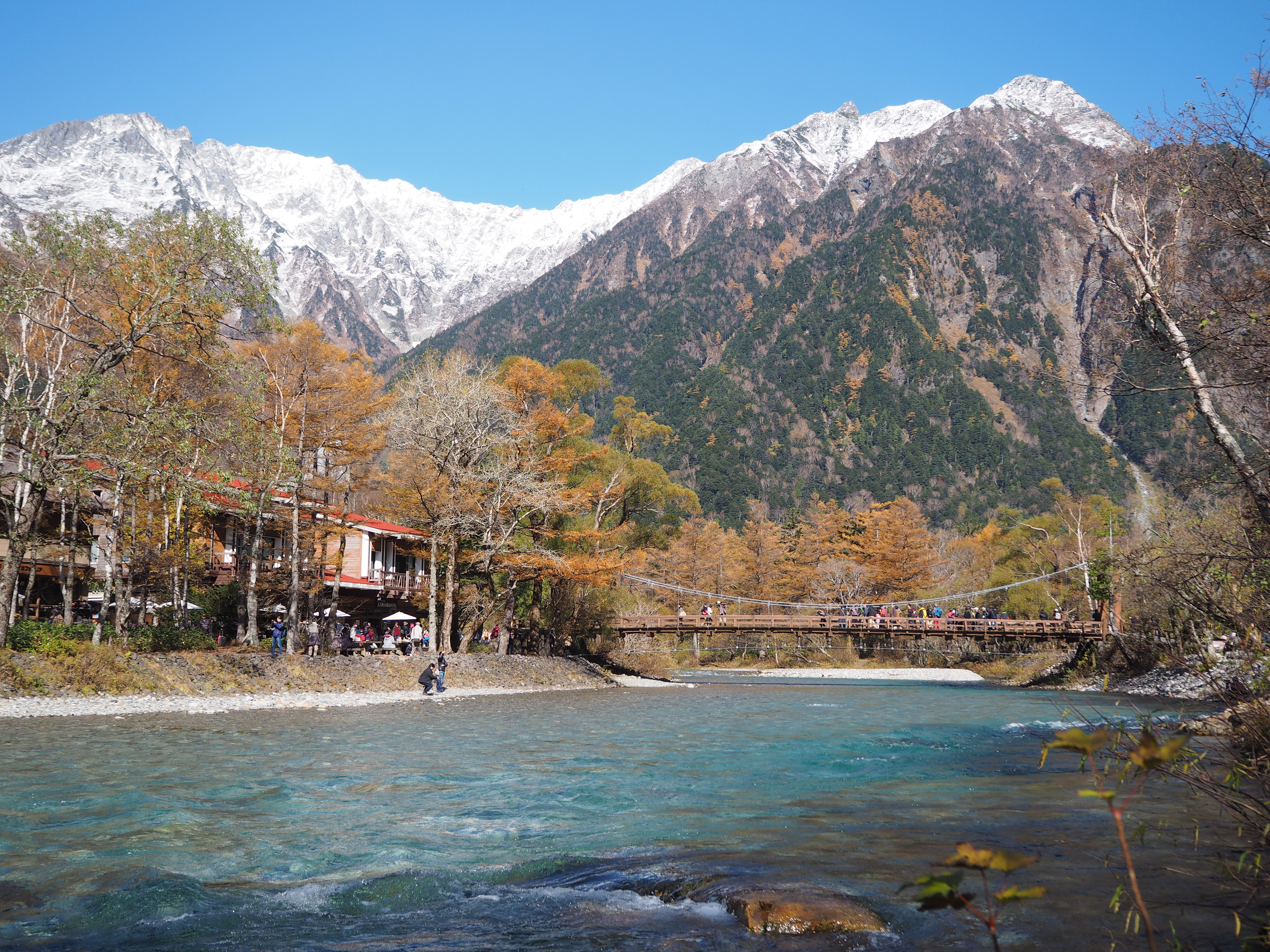 Nagano is a hiker's paradise with hundreds of well-maintained trails woven in its mountainous landscape, and autumn is one of the best times to go hiking in Japan. There are fewer bugs, the weather is cool and dry, and the vibrant foliage is just a delight to see.
Kamikochi
One of Japan's most popular autumn destinations. From the basin of Kamikochi (pictured), you can see gorgeous fall colors and the snow-capped Hotaka mountains from early to mid-October.
This pristine natural environment has hours upon hours of trails. You can walk along the riverside and visit the numerous ponds and marshes along the basin, or embark on a day hike to the top of nearby Mt. Yake. Wherever you go, excellent scenery will follow.
Akasawa Forest Park
In the Kiso Valley outside of Agematsu Town is the Akasawa Forest Park. These hinoki cypress woods were treasured for their logs, and are still used today in the rebuilding of Meiji Shrine. Walk or take the logging railroad that runs through the forest and take in its sights and fragrant aromas. Best colors are from late October to early November.
Happo Pond
While there aren't any trees along the hike up to Happo Pond, you can see plenty of autumn leaves on the surrounding mountains and in the valley below. In autumn, the peaks of the alps are powdered with fresh snow. Enjoy the contrast of white snow, golden leaves, and blue sky. Best colors are from late September to late October.
Get in Touch with Japan's Past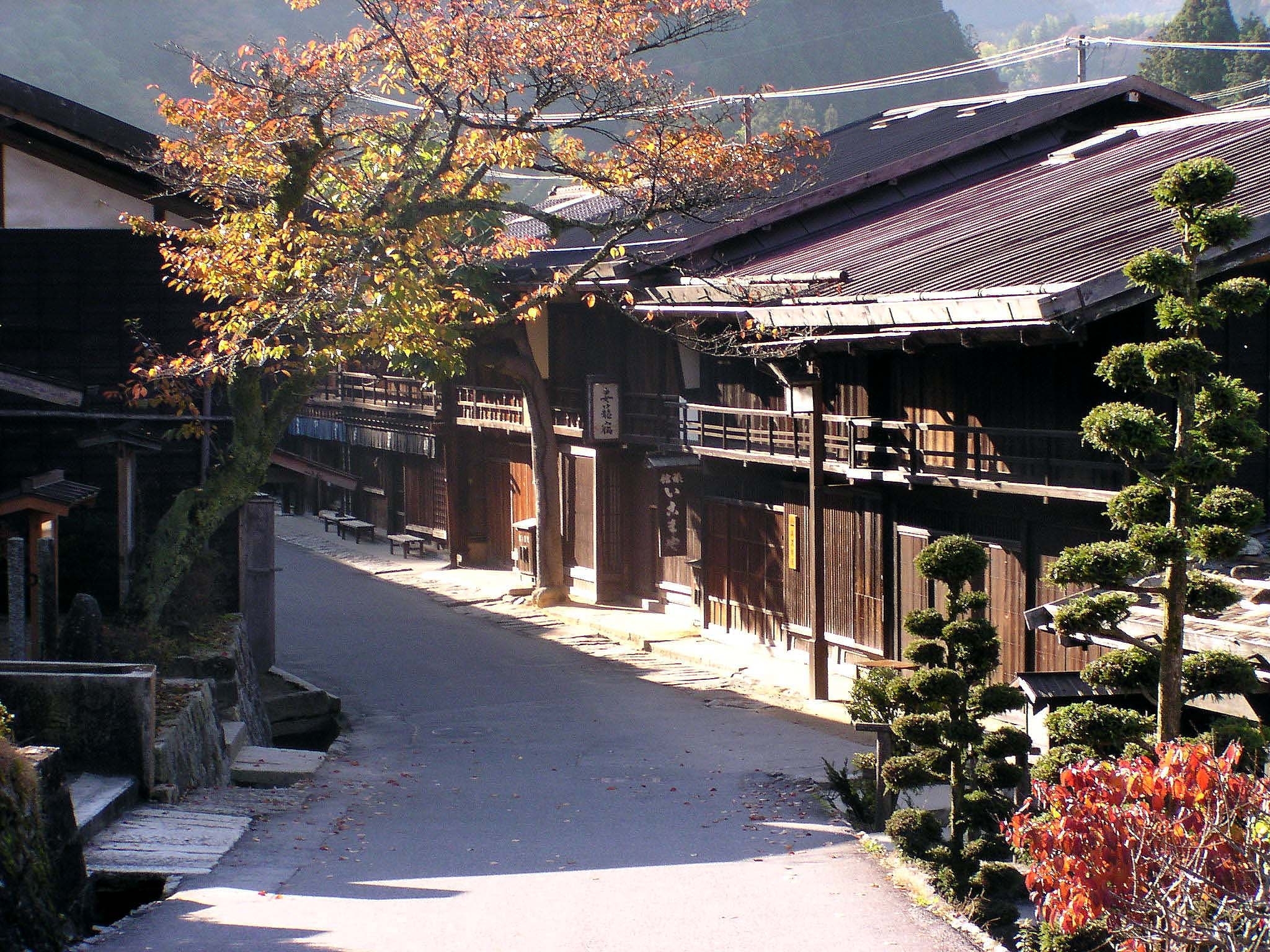 Ancient trails and towns remain nestled in Nagano's mountains, wholly untouched by the passage of time. The Nakasendo road, walked by travelers and merchants during the Edo period, is still shrouded in forest along with many of the towns that supported it. The shrines of Togakushi, once venerated and visited by mountain ascetics seeking enlightenment, sit still under the shade of giant cedars.
The vibrant colors of autumn bring these places to life. At the same time, an eerie silence hangs over them. Are these places part of the present, or have you slipped back into the past?
Togakushi
Located about 1,200 meters high, Togakushi's highlands are covered in pristine forest that were once home to ascetic monks and ninja. Togakushi's most popular sights include Kagami Pond and the Okusha Shrine. Best colors are between mid- and late October.
The Nakasendo
The Nakasendo runs through the Kiso Valley on its way from Kyoto to Tokyo. Of the 69 post towns along the road, 11 are located in Kiso. Narai, Kiso Fukushima, Tsumago, and Magome are particularly popular among tourists.
The Kiso Valley is narrow, steep, and covered in forest. From any of the post towns along the route, you can see walls of trees rising on either side of you. From early October to early November, the trees turn red and yellow, and colorful decorations, such as freshly harvested persimmons, are hung outside local inns and shops.
The Ruins of Komoro Castle at Komoro Kaikoen
Komoro Kaikoen is home to the remains of Komoro Castle. The keep no longer exists, but its maze-like stone walls still stand covered in moss. It is well-known for its cherry blossoms and autumn leaves as well. Best colors are between late October and mid- November.
Picking Apples and Grapes in Nagano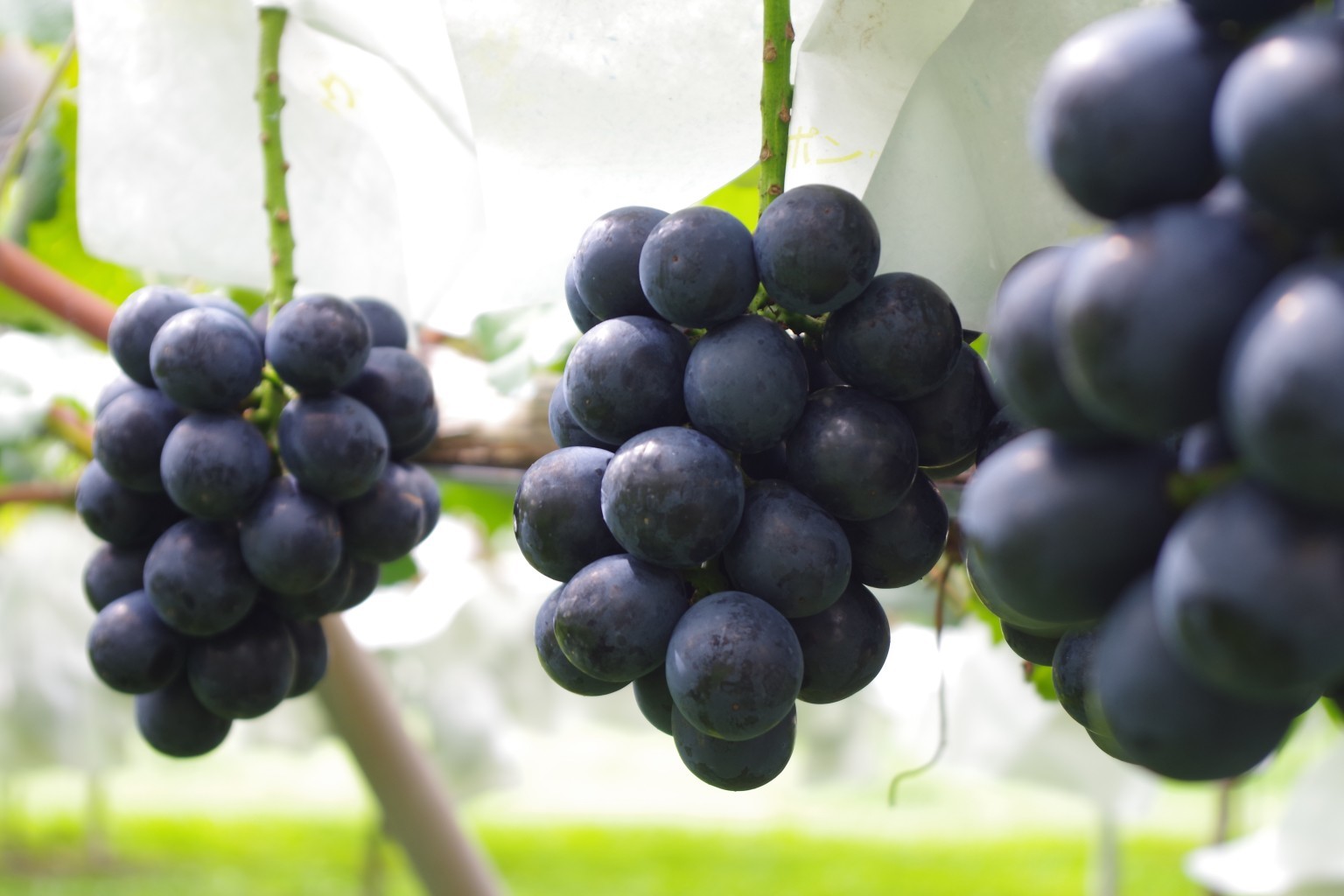 From August onward, grapes and apples are ripe for the picking in Nagano.
While you can buy these fruits in stores around the country, including in Nagano's own store in Ginza, there's nothing like taking a bite out of a juicy apple or grape pulled right off the vine.
Below are some of Go! Nagano's recommended orchards for picking grapes and apples:
Shiozaki Noen & NTA Farm
(Iiyama City, Northern Nagano)
Located just 7 minutes from Iiyama Station, Shiozaki Noen and NTA Farm offer grape and apple-picking during the autumn season. Both grape and apple-picking are all-you-can-eat (with no time limit!). For the former, you also receive a bunch of grapes to take home. For apple-picking, English-speaking guides help explain the apple-growing process, as well as aspects of daily life around the area and its sightseeing spots.
Hours:
8:30 to 16:30 (Apple-picking until 16:00)
Price:
Grape Picking (All-You-Can-Eat + One Bunch): 1,600 Yen
Apple Picking (All-You-Can-Eat): 1,100 Yen
Access: From JR Iiyama Station, a 7-minute walk.
See in Google Maps
Yamanouchi Area Farms
(Yamanouchi Town, Northern Nagano)
Yamanouchi, famous for its wonderful hot springs and the snow monkeys that soak in them, also has plentiful orchards where you can enjoy fruit-picking. Inquire about fruit-picking in Yamanouchi on their English website.
Hours:
Vary
Price:
Grape Picking (All-You-Can-Eat for 30 min.): 1,500 Yen
Apple Picking (All-You-Can-Eat for 30 min.): 1,000 Yen
Access: Varies by meeting location
See more information
Shinshu Fruitsland
(Nakano City, Northern Nagano)
Located near the Shinshu Nakano IC of the Joshin'etsu Expressway, this orchard is perfect for those traveling by car. It has a large souvenir shop with all kinds of fruit and fruit products like jam and cookies. You can pick apples or grapes in the orchards behind the shop.
Hours:
8:00 to 17:30
Price:
Grape Picking (All-You-Can-Eat for 30 min.): 1,000 Yen
Grape Picking (Pay Per Bunch): 500 Yen ea.
Apple Picking (All-You-Can-Eat): 440-490 Yen
Access: 14 minutes by taxi from Shinshu Nakano Station.
See in Google Maps
Crown Farm
(Chikuma City, Northern Nagano)
The owners of this farm near Togura Kamiyamada Onsen have been abroad and can speak English. They're happy to introduce their orchards to guests. You can see more details of Crown Farm on the Unique Nagano website.
Hours:
8:00 to 17:00
Price:
Apple Picking (All-You-Can-Eat + Six Apples): 1,300 Yen
Grape Picking (7~10 Variety Grape-Tasting + One Bunch): 2,000 Yen
Access: From Togura Station, 12 minutes by the #9 bus to Chishiki-ji. Orchard is due west.
See more information
Sorimachi Yuran-en
(Suzaka City, Northern Nagano)
This orchard in Suzaka City sits along the Fruits Line, 15 min. on foot from Kita-Suzaka Station. You can pick you own grapes or apples here and pay by the bunch (no all-you-can-eat plans).
Hours:
8:30 to 17:00
Price:
Varies by bunch
Access: From Kita-Suzaka Station, a 15 min. walk.
See in Google Maps
Hara Noen
(Shiojiri City, Central Nagano)
Shiojiri City is well known for its grapes and wineries. Hara Noen is a 15 min. walk or 6 min. taxi ride from Shiojiri Station and has many delicious varieties of grapes and apples to choose from. All of their fruit-picking plans are all-you-can-eat. For more varieties, you can upgrade your plan for a few hundred yen.
Hours:
9:00 to 18:00
Price:
Grape Picking (All-You-Can-Eat*): 550 Yen
Grape Picking (All-You-Can-Eat* + Kyoho variety):1,050 Yen
Apple Picking (All-You-Can-Eat*): 550 Yen
*For two or more varieties, add 300 Yen
Access: From Shoijiri Station, a 15 min. walk or a 6 min. taxi.
See in Google Maps
Miharashi Farm
(Ina City, Southern Nagano)
Miharashi Farm is an agricultural park with year-round activities for the family. In addition to its grape and apple-picking, it also has restaurants, hot springs, cooking lessons and workshops. See the Miharashi Farm page on our website for more details.
Hours:
9:00 to 19:00
Price:
Grape Picking (All-You-Can-Eat for 60 min.): 1,200 Yen
Apple Picking (All-You-Can-Eat for 60 min.): 600 Yen
Access: From Inashi Station, 15 minutes by taxi.
See more information
Note:
Picking Grapes
Nagano produces a wide variety of grapes. The most popular varieties include Kyoho, Shine Muscat, and Nagano's own Nagano Purple.
Many wine grapes are also grown around Nagano, contributing to local wineries and even wineries beyond prefectural borders.
The area of Nagano that is most well-known for its grape production is Shiojiri to the south of Matsumoto.
Japan has some of the world's most delicious apples. In addition to the internationally renowned fuji apple (pictured), there are many other delicious varieties grown in Japan's many orchards.
Nagano is the second largest producer of apples in Japan, and is home to several unique varieties, such as the ringo san-kyōdai, or three apple brothers: Akibae, Shinano Sweet, and Shinano Gold.
Akibae is a cross between two other Japanese varieties, Senshu and Tsugaru, and has a refreshing balance of sweet and tart flavors. Shinano Sweet is a cross between the Fuji and Tsugaru varieties, and, as the name implies, is very sweet and juicy. The last apple brother, Shinano Gold, is a cross between Senshu and Golden Delicious. Its golden peel sets it apart from the rest and has an especially crisp texture with slight acidity.