Nagano Day Trip to Obuse and Togakushi
Early autumn colors on Togakushi's Okusha Shrine trail
Nagano City is surrounded by idyllic, countryside spots with a wealth of culture and nature.
Bountiful fields grow along the Chikuma River, ancient shrines lay in the shadow of great mountains, and sleepy towns embrace historical sites tied to some of Japan's greatest warrior clans—there is so much to see but often too little time!
Some of Nagano City's most popular sightseeing spots include National Treasure Zenkoji Temple, the shrines of Togakushi, and the museums and cafes in the charming town of Obuse. It just so happens that a new sightseeing bus visits all of these, making sightseeing around Nagano City easier than ever.
A Day-Trip Bus Tour to Obuse, Togakushi, and Zenkoji Temple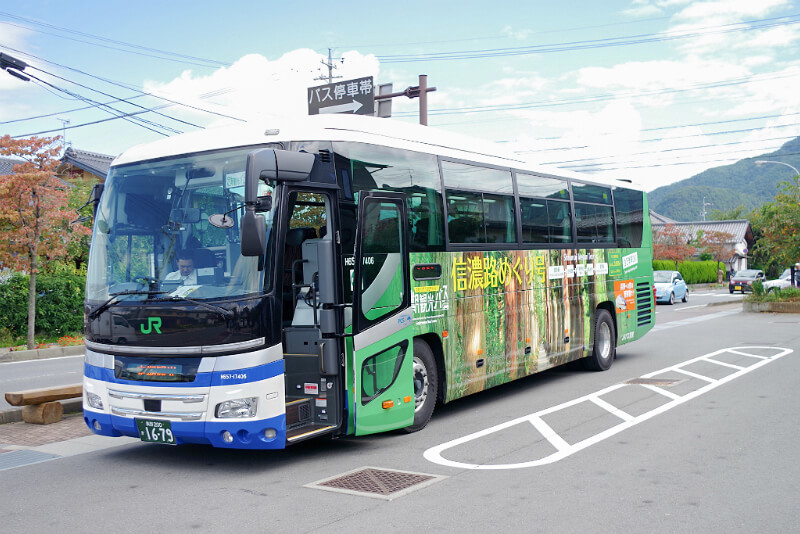 The Shinanoji Meguri Tour bus, operated by JR East, now connects Obuse, Togakushi, and Zenkoji, giving visitors an opportunity to see some of the area's best sights all in one day. For 3,500 yen (or 1,750 yen for children), you can visit these sights hassle-free while enjoying onboard Wi-Fi and English commentary for each sightseeing spot.
Schedule
The Zenkoji, Obuse & Togakushi 1-Day Tour Bus operates between April 5th to November 30th, 2019. It runs mainly on weekends and holidays, and every day between October 4th to November 17th. See the official pamphlet here.
Early Course (Zenkoji-Obuse-Togakushi)
Nagano Station
(Hotel Metropolitan)
Zenkoji Temple
Obuse
Togakushi
Nagano Station
(Hotel Metropolitan)
9:00
9:10 to 10:40
11:20 to 13:30
14:40 to 16:25
17:30
Regular Course (Obuse-Togakushi-Zenkoji)
Nagano Station
(Hotel Metropolitan)
Obuse
Togakushi Okusha Shrine
Zenkoji Temple*
Nagano Station*
(Hotel Metropolitan)
10:30
11:20 to 13:30
14:40 to 16:25
17:20
17:30
Shinanoji Meguri Tour benefits
Onboard Wi-Fi
Sake brewery tour at Matsubaya Honten with free sake tasting (only in Japanese)
English language commentary about Obuse, Togakushi, and Zenkoji Temple
Price
Early Zenkoji Course
Adults/4,000 yen, Children/2,000 yen
Regular Course
Adults/3,500 yen, Children/1,750 yen
Reservations
Reservations can be made online at Japan Expressway Bus Net or in person at the front desk of Hotel Metropolitan Nagano (attached to Nagano Station). As long as seats are available, you can also purchase tickets from the hotel's front desk on the same day.
How to Make the Best of Your Tour Around Nagano
Obuse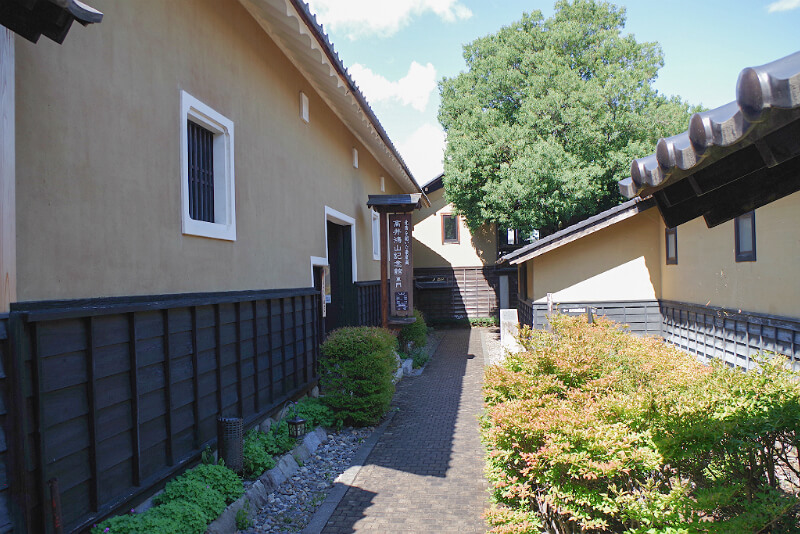 Located on the bank of the Chikuma River, the town of Obuse prospered in trade and agriculture. It is surrounded by chestnut fields, apple orchards and rice paddies, and brimming with earthen-walled storehouses, chic cafes and restaurants. It is also home to several sake breweries: Matsubaya and Masuichi.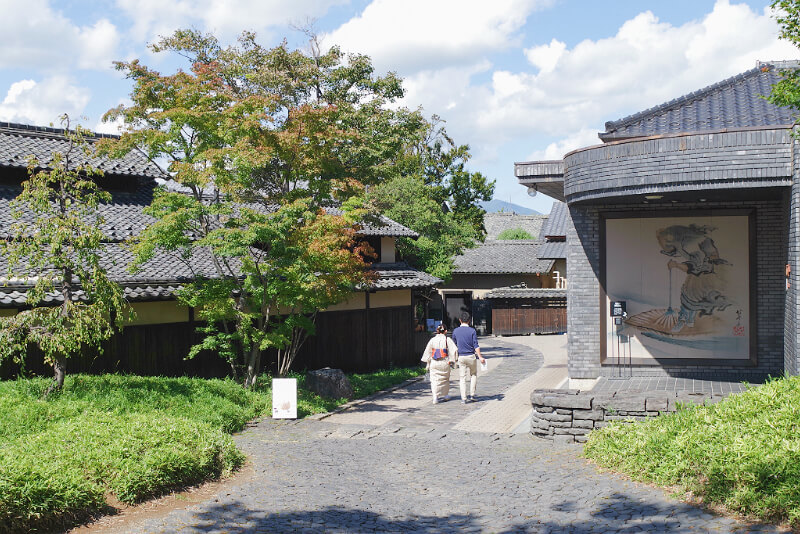 Some of Obuse's most popular sights include the Hokusai Museum and Gansho-in Temple. The artist Katsushika Hokusai, known for his work "the Great Wave off Kanagawa," spent many years in Obuse during his later years, and the Hokusai Museum was built in his honor. Gansho-in Temple features one of his largest and most vibrant works, the "Happo Nirami Ho'oh-zu."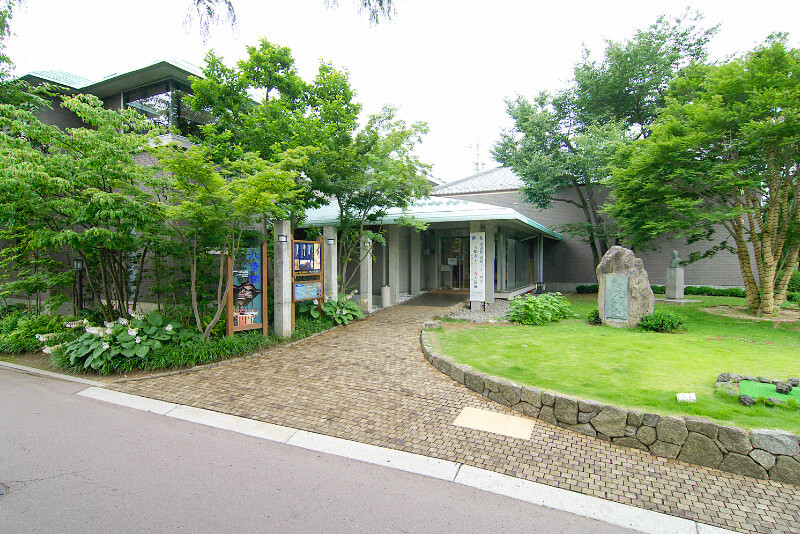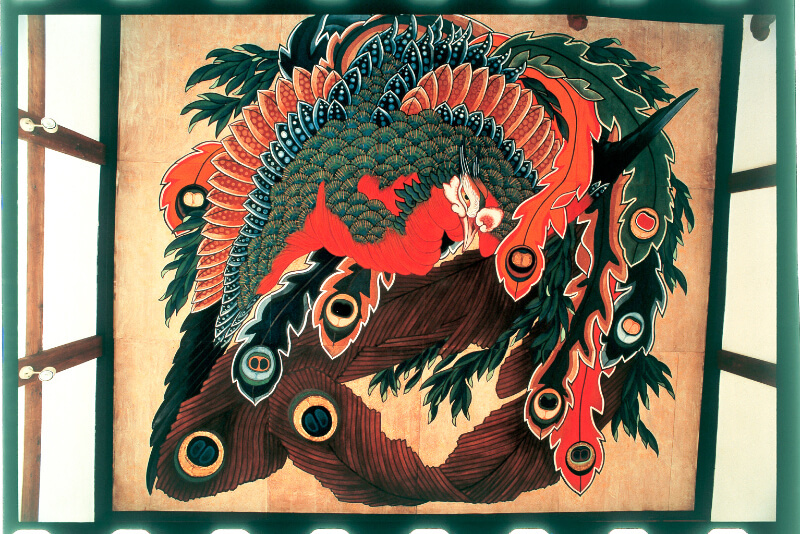 The tour includes just over two hours in Obuse, the first 45 minutes of which are spent at the Matsubaya Sake Brewery. One of their staff gives a tour of their facilities while using a tablet to show videos of the sake-making process in action. There is also a free sake tasting included at the end of the tour, which includes five types of sake from strong karakuchi to floral daiginjo varieties.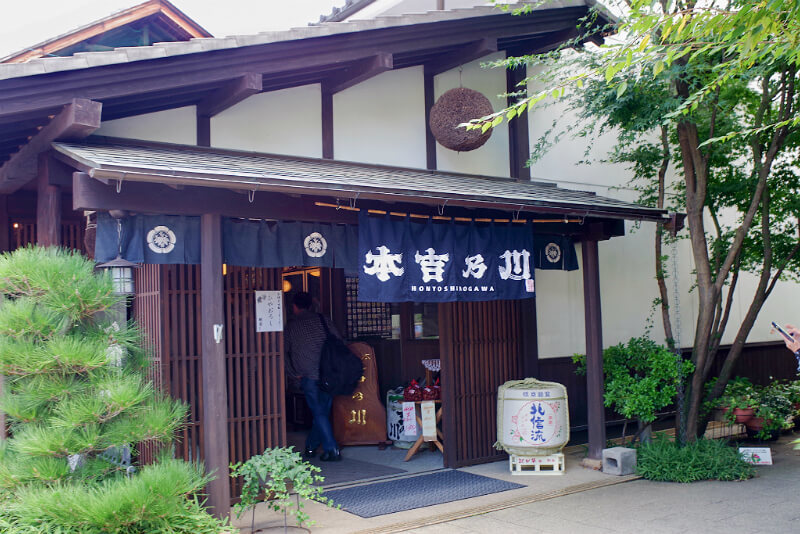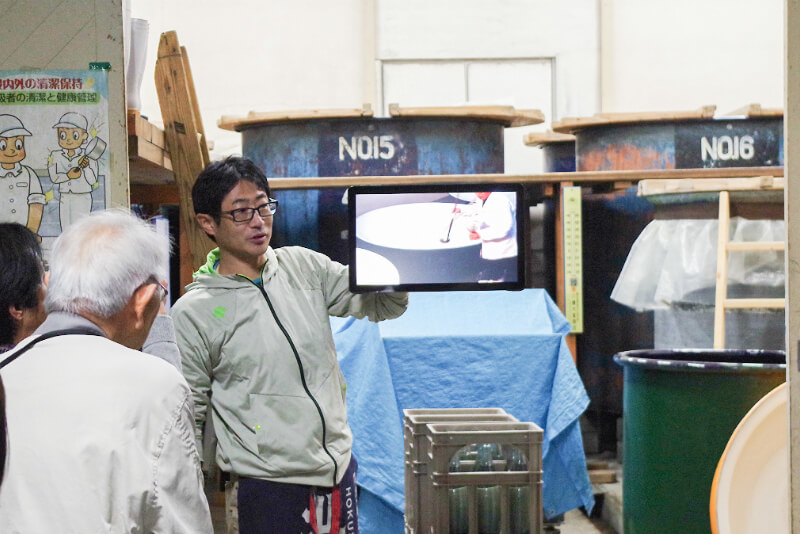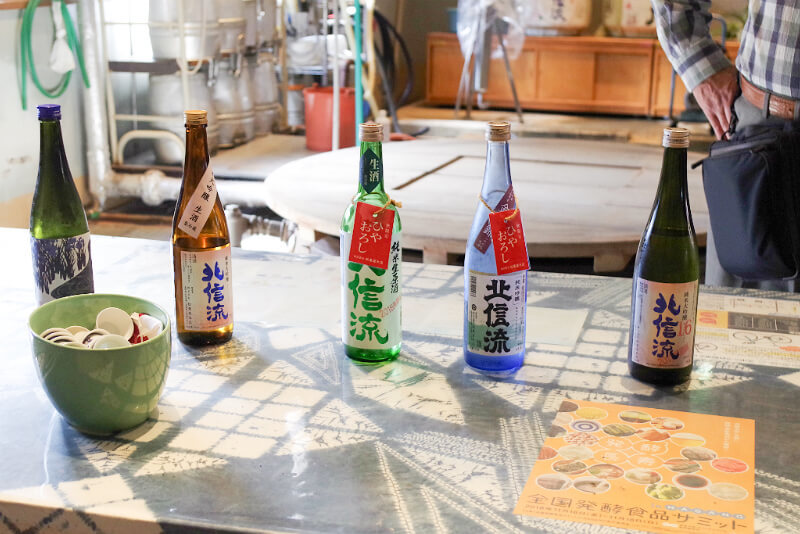 After sake-tasting, I recommend getting lunch at one of Obuse's many restaurants. Soba is a popular item around Nagano, and Obuse's Tomikura-ke restaurant comes highly recommended; try the Kurumi Soba (cold soba served with walnut paste). If you'd like to try one of Obuse's specialties, head to Sakurai Kanseido Sensekitei for some Kuri Okowa (chestnut rice). For dessert, visit Patisserie Rond-to or Café Sakura for chestnut-flavored sweets.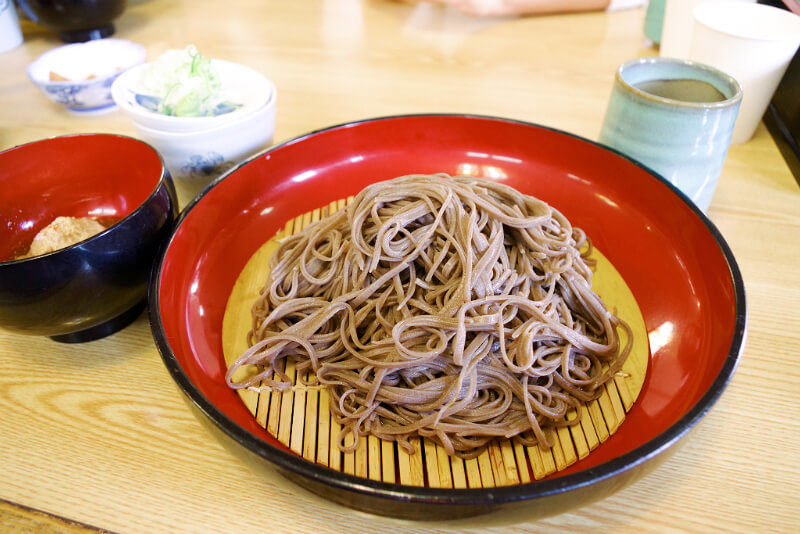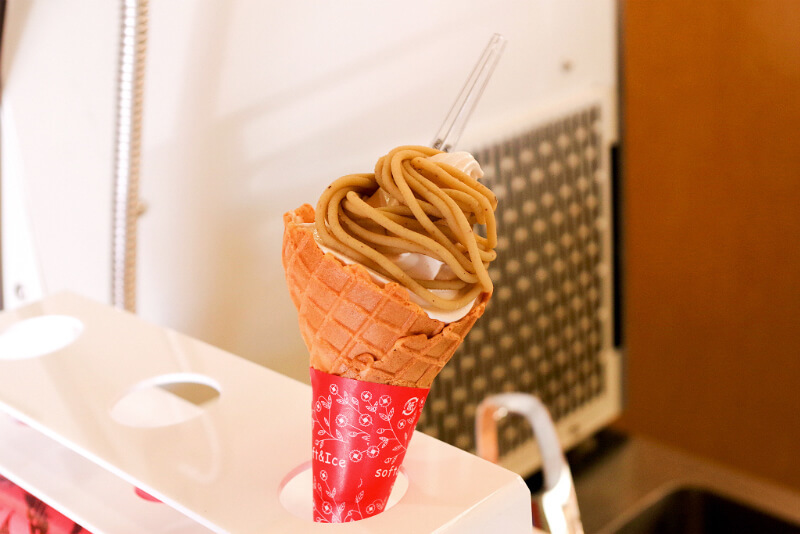 Togakushi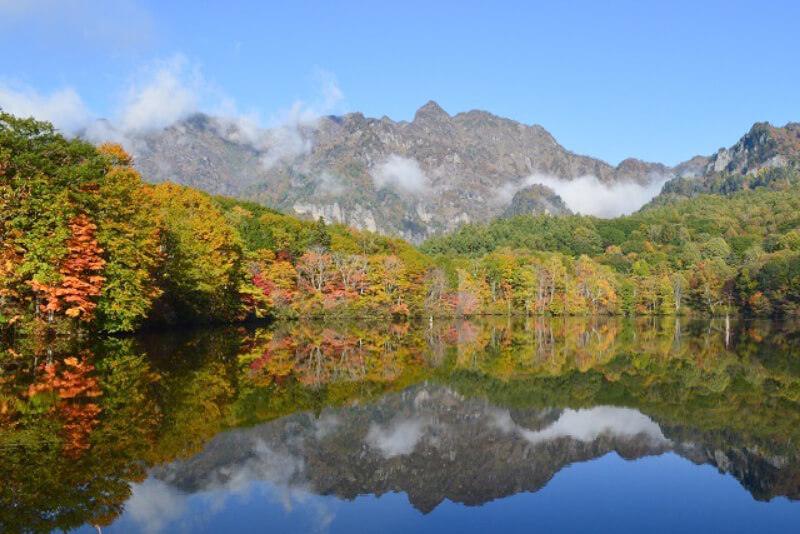 The forested plateau of Togakushi is home to the five Shinto shrines whose origins can be found in Japanese legend: Mt. Togakushi, for which the area is named, is said to be the remnant of a large stone door that the sun goddess Amaterasu hid behind after a feud with her brother. After the goddess was found, the door was thrown high into the sky, landing in modern day Nagano prefecture. Even now, the area around the mountain still buzzes with spiritual energy.
The Okusha Shrine sits at the base of the mountain, accessible only by a 30 to 40-minute walk through the woods of Togakushi. The trail is wide, relatively flat and dotted with relics of its past, such as small stone shrines, moss-covered monuments and other holy places marked by shimenawa ropes.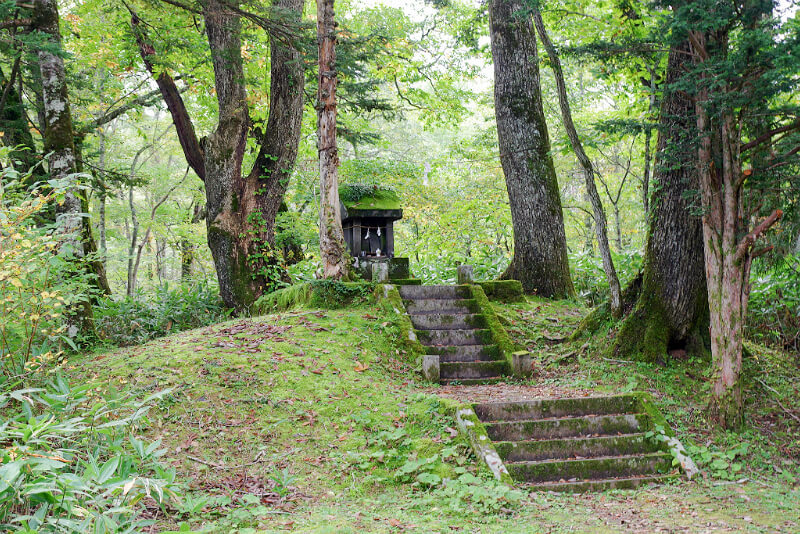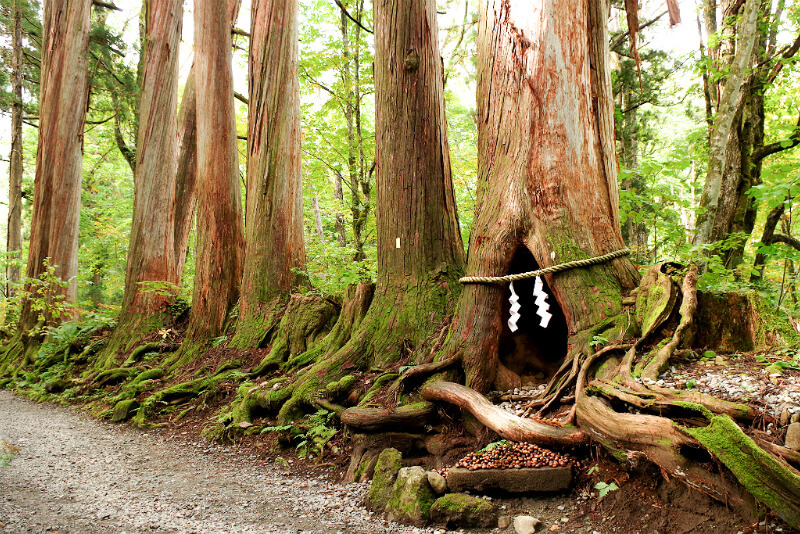 Halfway along the trail is the Zuishinmon gate, its vibrant red paint contrasting with the greenery of the forest. Beyond it are rows of 400-year-old giant cedar trees for which the trail is most famous. Another 15 minutes along the path and you reach the Kuzuryu and Okusha shrines. Make a prayer while gazing at lofty Mt. Togakushi directly above.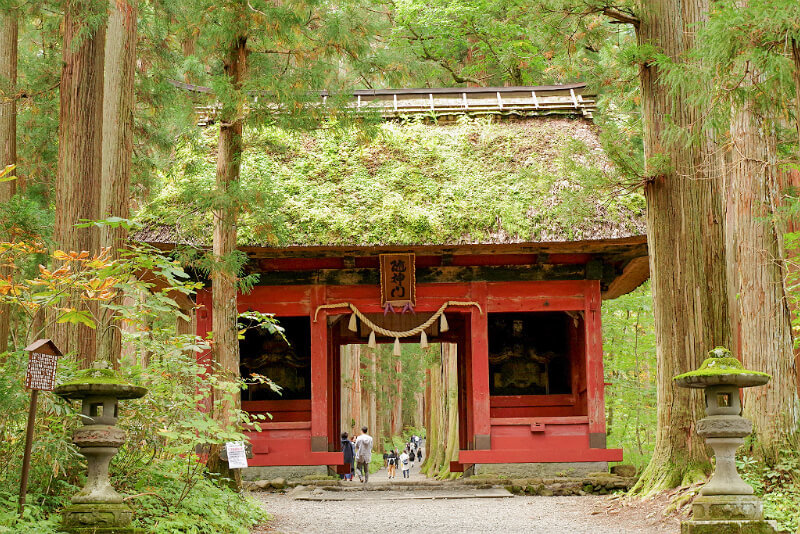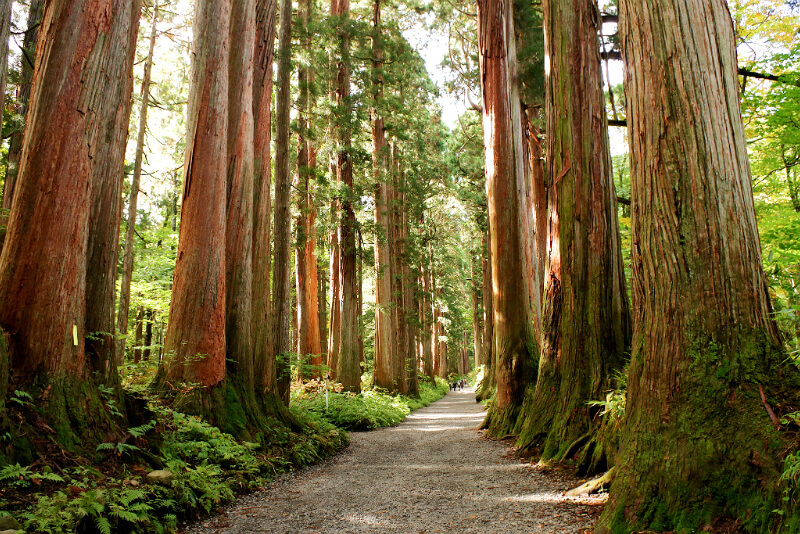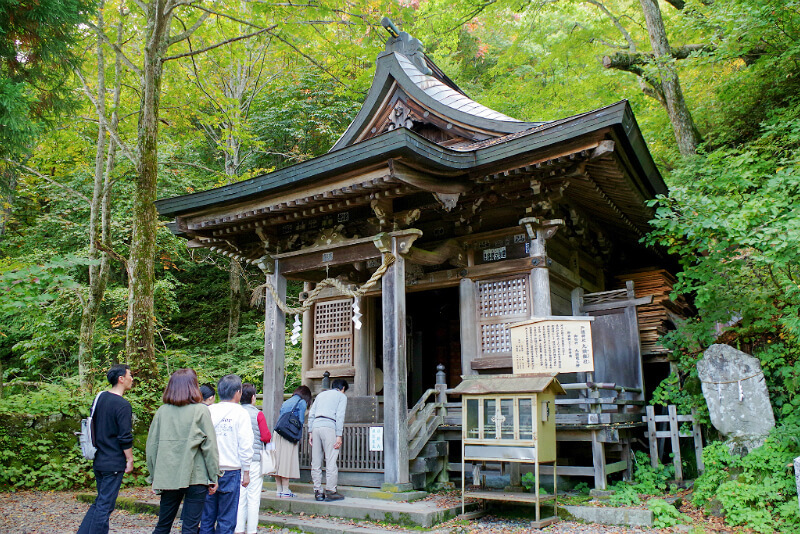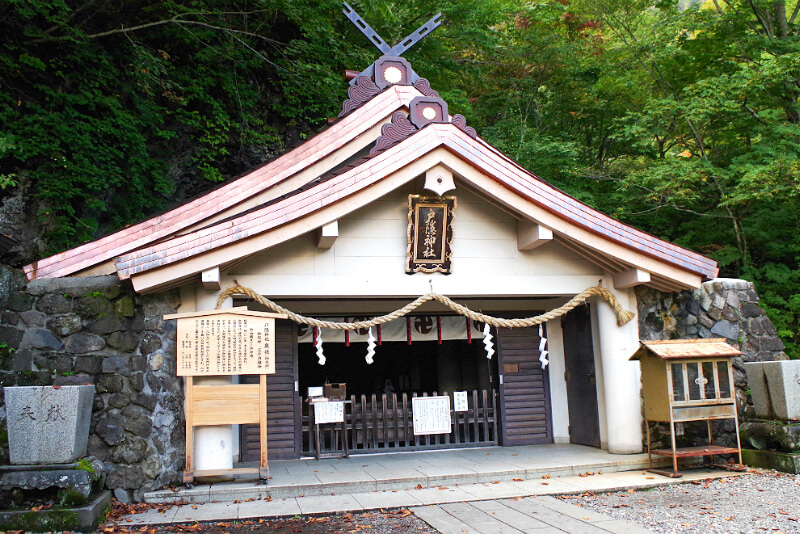 The walk to and from the Okusha Shrine will take between an hour to an hour and twenty minutes to complete, which is just about all the time there is in Togakushi. If you power through the walk in record time, you can take a coffee break or enjoy some delicious soft-serve at Okusha no Chaya next to the parking lot. The bus departs at 15:40 for Zenkoji Temple.
Zenkoji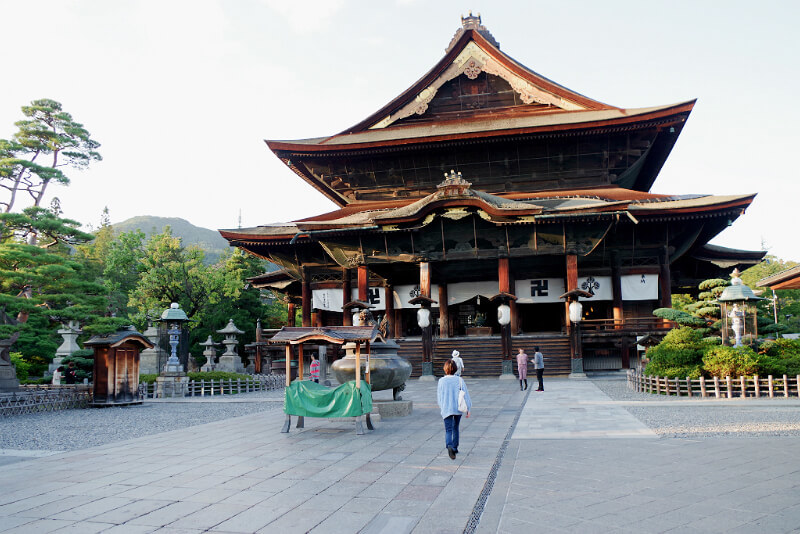 Built over 1,400 years ago, Zenkoji Temple is considered a center of Buddhist faith in Eastern Japan. It sits atop a hill in downtown Nagano City, separated from the secular world by a multitude of Buddhist lodges, smaller temples, and imposing wooden gates. In Zenkoji's large main hall is enshrined the oldest Buddhist icon in all of Japan, which was brought here from India during the 7th century.
There is a saying that all people should visit Zenkoji at least once in their lives. Pilgrims from all around Japan have traveled here seeking prayer and enlightenment. On the Niomon Gate outside of the temple, you can see the worn straw sandals of travelers tied to the lattices on either side of the entrance.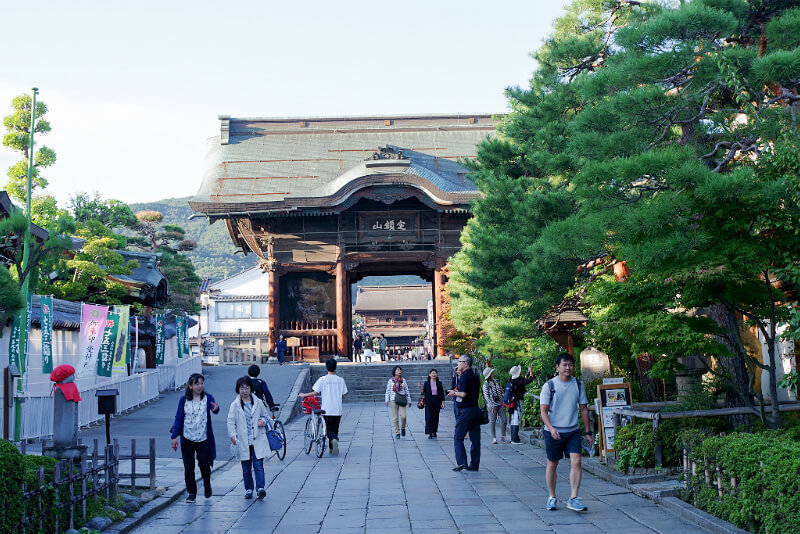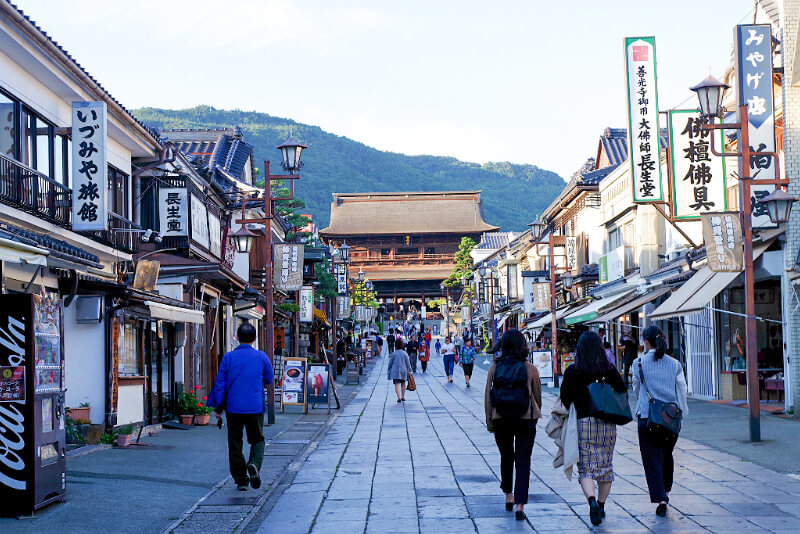 Zenkoji's ancient halls are full of history, but may be missed by the untrained eye. Getting a tour of the temple by an expert guide will give you a richer and more meaningful experience. Best of all, the Bonsho-no-Kai offers tours in English, German, French and Chinese—all for free! You can contact them by email or phone (see this page on the Zenkoji website for details).
The bus arrives at Zenkoji at 16:30 and stops at the Daimon bus stop. You can get off here to visit Zenkoji, or stay on the bus to head directly to Nagano Station. If you choose to get off at Zenkoji, you can return to the station later on foot or by local bus.
Update:2020/01/17