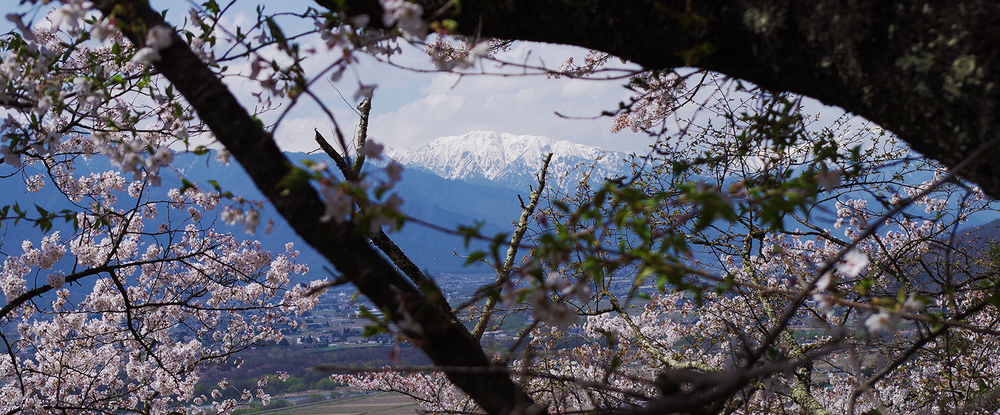 SPECIAL
Snowy Mountains and Cherry Blossoms in Spring
Spring is on the way and that means just one thing: Nagano will soon be covered in cherry blossoms and vibrant flowers! From Nagano's historical sightseeing spots to its wide-open nature parks, you can see brilliant displays of spring around the prefecture from late March to May.
At the same time, snow still covers the mountain tops. The combination of spring flowers and the snow-capped Japanese Alps is one of the highlights of the season. If you'd like to see the snow up close, there are several highland areas such as the Tateyama Kurobe Alpine Route where you can enjoy towering snow walls and carpets of white.
Cherry Blossoms in Nagano
Cherry Blossoms and the Japanese Alps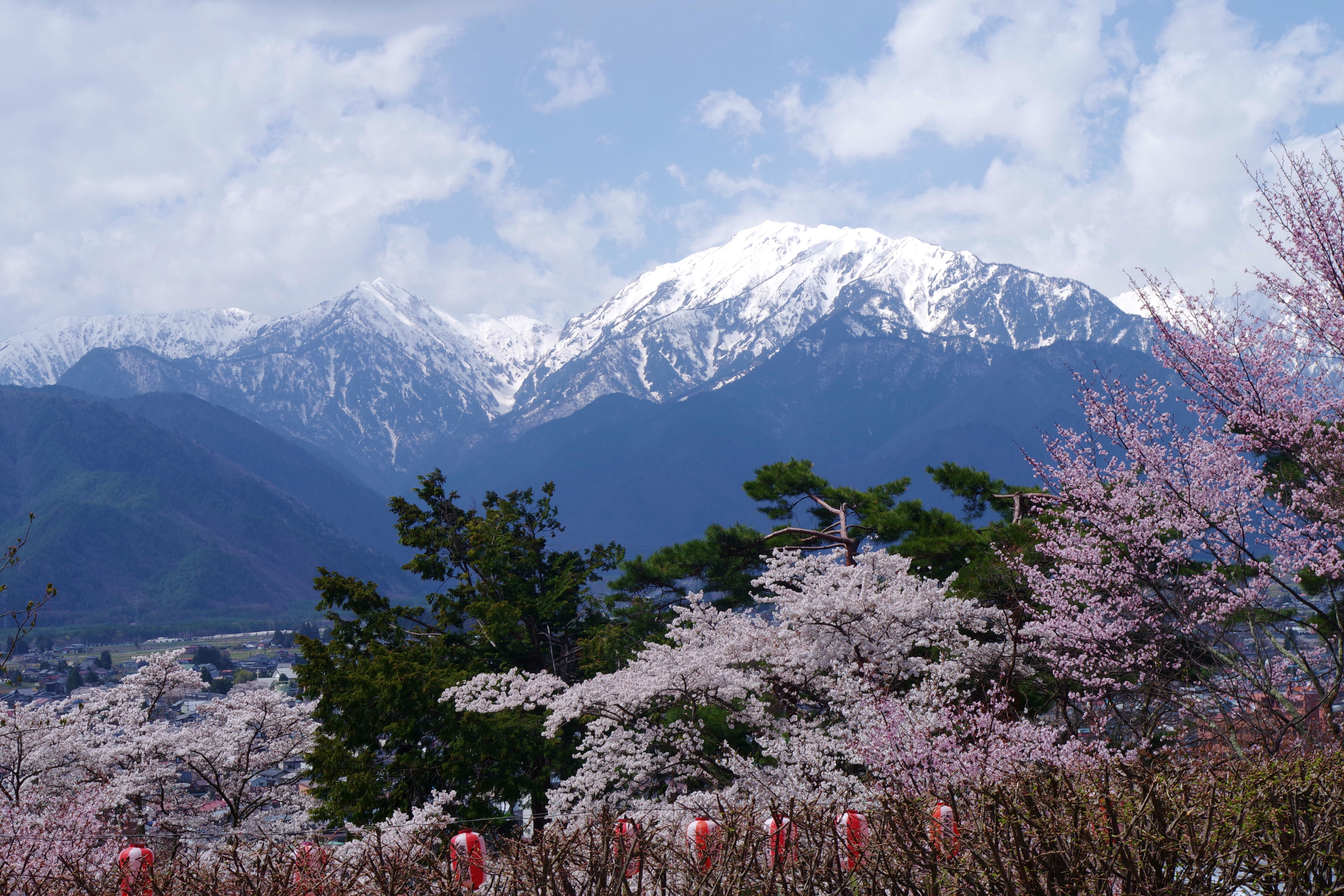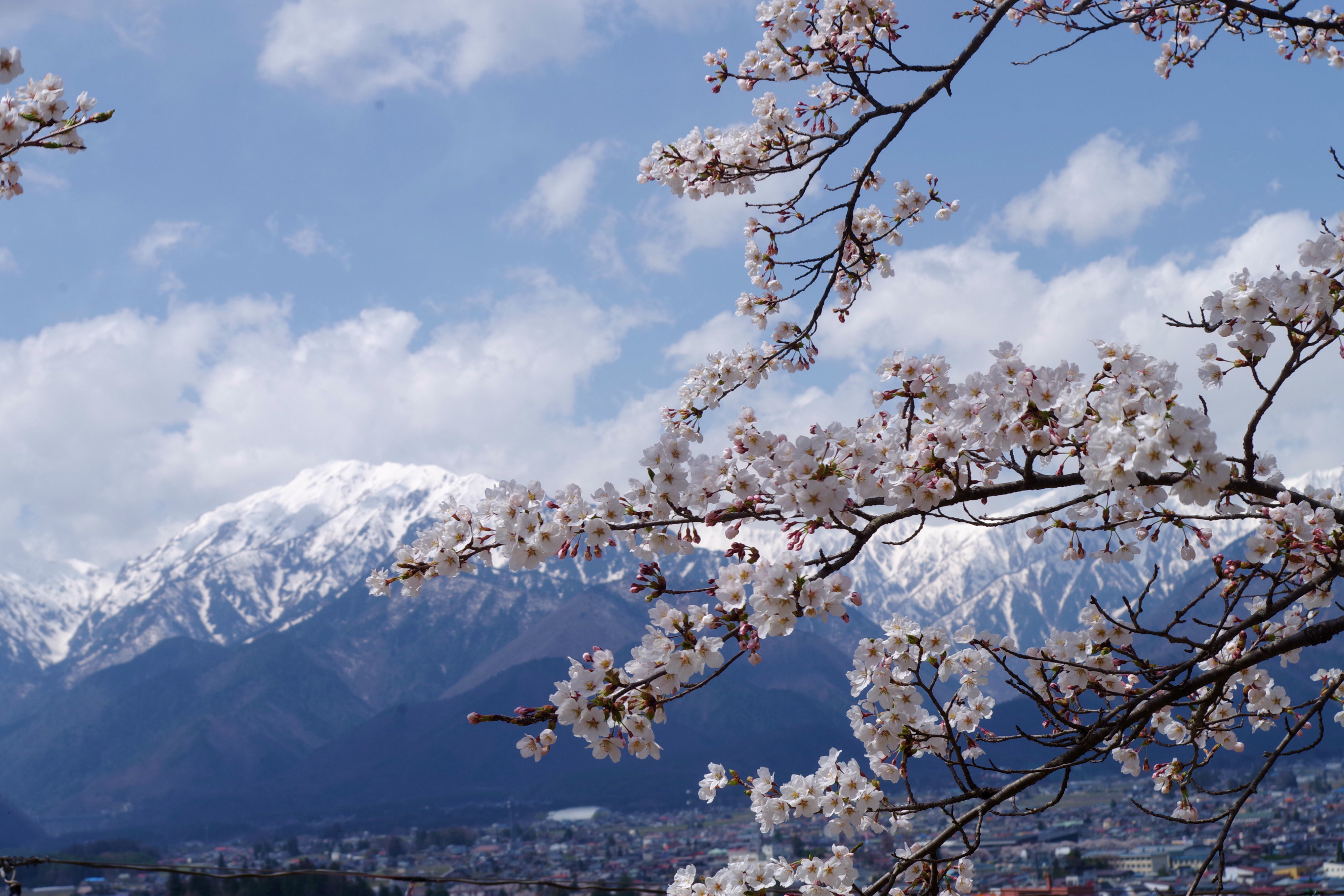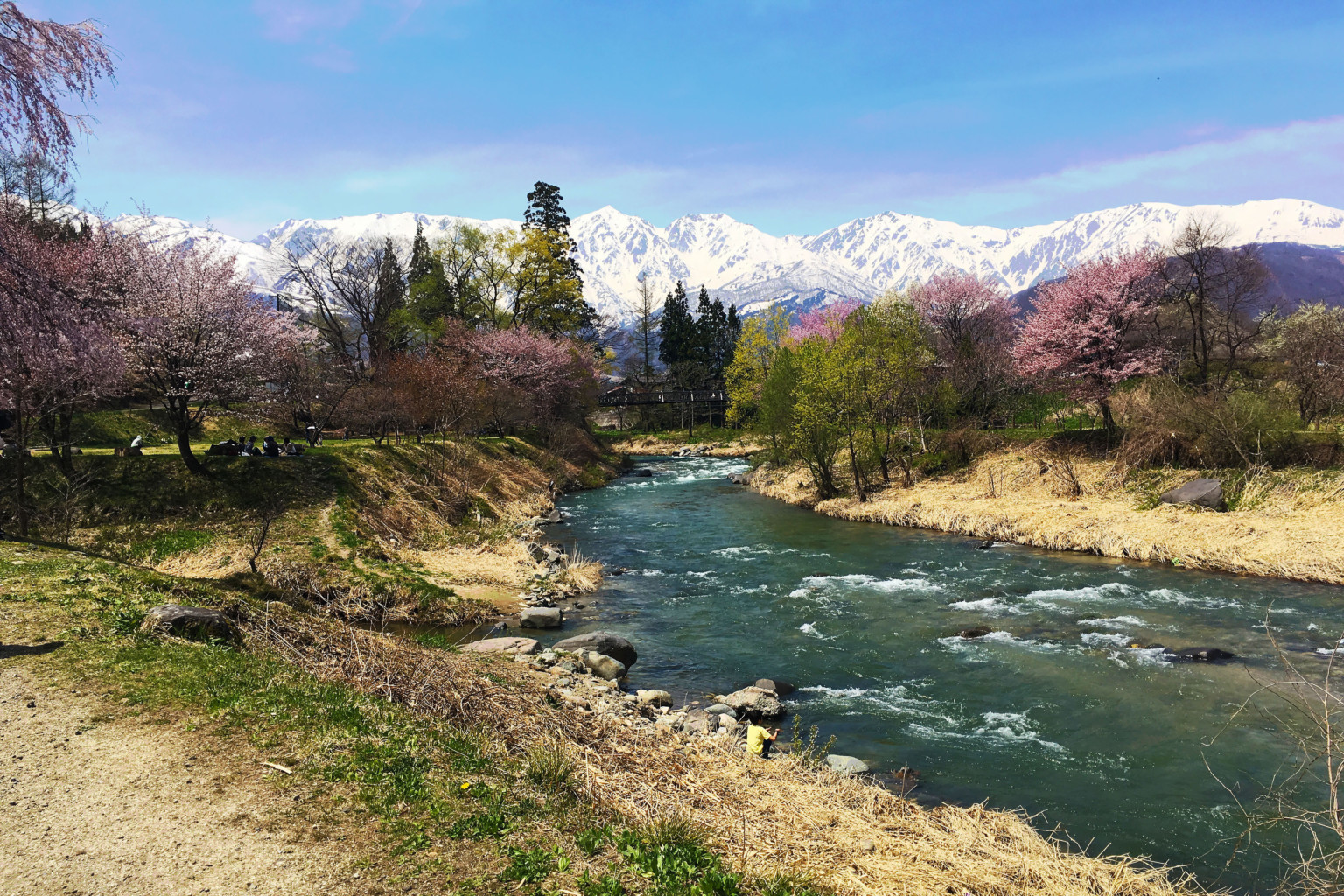 You can enjoy spring scenery that you can't see anywhere else: vibrant, pink cherry blossoms paired with the snow-capped Japanese Alps. Many ski resorts are still open during April, and the Tateyama Kurobe Alpine Route opens from April 15th. Enjoy spring and winter at once in Nagano!
Head towards the Northern Japanese Alps for the best views. Oide Koen (late April), located just a short walk from Hakuba Station, is an idyllic park along the Hime River. Cherry trees and traditional kominka buildings surround the park with the magnificent snow-capped alps in the background. Farther south in the town of Omachi is Omachi Park (mid- to late April), which sits above the city with fabulous views of the mountains. In Azumino you'll find Mt. Hikarujo (mid- to late April), where cherry trees climb the mountain like a dragon rising in the sky. You can take the hiking path up to the top in about 40 minutes and enjoy cherry blossoms and great mountain views along the way.
Access
Oide Park: By train, a 15-minute walk from JR Oito line Hakuba Station. See in Google Maps.
Omachi Park: By train/bus, a 25-minute walk from JR Oito line Shinano Omachi Station, or a 5-minute taxi. By car: a 40-minute drive from the Azumino IC exit. Parking is available at the park.
Mt. Hikarujo: By train/bus, a 35-minute walk or 10-minute taxi from JR Tazawa Station. By car, a 7-minute drive from the Azumino IC exit. There is a parking lot beside the trailhead. See in Google Maps here.
Cherry Blossoms in Nagano's Historical Sites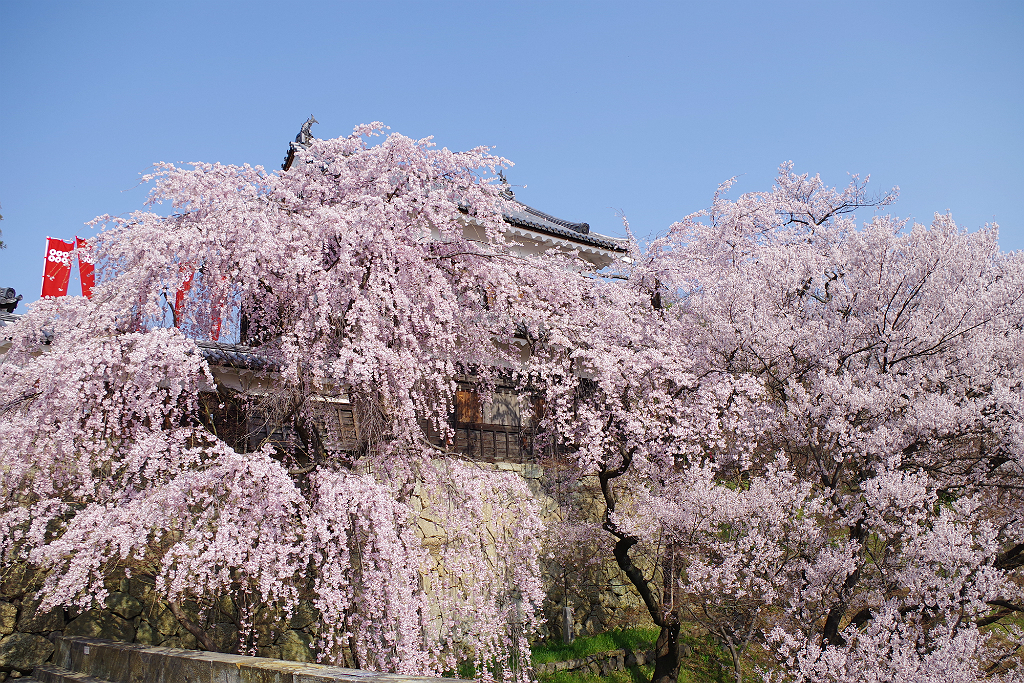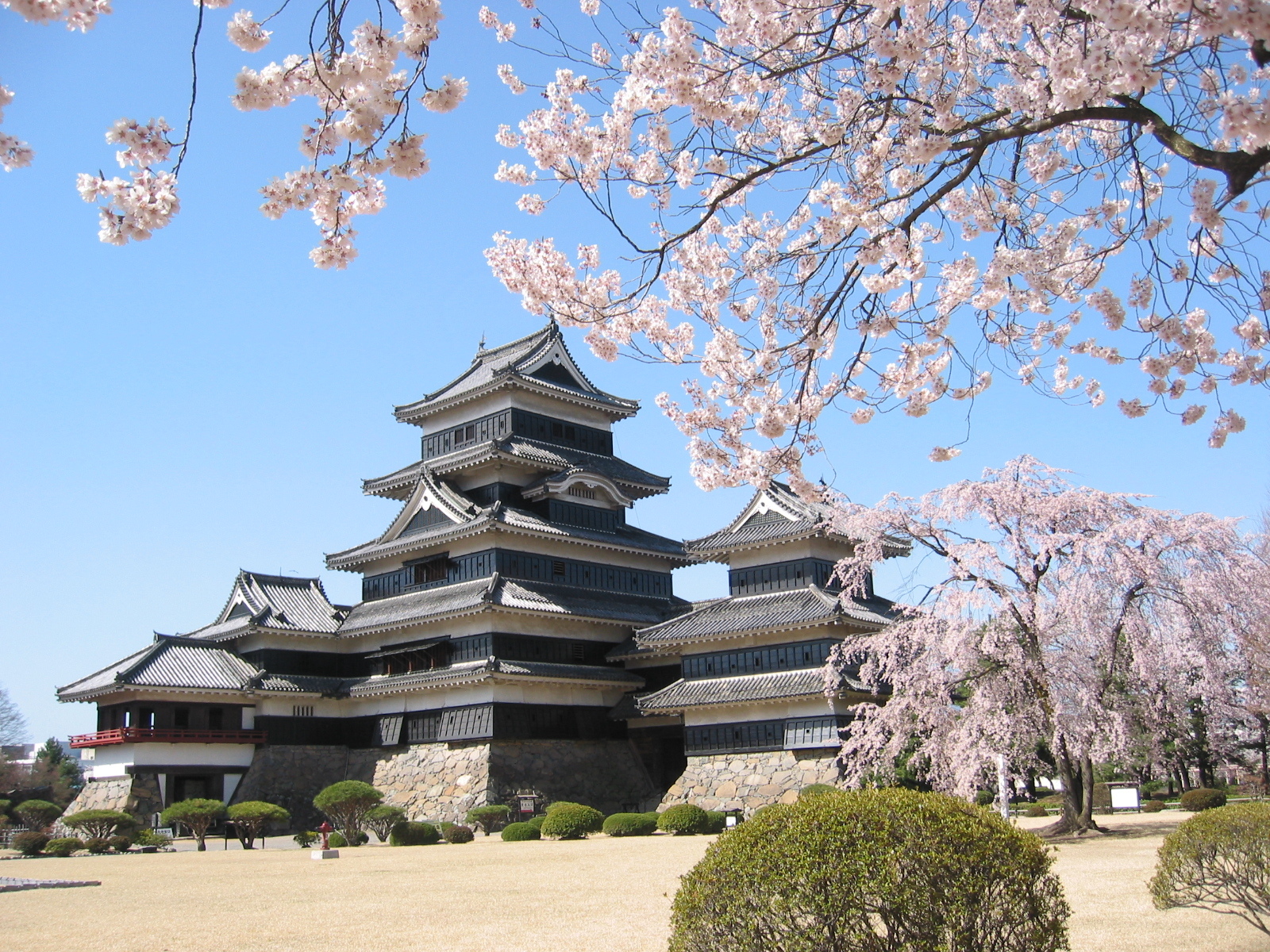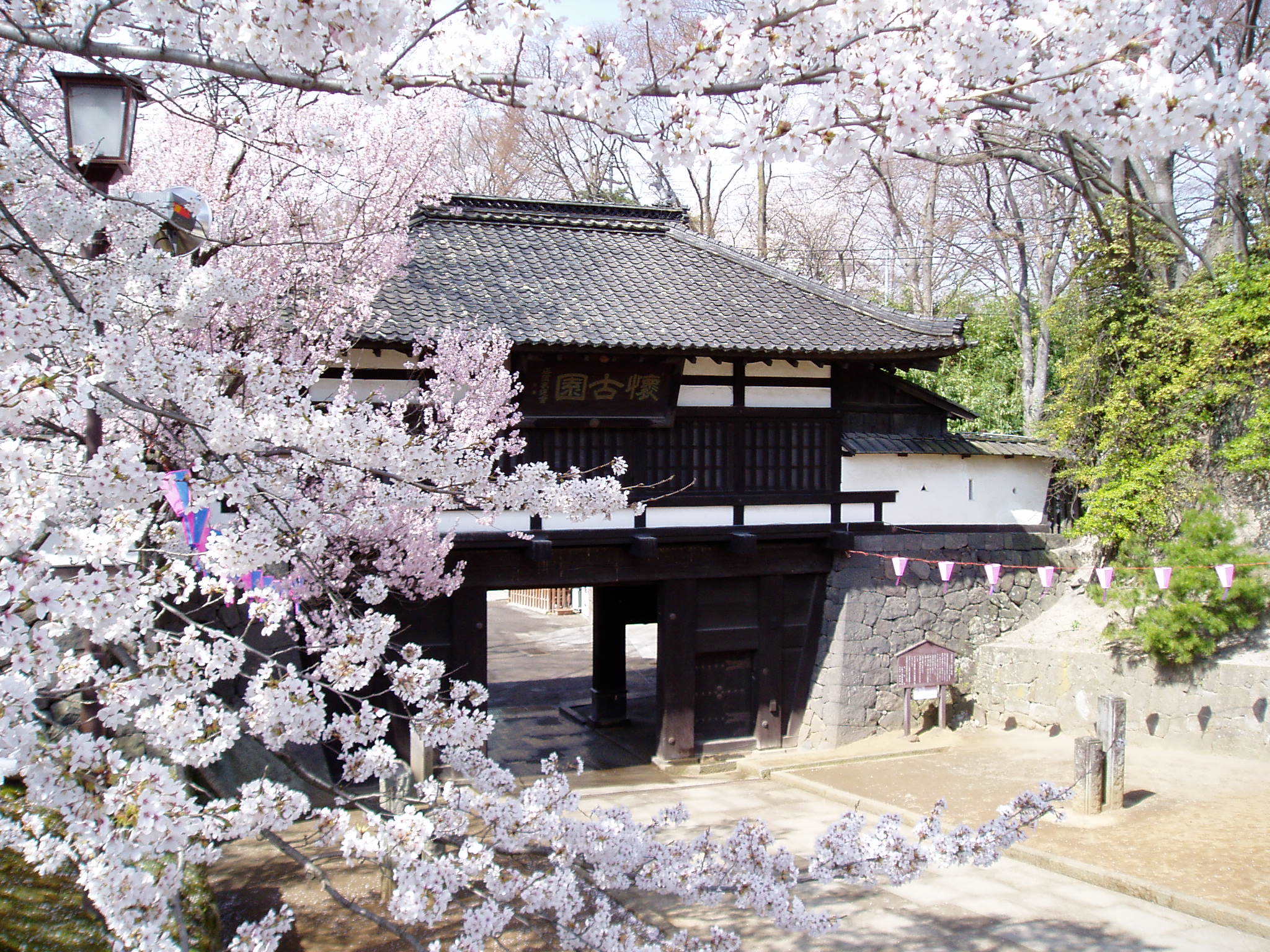 Nagano's most popular sightseeing areas have their fair share of cherry trees as well. Walk around ancient castle grounds and enjoy the bounty of spring.
Matsumoto Castle (early to mid-April) is a must-see attraction any time of year, but especially beautiful during spring with over 300 cherry trees in bloom on the castle grounds. You can also see the distant Japanese Alps on a clear day. Ueda Castle (early April) is known for its cherry blossoms and has over 1,000 trees planted around the castle ruins. In nearby Komoro, you can see the remains of a very different kind of castle at the Komoro Kaikoen Park (mid- to late April). Built on a low plot, this castle's grounds are obscured by forest and labyrinthian walls. Enjoy beautiful cherry blossoms among Komoro Castle's ancient remains.
Access
Matsumoto Castle: By train/bus, a 15-minute walk from Matsumoto Station. See in Google Maps.
Ueda Castle: By train/bus, a 15-minute walk from Ueda Station. See in Google Maps.
Komoro Kaikoen: By train/bus, a 3-minute walk from Komoro Station. See in Google Maps.
Night Light-Ups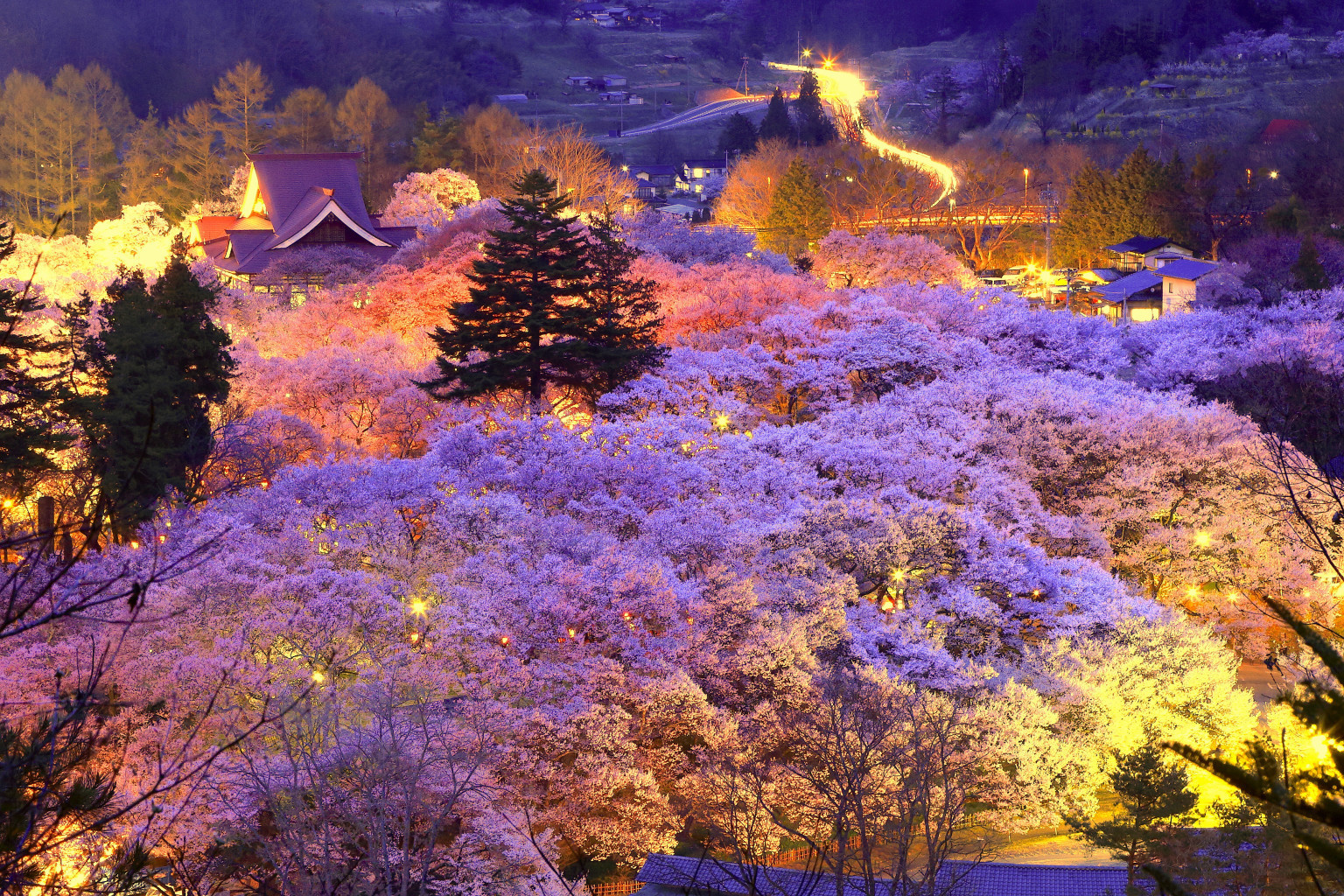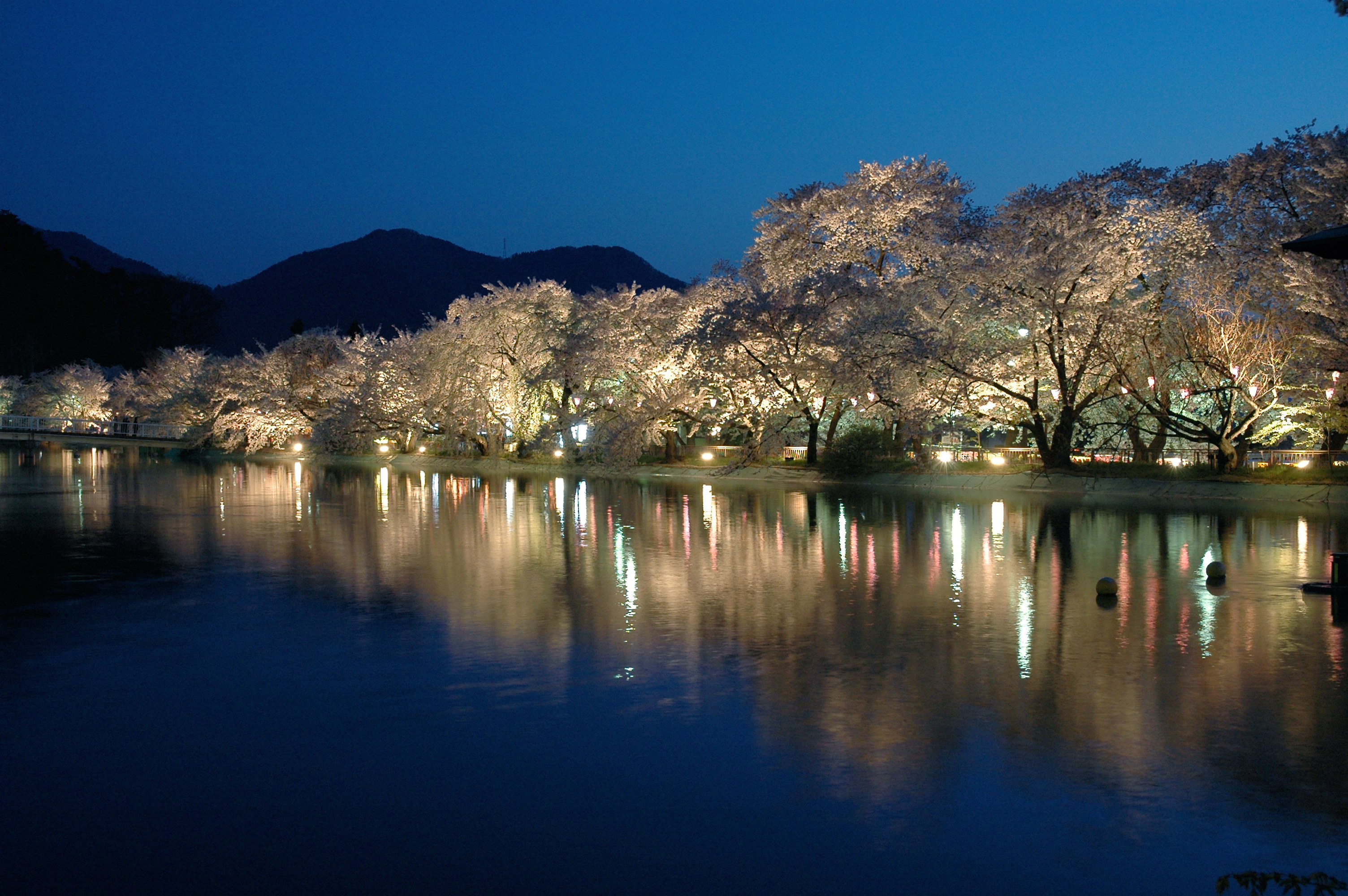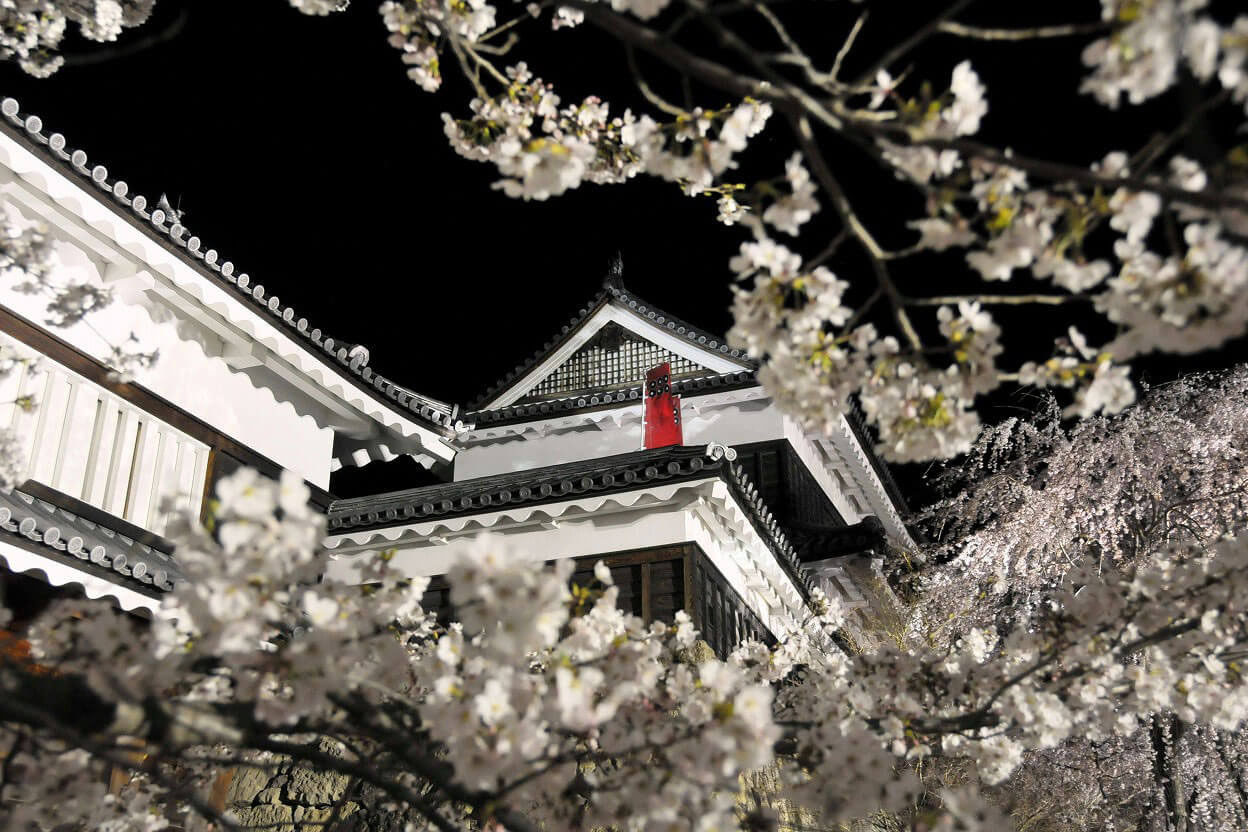 Cherry blossoms are especially beautiful when illuminated in the evening. In Suzaka City's Garyu Park (mid-April), you can enjoy night light-ups of over 800 cherry trees as well as a festive hanami atmosphere. About a quarter of these trees surround a pond in the center of the park, and their blossoms are reflected beautifully in the water's surface.
Takato Castle Park (early to mid-April) in Ina City is one of Japan's top three cherry blossom spots. Featuring a unique variety of cherry called Takato Kohigan Zakura, the cherry blossoms grow in so densely that they completely block out the sky during full bloom. At night, the trees are illuminated in a rainbow of colors.
Other cherry blossom spots mentioned above also have illuminations, such as Matsumoto Castle, Ueda Castle, and Komoro Kaikoen.
Access
Garyu Park: By train/bus, a 20-minute walk from Suzaka Station. By car, a 10-minute drive from the Suzaka Higashi Nagano IC. See in Google Maps.
Takato Castle: By bus, 30 minutes from Inashi Station (see details). See in Google Maps.
Lesser Known Cherry Blossom Spots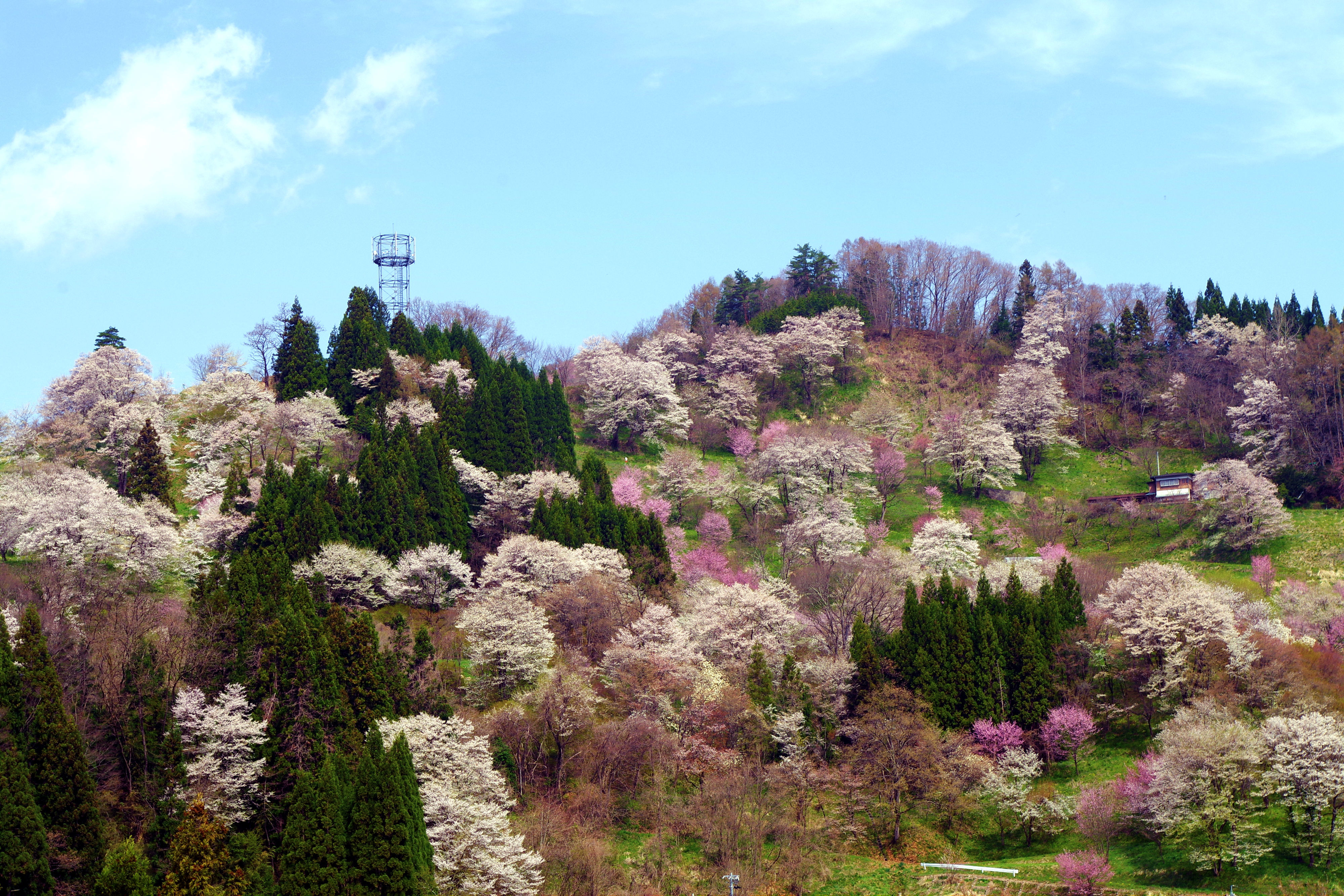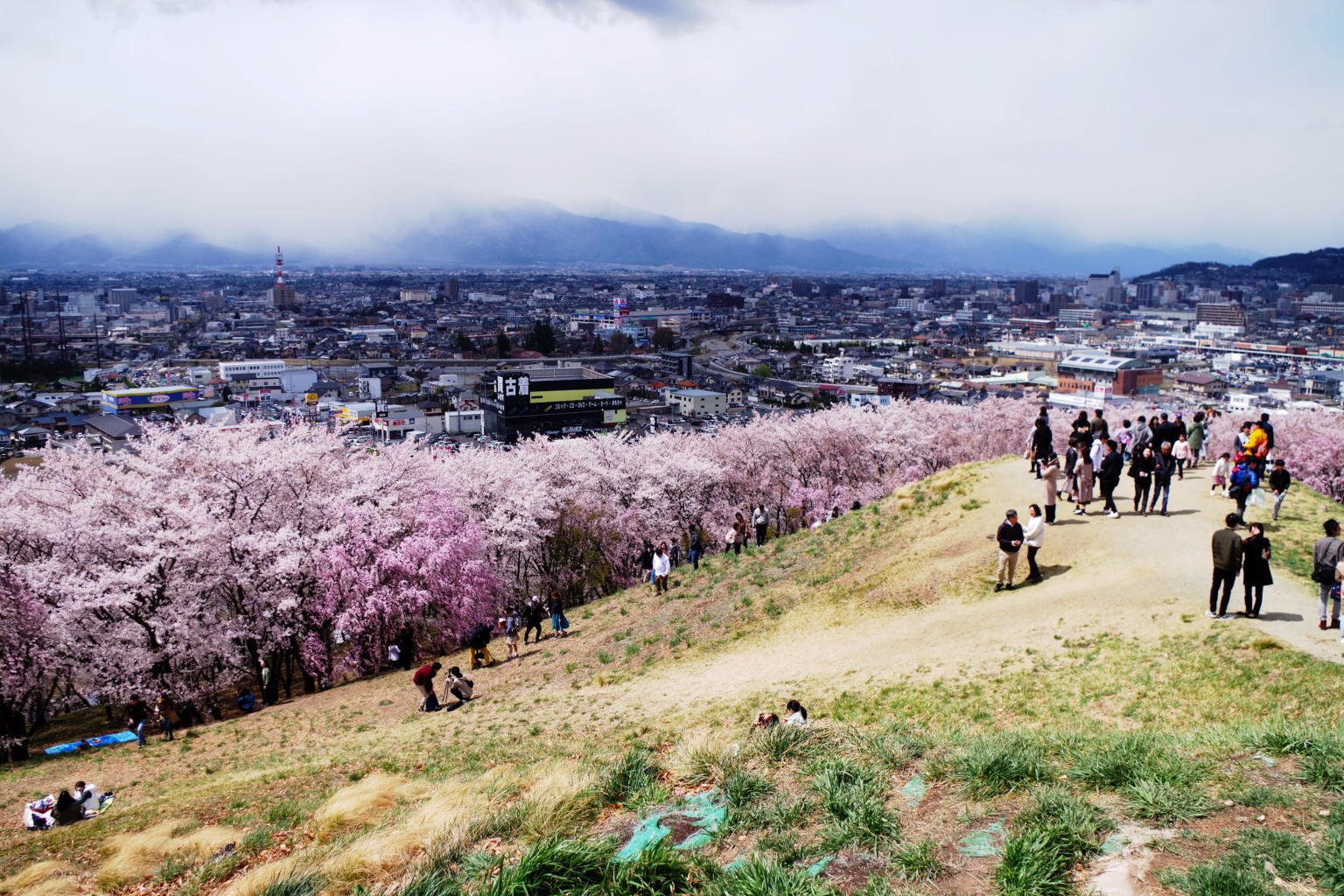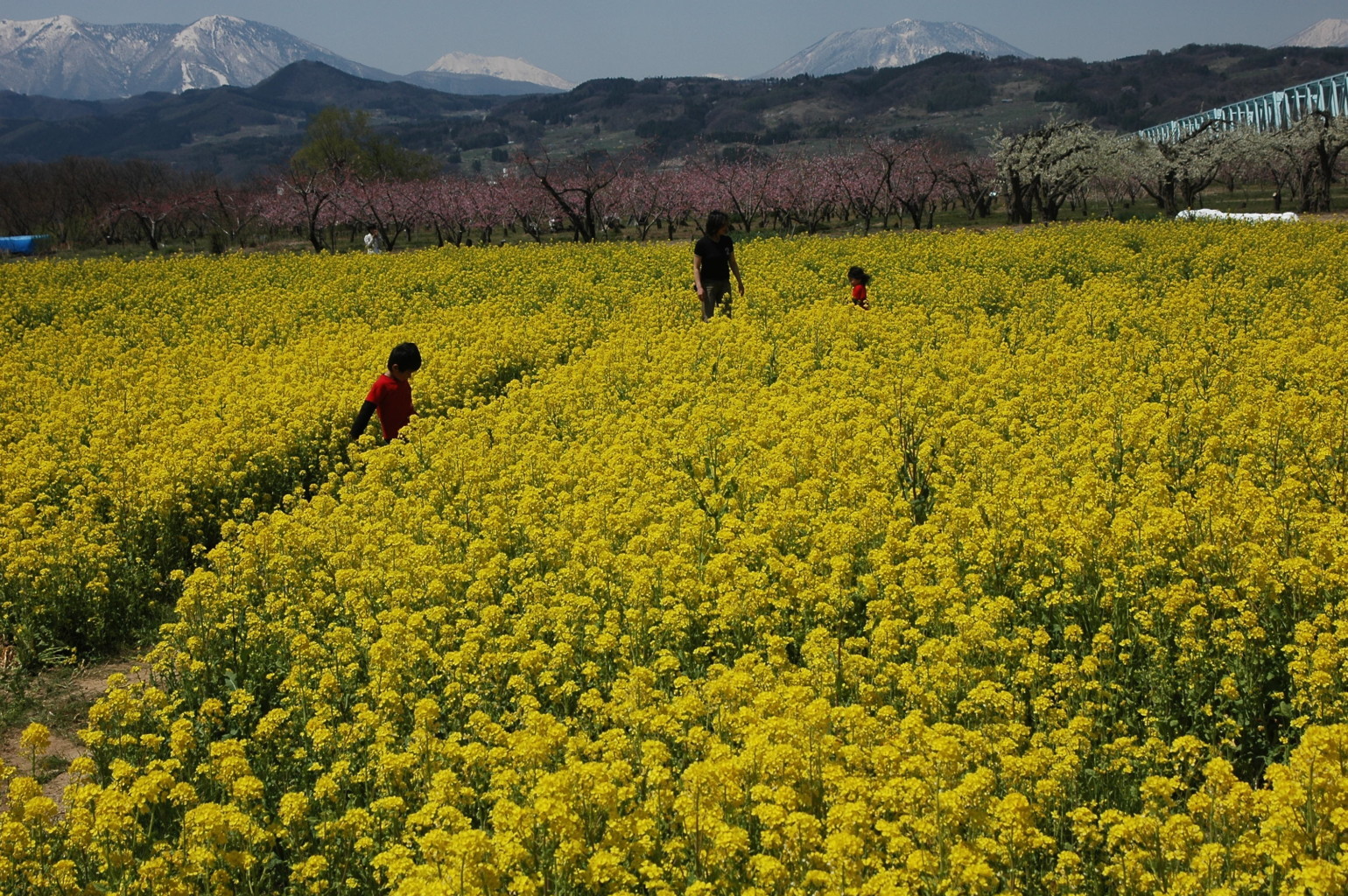 You can find cherry blossoms spots almost anywhere in Nagano, both in the heart of the city and spread across the countryside. As you travel around, you may find that your favorite spot isn't one of the crowded parks, but rather a singular cherry tree that grows between terraced rice fields. The following spots are popular among local residents, but are still not on international travelers' radars just yet.
Nitanda no Sakura, a hill covered in cherry blossoms in Ogawa Village, blooms in mid- to late April. The many varieties of cherry paint the hill in myriad shades of pink, in contrast with the brilliant, white Japanese Alps in the distance.
Koboyama, located south of Matsumoto City, is a small hill that overlooks the urban sprawl and is covered in over 4,000 cherry trees.
In Obuse, along the Chikuma River can be found the Chikumagawa Riverside Park (end of April), over 600 Yaezakura trees spanning a length of 4 kilometers. At the same time, you can see fields of flowering nanohana and snowy mountains in the distance.
Access
Nitanda no Sakura: By train/bus, A 50-minute bus ride on the Shinmachi Takafu line bus (get off at Takafu bus stop), then a 20-minute walk to trees or 15 minutes to viewpoint. By car, a 45-minute drive from the Nagano IC. Park at the
Bikkurando Gymnasium. There is also a viewpoint along Route 31.
Koboyama: From Matsumoto Bus Terminal, take the Namiyanagi line bus to the Koboyama Iriguchi bus stop. Or, from Matsumoto Station, take the JR Chuo line train to Minami Matsumoto Station, then walk for 30 minutes. See in Google Maps here.
Chikumagawa Riverside Park: a 20 min. walk from Nagano Dentetsu Obuse Station. See in Google Maps here.
More Spring Flowers
Cherry blossoms aren't the only spring flowers to see. There are yellow nanohana, red hanamomo, purple azaleas and more around Nagano.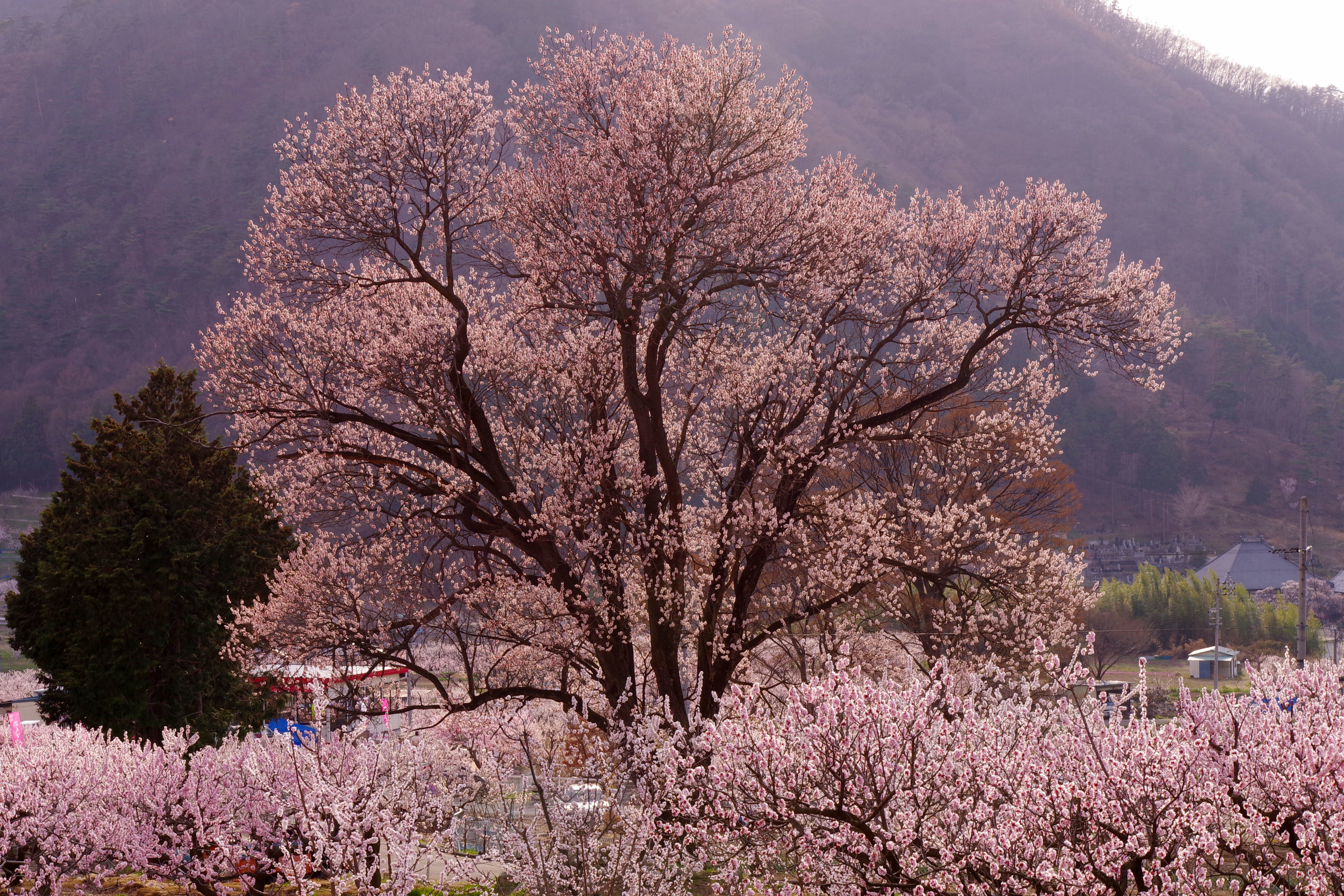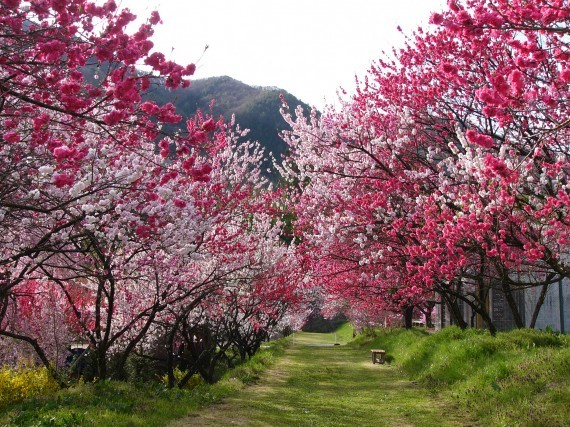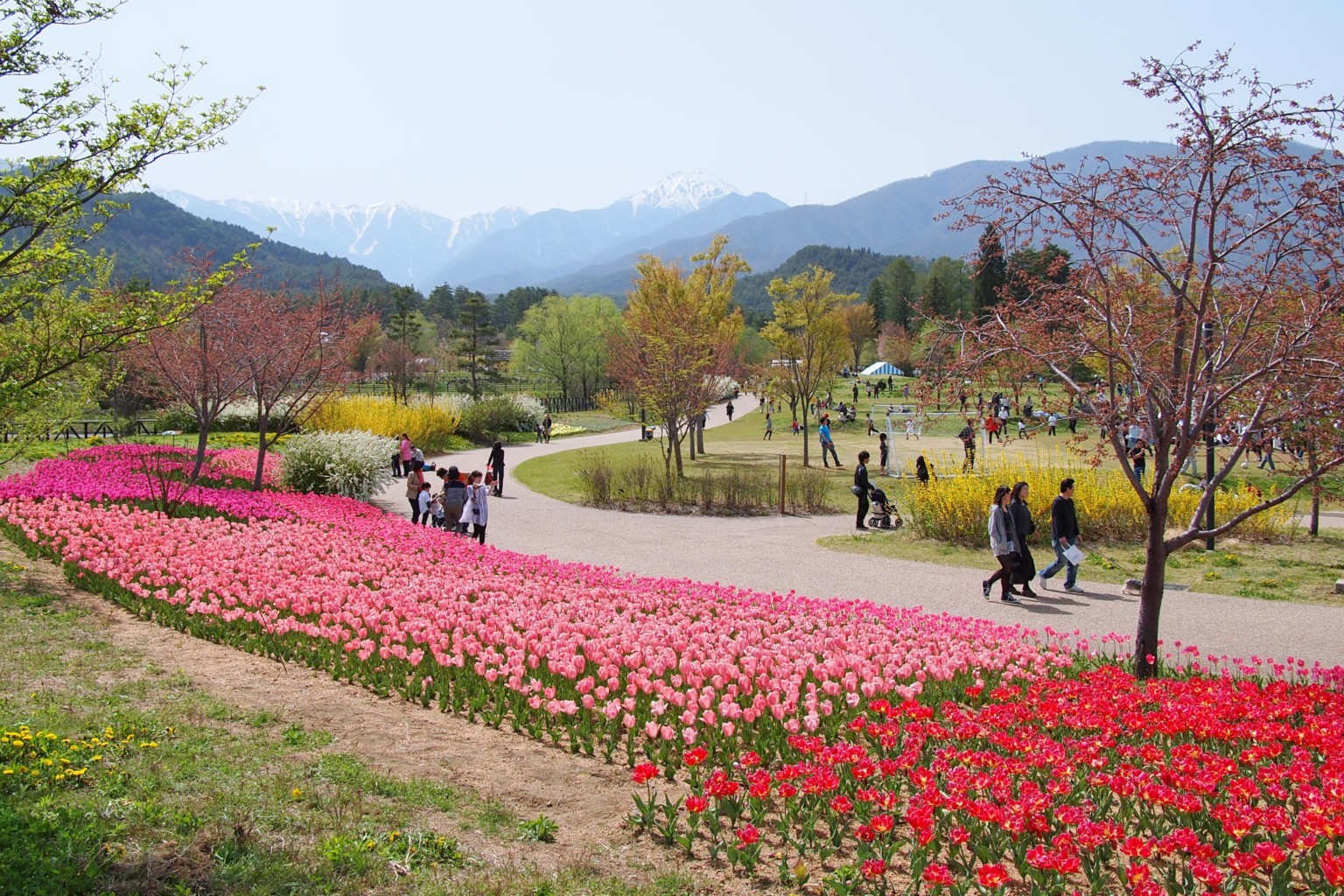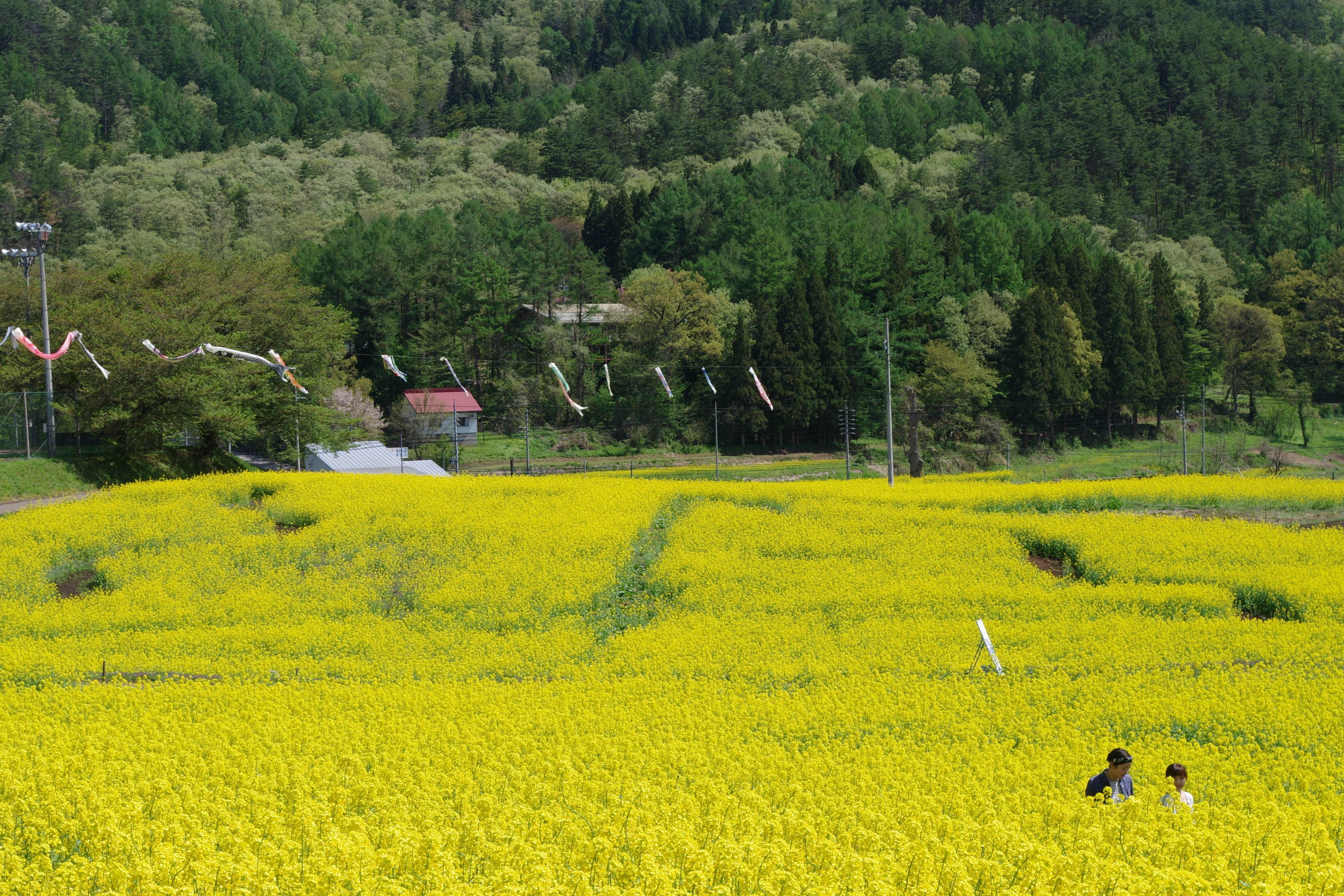 Located in Chikuma city, Anzu no Sato is one of the largest apricot-growing areas in Japan, producing upwards of 660 tons of fruit a year. The trees bloom from early to mid-April, carpeting the fields in warm pink. In late June to July, the trees produce fruit and you can enjoy them raw or in jams and other sweets.
From mid-April to Early May, the peach blossoms of Hirugami Onsen burst forth in shades of red, white and pink, covering a vast area between the Kiso and Ina valleys. This peaceful, countryside area is surrounded by mountains and famous for its incredible starry skies.
Alps Azumino Park is at the foot of the Japanese Alps. From mid-April to mid-May, tulips cover the fields and bloom together with cherry blossoms.
In Iiyama, nanohana blossoms cover the fields along the Chikuma River, turning everything a sunny yellow. The park is located on a small hill and has great views of the surrounding countryside. The Iiyama Nanohana Festival is held for three days in Golden Week every May.
Access
Anzu no Sato: A 15 min. bus ride from JR Yashiro Station.
Hirugami Onsen: From JR Iida Station, 30 min. by bus to Hirugami Onsen. A shuttle bus is available to the park by reservation (1,200 yen roundtrip). By Car, 10 min. from the Chuo Expressway Sonohara IC exit.
Alps Azumino Park: From Hotaka Station, 13 min. by bus or taxi. By Car, 20 min. from the Nagano Expressway Azumino IC exit.
Iiyama Nanohana Park: From JR Iiyama Station, 24 min. by bus (last year's timetable here). By Car, 40 min. from the Joshin'etsu Expressway Toyota-Iiyama IC exit.
Lingering Snow in the Mountains
While Nagano's valley areas are filled with flowers, the mountains are stilled covered in snow. Enjoy skiing or snowboarding at large ski resorts until May, and see giant walls of snow high in the mountains. Spring has begun, but winter isn't gone just yet!
Tateyama Kurobe Alpine Route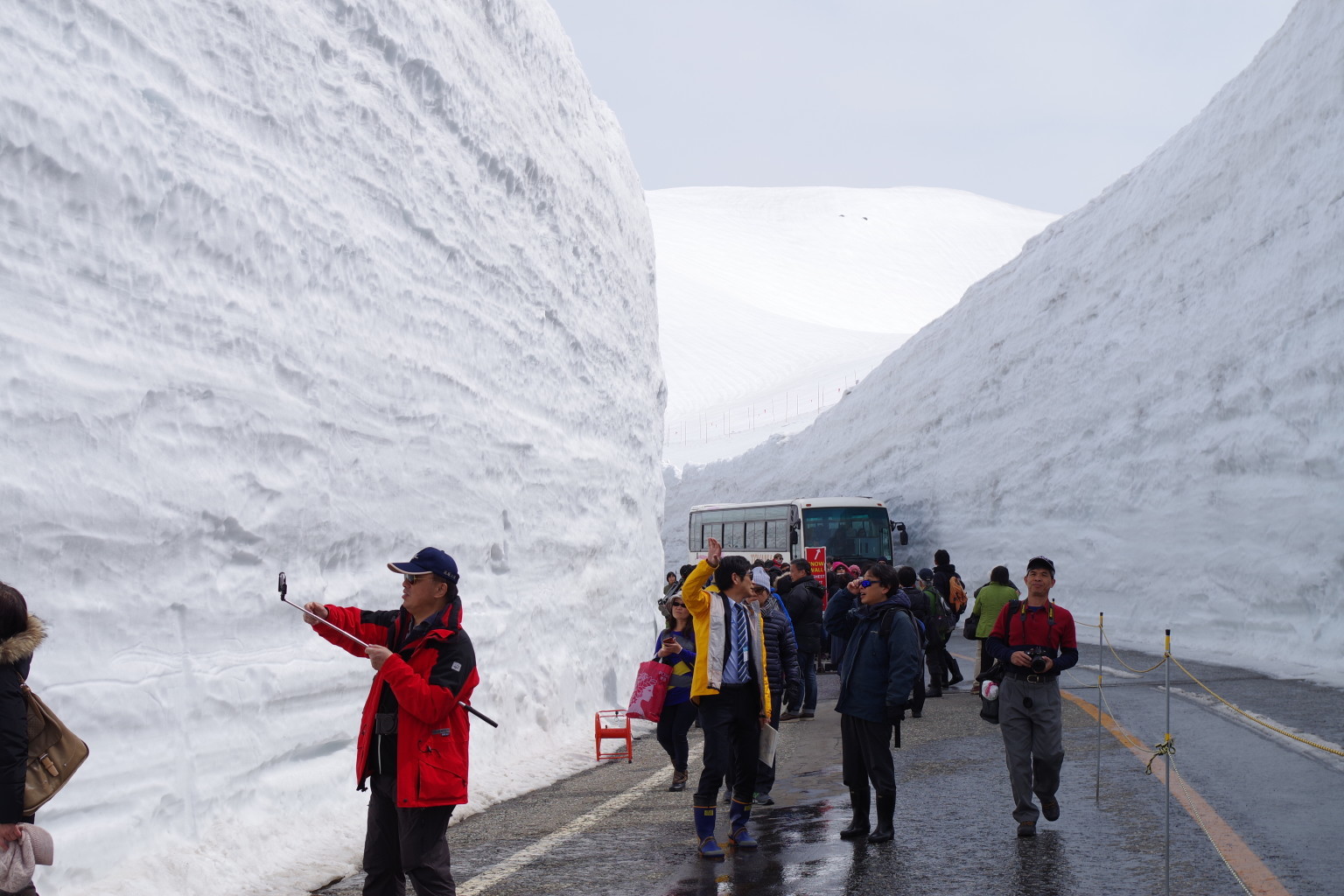 The Tateyama Kurobe Alpine Route connects Nagano and Toyama Prefectures using six different types of transportation along the way. From its opening in mid-April and until mid-July, you can see snow walls at the 2,450-meter-high Murodo area. Other highlights include the Kurobe Dam, the highest altitude arch dam in Japan.
Senjojiki Cirque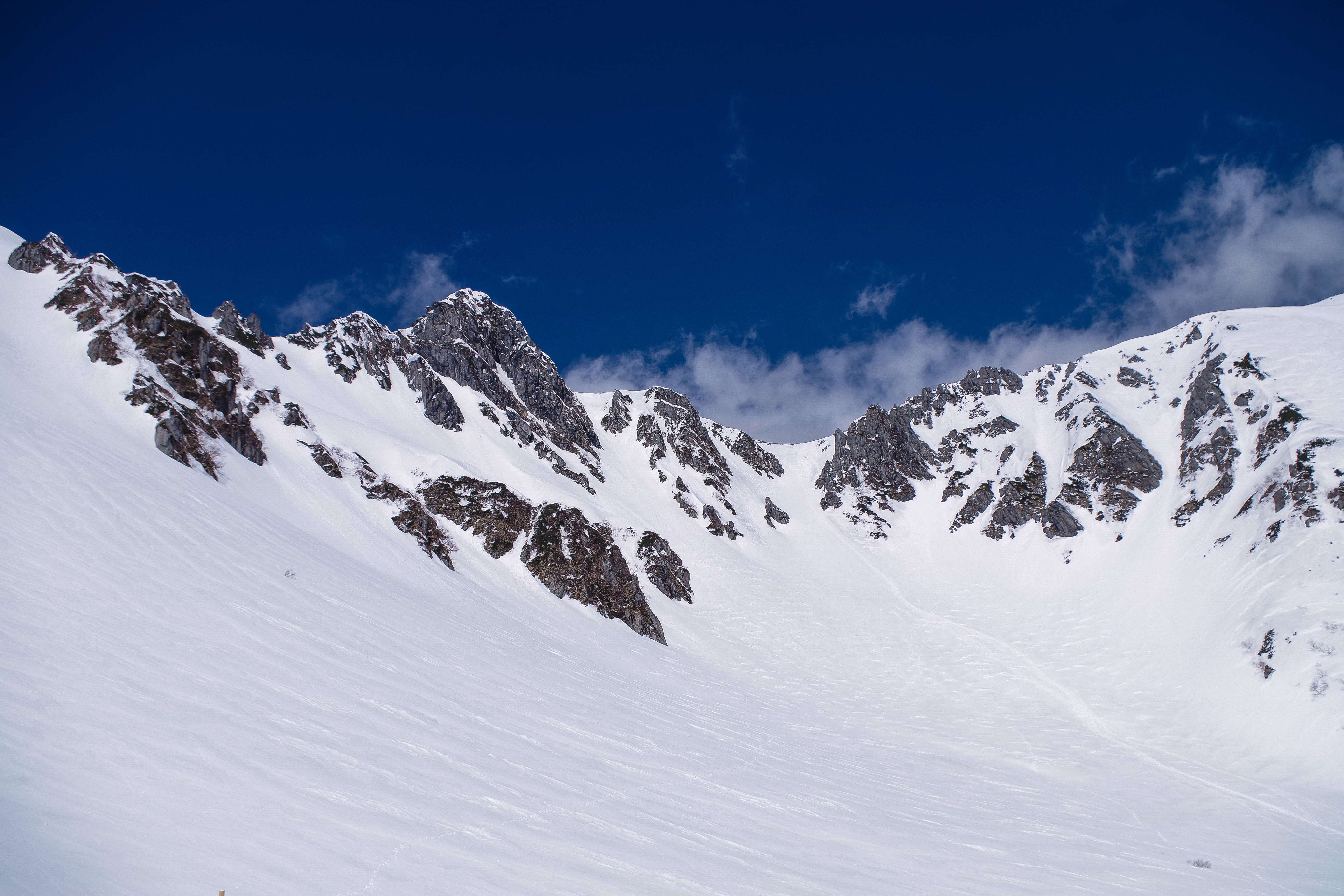 From April to June, you can see lingering snow at Senjojiki Cirque, a glacial formation at an altitude of over 2,600 meters high. During April, it even operates as a basic ski resort, and people can still enjoy snowshoeing here. On clear days, you can see magnificent views of the Southern Japanese Alps.
Norikura Kogen Snow Walls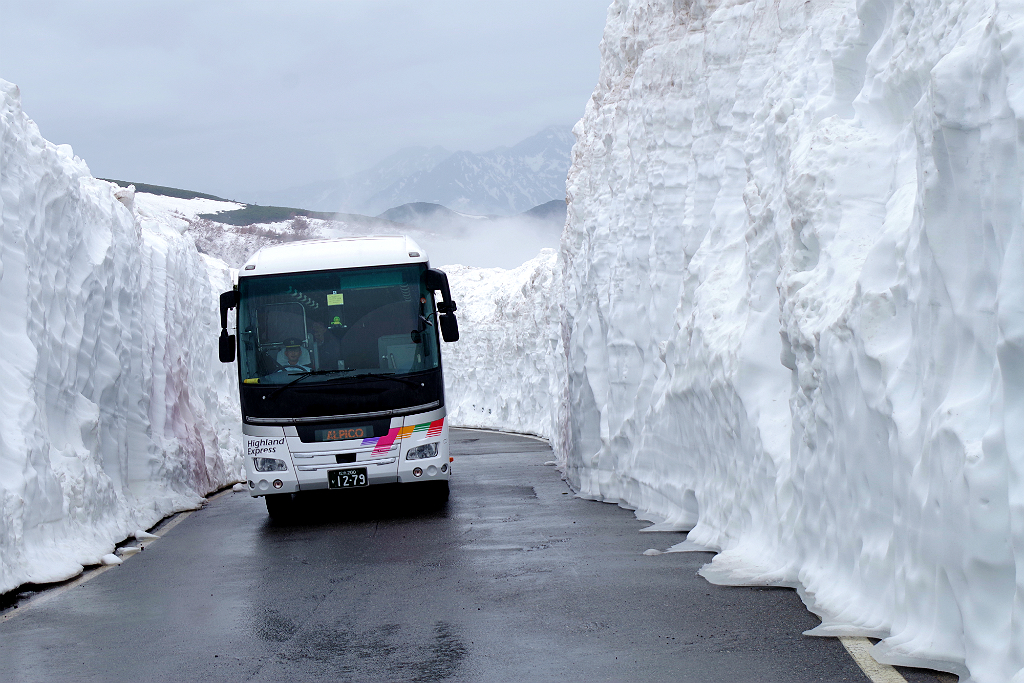 Norikura Kogen, a highland area to the west of Matsumoto City, sits at the base of Mt. Kengamine and ranges in altitude from 1,200 to 2,600 meters high. During spring, the road to the top of the mountain is opened and visitors can take a bus to see the large snow walls that remain after winter. While not as tall as those found at the Tateyama Kurobe Alpine Route, the snow walls still reach heights up to ten meters! The Haruyama Bus runs from late April until late June.
More Articles on Cherry Blossoms