Snowshoe Hiking Tour in Kamikochi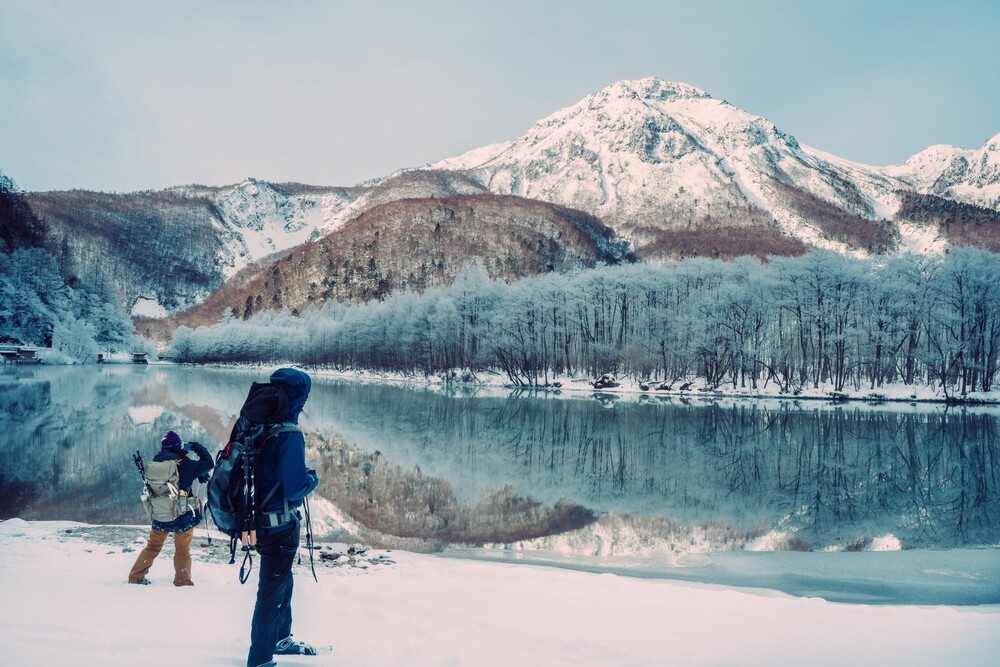 Have this winter wonderland all to yourself on a snowshoe-hiking tour at the base of the Japanese Alps
During winter, Nagano's landscape changes completely. Once blue mountains are topped with snowy crowns and green pastures are covered in blankets of white. The trees glitter with frost and waterfalls freeze in time. This time of year can seem especially cold and harsh, but for many, it is also one of the most beautiful.
One of the best ways to enjoy the winter scenery is to strap on snowshoes and go for a hike. While in summer there's brush and bushes to get in the way, winter's snow covers it all, creating a welcoming flat surface over which to explore.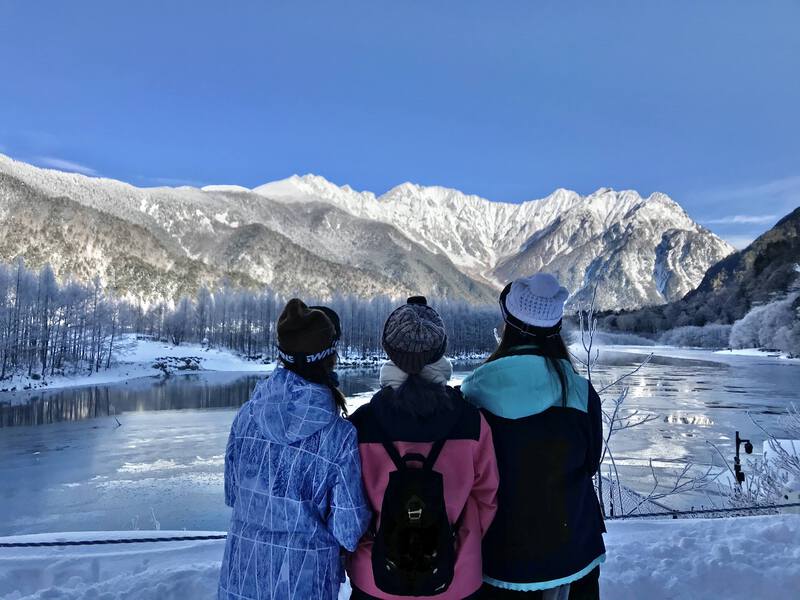 Where would be better to go snowshoeing than Nagano's most famous national park, Kamikochi? At the base of the Japanese Alps, this pristine basin has incredible views of the Hotaka mountain range. During winter, the park is officially closed—no buses run to Kamikochi and there are no facilities open—but you can enjoy its magnificent scenery if you're willing to walk.
Guesthouse Raicho, an inn in Norikura Kogen, offers half-day and full-day tours of snowshoeing in Kamikochi.
The Joys of a Snowshoeing Trip to Kamikochi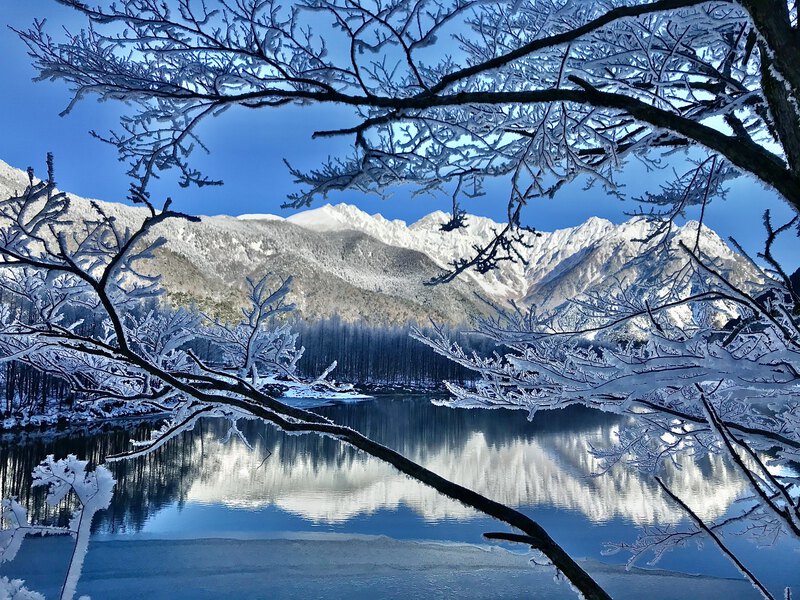 Have the Japanese Alps all to Yourself
Kamikochi is one of Japan's most popular national parks. Its views of the Hotaka mountains from the Kappa Bridge are known throughout the country, and people flock here, especially during autumn, to enjoy its pristine nature. While this is great, it also means that Kamikochi is quite busy. The crowds here may remind you of busy Tokyo streets.
But everything changes when Kamikochi closes its gates in mid-November. Kamikochi's natural scenery is no longer accessible to the masses. To see the mountains and the clear Azusa River, you have to walk two kilometers through the Kama Tunnel and then snowshoe along the riverbank. It's not easy, but having Kamikochi's lakes, forests and mountains all to yourself is well worth the effort.
Practice Mindfulness in a Tranquil, Snowy Setting
When you're in the great outdoors, it's the perfect time to clear your mind and recenter yourself.
Japan has a long history of mindful hiking, beginning with mountain ascetics who would climb the country's tallest mountains in search of enlightenment. Forest bathing is also popular. Your guide will take you through some mindfulness exercises as you snowshoe through the park.
Learn about Kamikochi's Wildlife
During winter when everything is quiet, you'll be more likely to encounter the local wildlife. You may see migrating birds, deer, or even monkeys while hiking through the valley.
Even if you don't see animals up close, you'll be able to easily spot their tracks in the snow. Some tracks may look unfamiliar—your guide can tell you all about the types of animals that inhabit the area and why their tracks look the way they do.
Kamikochi Snowshoeing Schedule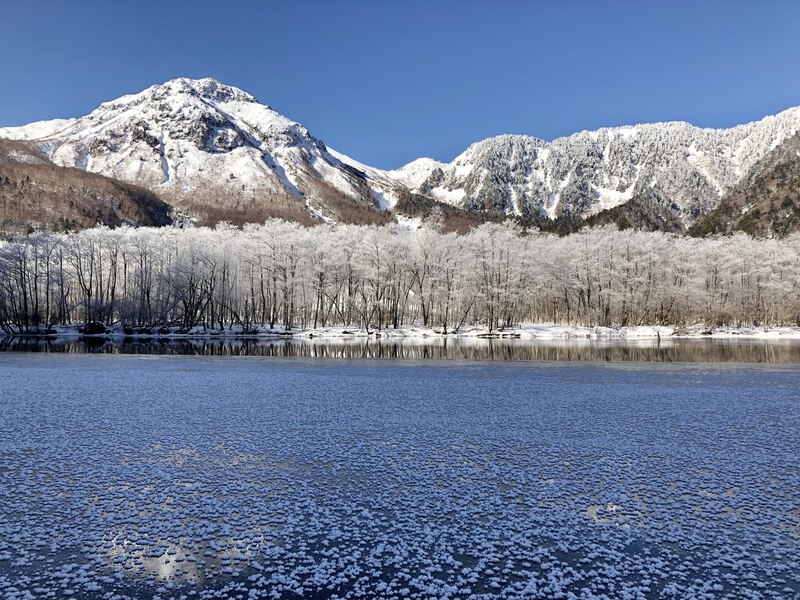 The full-day Kamikochi snowshoeing tour begins at 8:00 and ends at 16:00, starting and ending at Guesthouse Raicho. They offer half-day tours and tours around Norikura Kogen as well. See here for details of their other snowshoe tours.
Meet at Guesthouse Raicho (8:00)
The tour begins at Guesthouse Raicho in Norikura Kogen. Most people will spend the night here beforehand. Your guides, Fujie-san and Mao-san, will get you set up with any rental gear that you need, then drive you down to the Kama Tunnel.
Get Dropped off at the Kama Tunnel (9:00)
The Kama Tunnel is the entrance to Kamikochi and is closed off during winter. From here, you'll walk about 2 kilometers uphill through the tunnel before entering the Kamikochi basin. Parts of the tunnel aren't well lit, so you'll be provided with a headlamp.
Reach Taisho Pond (10:30)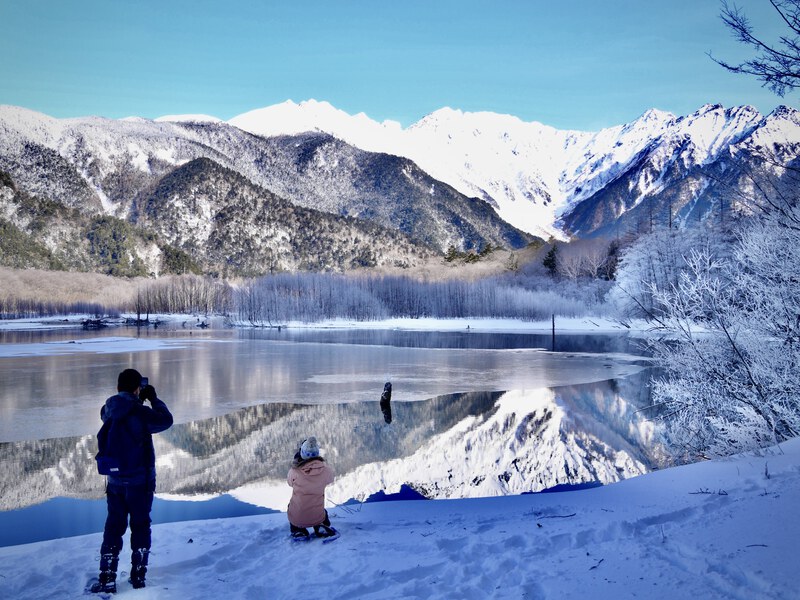 After passing through the tunnel, you'll shortly reach Taisho Pond. On a clear day, you can see Mt. Yake reflecting in the pond's still water. Beyond the woods to the north, you can make out the peaks of the Hotaka mountain range. From here, you'll put on your snowshoes and walk through the forests along the Azusa River.
By the Taisho Hotel, there's a convenient bathroom open during winter.
Reach the Kappa Bridge and have lunch (12:00)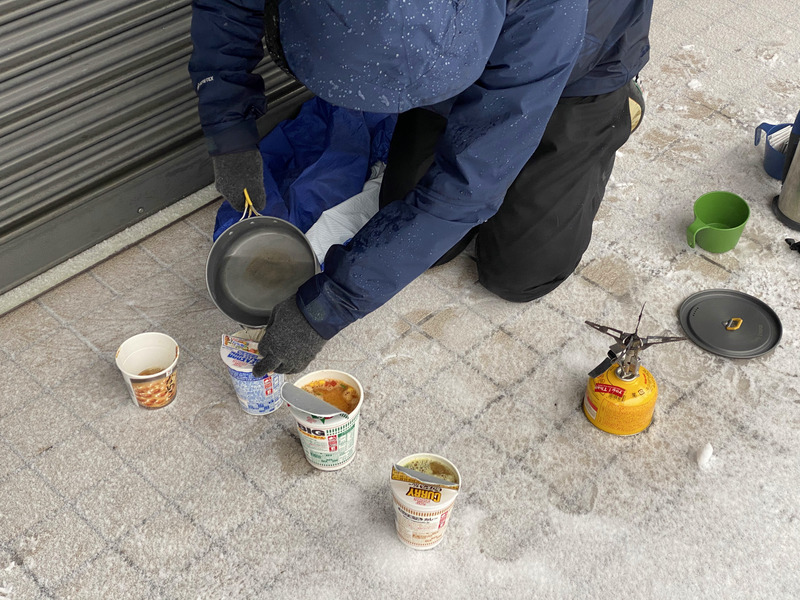 After about three hours of walking and snowshoeing along the river, you'll reach Kamikochi's most famous sight: the Kappa Bridge and the Hotaka mountain range. Enjoy the view while eating a well-deserved lunch. Fujie-san will boil plenty of water so you can have a hot drink and a tasty cup of ramen.
Snowshoe back to the Kama Tunnel (13:00)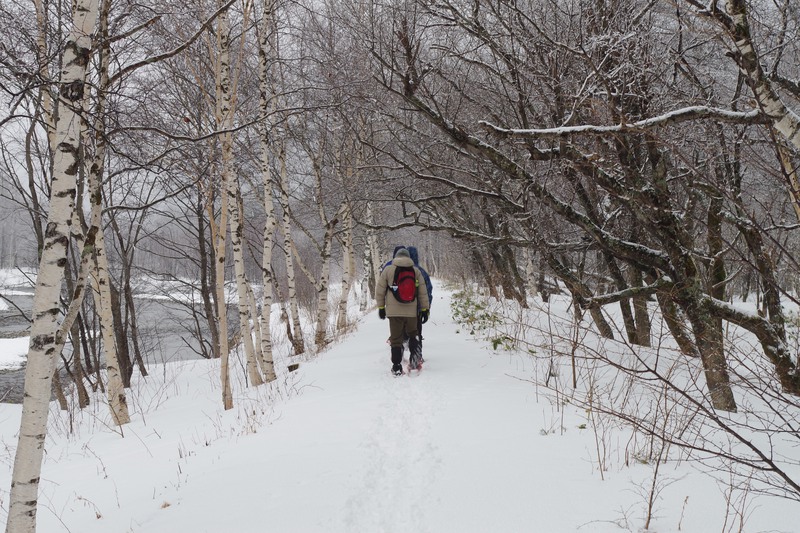 Walk down the opposite side of the Azusa River on the way back. You'll pass the Weston Monument, dedicated to the man who originally popularized Kamikochi as a sightseeing destination, and some more marshland before heading back across the Tashiro Bridge and towards Taisho Pond.
Have a quick café break before heading to the lodge (15:30)
Once you've passed back through the tunnel, you've almost returned to civilization. There's even a small café right by the entrance where you can sit down for a cup of coffee while waiting for the van to arrive.
Return to Guesthouse Raicho (16:00)
Once you arrive back at the guesthouse and return your rentals, it's time to take a nice hot spring bath. The inn has its own hot spring baths, and there's also the Yukemurikan hot spring within walking distance. After a long day of trudging the snow, nothing beats a soak in a natural mineral bath!
Conclusion
Kamikochi is one of Japan's most beautiful national parks with incredible views of the Northern Japanese Alps, crystal clear waters and verdant forests. During winter, the area takes on a completely different appearance, covered in a blanket of snow and frosty stillness. If you're willing to make the trek through the tunnel and snowshoe along the river, you can enjoy Kamikochi all to yourself (along with your fellow tour participants, of course).
Update:2021/01/20
Private Snowshoeing Tour in Kamikochi
Operating Period
December to March
Time
Full-day: 6 to 7 hours
Half-day: 3.5 hours
Reservations
Necessary
Price
Full-day: 58,000 yen per group
Half-day: 38,000 yen per group
Early Morning Group Tour
| | |
| --- | --- |
| Operating Period | December to March |
| Time | 7:30 to 12:00 (4.5 hours) |
| Reservations | Necessary |
| Price | 9,000 yen per person |