Becoming a Sake Brewer at Kurabito Stay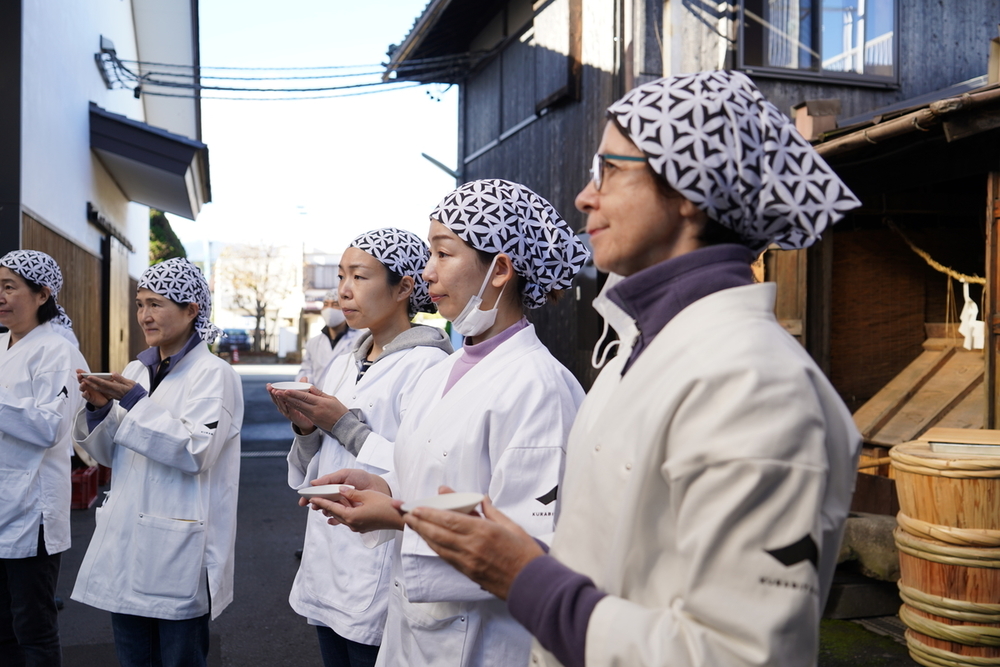 Learn how sake is made at a traditional brewery in the Japanese countryside and become a kurabito.
Sake is an indispensable part of Japan's culture and has evolved over centuries to pair well with the umami and salty flavors of Japanese cuisine.
While Japanese restaurants are popular around the world and there are more opportunities to try sake than ever before, it remains to many an elusive drink. With so many varieties being made by so many breweries, it can be hard to wrap your head around this traditional spirit.
One of the best ways to learn about sake is to try at the source—even better is to make it yourself.
Experience Sake-making Firsthand at Kurabito Stay
Thanks to plentiful mountain spring water, delicious rice and a cool climate, Nagano is a perfect place for production of sake. It even has the second most sake breweries of anywhere in Japan.
In the Saku region of eastern Nagano, there are 13 such breweries. One of them, Kitsukura Brewery, offers people a chance to join in on the sake-making process.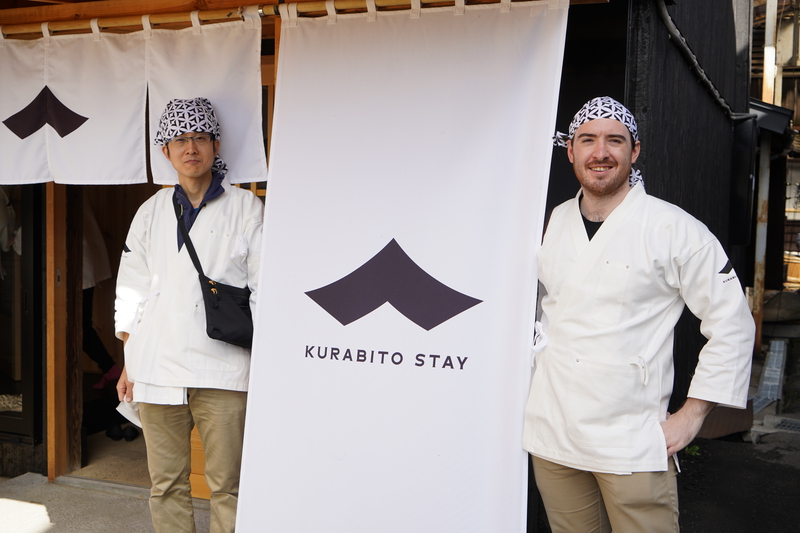 Called Kurabito Stay, this program invites you into the world of sake-brewing for a 2-night 3-day experience. You stay in a dormitory next to the brewery where sake-makers, or kurabito, would live during the winter while working. During the day, you help make sake in Kitsukura Brewery, and at night, you can enjoy local food and sake with your fellow sake-makers.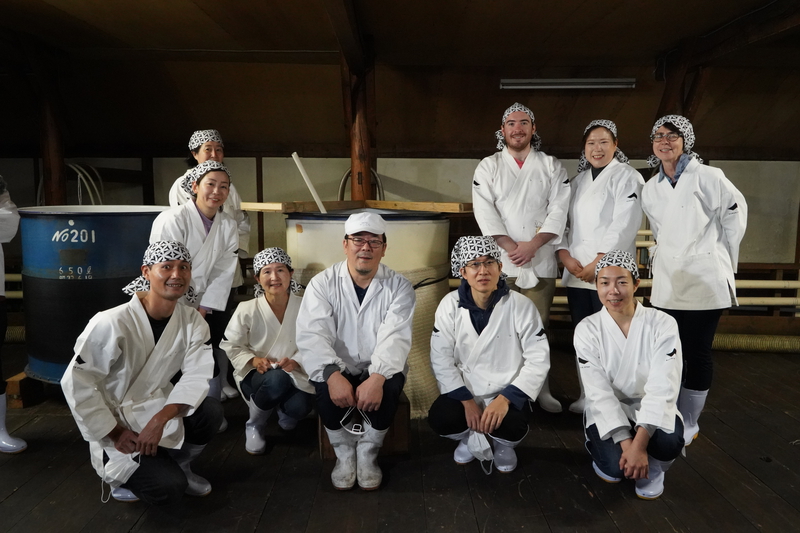 Over the course of three days, you dive headfirst into the world of sake-brewing. Learn how rice is prepared and turned into sake and make some for yourself!
See our experience of the tour below:
Tour Overview
Day 1: arriving at Kurabito Stay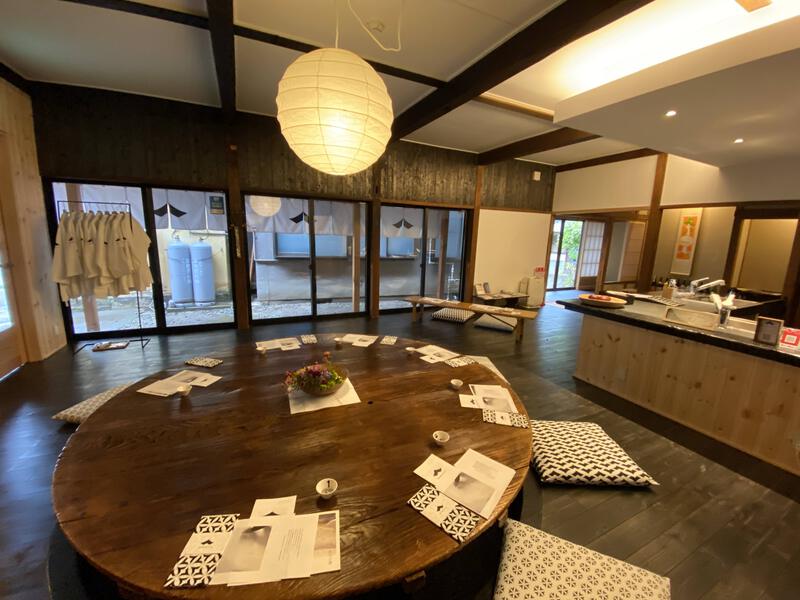 The first night began with check-in around 5:30 in the evening. The head of Kurabito Stay, Marika-san, introduced us to the program, going over the schedule and talking a bit about the history of the brewery.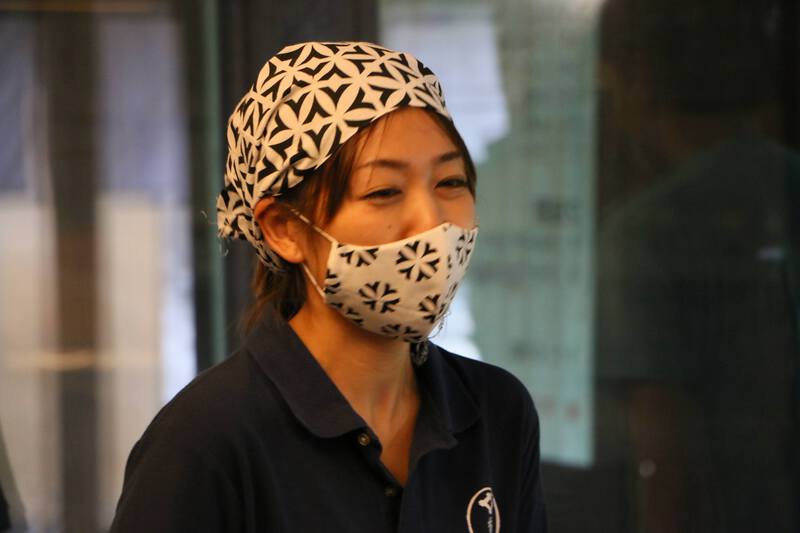 We then moved to a nearby restaurant for dinner. Our meal was a gorgeous arrangement of fish and vegetables, including soy sauce-broiled saba (mackerel); carpaccio with trout, shrimp, salmon roe and clams; Nagano-grown salmon seasoned with karasumi; and ankimo (monkfish liver). Japanese sake tends to pair well with fish and salty foods, and this meal was specially prepared to go well with the selection of sake on offer. To pair were three (very large) seasonal bottles.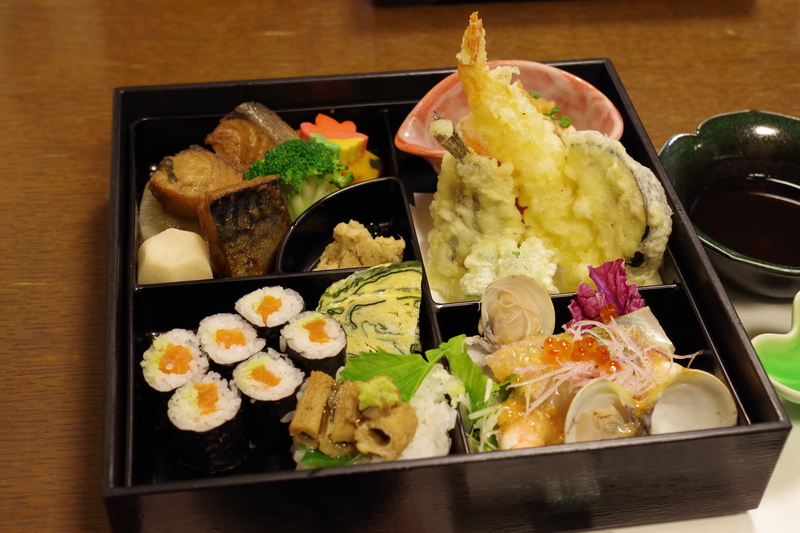 After walking back to the Kurabito Stay lodge, we spent some more time relaxing in the common room and tasting some of the sake in the first-floor sake dispenser. We did our best to go to bed early so that we could wake up bright and early for the next day.
Day 2: diving headfirst into sake-making
The real work began on the second day, and as a kurabito, it is important to wake up early. Downstairs, we were greeted by a delicious Japanese-style breakfast at 7 a.m. While we were eating, Marika-san told us about the day's agenda.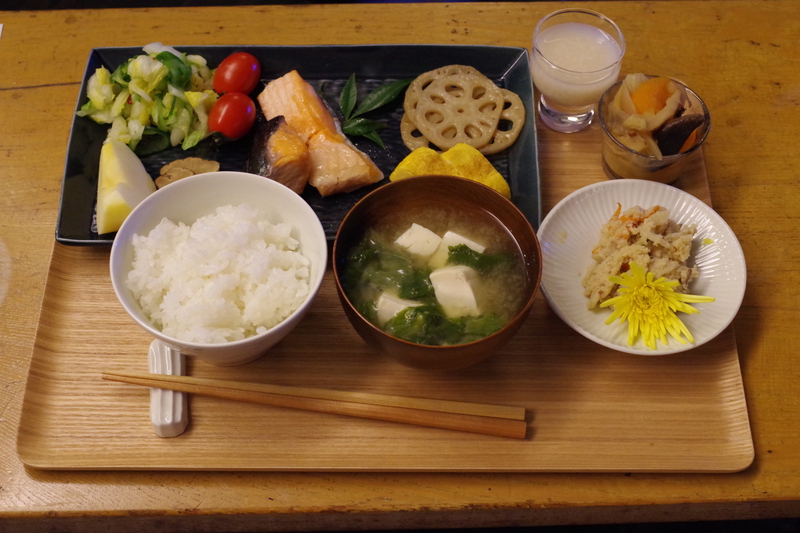 Entering the brewery
The owner of Kitsukura Brewery, Ide-san, met us outside of the brewery at 8 a.m.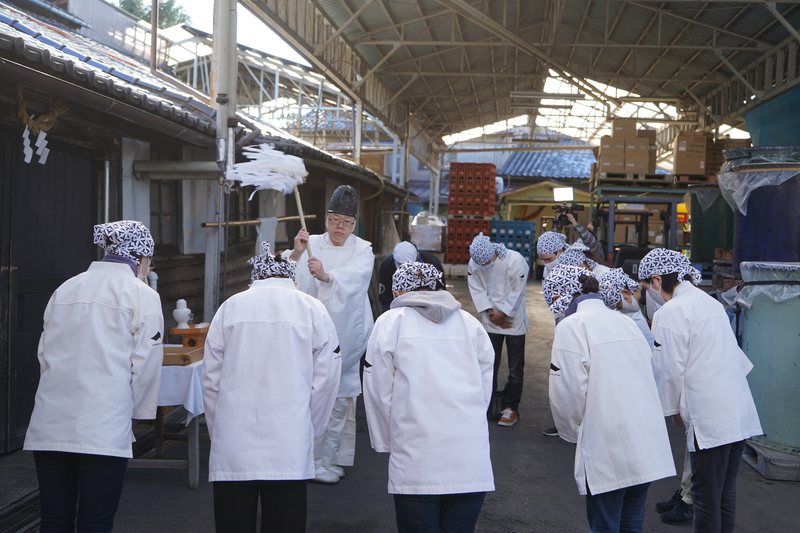 Before entering the brewery, we participated in a small ceremony held by a Shinto Priest. Sake is considered a drink of the gods, and as such, it was only right that we were blessed before our entrance.
Preparing rice for sake
There was a lot of work to be done. In order to make sake, we had to first prepare the rice for fermentation.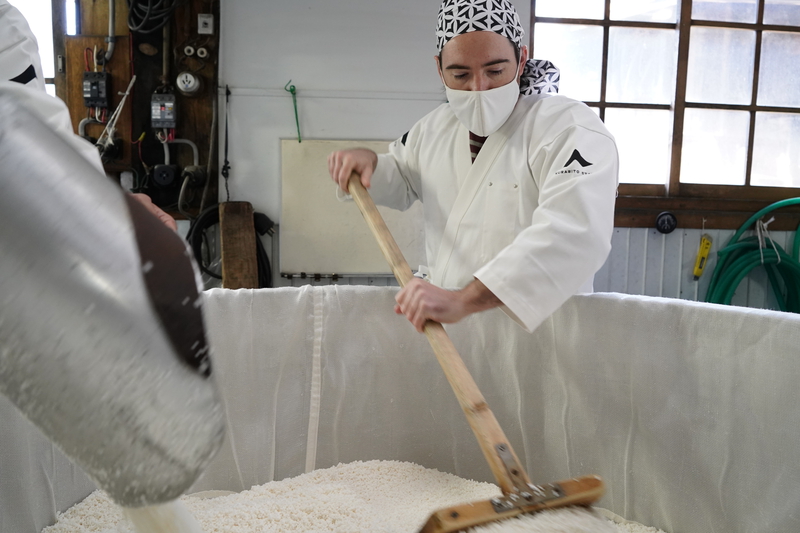 We began by steaming the day's batch of rice, about 120 kilograms worth, in a giant vat covered with a fine cloth sheet. The process took about 45 minutes, most of which was hands-off, allowing us to take a short tour through the brewery.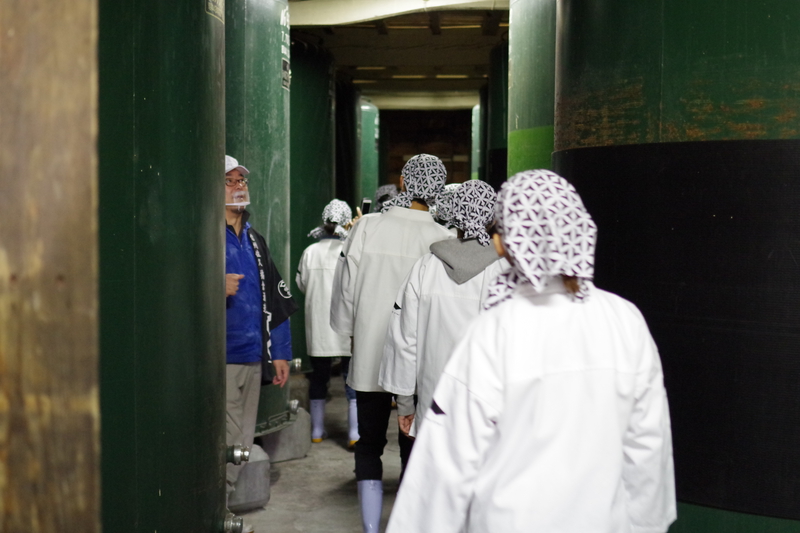 When the rice was done steaming, it had to be moved and cooled. We took buckets of rice, each weighing between 5 to 10 kilograms, and gently dumped them onto cooling racks, spreading out the mass of rice evenly across the surface. The rice needed to cool down to around body temperature before it was ready for the next step.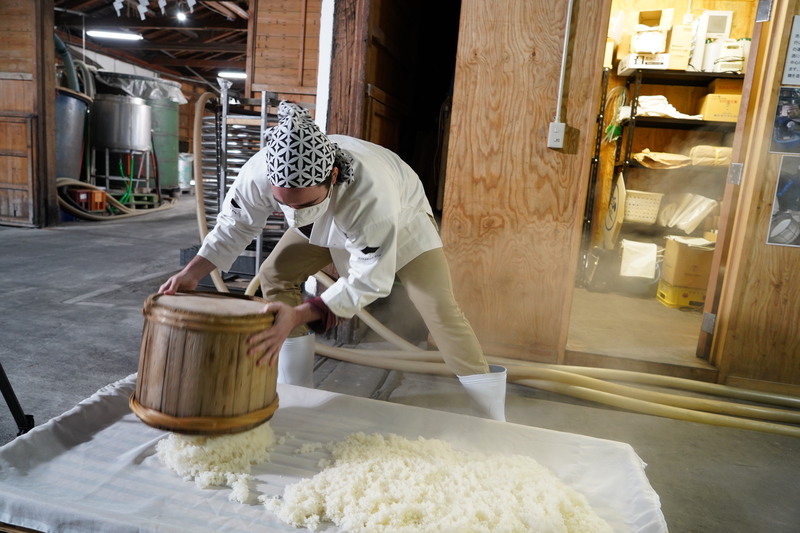 Adding koji to the mix
Wine is made with grapes, beer is made with barley or wheat, and sake is made with rice. All of these are created with the help of yeast, which turns sugar into alcohol. But rice doesn't have any sugar to give—it's all trapped in starch. That's where koji comes in. It breaks down the starch in rice and turns it into sugar, which can then be fermented by yeast.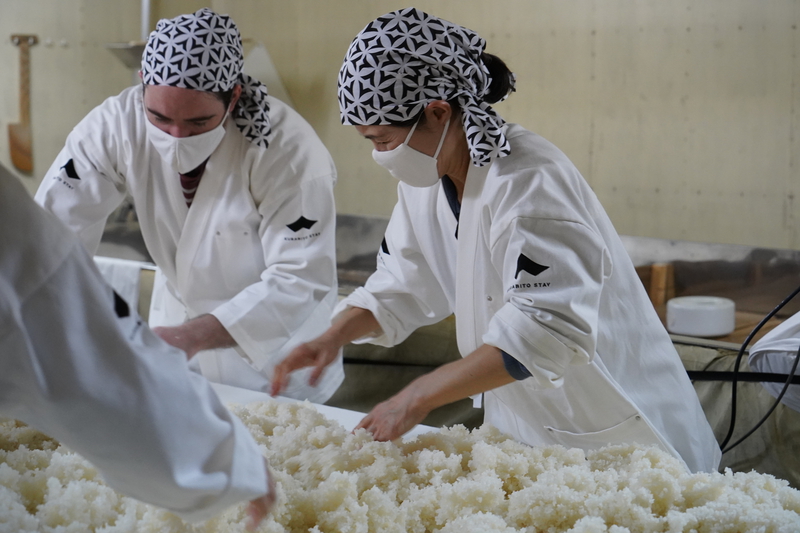 We moved the cooled rice into the kojimuro. At around 32 degrees Celsius with high humidity, it was a heavenly environment for koji, and in the middle of winter, possibly for sake brewers too.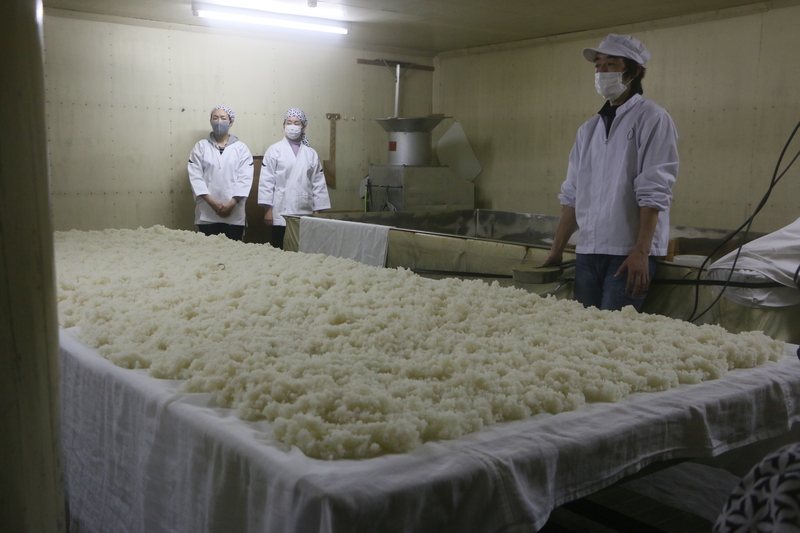 We laid the rice out flat on the large table in the center of the room. The head brewer, Inoue-san, took a shaker tin filled with koji starter and sprinkled it over the rice. Because the spores were incredibly small, even a gentle breeze could knock them off course. We stayed completely still for five minutes so as not to disturb them.
Then we mixed the rice to cool it further and spread the koji evenly throughout.
We repeated the process of adding koji and mixing the rice two more times. Finally, we created a mound of rice in the center of the table and swaddled it in linens to let it rest.
A tour around the brewery
After all that hard work, Ide-san congratulated us with a tour around the rest of the brewery. He showed us the other steps in the sake-making process: yeast preparation, sake fermentation and filtration.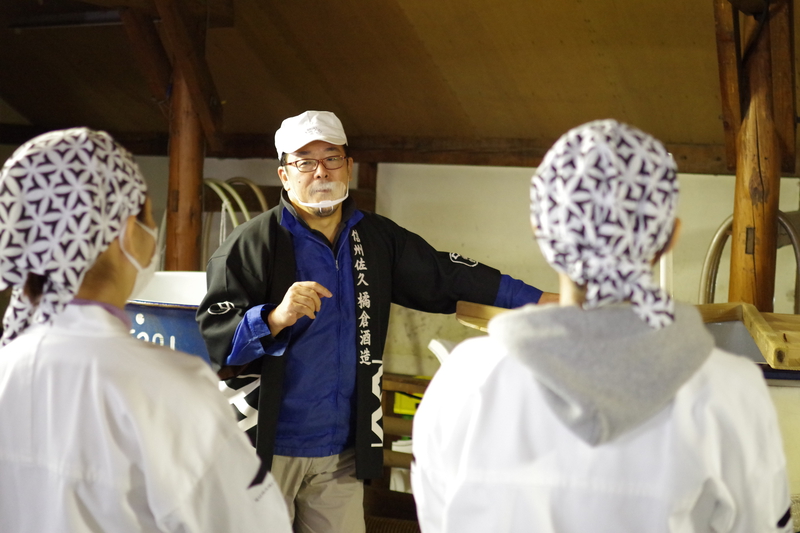 Sake-tasting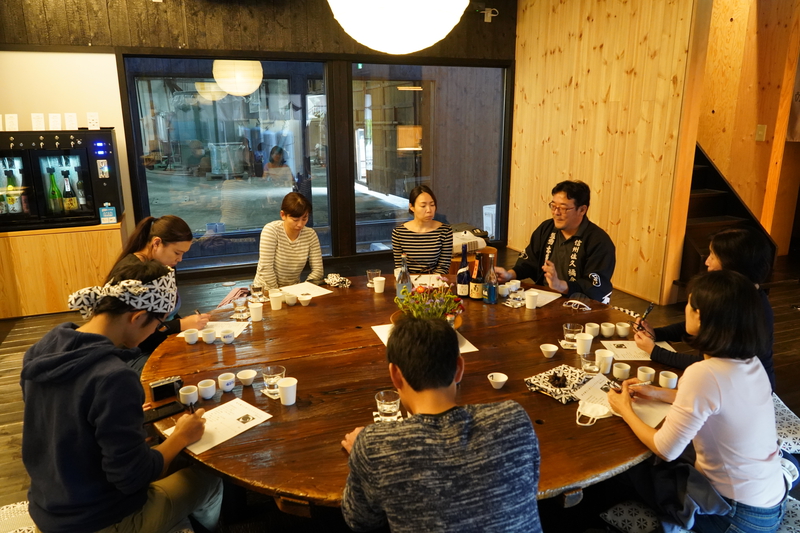 The morning ended with a sake-tasting back at the Kurabito Stay building. Ide-san introduced three of Kitsukura Brewery's rice wines for tasting: a Honjozo, Junmai Ginjo and Daiginjo. He told us about each, about the difference levels of rice polishing and how they contributed to their flavor. The Junmai Ginjo and Daiginjo were made only with rice, polished 60% to 50% of its original size, respectively. The Honjozo used rice polished to up to 70% of its original size and was cut with neutral spirit to improve its clarity.
Finally, Marika-san brought out a mystery sake—one of the three we had already tried. All of us, including Ide-san, tried to guess which of the wines it was. (Luckily, Ide-san got it right.)
After our sake-tasting was free time for lunch. With a slight buzz, we sauntered off to one of Marika-san's recommended local restaurants.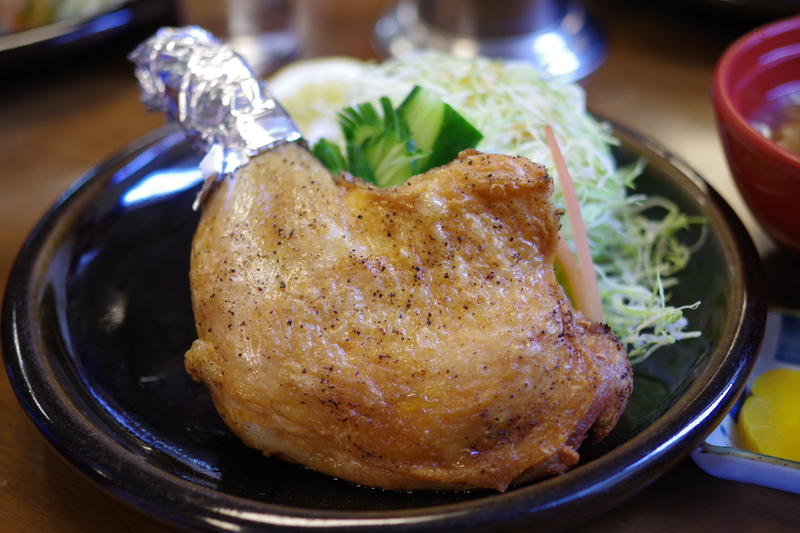 Washing lots and lots of rice
In the afternoon, it was time to get the rice ready for the next day's batch of sake. Before being steamed, it needed to be washed and soaked in water.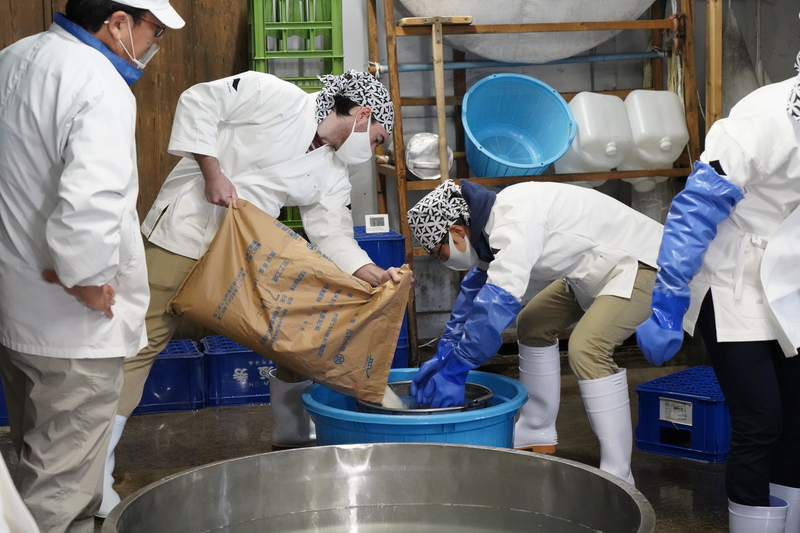 In pairs, one person poured the rice into a fine mesh bucket while the other cleaned it. After precisely 1.5 minutes of cleaning, the rice was moved to a large vat of clean water where it steeped for another 10.5 minutes. Keeping these times constant was important for delivering a consistent product.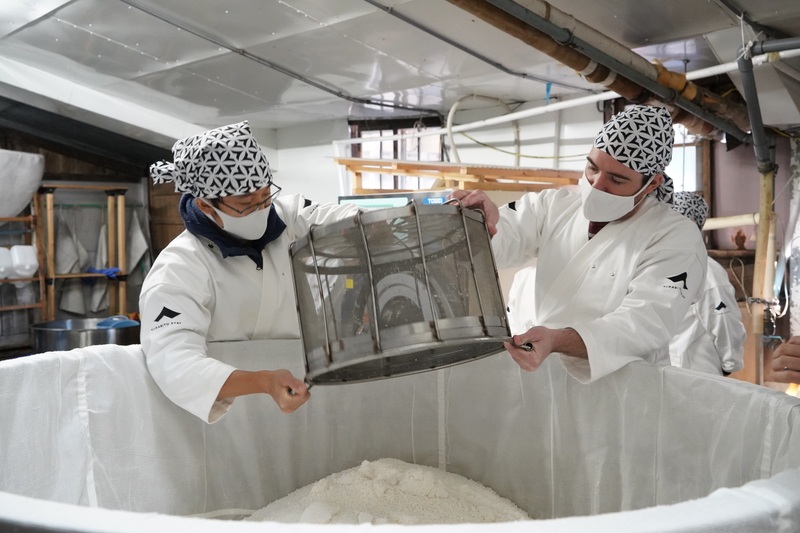 Once the rice was done steeping, it was taken out and left to drain before being placed in dry, linen-lined vat to rest.
Day 3: preparing rice for Daiginjo sake
Another bright and early day of sake making. While not a morning person, I looked forward to another delicious breakfast. This time instead of Japanese cuisine we enjoyed a western style breakfast, including egg, sausage, soup and fluffy bread made with amazake.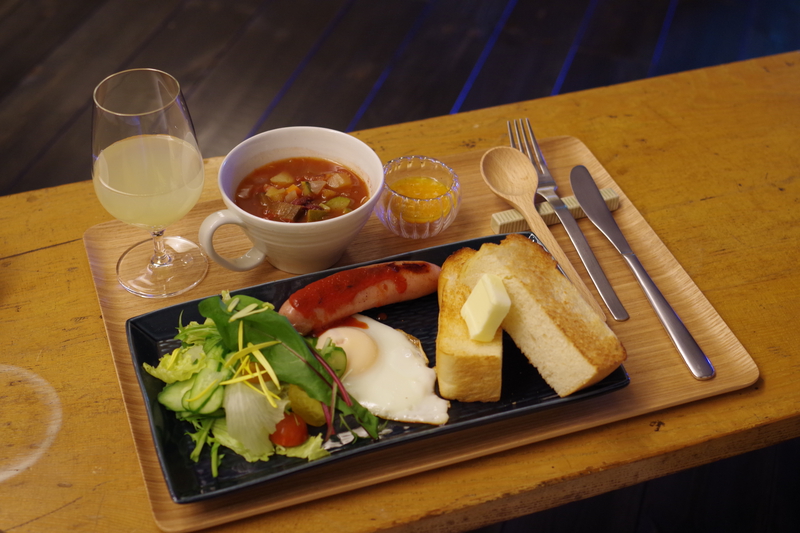 After learning the basics of rice preparation, we were ready to do it all over again, but this time, with the rice we had washed the day before. Unlike yesterday's batch, today's batch was rice that had been polished to 50% of its original size. It would be used in Junmai Daiginjo, one of the brewery's highest quality sakes.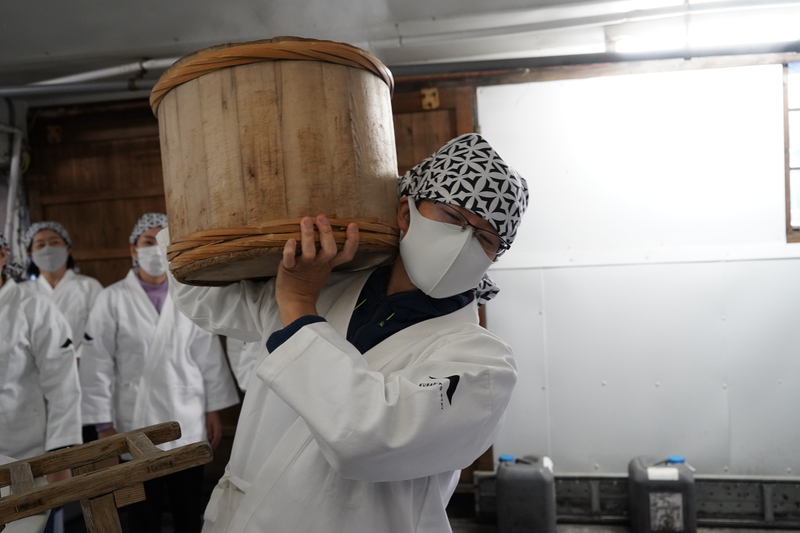 Just like the day before, we steamed and cooled the rice, laying it out on cooling racks outside of the kojimuro.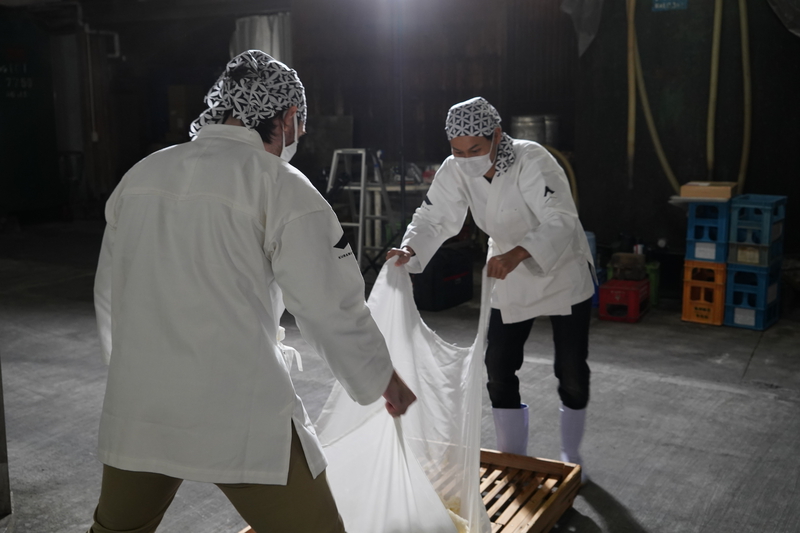 Before we could bring it inside, we had to move yesterday's batch off the main table and break it down into smaller clumps. We fed the rice into a milling machine and poured the grains into another trough in the same room. Then, Inoue-san covered the trough with a linen cloth. The rice would rest here for another day or two before it was ready to add to the sake mash.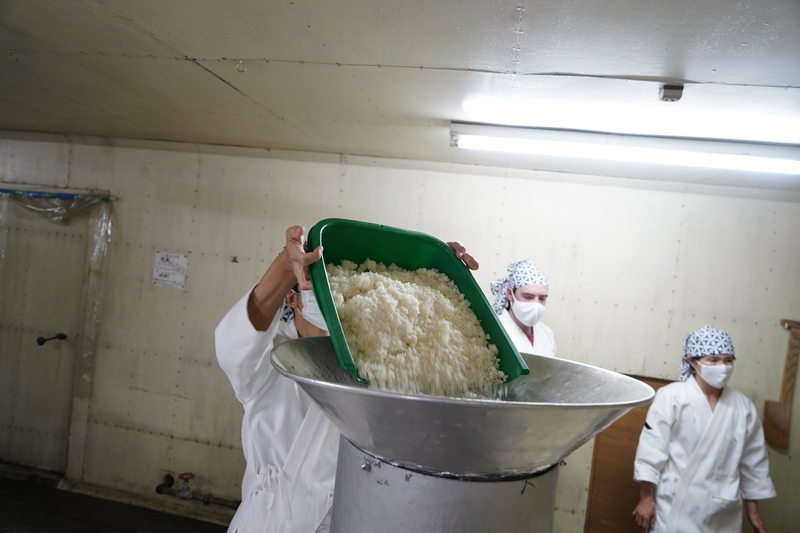 Finally, we brought in the Daiginjo rice and went through the process of sprinkling it with koji and mixing it around all over again. This time, it seemed to go on and on, as Inoue-san meticulously measured the temperature of the rice and asked us to mix It again and again.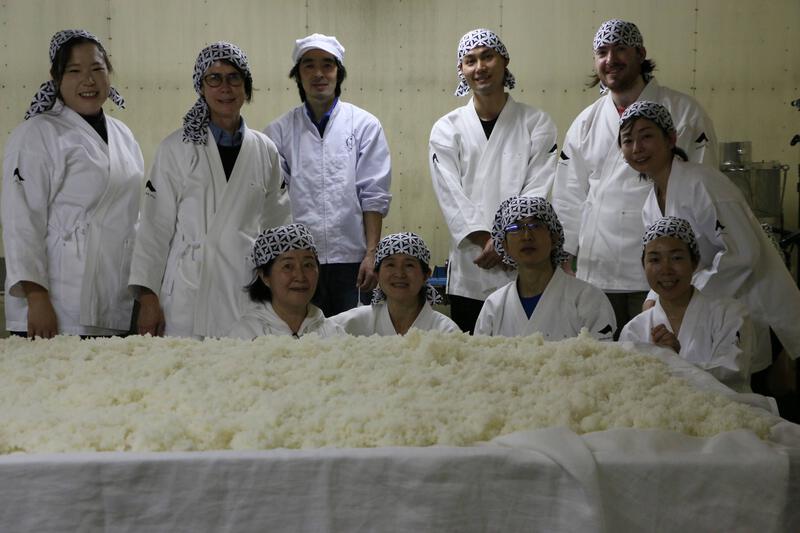 Commemorating our stay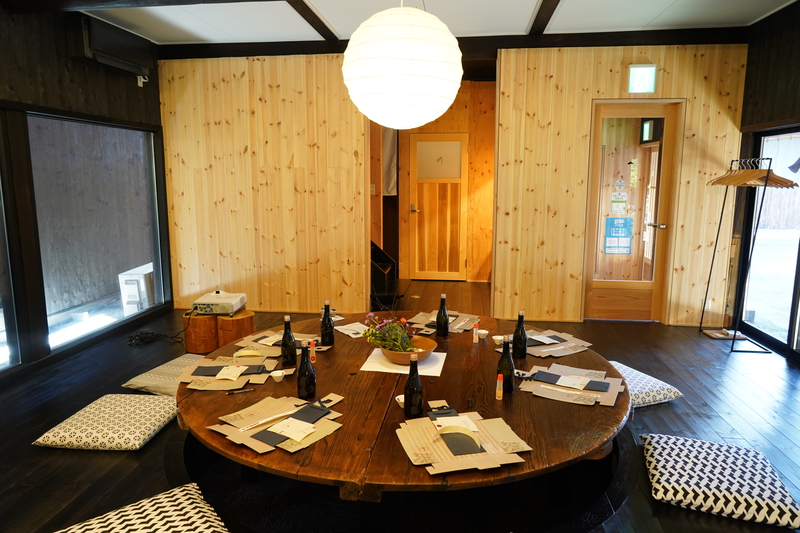 Once the daiginjo rice was tucked away in the kojimuro, we returned to the Kurabito Stay hotel for our closing ceremony. We were each given a bottle of Kitsukura Brewery's Hiyaoroshi Junmai Ginjo, a special autumn release aged for half a year before bottling. We were also given blank labels and pens to create our own special bottle commemorating our stay.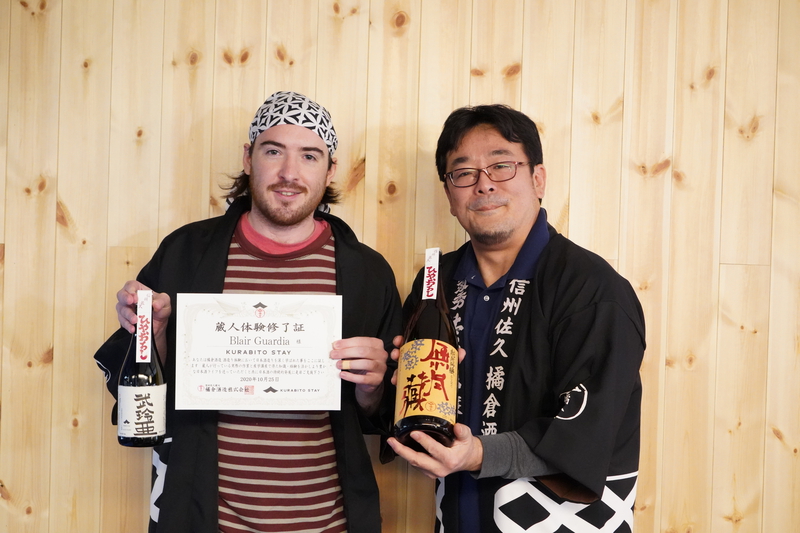 One by one, we presented our bottles and received participation certificates from Ide-san. We were now officially kurabito!
Choosing the Program that's Right for you
Kurabito Stay brings you into a Japanese sake brewery for a first-hand experience of the sake-making process. From hands-on lessons in preparing sake rice to tours through a traditional sake brewery, it is a great experience for anyone interested in rice wine or brewing in general.
But for those who would like to learn about this Japanese tradition yet don't enjoy alcohol, Kurabito Stay also offers another program. Instead of preparing rice for sake, you prepare it for amazake, a type of fermented rice milk that is renowned for its health benefits. The amazake koji-making program is for one night and two days.
When are Kurabito Stay Programs Available?
Available programs depend on the time of year. Sake-making is available between two periods: from October to November and from February to March. And amazake koji-making is available from April to September. See Kurabito Stay's official website for details.
Update:2020/11/24
Kurabito Stay: Sake-brewing Experience (2 nights, 3 days)
| | |
| --- | --- |
| Operating Period | Select dates between October and November; February and March |
| Time | 5:30 p.m. Friday to 12:00 p.m. Sunday |
| Reservations | Necessary. Reserve via the Kurabito Stay website. |
| Price | 59,000 yen per person |
Kurabito Stay: Making Koji for Amazake (1 night, 2 days)
| | |
| --- | --- |
| Operating Period | Select dates between April and September |
| Time | 2:00 p.m. Saturday to 12:00 p.m. Sunday |
| Reservations | Necessary. Reserve via the Kurabito Stay Website |
| Price | 39,000 yen per person |