Japanese Serow Watching with Picchio
Eastern Nagano Area Komoro CIty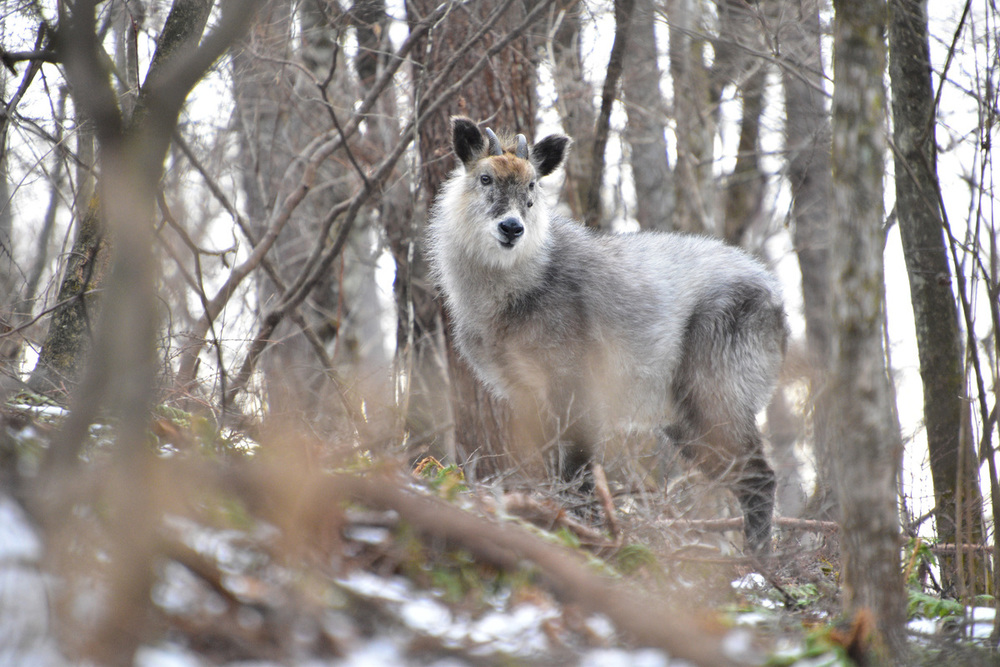 See one of Japan's most beloved wild animals on a tour through the mountains of Nagano.
Main visual provided by Picchio Wildlife Research Center
What is a serow? I thought that myself many times when I first came to Japan.
For an animal I'd never heard of or seen before, the name popped up quite frequently. From outdoor goods and motorcycles to lodges and parks, the name serow, or kamoshika in Japanese, adorned a great many things. Even Nagano's semi-pro baseball team, the Shinano Grandserows, pays them homage.
Serow are a type of caprid, frequently called "goat-antelopes." They can be found around highland areas of east Asia and spend most of their time grazing on grasses on rocky and steep hillsides.
While the Japanese serow once faced extinction due to predation, the Japanese government designated it a special natural monument, protecting it and allowing it to thrive. Now, the serow can be found throughout the mountains of Japan.
But, you'd be mistaken to think that you can find them just anywhere. For the best chance to meet one of these beautiful creatures, you'll want a guide to point you in the right direction.
Take a Serow-Watching Tour with Picchio
The Picchio Wildlife Research Center offers many nature-observation tours around Karuizawa and Komoro in Eastern Nagano. Their Serow-Watching Tour has—as of writing—an impressive 100% chance of finding serow.
With the help of a well-versed nature guide, hike up to a 1,900-meter-high plateau surrounded by rocky palisades and enjoy beautiful autumn scenery and serow-spotting.
See our experience of the tour below:
Meeting for the Tour at Tengu Onsen Asama Sanso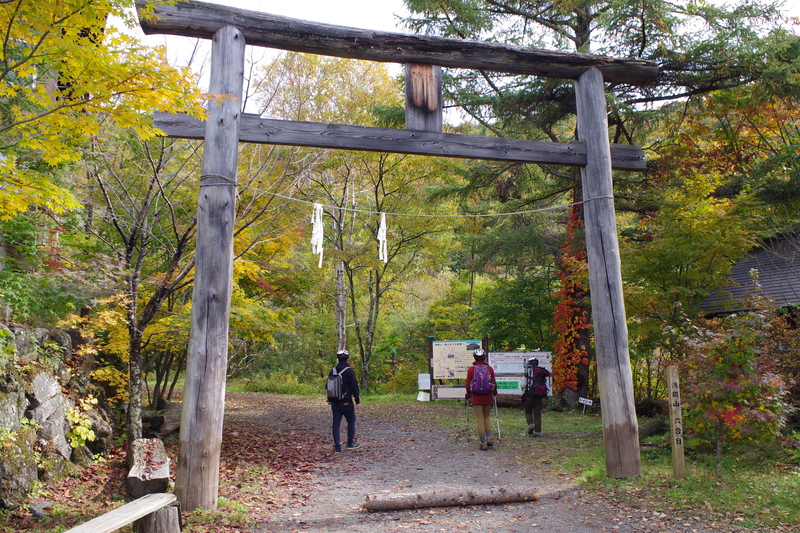 Our meeting point was the Tengu Onsen Asama Sanso lodge, tucked away in the forests above Komoro City. It's just about 25 minutes from the Komoro I.C. exit, or 25 minutes by taxi from the station. While tours generally begin at 8:30 in the morning, we made special arrangements to start at 10:00.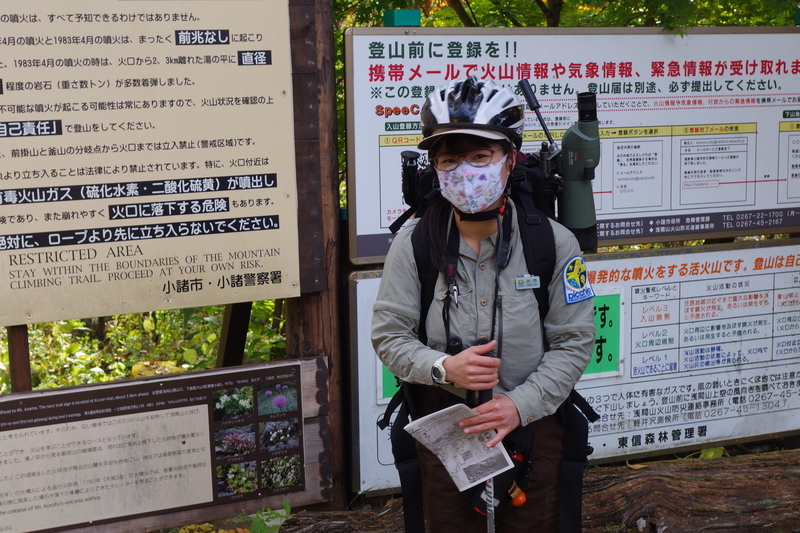 Our guides, Furuichi-san and Amelia-san, were waiting for us by a large torii gate when we arrived. Despite her small stature, Furuichi-san was sporting a huge pack full of equipment including binoculars and telescopes to better spot the local wildlife. Amelia passed out helmets for us to wear during the hike, as we would be walking close to Mt. Asama, an active volcano.
As the name of the tour implied, the goal for the day was to find serow, and our destination, Kamoshikadaira, was a great place to find them. Surrounded by precipitous cliffs that were once part of the crater of an ancient volcano, it had plenty of steep, grassy slopes that serow love to graze upon.
Hiking to Kamoshikadaira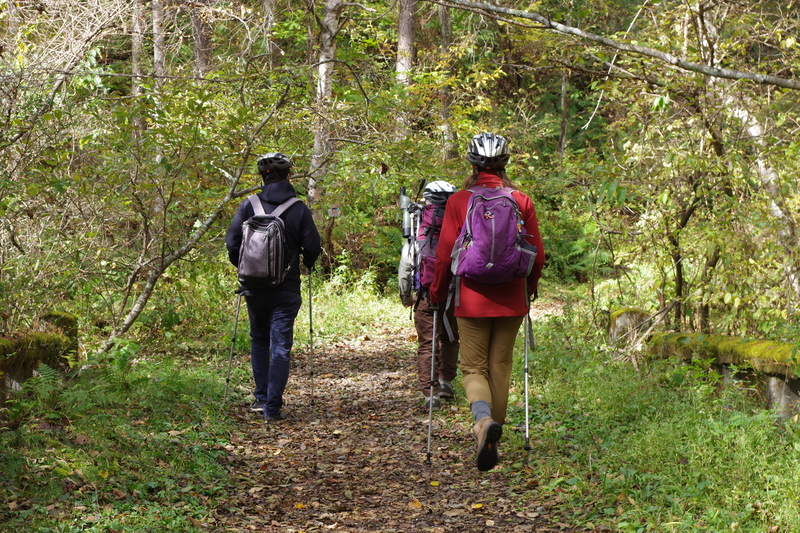 The hike to Kamoshikadaira began relatively flat, crossing back and forth over a large stream known as the Jabori River.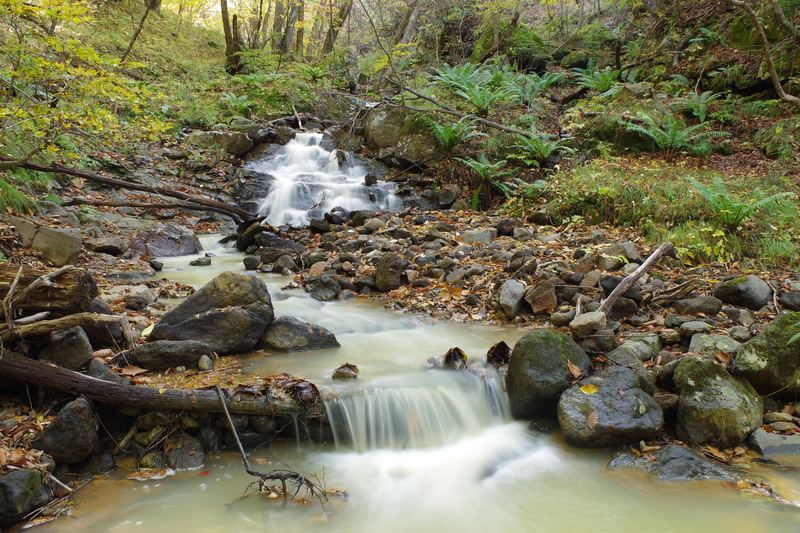 The stream turned in sharp, tight coils like a snake. Its water was cloudy and smelled lightly of sulfur. As we continued upstream, the smell grew stronger.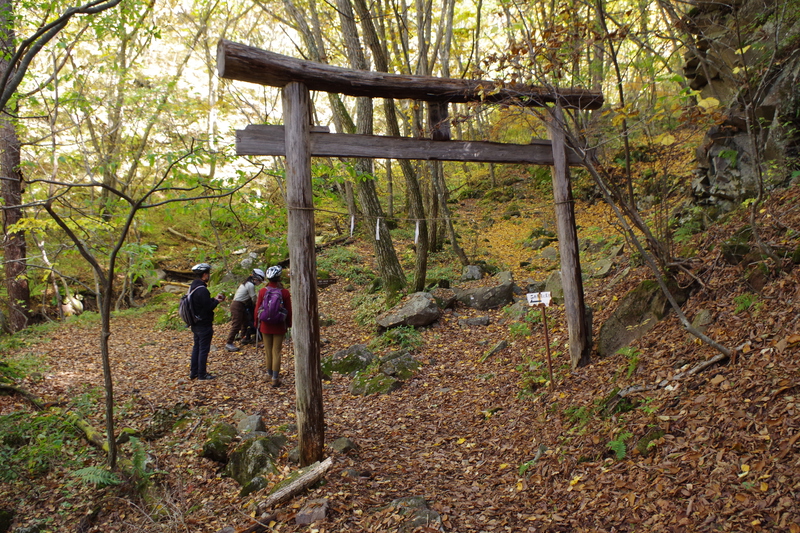 At several points along the trail were large torii gates. At the first, we took a ten-minute break to drink water and eat snacks. Furuichi-san told us facts about the area and more about the serow that we looked forward to seeing.
After the first gate, the trail steepened. Soon, the woods began to thin out and still-green leaves gave way to yellows and golds.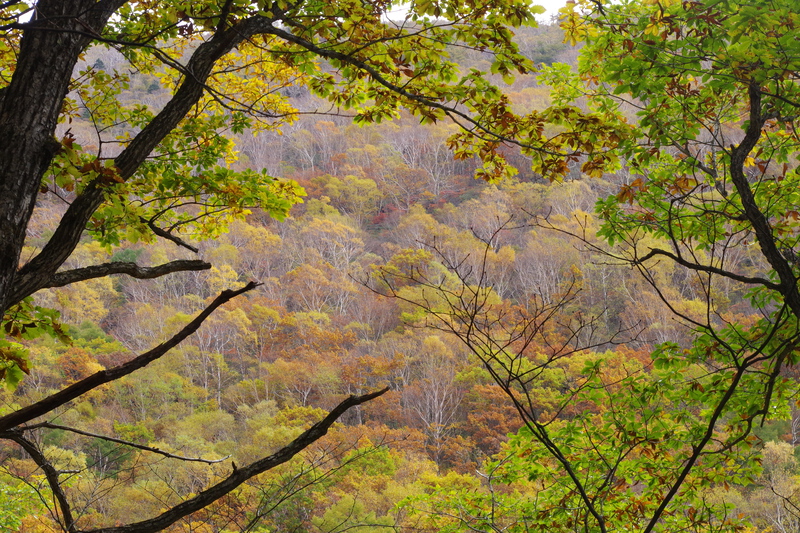 Between gaps in the trees, we could see a valley and another ridge beyond. It was covered in a forest of beech trees, whose white bark contrasted beautifully with the reddening colors of autumn leaves.
The second torii gate marked our second break and was a great vantage point for gazing at the valley below.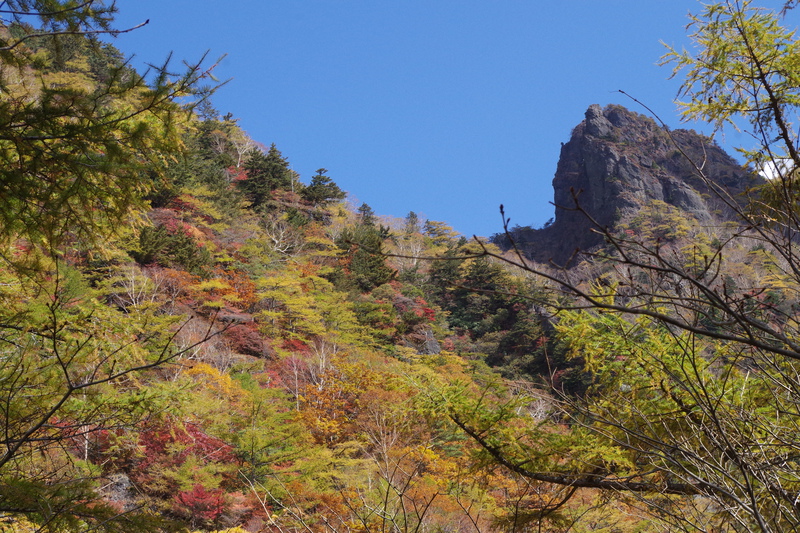 We took switchback after switchback on our way through the woods, greeted by increasingly impressive views of the nearby valley on each turn. A few times, Furuichi-san spotted birds fluttering about in the trees. We stopped and tried to get a good look at them. Some got away, but Furuichi-san pulled out a handy guidebook and showed us the ones she found.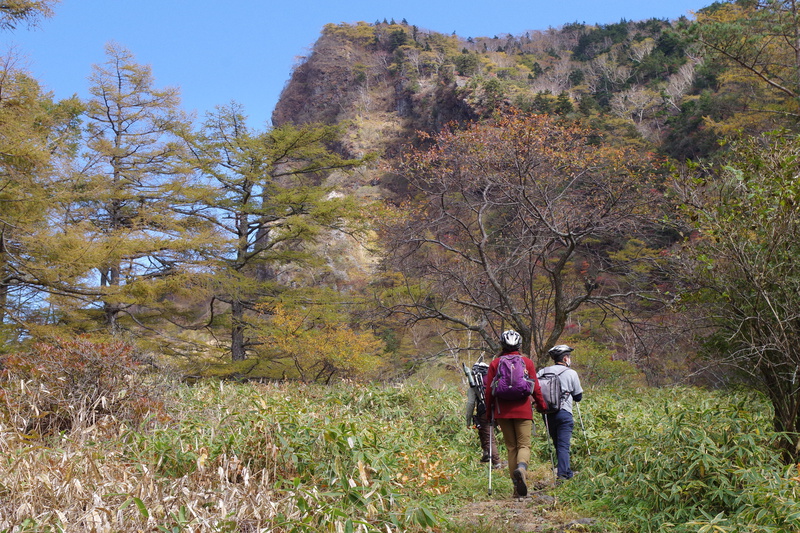 Before long, we exited the forest and reached plains of sasa bamboo grass interspersed with karamatsu pines. On either side of us stood rocky palisades, remnants of an ancient volcano crater. On a small sign to our left was written, Kamoshikadaira, adorned with adorable illustrations of serow.
Lunch and Serow-Watching in the Mountains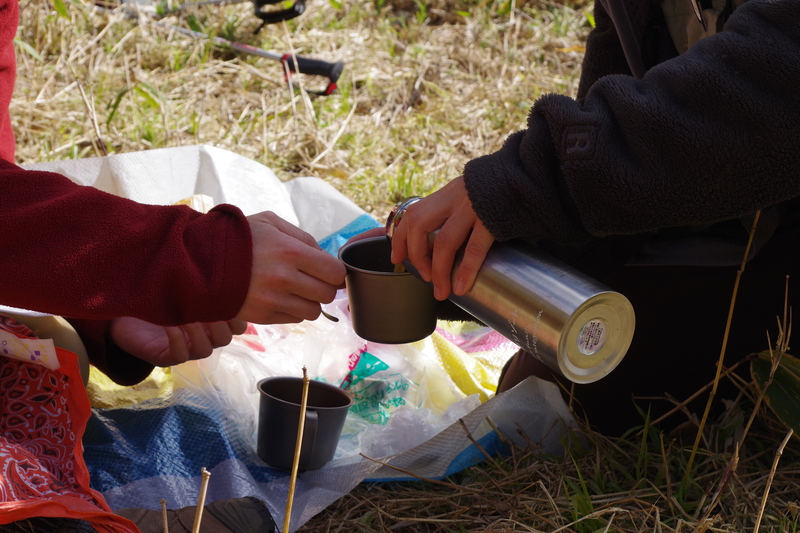 We found a nice open area on the plateau to have lunch. Furuichi-san handed out our bento boxes, a typical Japanese lunch of onigiri, fried chicken and tamago-yaki. She also served us hot miso soup that she brought in a thermos.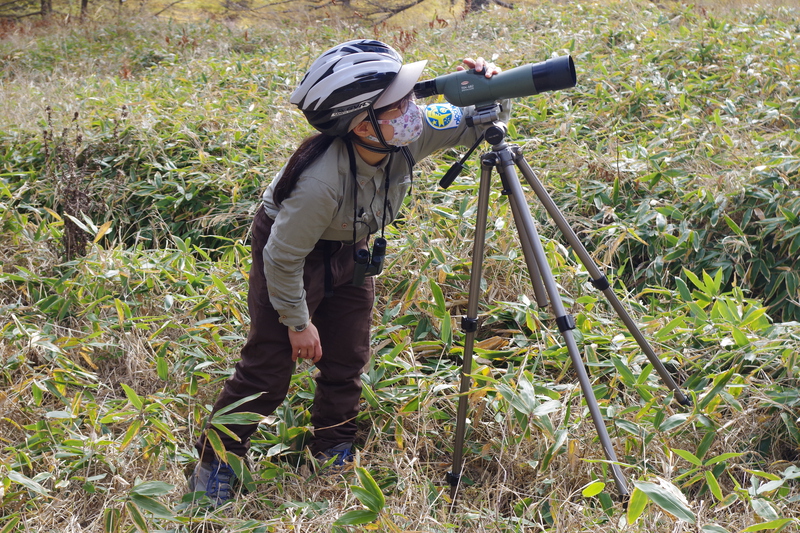 While we ate, she donned her binoculars and scoured the cliffs for signs of serow. This tour, she said, has had a 100% chance of finding kamoshika up until now—would today be the blemish on an otherwise perfect record?
Luckily, we found our first serow after a few minutes of searching and the tour's record was preserved.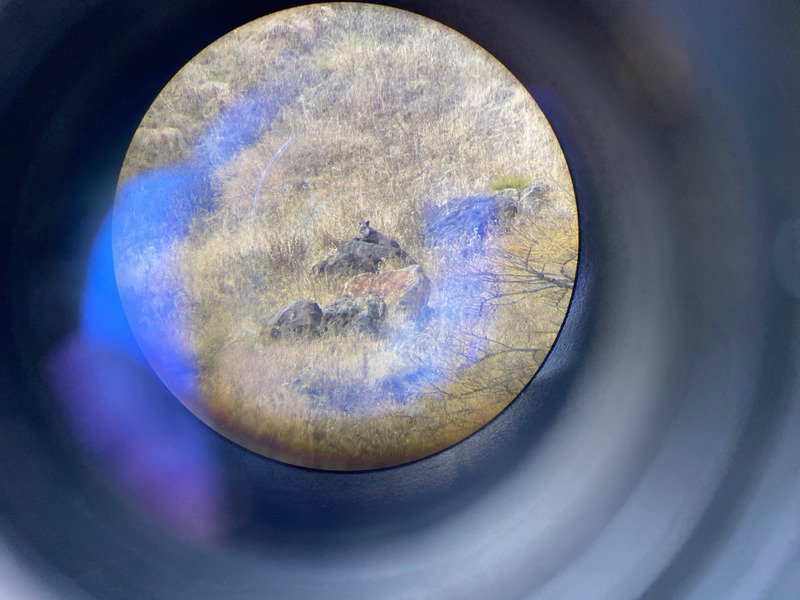 Our first sighting was laying on a large boulder on the side of the cliff, chewing its cud. We could almost make it out with our own eyes, but its dark-grey coat made it blend in with the rocks. We could see it pretty well with our binoculars, and Furuichi-san also set up her telescope to give us an even closer view. It looked quite content, enjoying the warmth of the sun while breaking down its grassy meal.
We found our second traversing the grassy hillside. And our third grazing in between some trees.
Due to our late start, we didn't have time to find any other serow, but the usual tour would have had at least another hour to spot them and enjoy the scenery.
Descending the Mountain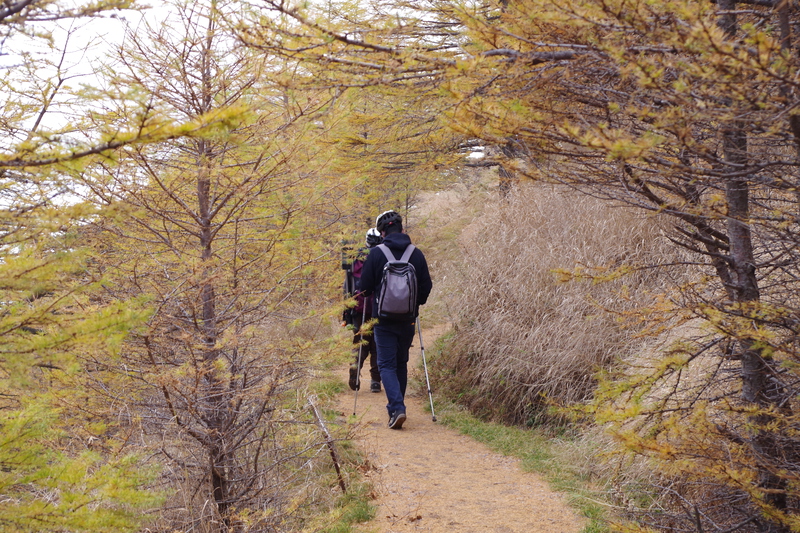 We had hiked up as far as the Kazankan lodge in Kamoshikadaira. From there, our return trip to Tengu Onsen would take about two hours.
Most of the trail was the same on the way down. But after passing the second torii gate, we turned left instead of right. This route took us down to a beautiful little waterfall along the river. The falls plunged 10 meters or so and cascaded down clutches of smooth rocks before taking on the snake-like shape of the Jabori River.
The sun was slowly beginning to set. Shadows grew inkier and longer and the treetops were bathed in a warm glow. The autumn leaves looked even more spectacular. Without any more uphill sections to worry about, we could focus on the beautiful forest scenery.
End of the Tour
We reached Tengu Onsen Asama Sanso at 16:00, just two hours after heading back down the mountain.
We returned our borrowed binoculars and helmets and said farewell to Furuichi-san and Amelia before getting back in the car and heading home.
Conclusion
While I had seen serow a few times in the past, including a stand-off on a cat track at the local ski resort, I had never spotted them before they spotted me. Seeing them from afar—and seeing them first—was a new experience.
I saw them going about their business, grazing and ruminating as they naturally would. They were quiet, dignified, and at the same time, strangely adorable. I could see why Japanese people felt such an attachment to them.
They mean different things to different people. To some, they are a symbol of Japan's mountains and forests. To others, they are a measuring stick to which top athletes are compared. And to students studying for exams, they are a role model, never falling, no matter how steep the slope.
After seeing serow for yourself, what will they mean to you?
Update:2020/11/06
Japanese Serow Watching Tour
| | |
| --- | --- |
| Operating Period | Set days in September and October (see Picchio's website for details) |
| Time | 8:30 to 16:00 |
| Reservations | Necessary (at least 5 days in advance) |
| Price | 18,000 per person (includes: guide fee, insurance, lunch, rental hiking boots) |