Mushroom-picking with Guesthouse Lamp
Northen Nagano Area Shinano Town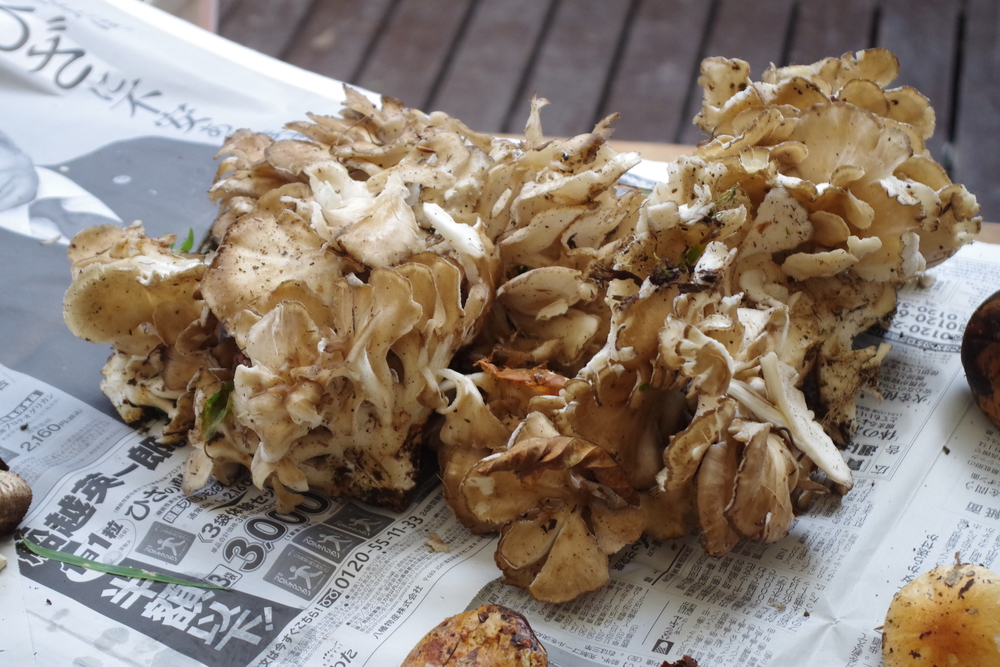 Enter a mushroom picker's paradise in Shinanomachi
Nagano is one of the largest producers of both cultivated and wild mushrooms in Japan. And while it's easy enough to buy them at the store or a farmer's market, there's nothing quite like exploring the outdoors and foraging for them yourself.
The town of Shinanomachi, centered around Lake Nojiri and surrounded by lush forests and mountains, is a popular outdoor destination and a prime location for mushroom foraging.
It is said that over 6,000 types of mushrooms grow around Shinanomachi, and among them, there are 130 known edible species worth looking for. With the help of a knowledgeable mushroom expert, you can find some of Japan's most delicious wild mushrooms.
Take a Mushroom-Picking Tour with an Expert Guide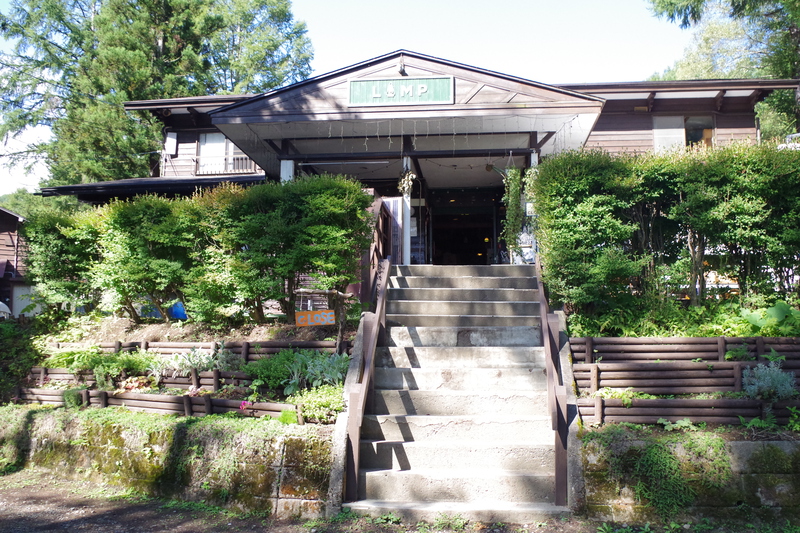 Sunday Planning, a local outdoor tour company, offers mushroom-picking tours from mid-September to early November. Beginning at their base of operations, Guesthouse Lamp, they take groups into the mountains for a full day of foraging. Optionally, the lodge also offers dinner made with the day's haul.
See our experience on their mushroom-picking tour below.
Check-in (9:00)
Check-in for the tour begins promptly at 9:00 in the morning at the lodge.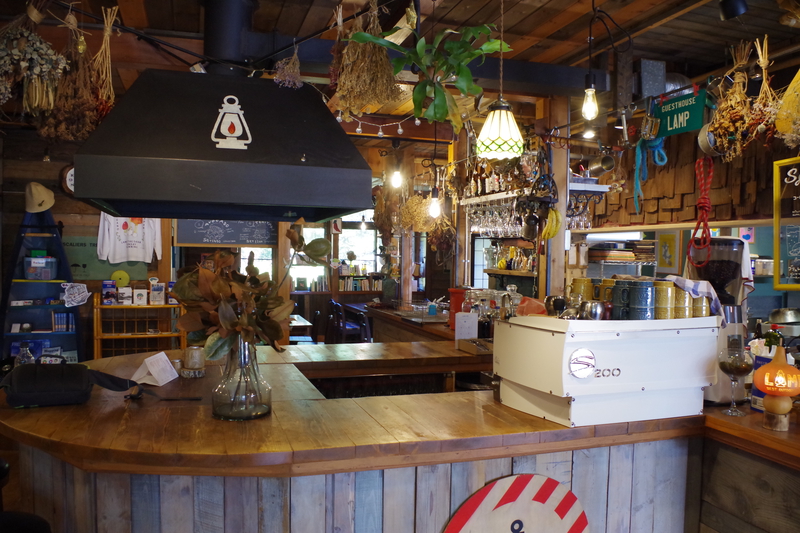 After filling out some forms, we met with our mushroom picking expert for the day: Yoshi, the founder of Sunday Planning and an all-around outdoorsman. Joining us was Koba-chan, a fellow outdoorsman and mushroom maniac.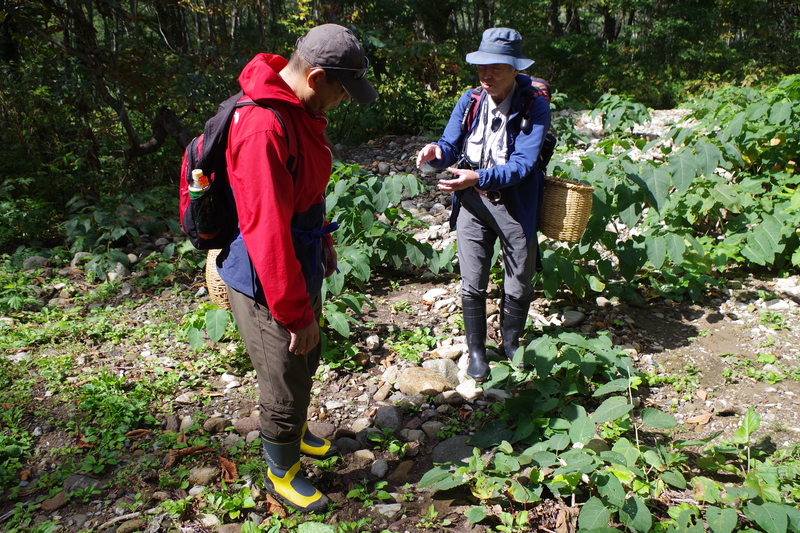 According to Yoshi, we would find the best mushrooms high up in the mountains at this time of year. As autumn progresses, the mushrooms work their way down the valley, eventually reaching the shores of lake Nojiri before winter. Our destination was Sasagime, a highland plateau at the base of Mt. Hiuchi just over the border in Niigata.
We changed into rubber boots and gathered up our gear and headed off (by van) into the mountains.
Mushroom-picking begins (10:30)
We arrived at our destination shortly after 10:30. The gravel-filled mountain road was empty save for a few other trucks parked along the roadside—we weren't the first ones to come looking for mushrooms here today.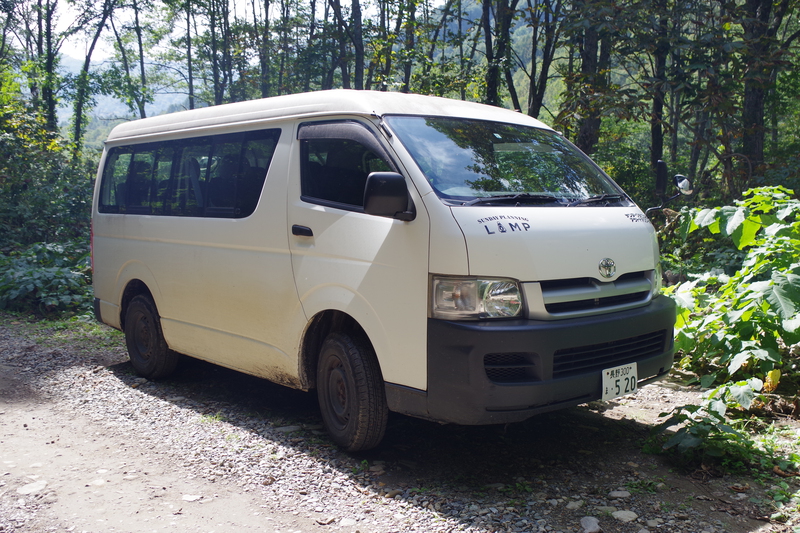 Soon, we were off looking for our own treasure trove of edible fungi. Before I knew it, Yoshi and Koba-chan were headlong into the forest, disappearing beyond bushes of sasa bamboo.
We pushed through thick shrubbery and scrambled up steep slopes looking for choice mushrooms. Koba-chan scouted ahead while Yoshi stayed closer to us, occasionally calling us over to look at his interesting finds.
He pointed out the characteristics of the mushrooms he found. You have to look carefully at each part of the mushroom, he said. What color and shape is the cap? Does it have gills, pores, or teeth underneath? Does the stalk have a ring? A cup at its base? When Yoshi wasn't 100% sure what kind of mushroom something was, we left it alone.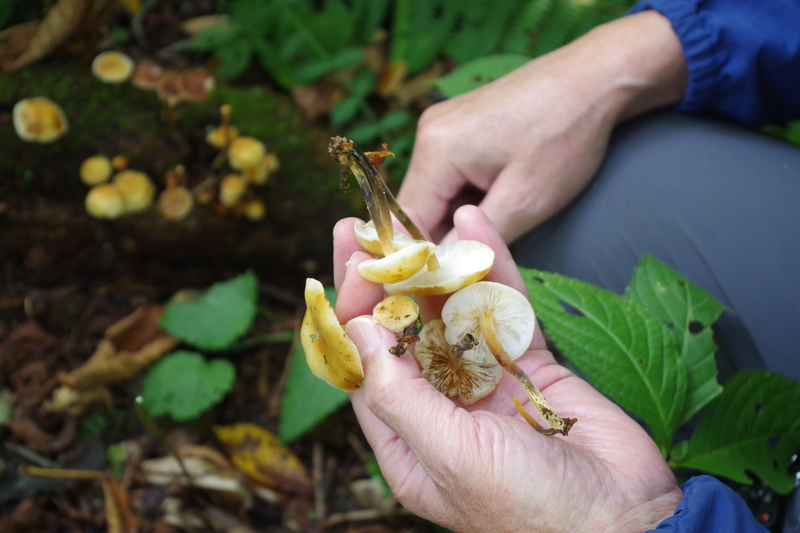 Koba-chan returned from his scouting mission victorious with a large clump of maitake, also known as hen of the woods. There was more—much more—he said, so we followed him higher into the mountains towards his find.
But as we neared the spot where Koba-chan thought he found his maitake, not even he could remember where it was. We scoured the area, looking up and down every tree and log. While we never found Koba-chan's stash, we saw a lot of other interesting mushrooms nearby. We picked some and showed them to Yoshi.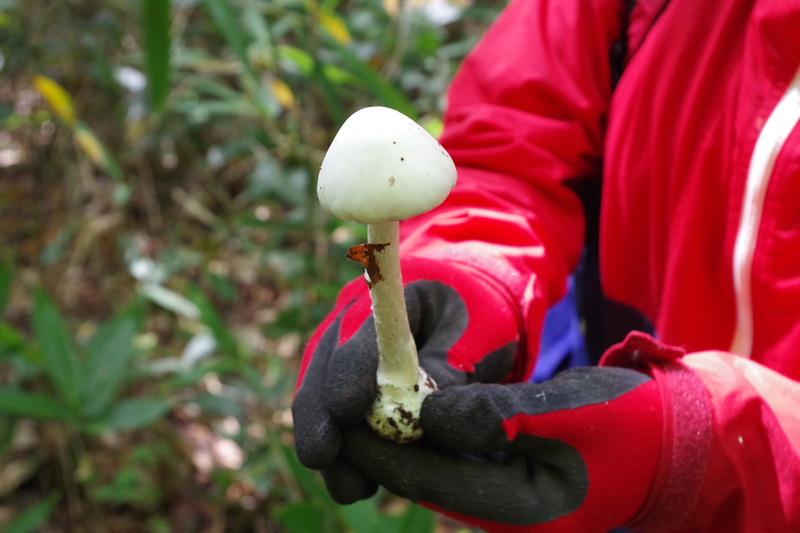 "Yoshi, what's this?"
"That? Oh, just one of the deadliest mushrooms in the world."
Lunch (13:00)
After a successful morning of mushroom-picking deep in the forest, we climbed back down to the road and found a nice spot by a nearby stream for lunch.
We brought some food from a convenience store on our way here, but Yoshi, having been mushroom-picking many times this year already, brought several wild mushroom-based dishes for lunch and shared some with us. Our first taste of wild mushrooms. Tender and flavorful with a pronounced earthy fragrance, they exceeded our expectations.
With a better idea of what to look forward to after cooking our own mushrooms, we were ready for our second round of foraging.
More mushroom-picking (14:00)
Instead of heading back into the thick of the forest for our afternoon mushroom-picking session, we enjoyed a leisurely stroll along the stream.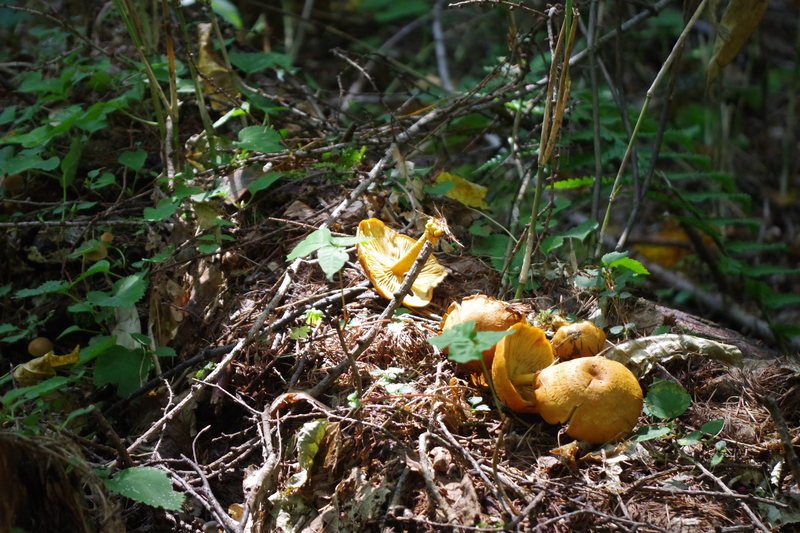 There were a few collapsed trees, and the mixture of dead wood and moisture from the water made for prime mushroom growing habitat. There were some large hanaiguchi growing on one of the dead logs and we quickly swooped them up.
Finally, we made another move to a nearby hiking trail where Yoshi and Koba-chan had been keeping an eye on some young mushrooms. We managed to find a couple of other edibles here as well, and before we knew it, it was time to head back to the lodge.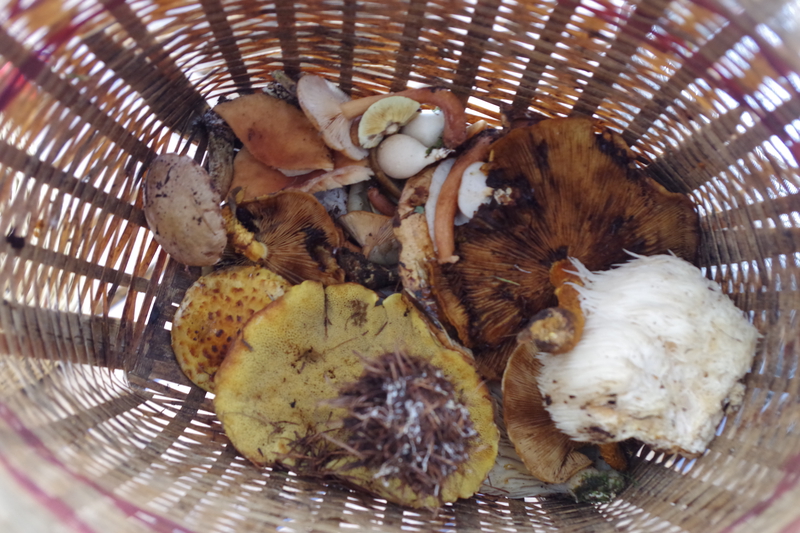 Returning to Guesthouse Lamp (15:30)
After a 30-minute drive down the mountain, we arrived back at Guesthouse lamp.
Without any hesitation, we set to work on our mushrooms, arranging them on the tabletop by type. Yoshi carefully inspected them and threw away several groups of poisonous mushrooms—how did those get in there?—as well as edible ones that were past their prime.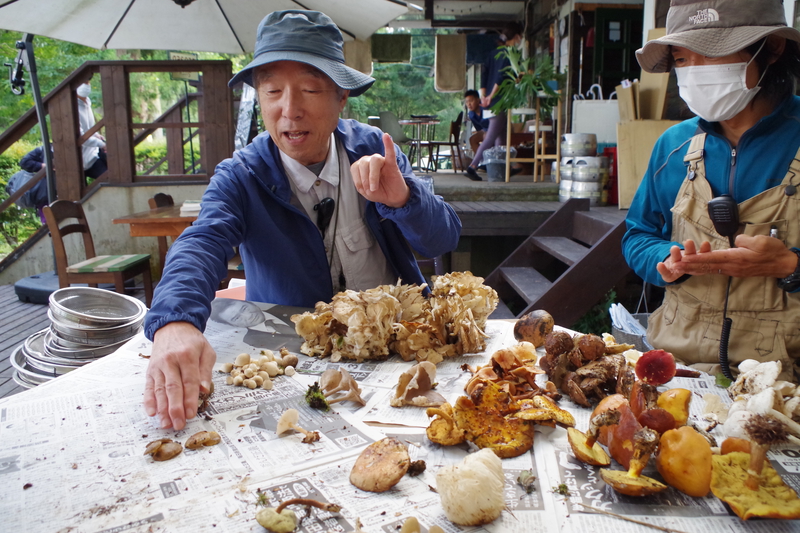 All in all, we found 21 different types of edible mushrooms including maitake, naratake, yamabushitake, numerisugitake, hanaiguchi, usuhiratake and many others whose names I've forgotten. Seeing our haul spread out on the table, I felt a deep sense of satisfaction.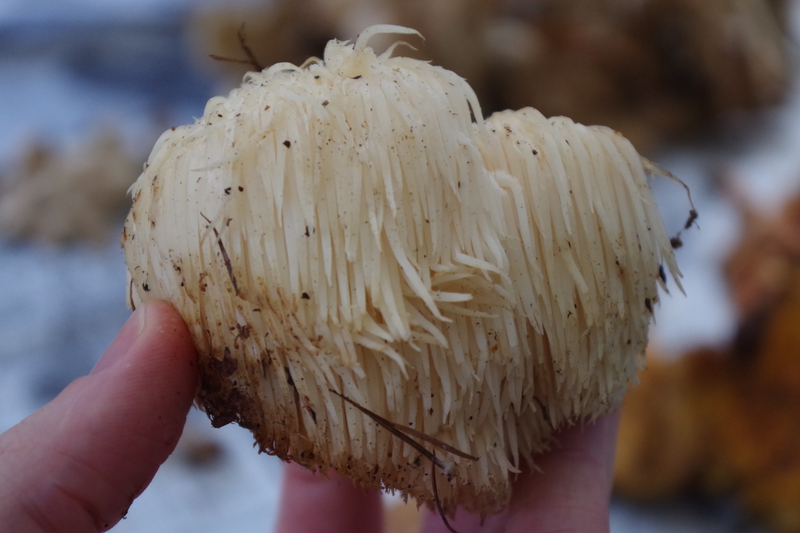 As we weren't having dinner at the lodge, Yoshi helped us prepare our mushrooms before we split them up to take home.
End of the Tour (16:00)
The tour itself finished at 16:00, and most tour participants would have free time from the end of the tour until dinner at 18:30, a perfect time to wash up and relax in one of Guesthouse Lamp's steamy saunas.
While we weren't staying for dinner, we couldn't resist an opportunity to use the sauna. After a long day of trekking through the mud and dirt, the sauna was a blessing. And the cold bath invigorating!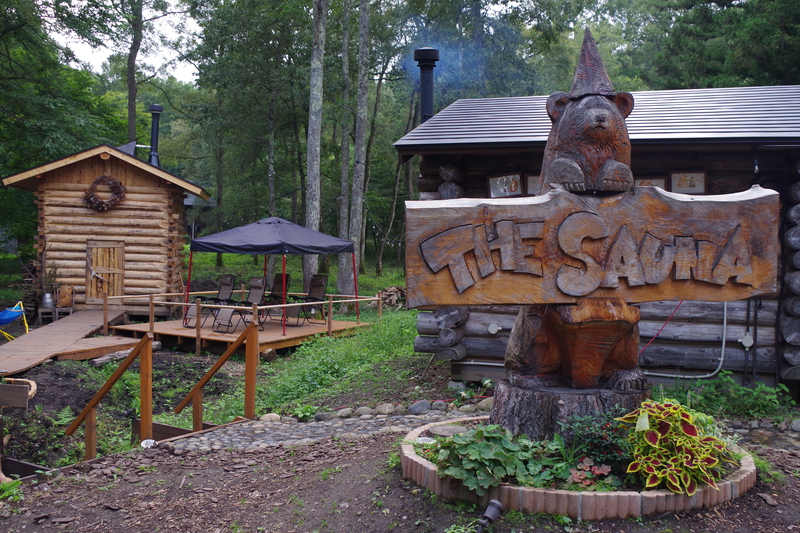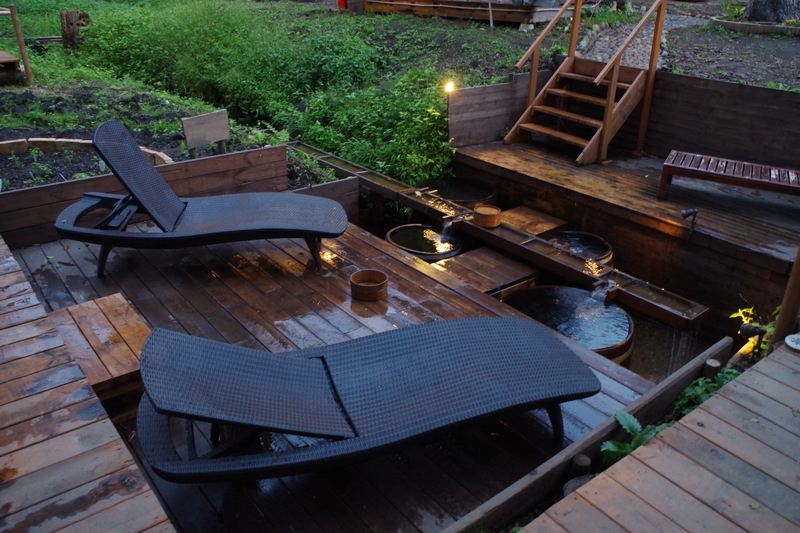 Conclusion
Wild mushrooms have fascinated people for ages. They often appear as if out of nowhere, decorating forests and plains in myriad shapes and colors. Some of them are coveted for their rich, earthy flavors while others can kill you after just one bite.
For people with no mushroom-picking experience, the uncertainty surrounding them can be overwhelming, or possibly deadly. But with an expert by your side, you can experience the joy of finding—and eating—some of the most delicious wild mushrooms for yourself. After getting a taste for them, you may have to start a new hobby!
Update:2020/10/16
Sunday Planning
Operating Period
Daily from mid-September to early November
Time
Mushroom-picking: 9:00 to 16:00, Dinner: from 18:30
Reservations
Necessary
Price
Mushroom-picking: 7,500 yen/person
Dinner (optional): 2,700 yen/person
Rental boots: 300 yen/person
TEL
(+81)026-258-2978
Mail
youkoso@sundayplanning.com