Countryside Cooking with Village Grannies
Suwa Area Chino CIty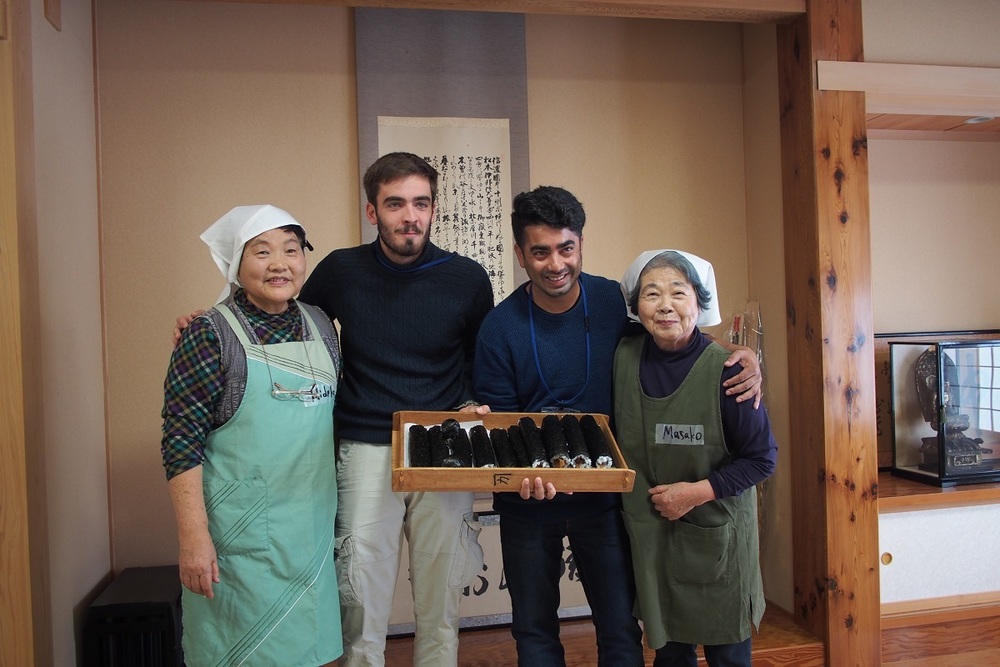 Visit a lovely rural village up in the mountains and discover the distinctive local food tradition together with cute local grannies.
In the foothills of the Yatsugatake Mountains, at an elevation of over 1,000m, lies a cluster of small farming villages straight out of a Japanese fairytale. Here, you can still find century-old farmhouses and pastoral scenes untouched by modernization. This nostalgic rural area is known as Yamaura, which means "in the mountain's shadow," for its unusual position so close to the mountain peaks.
In the Yamaura, the food culture is tied to the land and its seasons. The locals still lead a life in harmony with nature, adapting their farming activities and eating habits to the climate.
As the region is located at such high elevations, this also means embracing long, piercingly cold winters and coming up with ingenious solutions to preserve food throughout the year.
The local food is quite different from the Japanese cuisine everybody knows and loves, featuring many unusual dishes you won't find anywhere else. If you want to explore a more intimate side of Japan and its undiscovered flavors, you can join this cooking experience deep into the mountains of Nagano with cute grannies as your hosts.
Heading toward the Yamaura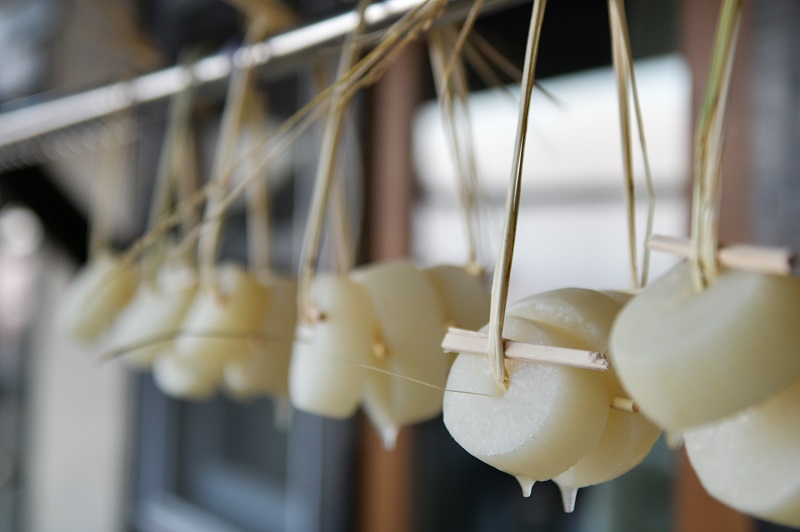 The activity takes place in a village high up in the mountains, and the road to get there is somewhat long, albeit very scenic. The terraced rice fields that pave the way toward the massive range of the Yatsugatake mountains show a different look every season. In spring, when flooded with water, they reflect the mountains' elegant silhouette, while in summer, they shine golden under the sun.
If you have a car, the guide will be waiting for you at the village. If you are coming by train, though, they will pick you up from JR Chino station and give you a lift to the activity venue.
Meet the Grannies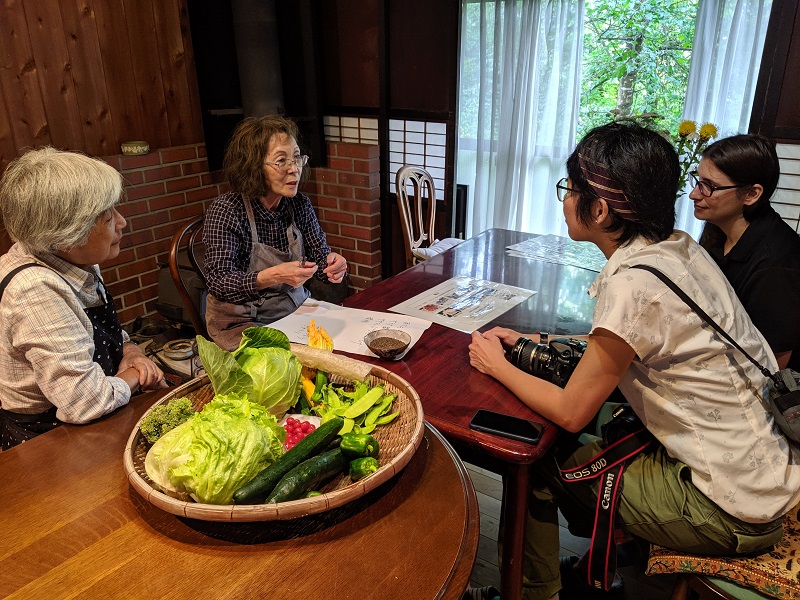 There are two versions of this experience, a long one which lasts three hours where you can prepare a full meal, and a short one which lasts one and a half hour where you can make a teatime snack.
If you have reserved the short version, the guide (who speaks English) will be present for the entire length of the activity. If you have chosen the long version, instead, the guide will be with you for the first 30 minutes to walk you through the day's schedule and menu, then you will receive a translation device to communicate with the grannies. *You can extend the presence of the guide by paying an extra fee.
Once at the village, the guide will show you to the grannie's house, where you will begin the experience. After you make yourself at home, the grannie will briefly explain about the region and its climate, the local culture, and the current season. Then, she will introduce you to the day's ingredients and menu.
Get to know your Ingredients with a Short Farming Experience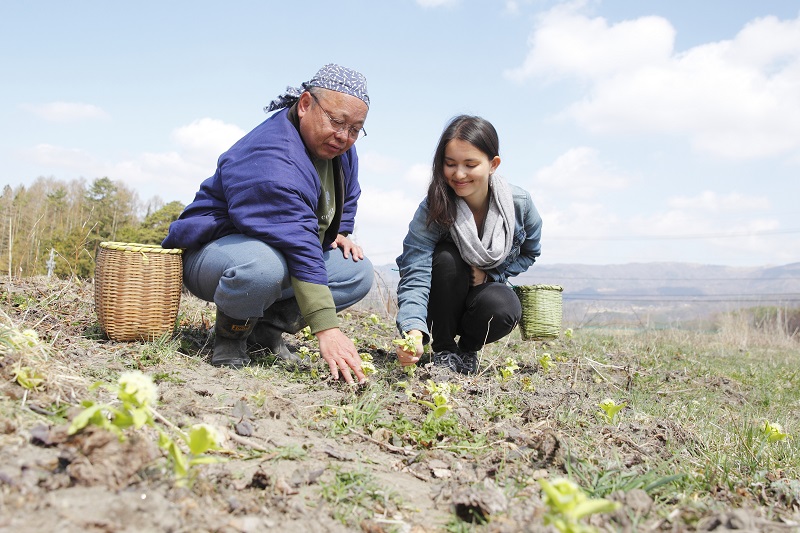 Seasons play a significant role in the local culture. Before you start cooking, you can get a taste of the season by doing a short farming activity.
If your journey happens to fall during spring, you will probably forage some wild herbs to go with your meal. In summer, chances are you will pick some fresh vegetables in the grannie's field to use in your recipes. In autumn, you might make dry persimmons or pickle some veggies. In winter, you will either make shimi daikon (freeze-dried, preserved food made by hanging daikon outside for several weeks) or miso.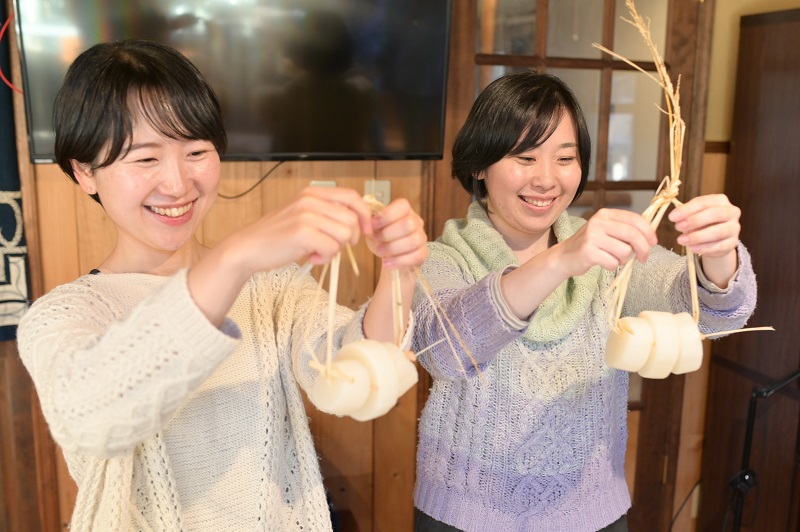 Some of the food you make during this part of the experience, such as pickles or miso, you can bring home as a souvenir. Other food which requires a few weeks to be ready, such as dry persimmons or frozen daikon, you have to leave in the village. In this case, though, your host will give you some from her own stock. (We can also deliver it to you when ready for an extra fee.)
Cook Traditional Japanese Dishes with Local Experts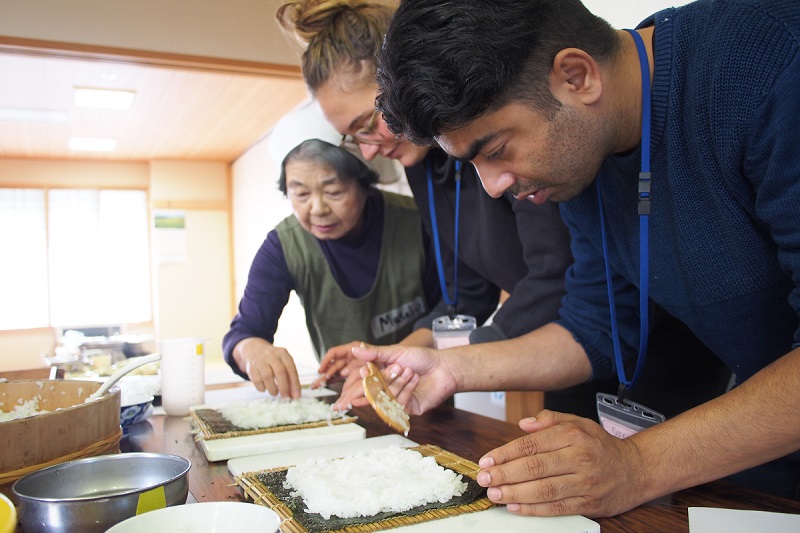 After you have warmed up by trying out the farming task, it is time to cook.
If you're taking part in the long version, you will prepare four dishes, including a rice dish, a soup, and two side dishes (or one side dish and one dessert). If you have gone for the short version, instead, you will make one or two snacks to go with tea, either sweet or savory.
The menu, like the farming activity, depends on the time of year. Below are some of the most representative local recipes you might try your hand at:
Tenyose (Agar cake)
Tenyose is a jelly-like cake made with kanten. One of the local specialties, kanten is a preserved food made with agar seaweed and water. It is produced by laying the agar-based jelly outside in winter so that it naturally freeze-dries (hence its name, which means "cold sky"). Tenyose cakes can be sweet or savory, and come in myriad colors and flavors. Pleasant both to the palate and eye, they are a must at every local festival or family-gathering. Some of the most popular flavors are salad tenyose (made with fresh summer vegetables such as carrots and cucumbers), kohaku kanten ("red and white" kanten, made with tofu, soy sauce, and walnuts), and strawberry milk kanten.
Abura-e Mochi (Countryside-style rice cakes with perilla sauce)
Abura-e is the local name for egoma (perilla). Egoma, which once was also used as fuel for the lamps, is similar to sesame but has a distinctive fragrance that makes it stand out from the rest. Locals grind it in a mortar to obtain a thick grainy fluid they use as dipping sauce. Mochi made in the Yamaura are also slightly different from the rice cakes you are used to—they are made by half-pounding the rice so that the texture of the rice grain still remains.

Strawberry milk tenyose and abura-e mochi

Nota Mochi (Sticky rice with edamame sauce)
Nota Mochi is the summer equivalent of abura-e mochi. Only instead of egoma, the sauce is made with fresh edamame (immature soybeans). And instead of being shaped into balls, the sticky rice is served in a bowl. This dish is considered a delicacy by local farmers who eat it as a reward for the hard work done in the summer.

An elegant serving of nota mochi

Freeze-dried foods The icy temperatures in winter make it impossible to do any farming for about six months a year. To make ends meet during this farming "off-season," people in the Yamaura began using the cold mountain breeze to produce freeze-dried food they could eat and sell. Some of these products, like kanten or koori dofu ("frozen tofu"), were traded all over the country; others, like frozen daikon or koori mochi ("frozen rice cakes"), were made to eat at home. Frozen tofu and frozen daikon are used as main ingredients in a number of dishes such as stews, soups, and stir-fries.
Wild Vegetable dishes
Wild vegetables are the protagonists of spring in the countryside. Every villager goes foraging in between April and June in search of these slightly bitter delicacies.
There are just so many types of wild veggies, such as fukinoto buds (butterbur shoots), seri (dropwort), nenbiro (a wild rocambole), gyoja ninniku (alpine leek), etc. And there are just as many ways of cooking them, from the classic crispy tempura to ohitashi (boiled and seasoned with soy sauce) or sumiso-ae (dressed with rice vinegar and miso sauce)

Wild vegetable tempura, a very popular spring dish

Usuyaki (Thin pancakes)
A pancake-like snack made with wheat or buckwheat flour. Usuyaki can be sweet or savory, depending on what you put on top. Some of the most popular flavors are sweet miso with walnuts and red bean paste.
Tsukemono (Pickles)
Pickle culture is very strong in this region. Tsukemono are a must in any meal or teatime snack, where they are served not only with tea but also with coffee.
Pickling is an extremely creative field with endless combinations. While in autumn, food is "deep-pickled" for weeks or months, in summer, food is "shallow-pickled" for a few hours. Also, you can pickle with salt, miso, rice bran, soy sauce, rice vinegar, or even a mix of all.
Say "Itadakimasu!" and Dig in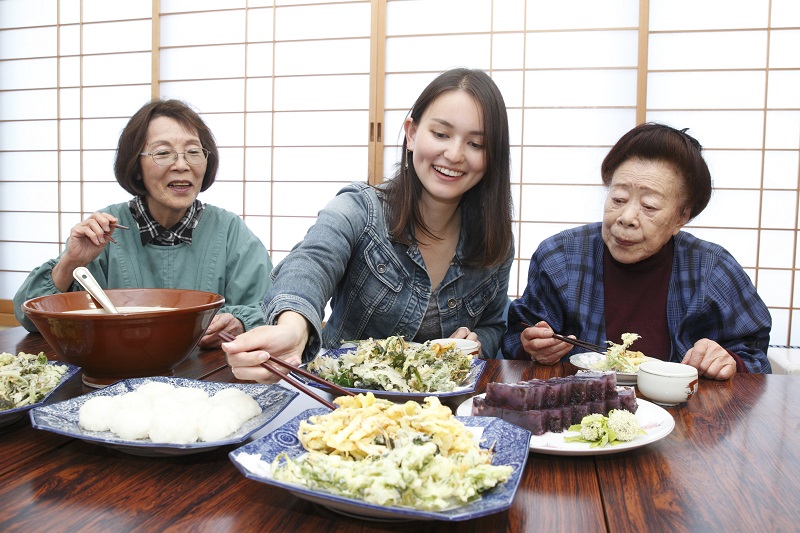 When everything is ready, it's finally time to eat. Take a seat at the table and enjoy your delicious meal while chatting with your host. The translation device comes in handy at this point, letting you ask your host all the questions that come to your mind.
Update:2020/06/25
Countryside Cooking with Village Grannies
Operating Period
Year round
Time
Organized by request (1.5h for the short version, 3h for the long version)
Reservations
Necessary (via Chino Tabi Website)
Price
3,000 yen per person (excluding tax)- for the short version
5,000 yen per person (excluding tax)- for the long version
*Discounted price for children under 13 years old