Farm-to-Table Soba Experience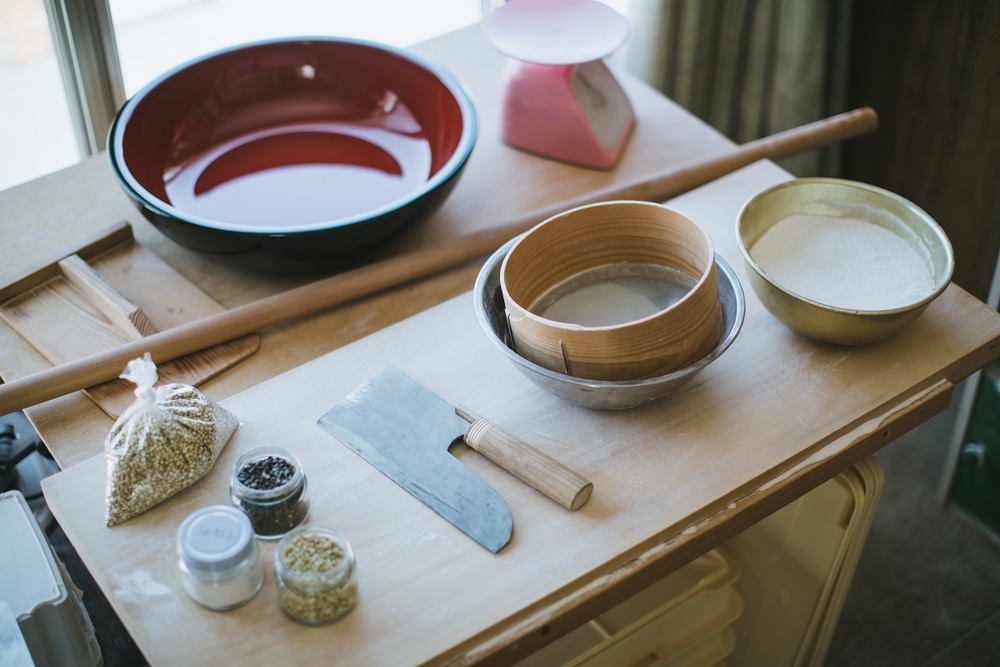 Learn all the secrets of soba-making from an artisan who has mastered the art of both cultivating and cooking this traditional dish.
Soba, known as buckwheat in English, has a long-standing tradition in Nagano. In this mountainous region where rice farming has always proven arduous, easy-to-grow buckwheat represented a secure source of nutrition. Every farmer would grow soba on the side, just to be sure.
Later on, as soba became one of Japanese people's favorite dishes, some makers decided to open restaurants or lodges where they could serve this traditional food to travelers.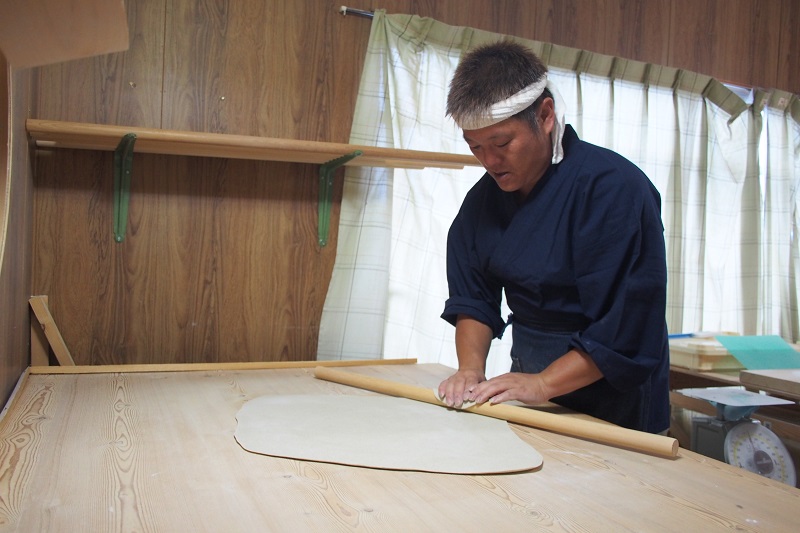 Yoshitaka-san comes from one such family. He inherited his father's pension/soba restaurant and farm when he was still young and has been dedicated to making the highest quality soba ever since.
A lot of work goes into a simple plate of soba noodles. There are just so many elements that influence the quality of soba: the soil and weather, the way it is dried, how it is milled, and of course, how it is cooked. It doesn't matter how much effort you put into growing it if the milling or the cooking aren't done with care—which is why Yoshitaka-san decided not only to cultivate his own buckwheat but to go as far as processing and milling it by himself.
Come meet this soba artisan who embodies the philosophy of field-to-table, learn all of the secrets of perfect soba, and try making some for yourself.
Visit Minshuku Asahigaoka at Lake Shirakaba
This activity is held at Minshuku Asahigaoka, the inn run by the soba master and his family on the shore of Lake Shirakaba. Surrounded by birch trees, which gives the location its name, the lake is a scenic spot that offers great views of Mt. Tateshina and Kurumayama Plateau.
If you are traveling by train, the English-speaking guide assigned to you for the day will pick you up from JR Chino Station. Otherwise, you will meet directly at the minshuku. The guide will stay with you for the entire length of the activity.
There are two versions of this experience, with or without the stay at the inn. If you decide to stay, you can check in your room before the activity starts.
Learn All There is to Know about Soba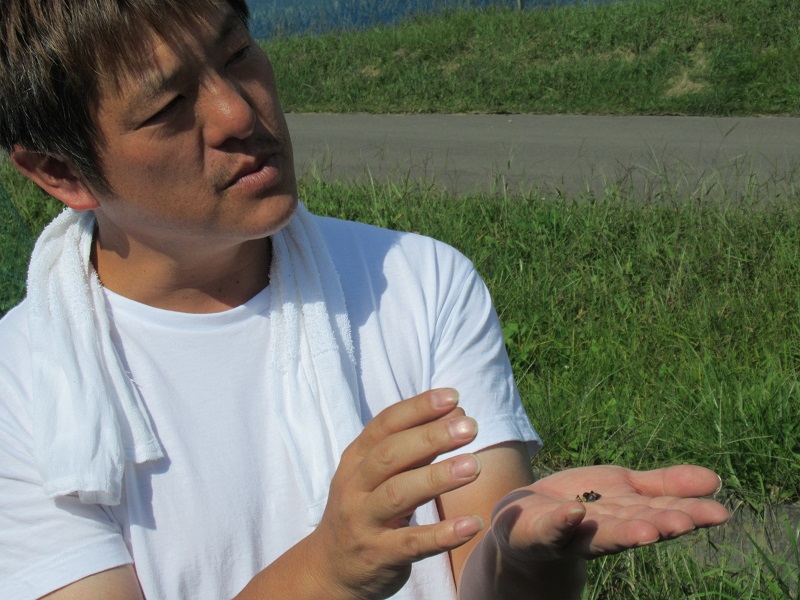 First, the master will share his intimate knowledge of soba. From the history of soba in Nagano to its cultivation and milling, he will explain all of the most fascinating facts about this traditional crop.
If you happen to visit in summer or autumn, he will also bring some spikes of buckwheat for you to see up-close. In the summer, the plant is topped by pretty white flowers, while in autumn, it blackens and dries up, ready to drop its seeds. Regardless of the time of year, though, you can inspect the soba and the marunuki (seeds that have been husked). If you have any questions, there is no better time to ask.
To process his own soba, Yoshitaka-san assembled all the necessary machinery, from the one which separates seeds from stones to the one which grinds the seeds into flour. Follow him around as he shows you how they work.
Time to Make Your Own Soba Noodles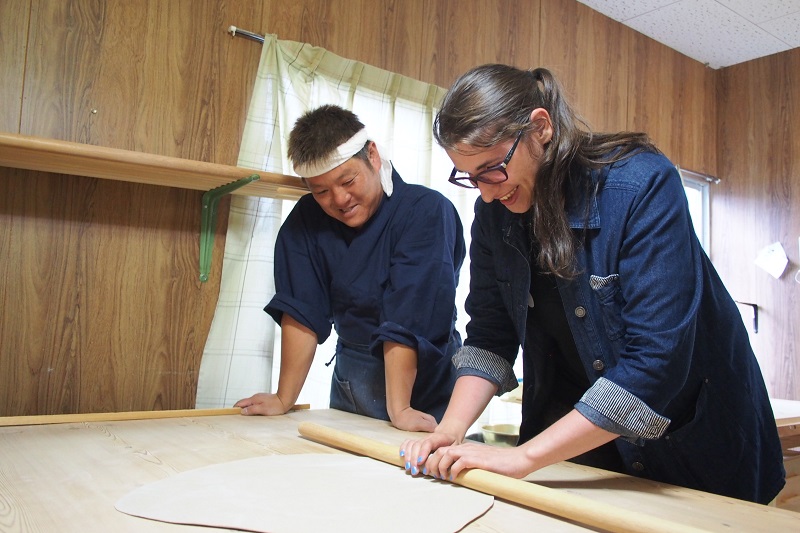 Now that you have acquired all this new knowledge, it is time to delve into the hands-on part of the activity. Grab some freshly-milled flour and mix, knead and stretch the dough, and cut the noodles. The master will follow you step by step, giving a demonstration of every procedure beforehand.
An extremely delicate ingredient, soba should be handled gently but quickly. If you're too slow, the soba might "catch a cold" and not properly combine with the water. No need to worry, though. Even if it is your first time, Yoshitaka-san will make sure you nail it.
Compare the Taste of your Noodles with the Master's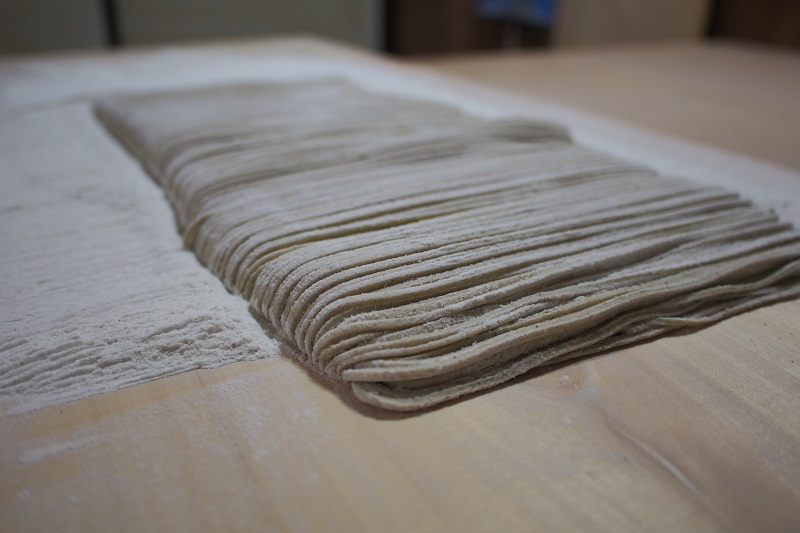 At the end of the activity, you can compare your noodles to the ones made by the master.
If you chose to stay at the minshuku, the noodles will be served at dinner. As mentioned before, the master is also a farmer, and, in addition to buckwheat, he grows his own rice and all kinds of vegetables. The mouth-watering dishes served at dinner are made with homegrown ingredients from his farm and include soba gaki (porridge-like dish seasoned with soy sauce), a hot pot made with handmade miso, tempura, pickles and much more.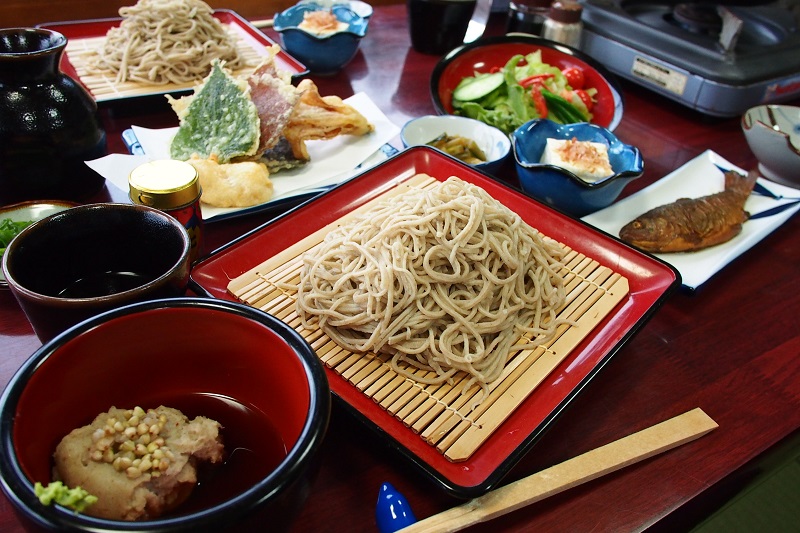 If you are not staying for the night, the meal will be composed of your noodles, the master's, and pickles. Do you still want the full spread even though you are lodging somewhere else? You can upgrade your meal with an extra fee of 1,500 yen per person.
The activity is private and is organized upon request.
Update:2020/06/25
Farm-to-Table Soba Experience
Operating Period
Year round
Time
14:30 to 17:30
Reservations
Necessary (via Chino Tabi Website)
Price
Soba-making experience: 5,700 yen per person (+tax)
Soba-making + Overnight stay: 12,000 per person (+tax)