Self-Guided Cycling Trip to Nozawa
Northen Nagano Area Nozawa Onsen Village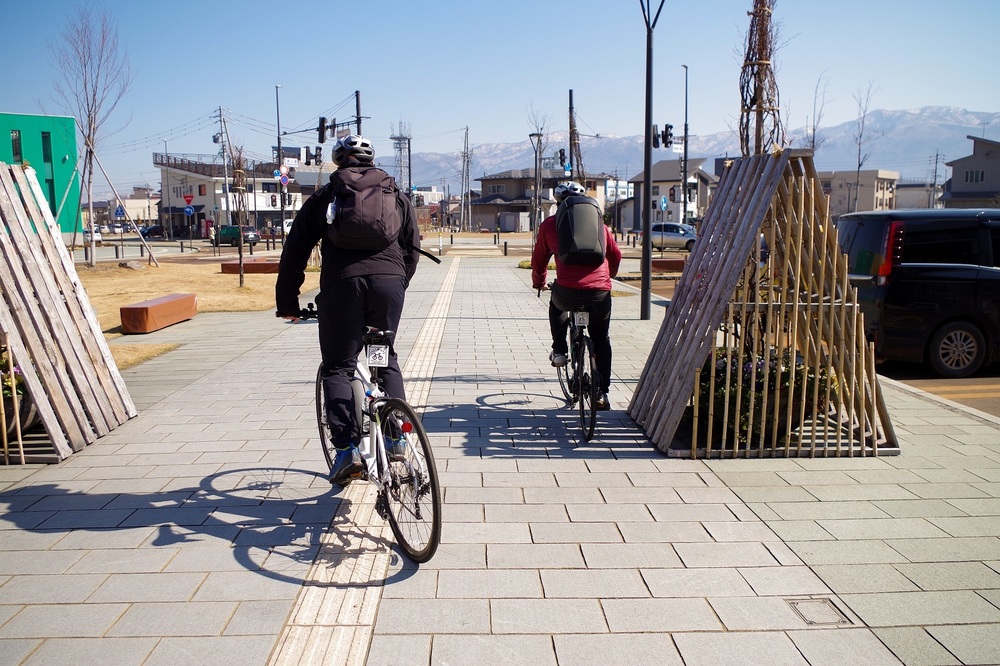 Take a self-guided, half-day cycling tour through the Japanese countryside to one of the region's most charming hot spring villages: Nozawa Onsen.
From Tokyo, Iiyama Station is just under two hours away by bullet train. In what feels like no time at all, you can escape the towering buildings of Japan's capital and find yourself in a peaceful countryside landscape. By bicycle, you can explore the farms and fields here at your leisure, and aim for one of Nagano's most unique hot spring towns.
Heading into the Countryside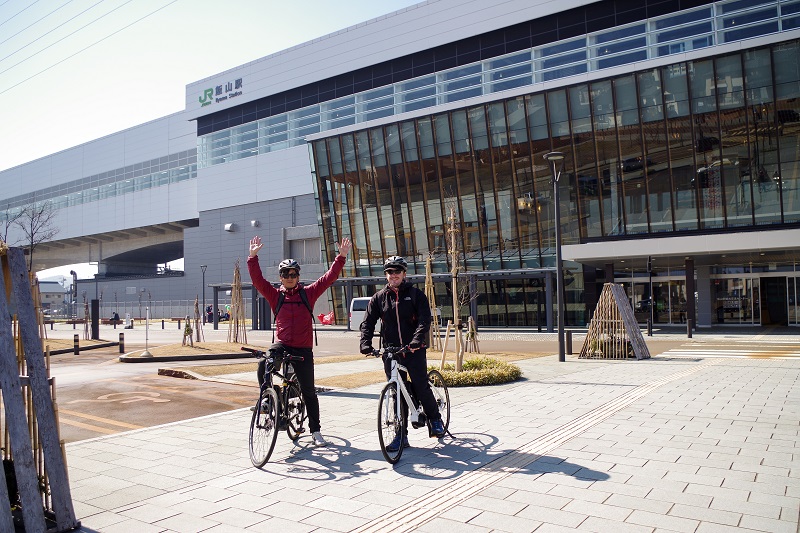 We visited Iiyama on a perfectly clear day, quite warm for early March. The snow this year was light and had already melted off the valley floor. Iiyama's hot spring fountains, used to thaw the roads during winter, were already shut off for the season, leaving only the rusty color of the water's leftover minerals.
At Iiyama Station, we picked up our bikes and gear from the Shin'etsu Shizenkyo Activity Center on the first floor. The staff there, Ms. Takayanagi, gave us an overview of our route and handed us a smart phone with the course uploaded on Google Maps. The course, going from Iiyama Station to Nozawa Onsen Village, was 16.7 kilometers long, taking about 4 hours to complete.
After asking a few more questions and buying some snacks for the trip, off we went.
Cycling through Iiyama's Quiet Downtown Streets
Eaves hung over the sidewalks in Iiyama's shopping district, built to protect pedestrians from the heavy snows of winter. We rode under them, along the shuttered shops of the main street. There were few cars here, and the rows of buildings were only interrupted by empty parking lots.
The shops that were open, besides the few chain stores here, were Buddhist altar-making workshops, a specialty of Iiyama. Long ago, almost all homes had their own altars, but it is much rarer to see nowadays. And since such large pieces are usually only purchased once in a lifetime, not many locals frequent them.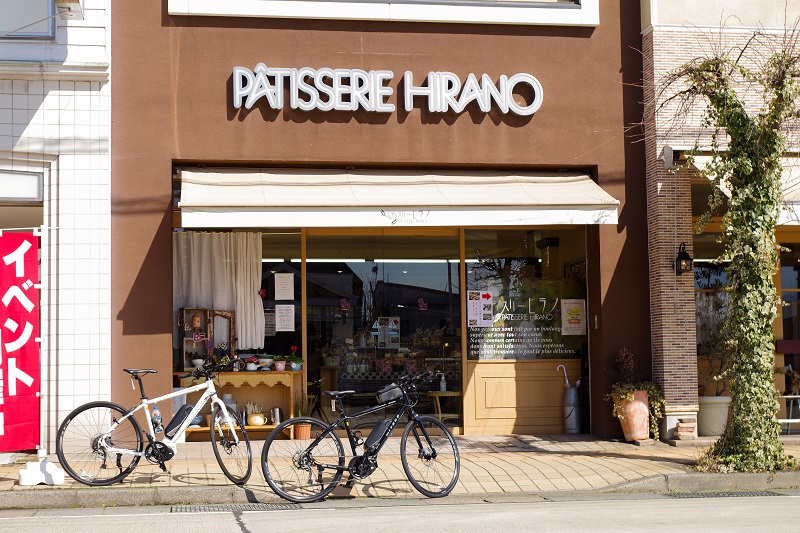 Soon we were on our way out of the downtown area, the Chuo Bridge over the Chikuma River in sight. Here were two other local shops, ones that are quite well known even to people outside of Iiyama. One is, arguably, the region's most famous sake brewery, Tanakaya Shuzo, and the other a bakery, Patisserie Hirano. It was a bit early in the day for sake, so we settled for sweets.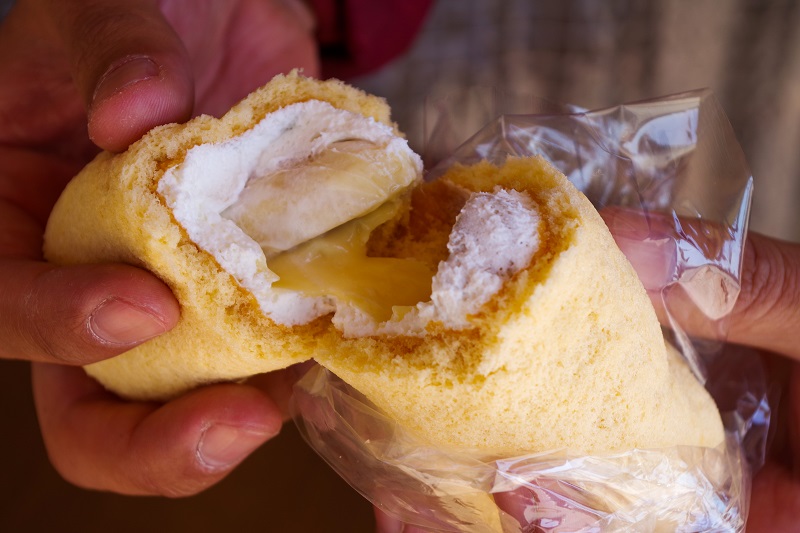 From the Chuo Bridge, you could see the difference in landscape on either side of the Chikuma River, one suburban sprawl, the other farmland. A checkerboard of green and yellow plots extended along the latter, reaching towards the mountains of Shiga Kogen and Nozawa Onsen. In the distance carved into the hillside was our next destination, Kosuge Village.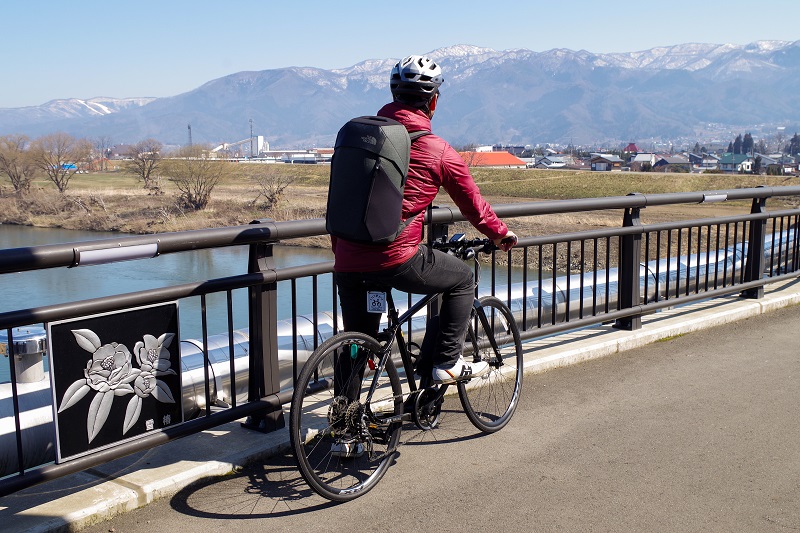 E-bikes to the rescue
The majority of the land around Iiyama was flat and easy to bike so we had barely touched our e-bikes' settings from the start of the trip. But once we reached the entrance to Kosuge Village, we finally had to put our bike's batteries to the test.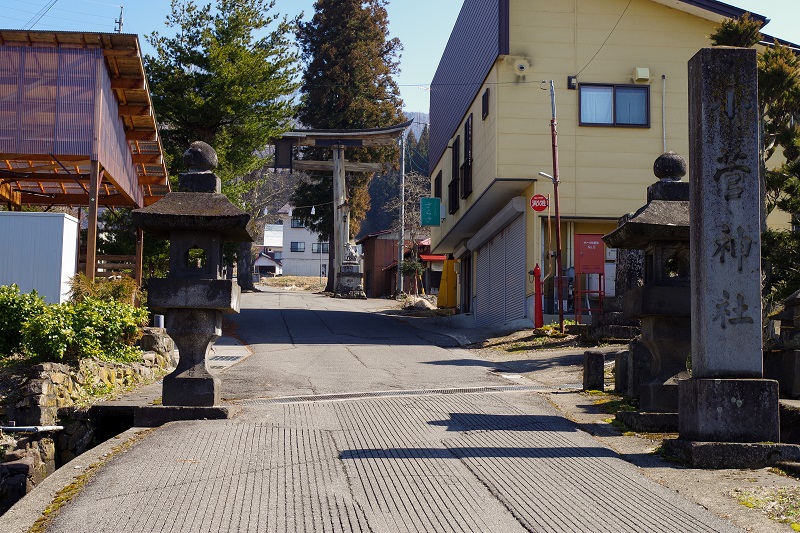 The road leading into the village was marked by a Torii shrine gate. It rose at an incline of 20 degrees, winding back and forth between terraced rice fields. On a normal bike, I would have been a fool to try and climb it, but with an e-bike—set to MAX—riding up the hill was a breeze. Looking back over the road we conquered, we could see the glistening white mountains of Mt. Myoko and Mt. Hiuchi in the distance.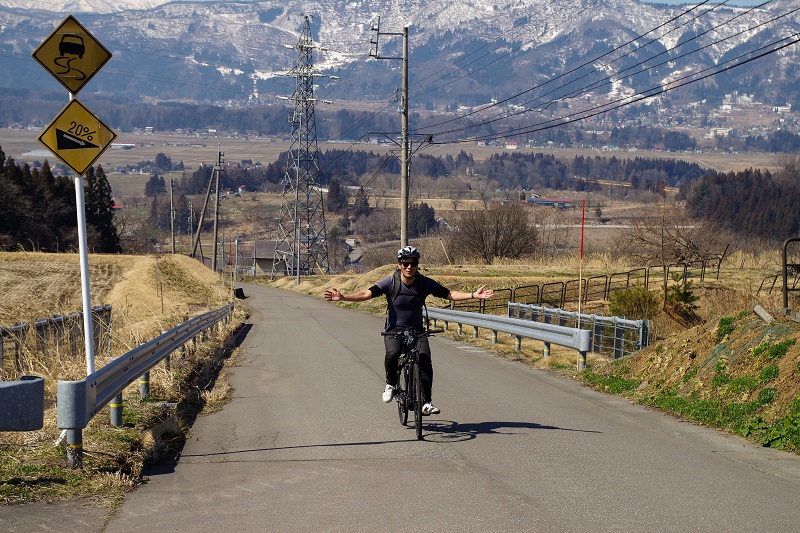 Kosuge Shrine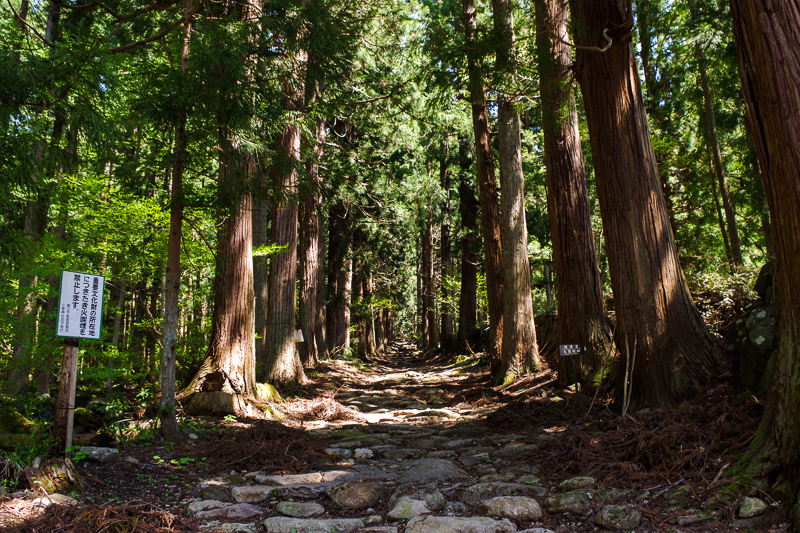 Kosuge Shrine, like Togakushi, was once a haunt of ascetic monks who sought physical and spiritual training in the mountains. There are several temples and shrines around the village, and one of the shrines, called the Kosuge Okusha is tucked into the mountains behind it. Adventurous travelers can make a round-trip visit to the Okusha in just under 2 hours.
The cycling route doesn't go all the way to the top of the village, but veers to the left across the hillside and continues on a wide, well-paved road. Not a single car passed us as we headed further upward, giving us plenty of space to leisurely enjoy the scenery of the farmland below.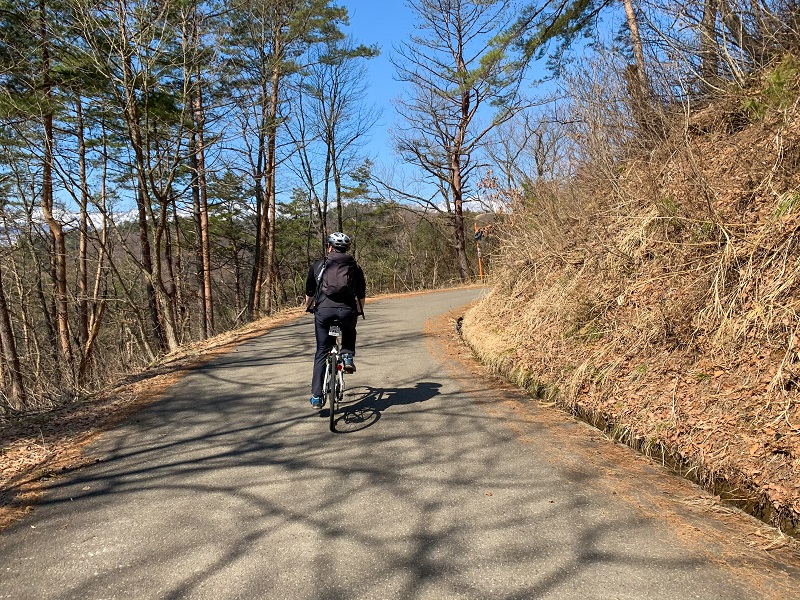 We passed over the highest point of the road and descend towards Lake Hokuryu. Amazingly, this area is still covered in snow, contrasting against the dark surface of the lake. Aside from a single runner, no one is here.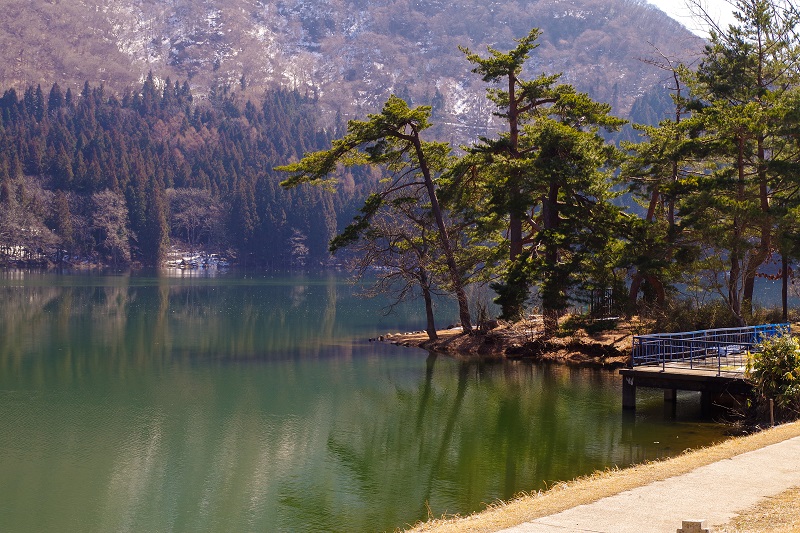 One last four kilometer stretch before reaching Nozawa Onsen. The road, flanked by cedar groves, occasionally gives us a glimpse of the mountains across the Chikuma River. Beams of light cut through the canopy and patterned the asphalt with the shadows of leaves. At an opening in the trees, we saw a disused building an several still ski lifts--the now closed Iiyama Hokuryu Onsen Ski Resort.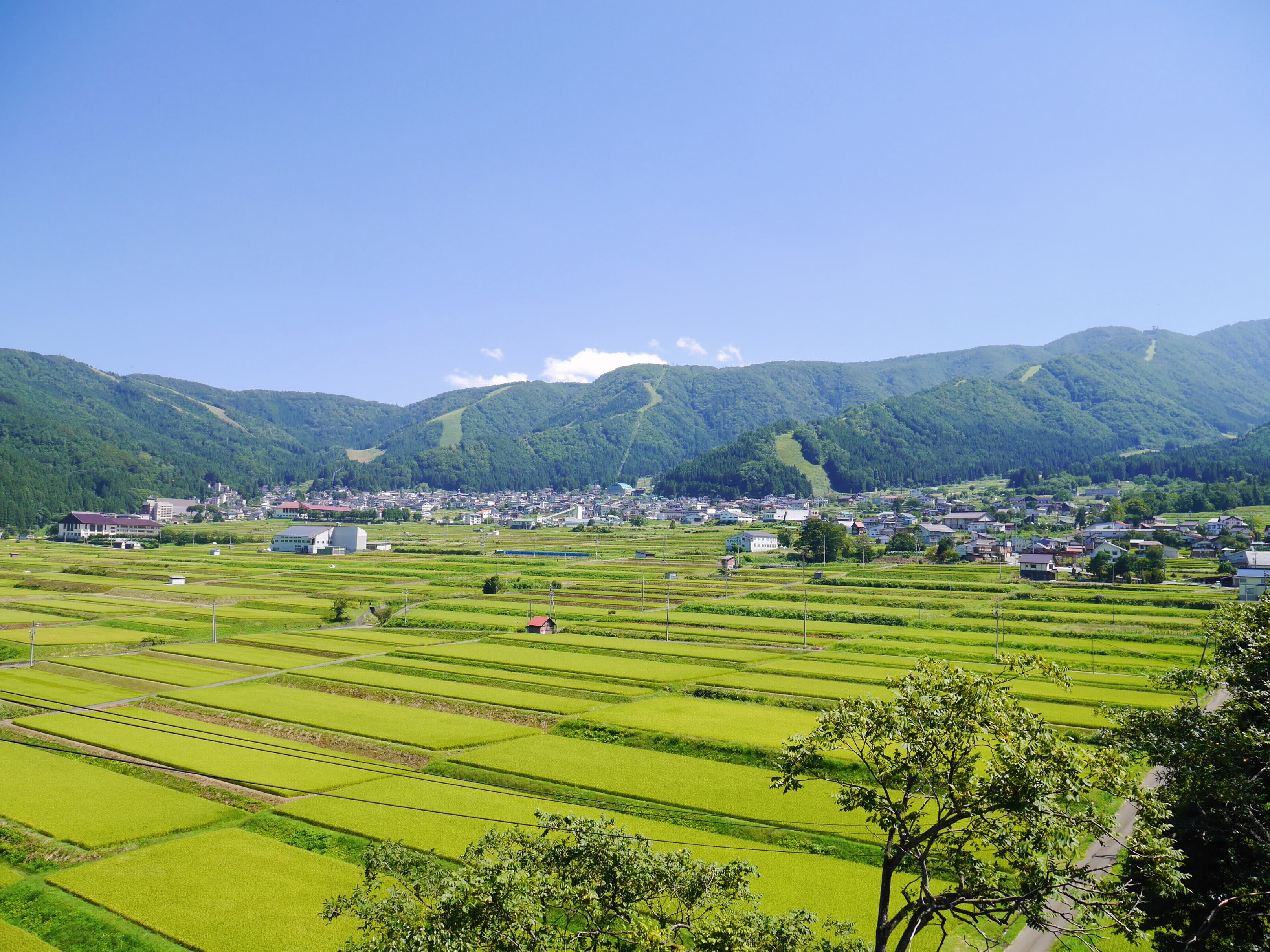 We soon arrived at the main road leading to Nozawa Onsen village. From here, we could see the village, a dense group of buildings above terraced rice fields. After another 10 minutes of cycling, we reach the Nozawa Onsen Tourist Information Center, where we can drop off our bikes.
A Steamy Hot Spring Bath in Nozawa Onsen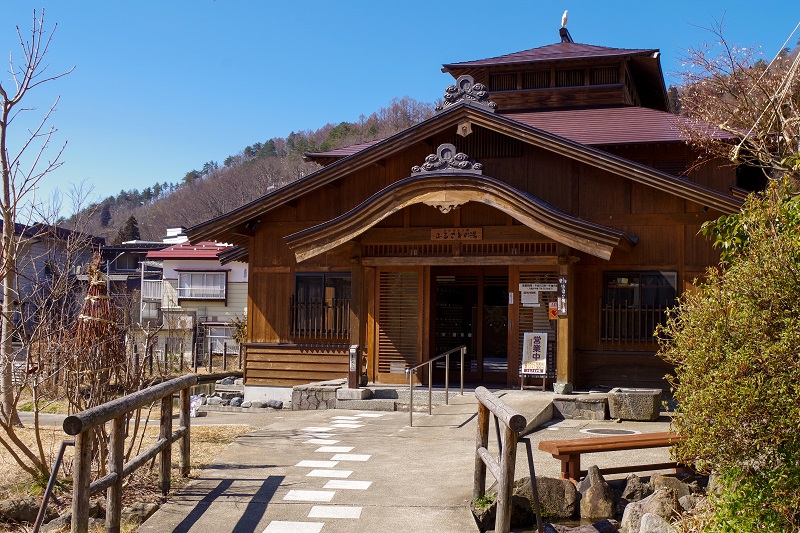 Nozawa Onsen is the perfect place to take a bath after a long morning of cycling.
It has an abundance of mineral-rich hot springs, which have become an essential part of locals' everyday lives. Around town, there are a total of 13 public baths that many locals use daily.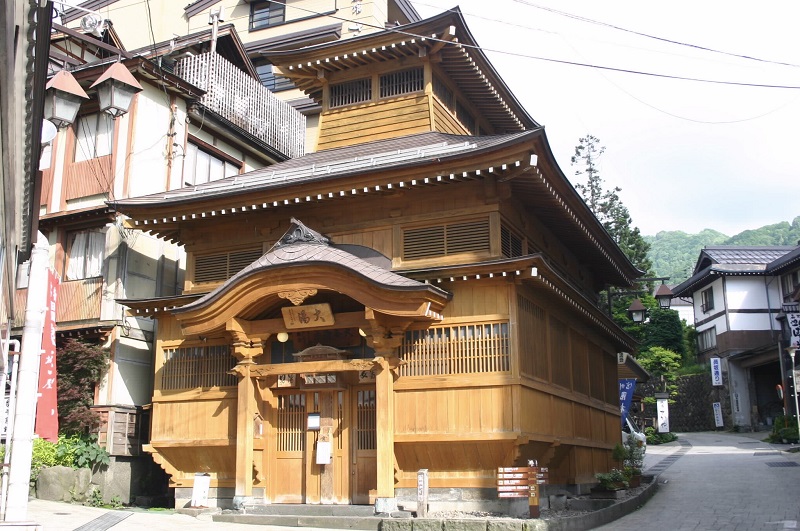 The free public baths, called soto-yu, are only equipped with the barest necessities: just the hot spring itself and some cold-water taps. Their atmosphere, however, is well worth experiencing. To locals, the baths aren't just a place to wash oneself, they're also a place to relax and socialize with neighbors. Many of the locals here know some English, thanks to the international popularity of the ski resort here, and who knows—you might make some new friends yourself.
For those who don't want to carry around their own soap and shampoo, you may want to visit Furusato no Yu instead.
Coffee, Quiche, and Beer—Oh my!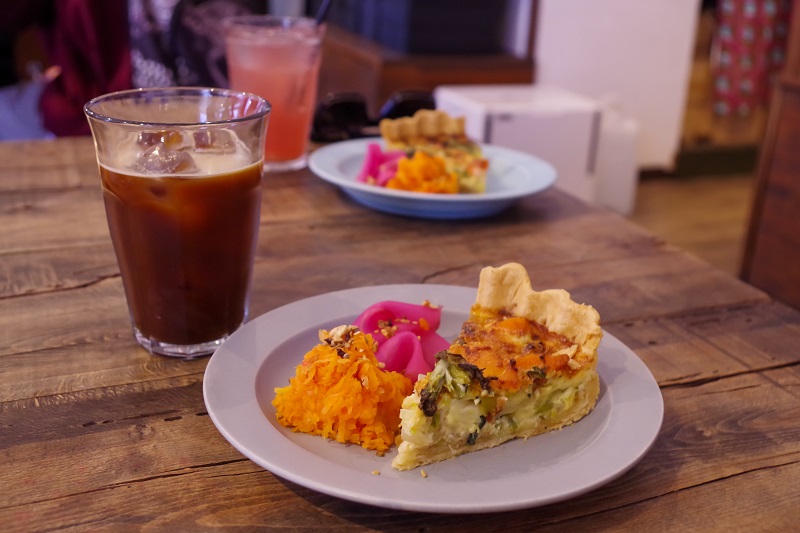 After a bath, it was off to Nozawa's main street for some lunch. Everything here is centered around the Oyu bathhouse, and many restaurants and bars can be found here.
We decided to visit Haus St. Anton for lunch. The café/restaurant stands out with a bright white exterior and wide-open windows. Inside is tasteful and modern, whitewashed walls and light hardwood floors. Shelves were stocked with colorful juices and jams, Haus St. Anton's specialty.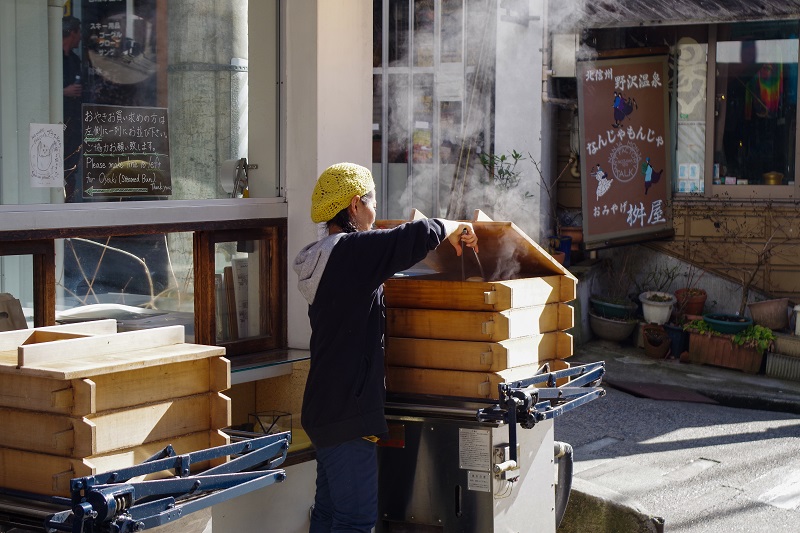 After chatting and taking a look around, we settled in for a bite to eat and some much-needed coffee. I ordered a long black with a small plate of quiche and pickled vegetables. The ingredients were all locally sourced and the day's quiche included Shinshu Salmon, a breed unique to Nagano.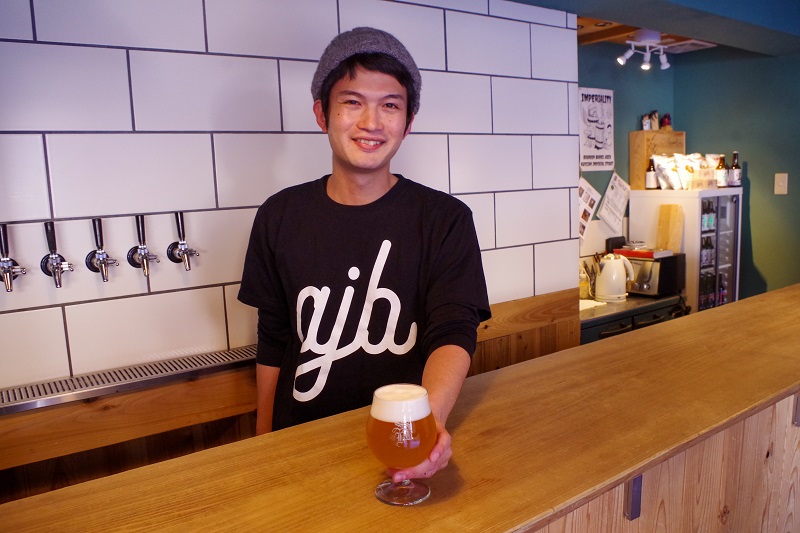 And we couldn't leave without a toast to end our day out, so we walked back towards Oyu and stopped by Libushi, Nozawa's local beer brewery. Started a few years ago by a resident of Nozawa, Libushi brews a wide variety of craft beers, many of which are available to try at their tap room here. Many of Libushi's beers feature standard varieties with a Japanese twist: plum-infused ales, buckwheat stouts, and more. With beers in hand, we said "Kanpai!" and drank to our successful cycling adventure.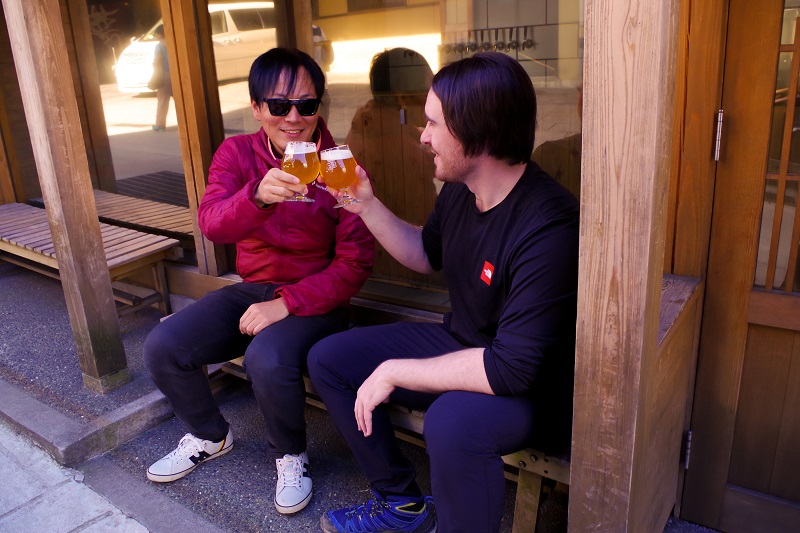 Update:2020/04/02
Iiyama to Nozawa Onsen Village Cycling Route
Operating Period
March to November
Time
Approx. 4 hours
Reservations
Bike reservations are not necessary, but recommended
Price
E-bike rentals: 2,000 yen (half-day), 3,000 yen (full day)
Drop-off in Nozawa: plus 1,000 yen
TEL
0269-62-7001
place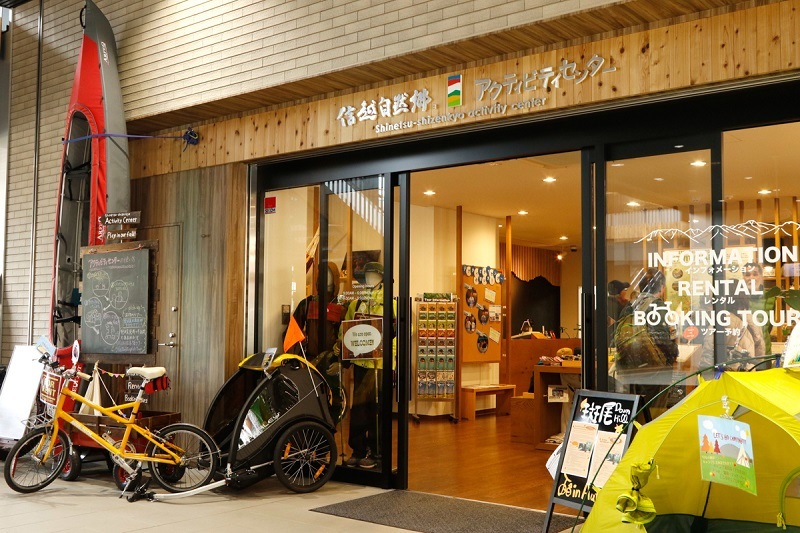 Self-Guided Cycling Trip to Nozawa
Related information