Back to the Furusato: Cycling in the Countryside of Iiyama
Northen Nagano Area Iiyama City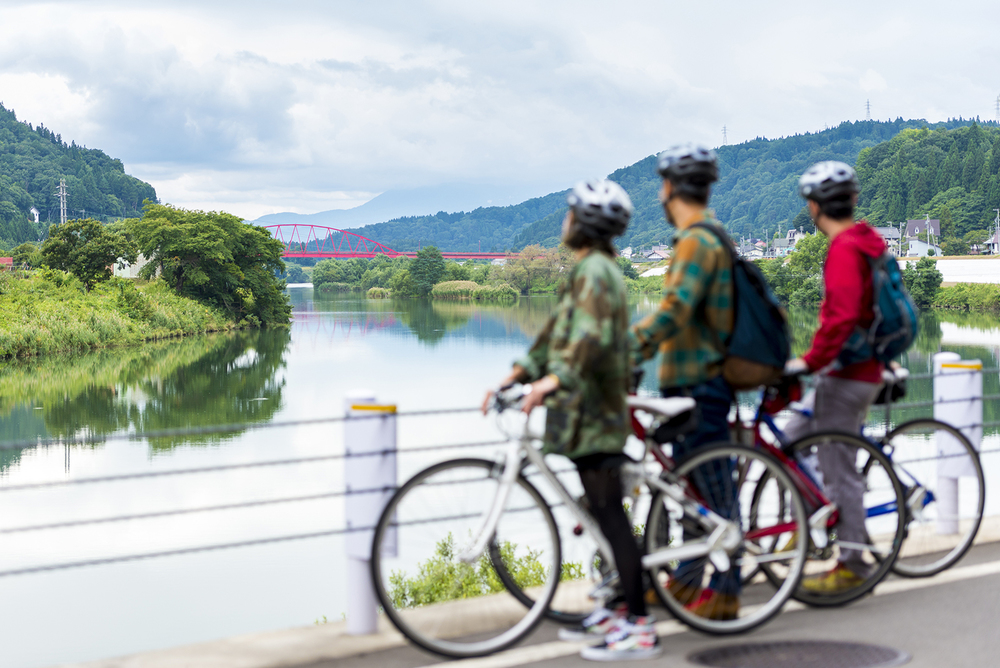 Take a cycling tour around the picturesque rural landscape of Japan and see the fields and mountains that inspired one of the country's most famous nostalgic songs, "Furusato." Interact with local people and get away from the hustle and bustle of the every day.
In Nagano's northern reaches lies the region of Iiyama. Covered in vast fields of rice and surrounded by the Sekida mountains, it is an idyllic example of the Japanese countryside, otherwise known as "Furusato."

Despite being a quiet countryside area, Iiyama got its very own shinkansen station in 2015, making it just a 100-minute ride from the metropolis of Tokyo, and just 75 minutes from the city of Kanazawa in Ishikawa.

One of the best ways to see the countryside of Japan is by bicycle, riding along narrow streets and through golden fields, and getting a chance to see and interact with local people. From Iiyama Station, you can participate in a guided half day tour: "Back to the Furusato."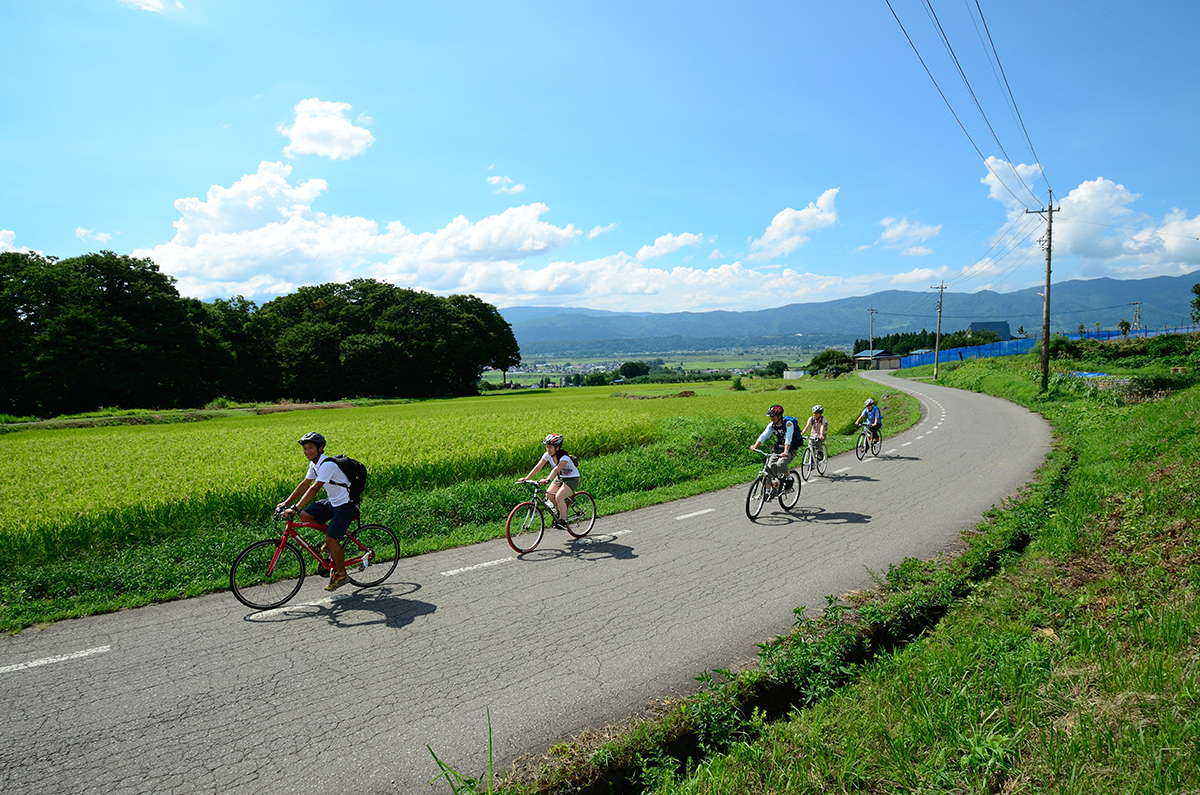 Choose from a Wide Range of Bicycles and Gear
On beginning your tour into Japan's Furusato, you first visit the Shin'etsu Shizenkyo Activity Center, located inside Iiyama Station. The shop not only rents and sells a variety of outdoor gear, but also serves as an information center for the area in a 20km radius of the station. They can arrange many activities here, from trekking and hiking to canoeing and rafting, and in addition, they themselves offer cycling tours. Their tours are flexible, and can cater to clients of all ability and fitness levels.

If you're comfortable exploring the area on your own, you can just as easily rent the gear, borrow a map, and head off on a solo adventure.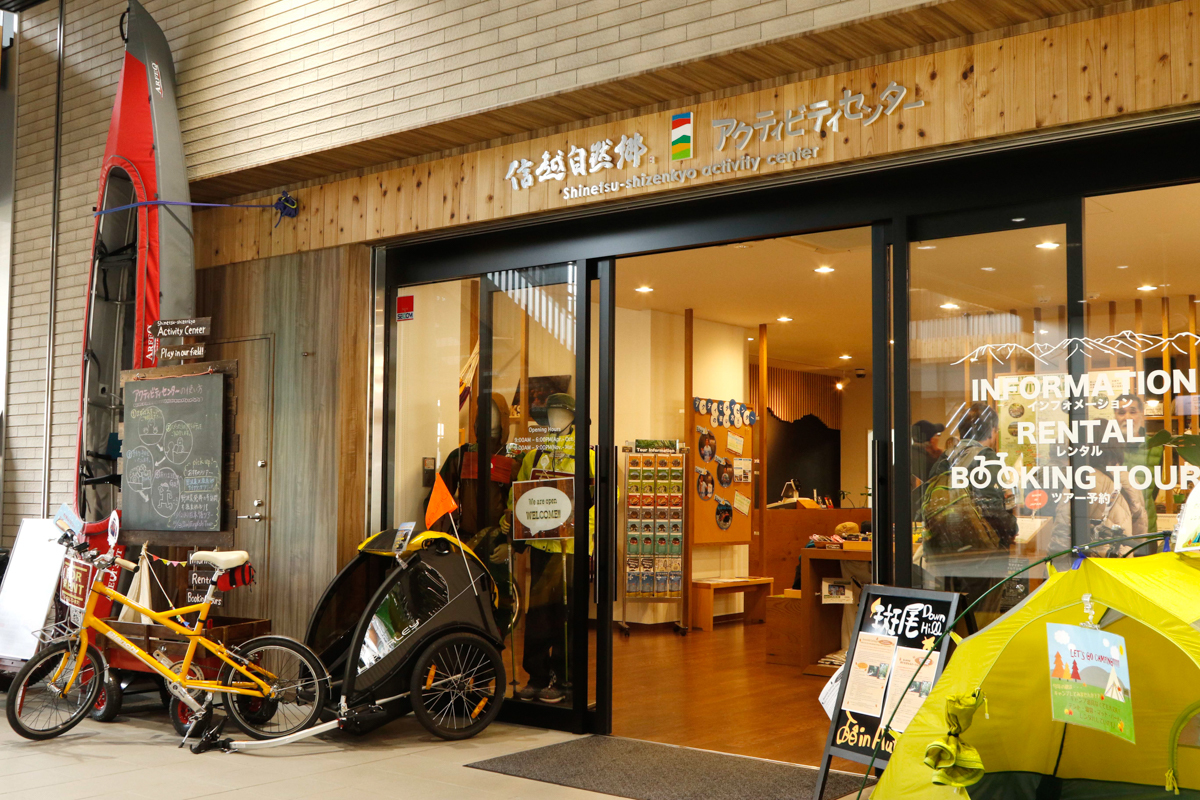 Shin'etsu Shizenkyo's selection of rental gear is top-notch. For bicycles, they have city bikes, road bikes, cross bikes, mountain bikes and fat bikes. If you don't want to fight against hills—although the roads along the river are generally quite flat—you can even borrow an e-bike. Couples may even be interested in renting a tandem bike for a memorable date experience.

Don't forget to cycle safely! Helmets come free-of-charge with all bicycle rentals.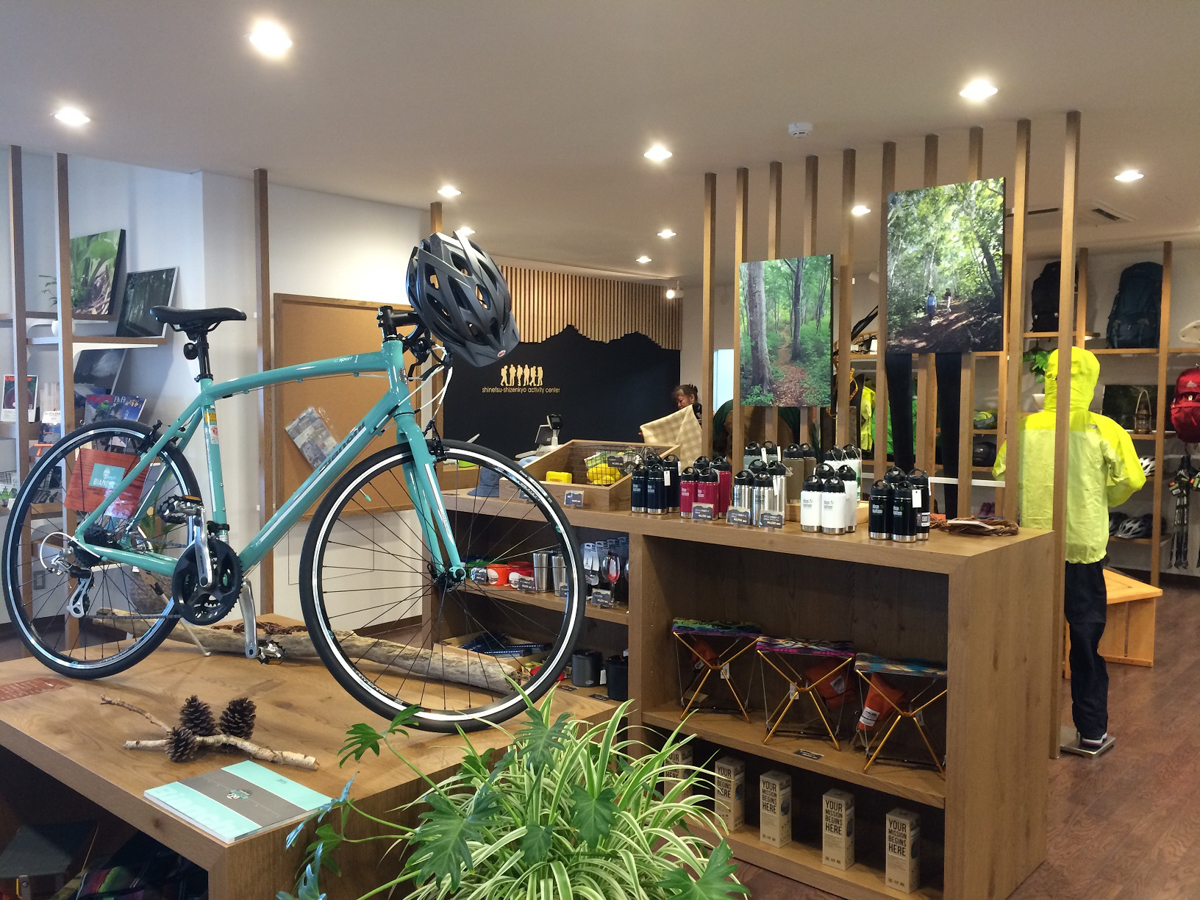 Interact with Locals in the Japanese Furusato
After picking up your rentals, your adventure into the countryside begins. The Back to the Furusato tour takes about 2.5 hours and encompasses a relatively flat 15km-long course. With a local guide, you leisurely explore the scenic streets of Iiyama and get to know some of its residents. The tour takes 2 to 8 people and reservations should be made at least two days in advance. Rental fees are included in the price of the tour.

For this particular tour, we recommend choosing a cross bike or mountain bike. Both should be easy to ride for almost anyone. The guide can also give recommendations and help adjust the bike for you for the perfect fit.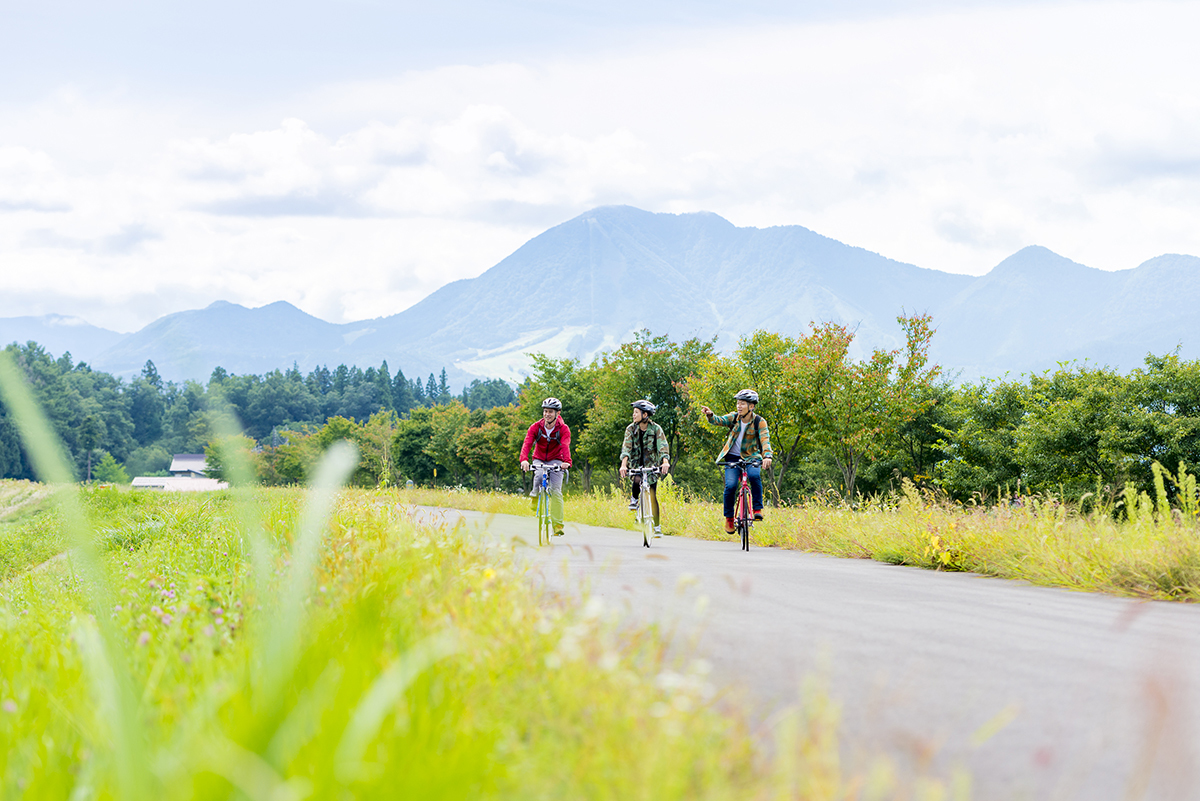 Thanks to the influx of international visitors to areas such as Nozawa Onsen and the Snow Monkeys of Jigokudani, the Iiyama area also gets its share of international visitors and has English-speaking guides for its outdoor tours.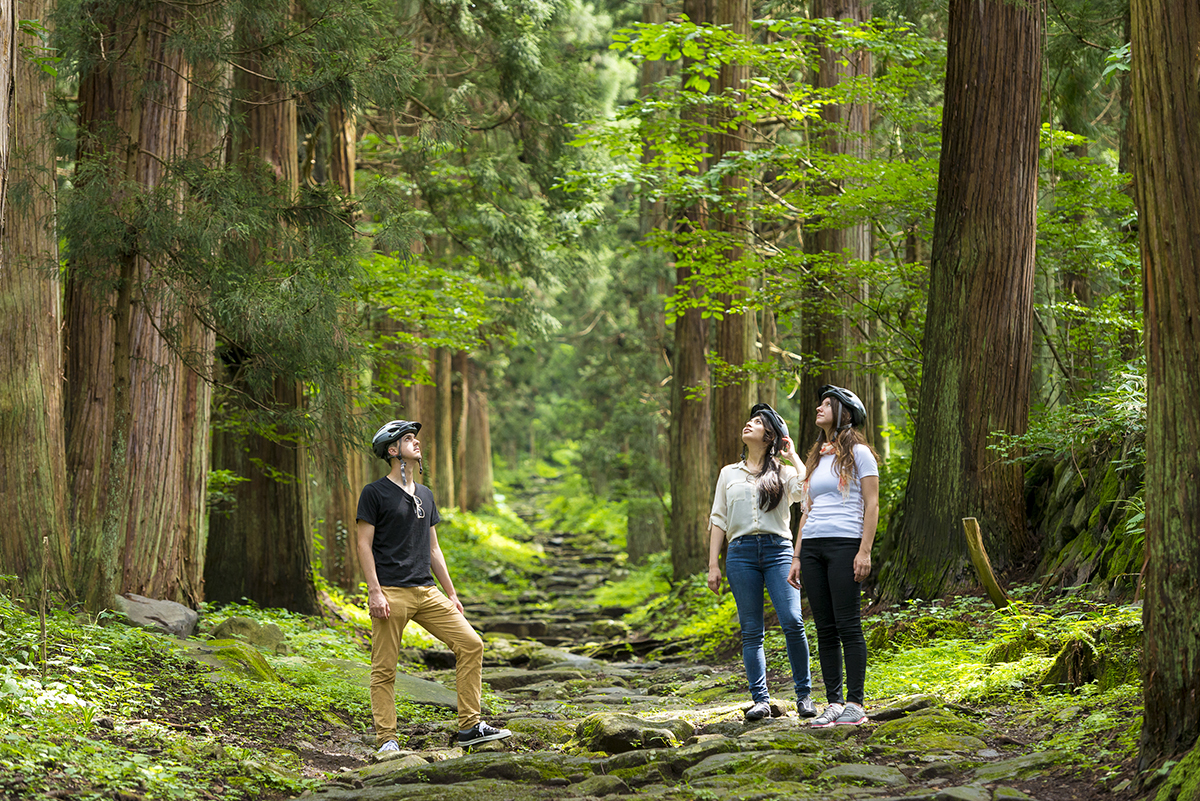 Experience the Everchanging Scenery and Longstanding Tradition of Iiyama
The tour begins and ends at Iiyama Station. From the station, the course crosses a suspension bridge on the Chikuma River and heads towards neighboring Kijimadaira. The roads are flat and quiet. During May and June, the fields are flooded for rice planting, and in autumn, golden ears of rice are hung to dry on bamboo rafters.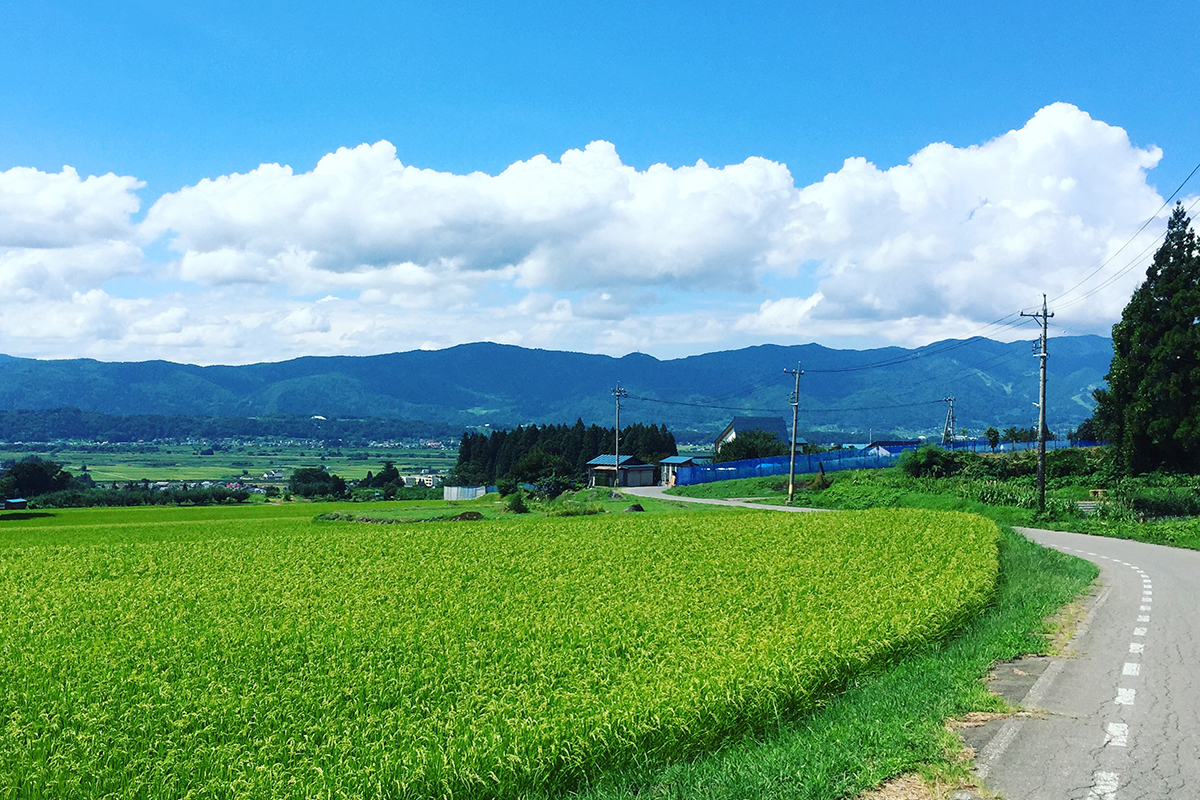 About 3.5 kilometers into the tour, you arrive at Farmus Kijimadaira, a roadside rest area. Once a tomato canning factory, the building was renovated and opened its doors in 2018. Local farmers sell their produce and vegetables here, and there are also some cafes and restaurants inside as well. The guide will tell you more about seasonal products and specialties. Sometimes, you may even get free samples from some of the guide's acquaintances!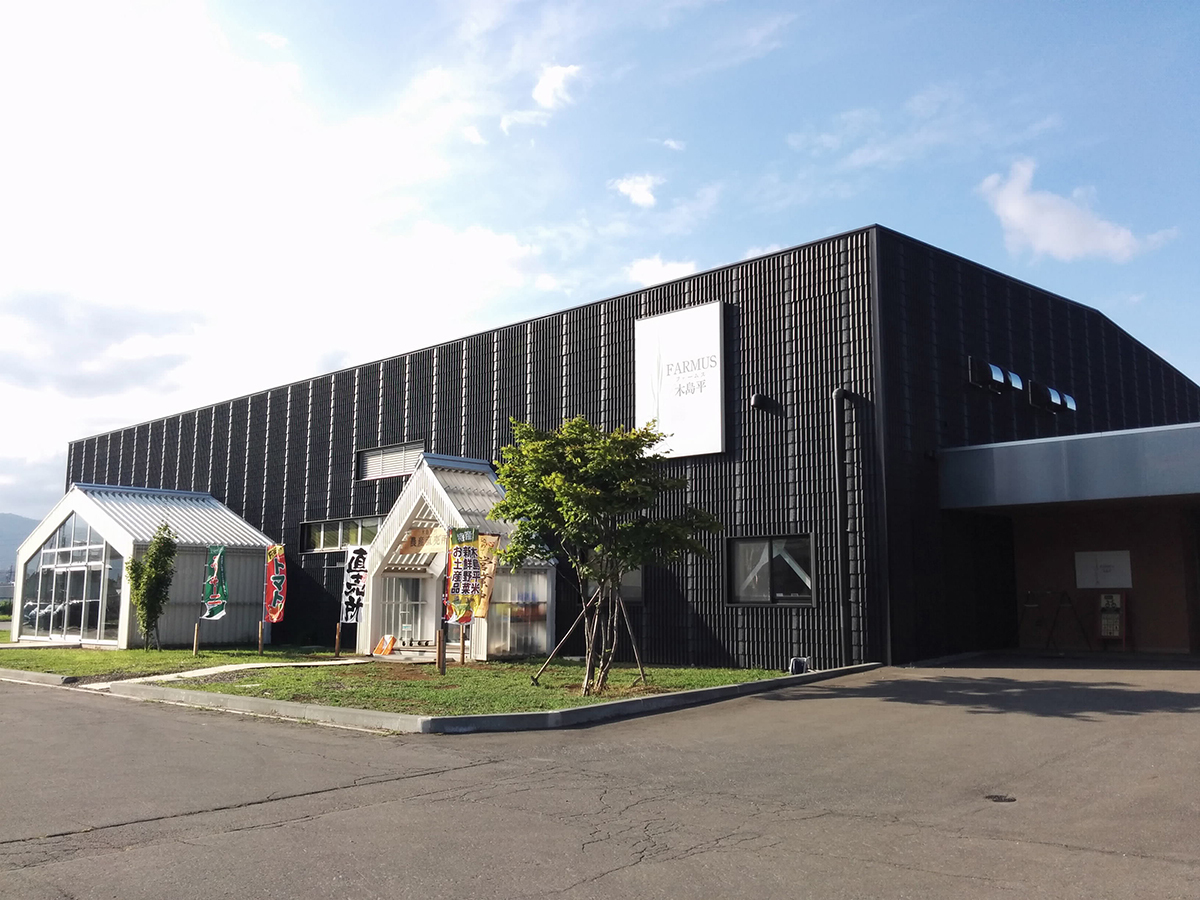 The tour then returns over the Chikuma River into the city streets of Iiyama, heading towards the ruins of Iiyama Castle. After a short uphill battle (feel free to step off the bike and walk up if you'd like), you arrive at your next stop.

It isn't known when Iiyama Castle was originally built, but it was used by the general Uesugi Kenshin during the Warring States Period as he planned his invasion into the country of Shinano. While the castle no longer remains, its main gate and earthen walls have been restored and you can get a glimpse into its days of glory.

Iiyama Castle is also known as the area's best cherry blossom spot. During spring, over 400 Somei Yoshino and Oyama cherry trees bloom around the park. From mid- to late April, the Iiyama Castle Ruins Cherry Blossom Festival is held here with nightly illuminations.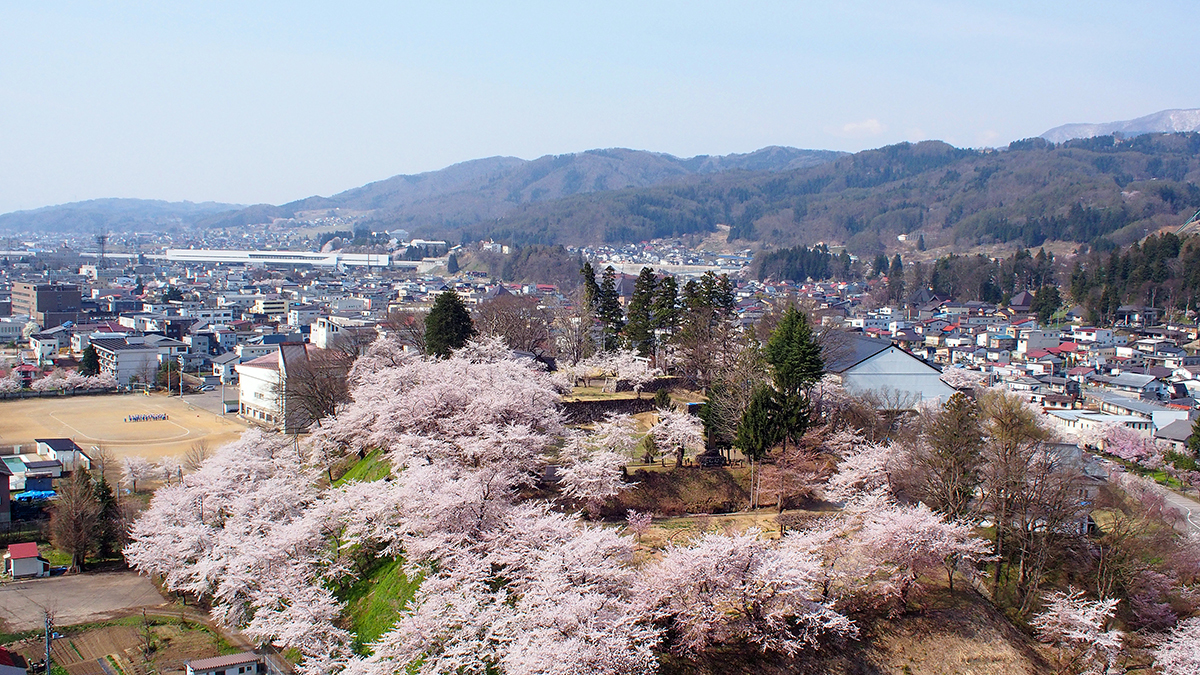 Another must-see sight during spring is Iiyama's nanohana, canola flower, fields. From the end of April to mid-May, bright yellow nanohana flowers carpet the valley of Iiyama. Nanohana park has the best views of these flowering fields, spreading along the Chikuma River at the base of the snow-capped Sekida mountains.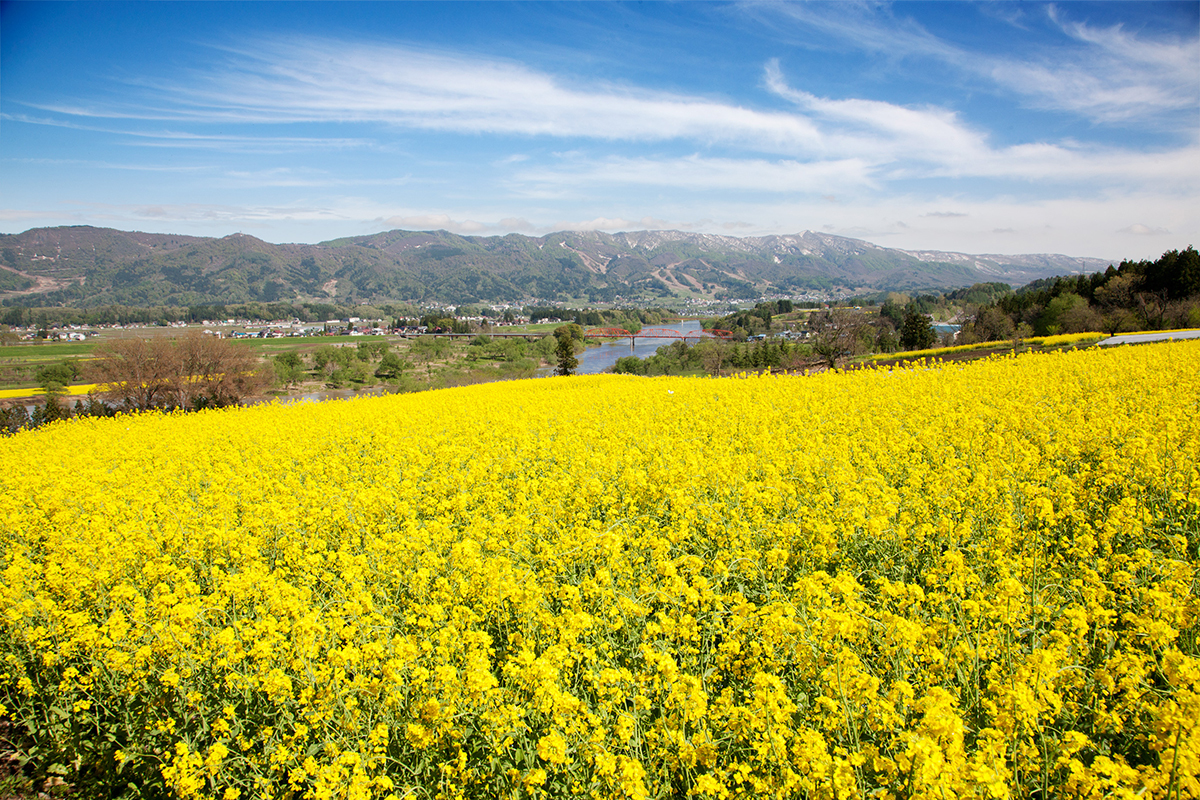 Back in the center of town is a street of shops with eaves on either side. These eaves, called "Gangi," were built to protect pedestrians from the heavy snows of winter. This street features eleven Buddhist altar shops, which collectively produce over 1,000 such altars each year. Such a concentration of altar-making craftsmen is quite rare, even in Japan.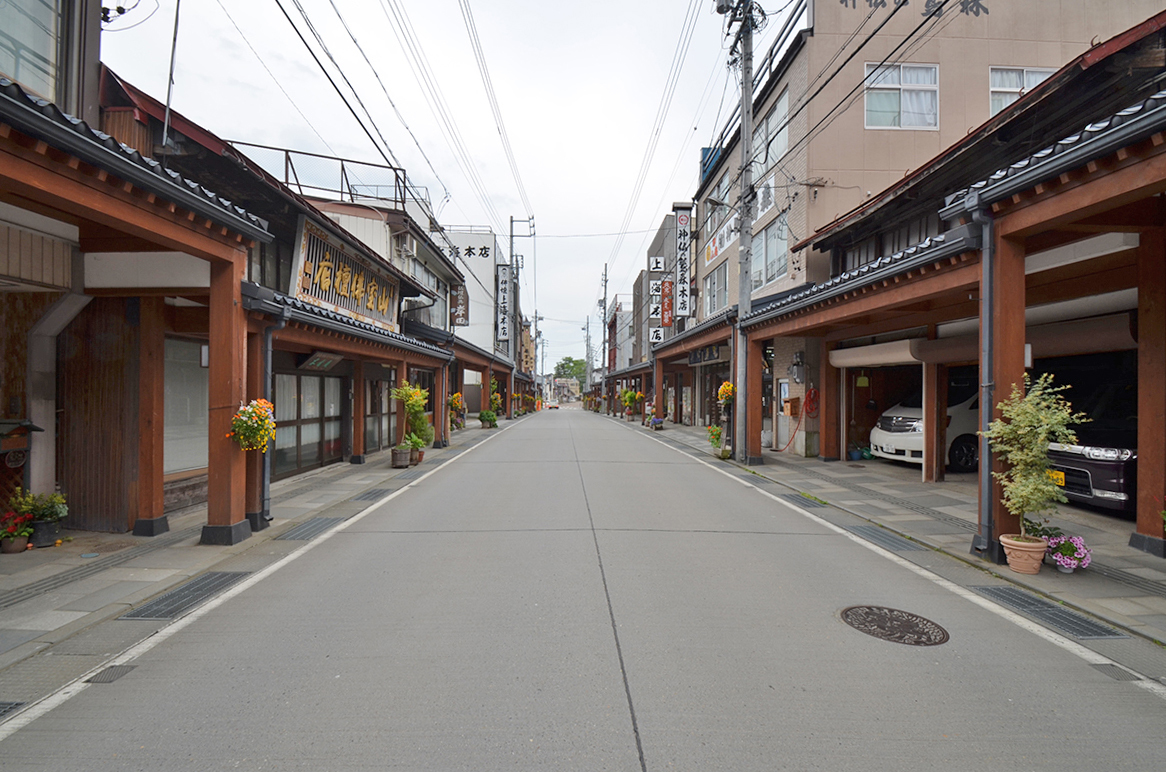 In addition to these shops, there are over 20 temples and shrines nearby, earning the area the nickname "the Little Kyoto of Snow Country."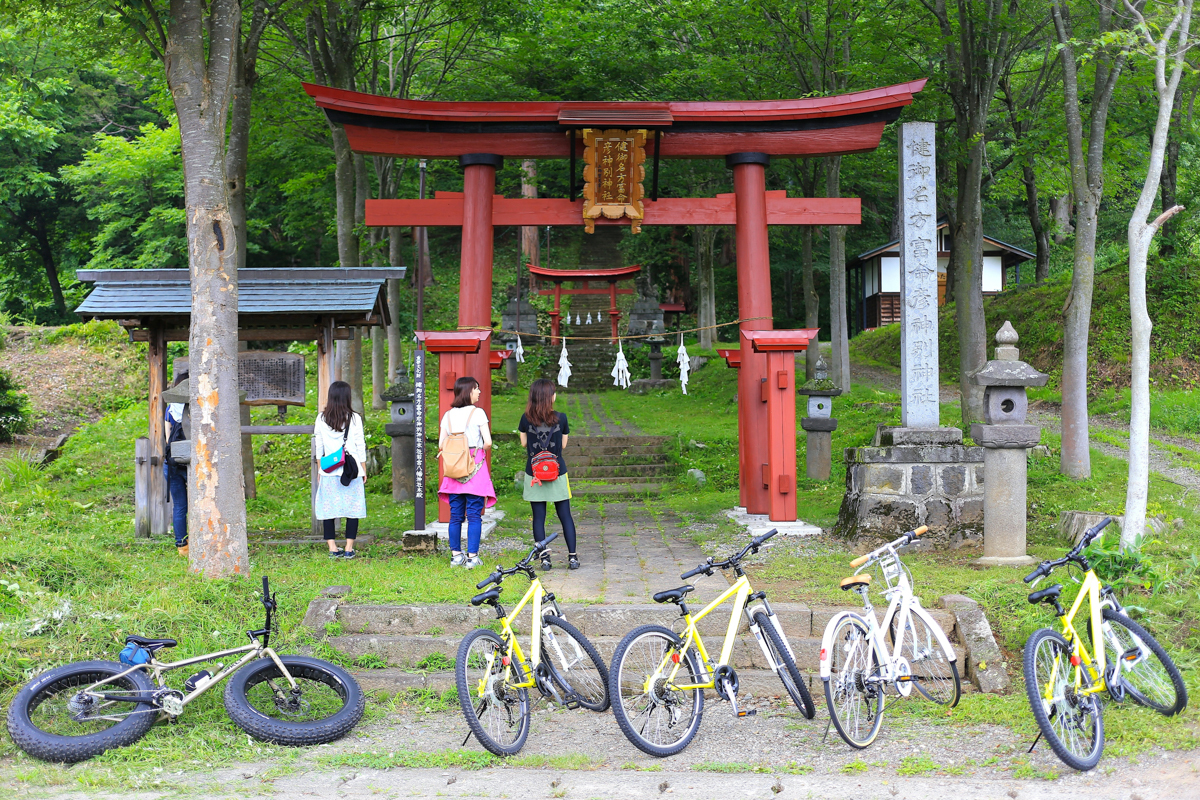 The tour ends after returning to Iiyama Station. Since it only takes half a day, it's easy to do as a day trip from Tokyo or paired with other activities.
A Course for Cyclists and History Buffs Alike: the Fat Bike Downhill Tour
Another great tour around Iiyama is the Fat Bike Downhill Tour. This tour is 14 kilometers long with a descent of 600 meters. Taking a car up to nearby Madarao Ski Resort, you bike down old forest roads, ending at Iiyama Station.

The roads here were once part of the Hokkoku Kaido Road, used during the Edo Period, and there are many abandoned houses along the trail. Enjoy an exciting ride down the mountain and learn more about the history of the Japanese countryside with the help of a friendly, local guide.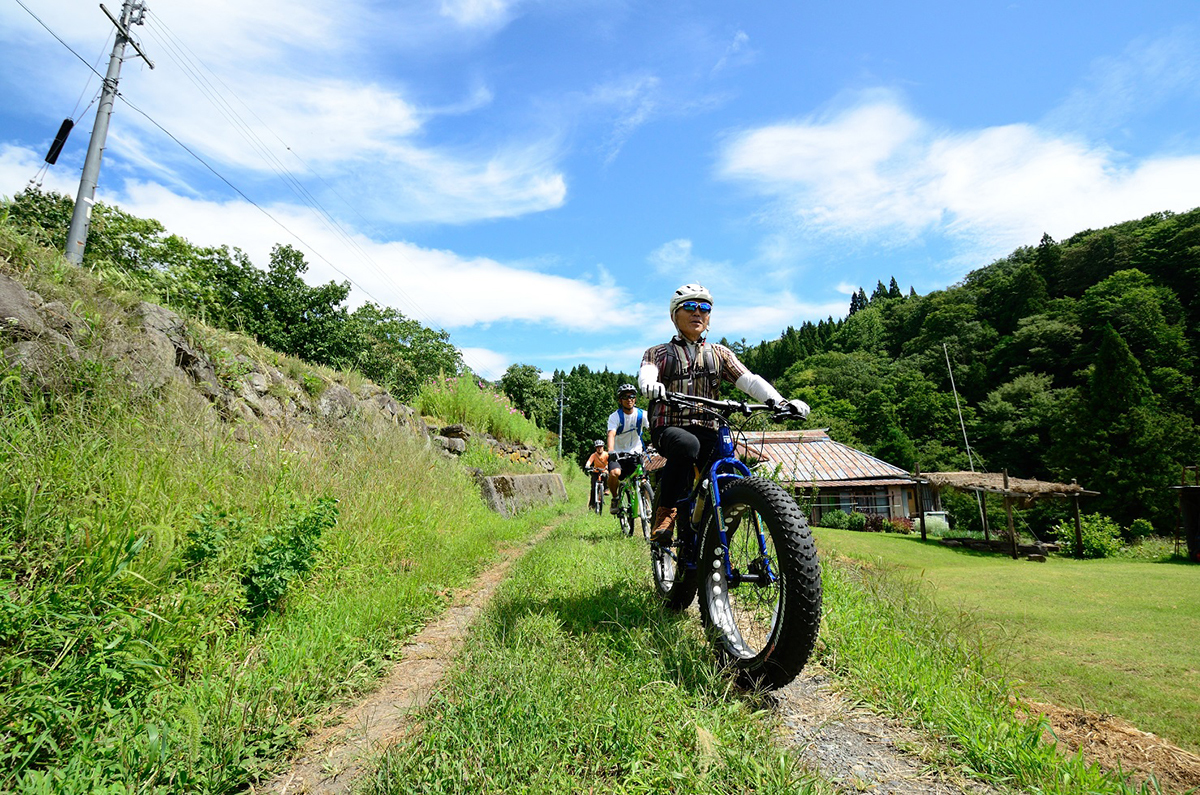 People who don't often ride bikes may not feel comfortable riding downhill on unpaved roads, but for most people it should be no problem. Since the large tires of fat bikes have great grip, they're very reliable on many types of terrain. On flat, paved surfaces, the friction of the tires makes the bike slower than other models. which some people may find more comfortable and easier to maneuver.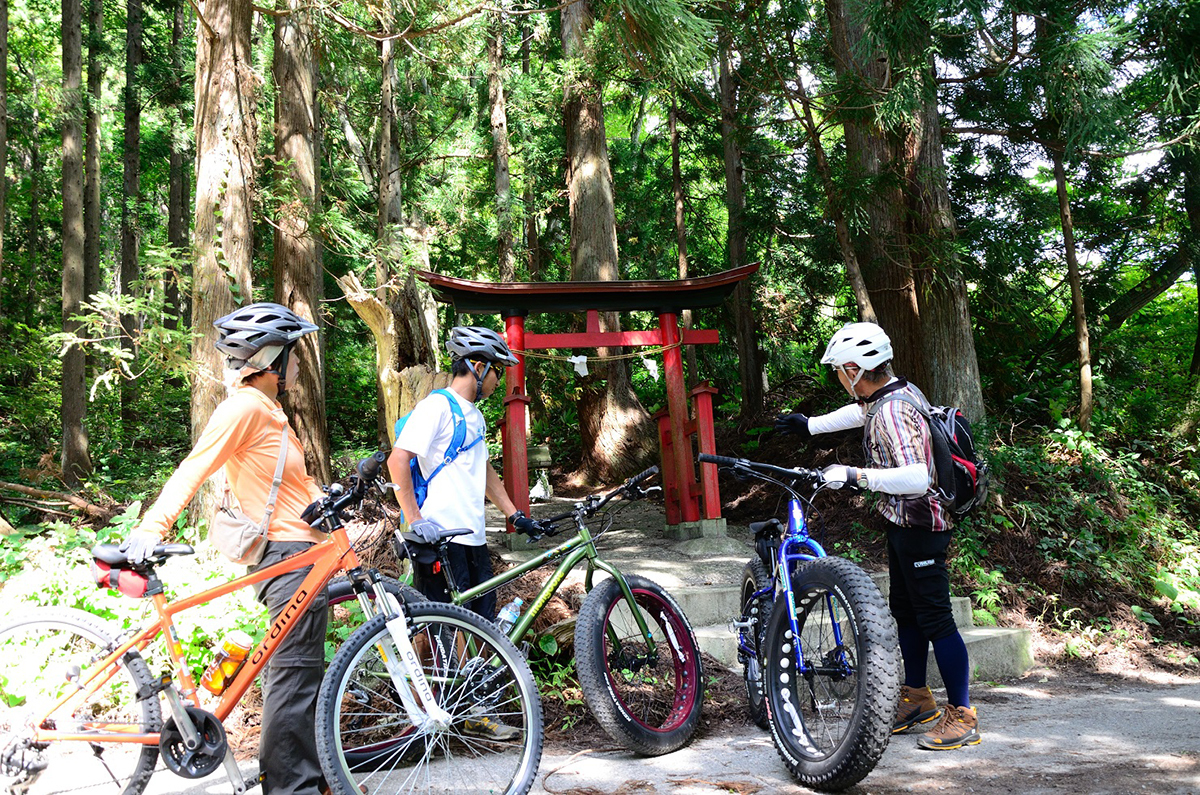 The tour is held from mid-May to early November, excluding mid-summer. The vivid greens and spring flowers of May and June are lovely, but our favorite season is September and October for autumn leaves.

The minimum number of participants for the tour is 2 persons (from age 13 and up).
While fat bikes are generally easy to ride, those who are uncomfortable riding bikes should proceed carefully. Also, there are no mud flaps attached to the bikes, so wear clothes that you don't mind getting dirty, or rent some rainwear (full set: 1,000 yen).

The tour takes 4.5 hours and ends at 13:00.

You should bring a drink and snacks with you on the tour, which you can purchase at the convenience store in the station before you go.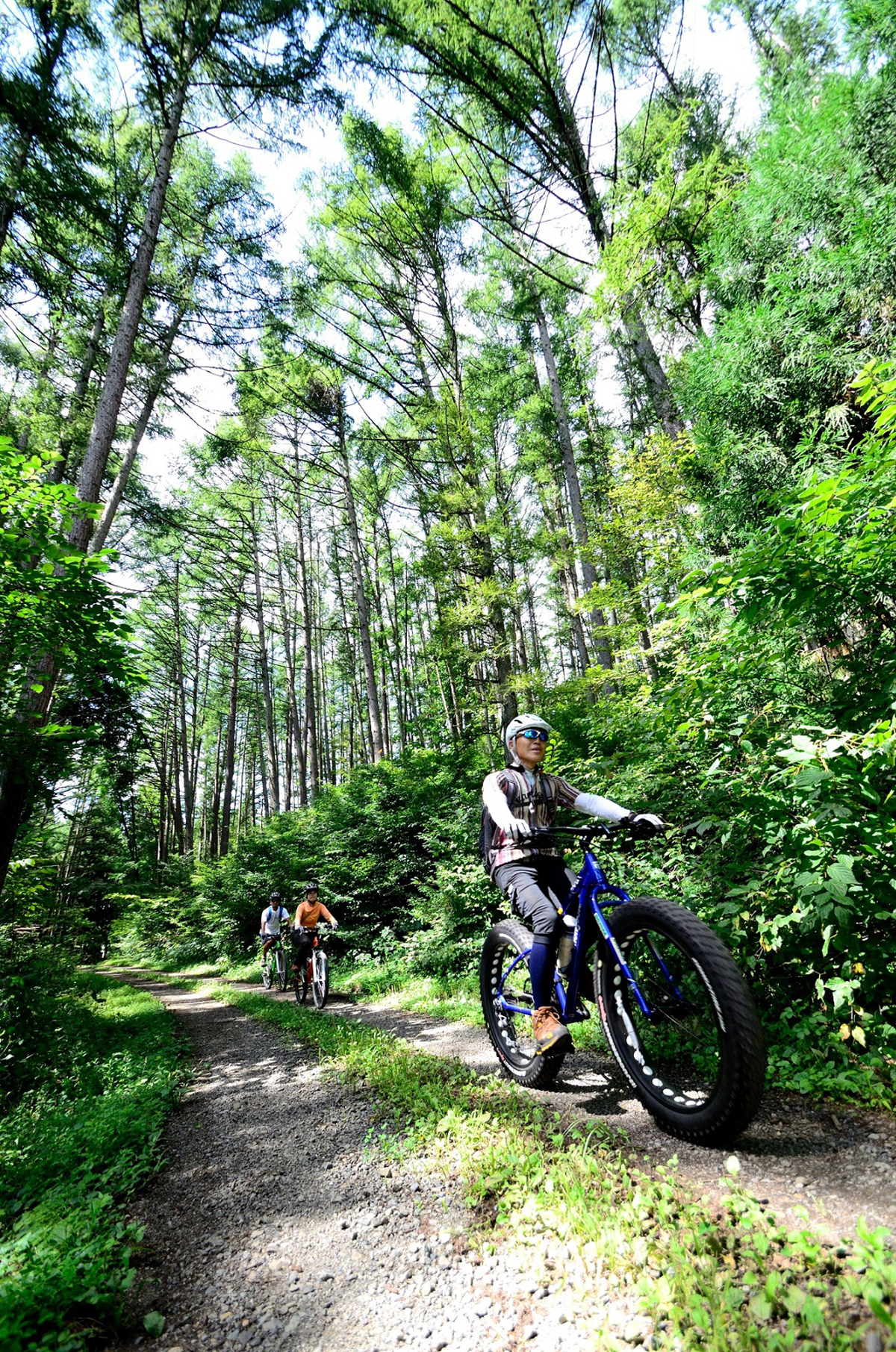 Both of these tours are available to small groups and only take a half day to complete. With easy access by shinkansen bullet train, it's easier than ever to experience the Japanese countryside.
Update:2020/10/07
Guide's Recommendation
Since the tour starts from the Shin'etsu Shizenkyo Activity Center, located inside Iiyama Station, it's very easy to access via shinkansen. The center offers a wide variety of rental bicycles, and the tour guide gives clear instructions on how to properly ride them, so people of all experience levels can find a bike that suits them. The local guides are well-versed in the area and can even speak English. Since it's a half day tour, you can even do a day trip from Tokyo or Kanazawa.
Tour GuideShin'etsu Shizenkyo Activity Center, Satoru Asano
What Tour Participants Have to Say
As part of the Furusato Cycling Tour, you get to ride through the countryside, see the scenery of vast fields of rice, and interact with local farmers. I learned about things I had never thought about before, about how the rice paddies are irrigated and how the rice is planted and grown. I never knew too that children here used to have special holidays that coincided with rice planting and harvesting. Not only can you enjoy the beautiful outdoor scenery, but learn about the lives of the locals here.

As part of the Fat Bike Downhill tour, I got to ride a fat bike for the first time. The off-road sections of the course were quite exciting without being too difficult. The trail was quiet and cool, and the komorebi, scattered lights passing through the forest canopy, was a beautiful sight. Our guide was very knowledgeable about the area, and taught us much about its nature and history.
Back to the Furusato Cycling Tour (Half-day course)
| | |
| --- | --- |
| Operating Period | April to November |
| Time | 10:00 to 12:30, 13:30 to 16:00 |
| Reservations | Reservation required by 18:00 at least two days in advance from the banner below. |
| Price | 6,000 yen (Includes guide, rental bike, helmet, insurance. Minimum number of people 2 people / maximum 5 people) |
Abandoned Village Cycling Tour
| | |
| --- | --- |
| Operating Period | May to November |
| Time | 8:30 to 13:00 |
| Reservations | Reservation required by 18:00 at least two days in advance from the banner below. |
| Price | 7,000 yen (Includes guide, rental bike, helmet, insurance. Minimum number of people 2 people / maximum 5 people) |