My Story: Drone Aerial Filming at the Foot of the Central Japan Alps
Southern Nagano Area Komagane City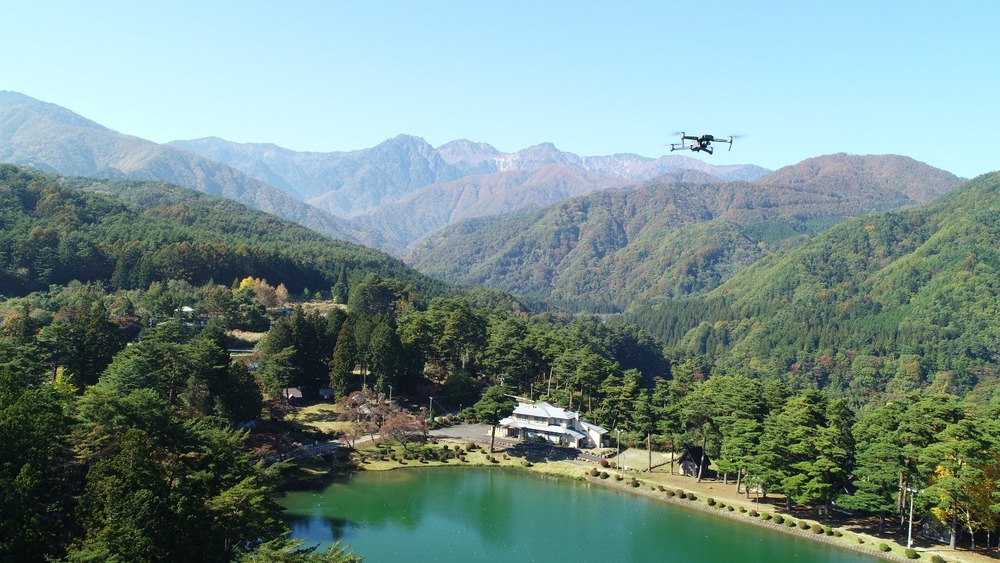 Great Nature of Japan Alps Felt in the Sky
"Sky Trip" at Holy Land of Drone
Enjoyable Even for Beginners
Freely Filming Dronegenic Scenes
You are now here in the Komagane Kogen highland at the foot of the Central Japan Alps. This area, at an altitude of 800 meters, is high enough to be called a "highland," but Senjojiki Cirque, a ropeway ride away from here, is located in what is called the alpine belt at an altitude of more than 2,600 meters. The huge concave bowl created by the magnificence of nature, and the blooming highland flowers in the fields, dazzle everyone who visits.
Here, at the dynamic Komagane Kogen highland and Senjojiki Cirque areas, a tour plan is being launched that includes flying a drone and creating an aerial video. The unique terrain here makes such dynamic vertical movement possible, and there is probably no other place like this in Japan, where you can also operate a drone.
Having never been interested in drones before, I was joining a day trip with drone activities around the Komagane Kogen highland. The starting point was Komagane Farms, five minutes away by car from the Komagane Interchange on the Chuo Expressway.
1:00 p.m.: The start of the program
First we received a lecture about drones.
Then, the very first flight started.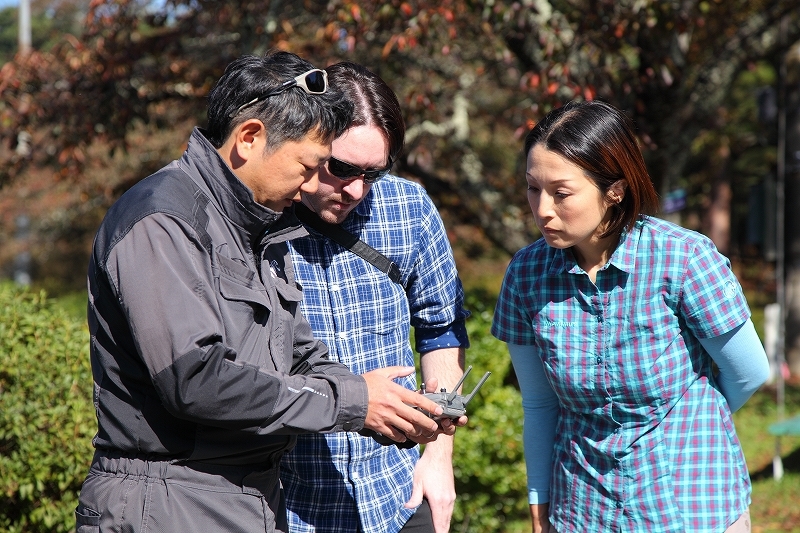 The first site was around Komakusa Bridge, the suspension bridge across the Otagiri River originating at the foot of the Central Japan Alps. Mr. Katagiri, the instructor, taught us how to operate the drone, which was very simple, and so easy to understand. My girlfriend, who came with me, said at first "I'm not sure... I don't think I can do this!", but changed her mind after the lecture, saying "I think I can do it now, maybe."
Our drone was a MAVIC 2 ZOOM, from DJI. DJI is a leading drone manufacturer globally, and their drones are now becoming kind of a world standard for general use. I heard the company is an enthusiastic supporter of the activities here in the Komagane Kogen highland. Our instructor gave us some instructions, saying "If you are in trouble, just remove your finger from the button; this will make your drone stop and hover in place," and "Press the HOME button and it will come back to you automatically. There's no need to panic." His words let me know that it was easy to operate a drone even as a beginner, and its excellent functionality really surprised me.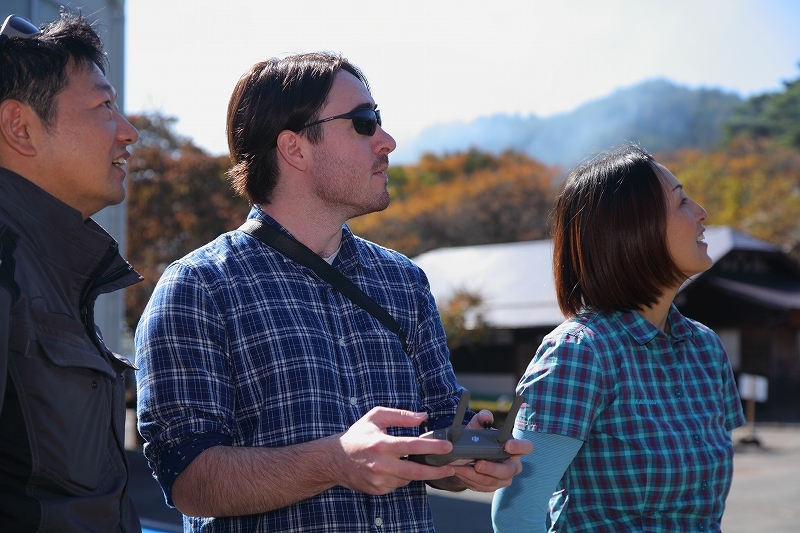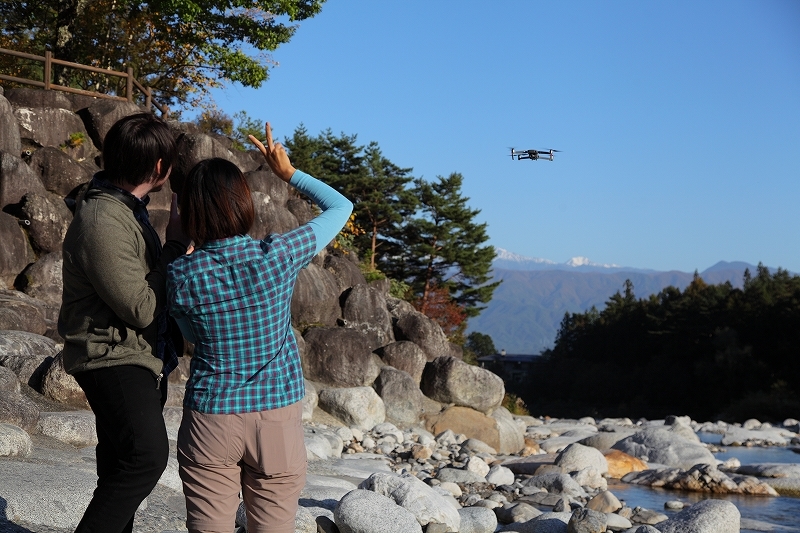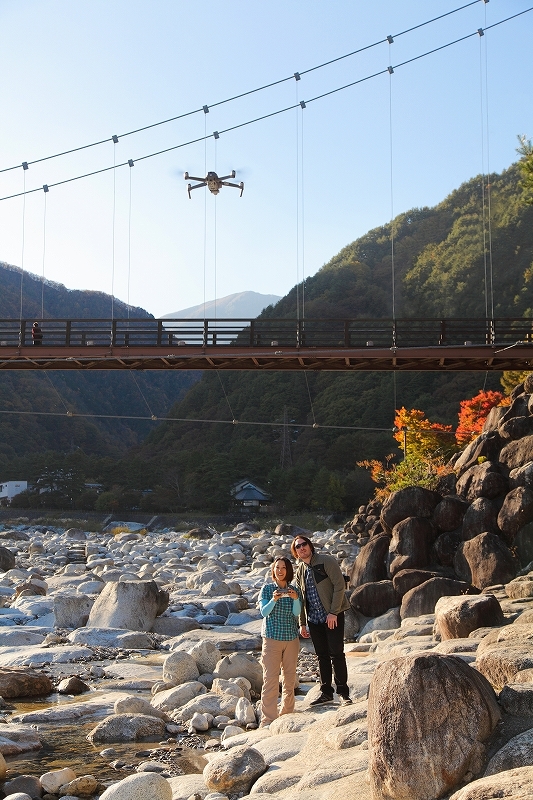 "So, do you want to try it now?" With encouragement from the instructor, we tried our hand at operating the drone!
Our drone lifted off smoothly. While operating it, and seeing it fly high up in the sky and glide around freely, I found myself absorbed in a fun world of commanding the flying object in all directions throughout the sky with just my finger. What was waiting for me was a whole new level of joy, obviously different from operating a radio-controlled model plane or helicopter. I could feel that our skills were improving quickly.
This special feeling of fulfilment must have come from not only the unreal sensation of making the drone go where I wanted it to, but also the fact that we were completely surrounded by the dynamism of the Central Japan Alps.
3:00 p.m.: Move to the operation site
Experience how the drone camera works
Infinitely fun 3-D activity
Next, we moved to Senninzuka Park, which is an activity zone expanding around a beautiful pond, to start the flight. Once I could operate the drone stably, I had room in my mind to pay attention to the images coming from the camera installed on the drone. You could almost say half the excitement of operating a drone comes from its camera.
In the beginning, I thought it would be impossible to watch the camera's images while conducting complicated flight operations for the drone, but with the instructor beside me, I felt at ease and confident.
The best part of the drone video is the birds' eye view from an unexpectedly high position. The drone image gave this unique landscape with a view of two Japan Alps areas an even stronger impact. While operating the drone, I had so much fun thinking about ideas for how to use it, like selfies of the two of us from the sky, that I almost forgot about the time.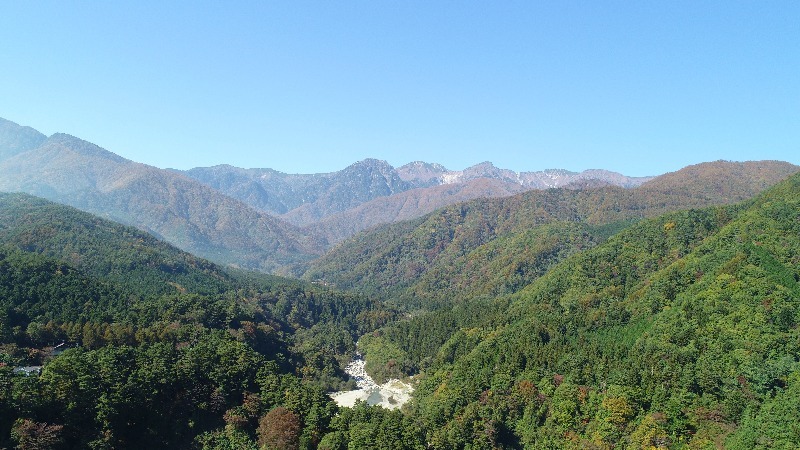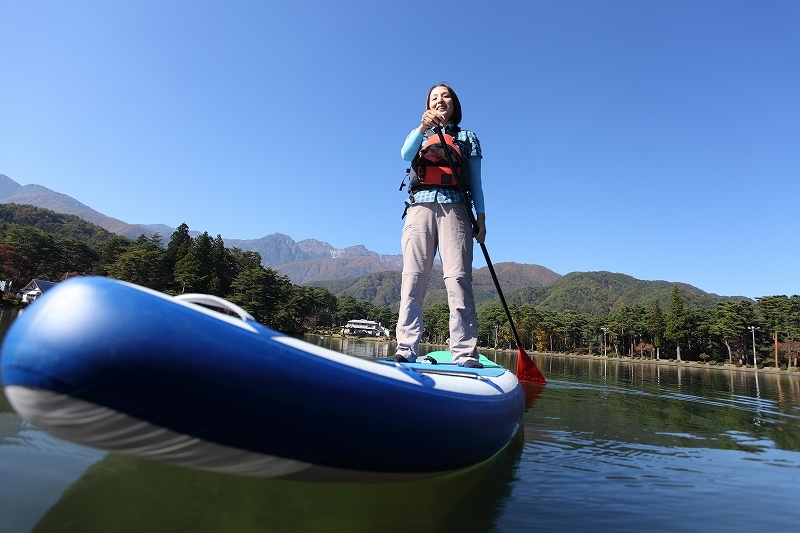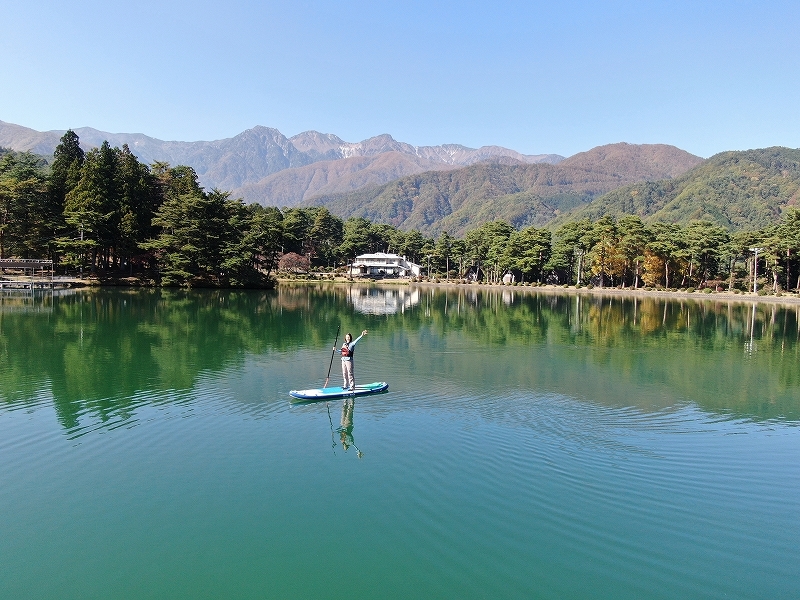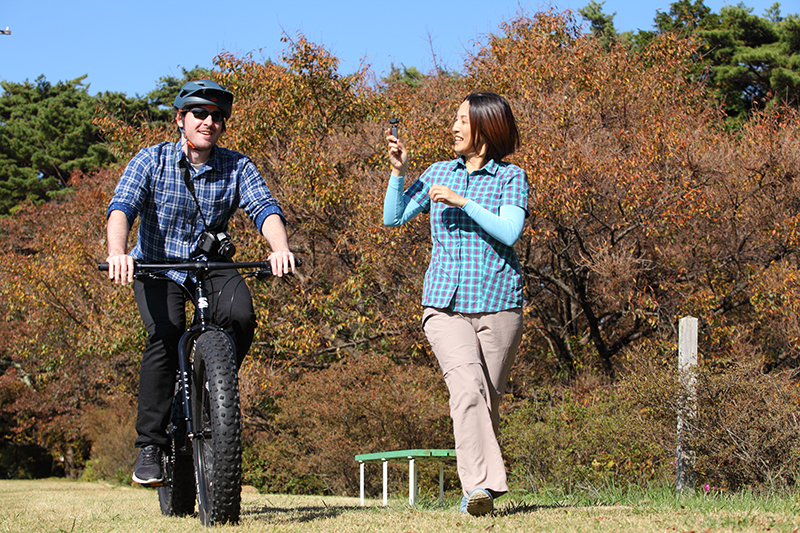 This plan allows you to borrow an SUP or mountain bike, and you can also rent a hand-held, DJI Osmo Pocket camera. When combining any of these with a drone, the possibilities of experiences you can create are endless.
Filming my girlfriend on the lake, asking her to shoot me biking... every activity inspired me to do more. We could not have been more excited to have such high-tech gear at our disposal in the middle of the vast natural scenery.
"Filming" aerial videos, "watching" them, "bringing" them back to home.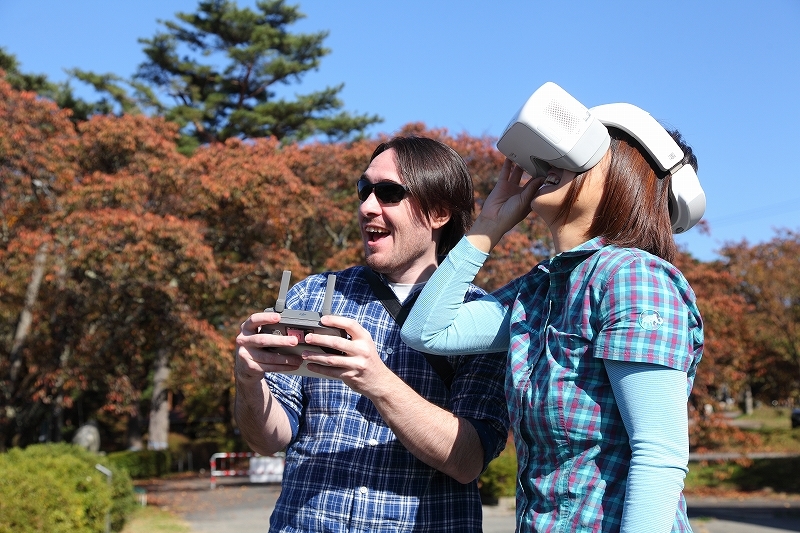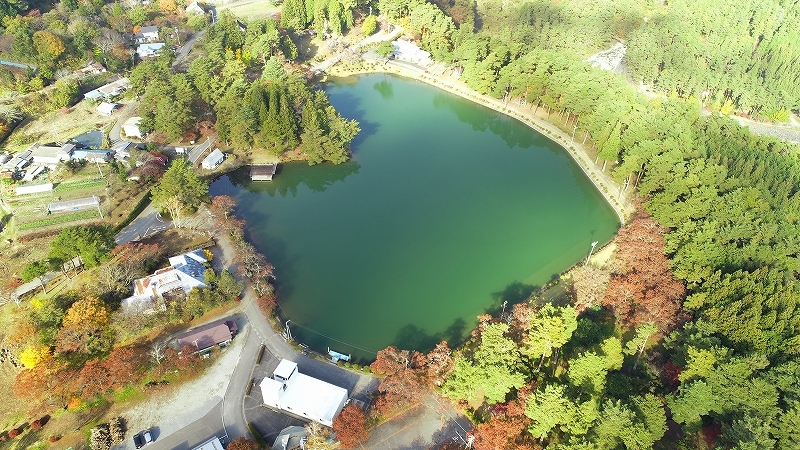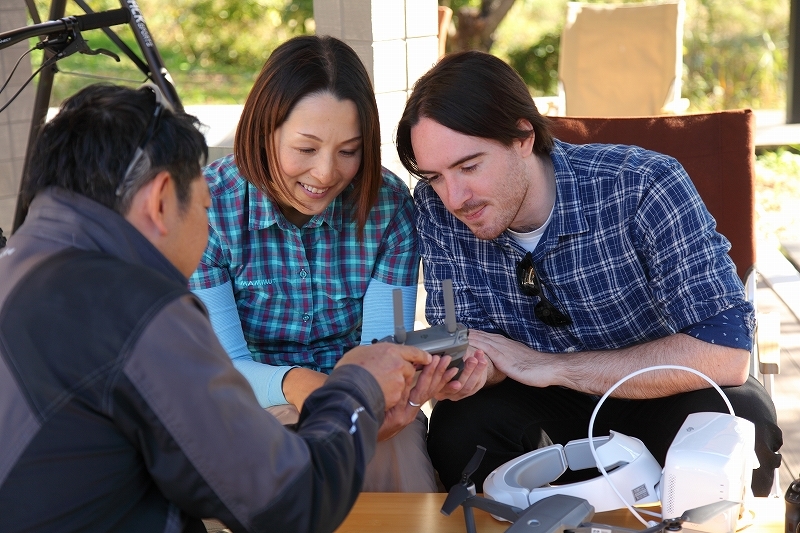 Operating the drone and filming from the sky was great fun. This trip taught me that there was another kind of fun to be had with a drone: viewing the video afterwards. The word "experience" is more appropriate to express this trip, than the word "see." With a pair of goggles, I "walked in the sky" together with my girlfriend. In addition, they gave us the data I took there for free. It was easy to transfer the data to my smartphone after the planned activities. Now I can post this instagenic experience to my social media anytime I want!
The flight plan is compliant with all regulations related to flight.
Piloting a drone requires complicated applications for flight permission. You cannot fly it anywhere you want. One of the biggest plusses of this trip plan is that all the necessary applications have been already submitted for you. In Japan, drone tours in collaboration with DJI started here at the foot of the Central Japan Alps, in compliance with all regulations. This place is worthy of its title, "Drone Paradise."
This time, we piloted the drone from two different sites, around the pond at Senninzuka Park, and from Komakusa Bridge. I also found another tour at Senjojiki Cirque in the Central Japan Alps, at an altitude of 2,600 meters. You take the ropeway to the site, and I want to try it some time in the future.
The sky trip in Komagane is a good and recommendable place for making memories since you can operate a drone and film aerial videos combined with other activities, such as SUP.
"Drone Aerial Filming Plan at the Foot of the Central Japan Alps" Overview
Area: Komagane Kogen Highland (Komagane Farms, Komakusa Bridge, Senninzuka Park)
*The organizer has already coordinated all flight permissions for the plan in this area.

Participation fee: 5,000 yen (including drone rental fee and lecture fee)
Required time: Approximately 3.5 hours
Options: SUP rental fee, mountain bike rental fee, VR goggle rental fee, and Osmo Pocket rental fee
Schedule:
13:00 Gather at Komagane Farms for orientation and a safety training lecture
13:30 Pilot a drone around Komakusa Bridge
14:30 Move to Senninzuka Park
15:00 Pilot a drone at Senninzuka Park, and try SUP and mountain bike activities
16:30 Finish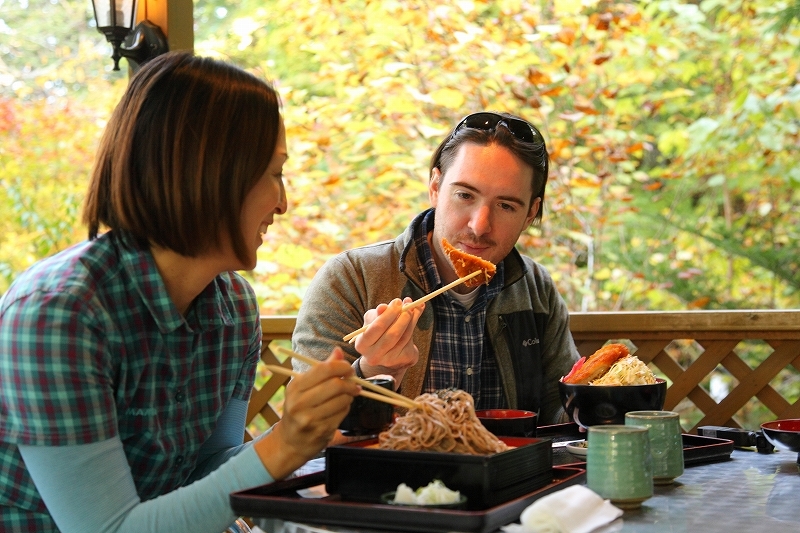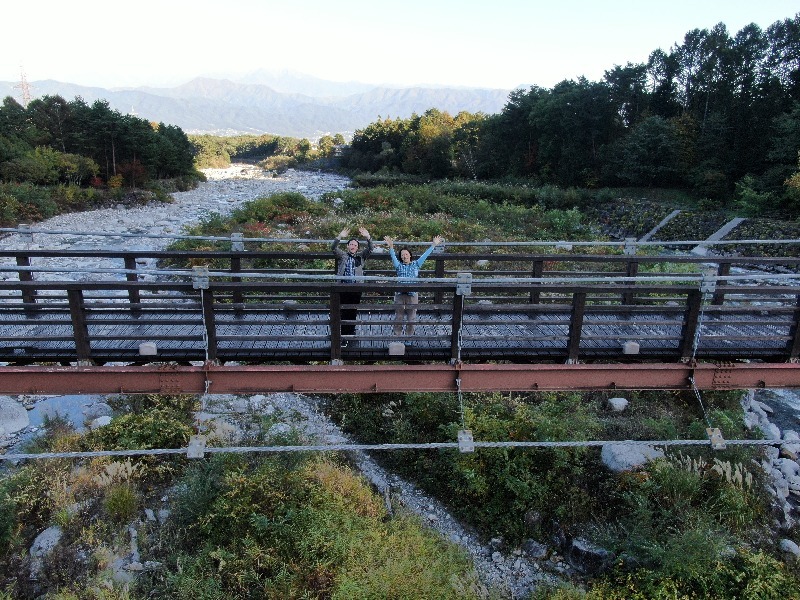 Update:2022/04/01
Guide's Recommendation
The most important point is that you can enjoy drone flight and aerial photography with peace of mind.
Drones can't fly anywhere, so we're all ready to welcome you.
I don't think there are so many places where you can freely operate in such a dynamic natural environment.
Tour GuideKomagane Tourism Association
What Tour Participants Have to Say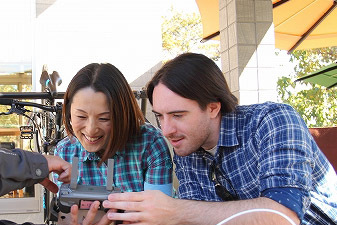 The big point for me was that the instructor was always next to me.
In addition to being relieved, I was glad that my beginner level progressed steadily, and it was a very satisfying day.
There are plenty of activities besides drones, and I want to come back in a different season.
"Drone Aerial Filming Plan at the Foot of the Central Japan Alps"
| | |
| --- | --- |
| Operating Period | from October 28th |
| Time | 13:00-16:30 |
| Reservations | Komagane Tourism Association |
| Price | 5,000 yen (including drone rental fee and lecture fee) |
| TEL | 0265-81-7700(Komagane Tourism Association) |
| Mail | info@kankou-komagane.com |